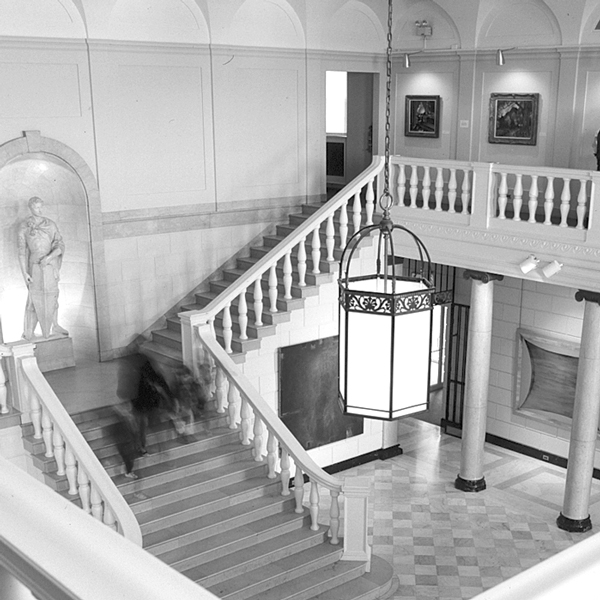 Located on the UVM campus, the Fleming Museum of Art houses the state's most comprehensive collection of art and anthropology.
Open during the school year, Tuesday-Sunday.
61 Colchester Avenue (parking to the east of the museum, use the hospital entrance and keep right)
(802) 656-0750
Art Map Burlington #52
---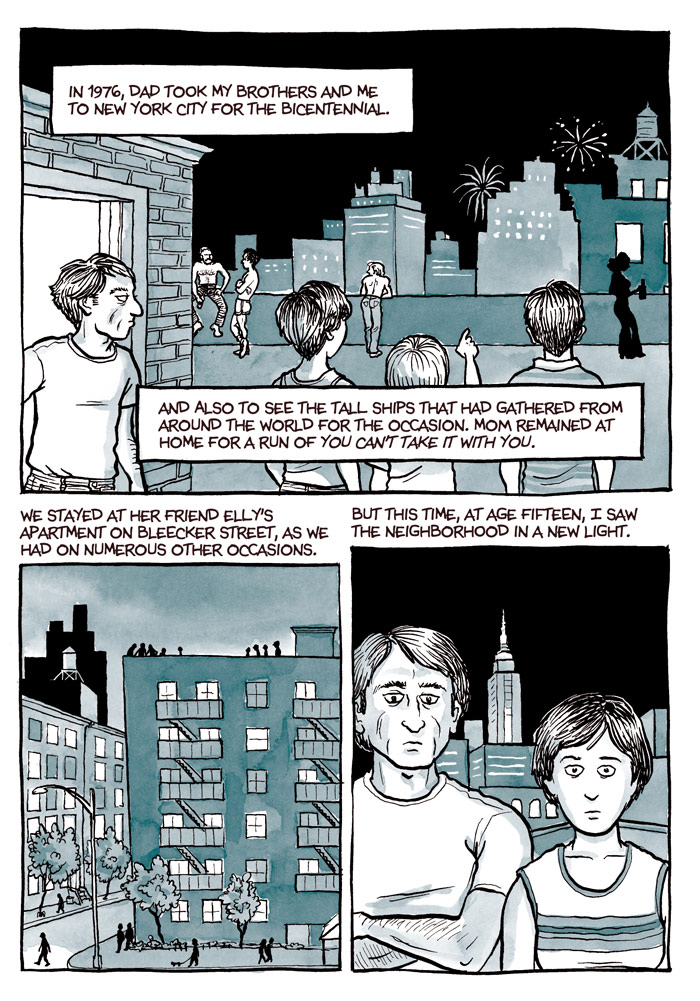 Self-Confessed! The Inappropriately Intimate Comics of Alison Bechdel
1/30 to 5/20/2018
A renowned cartoonist and graphic memoirist who lives in Bolton, Alison Bechdel is a MacArthur Foundation "genius" grant winner, and the third Cartoonist Laureate of Vermont—a position unique to the state. Her pioneering comic strip about the lives of a group of lesbian friends, Dykes to Watch Out For, ran from 1983 to 2008 and was syndicated in over fifty alternative papers, including Vermont's Seven Days, which recently published new Dykes strips by Bechdel focused on current political events.
In 2006, Bechdel published the graphic memoir Fun Home: A Family Tragicomic, which explores her relationship with her father, her coming out, and his possible suicide. Fun Home was a New York Times bestseller and the basis of the Tony-award winning musical of the same name. Bechdel followed up in 2012 with Are You My Mother?: A Comic Drama, which follows her relationship with her mother, girlfriends, therapists, and her exploration of psychoanalytic theory. Both books are works of multilayered complexity, employing nonlinear storytelling and a rich trove of literary and historical references.
"Self-Confessed" presents these primary bodies of work in depth through original drawings and sketches, while incorporating other aspects of Bechdel's creative output, from early drawings to activist ephemera to large-scale self-portraits. The exhibition also includes a model of the set for the musical Fun Home, reconstructed for this exhibition.
The exhibition explores Bechdel's work as a writer, an artist, and an archivist of the self, someone who constantly mines and shares her own experiences as a way to communicate something vitally human: the quest for love, acceptance, community, and social justice.
Image: Alison Bechdel (American, born 1960), Page from Fun Home (New York: Houghton Mifflin Harcourt, 2006).
---
Honoré Daumier's "Bluestockings"
1/23 to 5/20/2018
In 1844, famed French caricaturist Honoré Daumier (1808-1879) published Les Bas Bleus, or Bluestockings, a series of forty lithographs satirizing groups of upper-class women who sought intellectual stimulation in defiance of their narrowly proscribed roles in society. Daumier's combination of word and image as well as his depiction, albeit mockingly, of the flouting of gender norms makes it a fascinating counterpoint to the work of Alison Bechdel, who cites Daumier as an early influence.
The Blue Stockings Society began in mid-eighteenth century England as a women's literary discussion group, which represented a radical departure from the acceptable activities for upper-class women of the time. Though hosted by women, the society included learned men as well, and focused on equal intellectual exchange between the sexes. They supported each other's creative pursuits, and many members became published authors. The name of the group is said to refer to the fact that participants were encouraged to wear their everyday blue stockings, rather than more formal black ones.
In France, Les Bas Bleus evolved into an informally organized women's movement that continued to advance women's literary and intellectual opportunities and ambitions. The term came to have derogatory implications, as men and women opposed to this liberation mocked bluestockings for being unattractive and insufficiently feminine. In Daumier's images, women are depicted abandoning their domestic responsibilities of housekeeping and childrearing in favor of novel- and poetry-writing, intellectual discourse, and what was seen as "salon socialism"—the support of socialist causes from the comfort of a well-appointed salon.
Though Daumier's message ridiculed women's emancipation efforts, today we can see in his humorous cartoons the beginnings of a revolution, one that would eventually lead to women's suffrage, women in the work force, and women's freedom from reliance on men for their education or economic security.
These prints are generously loaned from the Arthur Ross Collection at the Yale University Art Gallery, whose donor intended that the works be shared with other teaching museums throughout the country. The Fleming Museum is grateful to Kimberley Adams, M.D., for facilitating this loan.
---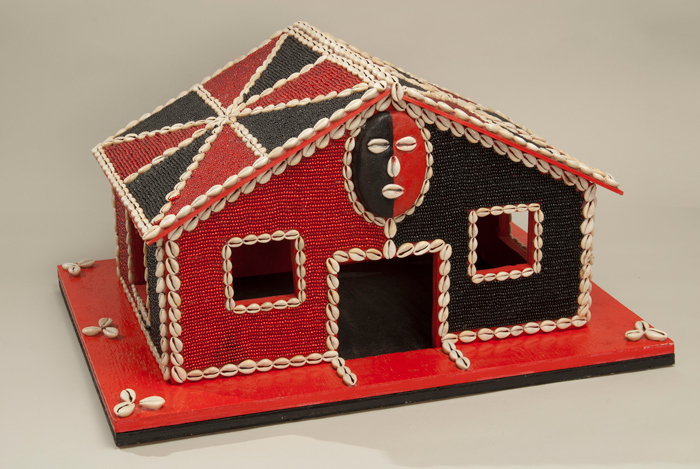 Spirited Things: Sacred Arts of the Black Atlantic
9/26 to 12/16/2017
Opening reception: Thursday, September 28, 5:30-7:30PM
"Spirited Things: Sacred Arts of the Black Atlantic" is drawn from the Sacred Arts of the Black Atlantic Collection (SABA) at Duke University. This collection is the product of 35 years of ethnographic research by J. Lorand Matory, Lawrence Richardson Professor of Cultural Anthropology and Director of the SABA Project at Duke University, and James Marsh Professor-at-Large at the University of Vermont. The exhibition includes sacred objects from the Yoruba religion of West Africa, as well as Haitian Vodou, Cuban Santería, Brazilian Candomblé, and Caribbean Spiritism, faiths that emerged from the practices of enslaved Africans who blended their ancestral cultures with that of their captors.
Counteracting the historical use of the term "fetish" to describe these objects, which served to denigrate African religious practices as barbaric, the exhibition focuses on how belief and ritual can animate objects in ways that express nuanced relationships among members of a society, and between them and their gods. An introductory section titled "Demystifying the Fetish" demonstrates that this is no less true of Euro-American culture than it is of the African diaspora. Other sections similarly challenge assumptions about traditional power hierarchies. For example, in these traditions, both men and women have distinct areas of power; this is made evident by a fluid, situational gender identity based on power roles rather than biological sex, where both men and women can be husbands to some people and wives to others. Other objects illustrate not only the hierarchy of royalty vs. subject or master vs. slave, but also the ways in which slave spirits are invested with tremendous powers of their own. Some of the very
objects that were traded for African bodies during the slave trade—glass beads, cowrie shells, and rum—are shown to have been reinvested with sacred power within societies of the African diaspora.
In a striking and unprecedented installation, the exhibition is anchored by four altars, highlighting the
ways that objects in these religions are activated by arrangement, ritual, food, water, and light. The public has the exciting opportunity to view and take part in the activation of two of these altars.
Museum visitors on Tuesday, September 26, and Wednesday, September 27, will see practitioner Willie Zapata at work as he creates a Cuban Santería birthday altar. On Wednesday, October 11, Haitian Vodou priestess Marie Maude Evans will give a lecture, and on Thursday, October 12, she will lead a ritual celebration open to the public that will feature drummers and dancers.
Image: House of God Elegguá, Cuban Santería/Ochá, South Bronx, New York (15.5″x27.5″x21.5″; wood, beads, and cowrie shells; 2014)
---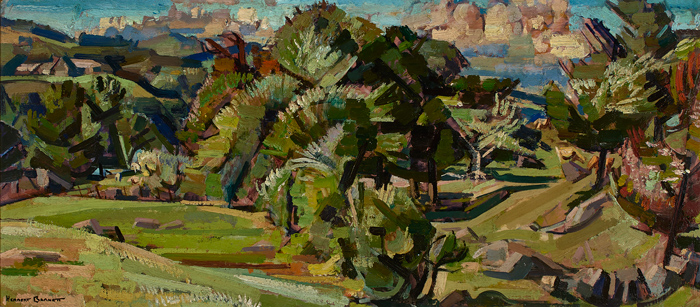 Herbert Barnett: Vermont Life and Landscape, 1940-1948
9/26 to 12/15/2017
Opening reception: Thursday, September 28, 5:30-7:30PM
"Herbert Barnett: Vermont Life and Landscape, 1940-1948" reexamines the contribution of this mid-century modernist painter through the subject matter and time period in which the artist's distinctive style found its greatest expression: his Vermont landscapes of the 1940s. The exhibition was organized in consultation with the artist's son and features works on loan from public and private collections.
Barnett was born and raised in Rhode Island and studied at the Rhode Island School of Design and the School of the Museum of Fine Arts in Boston. At the age of seventeen, he had his first solo show at a Boston gallery. After spending several years in Europe absorbing the Old Masters and avant garde alike, Barnett divided his time in the late 1930s between New York, Boston, and Cape Ann, Massachusetts. In the 1940s, Barnett was head of the Worcester Museum School in Massachusetts, and spent his summers in Plainfield, Vermont. In the summers of 1941 and 1942, he taught painting at the University of Vermont, and from 1951 until his death in 1972, Barnett served as dean of the Art Academy of Cincinnati.
Combining a Cubist approach to structure and paint application with a deep interest in Renaissance and Baroque composition, Barnett's Vermont paintings portray the winding paths of quarry towns, the patchwork of pastures, and aspects of daily farm life. When Barnett identified an interesting subject, he depicted it in a variety of styles and media, from paintings and oil studies to drawings in ink, pencil, charcoal, and chalk. The exhibition is structured around these multiple expressions of his favorite themes.
For example, several works in the exhibition depict the fields of the Orton Family, the proprietors of the
Vermont Country Store. When summering in Plainfield, the Barnetts stayed in a hillside cottage overlooking the Ortons' pastures in neighboring Marshfield. A grouping of four works on this subject gives the museum visitor a revealing glimpse into an artist's process and development. Barnett's renderings of the same scene in different color palettes and styles represent the ever-shifting quality of light caused by the temperamental New England weather, as well as the artist's formal experimentation.
Image: Orton's Pasture by Herbert Barnett (16″x36″; oil on Masonite; c. 1941) Lyman Orton Collection–Lost Vermont Images
---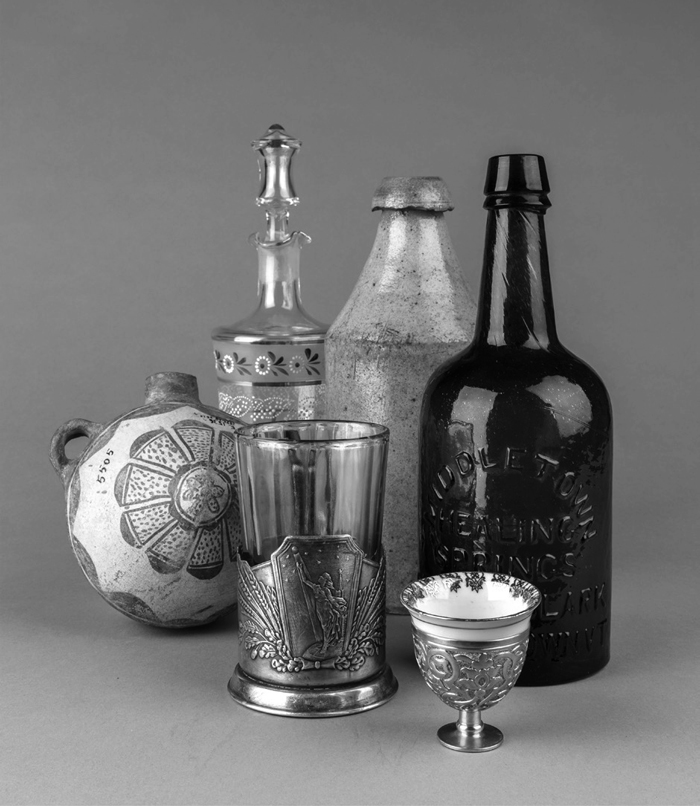 Imbibe
1/24 to 5/21/2017
While the word "drinking" describes an act of consumption, a biological necessity for all and a pastime for many, "imbibe" is a word that invites us into the complex social, physical, and aesthetic experience of consumption. Drinks— whether water, alcohol, coffee, or tea—are consumed not only to sustain life, but to reinforce social status, promote camaraderie, ease inhibitions, or simply pass the time.
From carafes and bowls to cups and bottles, "Imbibe" offers visitors a fresh perspective on drinking vessels from many different cultures. Used for drinking or for serving, these museum collection objects were designed to give the liquids inside them shape, color, and even feel and flavor as they keep drinks warm or chilled. A tightly woven beer basket communicates as much about the technologies of carrying, storing and serving liquids as a delicately blown wine glass or a cast metal pitcher. The contours of a pouring spout change the stream of liquid in ways that are both practical and beautiful.
Alongside these drinking vessels, "Imbibe" also showcases historical and cultural materials that illuminate the social experiences of drinking, from treatises on the properties of mineral water, to temperance tracts and objects that embody traditional practices of sharing coffee, tea or kava. Strictures, traditions, expectations and the sensual and social pleasures of imbibing are all on display in this exhibit about how people shape their drinks, from inception to consumption.
---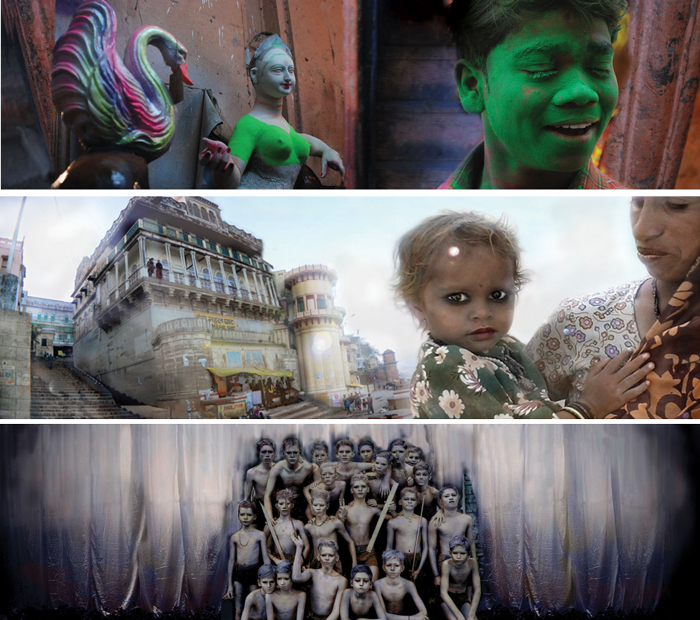 Catherine Jansen: 1008
1/31 to 5/27/2017
American photographer Catherine Jansen has traveled to India over twenty-five times, always with camera in hand. With a profound knowledge of the country, she travels alone and is able to visit places and witness rituals usually inaccessable to foreigners as well as to many Indians, particularly women. The artist has written, "My own vision is informed by a living study of Indian spiritual practices in which my camera becomes an instrument of that discipline of attention." The finished photographs, selected from the tens of thousands she takes, are not as much individual moments as expansive visions, what she calls "intimate immensities," crafted from composite views, which seek to recreate how we experience spaces in spiritual, emotional, and sensory ways.
The idea for the exhibition is drawn from an artist's book Jansen made entitled 1008, the number of images she included in the book and a sacred number in Hinduism, corresponding to the 1008 names for Lord Shiva. By combining carefully arranged clusters of seven images (also a spiritual number) on each page, and presenting them without the influence of captions, Jansen invites the viewer to move meditatively through the book and respond to the images aesthetically and emotionally, without the need to know exactly what, where, or who is depicted.
---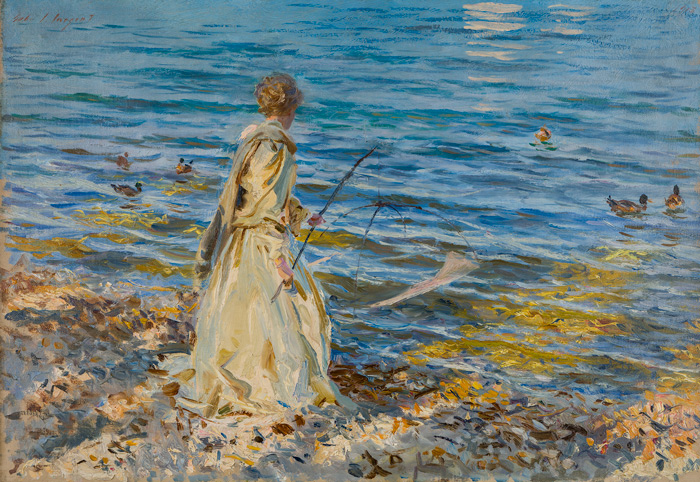 Sargent to Basquiat: University of Vermont Alumni Collection
9/22 to 12/16/2016
"Sargent to Basquiat" features works from the outstanding art collections of UVM alumni. Works in the exhibition span the late nineteenth to the early twenty-first centuries, and represent some of the most influential styles of the last 130 years, including Impressionism, Expressionism, Cubism, Surrealism, Pop, and Outsider Art. Highlights include, among others, paintings and sculptures by John Singer Sargent, Childe Hassam, Wassily Kandinsky, Elie Nadelman, and Henry Moore; unique works on paper by Jean Dubuffet, Willem de Kooning, Robert Motherwell, Andy Warhol, Howard Hodgkin, Keith Haring, and Jean-Michel Basquiat; and prints and photographs by Pablo Picasso, Irving Penn, Frank Stella, Vik Muniz, Cindy Sherman, and Nan Goldin.
Image:
Girl Fishing at San Vigilio
by John Singer Sargent (American, 1856-1925)
19″x27.5″
oil on canvas
1913
Private Collection
---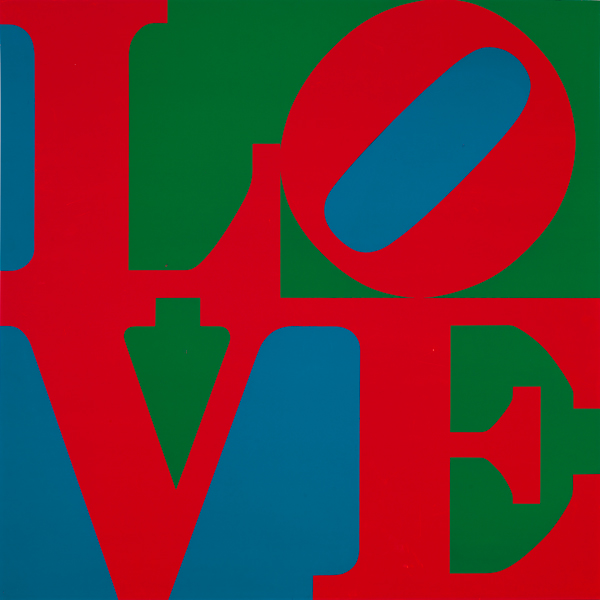 Pop Art Prints
Through 5/22/2016
A blockbuster exhibition of Pop Art prints on loan from the Smithsonian American Art Museum, featuring 37 celebrated prints by Jasper Johns, Roy Lichtenstein, Claes Oldenburg, Robert Rauschenberg, Robert Indiana, and Andy Warhol, among others. The installation includes select additions from the Fleming's permanent collection that recognize the contributions of women Pop artists Marisol, Chryssa, and Corita Kent. (image: Love by Robert Indiana (34″x34″; screenprint on paper; 1967) Gift of Louis and Linda Kaplan. Smithsonian American Art Museum. © 2014 Morgan Art Foundation/Artists Rights Society (ARS), New York)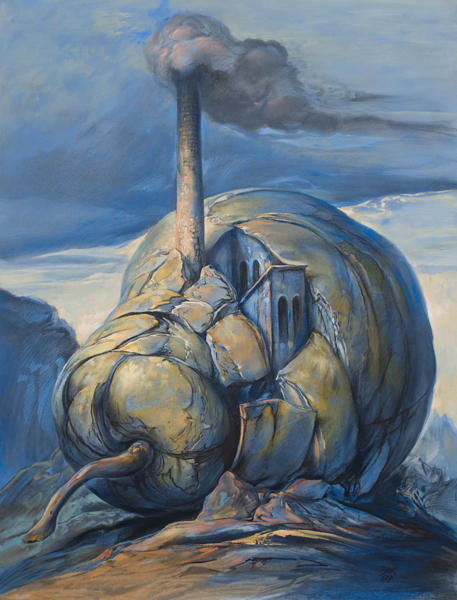 Samuel Bak: Survival and Memory
Through 5/22/2016
For seven decades, Samuel Bak's art has communicated his experience as a Holocaust survivor, while expressing universal truths about human frailty through deeply-layered symbols and rich historical references. This exhibit features a selection of Bak's works, from the drawings and watercolors he did immediately after the war, to the complex allegorical paintings he has created throughout his career. (image: Persistence of Memory by Samuel Bak (mixed media on paper; 1989) Courtesy of Pucker Gallery, Boston, Massachusetts).
Sex Objects
Through 5/22/2016
Curated by 40 UVM students in anthropology and art history classes, "Sex Objects: Perspectives on Gender and Sexuality" examines how everyday and ceremonial art and artifacts cultivate or critique socially constructed identities of "sex".