Hosting a variety of artistic media, featuring local, national and international artists. Student exhibits take place during the second semester.
Open during the school year Monday-Friday, 1-8PM.
L/L Center, Room 233 Commons
UVM East Campus
633 Main Street
(802) 656-4200 or 656-4211
Art Map Burlington #53
---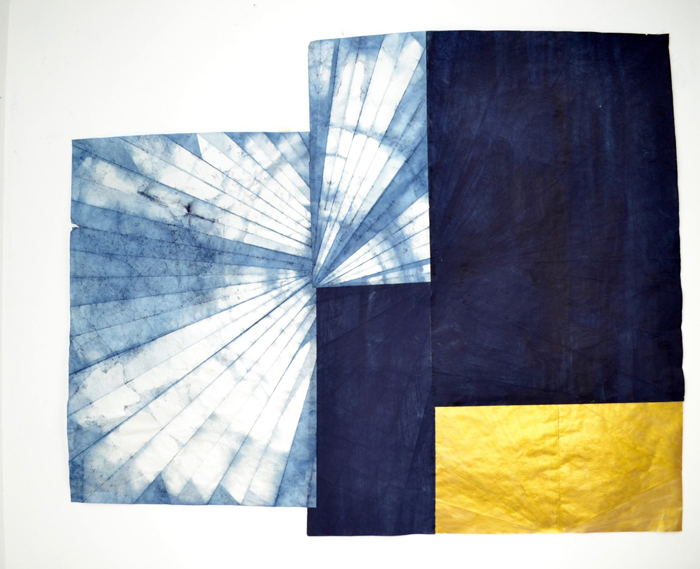 "Mapping Experience"
10/26 to 12/9/2017
"Mapping Experience" is an introverted look at self-exploration and the documentation of experience through the manipulation of materials. The nine participating artists utilize diverse media, working in clay, textiles, film, industrial materials, and everyday objects, but share a passion for inward examination and outward emotion.
The work of artists David Albans, Aimee Hertog, Justine Johnson, Sarah Magida, Kirsten Tordella-Williams, Douglas Degges, Alex Constantino, Andrew Brown, and Caroline Mcauliffe shares a psychologically immersive quality, drawing viewers into the elusive space between memory and perceived reality. Observing the rituals of labor, the repetition of artistic process, and the continual tracking of time, they shape tangible records of life and memory through the visual language of layers and textures. The outcome is an array of tactile sensations for the psyche as physical material is shaped, stitched, ripped, dipped, smothered, and burned into being. "Mapping Experience" presents investigations into daily life, abstract narratives of the psyche, and archives of action. As they contribute contemporary perspectives to the history of each material, these artists are at the same time forging fossils of experience and making discoveries into themselves, as archaeologists of the subconscious.
The exhibition is curated by Margaret Coleman and Amy Joy Hosterman
Image: Planning Ahead II by Justine Johnson (49″x61″; indigo, Japanese paper, gold; 2017)
---

Misoo: "Inner Struggle Fought on Paper"
1/17 to 2/17/2017
Misoo's work in "Inner Struggle Fought on Paper" involves themes of redemption, allowing Misoo to confront the memories of childhood sexual abuse sleeping just beneath her consciousness and to experience a rebirth in her identity from victim to powerful protector of innocence. Using the juxtaposition of serious narrative with beautiful, approachable techniques made her able to approach the narrative in a safe way and, after spending 20 years of life repressing her own memories of sexual abuse, Misoo was able to allow the memories to flood back to her making sense of the stories hidden in her own artwork. By creating and exhibiting this body of work, Misoo gained control over the previously overpowering memories that used to define her.
Image: Chrysanthemum by Misoo (60″x180″; ink and pencil on Yupo; 2016)
---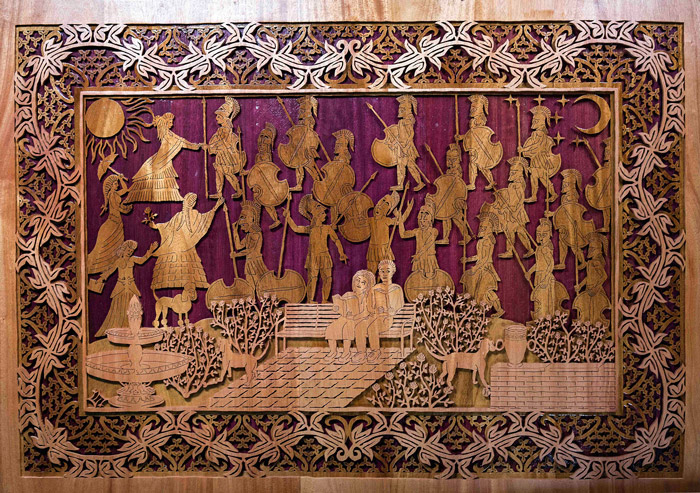 Jeremy Lee McKenzie
11/7 to 12/9/2016
Artist Talk and Reception: Thursday, November 10, 5:30
Jeremy Lee McKenzie, artist and writer, exhibits his narrative wood scrollwork. (image: Imagination by Jeremy Lee McKenzie)
---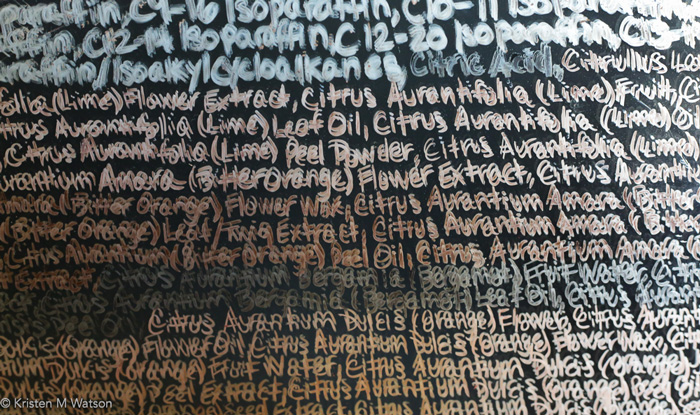 Kristen M. Watson & Mary Admasian: The SHE Project, Part 1
9/2 to 10/28/2016
Opening reception during September's First Friday Art with Artist Talk at 7PM.
Interactive installation works that honor the art tradition of femmage and explore image, self-worth, sexual power, and personal branding in the social media age. (image: rəˈflekt by Kristen M. Watson)
---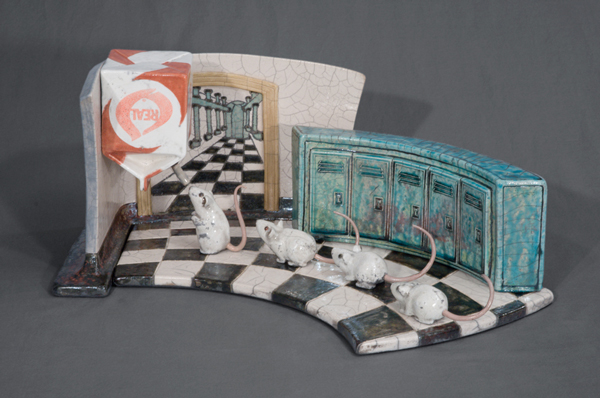 Hyper-Utility
3/21/2016 to 4/15/2016
"Hyper-Utility", featuring the work of Cori Champagne, Sande French-Stockwell, Jane Gordon and Amy Joy Hosterman, considers environmental futures, survival, and how our species will adapt. Curated by ONE Arts working with ArtShape Mammoth. Artist talk and reception: Thursday, March 24, 5:30-7:30PM. (image: Real III, Single File by Amy Joy Hosterman)
---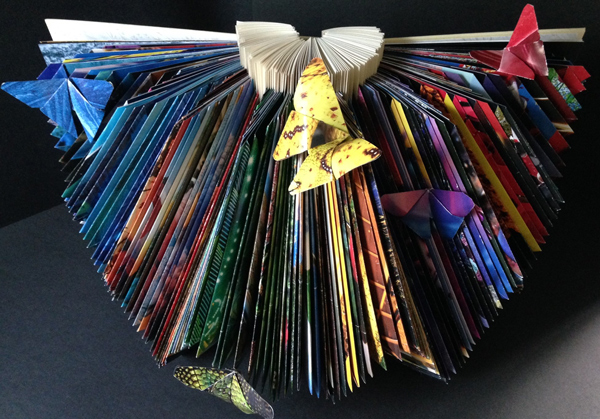 Bookworks: Book Arts Guild of Vermont
Through 3/18/2016
In a show of collaborative and unique work from artists who share a love of books and paper, members and friends of the Book Arts Guild of Vermont explore the format, form, and context of "the book" using diverse techniques and approaches. (image: work by Anne Joppe Mercure)