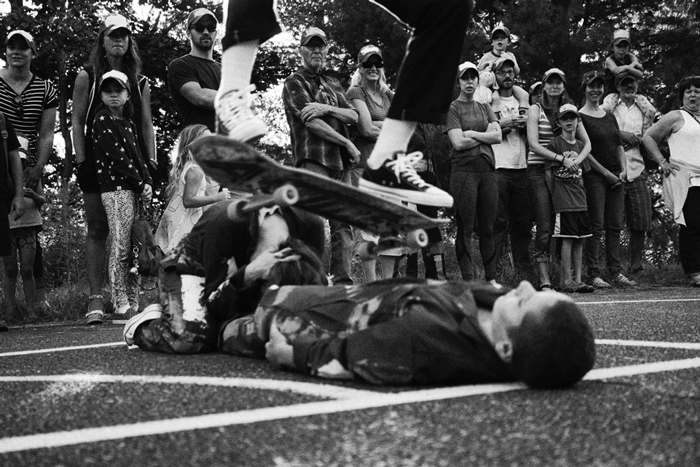 Sleeping Babies/Social Sculptures is a multimedia skate-based installation directed by Erika Senft Miller in collaboration with Maven Skateshop.
During November's First Friday Art, experience Miller's immersive installation and multimedia experience featuring live music by Matt LaRocca and Graham Fisk, videos by Micah Dudash and Jon Portman, photography by Corey Hendrickson, Blotto, and many others.
Special edition 'zines by Michael Jager and Solidarity of Unbridled Labor; t-shirts, hats, skateboard decks and more by Clark Derbes. All based on the one time only immersive multimedia site specific performance with dancers, skateboarders, musicians, photographers, visual artist, and videographers.
Rachel Elizabeth Jones, writing in the September 7, 2017 edition of Seven Days, said: "In late July, local choreographer Erika Senft Miller handed out color-coded baseball caps to about 200 folks, whom she then led through a site-specific performance on an abandoned road in the South End. Sound intriguing? It was. The performance was inspired by Burlington artist Clark Derbes' parenting/painting multitasking ritual of 'self-commissioned works'."
Open Monday-Saturday, Noon-7PM
128 Church Street
(802) 497-3444 or email
Art Map Burlington #18