ONE Arts Center is a community art center in the Old North End, featuring exhibitions, classes, and children's programs.
Open by appointment (send email HERE).
72 North Champlain Street
Art Map Burlington #29
---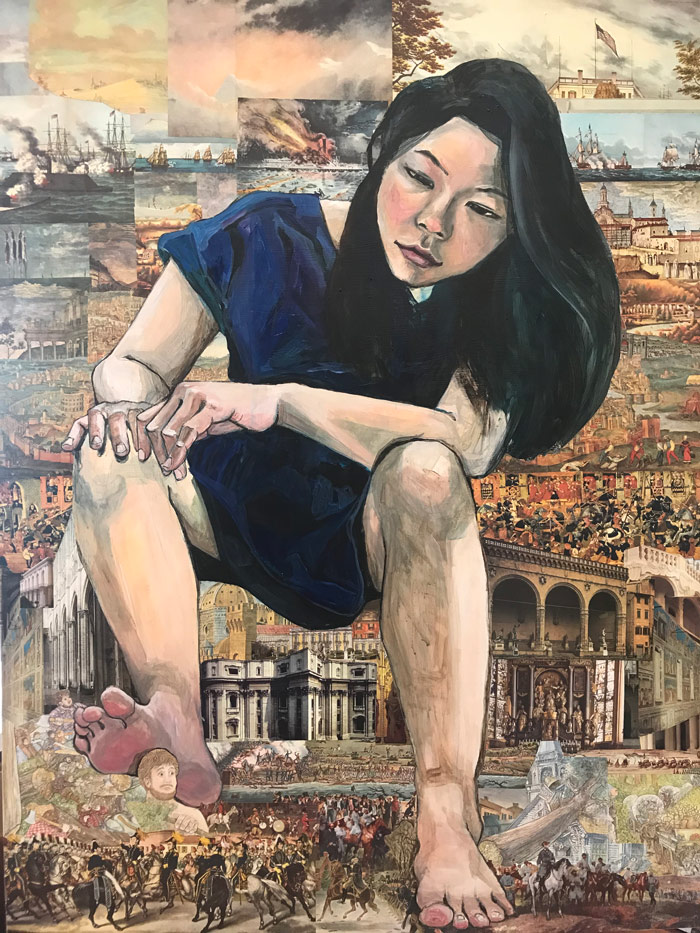 April Fair Housing Month HeART & Home Art Exhibit
April 2019
Opening Reception & Fair Housing Month Kick-Off: Tuesday, April 2, 5-7PM
View the creative and inspirational artwork from Misoo Filan, Eden Stern, Cristina Clarimon, Sabah Abbas, Corrine Yonce, and others as they explore the meanings of home, community, inclusivity, and diversity.
See the full schedule of events HERE.
Image: The Giant Asian Girl 9 by Misoo Filan (painting/collage; 2018). Courtesy of the artist.
---
Holiday Market
November-December 2016
Sweet Sips I: November's First Friday Art, 6-9
Come mingle and enjoy a hot drink of your choice in a handcrafted mug made by Vermont artist, Colin Gray. Gray's mugs will also be available for purchase during this event. While at the Center, we welcome you to peruse and shop from a selection of artwork and handmade crafts at our annual Holiday Market exhibition. Each year local artists and crafters alike submit work to be showcased and sold as one of a kind, affordable gifts at ONE Arts Center. The Holiday Market will run through the holiday season, but join us at the opening to see the full catalog of available gifts!
$8, FREE for members
---
Heart and Home: Celebrating Inclusive Neighborhoods for Fair Housing Month
Saturday, April 15, 6-8PM
This is ONE Arts' third year celebrating inclusive communities during Fair Housing Month, using a creative initiative, "Heart and Home: Celebrating Inclusive Neighborhoods for Fair Housing Month", and featuring the work of visual artists: Sabah Abbas, Marchelle Mixson, and Corrine Yonce.
---
"Think of Others"
October 2016
"Think of Others" is a collaboration of local artists, in conjunction with Vermonters for a Just Peace in Palestine/Israel (VTJP) that was on exhibit for the 2016 South End Art Hop. It is a collaborative arts project that brings to life a visionary piece by the Palestinian poet Mahmoud Darwish. It offers a call for contemplation of the ongoing struggles facing the Palestinian people, and the universal message of the poem "Think of Others".
In October, the series is displayed at the ONE Arts Center, and coordinated events, such as a night of conversation, will be offered to compliment the visual work. The month's display will conclude with a night of performances, including local poets, readings of Mahoud Darwish's work, and music.
Contributing Visual Artists: Marita Canedo, Gregory Giordano, Robert W. Brunelle, Jr., Jen Berger, Michelle Sayles, Betsy Kelly, and Delia Robinson.
---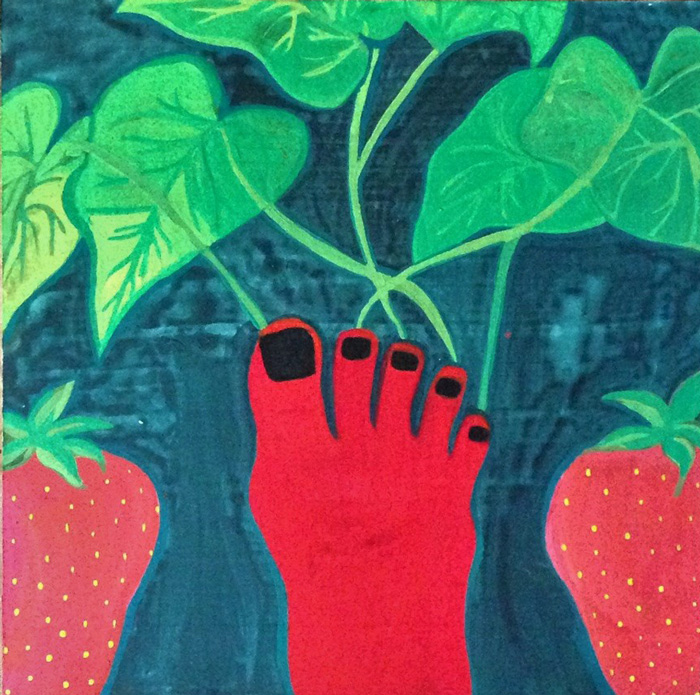 Fall Kick Off!
Sunday, September 11, 2016, 3-6PM
This Fall, ONE Arts Center hosts its first staff art exhibit. Many of the staff and volunteers who contribute to the successes of ONE Arts Center are artists themselves, and this show displays their works. This exhibit also marks the kickoff a series of Fall classes and events for both adults and children. At the opening there will be art, food, and drinks. This is the perfect opportunity to learn more about your community art center and the scope of what we have to offer you.
---
Children's Art Show
Weekend of July 29-31, 2016
Opening ice cream social and kids' activities: Saturday, July 30, Noon-2
In step with the annual celebration of The Ramble, ONE Arts Center hosts a children's arts show. The theme of the show highlights the unique perspectives that local kids hold about their sense of place and what distinguishes the Old North End from other parts of the Queen City. All submitted works must be dropped off at ONE Arts Center before or on July 24th.
---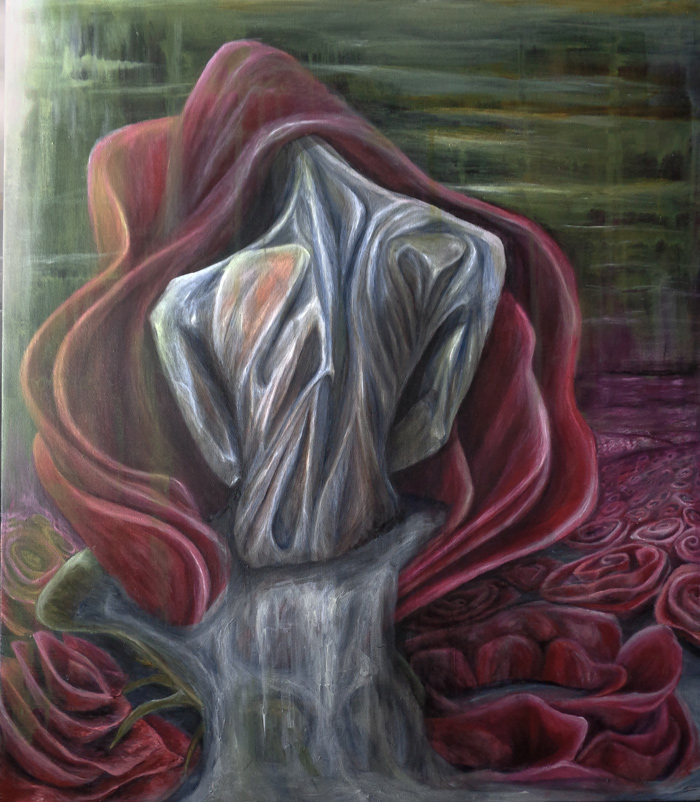 Quinn Dray: "Seasons of Lethe"
June 2016
Opening reception during First Friday Art, 5-10PM
Lethe, being a river in the Greek underworld from which souls drink in order to be reincarnated and reenter the world of the living, causes one to completely forget their former life. Drinking of Lethe, therefore, represents a moment of extreme transition, renewal, and loss experienced in order to move ahead. Moreover, as a soul nears Lethe and its promise of amnesia, it seems natural that it would rifle through all of its memories and linger on those that have emotional significance. Quinn Dray's art explores these ideas by presenting memories revisited by a soul journeying through the underworld on its way to Lethe as material structures and landscapes within 2D media. Each piece is meant to show the distortion of memories by the strong emotions associated with them and the knowledge that they are soon to disappear. (image: Springtime Solace by Quinn Dray (35″x30″; acrylic on canvas; 2016)
---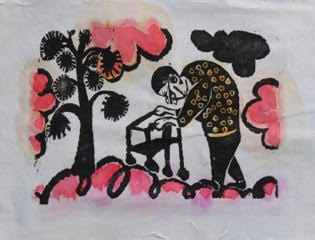 Fay Stanford: "Modern Maturity"
May 2016
Opening reception during First Friday Art followed by Whiskey & Cheese Pairing
Fay Stanford says about "Modern Maturity": Old age has been called another country. I've got my passport (I'm on Medicare) and I expect someday to be a full-time resident.
---
My parents, of course, have preceded me. They are eighty-eight and eighty-seven years old and they live 1000 miles away in separate assisted living encampments. My sisters and I visit when we can and help with driving and doctors. My mother is in a dementia home: not just another country, another planet.
I am investigating old, old age by poking at it with this long stick called art making. The trick will be in how gracefully I can manage my own transition, given the chance, to this not-so-far-away land of unforgiving terrain.
While we may not improve with age, whiskey and cheese do! Indulge in a tasting, while at the art reception. Enjoy 3 locally distilled whiskeys, each paired with local cheese of the distillers' recommendation. $15 in advance, $20 at the door. Free! Unless you want to participate in the whiskey and cheese pairing. (image: Agedly by Fay Stanford (2015))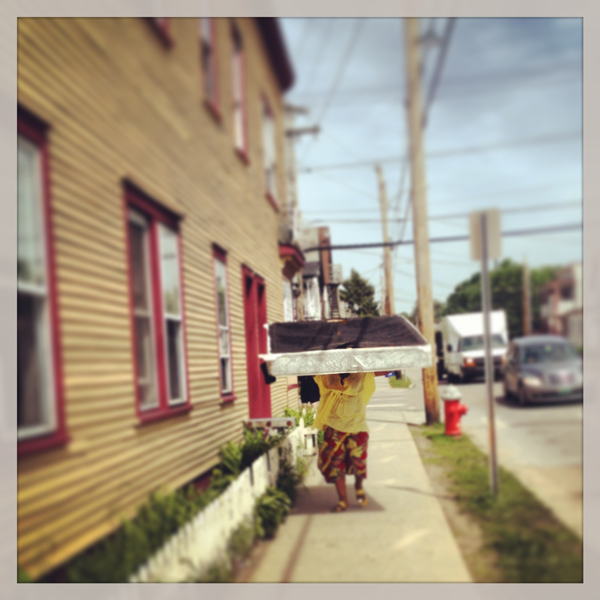 Heart and Home
April 2016
"Heart and Home" is an eight person show that examines personal perspectives on the impact of neighborhood and community. Vermont artists Ted Wimpey, Winnie Looby, John Rovnak (image above: A Place to Rest Your Head), Rick Castillo, Robin Katrick, Robert Waldo Brunelle, Jr., Amey Radcliffe, and Jennie Kristel honor Fair Housing Month with their own reflections of home. April is designated Fair Housing Month in recognition of the Fair Housing Act, an act closely associated with Rev. Dr. Martin Luther King Jr., that seeks to end housing discrimination and advance inclusivity and social justice. It was signed into law on April 11, 1968 and prohibited housing discrimination based on race, religion, national origin, sex, handicap and family status. In 1987, Vermont enacted laws further protecting age, sexual orientation and gender identity. Opening reception and cocktail party during April's First Friday Art, 6-9PM. There is a $5 suggested donation after 7PM.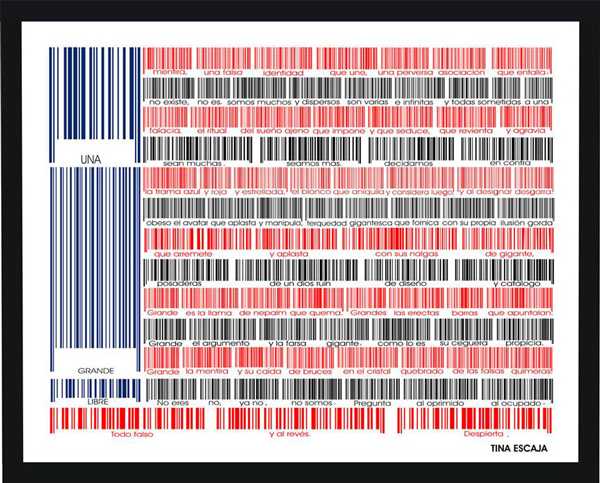 CONTEXERE (Lat. To weave, entwine, braid)
3/4/2016 to 3/27/2016
"Contexere" weaves together the multiple strands of texts and images, words and visual arrangement in space and time, and explores the complex processes of verbal and non-verbal communication. The opening during March's First Friday Art features pop-up readings and performances by the artists from 6-10PM. Artists include: Carolyn Crotty, Tina Escaja, Sharon Webster, Barbara Hauzinger, Bobby Seaman, Kim Gifford, joshuA, Lorna Dielentheis, Jessica Lewis, Genese Grill, and Margaret Coleman.
An interactive element with the show, Writing Swap, running from February 27 to March 31, allows the public to participate in "Contexere". Drop off copies of creative writing on paper–single pages or zines–at ONE Arts Center, 72 North Champlain Street between Noon and 5PM on Saturdays and Sundays (February 27-28, March 5-6, March 12-13, March 19-20, and March 26-27) or any time the gallery is open. There will be a display for people to collect each other's writing anytime the gallery is open.
Poetry Reading: Sunday, March 13, 3PM
Pints and Prose, an evening of writing games and beer: Friday, March 18, 7-9PM