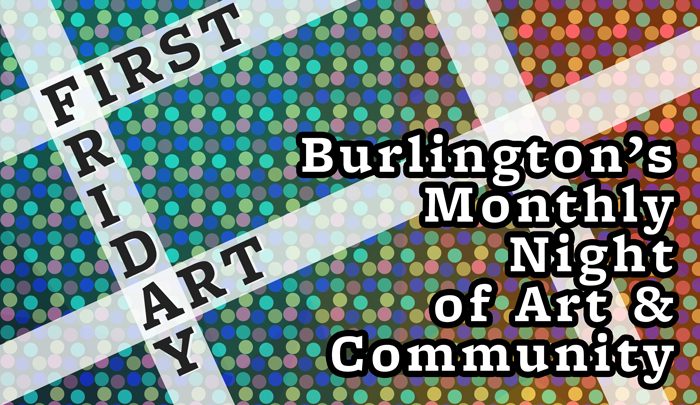 The next First Friday Art is
September 2nd, 5-8PM.
First Friday Art is a monthly, community-wide event where dozens of art venues across the city host openings, exhibitions, and happenings.
The event is free and open to anyone.
Most venues are open from 5PM to 8PM, but some are open earlier or later.
Art Map Burlington is the official guide to First Friday Art. Pick up a copy at any participating venue. Enjoy!
---
Live music venue, restaurant, and bar with monthly exhibits by emerging Burlington artists. September-October 2016: Scott King's layered works on birch plywood with paint markers, spray paint and acrylic. 188 Main St, (802) 658-4771, Open nightly.
Laptop refurbishing shop shows work by area artists in monthly shows. 9/1/2016 to 10/31/2016: In "Childhood Home", Tess Elizabeth Holbrook, driven by storytelling and exploring human emotions, finds a romance in oil paints that allows her to bring out the stories and emotions that circle within us all. Opening reception during First Friday Art. 196 College St, (802) 578-9687. Open M-Sat, 9:30-8; Sun, 10:30-6. (image below: Looming Home by Tess Elizabeth Holbrook)

Open daily 7AM-11PM. Member-artists are showcased in the café seating area. September 2016: Award-winning Czech artist Petr Pavel Kepka shows night photographs of Prague, one of his life-long passions. 82 S Winooski Ave, (802) 861-9700. (image below by Petr Pavel Kepka)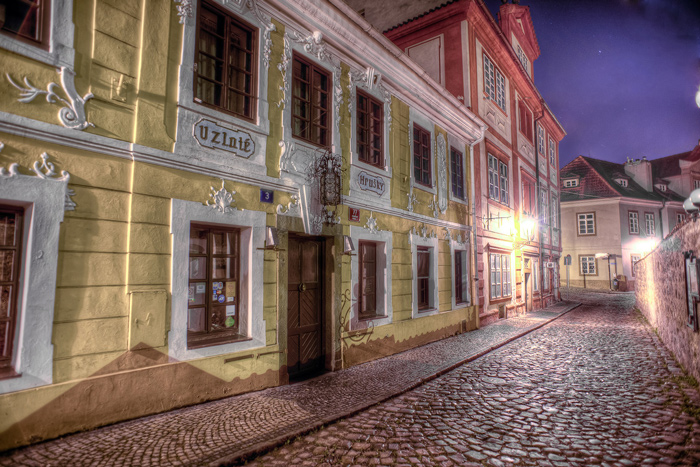 A 5-floor visual arts center promoting excellence, experimentation, and education in all forms of contemporary art. Through 10/1/2016: Taking advantage of the diverse range of artistic practices that visits Vermont each summer through BCA's Seven Below artist residency program, "Fixed/Fluxed" transforms the BCA Center into a space of constant flux. Three former artists-in-residence were invited back to install, reinstall, add to, reduce or remove their work from the space through the course of the exhibition. 135 Church St, (802) 865-7166, Open Tues-Thurs & Sun, 11-5; Fri-Sat, 11-8.
A community spot since 2007, New Moon Café presents work by Burlington area artists in the dining area. Through 9/30/2016: Carly Kemp's paintings, "Peace of My Heart", reflect her overflowing love and gratitude for Burlington. Freedom In Creation's photography show, "The Story of Freedom", celebrates children subjected to the horrors of war in the Gulu District of Northern Uganda and their ability to participate in the process of restoring their communities. 150 Cherry St, (802) 383-1505 or (802) 383-1496. M-F, 7:30AM-8:30PM; Sun 8AM-8:30PM.
Showing the works of over 200 juried, Vermont artisans in month-long exhibits. August 2016: Working with Generator, Frog Hollow's "Mark of the Machine" is work by established Generator "makers" that highlight the diversity of work created there. Opening reception during First Friday Art. 85 Church St, (802) 863-5458. Hours vary by season. (image below: Basalt Reef, Moeraki, New Zealand by Claire Van Vliet (15″x30″; vitreograph; 2009))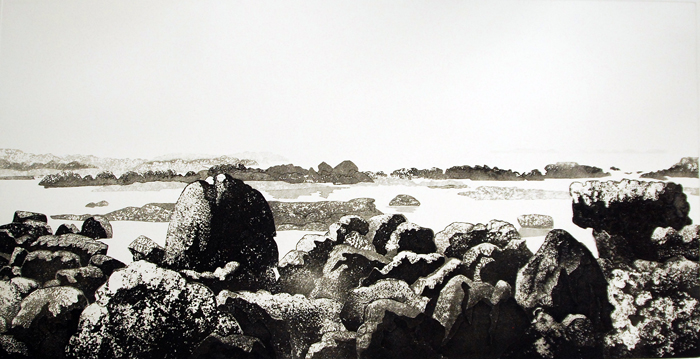 Presenting monthly shows in the Church Street window by artist Nyx Black, who creates as Anonymous Muse. 104 Church St, (802) 860-6630. Open M-Sat, 8-5; Sun, 9-4. (image below by Nyx Black of Anonymous Muse)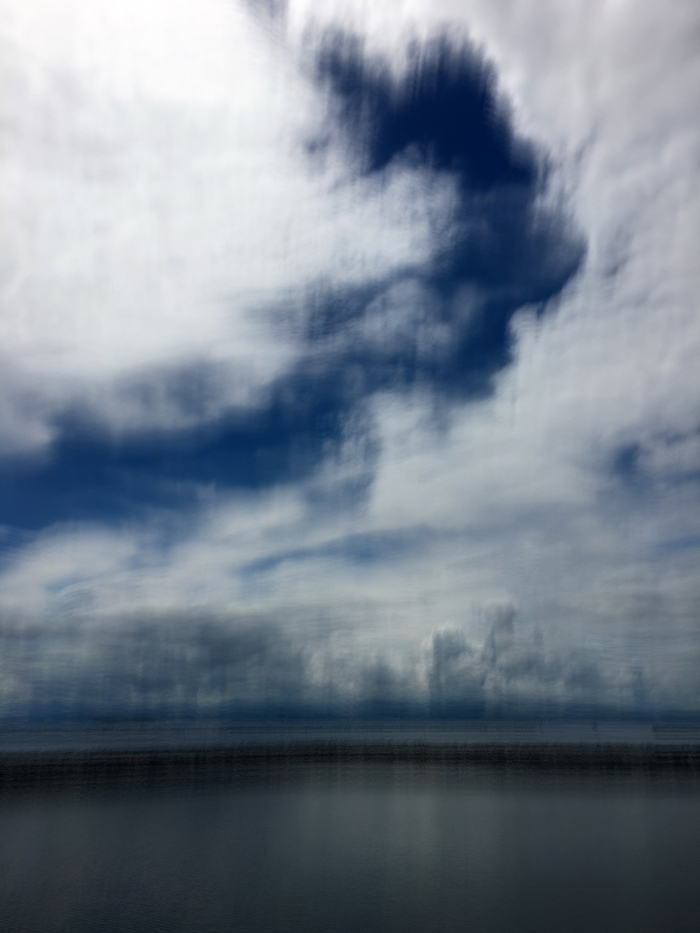 The walls of this Church Street café are lined with art by Vermont artists whose work deals with Vermont themes. Through September 2016: Illustrations by Austin Scrivens, artist, illustrator, cartoon connoisseur, video game nerd and tumblogger. 42 Church St, (802) 865-6227, Open M-Thurs, 7-9; F, 7-10; Sat, 8-10; Sun, 9-9.
Community organizations share their mission through artwork on the main floor. September 2016: A professional artist for over 20 years, Carol Boucher creates monotypes and paintings (oil pastel, oil, and acrylic). Love of color and landscape fuel her creative process. Curated by BCA. 149 Church St, (802) 865-7166, M-F, 8:30-4:30.
Part of Maglianero Café, space has high ceilings and large windows and hosts a Youth Poetry Slam during each First Friday Art. Through 9/3/2016: Australian-American painter Charlie Hudson uses layers of abstract shapes and colors to create scenes and imagery from his head, inspired by his surroundings. 9/9/2016 to 10/21/2016: Four decades of genuine human stories in unique portraits by photographer David Roby, including Led Zeppelin, The Clash, Evel Knievel, Jake Burton, and others. Opening reception: Friday, September 9, 6. 47 Maple St, (802) 861-3155. M-F, 7-7; Sat-Sun, 8-6. (image below: Nixon for Sale by David Roby)

Presenting art by students, artists-in-residence, faculty and invitees in a variety of exhibitions and settings during the school year. Through 9/3/2016: Todd R. Lockwood's "Portraiture Reimagined" introduces Cinema Portraits, a convergence of portrait photography, cinema, and writing. 9/8/2016 to 10/16/2016: The Faculty Art Show is an annual survey of new work from Champlain College's art, design and core faculty members. Opening reception: Thursday, September 15. 9/8/2016 to 12/10/2016: Eben Markowsky's elephant sculpture Gravity in the Rozendell Courtyard. Art Hop Friday: "alt ctrl", 3 interactive art/experimental game design installations in front of SEABA Gallery, 404 Pine St. 375 Maple Street (Hauke Family Center, 2nd Floor), (802) 860-2700, Thurs, 10-5; Fri, 4-8; Sat, 11-4:30. (image below by Todd Lockwood, from Cinema Portraits)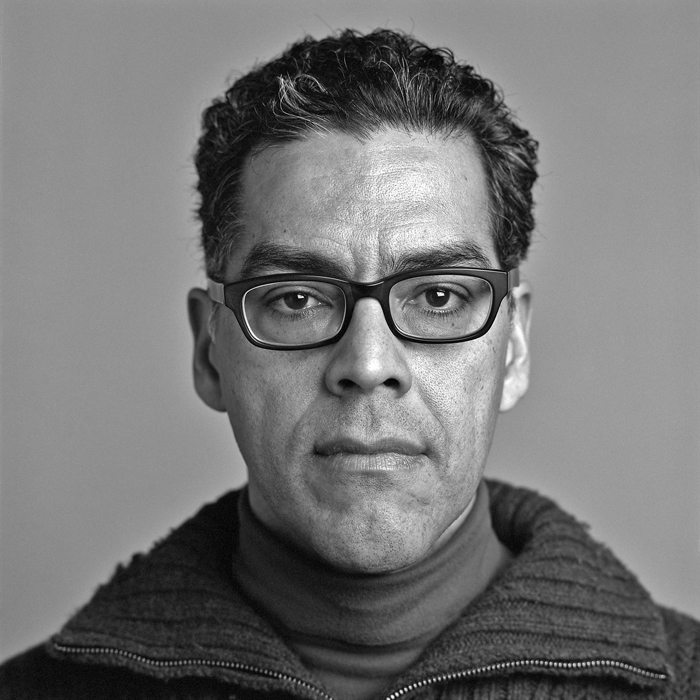 Home to 14 artist studios with a shared exhibition space. September 2016: "Fall Forward" presents interpretations by 14 Brickwork artists ranging from photography to oils, acrylics, collage and mixed media. Opening during First Friday Art and open for the South End Art Hop. 266 S Champlain St (enter from parking lot at 277 Pine St). Open for First Friday Art and by appt. (image below: Beauty in a Messy World by Holly Hauxjeffers)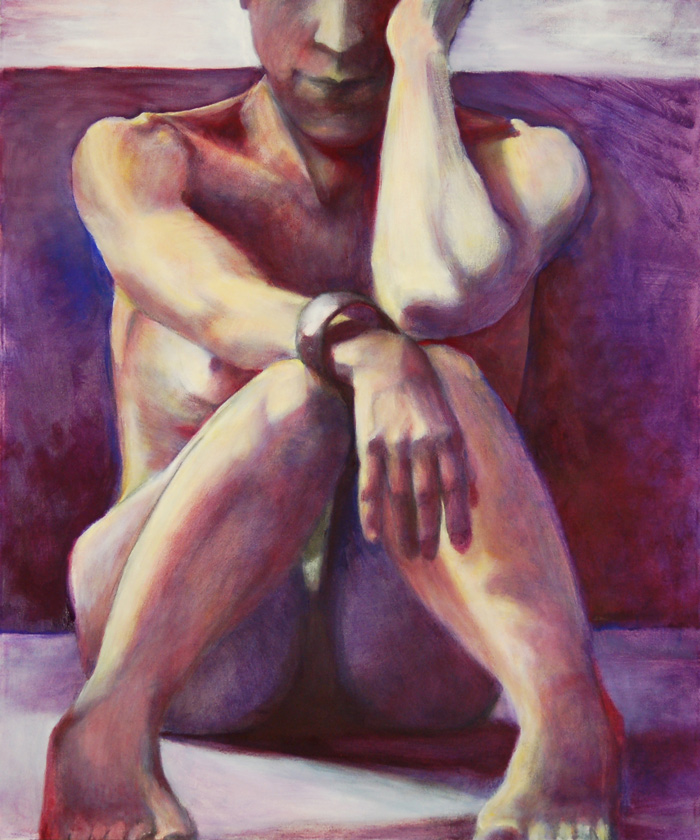 Sample Switchback brews or grab a pint while enjoying local art in the viewing hallway that also overlooks the bottling line. 9/2/2016 to 10/30/2016: Michelle Turbide's "Fragments" are watercolors about the transformation of the soul through lived experiences that change, evolve, and grow us. Artist reception during First Friday Art with live music by Phil Yates & The Affiliates. 160 Flynn Avenue, (802) 651-4114. Sun-Thurs, 11-7; Fri-Sat, 11-8. (image below: Her Bones Were Green by Michelle Turbide)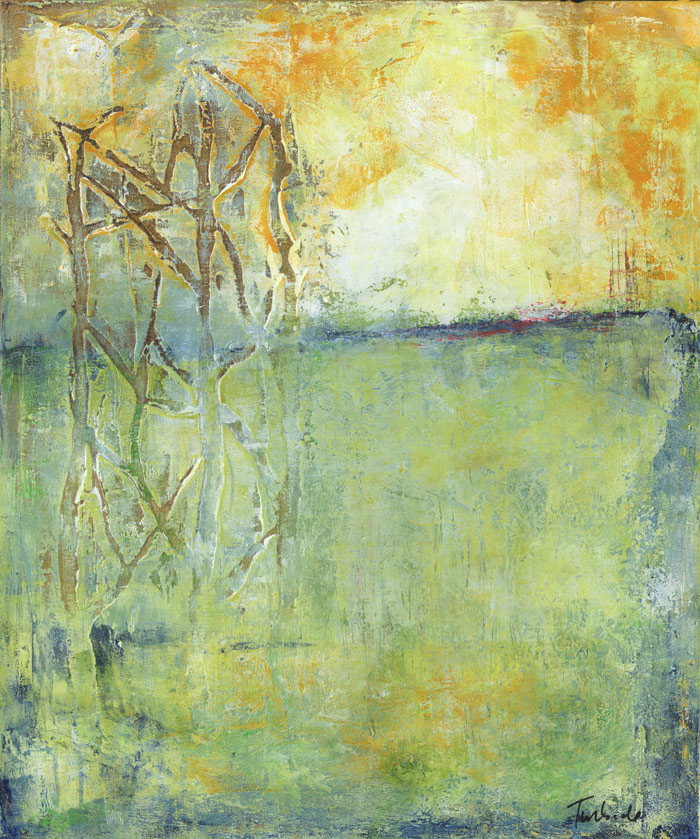 The E-1 Collective is a living, working, vibrant art studio & workshop whose artists work in painting, sketching, jewelry making, and stained glass. Visitors are welcome to our eclectic diversified workshop. 416 Pine St (behind Speeder & Earl's).
Abstract contemporary by artists Bruce R. MacDonald, Gordon Auchincloss, Joël Urruty and George Peterson. Large, precise and multi-dimensional. September 2016: Come see the large, stellar explosions in light sculpture to the small, wood wall reliefs by Bruce R. MacDonald. Open for First Friday Art and during the South End Art Hop, Friday, 5-10 and Saturday, 10-4. 27 Sears Lane (next to Greer's), (800) 639-1868, Open for First Friday, 5-8, Thurs-Fri, 9-5 & by appt.
Hosting a variety of artistic media, featuring local, national and international artists. 9/2/2016 to 10/28/2016: Kristen M. Watson & Mary Admasian's The SHE Project, Part 1 is an interactive installation honoring the art tradition of femmage and exploring image, self-worth, sexual power, and personal branding in the social media age. Artist reception & talk during First Friday Art. L/L Center Room 233, UVM East Campus, (802) 656-4200. M-F, 1-8:30; Sat, 12:30-4:30. (imabe below: rəˈflekt by Kristen M. Watson (dimensions variable; cosmetics on mirror; 2016)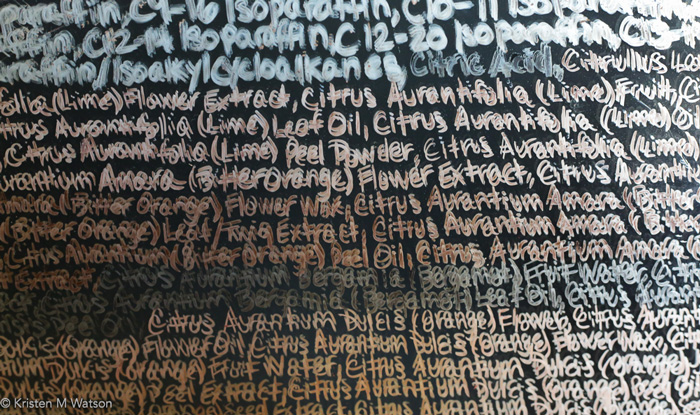 Artwork is displayed on all four floors during the academic year: from student art to a variety of community exhibits. 8/29/2016 to 9/21/2016: UVM Staff Art Show features the works of those who support and keep UVM running. Artist reception: Tuesday, September 13, Noon-1. 9/24/2016 to 10/23/2016. UVM Alumni Art Show. Opening reception: Saturday, September 24, 2-3. UVM Campus, Hours vary by semesters.
The hallway galleries are designed to act as an academic forum for the display of new ideas. Through December 2016: First Floor: Andrew Frost's "Straight & Sound" is black-and-white digital photographs of nature, decay, and human intervention taken in and around Bergen County, NJ. Second Floor: "Battle Journal" by CCV faculty member Linda Shere (image below) was created purely from imagination and contemplative instinct. Her intimate watercolors deconstruct war, femininity and history. 1 Abenaki Way, Winooski, (802) 654-0505, M-F, 8-8; weekends, call for hours.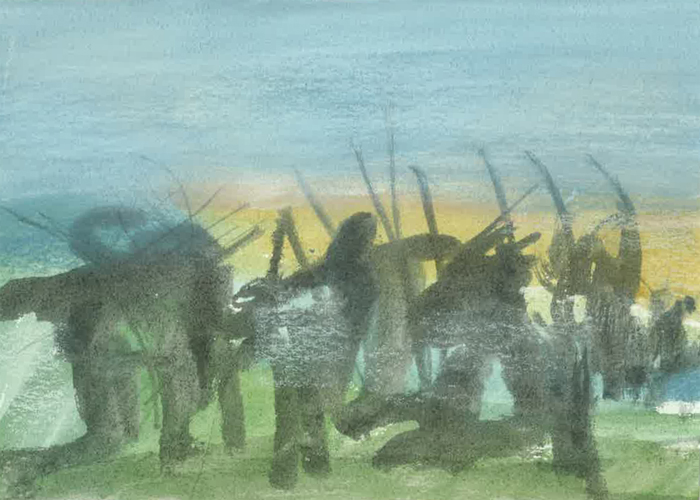 Listing an Exhibition
Are you a gallery, art studio, individual artist, or a business that hosts exhibitions of artwork? Then membership to Art Map Burlington is for you. You can sign-up for a single issue or a full year. For more information, call (802) 264-4839 or EMAIL.
---