Art Map Burlington promotes contemporary art in the Greater Burlington area by informing the community about exhibitions, events, and the work of area artists. Ask for a copy of the print edition at any of these venues.
---
Where to See Art-December 2018
Click the venue name to read more.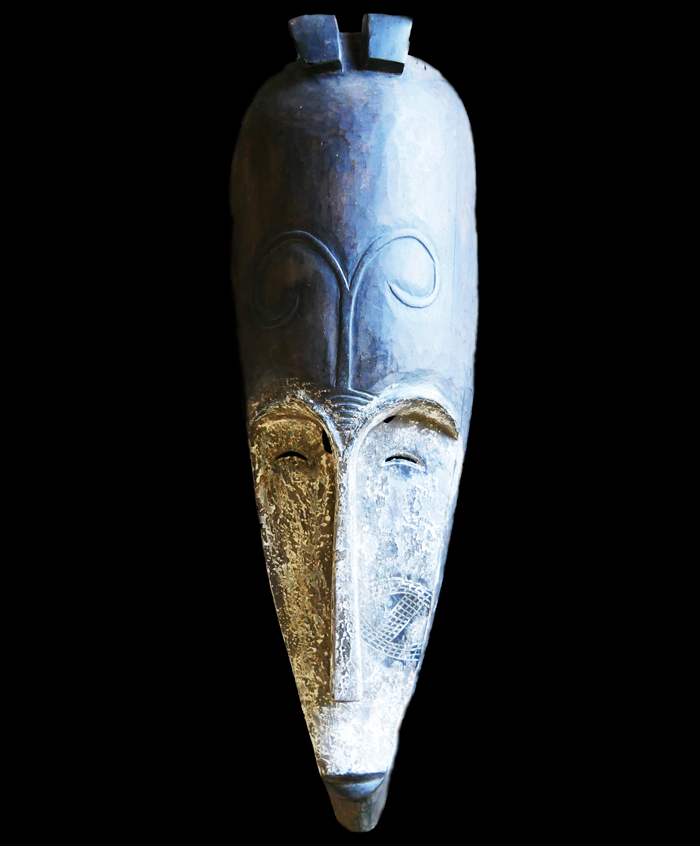 Exhibitions of work by regional artists related to Flynn programming during the same time period. 12/8/18-3/9/19: "The Intrepid Couple and the Story of Authentica African Imports", curated by the Clemmons Family Farm, shares some of the stories and adventurous spirits of Jack & Lydia Clemmons, who loved to travel to out-of-the-way places. Defying social expectations tied to their race, social backgrounds, and age, Jack and Lydia Clemmons moved from Cleveland to Vermont in 1962 and raised their children in Charlotte. Opening reception: Saturday, December 8, 2-4PM. 153 Main Street, (802) 652-4505. Sat, 11-4 and by appt. (image: wooden mask, Fang tribe, Southern Cameroon (c 1800s))
Laptop refurbishing shop shows work by area artists in monthly shows. Through 12/31/18: Grace L. Cothalis' "In a Circle, Mandalas & Cosmic Studies". For the artist, mandalas represent a map of the outer universe and our inner search for understanding & wholeness. "The Cosmic Studies" are an extension of art "in the round", looking out toward the vast universe and into the depths of the mind. Opening during First Friday Art. 196 College St, (802) 578-9687. Open Tues, W & F, 10-6; Thurs, Noon-6; Sat, 11-5. (image: Cheer by Grace L. Cothalis (19″x19″; colored pencil and collage). Courtesy of the artist.)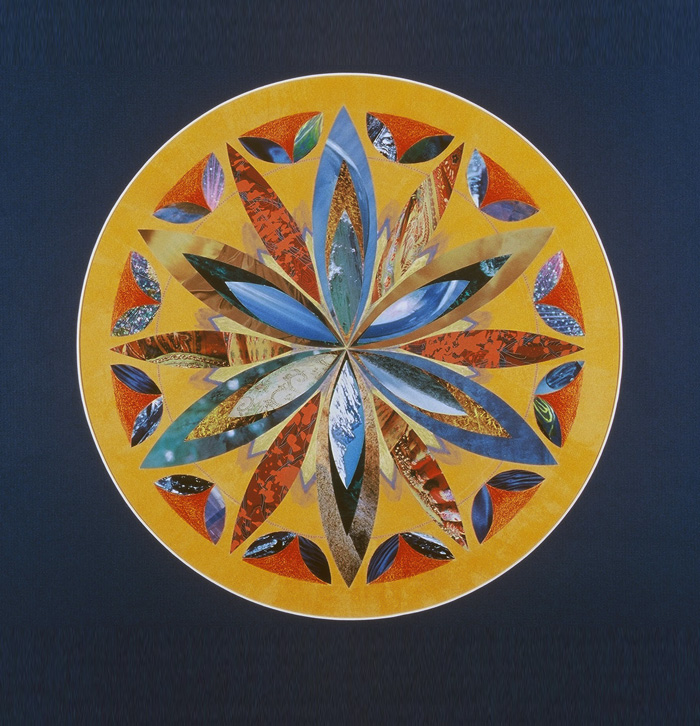 Burlington's only public library since 1875 shows art by area artists and nonprofit groups throughout the year. 12/2-12/29/18, Fletcher Room: The Women's International League for Peace & Freedom presents an exhibit in honor of the anniversary of the UN's adoption of the International Declaration of Human Rights. Reception during First Friday Art, 5-7PM. 12/3-12/28/18, Pickering Room: "The Wonderful World of Birds and Other Creatures". Milton artist Sharon Radtke's photographs include water fowl, songbirds, owls, and other critters in her yard, including a poisonous caterpillar (image: white hickory tussock moth caterpillar) and a river otter. 235 College St, (802) 865-7211, Open daily at 10, Noon on Sunday.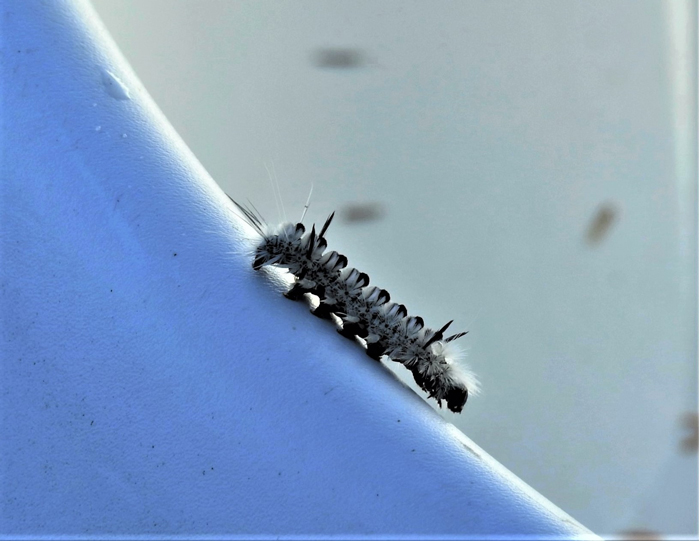 Open daily 7AM-11PM. Member-artists are showcased on the Member Art Wall, located behind register 10. 12/3/18-1/31/19: Burlington abstract painter, musician, and mixed media artist Steve Sharon's paintings use a method he discovered through chance and using the art of improvisation to create. He wants the viewer come to their own conclusions as to what they see. 82 S Winooski Ave, (802) 861-9700.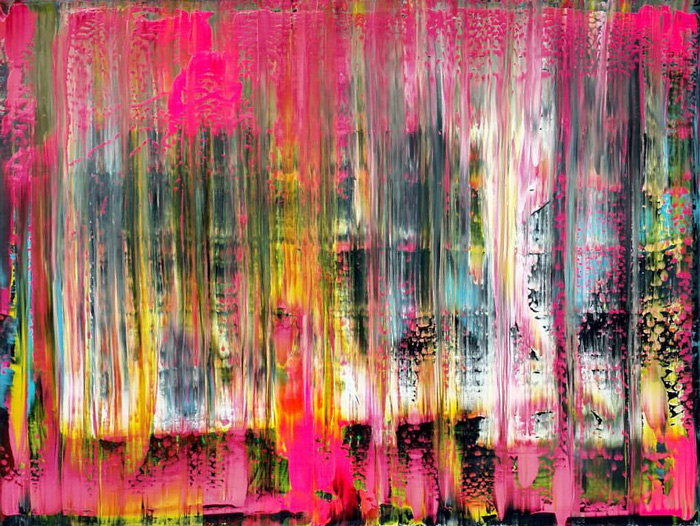 Salon featuring a dedicated gallery space with rotating exhibits focused on eclectic and bold work. Work by two Burlington photographers: Matthew Binginot's "Visions of Vermont" and Arielle Thomas' "Everybody Leaves Me". Opening during First Friday Art. 106 Main St, (802) 864-2088. Open Tues-Thurs, 10-7; Fri-Sat, 10-5.
Featuring contemporary art exhibitions that connect art and community, nurture creativity, imagination, and ignite a passion for learning through the arts. Through 2/9/19: Tectonic Industries: Dreams Can Come True (If It's Not Working For You, You're Not Doing It Right) creates an installation of instructional videos, surveys, and interactive activities that explore the impossibility of our collective, endless endeavor for self-improvement. In BCA's second installment of Project Vermont, Pauline Jennings debuts Becoming Human, a three-channel video and sound installation seeking to identify and dissolve barriers between human and wild in the age of the Anthropocene. 135 Church St, (802) 865-7166, Open Tues-Thurs, Noon-5; Fri-Sat, Noon-8; Sun, Noon-5.
A community spot since 2007, New Moon Café presents work by Burlington-area artists in the dining area. Through 12/31/18: Corrina Thurston's "Disappearing Act…" includes multiple drawings that have never been on display before, focusing on animals that are considered threatened, endangered, or vulnerable. A portion of sale proceeds go to conservation organizations. Artist reception and book launch: Wednesday, December 5, 4-6PM, two of the artist's art business books are being released in paperback. 150 Cherry St, (802) 383-1505 or (802) 383-1496. M-F, 7:30AM-8:30PM; Sun, 8AM-8:30PM.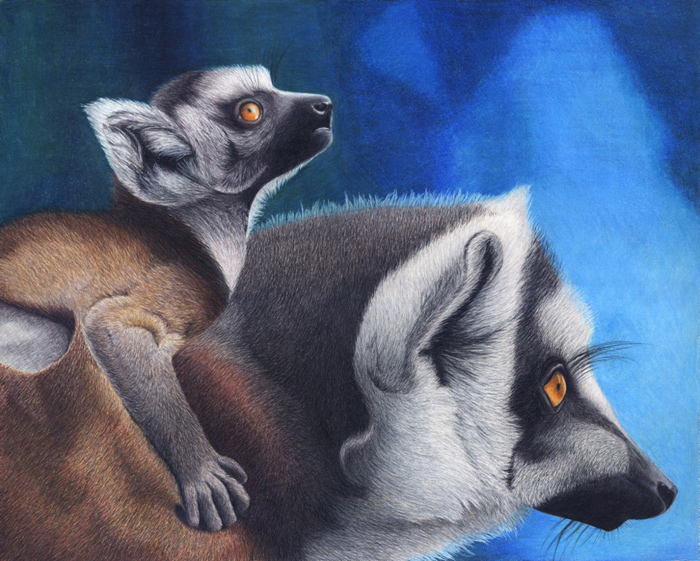 Showing the works of over 200 juried, Vermont artisans in month-long exhibits. 12/7/18-1/14/19: "Passage" is a juried small works show that explores the idea of passage in any defined or imagined sense of the word. What does it mean to move through, over, under, or past something on the way from one place to another? Opening during First Friday Art. 85 Church St, (802) 863-6458. Hours vary by season. (image: untitled painting by Ken Russack)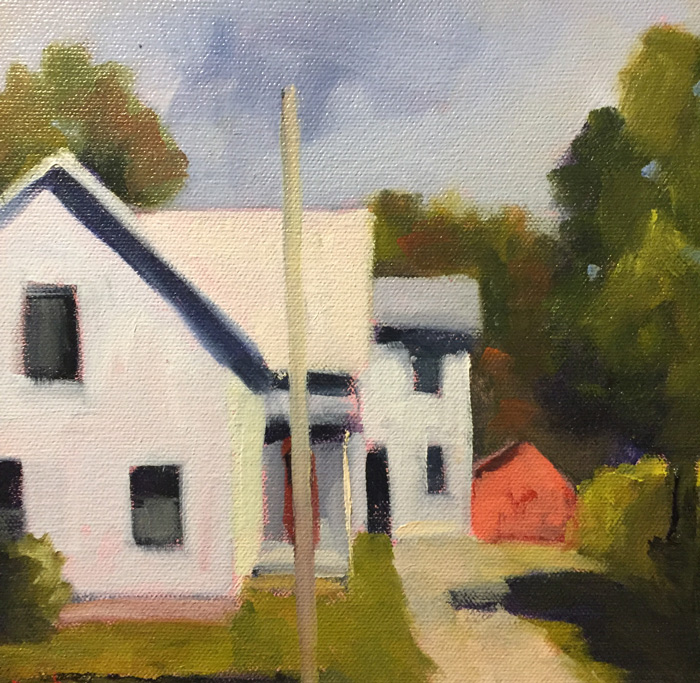 Connecting Burlington's emerging artists with emerging patrons of the arts to create just and sustainable communities. Through 1/17/19: "sick and tired of being sick and tired: how to tell a story of a body and what ails it?" is guest curated by Sumru Tekin and features new work by Thatiana Oliveira and Madeline Veitch. During First Friday Art, enjoy light refreshments and witness the culmination of Meaghan Greene's 6-month studio residency, where she experimented with drawing and traditional fiber-arts materials to explore ideas of discomfort and the domestic. 132 Church St, (802) 355-5440, Open Tues-Fri, 11-5. (image: untitled (Orange) by Thatiana Oliveira (24″x18″; video installation; 2018)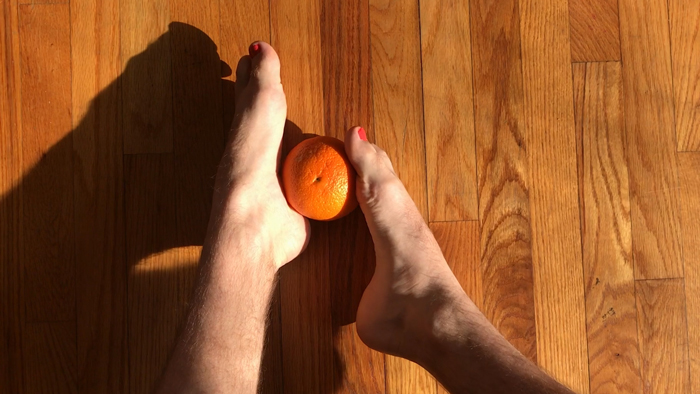 BCA curates the artwork on the main floor. December 2018-January 2019: Joy Huckins-Noss' love for nature is seen in her vibrant canvases. Her paintings feature tiny spots of color which combine optically, similar to pointillism. She applies color in multiple layers to create a uniquely textured surface of color and light. 149 Church St, (802) 865-7166, M-F, 8:30-4:30 and for First Friday Art. (image: Sundance by Joy Huckins-Noss (20″x40″; oil on canvas))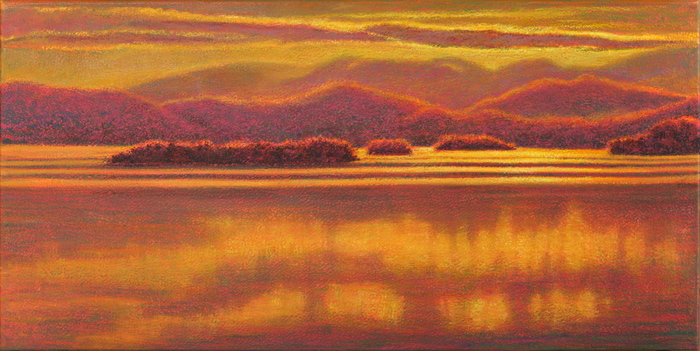 A bakery and cafe in the heart of the Old North End. On all the walls, M of Moose Mountain presents a holiday gift show with 90 original, framed, miniature photographs, at prices ranging from $5 to $15 each. 197 N Winooski Ave, (802) 863-8278, daily, 7-4.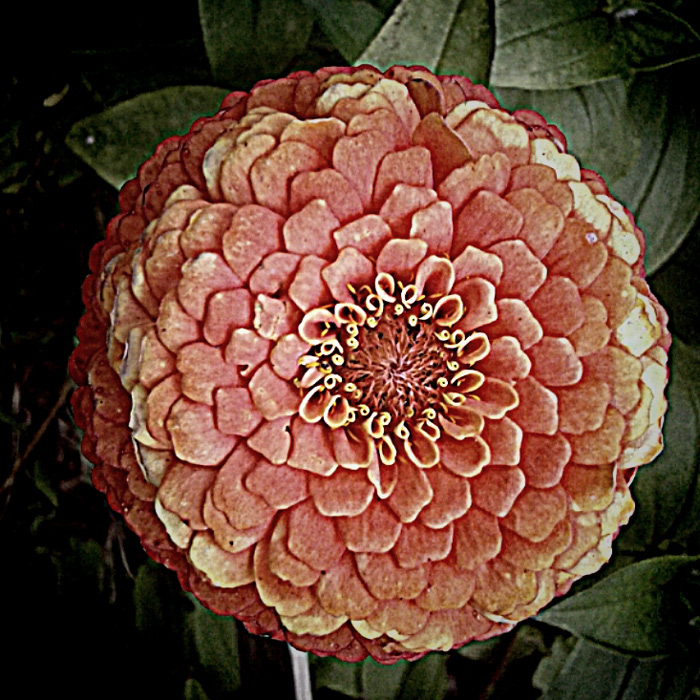 Art's Alive is dedicated to increasing awareness and appreciation of Vermont visual artists. December 2018: The Vermont Children's Trust Foundation presents "The Polar Express". VCTF raises funds and makes grants to Vermont organizations that provide prevention programs serving children and their families. Curated by SEABA. 1 Main St, (802) 859-9222, M-F, 8-3; Sat-Sun, by appt.
Serving up imaginative beers for enlightened palates and regional art throughout the eclectic lakefront brewery. Through 12/31/18: "A Year of Beenanza Block Prints" was inspired by Burlington artist Bethany Andrews-Nichols' profound introduction to block printing in Jaipur, India in October 2017 (image: Summer Glow).  112 Lake St, (802) 399-2511, M-Thurs, Noon-10; Fri-Sat, 11-Midnight; Sun, 11-7.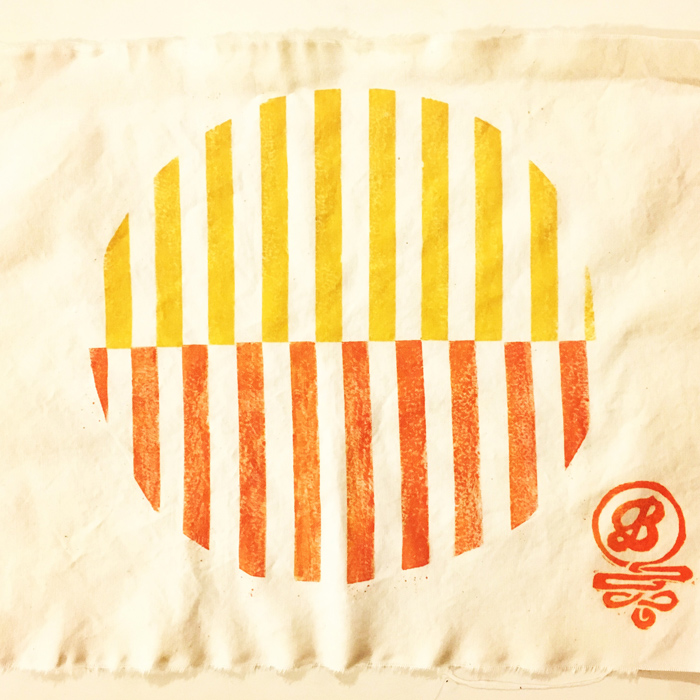 Showcasing nontraditional art by Vermont artists, as well as multimedia work by regional and non-locational artists, in bimonthly shows and community-based events, overlooking Lake Champlain. Through 12/31/18: Timothy Santimore (image below) is heavily influenced by Eastern philosophical ideas (especially Zen Buddhism) and the energetic aesthetics of gestural abstraction. In the media room, Carl Knickerbocker's 2016 short, Night Periscope. Powered by SEABA. CornerStone Building, 3 Main St, (802) 859-9222. Open M-F, 8-8, Sat-Sun, 10-8.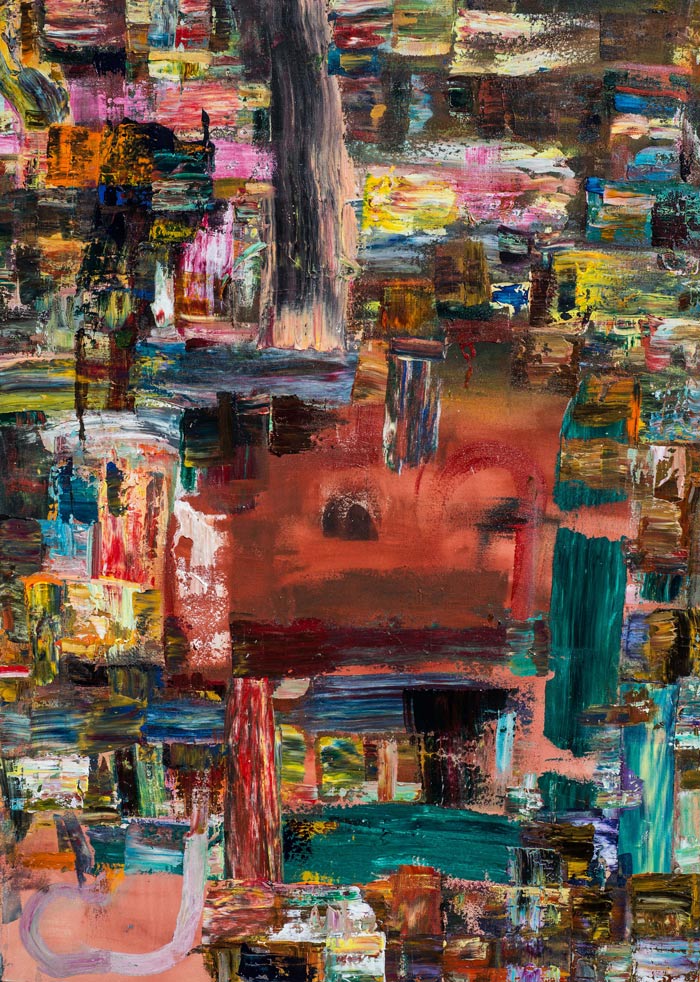 Supporting innovative and experimental contemporary art in all media through exhibitions, events, projects, and residencies, the gallery is a catalyst for interdisciplinary collaboration and learning at the intersection of art and technology. 12/10-12/22/18: Graphic Design Capstone by senior students. 375 Maple Street (CCM Building, 2nd Floor), (802) 860-2700, M-F, 10-4, closed 12/22/18-1/2/19.
Open daily 7AM-9PM. Member-artists are showcased on the Member Art Wall in the cafe. Through 12/31/18: Skyler Barthold's technique is an organic freestyle with asymmetrical dramatic lines of bold colors. The symbols are a language from the higher mind. 207 Flynn Ave, (802) 540-6400.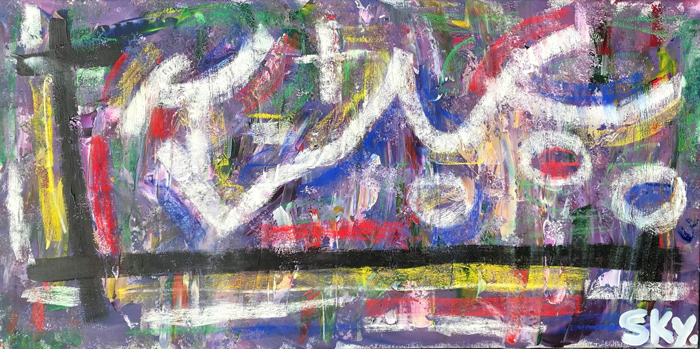 Curated by SEABA, showcasing traditional and non-traditional visual and multimedia artwork by Vermont artists. Through 2/28/19: The Northern Vermont Artist Association presents a group show. The NVAA was founded in Burlington in 1931 and is open to all visual artists. Dues are $15 annually. 208 Flynn Ave, #2-G, (802) 651-9692, Open M-F, 10-10, Sat, 10-5. (image: Brown's River in Winter by Marlene Hodgdon)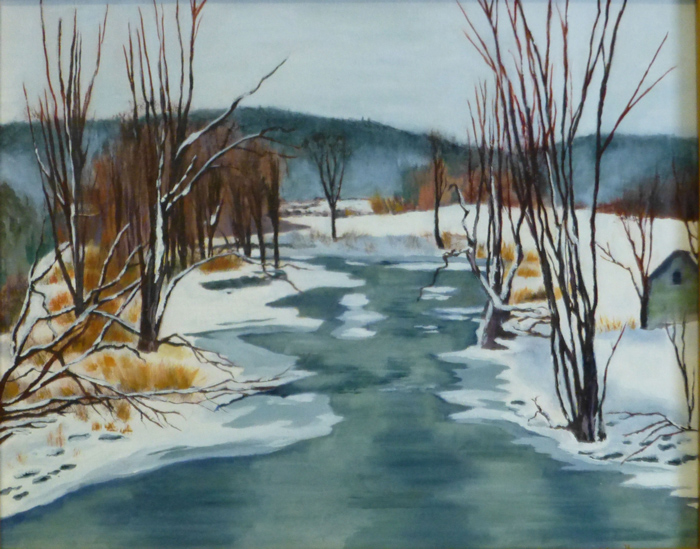 Traditional and non-traditional exhibitions and community-based events. Curated by ArtShape Mammoth. Through 12/29/18: "th!NK" is a collaborative drawing project created by the community in and around the Rutland Northeast Supervisory Union: 6 art teachers, 900 students, the board of the Compass Foundation, and over 100 bus drivers, administrators, classroom teachers, parents, volunteers, administrators and staff. 208 Flynn Ave, (802) 363-4746, M-F, 7-4, Sat, 9-Noon.

Art Gallery surrounded by 12 working artist studios. 12/7/18-1/19/19: The annual "Small Works" holiday exhibition features art perfectly sized for gift giving or for any spot in your home or office that needs a special pop of color and life! The art is in a variety of mediums and measures no more than 12″ in any direction before framing. Opening during First Friday Art, 5-9. 266 Pine St (Soda Plant), spacegalleryvt.com, Open Thurs-Sat, Noon-5.(image: Nail Polish (Yellow)by Kylie Dally (print, edition 7 of 23). Courtesy of the artist.)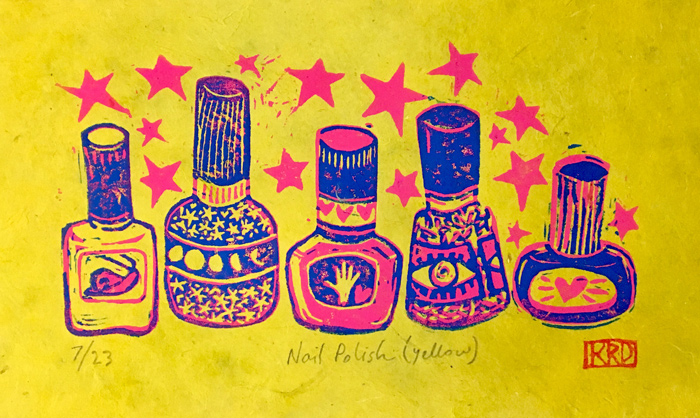 Art shop featuring about 30 artists from Vermont and beyond with a rotating artist on one wall. December 2018: Emily Mitchell's acrylic paintings are rooted in her deep connection to nature. Bold, vibrant, and colorful, Mitchell's layers of translucent paint create a hypnotic narrative "landscape", brimming with energy and feeling. 270 Pine St, (802) 338-7441, Open Tues-Sat, 10-6, until 8 during First Friday Art. (image: Just Allow by Emily Mitchell (10″x20″). Courtesy of the artist)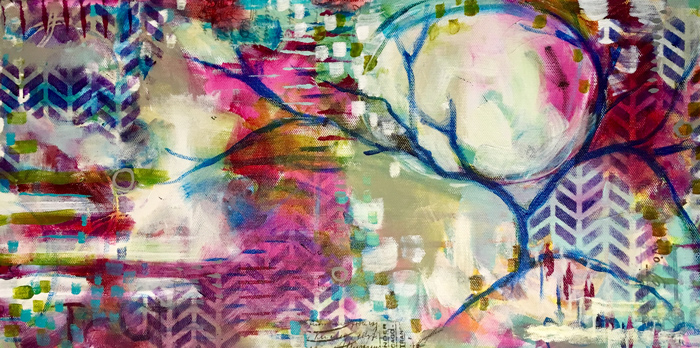 This eclectic second-hand shop is home to a revolving collection of art. 377 Pine St, (802) 540-0107, M, W-Th, 10-5; Fri-Sat, 10-9; Sun, 11-3.
This sprawling South End complex shows art in the first, second & third floor corridors. Ongoing. Artwork by Dennis McCarthy, Evan Greenwald, Frank DeAngelis, Janet Bonneau, Janie McKenzie, Jordan Holstein, Kara Torres, Lynne Reed, Marilyn Barry, Mike Reilly, Melissa Peabody, Rae Harrell, Robert Gold, Stephen Beattie, Tatiana Zelazo, Terry Mercy, Travis Alford. This exhibit is part of the 26th South End Art Hop. Curated by SEABA. 128 Lakeside Ave, (802) 859-9222, Open M-F, 6-6.
Aaron Stein's license plate artwork: map sculptures, shadow boxes, photo frames, wine racks, cuffs, house trailers, lamps and ornaments all created out of recycled license plates from all 50 states. 266 Pine St (Soda Plant), (802) 355-4091. Open during First Friday Art and by appt.
Two working studios featuring abstract, eclectic, and sometimes chaotic original paint work by Franky D, who started painting for the first time in 2016 with no formal art training. His work is passionate, gritty, and imperfect much like life itself. 266 Pine St (Soda Plant), (802) 355-3502. Open Thurs-Sat, Noon-5 and by appointment.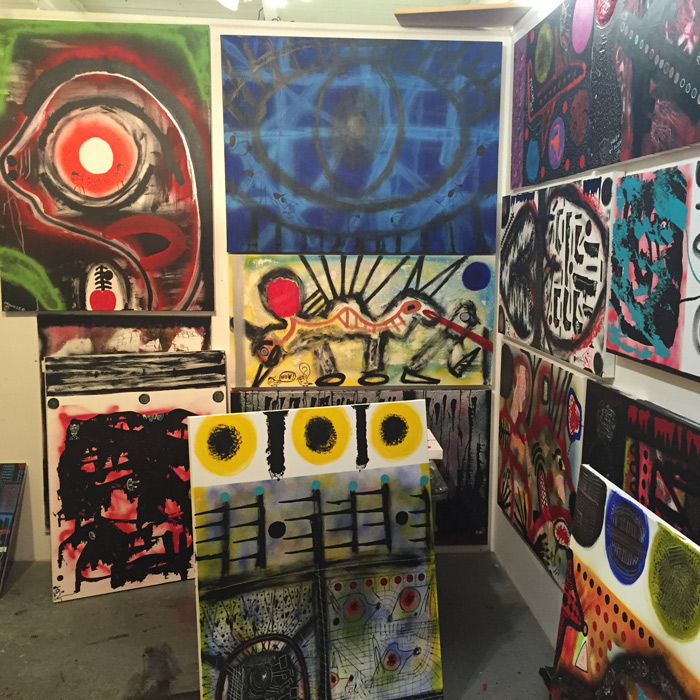 Please keep your eyes and ears open for announcements about SEABA's move and 2019 exhibitions! 12/19-12/22/18: Main Street Landing sponsors SEABA's 2018 Holiday Market, part of the South End Holiday sHop, with one-of-a-kind gifts: jewelry, wooden creations, cards, ornaments and many other unique crafts. 3rd Floor Atrium, 60 Lake St, (802) 859-9222. Thurs-Fri, 12/19-20, 11-4; Sat, 12/21, Noon-6; Sun, 12/22, 10-4.
A custom picture framing workshop that features monthly exhibitions. December 2018: "World's Best Art!". For the third year in a row, see the World's Best Art in the design, hallway and workshop galleries! This exhibition features many pieces from the Dostie Bros. private collection as well as a variety of works created by South End Arts District artists. Much art will be for sale. 308 Pine St #101, (802) 660-9005. Open M-F, 10-6; Sat, 10-3. (image: Vase and Flowers by Dostie (acyrlic on canvas; 2004). Courtesy of the artist)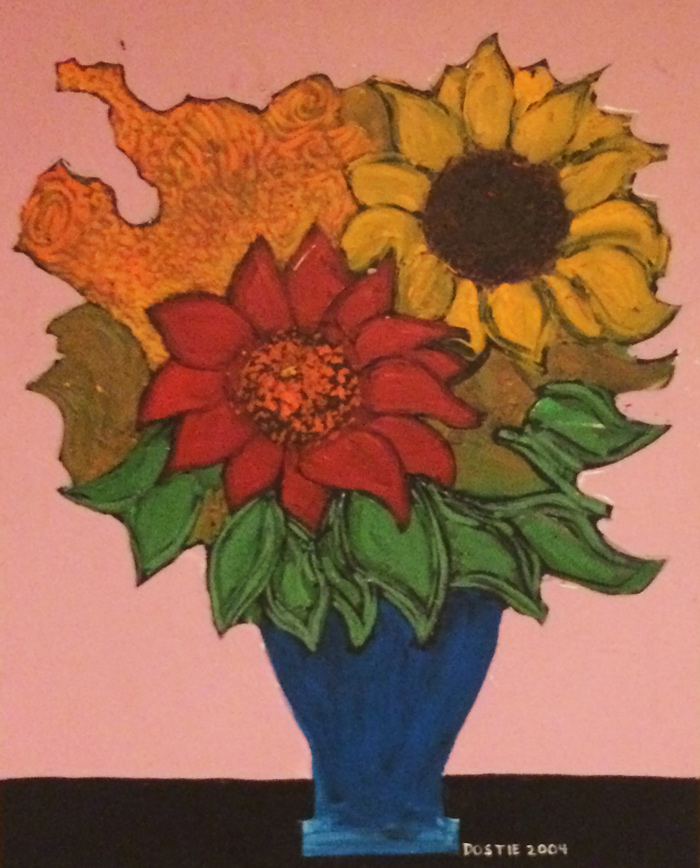 Venerable coffeehouse exhibiting traditional and non-traditional visual work by Vermont artists curated by SEABA. December 2018-February 2019: Kara Torres' multimedia show "Myriad Veils" explores literal and metaphorical veils and how they simultaneously obscure and elucidate what lies beneath. 412 Pine St, (802) 658-7016, M-F 6:30-6, Sat-Sun, 8-5. (image by Kara Torres)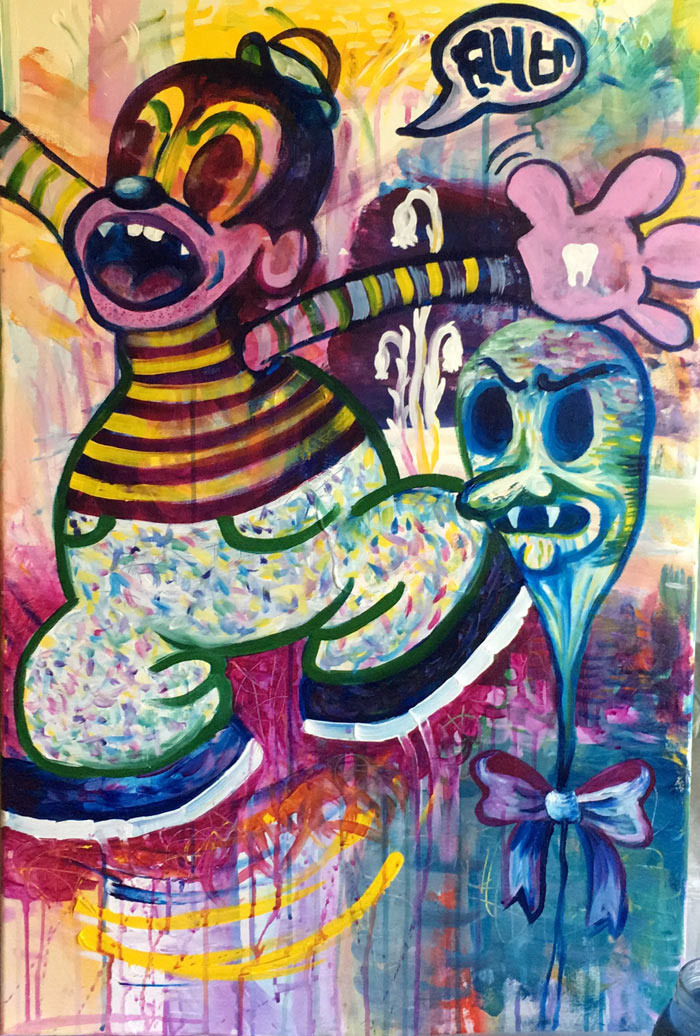 Abstract contemporary by artists Bruce R. MacDonald, Gordon Auchincloss, Joël Urruty and George Peterson. December 2018: "Time as They Good Went Love" is the largest and brightest in the new collection of dimensional light sculpture by Bruce R. MacDonald next to the bold wood forms by Clark Derbes. HAVOC Gallery is closed for First Friday Art, as they are exhibiting at Art Miami. 27 Sears Ln (next to Greer's), (800) 639-1868, (after 12/12/18): Open Weds-Fri, 9-5 & by appt.(image: Time as They Good Went Love by Bruce R. MacDonald (66″x56″; stainless steel light sculpture; 2018))

Meet Emily Anderson and learn how she uses the drawing of fairies to inspire imagination and encourage positivity so life's challenges can be met with light-hearted energy. During First Friday Art, Anderson will present multiple performances of a Crankic Show called "Accomplishing Big Things" that features the "Fairy of the Day" app. 4a Howard St (3rd Fl, next to Sharon Webster), (802) 238-4540, Open for First Friday Art and by appointment.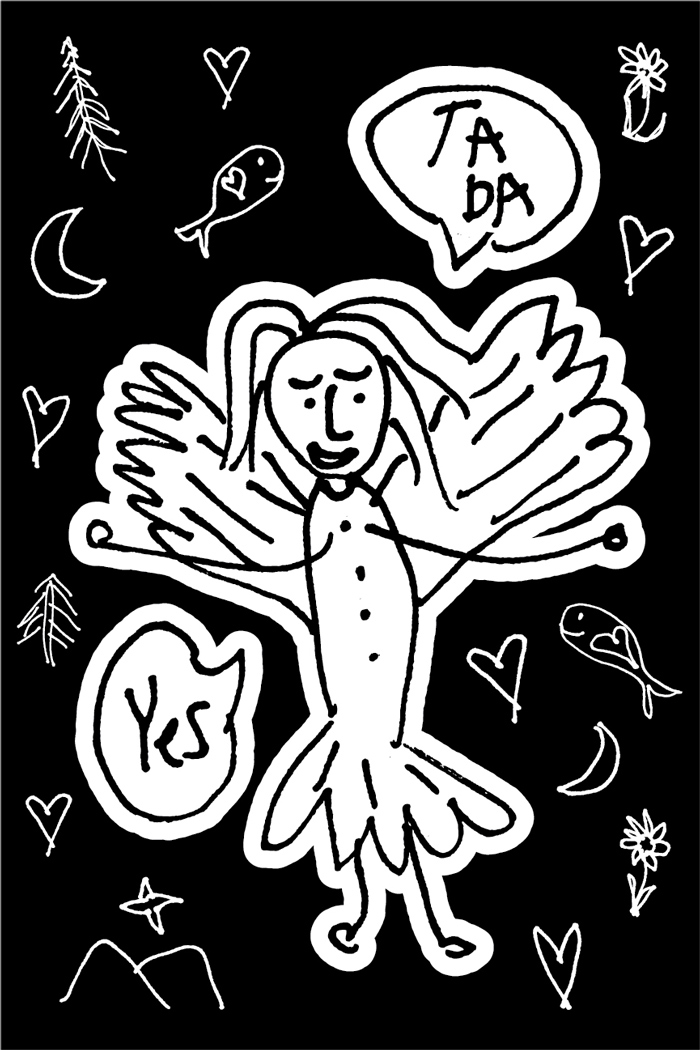 Serving hot bagels and more in a relaxed atmosphere with rotating art shows. December 2018: Barre painter Patty Meriam wants her art to motivate people to environmental activism by triggering an emotional response to the Earth's natural beauty.and Vermont's way of life. 660 Pine St, (802) 540-0474, Open M-Sat, 7-4, Sun, 8-3. (image: Birch Bark Abstract on Black by Patty Meriam (12″x16″; oil, silver leaf, copper leaf, on canvas; 2015))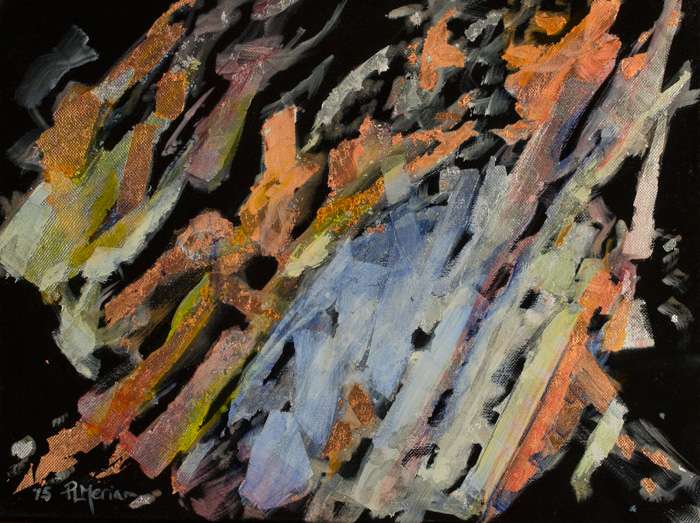 The BOX Art Studio, formerly a maple syrup boiling room, is a unique industrial space housing the studios of Alex Dostie, Isaac Wasuck, Rough Francis, Brooke Monte, Sam Handler, and Lynne Reed. 7 Marble Ave (next to Arts Riot Truck Stop), (802) 578-0022, Open by appointment.(image below by Lynne Reid)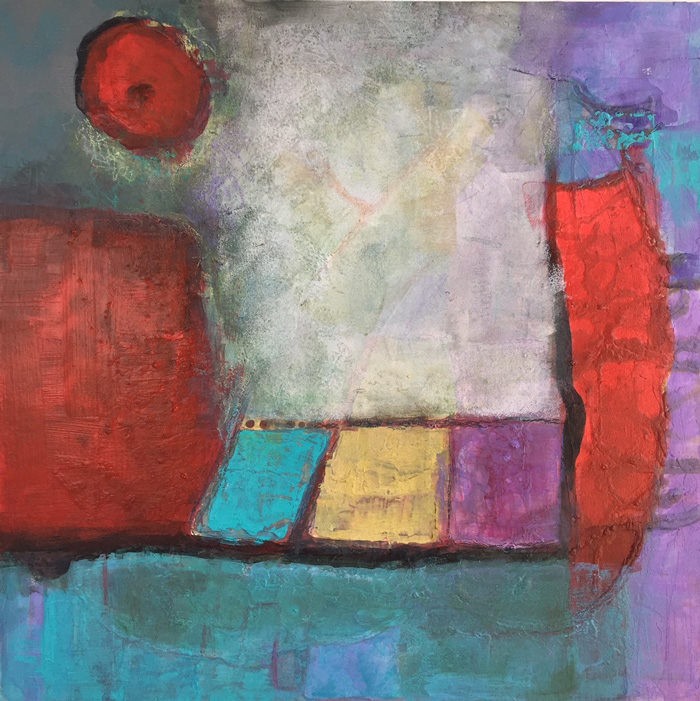 A working studio of creative artists from painters to potters who produce, display, and sell their artwork in the studio. During First Friday Art, visit and hang out in the funky, cozy studio for friendly conversation, artwork, and light snacks. 4a Howard St, A-8, (802) 355-3502. Open for First Friday and by appt.
Located at 180 Flynn Avenue, the building has two floors of artwork in the hallways as well as upstairs in the Fire Exit Gallery by Green House artists Holly HauxJeffers, Nancy Stalnaker (image: Winter Scene (2015)), Jude Domski, Molly Roland, and Justin Hoekstra. Friday, 12/14, 5-8 & Saturday, 12/15, 1-4: "Cheers!" features the open studios of Nancy Stalnaker, Jude Domski & Holly HauxJeffers and is a celebration of the season with art, refreshments, music, and good company. 180 Flynn Ave (back and to the right), (802) 310-1886. Open M-F, 10-5.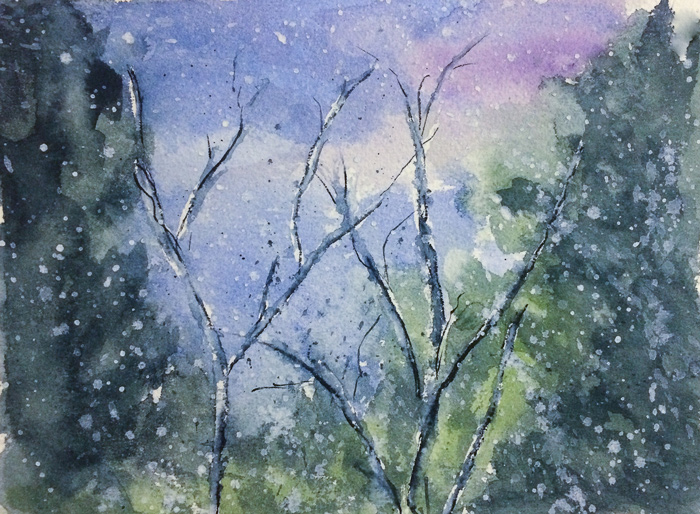 Student curators present artwork and exhibits across all four floors throughout the academic year: featuring a range of student art and varied community exhibits. UVM Campus, Hours vary by semesters.
Through a partnership with Burlington City Arts, the UVM Medical Center features artwork by Vermont artists on the main medical center campus. Through December 2018: See art by Kelly O'Neal, Tatiana Yakusheva, Timur Dzhambinov, Kathleen Grant, Casey Blanchard, and Judy Hawkins. 111 Colchester Ave, (802) 865-7296. (image: Winter in Burlington by Tatiana Yakusheva (24″x30″; oil on canvas))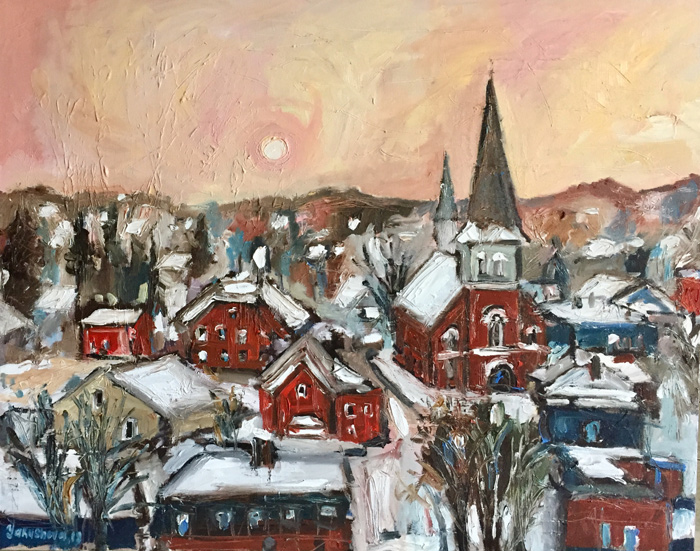 Located on the UVM campus, the Fleming Museum of Art houses the state's most comprehensive collection of art and anthropology. Through 12/14/2018: "The Impossible Ideal: Victorian Fashion and Femininity" explores, through the Museum's permanent collection, how fashion embodied the many contradictions of Victorian women's lives, and, eventually, the growing call for more diverse definitions of women's roles and identities. Also on view: "House to Home" (image below) showcases cultural, ethnographic, and decorative art objects from around the globe to examine the meaning and context of what defines a space as a home. 61 Colchester Ave, (802) 656-2090. Open during the school year, Tues-Sun.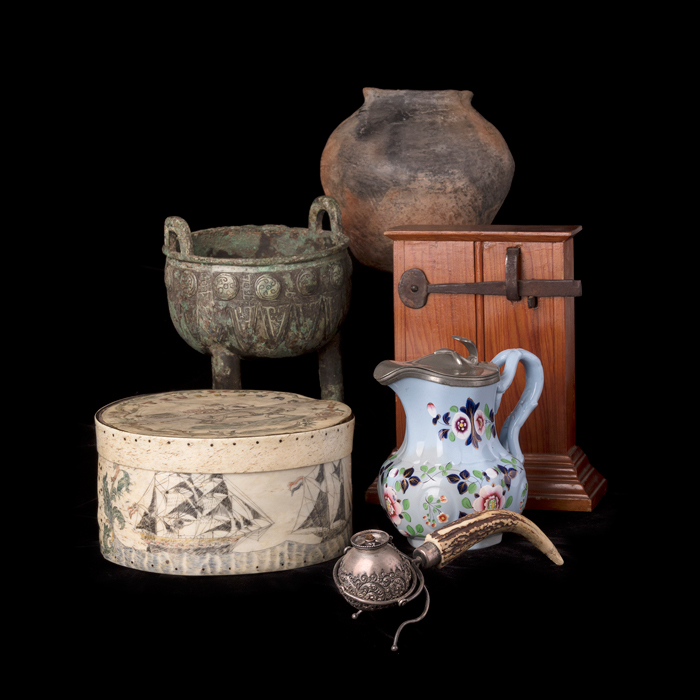 The hallway galleries are designed to act as an academic forum for the display of new ideas. 12/12/18-4/30/19, First & Second Floor: "Curated & Created" is 6 exhibits by CCV Portfolio students exploring historical, cultural and political themes with both collected and original work. Opening reception: Wednesday, December 12, 1-2:30. 1 Abenaki Way, Winooski, (802) 654-0505, M-Th, 7:45AM-9PM; F, 7:45AM-5PM.
A campus full of interesting buildings and beautiful gardens, the museum presents an eclectic collection of art and objects. "American folk art. French Impressionist paintings. Historic New England architecture. Duck decoys, circus animals, and dolls. These were just some of the some of the interests of Shelburne Museum founder Electra Havemeyer Webb." Expertly curated, temporary exhibitions at the The Pizzagalli Center for Art and Education make the museum a year-round destination. Through 1/13/19: "New England Now" challenges the notion of the Northeast's long-accepted stereotype as stagnant and quaint, and instead plumbs its evolving identities and complex beauty. Through 3/3/19: "Mapping an Uneven Country: Bird's Eye Views of Vermont' investigates the popular phenomenon of "perspective" or "bird's eye" views that that sprang up during the second half of the 19th century through more than 36 drawn, painted and printed views of the Green Mountain State. 6000 Shelburne Rd, Shelburne, (802) 985-3346. Open daily, 10-5.(image: Montpelier: County Seat of Washington County, Capital of Vermont printed by Poole. Courtesy of the Shelburne Museum)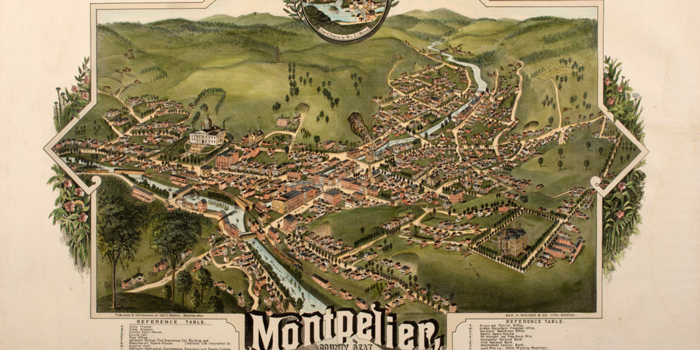 The Studio Store has handmade work in pottery, wood, jewelry, and stained glass and the school hosts events and classes for the public on an ongoing basis. 64 Harbor Rd, Shelburne, (802) 985-3648, Open M-F, 10-5; Sat, 10-2.
Art and wine among the vines, with quarterly shows of Vermont art in the tasting room. Through 1/1/19: Cambridge artist Julie A. Davis holds "to the view that the painting process–an act of joy and hope–is far more important than any product of this process. 'Liking' a painting is, in and of itself, an act of understanding, a shared experience, for the both the artist and viewer." 6308 Shelburne Rd, Shelburne, (802) 985-8222, Open daily 11-6.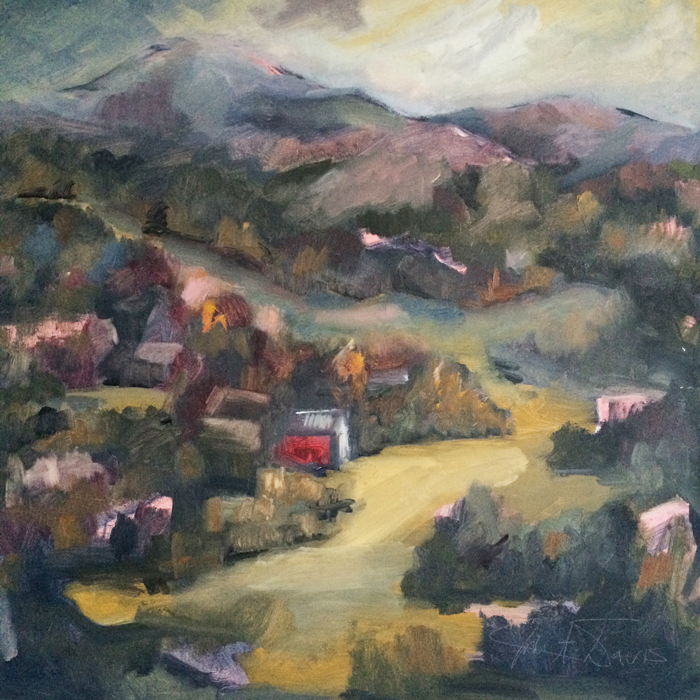 Beloved local beer factory has a curated space showing art on the tour ramp. Through 1/31/19: Burlington artist Brendan Bush's paintings explore color and movement as a form of deeply emotional expressionism and convey and examine his discomfort with the fundamental dualities of freedom and confinement, of acceptance and rejection, of clarity and confusion, of anger and exaltation. Opening during First Friday Art, 5-7. 5 Bartlett Bay Rd, S Burlington, (802) 658-2739 x2014, Open M-Sat, 11-7, Sun, 12-5. (image: Brenda Playing in House by Brendan Bush. Courtesy of the artist)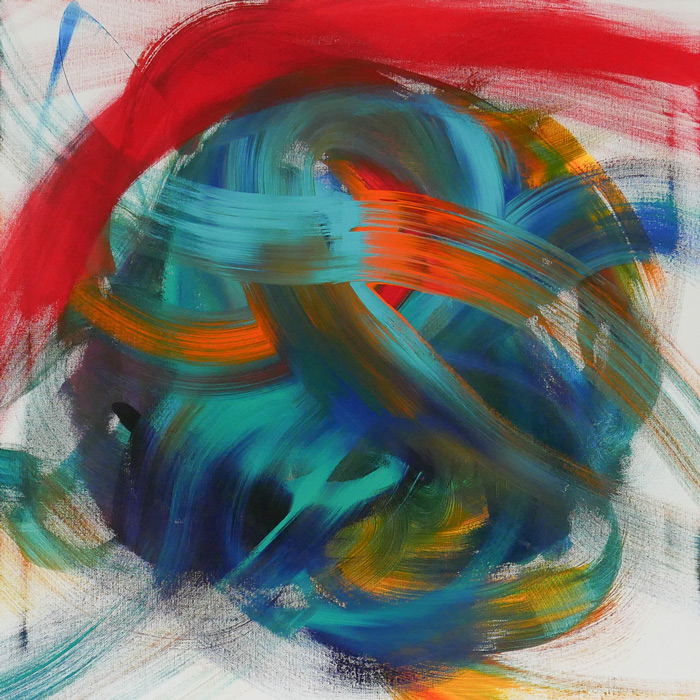 Presenting a stylistically diverse collection of original work by artists of regional and national stature. Through 1/31/19: "Illuminate: The Winter Group Show" features Sam Colt and sixteen of the gallery's artists. Colt, based in Montpelier, has a background in decor finishes and works primarily in grassello, a fine Italian plaster, which she tints, manipulates and layers until she feels it achieves that cinematic post-adventure "cigarette-moment" feeling. The gallery also has a unique collection of fine crafts and gift items. 86 Falls Rd, Shelburne, (802) 985-3848, Open Tues-Fri, 9:30-5:30, Sat, 10-5. (image: Locutus Sum by Sam Colt ((18″x24″; grassello, ancestor paper, shellac, watercolor, house paint). Courtesy of the artist.)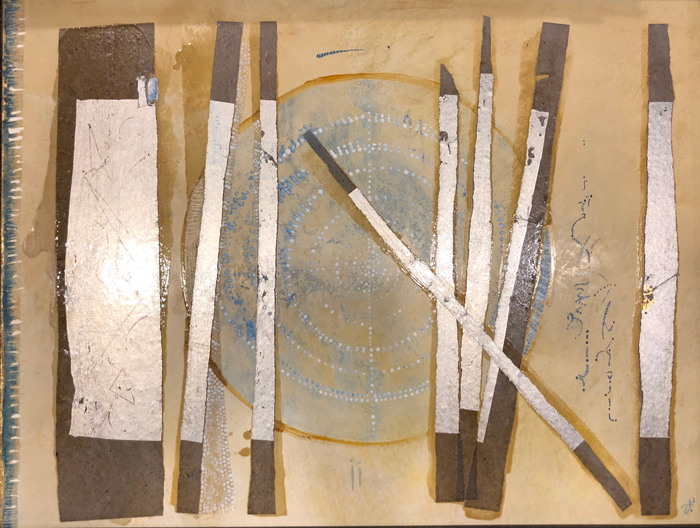 ---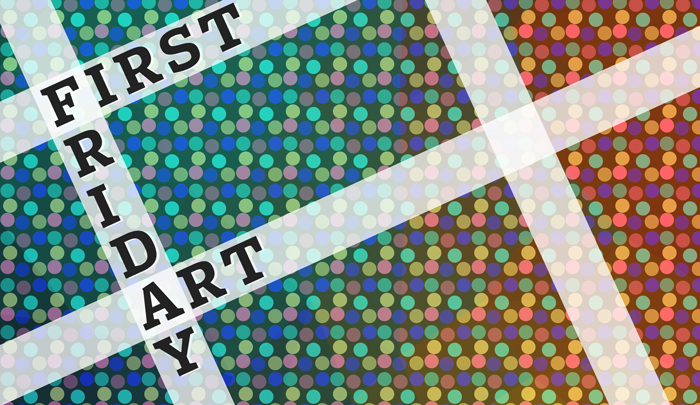 The next First Friday Art is
January 4th, 5-8PM.
First Friday Art is a monthly, community-wide event where dozens of art venues across the city host openings, exhibitions, and happenings.
The event is free and open to anyone.
Most venues are open from 5PM to 8PM, but some are open earlier or later.
Art Map Burlington is the official guide to First Friday Art. Pick up a copy at any participating venue. Enjoy!