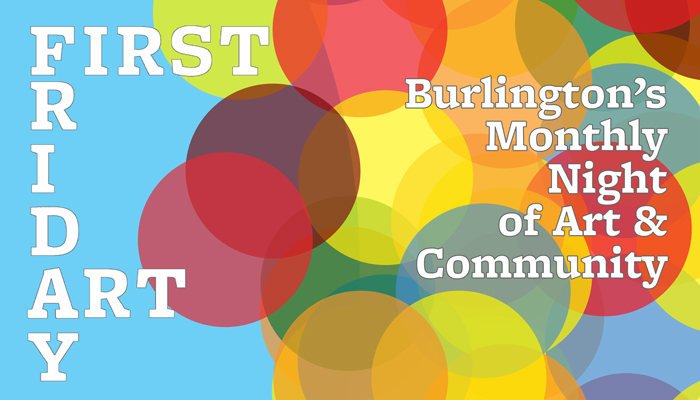 The next First Friday Art is
December 6th, 5-8PM.
First Friday Art is a monthly, community-wide event where dozens of art venues across the city host openings, exhibitions, and happenings.
The event is free and open to anyone.
Most venues are open from 5PM to 8PM, but some are open earlier or later.
Art Map Burlington is the official guide to First Friday Art. Pick up a copy at any participating venue. Enjoy!
---
Laptop refurbishing shop shows work by area artists in monthly shows. Through December 2019:"Chasing the Sun". South Burlington artist Meaghan "Mei" Greene uses mixed media to create multiple layers of drawing within her work. Recently, she has been exploring combining the cyanotype process with screen printing and drawing. She is interested in the idea of drawing with nature and pulling inspiration from the natural world around her. Greene holds a BFA in Interdisciplinary Art from Montserrat College of Art. 196 College St, (802) 578-9687. Open Tues, W & F, 10-6; Thurs, Noon-6; Sat, 11-5. (image: Together by Meaghan Greene (cyanotype and screenprint; 2019). Courtesy of the artist.)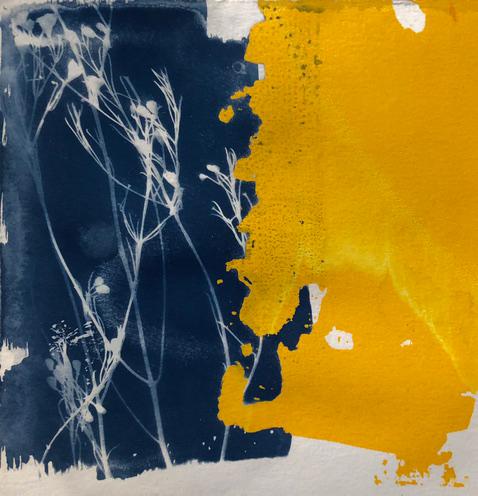 Open daily 7AM-11PM. Member-artists are showcased on the Member Art Wall, located behind register 10. 12/2/19-1/31/20: Member-Artist Meg Reinhold's work expresses her curiosity and reverence for the natural world. As a landscape painter, an organic gardener and a cook, she creates these paintings to celebrate the beauty and tenacity of growing things and the physical and spiritual nourishment they provide. Her paintings are hand carved on native hardwood panels (cherry, walnut and maple), then painted with oil paints and finished with hemp or tung oil. All work is for sale, please contact the artist to purchase. 82 S Winooski Ave, (802) 861-9700.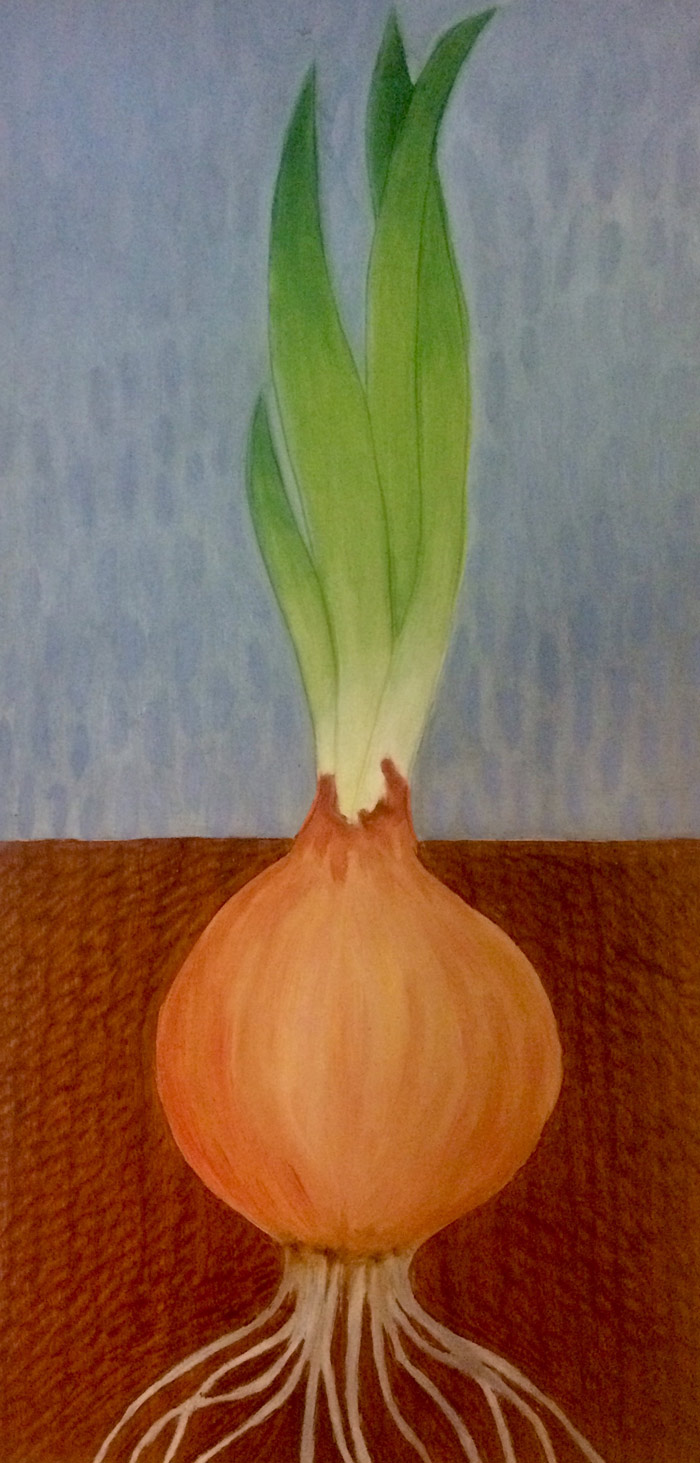 Named after Dean Thomas "Blotto" Gray, the gallery is available for functions, art shows, photography shoots, classes/demos, and more. 12/6-12/14/19: LeZot Camera and Vermont Frame Game present a show by arts collective Steak Frites. Arranged by Will Gebhard and Patrick Paniagua, the exhibition is a collaboration between several area artists, including Sniff This Magazine. Opening reception during First Friday Art, 6-9. Closing reception & film night: Saturday, December 14, 6-9. 180 Main St, (802) 652-2400. Open Mon-Sat, 10-6; Sun, 11-5. (image: Floating on Glass by Giles Clement. Courtesy of the artist.)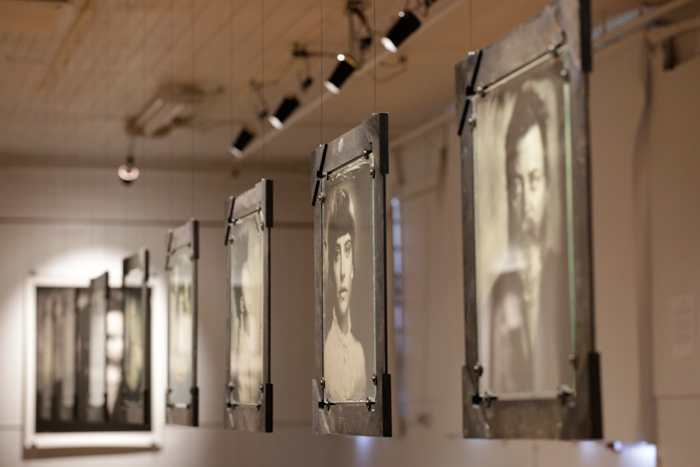 Featuring contemporary art exhibitions that connect art and community, nurture creativity, imagination, and ignite a passion for learning through the arts. Through 2/20/20: "Transcendent: Spirituality in Contemporary Art" features seven artists, Anila Quayyum Agha, Leonardo Benzant, Maïmouna Guerresi, Shahzia Sikander, Sandy Sokoloff, Shelley Warren, and Zarina, who reflect on questions of belief, cultural identity, and sanctity in everyday life.Canadian-Ojibwe painter Travis Shilling explores humanity's connection to the natural world through imaginative, narrative dreamscapes in his solo exhibition "Tyrannosaurus Clan". Tackling issues of land use, cultural history, and humanity's impact on the environment, Shilling's encapsulated stories are concurrently deeply personal and widely universal. 135 Church St, (802) 865-7166, Open Tues-Thurs, Noon-5; Fri-Sat, Noon-8. (image: Archangel Uriel by Sandy Sokoloff (46″x93″; acrylic on canvas; 2019). Courtesy of the artist.)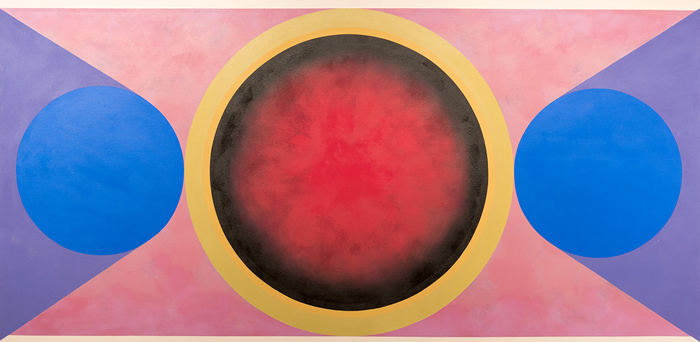 BCA curates the artwork on the main floor. Through December 2019: Oil painter Phil Laughlin, PSA takes color and shape, raw materials with no intrinsic value, and assembles them into something coherent that has the power and purpose to speak. If there ever were societies without art, we don't know about them. It's artists, through their art, that tell the future who we are. 149 Church St, (802) 865-7166, M-F, 8:30-4:30 and for First Friday Art. (image: Jericho Country Store by Phil Laughlin (24″x30″; oil on canvas; 2016). Courtesy of the artist)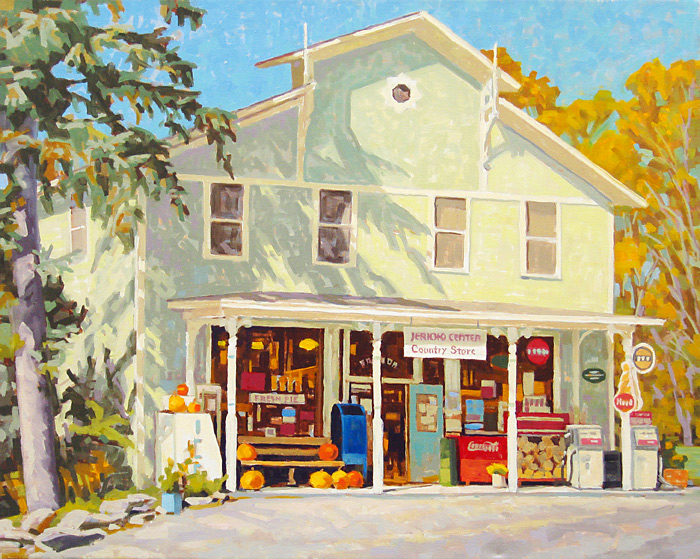 Main Street Landing and Little Umbrella : Art Curation are dedicated to increasing awareness and appreciation of Vermont visual artists, showcasing traditional and nontraditional visual art in rotating (monthly or bimonthly) shows and community-based events. December 2019: The Vermont Children's Trust Foundation presents "The Polar Express", at ticketed, exciting event for families of all kinds. VCTF raises funds and makes grants to Vermont organizations that provide prevention programs serving children and their families. Curated by Sarah of Little Umbrella : Art Curation. Curated by Sarah of Little Umbrella : Art Curation. 1 Main St, (802) 735-7091, M-F, 8-3; Sat-Sun, by appt. Open for First Friday Art.
Serving up imaginative beers for enlightened palates and regional art throughout the eclectic lakefront brewery. 12/6/19-1/15/20: "Moments" by Caitlin Ryan, a Burlington-based Taiwanese-American artist, native to Pennsylvania. She uses past experience, photos, color, and the human form to convey a feeling, a place, or a Moment. See more of Ryan's work on Instagram. Meet the artist during First Friday Art with live music starting at 8. 112 Lake St, (802) 399-2511, M-Thurs, Noon-10; Fri-Sat, 11-Midnight; Sun, 11-7. (image by Caitlin Ryan. This image was featured on the cover of the December 2019 issue of Art Map Burlington.)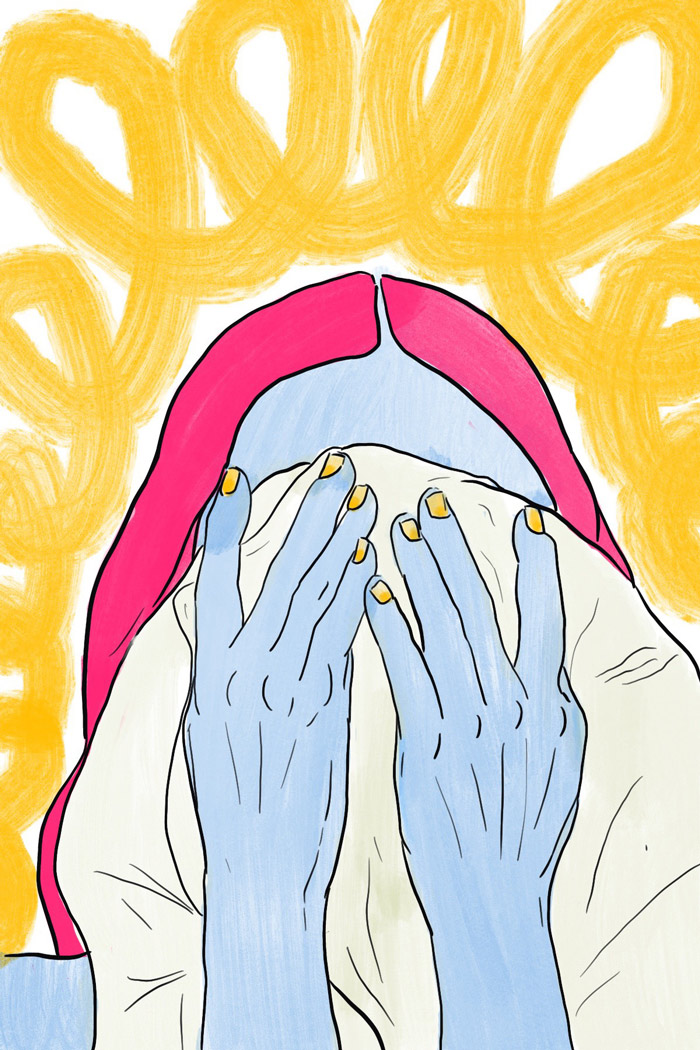 Showcasing contemporary and non-traditional art from Vermont artists and hosting a permanent video exhibition booth presenting video installations by international artists in bi-monthly exhibits. Through December 2019: In "Far Away and Moving Fast", Middlebury artist Martin Seehuus paints with playful honesty, with the goal of ingraining his conscious intent and surprising himself by focusing on the physical process of painting. In the Media Room, Alexei Dmitriev's Dubus is a slow dance of the classical cinema to the music of Zelany Rashoho, dealing with well-known films: Sun Valley Serenade, Casablanca, Some Like It Hot, On The Waterfront, and Citizen Kane. The footage of these films is transformed to work with Rashoho's mixture of jazz, electronics and dub. Curated by Sarah of Little Umbrella : Art Curation. Opening reception during First Friday Art. Curated by Sarah of Little Umbrella : Art Curation. CornerStone Building, 3 Main St, (802) 735-7091. Open M-F, 8-8, Sat-Sun, 10-8. (image by Martin Seehuus. Courtesy of the artist.)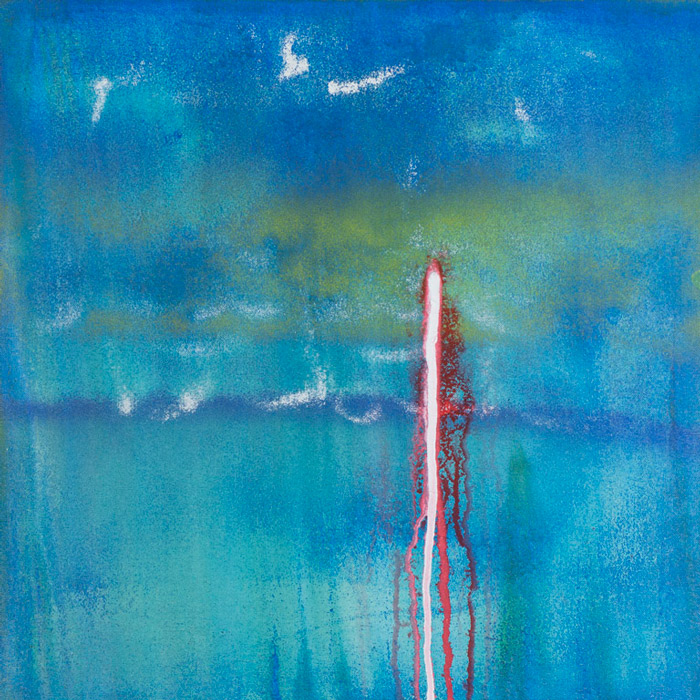 Open daily 7AM-9PM. Member-artists are showcased on the Member Art Wall in the cafe. Through December 2019: Lydia Ode Slauson says about her work, "I love color, light, and shadow. I'm drawn to physical structures, rigid forms, and, more recently, people. I want to create a sense of place in my paintings. Maybe you've never been to that dirty back alley or chatted with my friends in the high desert or hunted for pheasants at Peaceable Hill, but the paintings should make you feel like you have." 207 Flynn Ave, (802) 540-6400.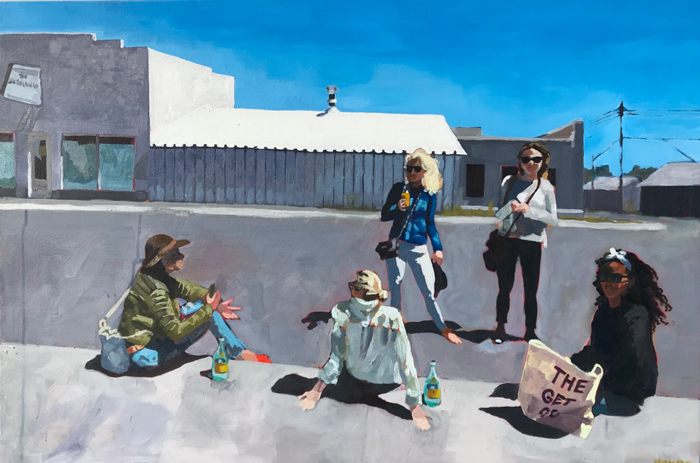 Curated by SEABA, showcasing traditional and non-traditional visual and multimedia artwork by Vermont artists. The SEABA South End Art Hop Group Exhibition features an array of work from mobiles to photography. 208 Flynn Ave, #2-G, (802) 651-9692, Open M-F, 10-10, Sat, 10-5. (image: untitled by Jamey May. Courtesy of the artist.)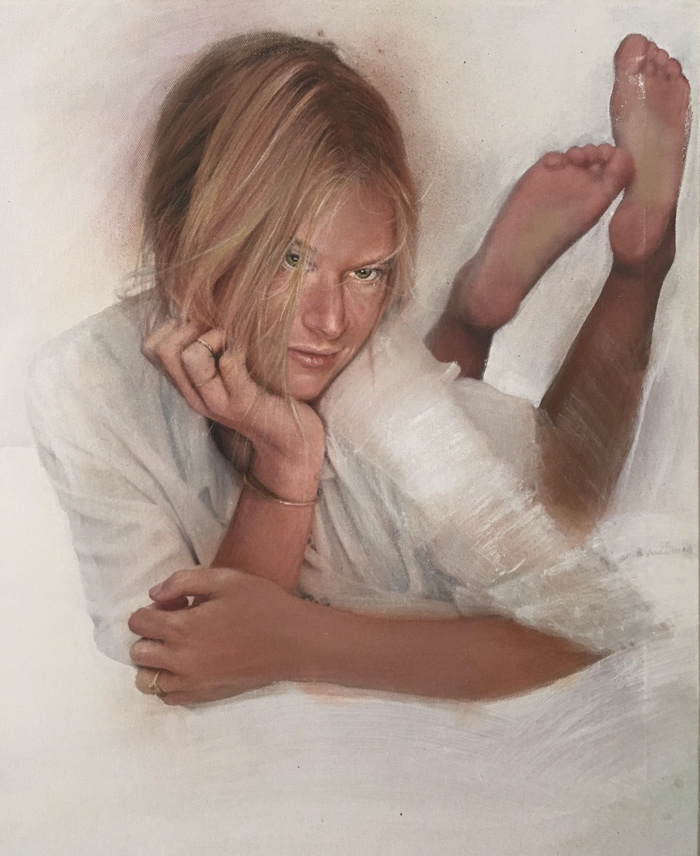 Art Gallery surrounded by 12 working artist studios. 12/6/19-1/18/20: The annual "Small Works" holiday exhibition features art perfectly sized for gift giving or for any spot in your home or office that needs a special pop of color and life! The art is in a variety of mediums and measures no more than 12″ in any direction before framing. Opening during First Friday Art, 5-9. 266 Pine St (Soda Plant), spacegalleryvt.com, Open Thurs-Sat, Noon-5. (image: "Beer Portraits" by Shelley Walker) Courtesy of the artist.)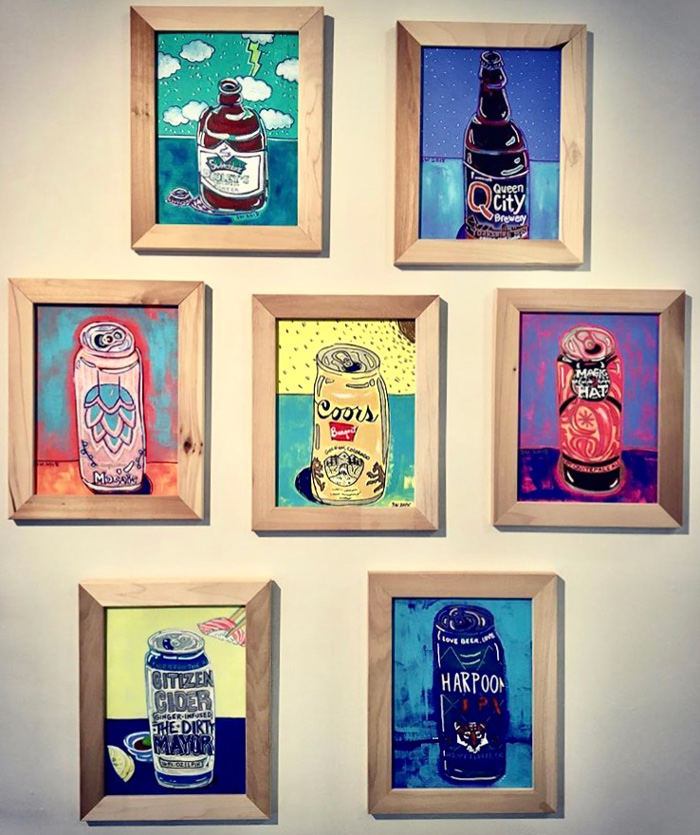 Art shop featuring about 30 artists from Vermont and beyond with a rotating artist on one wall. December 2019: "The Birds and The Bees": Tessa Hill practices the centuries old technique of torch worked glass. Using borosilicate glass, she creates hand-blown jewelry and ornaments filled with the intention of sparking joy. A menagerie of small creatures and illuminated plants gleam with personality; a unique selection of gift items. 270 Pine St, (802) 338-7441, Open Tues-Sat, 10-6, until 8 during First Friday Art. (image by Tessa Hill. Courtesy of the artist.)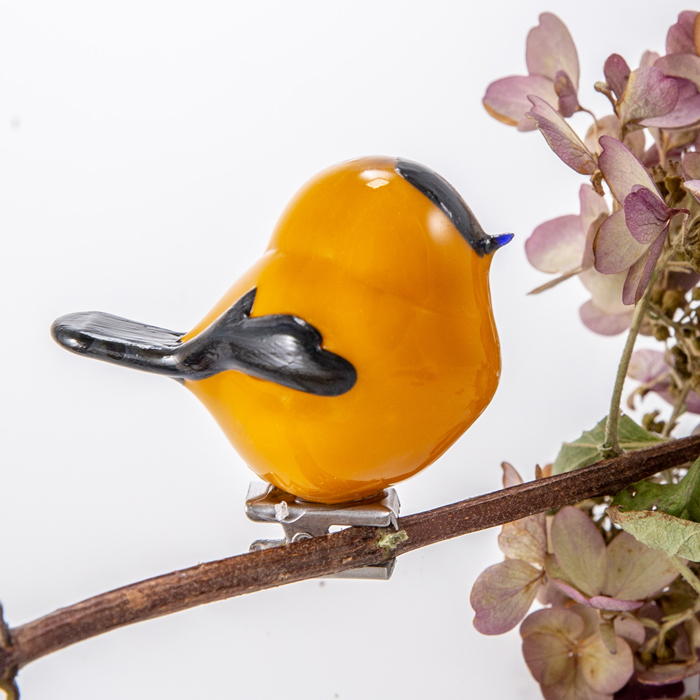 This eclectic second-hand shop is home to a revolving collection of art. 377 Pine St, (802) 540-0107, M, W-Th, 10-5; Fri-Sat, 10-9; Sun, 11-3.
Aaron Stein's license plate artwork: map sculptures, shadow boxes, photo frames, wine racks, cuffs, house trailers, lamps and ornaments all created out of recycled license plates from all 50 states. 266 Pine St (Soda Plant), (802) 355-4091. Open during First Friday Art and by appt.
A custom picture framing workshop that features monthly exhibitions. "World's Best Art!". For the fourth year in a row, see the World's Best Art in the design, hallway and workshop galleries! This exhibition features many pieces from the Dostie Bros. private collection as well as a variety of works created by South End Arts District artists. Much art will be for sale. 308 Pine St #101, (802) 660-9005. Open M-F, 10-6; Sat, 10-3. (image: Vase and Flowers by Dostie (acyrlic on canvas; 2004). Courtesy of the artist)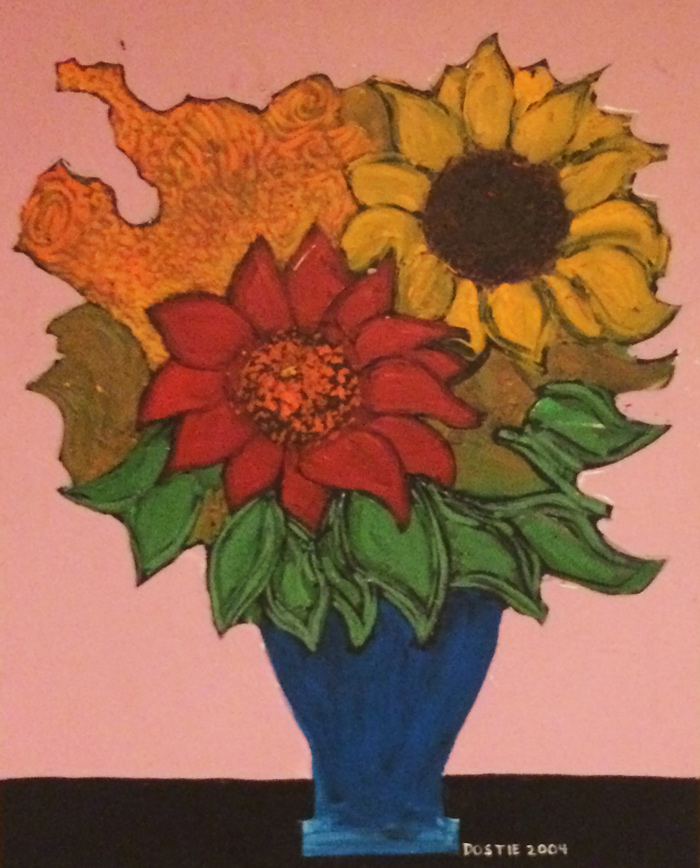 Student curators present artwork and exhibits across all four floors throughout the academic year: featuring a range of student art and varied community exhibits. UVM Campus, 590 Main St. Hours vary by semesters.
Presenting a stylistically diverse collection of original work by artists of regional and national stature. 12/6/19-1/31/20: The annual winter show of 17 gallery artists is aptly titled "Transitions" to suit the upcoming transfer of the gallery and frame shop from Joan Furchgott and Brad Sourdiffe to their longtime employee Lara Maloy and her partner, Nico Sardet. Artists on display are: Leon Applebaum, Matt Brown, Leslie Fry, Jozie Furchgott Sourdiffe, Karen Henderson, David Maille, Janet McKenzie, Garrett Sadler, Joseph Salerno, Gail Salzman, Jessica Scriver, Dianne Shullenberger, David Smith, Adelaide Murphy Tyrol, Barbara Wagner, Shiao-Ping Wang, and Richard Weis. Joan & Brad will celebrate their retirement while Lara & Nico celebrate their beginning as the business owners during the opening reception during First Friday Art, 5:30-7:30. The gallery also has a unique collection of fine crafts and gift items. 86 Falls Rd, Shelburne, (802) 985-3848, Open Tues-Fri, 9:30-5:30, Sat, 10-5. (image: Wrapped Bales, White Snow by David Smith (7″x10″). Courtesy of the artist and Furchgott Sourdiffe Gallery.)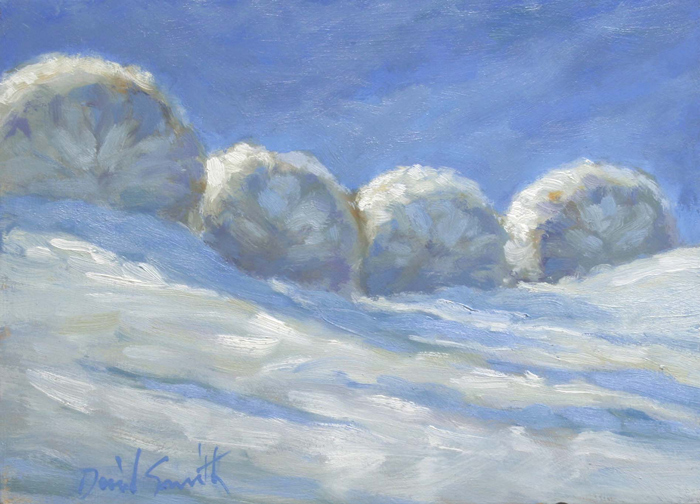 Listing an Exhibition
Are you a gallery, art studio, individual artist, or a business that hosts exhibitions of artwork? Then membership to Art Map Burlington is for you. You can sign-up for a single issue or a full year. For more information, call (802) 264-4839 or EMAIL.