Art Map Burlington promotes contemporary art in the Greater Burlington area by informing the community about exhibitions, events, and the work of area artists. Ask for a copy of the print edition at any of these venues.
---
Where to See Art-October 2019
Click the venue name to read more.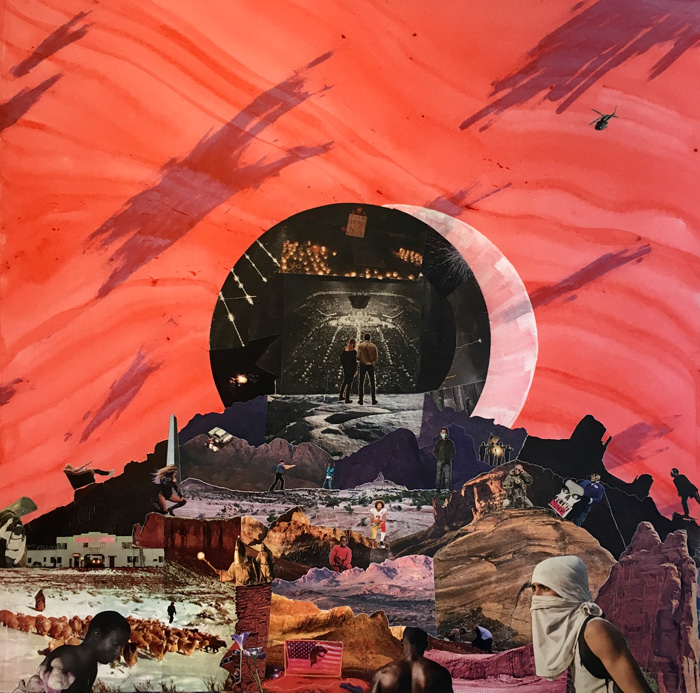 Exhibitions of work by regional artists related to Flynn programming during the same time period. Through 11/15/19: The 27th Annual South End Art Hop Juried Show features work selected by this year's juror, Brent Beamon, director of New York's Flowers Gallery, including the prize winners, Emmanuel Christian Tedjasukmana's photograph Myopia: Harming in Order to Heal (1st); Vanessa Compton's collage landscape Night in the Garden (2nd); and Orah Moore's photograph George, January 31, 2019 (3rd). 153 Main Street, (802) 652-4505. Open during most Flynn performances, gallery receptions, and by appointment. (image: Night in the Garden by Vanessa Compton (collage))
Laptop refurbishing shop shows work by area artists in monthly shows. September-October 2019: "In a Circle, Mandalas". Grace L. Cothalis makes use of colored pencils, acrylic ink and collage to create mandalas that can be a shield and shelter, a path to find our true selves. They represent a map of the outer universe and our inner search for understanding & wholeness. 196 College St, (802) 578-9687. Open Tues, W & F, 10-6; Thurs, Noon-6; Sat, 11-5. (image: Full Plate by Grace Cothalis (16″x16″; colored pencil). Courtesy of the artist.)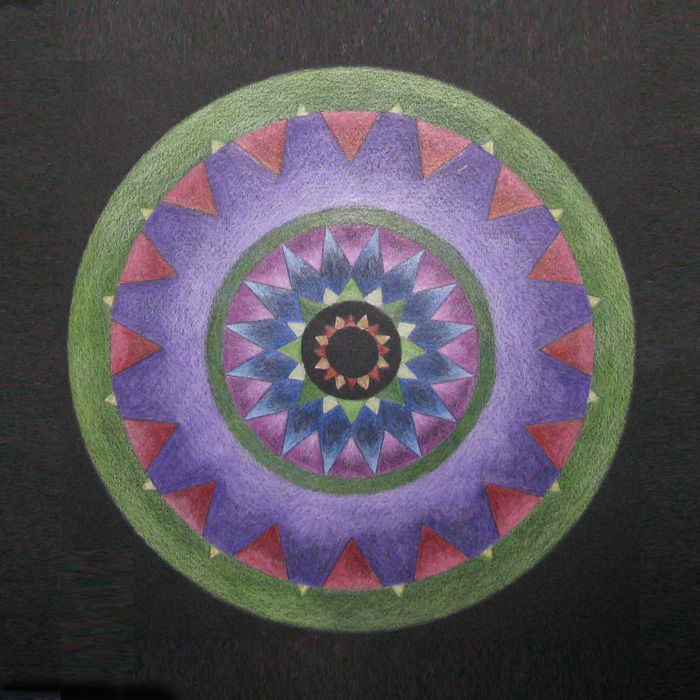 Burlington's only public library since 1875 shows art by area artists and nonprofit groups throughout the year. 235 College St, (802) 865-7211, Open daily at 10, Noon on Sunday.
Onion River Coop. Open daily 7AM-11PM. Member-artists are showcased on the Member Art Wall, located behind register 10. 10/1-11/27/19: Member-artist Marc Hurwitz's show, "A Picture of Health: A Metaphor for an Idiom". Hurwitz embarked on his photographic journey ten years ago, recording things that caught his attention. His perspective from the start has been to capture snippets (small pieces) of the world one photo at a time. This could be a flower, or a tree against the sky, an interesting sign, a design comprised of colorful tiles, a sculpture, an illuminated display, a wall mural, etc. Or it could be just a part of any of the above. This show uses the fracturing of a photograph into pieces as the metaphor depicting the idiom "picture of health." To understand his inspiration, you'll need to see the show. 82 S Winooski Ave, (802) 861-9700. (image: Lyon Fresq by Marc Hurwitz (8″x6″). Courtesy of the artist.)
Featuring contemporary art exhibitions that connect art and community, nurture creativity, imagination, and ignite a passion for learning through the arts. Through 10/6/19: In "Unique Multiples", Sarah Amos upends traditional notions of printmaking to create monumentally scaled works that evoke a confluence of cultures; Job Site is a collaborative, multimedia installation by Alisa Dworsky and Bill Ferehawk that explores the drawing and choreography inherent in architecture. 10/18/19-2/20/20: "Transcendent: Spirituality in Contemporary Art" features seven artists who reflect on questions of belief, cultural identity, and sanctity in everyday life. In "Tyrannosaurus Clan", Canadian-Ojibwe painter Travis Shilling explores humanity's connection to the natural world through imaginative, narrative dreamscapes that tackle issues of land use, cultural history, and humanity's impact on the environment. Opening receptions: Friday, October 25, 5-7PM. 135 Church St, (802) 865-7166, Open Tues-Thurs, Noon-5; Fri-Sat, Noon-8. (image: The Arrival by Sarah Amos (84″x66″; collagraph and thread on felt; 2019). Courtesy of the artist.)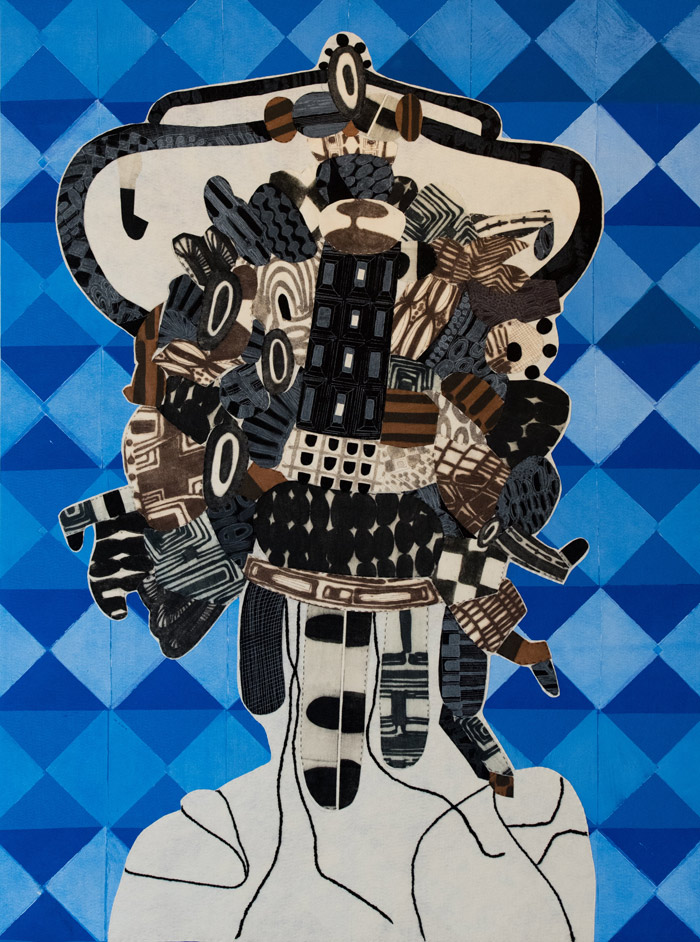 A community spot since 2007, New Moon Café presents work by Burlington-area artists in the dining area. 10/4-12/30/19: The ChildVoice Photo Exhibit presents the work of Pulitzer Prize-winning photojournalist Mary Chind-Willie, Dr. Larry Lindell, and Dr. Neil Mandsager. Founded in 2006, ChildVoice has empowered once rejected and abused women and children and transformed them into individuals of strength, hope, and dignity. These personal journeys of courage and faith were captured in photos by visitors to ChildVoice's Lukome Center in northern Uganda. 150 Cherry St, (802) 383-1505 or (802) 383-1496. M-F, 7:30AM-6PM; Sun, 8AM-6PM. (image below from ChildVoice. Courtesy of the artists.)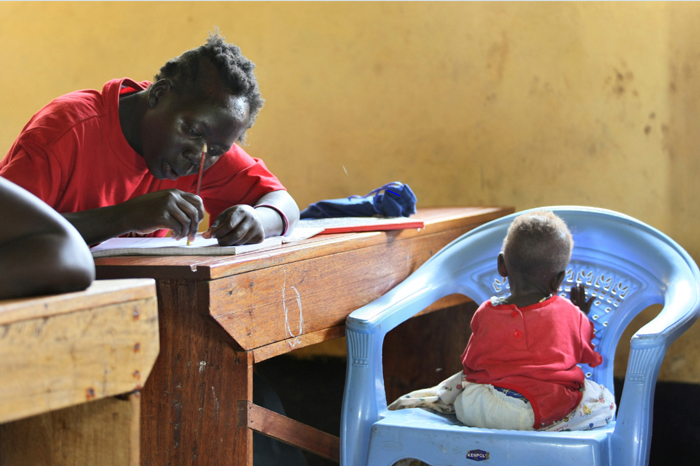 Connecting Burlington's emerging artists with emerging patrons of the arts to create just and sustainable communities. Due to water damage and a continuing leak, the gallery is closed until further notice. However, the residency studios and office are open by appointment. 132 Church St, (802) 355-5440. Open by appointment.
BCA curates the artwork on the main floor. Through 10/15/19: In 2010 at the age of 44, Dierdra Michelle found the courage to finally embrace life as an artist. Though holding no academic training in art, she quit all her jobs to enter the studio day after day to become a painter. She has great faith in the life her art is mapping out for her. 149 Church St, (802) 865-7166, M-F, 8:30-4:30 and for First Friday Art. (image: Points of Light by Michelle Dierdra (30″x30″; acrylic on canvas; 2018). Courtesy of the artist)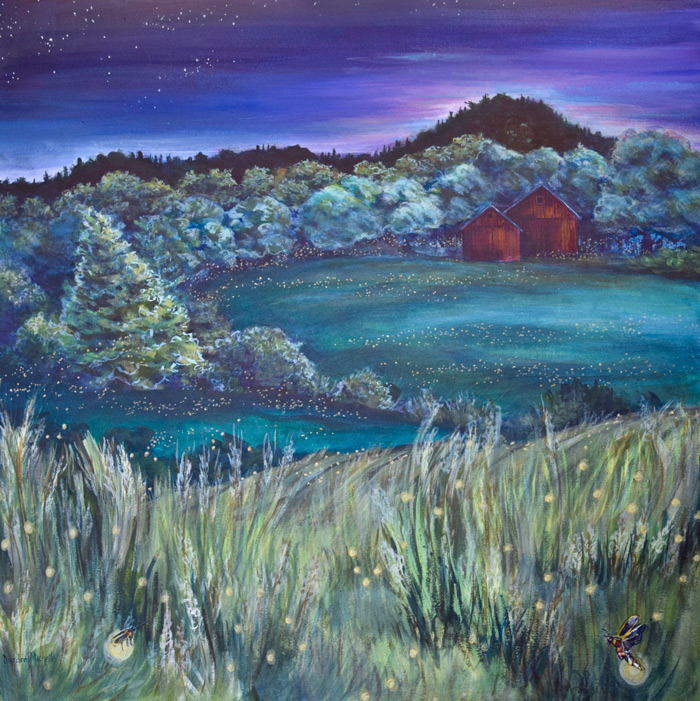 Main Street Landing and Little Umbrella : Art Curation are dedicated to increasing awareness and appreciation of Vermont visual artists, showcasing traditional and nontraditional visual art in rotating (monthly or bimonthly) shows and community-based events. October 2019: Williston photographer Stephen Mease focuses on special events like the Vermont City Marathon, South End Art Hop, and many non-profit organizations' special events. His photography also captures scenes of Vermont and beyond and day-to-day moments in the life of Vermonters. Curated by Sarah of Little Umbrella : Art Curation. 1 Main St, (802) 735-7091, M-F, 8-3; Sat-Sun, by appt. Open for First Friday Art and the South End Art Hop weekend. (image by Stephen Mease Photography. Courtesy of the artist.)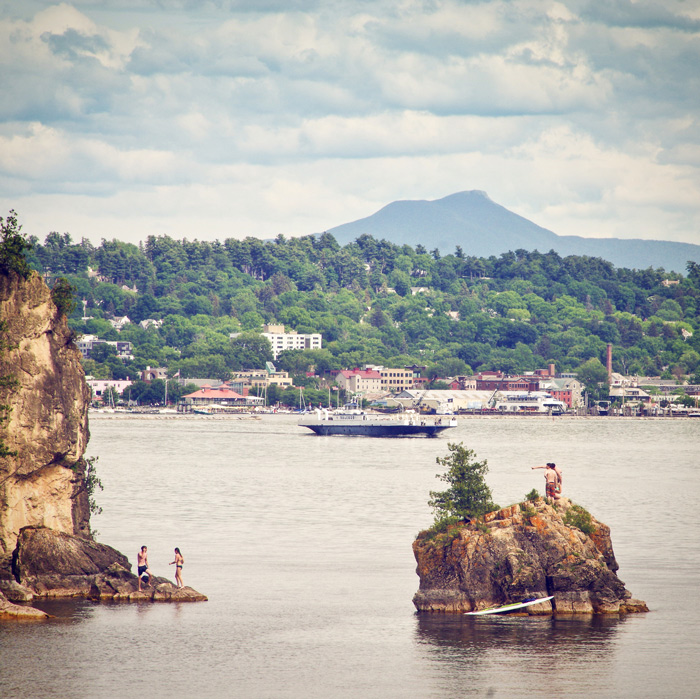 Serving up imaginative beers for enlightened palates and regional art throughout the eclectic lakefront brewery. 10/4-10/31/19: Burlington artist Sarah Letteney's simple line work and use of blank space aim to express the bigger picture by pulling imagery from her daydreams and nightmares. She often calls on hands, crows and blood as characters to hold the emotions her work moves through. Opening reception during First Friday Art with live music by Elizabeth Moen with Henry Finch, 8-11. 112 Lake St, (802) 399-2511, M-Thurs, Noon-10; Fri-Sat, 11-Midnight; Sun, 11-7. (image by Sarah Letteney. Courtesy of the artist.)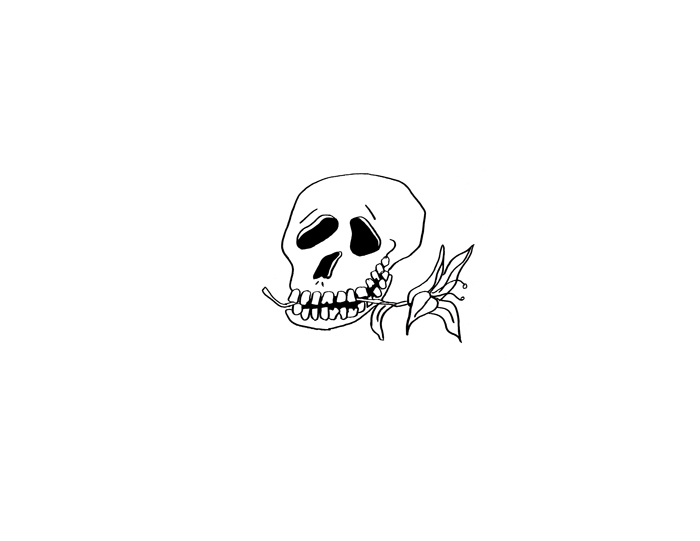 Showcasing contemporary and non-traditional art from Vermont artists and hosting a permanent video exhibition booth presenting video installations by international artists in bi-monthly exhibits. October-November 2019: In "Far Away and Moving Fast", Middlebury artist Martin Seehuus paints with playful honesty, with the goal of ingraining his conscious intent and surprising himself by focusing on the physical process of painting. In the Media Room, Alexei Dmitriev's Dubus is a slow dance of the classical cinema to the music of Zelany Rashoho, dealing with well-known films: Sun Valley Serenade, Casablanca, Some Like It Hot, On The Waterfront, and Citizen Kane. The footage of these films is transformed to work with Rashoho's mixture of jazz, electronics and dub. Curated by Sarah of Little Umbrella : Art Curation. Opening reception during First Friday Art. Curated by Sarah of Little Umbrella : Art Curation. CornerStone Building, 3 Main St, (802) 735-7091. Open M-F, 8-8, Sat-Sun, 10-8. (image by Martin Seehuus. Courtesy of the artist.)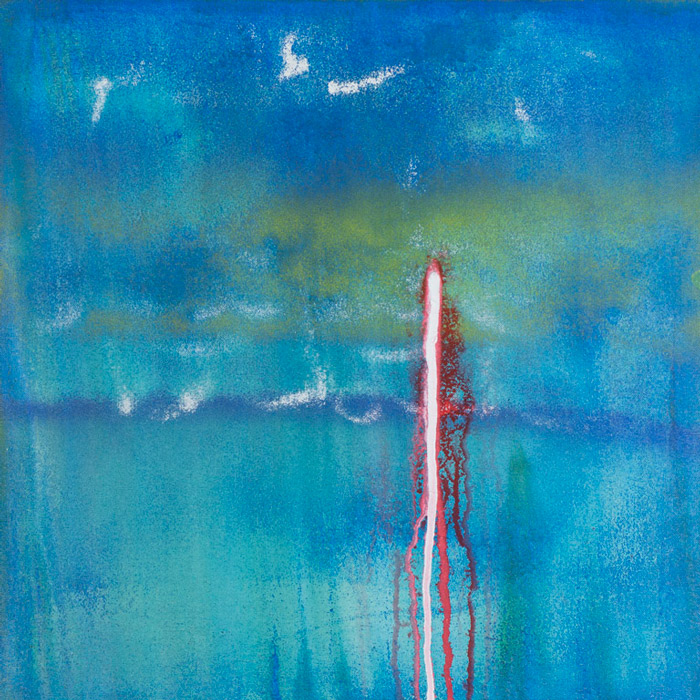 Supporting innovative and experimental contemporary art in all media through exhibitions, events, projects, and residencies, the gallery is a catalyst for interdisciplinary collaboration and learning at the intersection of art and technology. 10/9-10/30/19: "Dimensions of Connection" is an ongoing collaboration between performance and multimedia artist Anna Huff and Creative Media faculty member Al Larsen exploring how the human psyche coexists with emerging technology practices. The exhibition combines interactive media, performance and sculptural props that invite playful exploration with some pieces created during the residency and in dialog with Champlain College students. Opening reception and performance: Wednesday, October 9, 5-7PM. 375 Maple Street (CCM Building, 2nd Floor), (802) 860-2700, M-F, 10-4.
Onion River Coop. Open daily 7AM-9PM. Member-artists are showcased on the Member Art Wall in the cafe. Through 10/31/19: Kara Torres, a.k.a. Fine Forager, has been active in the Burlington art scene since 2015. Resident at New City Gallery during winter 2016-2017, they also won first prize at the 2018 Art's Alive Festival of Fine Art. The artist works primarily in acrylic on large-scale canvases, addressing topics relating to gender, sexuality, and childhood. 207 Flynn Ave, (802) 540-6400.
Curated by SEABA, showcasing traditional and non-traditional visual and multimedia artwork by Vermont artists. Through 11/27/19: The SEABA South End Art Hop Group Exhibition features an array of work from mobiles to photography. 208 Flynn Ave, #2-G, (802) 651-9692, Open M-F, 10-10, Sat, 10-5. (image: untitled by Jamey May. Courtesy of the artist.)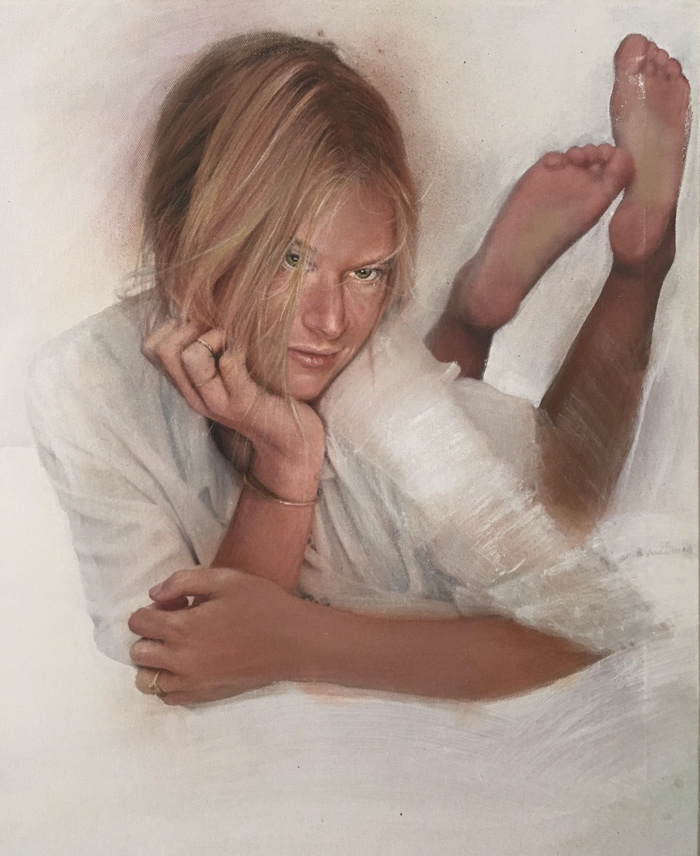 Traditional and non-traditional exhibitions and community-based events. Curated by ArtShape Mammoth. Through 10/30/19: "From Joy and Other Acts of Resistance" is by Merche Bautista, an artist of Spanish-Mexican descent who focuses on visual arts and poetry. Bautista's multidisciplinary work combines object art, visual poetry, ceramics, painting, photography and textile art; she's been developing installation projects in recent years, where poetic space takes center stage. 208 Flynn Ave, (802) 363-4746, M-F, 7-4, Sat, 9-Noon. (image courtesy of the artist.)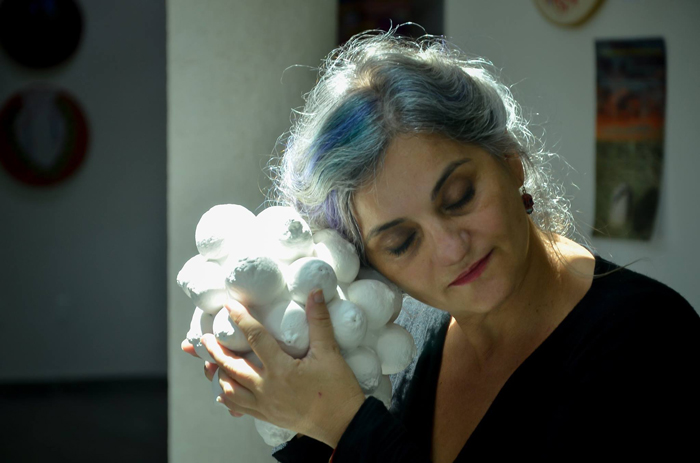 Art Gallery surrounded by 12 working artist studios. 10/11-11/2/19: "Dark Matter" is the 11th annual "dark arts", juried and curated by gallery director, Christy Mitchell. Artists express how they interpret personal views of the known and unknown world through artworks that are not always cheery and light with a hard look in regards to our current place in the world, politically and personally. Mitchell also looked for beauty in the darkness; that you may find in decay, in death that leads to rebirth, and in diving into your own soul to attempt to answer the difficult questions and grow from it. To cause the viewer to think, to appreciate, to take a step back, in horror…or in awe.266 Pine St (Soda Plant), spacegalleryvt.com, Open Thurs-Sat, Noon-5.
Art shop featuring about 30 artists from Vermont and beyond with a rotating artist on one wall. October 2019: Wild Mountain Ink is created Burlington artist Hailey Schofield, who is originally from Missoula, Montana. The artist is inspired by the mountains of the West and the beauty of wild places. With this sense of place, she renders the natural world into forms of repetition created while exploring the wilderness. Her art features a blend of realism accented with abstraction. 270 Pine St, (802) 338-7441, Open Tues-Sat, 10-6, until 8 during First Friday Art. (image: Camel's Hump by Hailey Schofield. Courtesy of the artist.)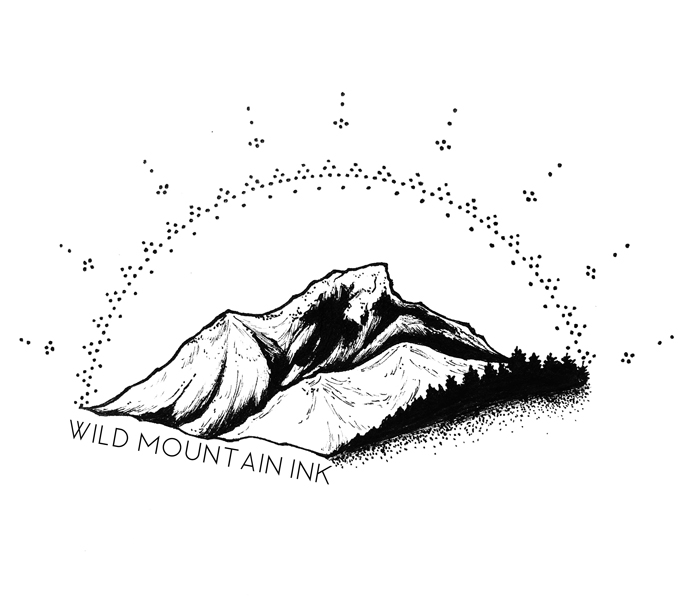 This eclectic second-hand shop is home to a revolving collection of art. 377 Pine St, (802) 540-0107, M, W-Th, 10-5; Fri-Sat, 10-9; Sun, 11-3.
This sprawling South End complex shows ongoing art in the first, second & third floor corridors. Through 12/15/19: SEABA South End Art Hop Group Exhibition features an array of work from printmaking to oil paintings in the Art Hop Blue Zone. This site will have a shuttle stop on Friday night and be in the same zone as the Strut Fashion Show at Generator Maker Space next door. Open for First Friday Art 'til 10; Art Hop Saturday, 10-10; Art Hop Sunday, 11-4. Curated by SEABA. 128 Lakeside Ave, (802) 859-9222, Open M-F, 9-5. (image: Resilience by Alex Costantino (acrylic on canvas). Courtesy of the artist.)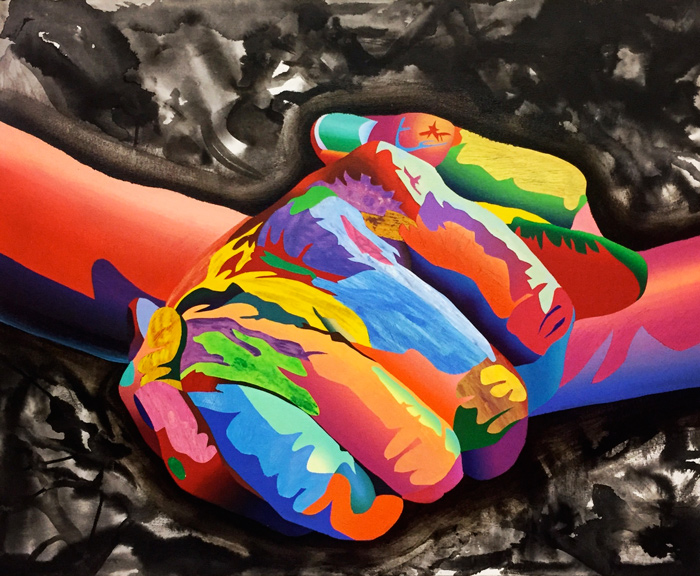 Aaron Stein's license plate artwork: map sculptures, shadow boxes, photo frames, wine racks, cuffs, house trailers, lamps and ornaments all created out of recycled license plates from all 50 states. 266 Pine St (Soda Plant), (802) 355-4091. Open during First Friday Art and by appt.
A custom picture framing workshop that features monthly exhibitions. "World's Best Art!". For the fourth year in a row, see the World's Best Art in the design, hallway and workshop galleries! This exhibition features many pieces from the Dostie Bros. private collection as well as a variety of works created by South End Arts District artists. Much art will be for sale. 308 Pine St #101, (802) 660-9005. Open M-F, 10-6; Sat, 10-3. (image: Vase and Flowers by Dostie (acyrlic on canvas; 2004). Courtesy of the artist)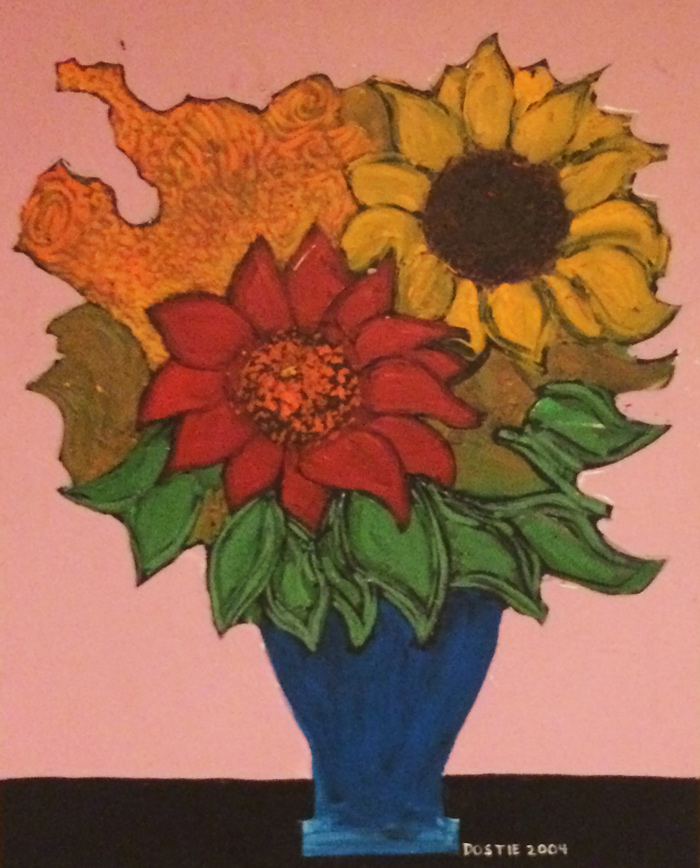 Venerable coffeehouse exhibiting traditional and non-traditional visual work by Vermont artists curated by SEABA. Through 11/30/19: South End Art Hop Exhibition featuring the colorful and expressive oil paintings by Anita Zotkina and bright and fun stained glass by Evi Cundiff. 412 Pine St, (802) 658-7016, M-F 6:30-6, Sat-Sun, 8-5. (image: Surrealism Summer Eve by Anita Zotkina. Courtesy of the artist. This image appears on the cover of October's Art Map Burlington.)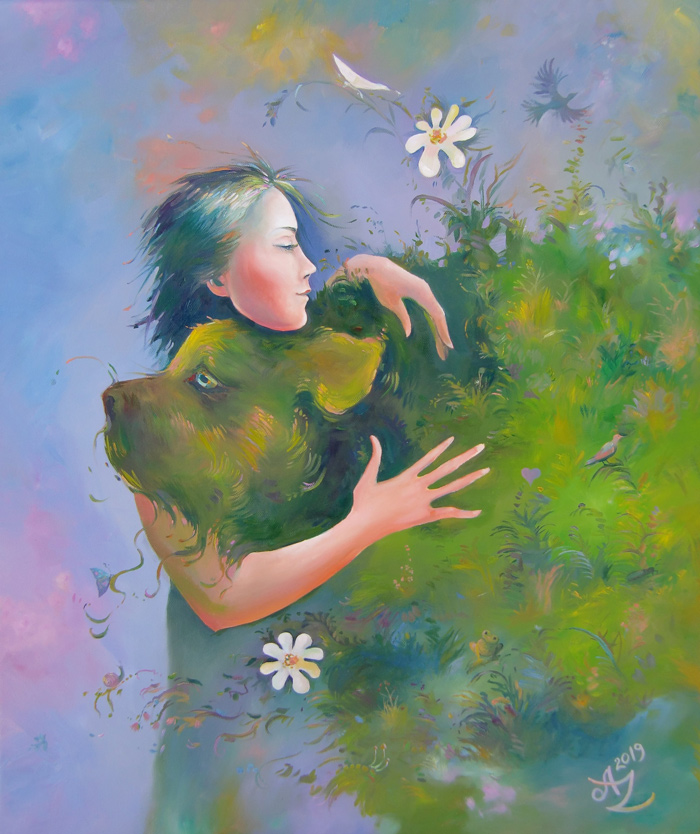 Abstract contemporary by artists Bruce R. MacDonald, Gordon Auchincloss, Joël Urruty and George Peterson. October 2019: The stainless steel light sculptures, "Force Fields", by artist Bruce R. MacDonald are specially priced for local consumption. These new squares are exhibited alongside the HAVOC Gallery artists.tist Bruce R. MacDonald, both large and small, pricey and not-so-much exhibited alongside the HAVOC Gallery artists. 27 Sears Ln (next to Greer's), (800) 639-1868, Open Weds-Fri, 9-5. (image: Force Field #5 by Bruce R. MacDonald (22″x22″; stainless steel light sculpture; 2019). Image by Sarah Vogelsang Card.)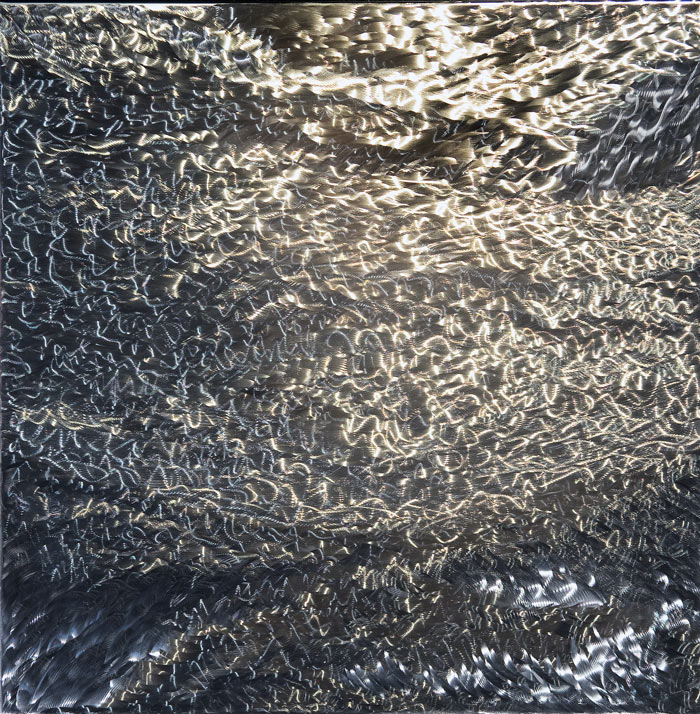 The Art Loft, created in August 2019, is a collection of several local artists. Located in the South End Arts District's Howard Space, which houses businesses of all types in the heart of the art community, I am proud to call this my new Art Home. 4 Howard St #I-3 (enter by loading dock), (802) 373-7544, Open by appointment and for First Friday Art. (image: The Big Easy by Johanne Durocher Yordan. Courtesy of the artist.)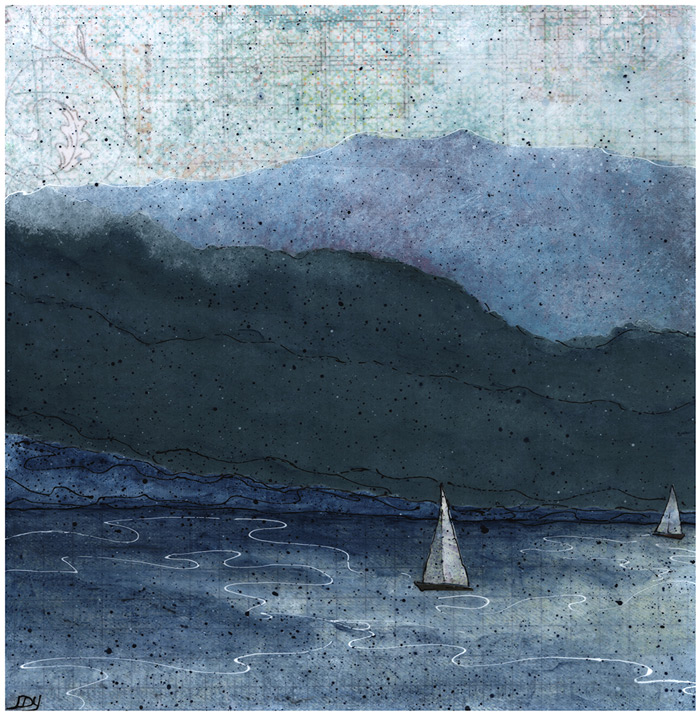 Serving hot bagels and more in a relaxed atmosphere with rotating art shows by Vermont artists, from the Burlington area and farther afield. Artists interested in showing work should visit Feldman's Call to Artists at the Vermont Art Guide Artist Database, www.vermontartguide.com/artistdatabase. 660 Pine St, (802) 540-0474, Open M-Sat, 6-3, Sun, 7:30-3.
Located at 180 Flynn Avenue, the building has two floors of artwork in the hallways as well as upstairs in the Fire Exit Gallery by Green House artists Jude Domski, Holly HauxJeffers, Nancy Stalnaker, Justin Hoekstra, & Marilyn Currier Maddison. Masked Soirée: Wednesday, October 30, 5-8PM. Young and Older are welcome and sought after to share an evening to remember! Get creative and gather with the Fire Exit Gallery artists to celebrate creative expression with live music, the new exhibit, "spirits within", light refreshments, and face painting. Masks encouraged. but not required! Kids in costume get a special treat. Live music by PhiloSofie and Jameson Hunt. 180 Flynn Ave (back and to the right), (802) 310-1886. Open M-F, 10-5. (image by Holly HauxJeffers. Courtesy of the artist.)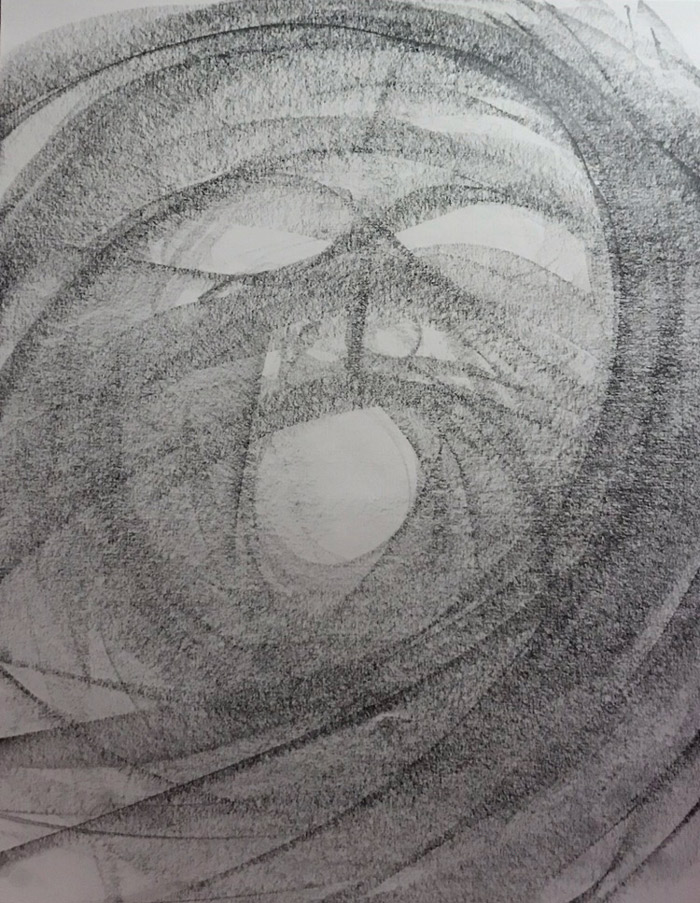 Student curators present artwork and exhibits across all four floors throughout the academic year: featuring a range of student art and varied community exhibits. 10/4-11/15/19: UVM's 9th Annual Alumni Art Show presented by the UVM Alumni Association in collaboration with the Davis Center Arts Team. In honor of the 20th anniversary of the Prism Center at UVM, this show features a special collection of artwork created by LGBTQ alumni and is displayed in the Davis Center and the UVM Alumni House. Opening reception: Saturday, October 5, 2-3:30PM the Livak Fireplace Lounge & Gallery, 4th floor. UVM Campus, 590 Main St. Hours vary by semesters. (image: A Way Around by Jim Aiken. Courtesy of the artist.)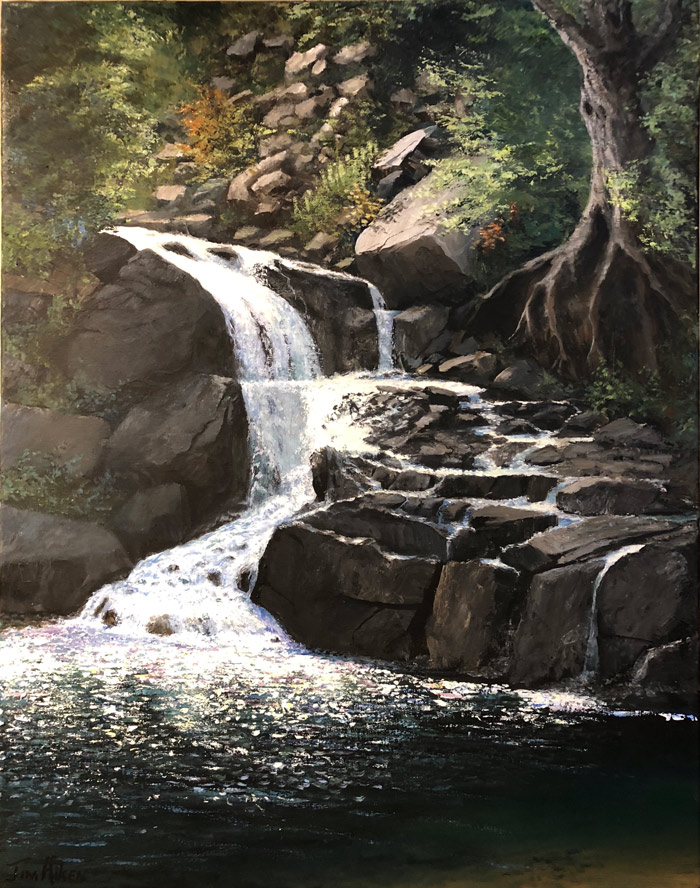 Through a partnership with Burlington City Arts, the UVM Medical Center features artwork by Vermont artists on the main medical center campus. Through September 2019: See art by Liz Hawkes de Niord, Susan Abbott, Greg Danford, Ken Russack, John Snell, and Boston Neary. 111 Colchester Ave, (802) 865-7296. (image: July-August from "A Year of Forgetting" by Cecelia Kane (31″x39.5″; acrylic on canvas; 2017). Courtesy of the artist and Burlington City Arts)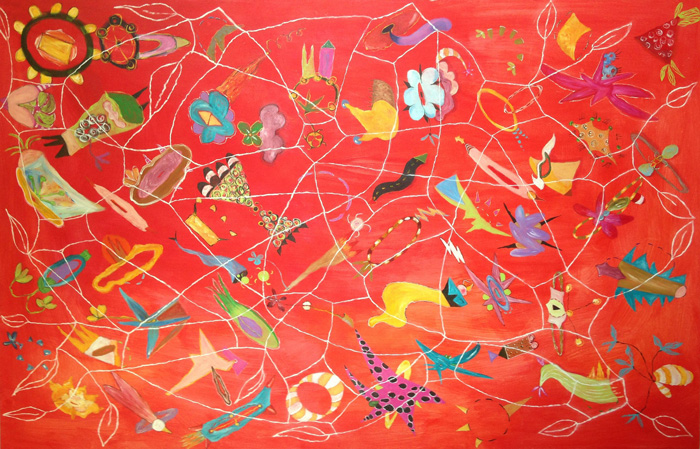 The CCV Hallway galleries are designed to act as an academic forum for the display of new ideas. First Floor: Eric J Newman's "Visionary Atmospheres" features lushly painted works of outer space and sci-fi fantasy imagery invented from his imagination. Second Floor: "Tales from the Crypt" is faculty and student works curated from 2018-19. 1 Abenaki Way, Winooski, (802) 654-0505, M-Th, 7:45AM-9PM; F, 7:45AM-5PM.
A campus full of interesting buildings and beautiful gardens, the museum presents an eclectic collection of art and objects. Through 10/20/19: "William Wegman: Outside In" explores over four decades of the renowned artist's ongoing fascination with the natural world. Through 10/31/19: "In Their Element": outdoor sculpture installation featuring work by Jonathan D. Ebinger, Rodrigo Nava, and Dan Snow across the museum's campus; "Ink + Icons: Album Quilts from the Permanent Collection" investigates the ways quiltmakers and communities created lasting material memories by reproducing meaningful symbols and taking advantage of technological developments like reliable indelible inks to tell their stories. Through 1/12/20: Monographic exhibition "Joel Barber & the Modern Decoy" focuses on the life and artwork of architect, author, illustrator, and pioneering decoy collector Joel D. Barber (1876-1952), featuring more than 100 decoys, drawings, historical photographs, and watercolors from Shelburne Museum's extensive collection and archives. 6000 Shelburne Rd, Shelburne, (802) 985-3346. Open daily, 10-5.
The Studio Store has handmade work in pottery, wood, jewelry, and stained glass and the school hosts events and classes for the public on an ongoing basis. 64 Harbor Rd, Shelburne, (802) 985-3648, Open M-F, 10-5; Sat, 10-2.
Art and wine among the vines, with quarterly shows of Vermont art in the tasting room. Through 1/1/20: The Art of Dan Gottsegen. Gottsegen's work is influenced by his ongoing wilderness explorations and meditations. He often derives images from video that he shoots in the wild. 6308 Shelburne Rd, Shelburne, (802) 985-8222, Open daily 11-6.
Beloved local beer factory has a curated space showing art on the tour ramp. 5 Bartlett Bay Rd, S Burlington, (802) 658-2739 x2014, Open M-Sat, 11-7, Sun, 12-5.
Presenting a stylistically diverse collection of original work by artists of regional and national stature. Through 10/15/19: "We're Not in Kansas Anymore: New Paintings by Valerie Hird" is the artist's first solo show in her home state in 30 years and includes work created especially for this exhibition, including both the final pieces from her series "New Mythologies", which explored an alternate creation story, as well as a first look at "Don't Ask Alice", a series of hand-painted paper stage sets that describe her own "biomythology", a narrative that lies uneasily between actual history and personal memory of travels in the Middle East and Central Asia..The gallery also has a unique collection of fine crafts and gift items. 86 Falls Rd, Shelburne, (802) 985-3848, Open Tues-Fri, 9:30-5:30, Sat, 10-5. (image: The Serpent Belt: Mitgarrd by Valerie Hird (13″x25″; oil, gesso, Arches paper, silver leaf. Courtesy of the artist and Furchgott Sourdiffe Gallery)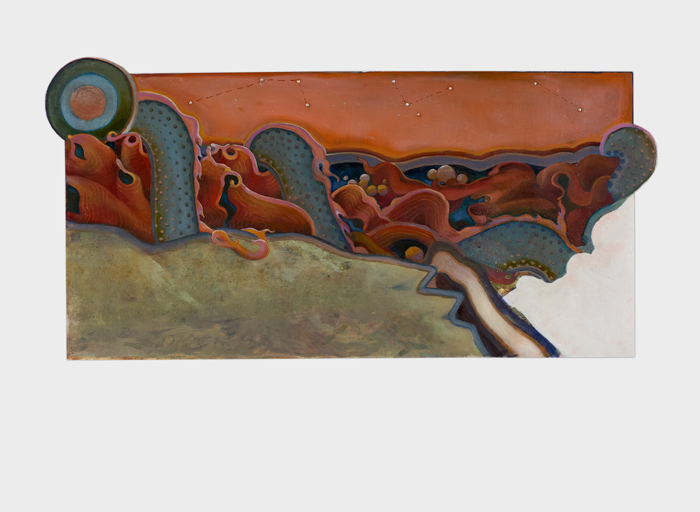 ---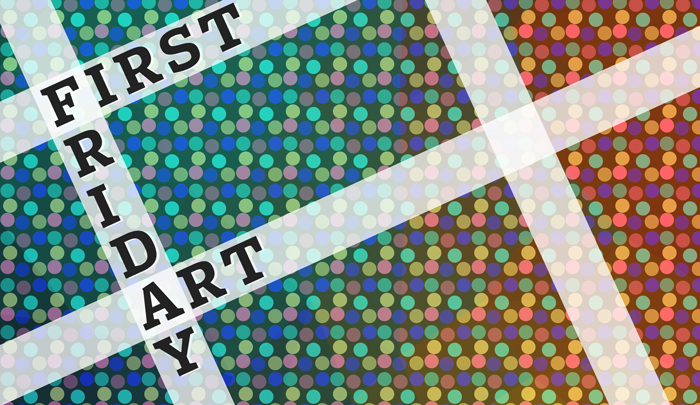 The next First Friday Art is
November 1st, 5-8PM.
First Friday Art is a monthly, community-wide event where dozens of art venues across the city host openings, exhibitions, and happenings.
The event is free and open to anyone.
Most venues are open from 5PM to 8PM, but some are open earlier or later.
Art Map Burlington is the official guide to First Friday Art. Pick up a copy at any participating venue. Enjoy!