Art Map Burlington promotes contemporary art in the Greater Burlington area by informing the community about exhibitions, events, and the work of area artists. Ask for a copy of the print edition at any of these venues.
---
Where to See Art-July 2018
Click the venue name to read more.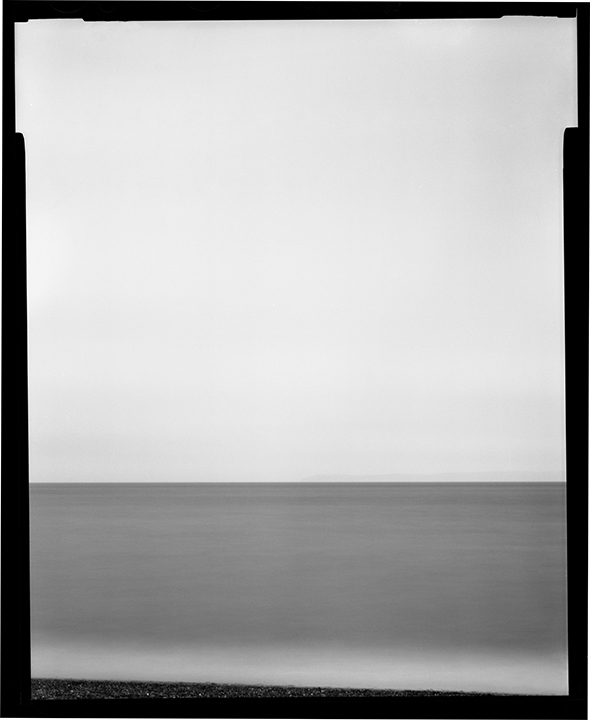 Exhibitions of work by regional artists related to Flynn programming during the same time period. 7/7-9/1/18: "Horizons" is one of John Killacky's last curated exhibitions in the gallery and features work on the theme of "horizons" in painting, drawing, print, stained glass, and photography by 17 Vermont artists. Opening reception: Saturday, July 7, 1PM.153 Main Street, (802) 652-4505, Sat, 11-4 and by appt. (image: Herring Cove #16 by Frédéric Silberman)
Laptop refurbishing shop shows work by area artists in monthly shows. 196 College St, (802) 578-9687. Open Tues, W & F, 10-6; Thurs, Noon-6; Sat, 11-5.
Burlington's only public library since 1875 shows art by area artists and nonprofit groups throughout the year. Through 7/8/18: Julie Montera's "Gender & Identity Project" shows the ways in which children's clothing has gendered messages. Fletcher Room, through 8/30/18: "Summer Reading @ FFL: Posters, Banners, T-shirts and more…A Retrospective" features the last 30 years of Summer Reading Program posters, T-shirts, and other items is on display throughout this year's "Libraries Rock!" Summer Challenge. 235 College St, (802) 865-7211, Open daily at 10, Noon on Sunday.
Open daily 7AM-11PM. Member-artists are showcased on the Member Art Wall, located behind register 10. 7/2-8/31/18: Photographer Susan Essex Luce presents work from two series: "Art, Hops, and Kale, MMXVII" and a series of taken mostly in 2014 of landmarks in the South End, including the buildings on the site of the new South End City Market. 82 S Winooski Ave, (802) 861-9700.
Salon featuring a dedicated gallery space with rotating exhibits focused on eclectic and bold work. Shelburne monoprinter and painter Casey Blanchard presents "Regeneration". She considers no "found" object too grand or too insignificant to express spirit and soul in the printing medium. Opening during First Friday Art, 6-8.106 Main St, (802) 864-2088. Open Tues-Thurs, 10-7; Fri-Sat, 10-5.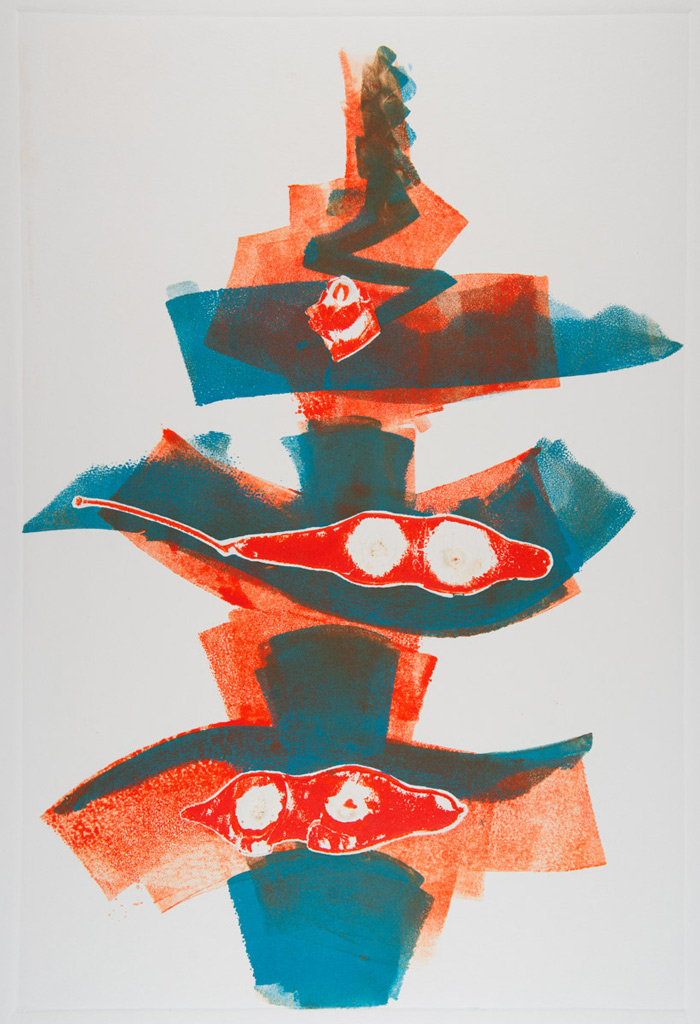 Featuring contemporary art exhibitions that connect art and community, nurture creativity, imagination, and ignite a passion for learning through the arts. Through 8/8/18: Nicole Czapinski's "Forever, Little Ghost" explores illusions within perception, the complexity of consciousness, and is inspired by the invisible and unknown. Through 10/7/18: Crystal Wagner's "Traverse" transforms organic and biomorphic designs into colorful prints, sculptures, and sprawling installations comprised of bursting colors and organic forms. Opening reception for both shows: Friday, 6/29, 6-8PM. 135 Church St, (802) 865-7166, Open Tues-Thurs, Noon-5; Fri-Sat, Noon-8.
A community spot since 2007, New Moon Café presents work by Burlington-area artists in the dining area. Through 8/31/18: Andria Lovejoy's "Questo & Quello". The artist is an eclectic painter with unique landscape painting style: both painterly and free, with interesting brushwork and softness. Her recent foray into abstract painting was inspired by images of rusted objects, but have taken on a fun and colorful form of their own.150 Cherry St, (802) 383-1505 or (802) 383-1496. M-F, 7:30AM-8:30PM; Sun 8AM-8:30PM.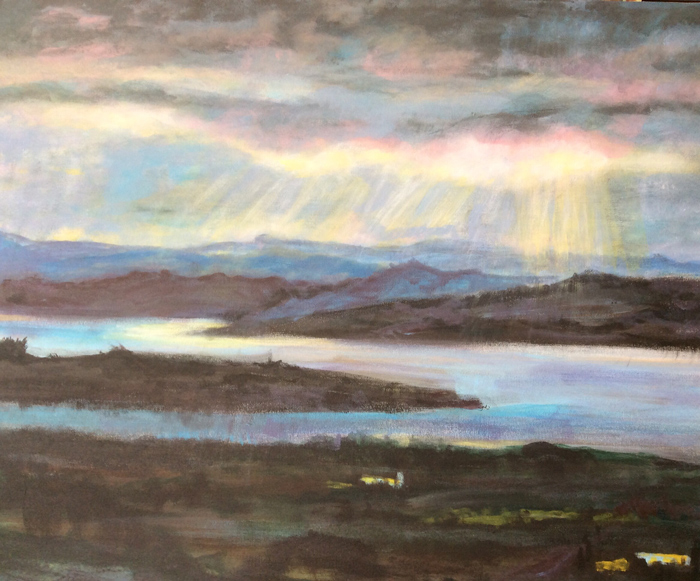 Showing the works of over 200 juried, Vermont artisans in month-long exhibits. July 2018: Group Show featuring work by Frog Hollow artisans Dug Nap, Daryl Storrs and Terry Zigmund. Opening during First Friday Art. Opening during First Friday Art. 85 Church St, (802) 863-6458. Hours vary by season.  (image: Stitched in Fiction by Daryl Storrs)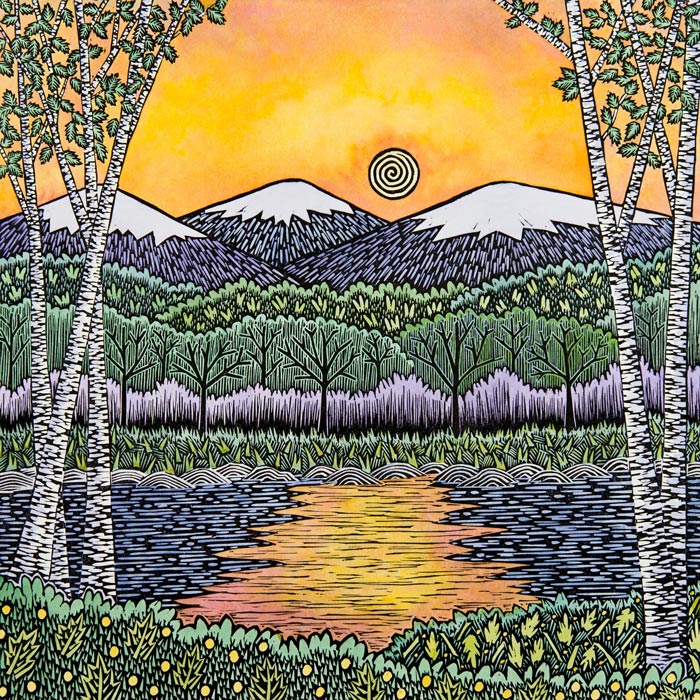 Connecting Burlington's emerging artists with emerging patrons of the arts to create just and sustainable communities. Through 7/24/18: "Optimist Prime" brings optimism to the forefront through a magical use of materials. This collection of work by 8 painters gains buoyancy through the lighthearted use of color, form, and theme to create a room buzzing and humming with positivity. Opening during First Friday Art along with the open studios of New City's 3 artists-in-residence, 5-8.132 Church St, (802) 355-5440, Open Tues-Fri, 11-5. (image: Glitch Hole by Katie Hector (15″ diameter, mixed media, 2017) Featured on the cover of May 2018's Art Map Burlington)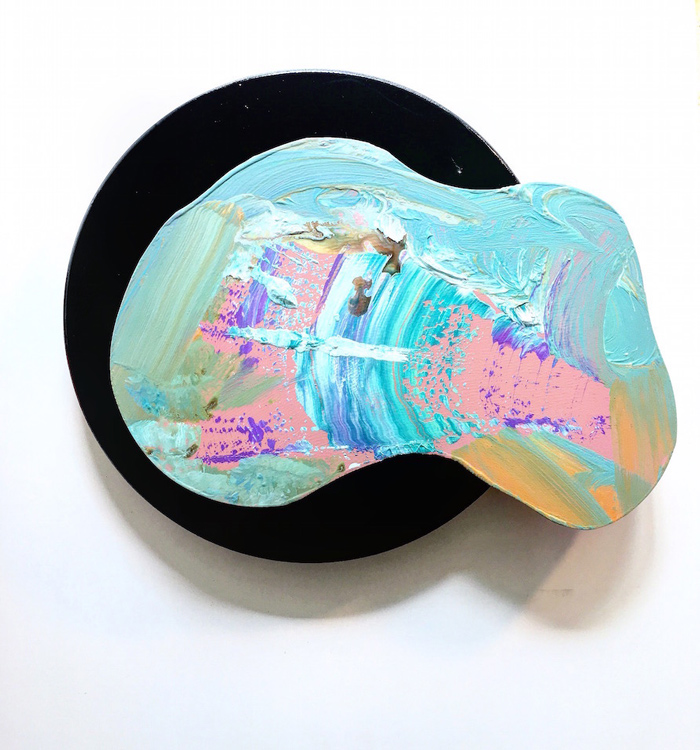 BCA curates the artwork on the main floor. July-August 2018: Judy Hawkins paintings. Water, with all its varied dimensions, fascinates Hawkins. She is drawn to and inspired by its simplicity and changing nature–from the pond pebbles on the bottom through layers of water, to surface tension, reflection, water splashes and ripples. 149 Church St, (802) 865-7166, M-F, 8:30-4:30 and for First Friday Art. (image: Maddie's Meadow by Judy Hawkins (24″x30″; oil on canvas))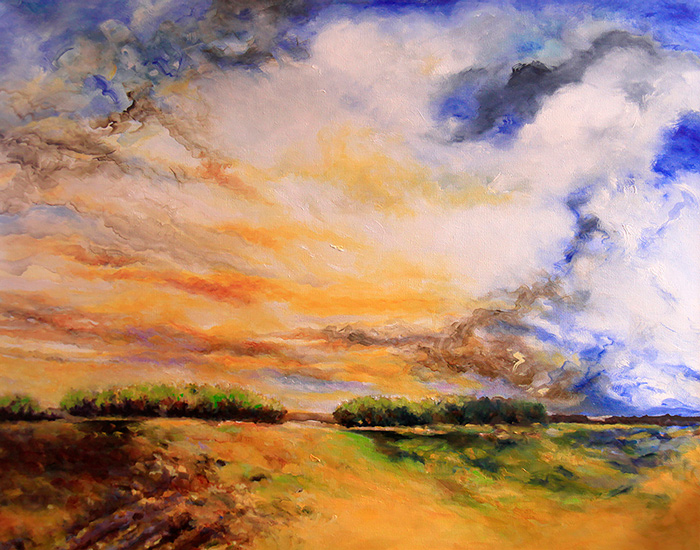 Art's Alive and Main Street Landing are dedicated to increasing awareness and appreciation of Vermont visual artists. July 2018: Art by students of the Bellcate School, a small independent grassroots school in Essex, with blended therapeutic/academic programs serving the needs of students with individualized learning styles. This exhibit presents artwork that deals with fiber/folk art, "up-cycled", identity pieces. Meet the teachers and students of Bellcate School at an artist reception on Friday, July 13, 5-8PM. Curated by SEABA. 1 Main St, (802) 859-9222, M-F, 8-3; Sat-Sun, by appt.
Serving up imaginative beers for enlightened palates and regional art throughout the eclectic lakefront brewery. 6/29-7/31/18: "Cut-Outs" is work by Clark Derbes. 112 Lake St, (802) 399-2511, M-Thurs, Noon-10; Fri-Sat, 11-Midnight; Sun, 11-7.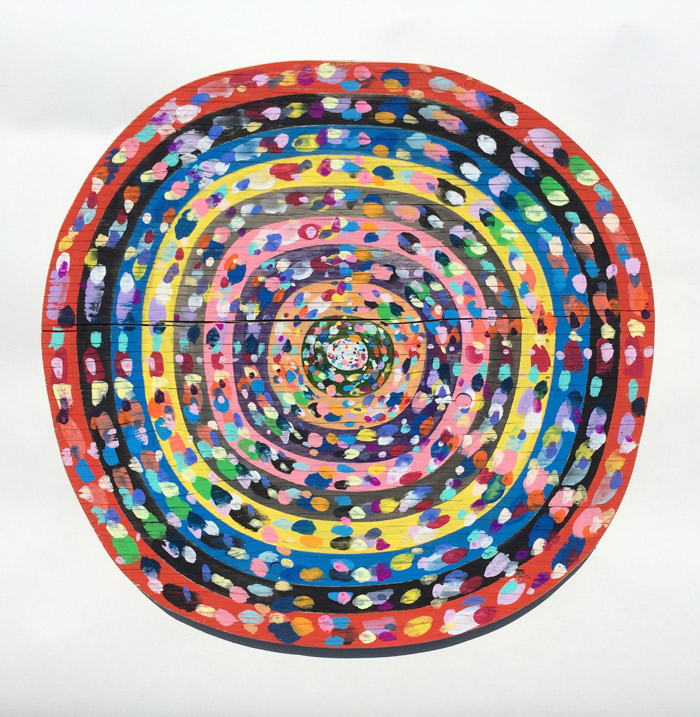 Showcasing traditional and non-traditional visual art in bimonthly shows in a space overlooking Lake Champlain. 7/6-8/31/18: "Happy Home" is paintings in acrylic and watercolor by Olga Verasen, whose acrylic work is made using a sophisticated layer-by-layer technique to create a special lighting effect. She also uses watercolor, in combination with pastel and other special techniques, to create illustrations for her children's books. Also on view, James Stewart's interactive video installation, Solipsism. Opening reception during First Friday Art. Powered by SEABA. CornerStone Building, 3 Main St, (802) 859-9222. Open M-F, 8-3, Sat-Sun by appt. (image by Olga Verasen)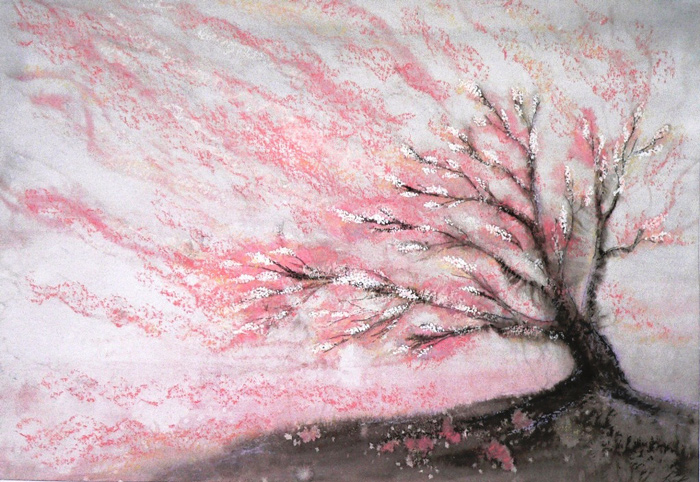 Presenting art by students, artists-in-residence, faculty and invitees in a variety of exhibitions and settings during the school year. Through 7/31/18: "Champlain Dublin: Celebrating 10 Years" of International Education and Cultural Immersion. 375 Maple Street (Hauke Family Center, 2nd Floor), (802) 860-2700, Thurs, 10-5; Fri, 4-8; Sat, 11-4:30.
Curated by SEABA, showing large-scale 2-D work and installation sculpture with multi-media work presented at their quarterly openings. Through August 2018: The Annual SEABA Members Only Art Exhibit honors businesses and artists alike with a group exhibit by member artists at one of SEABA's member locations. 208 Flynn Ave, #2-G, (802) 651-9692, Open M-F, 10-10, Sat, 10-5. (image below: Dragonfly Moon by Ceili Seipke (12″x12″). This image was featured on the cover of the June 2018 Art Map Burlington)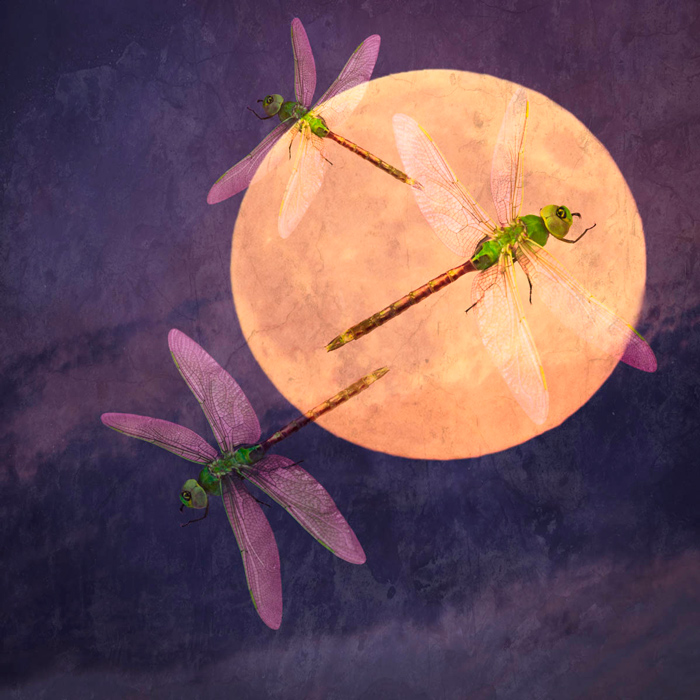 Traditional and non-traditional exhibitions and community-based events. The artists maintain a gallery presence and handle sales. 7/6-8/31/18: "extra.ordinary" by The Art Tribe. Ten artists present varied impressions of the extraordinary in the ordinary, ranging from abstract to representational in a variety of media including watercolor, oil, acrylic, encaustic, photography, fiber, recycled and found objects. 208 Flynn Ave, (802) 363-4746, M-F, 7-4, Sat, 9-Noon. (image by Melanie Brotz)


Home to 12 working artist studios and a gallery. 7/6-7/28/18: "Avalon" is a series of three-dimensional landscape vignettes by Alex Costantino. "Avalon" is a portrait of a particular rural future, one in which the questions of life in the outer edges of a wealthy, deeply unequal society have been answered in unexpected ways. Opening reception during First Friday Art.Opening reception during First Friday Art. 266 Pine St (Soda Plant), (802) 578-2512, Open Thurs-Sat, Noon-5. (image: Avalon Islands by Alex Costantino)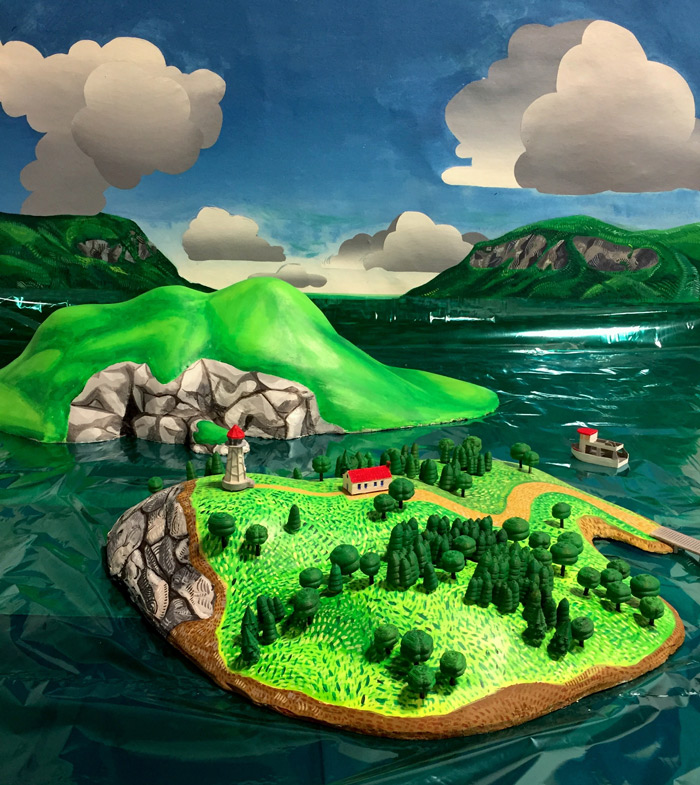 Art shop featuring about 30 artists from Vermont and beyond with a rotating artist on one wall. July 2018: Jordan Douglas presents a selection of alternative silver gelatin photographs–including re-interpretations of found vintage photographs, and medium format prints generated from the quirky, $25 plastic Holga camera. 270 Pine St, (802) 338-7441, Open Tues-Sat, 10-6, until 8 during First Friday Art.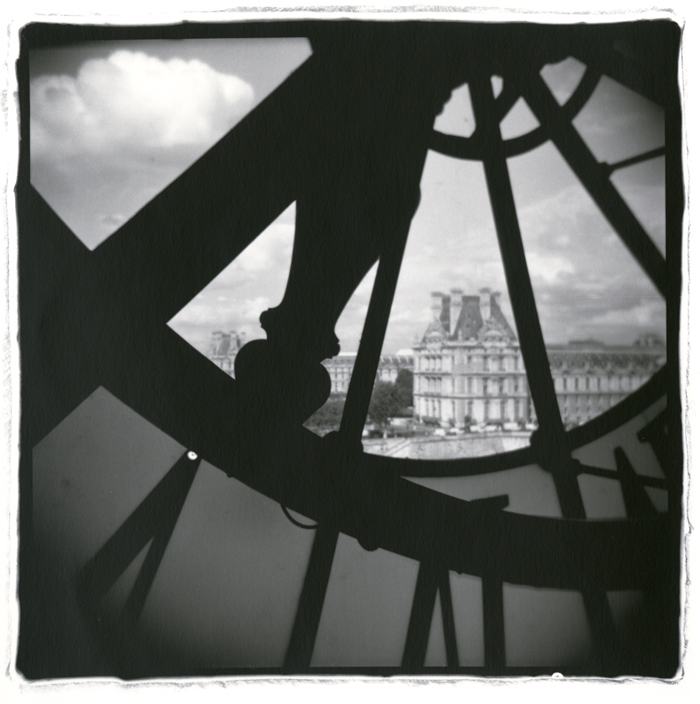 This eclectic second-hand shop is home to a revolving collection of art. 377 Pine St, (802) 540-0107, M, W-Th, 10-5; Fri-Sat, 10-9; Sun, 11-3.
This sprawling South End complex shows art in the first, second & third floor corridors. Ongoing. First Floor: Dennis McCarthy, Frank DeAngelis, Janet Bonneau, Rae Harrell, Robert Gold and Terry L. Mercy. Second Floor: E. James, Lynne Reed, John Metruk and Marilyn Barry. Third Floor: Gabrielle Brooks, J. Thorpe, Mike Reilly and Rebecca Rouiller. Curated by SEABA. 128 Lakeside Ave, (802) 859-9222, Open M-F, 6-6.
Aaron Stein's license plate artwork: map sculptures, shadow boxes, photo frames, wine racks, cuffs, house trailers, lamps and ornaments all created out of recycled license plates from all 50 states. 266 Pine St (Soda Plant), (802) 355-4091. Open during First Friday Art and by appt.
Two working studios featuring abstract, eclectic, and sometimes chaotic original paint work by Franky D, who started painting for the first time in 2016 with no formal art training. His work is passionate, gritty, and imperfect much like life itself. 266 Pine St (Soda Plant), (802) 355-3502. Open Thurs-Sat, Noon-5 and by appointment.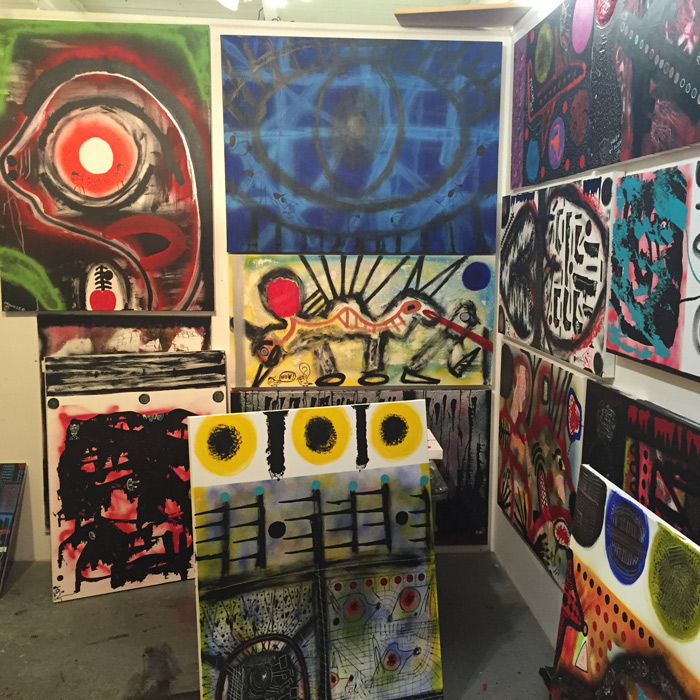 Showing art by SEABA members in the gallery and hallways. July-August 2018: Art's Alive FOFA '18 Winner's Circle: 1st Place: Kara Torres (image: The Wonderful Garden), 2nd Place: Gav'om, 3rd Place: (tie) Jerry Rayla & Matt Morris; Roberto W. Fitzgerald Award: Linda Dulleba; Artist Choice: Paul McMillan. Opening reception during August's First Friday Art. 404 Pine St, (802) 859-9222, Open M-F, 9-5.
A custom picture framing workshop that features monthly exhibitions. Through 8/20/18: "Trade Winds Over Paradise" is paintings by Golden True, who says, "The drama of forms in space, a perfect moment in a perfect place, colors make light, reshaping the experience, magical worlds await…" Opening reception during First Friday Art. 308 Pine St #101, (802) 660-9005. Open M-F, 10-6; Sat, 10-3. (image: untitled landscape by Golden True (oil on panel))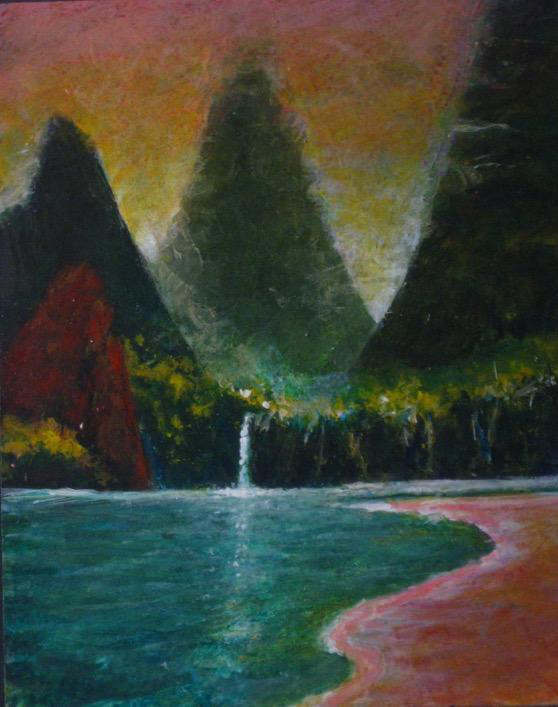 Venerable coffeehouse shows South End Arts District artists curated by SEABA. Through 8/31/18: Cartoonist, photographer, and videographer James Valastro presents his unique HenArt cartoons, which show what talented, smart, busy hens do with the rest of their day. 412 Pine St, (802) 658-7016, M-F 6:30-6, Sat-Sun, 8-5.
July 2018: "Vibrant Introductions" is the fresh debut of Stoney alongside Bruce R. MacDonald's new dimensional light sculpture. Vibrant paintings, other-worldly light landscapes and the very last element of MacDonald's "The Visible Indivisibles" project. Stoney has been drawing since he was two, starting with a green Sharpie on parents' bedroom wall. Recently, he picked up acrylics and canvases and now whips up emotionally charged portraits with dimensional characters created through vibrant colors with an emphasis on structure and geometric shapes. 27 Sears Ln (next to Greer's), (800) 639-1868, Open Weds-Fri, 9-5; for First Friday Art & by appt. (image: untitled by Stoney (16″x13″; acyrlic on canvas; 2018))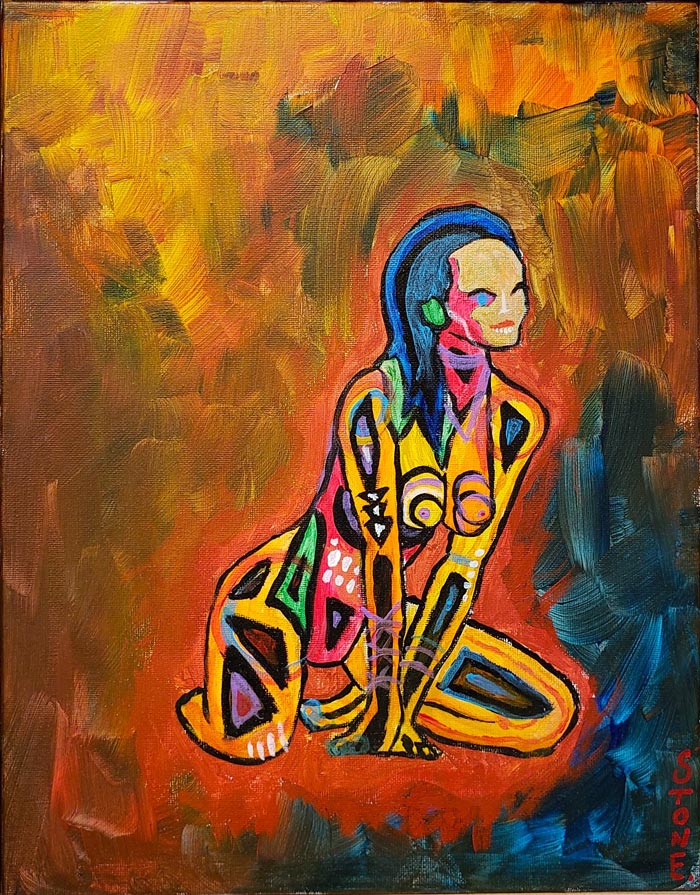 Meet Emily Anderson and learn how she uses the drawing of fairies to inspire imagination and encourage positivity so life's challenges can be met with light-hearted energy. During First Friday Art, Anderson will present multiple performances of a Crankic Show called "Accomplishing Big Things" that features the "Fairy of the Day" app. 4a Howard St (3rd Fl, next to Sharon Webster), (802) 238-4540, Open for First Friday Art & by appointment.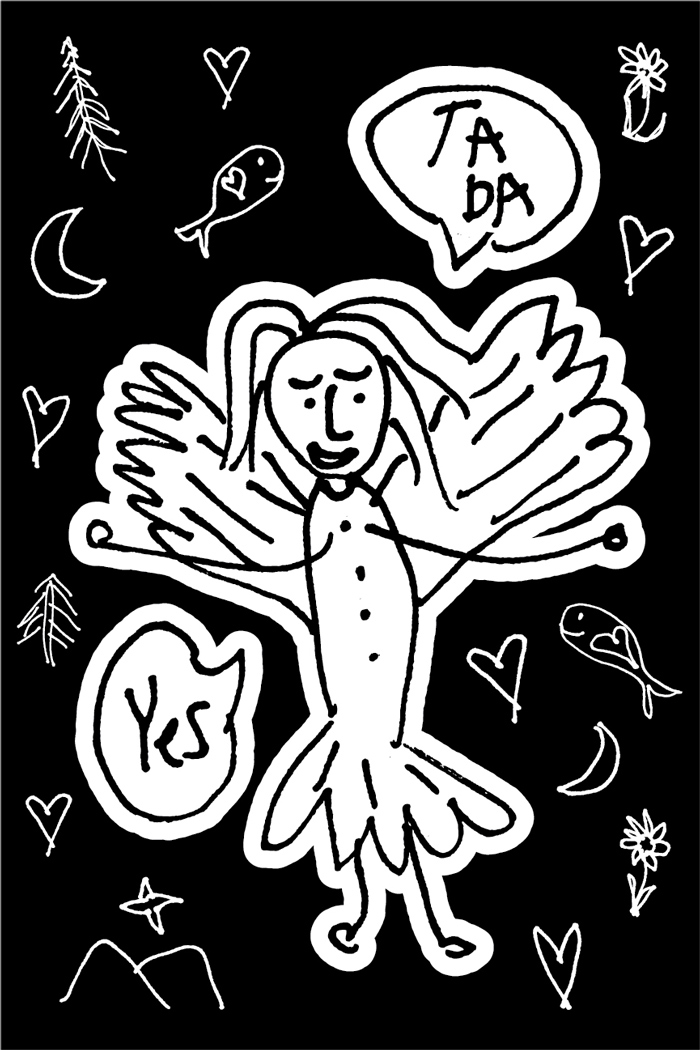 Serving hot bagels and more in a relaxed atmosphere with rotating art shows. July 2018: Cambridge artist Julie A. Davis works primarily in oils, but she is also fluent in pastels, India Ink, acrylic and mixed media. She is often described as being a modern Impressionist, though she is more accurately described as a "naturalistic expressionist", an artist who uses subjects in the natural world to express emotional content. 660 Pine St, (802) 540-0474, Open M-Sat, 7-4, Sun, 8-3.
The BOX Art Studio, formerly a maple syrup boiling room, is a unique industrial space housing the studios of Alex Dostie, Isaac Wasuck, Rough Francis, Brooke Monte, Sam Handler, and Lynne Reed. 7 Marble Ave (next to Arts Riot Truck Stop), (802) 578-0022, Open by appointment.(image below by Lynne Reid)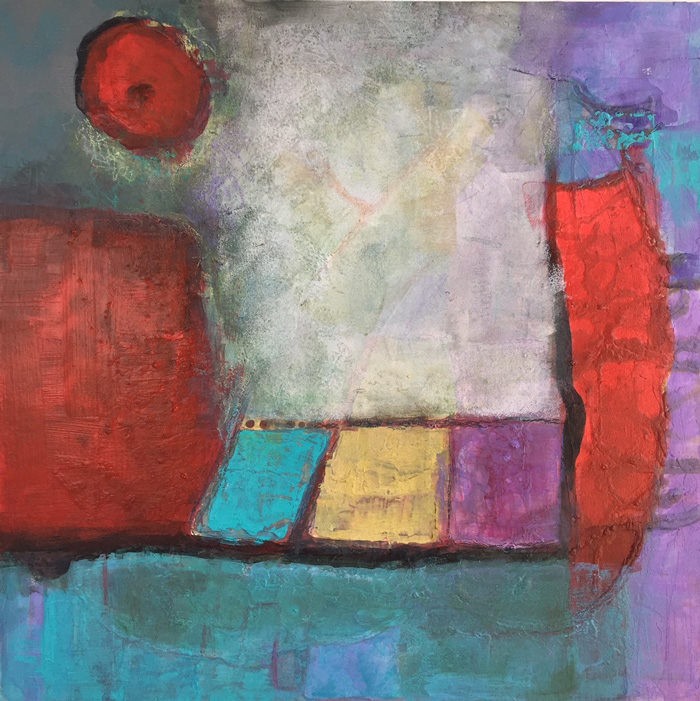 A working studio of creative artists from painters to potters who produce, display, and sell their artwork in the studio. During First Friday Art, visit and hang out in the funky, cozy studio for friendly conversation, artwork, and light snacks. 4a Howard St, A-8, (802) 355-3502. Open for First Friday and by appt.
Located at 180 Flynn Avenue, the building has two floors of artwork in the hallways and upstairs in the Fire Exit Gallery and the open studios of Holly HauxJeffers, Nancy Stalnaker, & Jude Domski. 180 Flynn Ave (back and to the right), (802) 310-1886. Open M-F, 10-5.
Artwork is displayed on all four floors during the academic year: from student art to a variety of community exhibits. Summer 2018 in the Scarlett Oak Lounge: "Displaced: A Look at Class Consciousness in New Orleans" is photographs by Max McCurdy documenting the signs and symptoms of gentrification and displacement taken during a recent 3-day visit. UVM Campus, Hours vary by semesters.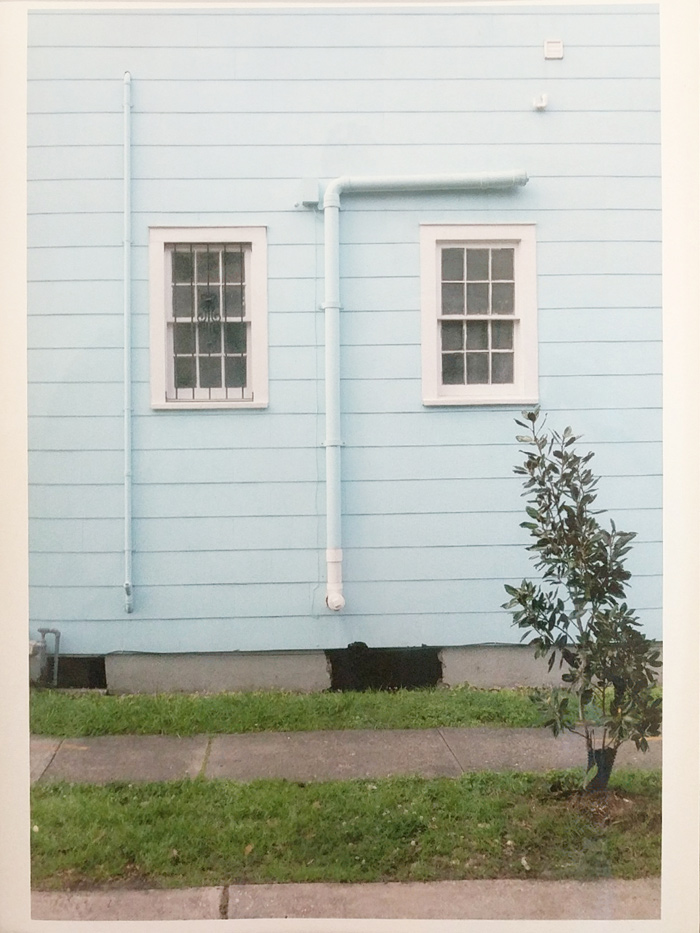 Through a partnership with Burlington City Arts, the UVM Medical Center has been showing work by Vermont artists on the main medical center campus for several years. Through September 2018: See art by Mike Sipe, Jo Thomas, Lorraine Manley, Kari Meyer, Annie Tiberio Cameron, and Mark Collier. 111 Colchester Ave, (802) 865-7296. (image below: A Walk Through Birches by Jo Thomas (30″x40; ripped paper collage))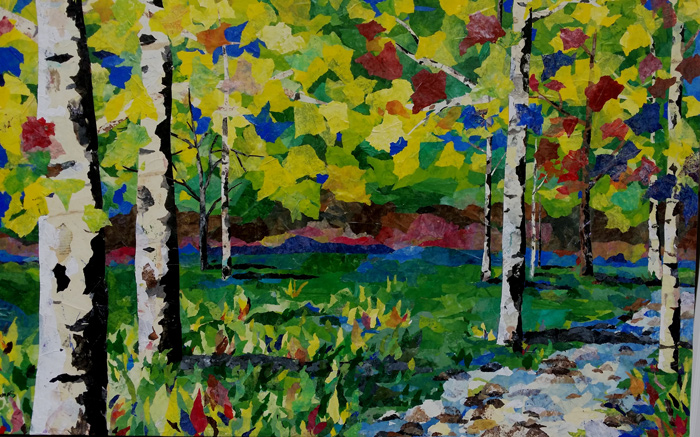 Located on the UVM campus, the Fleming Museum of Art houses the state's most comprehensive collection of art and anthropology. 61 Colchester Ave, (802) 656-2090. Open during the school year, Tues-Sun.
Hosting a variety of artistic media, featuring local, national and international artists.  L/L Center Room 233, UVM East Campus, (802) 656-4200. M-F, 1-8.
The hallway galleries are designed to act as an academic forum for the display of new ideas. First and Second Floors, "mistakes, rejects, and the forlorn". This light-hearted exhibition brings together amazing, anonymous CCV student drawings, paintings, prints and photos from the past five years. 1 Abenaki Way, Winooski, (802) 654-0505, M-Th, 7:45AM-9PM; F, 7:45AM-5PM; Sat, 8:30AM-4:30PM
A campus full of interesting buildings and beautiful gardens, the museum presents an eclectic collection of art and objects. "American folk art. French Impressionist paintings. Historic New England architecture. Duck decoys, circus animals, and dolls. These were just some of the some of the interests of Shelburne Museum founder Electra Havemeyer Webb." Expertly curated, temporary exhibitions at the The Pizzagalli Center for Art and Education make the museum a year-round destination. Through 8/26/18: "In the Garden" features fine art, textiles, jewelry, and the bodies of actual insects to explore the various ways flowers and bugs have captivated artists' imaginations over the last 500 years. Through 10/21/18: "Playing Cowboy" investigates the formative ways in which turn-of-the-century performing and visual arts mythologized cowboys and villainized Indians. Through 10/31/18: Crystal Cawley merges materials and ideas ranging from collections of old greeting cards and puzzle pieces to discarded library books and worn household textiles, drawing our attention to objects that might otherwise be overlooked; "Bench Space" is a site-specific exhibition celebrating contemporary furniture designers' and artists' inspirations and interpretations of the world around them. 6000 Shelburne Rd, Shelburne, (802) 985-3346. Open daily, 10-5.
The Studio Store has handmade work in pottery, wood, jewelry, and stained glass and the school hosts events and classes for the public on an ongoing basis. 64 Harbor Rd, Shelburne, (802) 985-3648, Open M-F, 10-5.
Art and wine among the vines, with quarterly shows of Vermont art in the tasting room. Through 10/1/18: New work by Charlotte artist James Vogler, whose paintings reflect a mixture of moments gleaned from past or present experiences, expressed in a blending of abstraction and figuration. In combination, these elements infuse his work with a curious ambiguity. 6308 Shelburne Rd, Shelburne, (802) 985-8222, Open daily 11-6.
Beloved local beer factory has a curated space showing art on the tour ramp. Through 7/31/18: Burlington artist S.R. Wild's collages are playful scenes assembled from the vintage print materials he unearths from junk shops, thrift stores, and the trash. 5 Bartlett Bay Rd, South Burlington, (802) 658-2739 x2014, Open M-Sat, 11-7; Sun, 12-5.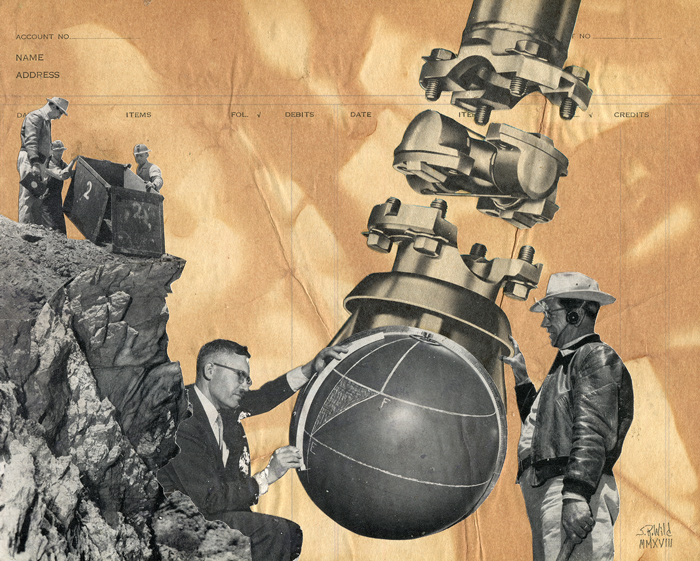 Presenting a stylistically diverse collection of original work by artists of regional and national stature. Through 7/17/18: "Into the Light: A Group Show Featuring Dick Weis + 15". Castleton artist Dick Weis is a Professor Emeritus at Green Mountain College & Fulbright Award winner. His current work features bold images in ink and watercolor, with the brushwork that's evocative of Asian calligraphy. The gallery also has a unique collection of fine crafts and gift items. 7/20-8/21/18: "Bloom" focuses on floral still lifes rendered with Kate Longmaid's fresh and contemporary approach to the subject. Opening reception: Friday, July 20, 6-8PM 86 Falls Rd, Shelburne, (802) 985-3848, Open Tues-Fri, 9:30-5:30, Sat, 10-5.
(image: The Crossing by Dick Weis (27″x19″; ink and watercolor on paper))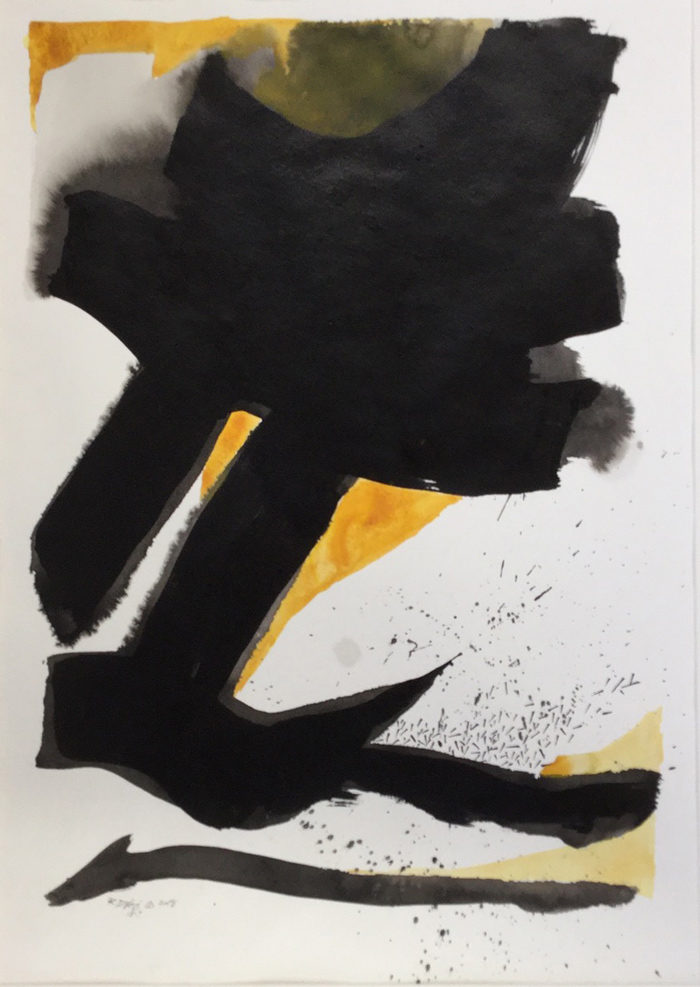 ---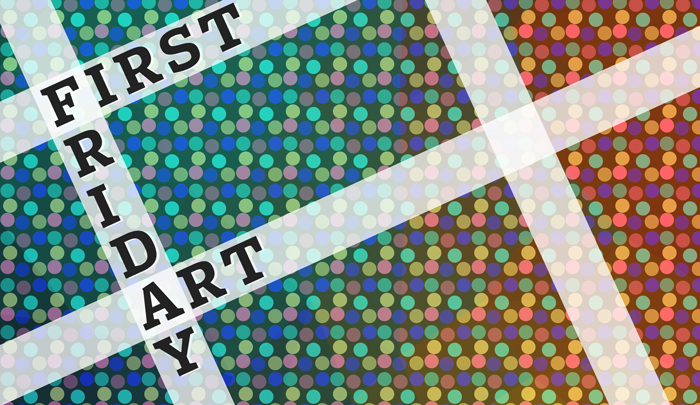 The next First Friday Art is
August 34d, 5-8PM.
First Friday Art is a monthly, community-wide event where dozens of art venues across the city host openings, exhibitions, and happenings.
The event is free and open to anyone.
Most venues are open from 5PM to 8PM, but some are open earlier or later.
Art Map Burlington is the official guide to First Friday Art. Pick up a copy at any participating venue. Enjoy!