Art Map Burlington promotes contemporary art in the Greater Burlington area by informing the community about exhibitions, events, and the work of area artists. Ask for a copy of the print edition at any of these venues.
---
Where to See Art-October 2016
Click the venue name to read more.
Live music venue, restaurant, and bar with monthly exhibits by emerging Burlington artists. Through October 2016: Scott King's layered works on birch plywood with paint markers, spray paint and acrylic. 188 Main St, (802) 658-4771, Open nightly.
Exhibitions of work by regional artists related to Flynn programming during the same time period. Through 11/26/2016: "Directors' Digressions" presents work by Fleming Museum Director Janie Cohen and abstract painting by BCA Assistant Director Sara Katz. Opening reception with conversation between the artists: Saturday, September 10, 2. 153 Main Street, (802) 652-4505, Sat, 11-4 and by appt. (image below: Fields and Water by Sara Katz (16″x16″; oil and mixed media))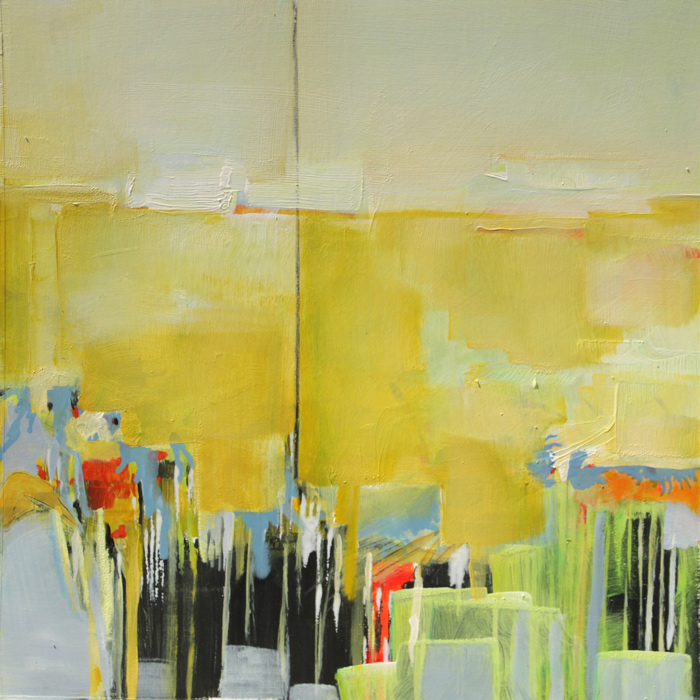 Laptop refurbishing shop shows work by area artists in monthly shows. Through 10/31/2016: In "Childhood Home", Tess Elizabeth Holbrook, driven by storytelling and exploring human emotions, finds a romance in oil paints that allows her to bring out the stories and emotions that circle within us all. Opening reception during First Friday Art. 196 College St, (802) 578-9687. Open M-Sat, 9:30-8; Sun, 10:30-6. (image below: Looming Home by Tess Elizabeth Holbrook)

Burlington's only public library since 1875 shows art by area artists and nonprofit groups throughout the year. 235 College St, (802) 865-7211, Open daily at 10, Noon on Sunday.
Open daily 7AM-11PM. Member-artists are showcased in the café seating area. 82 S Winooski Ave, (802) 861-9700.
A 5-floor visual arts center promoting excellence, experimentation, and education in all forms of contemporary art. 10/7/2016 to 1/14/2017: Water, as both ecological fact and metaphor, is the subject of this year's "Of Land & Local: Watershed". The show, both at BCA and Shelburne Farms, supports artist led conversations about issues impacting the Vermont landscape. Artists at BCA: Sean Clute, Cameron Davis, Al Larsen, Rachel Moore, Michael Zebrowski, John Douglas, Casey Blanchard, Galen Cheney, Mark Reamy, Gail Salzman. Opening reception during First Friday Art. 135 Church St, (802) 865-7166, Open Tues-Thurs & Sun, 11-5; Fri-Sat, 11-8.
Generator is a combination of artist studio, classroom, and business incubator at the intersection of art, science, and technology. 250 Main Street, (802) 540-0761. Mon-Fri, 11-9; Sat-Sun, 11-7.
A community spot since 2007, New Moon Café presents work by Burlington area artists in the dining area. Through 12/31/2016: "Change on the Horizon" by the Milton Artists' Guild. "Change is continual and often unpredictable while the Horizon stands fixed and reliable with each rising and setting sun. However, with each rise and set over that horizon change is inevitable." 150 Cherry St, (802) 383-1505 or (802) 383-1496. M-F, 7:30AM-8:30PM; Sun 8AM-8:30PM. (image below: Climate by Donna Blatchley)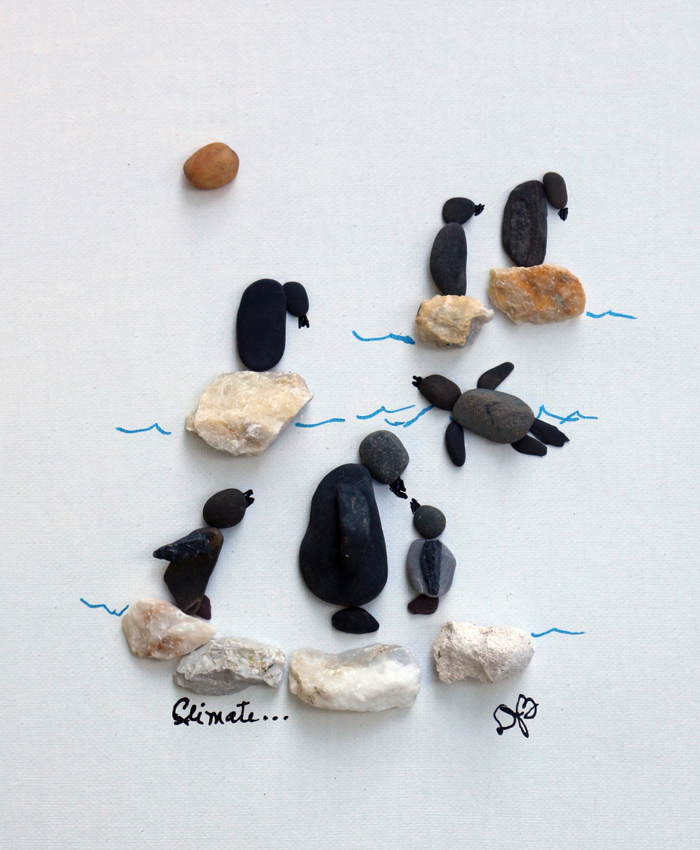 Showing the works of over 200 juried, Vermont artisans in month-long exhibits. October 2016:"Life's Natural Perspective" by pastel artist Marilyn Ruseckas is a celebration of 20 years of continuous exhibition with Frog Hollow. Opening during First Friday Art. 85 Church St, (802) 863-5458. Hours vary by season.
Presenting "nyx.ride*" in the Church Street window by artist Nyx Black, who creates as Anonymous Muse. 104 Church St, (802) 860-6630. Open M-Sat, 8-5; Sun, 9-4.
The walls of this Church Street café are lined with art by Vermont artists whose work deals with Vermont themes. October 2016: Inks by PJ Fisher. 42 Church St, (802) 865-6227, Open M-Thurs, 7-9; F, 7-10; Sat, 8-10; Sun, 9-9.
Connecting Burlington's emerging artists with emerging patrons of the arts to create just and sustainable communities. Through 10/25/2016: Interdisciplinary Burlington artist Stella Mars presents a new multi-media inventory on fashion, flowers, capital flows and feminist iconography called "In Her Shoes". She creates alternative female narratives & images that circulate the public sphere. 132 Church St, (802) 355-5440, Open Tues-Fri, 11-5.
Community organizations share their mission through artwork on the main floor. October-November 2016: Mareva Millarc has "a compelling desire to create art along with an intrinsic ability to capture the infinite." Her art "allows for personal interpretation, blurred realities, and creative opportunities. Allow yourself to be moved by that which is undefined." Curated by BCA. 149 Church St, (802) 865-7166, M-F, 8:30-4:30.
Art's Alive is dedicated to increasing awareness and appreciation of Vermont visual artists. October 2016: The Northern Vermont Artist Association presents its annual group show at Union Station. The NVAA was founded in Burlington in 1931 and is open to all visual artists. Dues are $15 annually. Curated by SEABA. 1 Main St, (802) 859-9222, M-F, 8-3; Sat-Sun, by appt.
Part of Maglianero Café, space has high ceilings and large windows and hosts a Youth Poetry Slam during each First Friday Art. Through 10/21/2016: Four decades of genuine human stories in unique portraits by photographer David Roby, including Led Zeppelin, The Clash, Evel Knievel, Jake Burton, and others. During October's First Friday Art, Public Works Press will be featuring an exhibition of large relief prints and monoprints made by participants in the Steamroller Printmaking Workshop. Artists include: Clark Derbes, Katie Loesel, Sarah Letteney, and Noah Lagle.
Work will be on display for one night only for an affordable silent auction event that benefits art programming at the King Street Center. This event was made possible through the support of the BCA Community Fund.  47 Maple St, (802) 861-3155. M-F, 7-7; Sat-Sun, 8-6. (image below: Nixon for Sale by David Roby)

Showcasing traditional and non-traditional visual art in bimonthly shows in a space overlooking Lake Champlain. Through 10/30/2016: Katie Loesel's work uses abstraction and color to explore ideas of geological history, microscopic surfaces, and rocky formations. Her interest in human influence on climate change and plastic as a distinct marker of our current era play into the shapes and forms. Curated by SEABA. 60 Lake St, Suite 2-E, (802) 859-9222. Open M-F, 8-3, Sat-Sun by appt.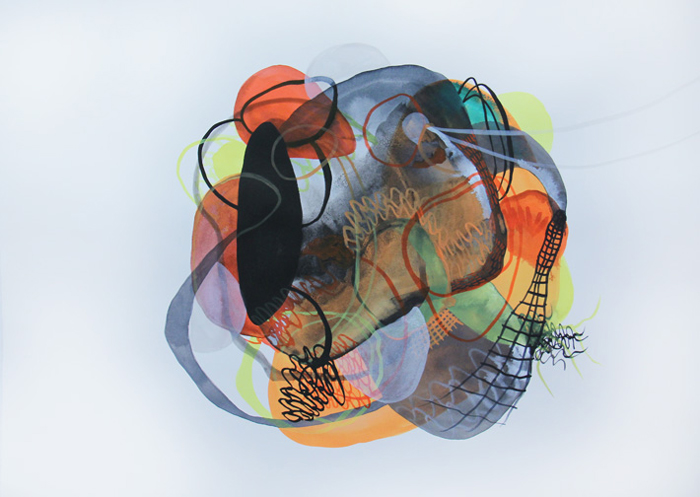 10/7/2016 to 10/30/2016: "Growing Food, Growing Community" is an intimate look at the gardens and gardeners of the Vermont Community Garden Network's Community Teaching Garden featuring photographs by Dan Daniel and Cristina Clarimon-Alinder, who convey the nourishing spirit and rhythm of the growing season in a special place where adults of all ages learn how to grow their own food. Proceeds from art sales benefit VCGN's Teaching Garden Scholarship Fund. Opening during First Friday Art, 5:30-9. 12 North St, (802) 861-4769. Open M-F, 9-5.
ONE Arts Center is a community art center in the Old North End, featuring exhibitions, classes, and children's programs. ONE Arts Center is a community art center in the Old North End, featuring exhibitions, classes, and children's programs. October 2016: "Think of Others" is an artist collaboration, in conjunction with Vermonters for a Just Peace in Palestine/Israel (VTJP), that brings to life Palestinian poet Mahmoud Darwish's poem "Think of Others". It offers a call for contemplation of the ongoing struggles facing the Palestinian people. Opening during First Friday Art, 6-8. 72 N Champlain St. Open Sat-Sun, noon-5. 72 N Champlain St. Open Sat-Sun, noon-5.
Presenting art by students, artists-in-residence, faculty and invitees in a variety of exhibitions and settings during the school year. 10/5 to 11/9/2016: Gowri Savoor: "Peripheral Vision" is paintings and 3D printed sculptures and hands-on workshops inspired by the elaborate, geometric designs of the ancient Indian art of Rangoli. Reception: Thursday, October 5. 10/9 to 10/29/2016: Peace Paper Project: Panty Pulping in the Art Gallery Lounge. Workshop participants confront sexual and domestic violence by transforming clothing into hand-made paper. Reception: Thursday, October 13. Through 10/16/2016: The Faculty Art Show is an annual survey of new work from Champlain College's art, design and core faculty members. Through 12/10/2016: Eben Markowsky's elephant sculpture, Gravity, in the Rozendell Courtyard (image below). 375 Maple Street (Hauke Family Center, 2nd Floor), (802) 860-2700, Thurs, 10-5; Fri, 4-8; Sat, 11-4:30.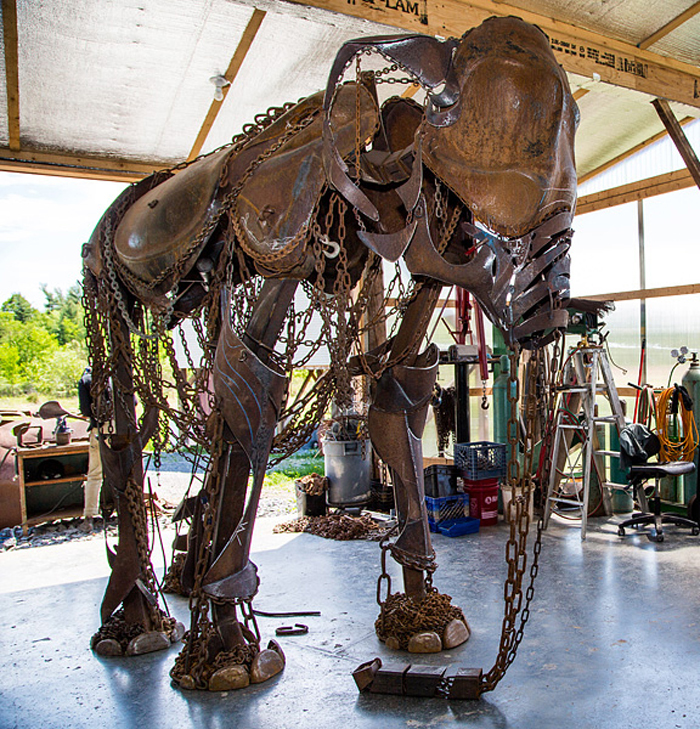 Home to 14 artist studios with a shared exhibition space. October 2016: The acrylic paintings in "Deep Space" by artist and physicist Mutin (Bob Arns) (image below) and his daughter Sarns (Susan Arns Burkett), are inspired by images from the Hubble Space Telescope and other NASA space probes. Opening reception during First Friday Art. 266 S Champlain St (enter from parking lot at 277 Pine St). Open for First Friday Art, on Saturday, October 8, 1-4PM, and by appt.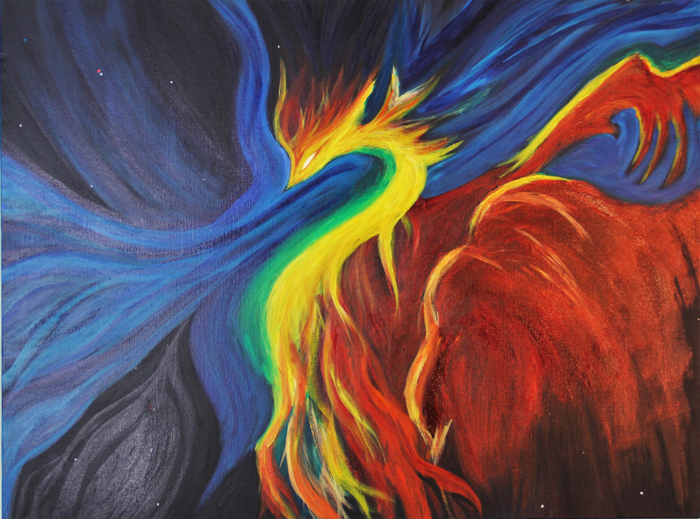 Curated by SEABA, showing large-scale 2-D work and installation sculpture with multi-media work presented at their quarterly openings. Through 11/30/2016: The unique Collaborative Art Hop Group Show features over 30 artists. 208 Flynn Ave, #2-G, (802) 651-9692, Open M-F, 10-10, Sat, 10-5.
Traditional and non-traditional exhibitions and community-based events. The artists maintain a gallery presence and handle sales. Through 10/31/2016: "Educators Unite 3" is a group exhibition of new work by 18 Vermont art educators who support each other in their personal art making. Curated by Dorsey Hogg. 208 Flynn Ave, (802) 363-4746, M-F, 7-4, Sat, 9-12.
Home to 15 working artist studios and two main galleries. 10/1/2016 to 10/29/2016: Curators Beth Robinson and Sarah Vogelsang-Card chose work that best defines the "Art of Horror". Works in the exhibit represent the beautiful side of decay, the finer points of bloodletting, and that special something inside a depraved mind. Opening party: Saturday, October 1, starting at 6PM. Costumes encouraged. $5 suggested donation. Live music by Nechromancer. Not recommended for children, but open to the general public. 266 Pine St (Soda Plant), (802) 578-2512, Open Thurs-Sat, Noon-5.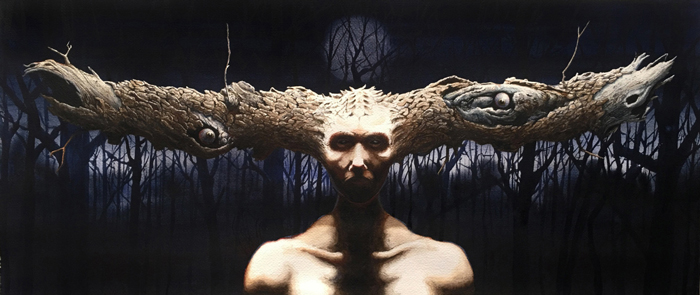 Sample Switchback brews or grab a pint while enjoying local art in the viewing hallway that also overlooks the bottling line. Through 10/30/2016: Michelle Turbide's "Fragments" are watercolors about the transformation of the soul through lived experiences that change, evolve, and grow us. 160 Flynn Avenue, (802) 651-4114. Sun-Thurs, 11-7; Fri-Sat, 11-8. (image below: Her Bones Were Green by Michelle Turbide)
This eclectic second-hand shop is home to a revolving collection of art. 377 Pine St, (802) 540-0107, M, W-Th, 10-5; Fri-Sat, 10-9; Sun, 11-3.
This sprawling South End complex shows art in the first and second floor corridors. Ongoing. First Floor: Littlest Penguin Photography, Rae Harrell, Kelley Taft, Kristen M. Watson, Robert Gold and Stephen Zeigfinger; Second Floor: Amanda Vella, Janet Bonneau, John Metruk, Marilyn Barry and Pete Boardman; Third Floor: Donna Bister, Gaal Shepard, Jason Boyd, Linda Finkelstein, SMH Photography and Terry L. Mercy. Curated by SEABA. 128 Lakeside Ave, (802) 859-9222, Open M-F, 6-6.
Aaron Stein's license plate artwork: map sculptures, shadow boxes, photo frames, wine racks, cuffs, house trailers, lamps and ornaments all created out of recycled license plates from all 50 states. 266 Pine St (Soda Plant), (802) 355-4091. Open during First Friday Art and by appointment.
The E-1 Collective is a living, working, vibrant art studio & workshop whose artists work in painting, sketching, jewelry making, and stained glass. Visitors are welcome to our eclectic diversified workshop. 416 Pine St (behind Speeder & Earl's).
Showing art by SEABA members in the gallery and hallways. October 2016: The 24th Annual South End Art Hop Original Juried Show Winners Circle features First Place: John Douglas; Second Place: Larry Bissonette; Third Place: Cara Lai Fitzgibbon and People's Choice winner; Robert Gold. Opening reception during First Friday Art. 404 Pine St, (802) 859-9222, Open M-F, 9-5.
A custom picture framing workshop that features monthly exhibitions. October 2016: Work by students at The Bellcate School, which offers a blended therapeutic/academic program serving the needs of students with individualized learning styles using various curricula that investigate art techniques, genres and history so each of their students can experiment with their own idea of art. Opening during First Friday Art. 308 Pine St #101, (802) 660-9005. Open Mon-Sat, 10-5.
Venerable coffeehouse shows South End Arts District artists curated by SEABA. Through 11/30/2016: Haley Bishop Rockwood and DeAnna Kerley are the collaborators behind The Poppyclock Collective. They find inspiration in the quirky day-to-day life of Vermont living and replicate it in a variety of mediums: watercolor, sharpie, bubblegum scraps (you get the idea). 412 Pine St, (802) 658-7016, M-F 6:30-6, Sat-Sun, 8-5.
Abstract contemporary by artists Bruce R. MacDonald, Gordon Auchincloss, Joël Urruty and George Peterson. Large, precise and multi-dimensional. October 2016: Come see the last of the last for The Visible Indivisibles Project: elements from the periodic chart artistically rendered into stainless steel light sculptures by Bruce R. MacDonald. Open for First Friday Art. 27 Sears Lane (next to Greer's), (800) 639-1868, Open for First Friday, 5-8, Thurs-Fri, 9-5 & by appt. (image below: Cadmium Cd #48 by Bruce R. MacDonald (23″x23″; stainless steel and photons)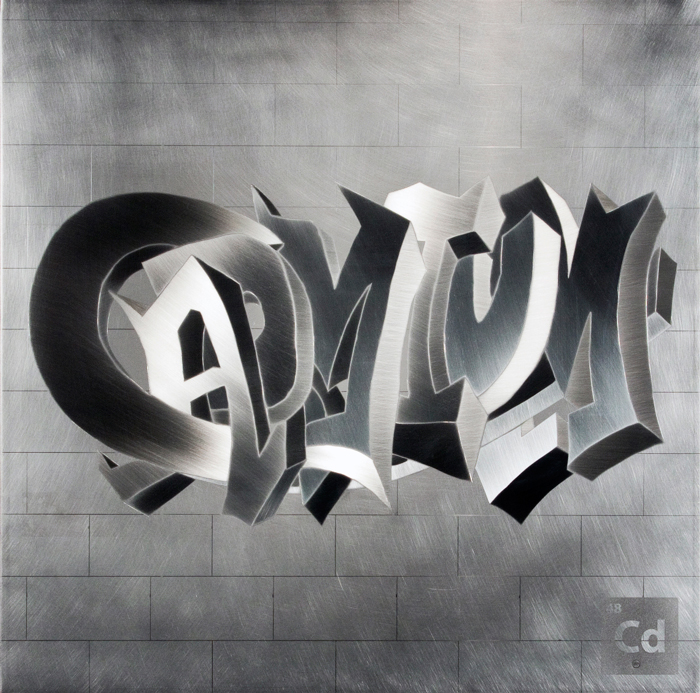 October-November 2016: "Across the Lake". For decades the Art Department of Plattsburgh State University has provided a full spectrum art education in studio art and art history to students looking for a career in visual arts. These works by alumni from three decades, drawn from the Presidential Purchase Collection, Plattsburgh State Art Museum and private collections, exemplify the best work from all the areas of concentration this department offers. Opening during First Friday Art. 27 Sears Ln, (802) 922-3915, Open M-F, 10-5. (image below: untitled by Matt Blodgett)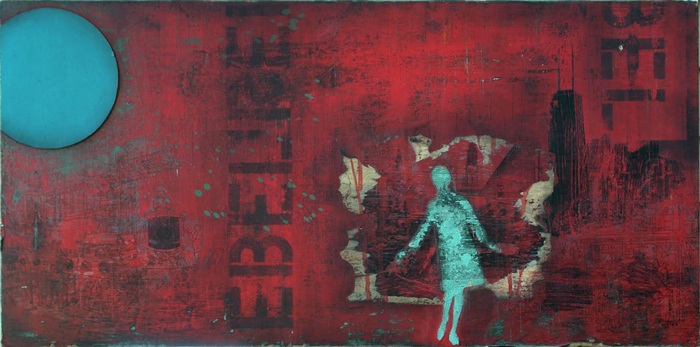 Serving hot bagels and more in a relaxed atmosphere with rotating art shows. 10/1/2016 to 11/27/2016: "Light and Space in the Vermont Landscape" is paintings by Bill Avery based on scenes of central Vermont. 660 Pine St, (802) 540-0474, Open M-Sat, 7-4, Sun, 8-3.
Located on the UVM campus, the Fleming Museum of Art houses the state's most comprehensive collection of art and anthropology. Through 12/15/2016: "Sargent to Basquiat" is an exhibition of work from collections of UVM alumni spanning the late 19th to the early 21st centuries, and represent some of the most influential styles of the last 130 years, including Impressionism, Expressionism, Cubism, Surrealism, Pop, and Outsider Art. 61 Colchester Ave, (802) 656-2090. Open during the school year, Tues-Sun.
Hosting a variety of artistic media, featuring local, national and international artists. Through 10/28/2016: Kristen M. Watson & Mary Admasian's The SHE Project, Part 1 is an interactive installation honoring the art tradition of femmage and exploring image, self-worth, sexual power, and personal branding in the social media age. Artist reception & talk during First Friday Art. L/L Center Room 233, UVM East Campus, (802) 656-4200. M-F, 1-8:30; Sat, 12:30-4:30.
Artwork is displayed on all four floors during the academic year: from student art to a variety of community exhibits. Through 10/23/2016: UVM Alumni Art Show, featuring an artist showcase by alumna Jean Cherouny, in the Livak Fireplace Lounge on the 4th Floor. UVM Campus, Hours vary by semesters.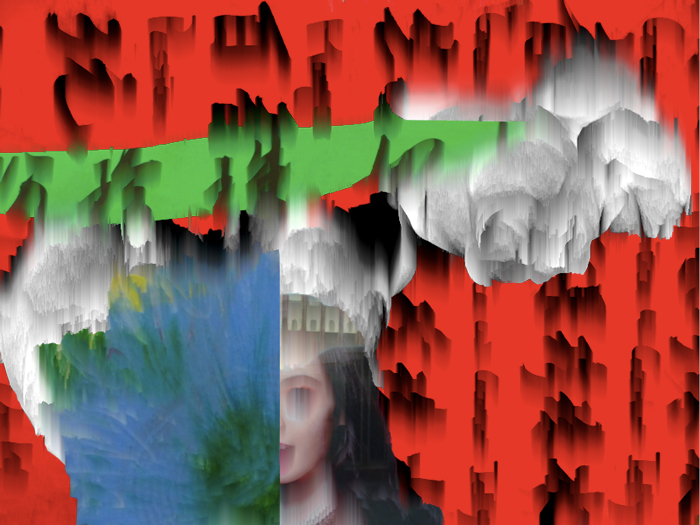 Through a partnership with Burlington City Arts, the UVM Medical Center has been showing work by Vermont artists on the main medical center campus for several years. Through 12/15/2016: Art by Louise Arnold, Phil Laughlin, Julia Purinton, Judy Hawkins, Greg Danford, Jean Cannon may be seen in the Rotunda & Connector Hallways on McClure 3. 111 Colchester Ave, (802) 865-7296.
The hallway galleries are designed to act as an academic forum for the display of new ideas. Through December 2016: First Floor: Andrew Frost's "Straight & Sound" is black-and-white digital photographs of nature, decay, and human intervention taken in and around Bergen County, NJ. Second Floor: "Battle Journal" by CCV faculty member Linda Shere (image below) was created purely from imagination and contemplative instinct. Her intimate watercolors deconstruct war, femininity and history. 1 Abenaki Way, Winooski, (802) 654-0505, M-F, 8-8; weekends, call for hours.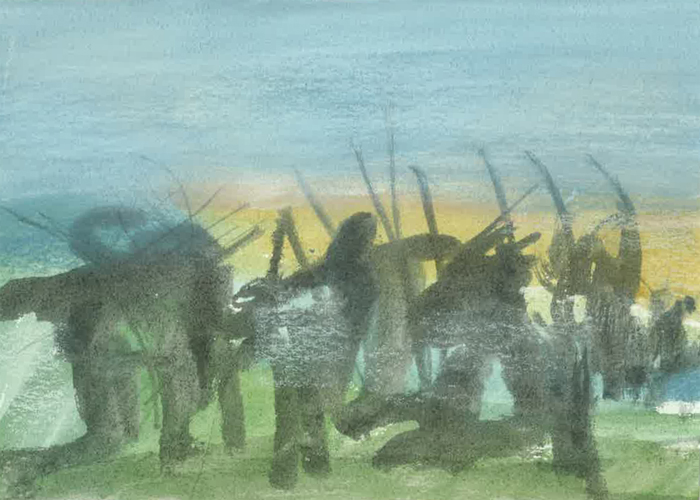 Open year round. There are 150,000 works in 39 exhibition buildings, 25 of which are historic and were relocated to the Museum grounds. The Pizzagalli Center hosts exhibitions throughout the year. Through 10/30/2016: "Grandma Moses: American Modern" takes a new look at this iconic artist through a modernist lens. Through 10/31/2016: "Painting a Nation" is a major reinstallation of the museum's American paintings collection. "Wind, Waves, and Light" features kinetic sculptures by award-winning artist George Sherwood. Quebec artist Dominique Ehrmann's "Once Upon a Quilt" has over 16 pieces ranging from 3D to kinetic quilted sculptures. 6000 Shelburne Rd, Shelburne, (802) 985-3346. Open daily, 10-5.
The Studio Store has handmade work in pottery, wood, jewelry, and stained glass and the school hosts events and classes for the public on an ongoing basis. 64 Harbor Rd, Shelburne, (802) 985-3648, Open M-F, 10-5.
Art and wine among the vines, with quarterly shows of Vermont art in the tasting room. Through 11/30/2016: Paintings by Shelburne artist Lisa Mann. 6308 Shelburne Rd, Shelburne, (802) 985-8222, Open daily 11-5.
Showing the work of internationally-known abstract artist Stephen Zeigfinger, antique prints and vintage agrilithography. 2997 Shelburne Rd, Shelburne, (802) 363-0623. Open W-Sun, 11-6.
Beloved local beer factory has a curated space showing art on the tour ramp. October 2016: "99 Bottles: A Collaborative Art Show" features artwork on wooden bottle canvases by over 30 area artists. Artist reception during First Friday Art, 5-7. 5 Bartlett Bay Rd, S Burlington, (802) 658-2739 x2014, Open M-Thurs, 10-6, Fri-Sat, 10-7, Sun, 12-5.
Presenting a stylistically diverse collection of original work by artists of regional and national stature. Through 10/29/2016: "Future Wave" features the work of 5 artists from Vermont, Maine, and Massachusetts, most of whom are new to the gallery. They represent a fresh approach to landscape, abstraction, and color, and give a glimpse into future possible directions for the gallery. The gallery also has a unique collection of fine crafts and gift items. 86 Falls Rd, Shelburne, (802) 985-3848, Open Tues-Fri, 9:30-5:30, Sat, 10-5.
---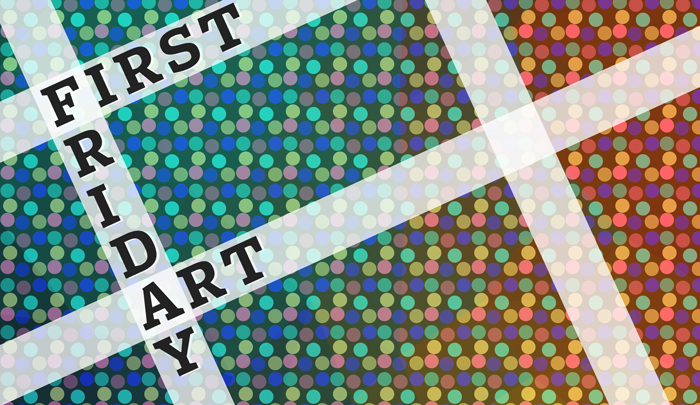 The next First Friday Art is
November 4th, 5-8PM.
First Friday Art is a monthly, community-wide event where dozens of art venues across the city host openings, exhibitions, and happenings.
The event is free and open to anyone.
Most venues are open from 5PM to 8PM, but some are open earlier or later.
Art Map Burlington is the official guide to First Friday Art. Pick up a copy at any participating venue. Enjoy!