Art Map Burlington promotes contemporary art in the Greater Burlington area by informing the community about exhibitions, events, and the work of area artists. Ask for a copy of the print edition at any of these venues.
---
Where to See Art-January 2020
Click the venue name to read more.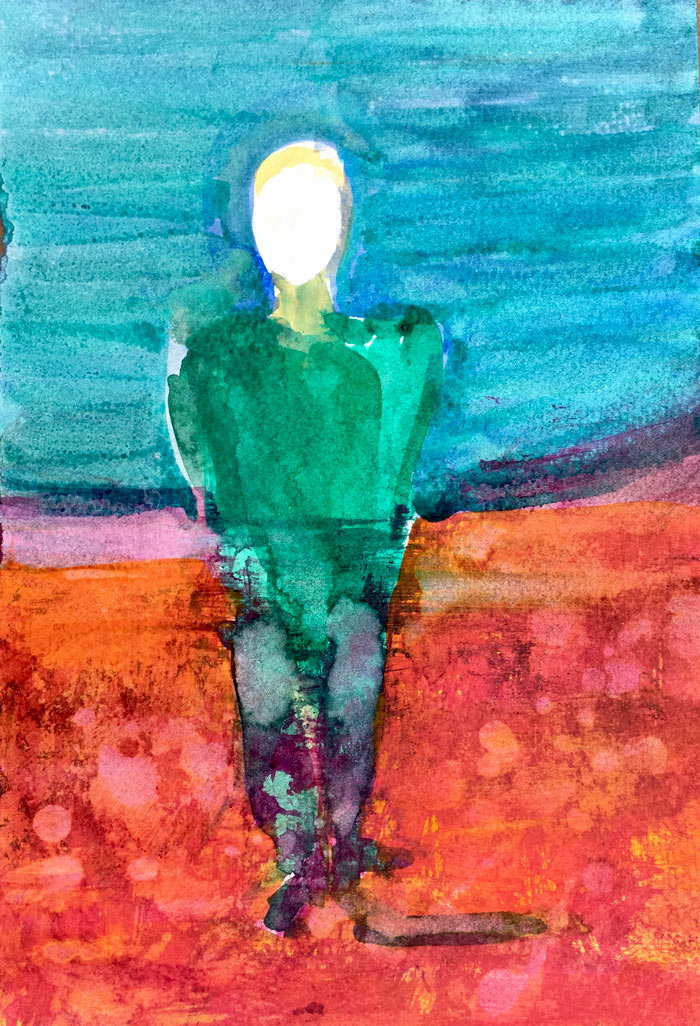 Exhibitions of work by regional artists related to Flynn programming. Through 1/25/20: Howard Center Arts Collective's "Art Is My Sanctuary." 1/27-4/24/20: Inclusive Arts Vermont "AN45EW" exhibit, reception in February. 153 Main Street, (802) 652-4500. Open during gallery receptions, by appointment, and to attendees during most Flynn MainStage performances.
Laptop refurbishing shop shows work by area artists in monthly shows. Through January 2020:"Chasing the Sun". South Burlington artist Meaghan "Mei" Greene uses mixed media to create multiple layers of drawing within her work. Recently, she has been exploring combining the cyanotype process with screen printing and drawing. She is interested in the idea of drawing with nature and pulling inspiration from the natural world around her. Greene holds a BFA in Interdisciplinary Art from Montserrat College of Art. 196 College St, (802) 578-9687. Open Mon-Fri, 10-6; Sat, 11-5. (image: Together by Meaghan Greene (cyanotype and screenprint; 2019). Courtesy of the artist.)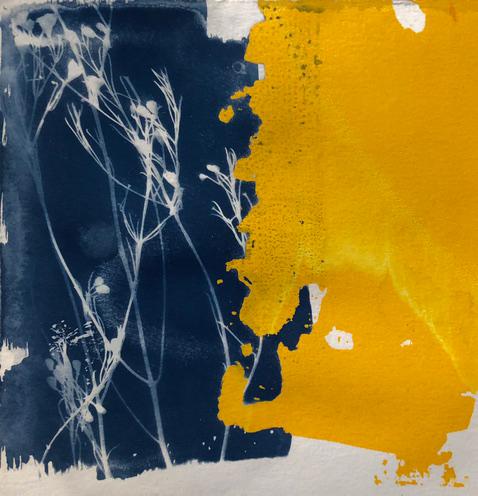 Burlington's only public library since 1875 shows art by area artists and nonprofit groups throughout the year. 235 College St, (802) 865-7211, Open daily at 10, Noon on Sunday.
Open daily 7AM-11PM. Member-artists are showcased on the Member Art Wall, located behind register 10. Through 1/31/20: Member-Artist Meg Reinhold's work expresses her curiosity and reverence for the natural world. As a landscape painter, an organic gardener and a cook, she creates these paintings to celebrate the beauty and tenacity of growing things and the physical and spiritual nourishment they provide. Her paintings are hand carved on native hardwood panels (cherry, walnut and maple), then painted with oil paints and finished with hemp or tung oil. All work is for sale, please contact the artist to purchase. 82 S Winooski Ave, (802) 861-9700.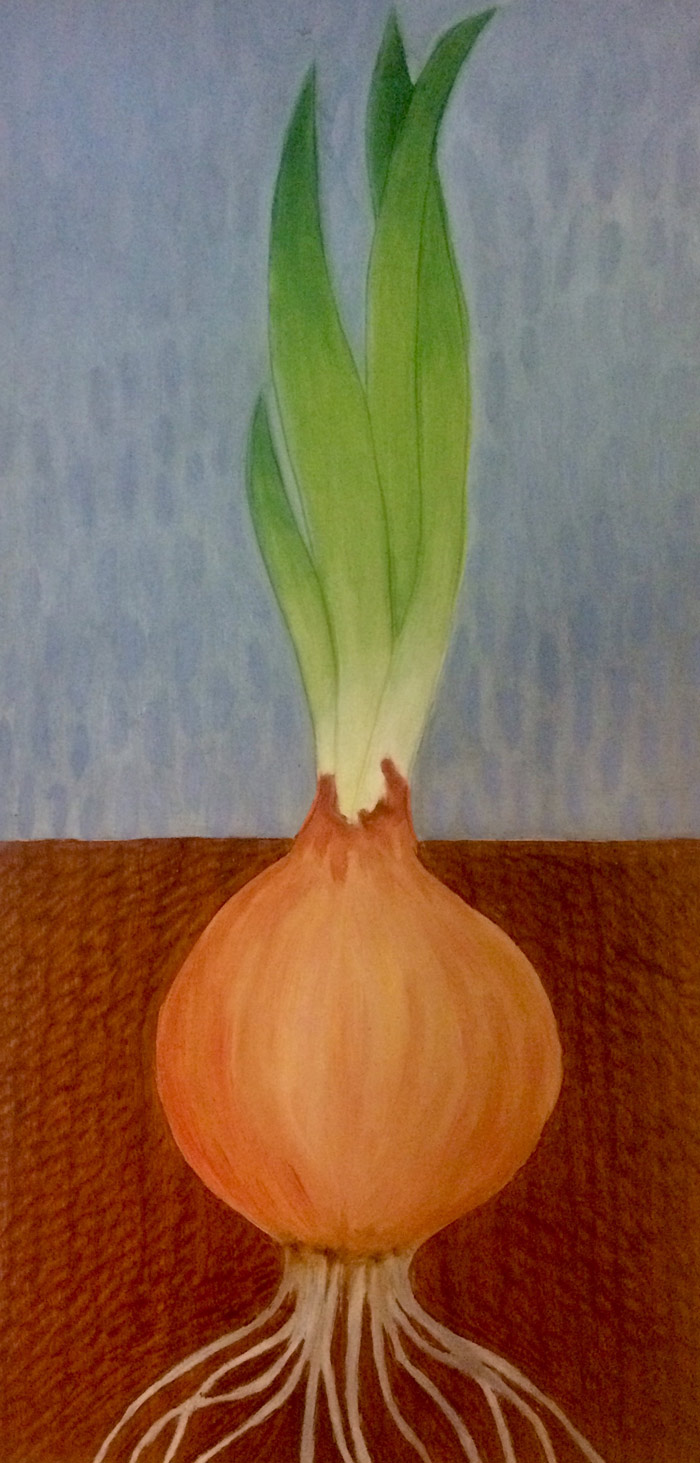 Named after Dean Thomas "Blotto" Gray, the gallery is available for functions, art shows, photography shoots, classes/demos, and more. 180 Main St, (802) 652-2400. Open Mon-Sat, 10-6; Sun, 11-5.
Featuring contemporary art exhibitions that connect art and community, nurture creativity, imagination, and ignite a passion for learning through the arts. Through 2/20/20: "Transcendent: Spirituality in Contemporary Art" features seven artists, Anila Quayyum Agha, Leonardo Benzant, Maïmouna Guerresi, Shahzia Sikander, Sandy Sokoloff, Shelley Warren, and Zarina, who reflect on questions of belief, cultural identity, and sanctity in everyday life.Canadian-Ojibwe painter Travis Shilling explores humanity's connection to the natural world through imaginative, narrative dreamscapes in his solo exhibition "Tyrannosaurus Clan". Tackling issues of land use, cultural history, and humanity's impact on the environment, Shilling's encapsulated stories are concurrently deeply personal and widely universal. 135 Church St, (802) 865-7166, Open Tues-Thurs, Noon-5; Fri-Sat, Noon-8. (image: Archangel Uriel by Sandy Sokoloff (46″x93″; acrylic on canvas; 2019). Courtesy of the artist.)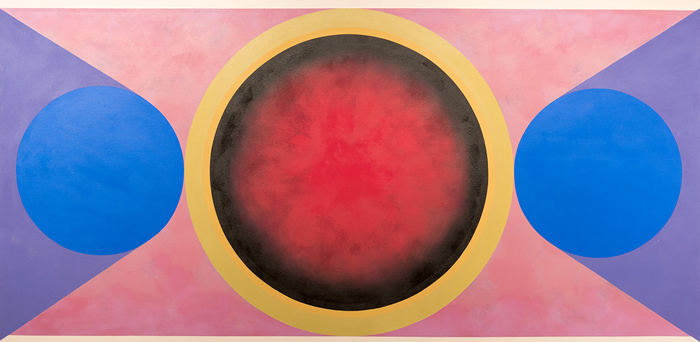 A community spot since 2007, New Moon Café presents work by Burlington-area artists in the dining area. January-March 2020: Hailey Schofield is an illustrator and jewelry maker who recently relocated to Burlington from Missoula, Montana. Her company, Wild Mountain Ink, is inspired by the natural world, mountains she adventures through and her travels. Her work shows the high contrast features of the mountains of her home and her ceramic jewelry compliments her black-and-white prints. Pen and ink drawings will be on display and available for purchase throughout the show. 150 Cherry St, (802) 383-1505 or (802) 383-1496. M-F, 7:30AM-6PM; Sun, 8AM-6PM. (image by Hailey Schofield. Courtesy of the artist.)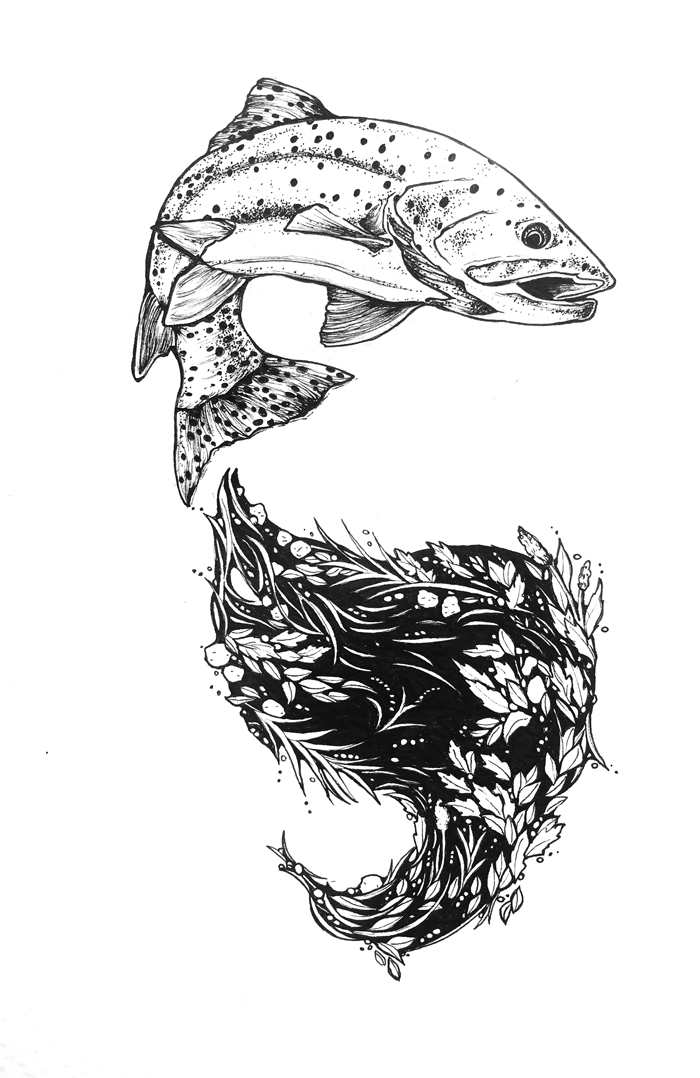 BCA curates the artwork on the main floor. January-February 2020: Tatiana Yakusheva says about her landscapes in oil: "Every time I draw or paint, I try to improvise with new mediums and styles. Art, for me, turns into a meditation process. It is something sacred, magical, and ephemeral. The state of creation, or the process of creation, is life in a different dimension. Artwork turns into a separate substance that has energy, light and lives its own life." 149 Church St, (802) 865-7166, M-F, 8:30-4:30 and for First Friday Art. (image: Winter Lights by Tatiana Yakusheva (24″x30″: oil on canvas). Courtesy of the artist. A detail of this image appears on the cover of the January 2020 edition of Art Map Burlington.)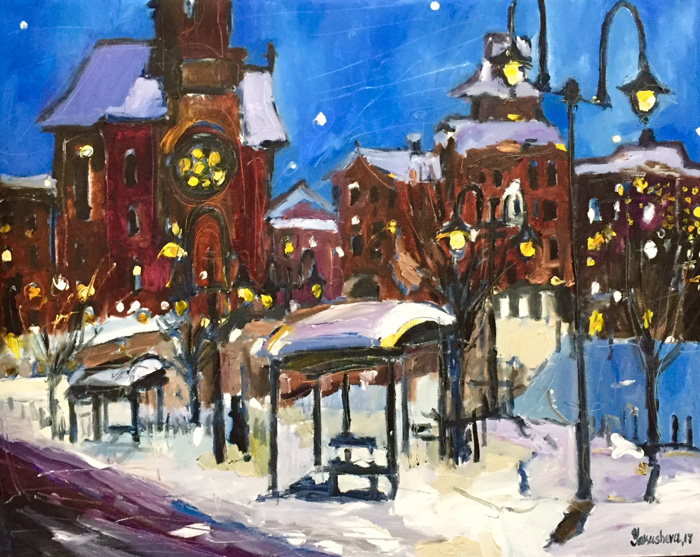 Main Street Landing and Little Umbrella : Art Curation are dedicated to increasing awareness and appreciation of Vermont visual artists, showcasing traditional and nontraditional visual art in rotating (monthly or bimonthly) shows and community-based events. January 2020: "The Soil to the Skies". South Burlington photographer Russell Fox writes, "I can't quite say I have a specific style of photography, I tend to go out and learn as much as I can in different fields. By doing this, I am able to improve my skills as a whole by understanding all of the small details and techniques. What you see in this collection is a combination of my work over the past year spanning everything from Macrophotography to Astrophotography." Curated by Sarah of Little Umbrella : Art Curation. 1 Main St, (802) 735-7091, M-F, 8-3; Sat-Sun, by appt. Open for First Friday Art.
Serving up imaginative beers for enlightened palates and regional art throughout the eclectic lakefront brewery. January 2020: "Moments" by Caitlin Ryan, a Burlington-based Taiwanese-American artist, native to Pennsylvania. She uses past experience, photos, color, and the human form to convey a feeling, a place, or a Moment. Also, a sculptural installation hanging from Foam's ceiling by Will Gebhard. Meet Gebhard on New Year's Eve as part of Highlight. 112 Lake St, (802) 399-2511, M-Thurs, Noon-10; Fri-Sat, 11-Midnight; Sun, 11-7. (image by Caitlin Ryan. This image was featured on the cover of the December 2019 issue of Art Map Burlington.)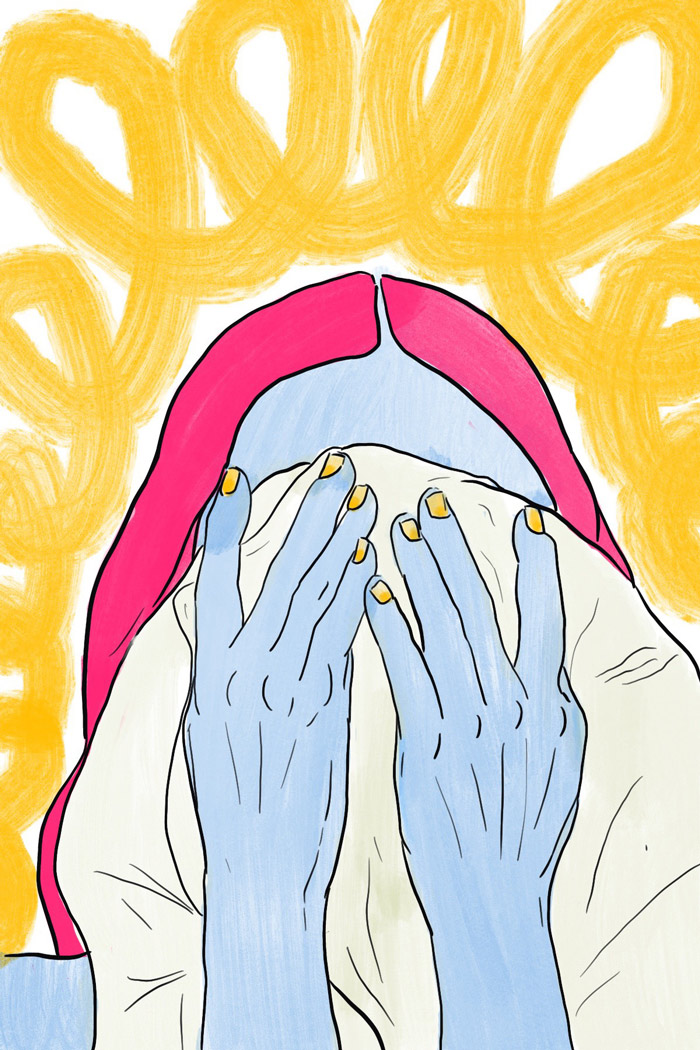 Showcasing contemporary and non-traditional art from Vermont artists and hosting a permanent video exhibition booth presenting video installations by international artists in bi-monthly exhibits. January-February 2020: Hinesburg photographer Vanessa Kotovich created "Lugo-Natura" through Bard College and a residency in Emilia-Romagna, Italy. The colorful, lush, and surreal scenes are inspired by Baroque/Rococo interiors and religious imagery. The LugoLand residency was made possible by Luca Nostri, Francesco Neri, Bard College, and Time Davis. Kotovich has had books produced from "Natura" and "Lugo". She has had solo shows in New York, Massachusetts, Vermont, and Italy. Curated by Sarah of Little Umbrella : Art Curation. CornerStone Building, 3 Main St, (802) 735-7091. Open M-F, 8-8, Sat-Sun, 10-8.
Supporting innovative and experimental contemporary art in all media through exhibitions, events, projects, and residencies, the gallery is a catalyst for interdisciplinary collaboration and learning at the intersection of art and technology. 375 Maple Street (CCM Building, 2nd Floor), (802) 860-2700, M-F, 10-4.
Onion River Coop. Open daily 7AM-9PM. Member-artists are showcased on the Member Art Wall in the cafe. January-February 2020: Mike Chase is an oil painter who occasionally paints on wood. 207 Flynn Ave, (802) 540-6400.
Curated by SEABA, showcasing traditional and non-traditional visual and multimedia artwork by Vermont artists. Through 3/31/20: "Warmth" is an exhibition featuring work that is warmer in tones, utilizes textiles, and contains content that exemplifies the theme. 208 Flynn Ave, #2-G, (802) 651-9692, Open M-F, 10-10, Sat, 10-5.
Traditional and non-traditional exhibitions and community-based events. 1/3-2/28/19: Burlington artist Justin Hoekstra's "The Pleasure of Being a Ghost: Burlington" is a suite of 7, black-and-white, site-specific paintings that integrates the accumulated evidence of the labor that is necessary to maintain the spaces that we and our art occupy in our daily lives. The process utilized involves the application of layers of acrylic paint to canvas that is affixed to the wall surface with staples and then processed with an orbital sander. The resulting works allow the public to experience the space in a new way while altering it in a minimal manner. Opening reception during First Friday Art. 208 Flynn Ave, (802) 363-4746, M-F, 7-4, Sat, 9-Noon. (image: Everyone Needs a Thing to Run From by Justin Hoekstra (33″x33″; acrylic on canvas; 2019). Courtesy of the artist.)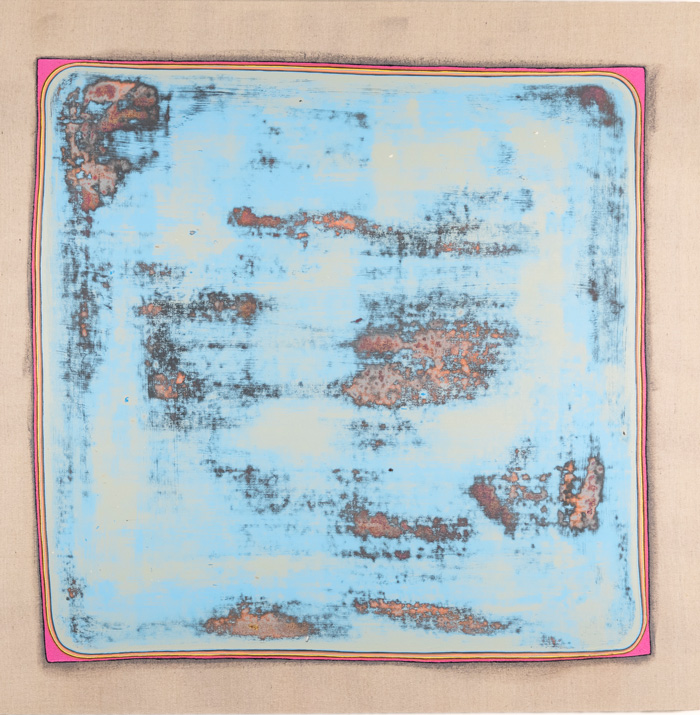 Art Gallery surrounded by 12 working artist studios. Through 1/28/20: The annual "Small Works" holiday exhibition features art perfectly sized for gift giving or for any spot in your home or office that needs a special pop of color and life! The art is in a variety of mediums and measures no more than 12″ in any direction before framing. Opening during First Friday Art, 5-9. 266 Pine St (Soda Plant), spacegalleryvt.com, Open Thurs-Sat, Noon-5. (image: "Beer Portraits" by Shelley Walker) Courtesy of the artist.)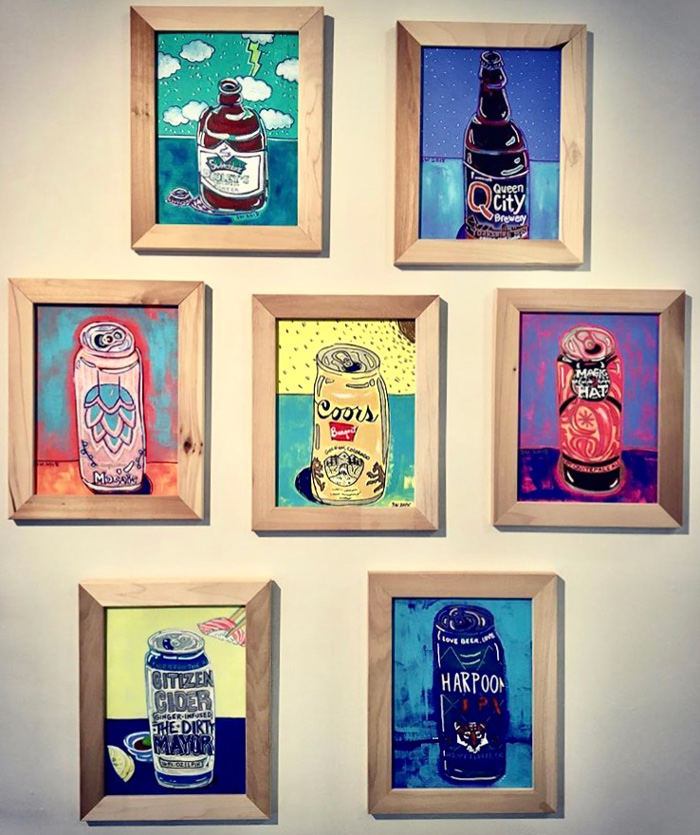 Art shop featuring about 30 artists from Vermont and beyond with a rotating artist on one wall. January 2020: "The Birds and The Bees": Tessa Hill practices the centuries old technique of torch worked glass. Using borosilicate glass, she creates hand-blown jewelry and ornaments filled with the intention of sparking joy. A menagerie of small creatures and illuminated plants gleam with personality; a unique selection of gift items. 270 Pine St, (802) 338-7441, Open Tues-Sat, 10-6, until 8 during First Friday Art. (image by Tessa Hill. Courtesy of the artist.)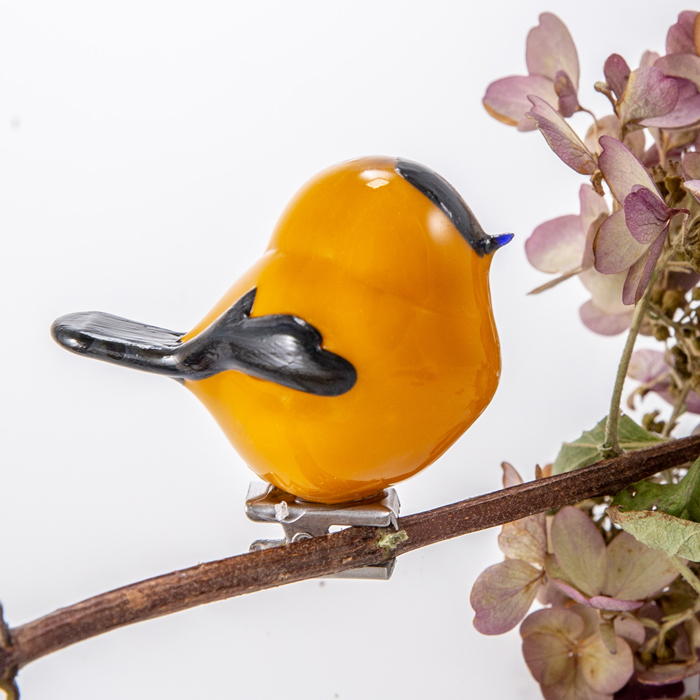 This eclectic second-hand shop is home to a revolving collection of art. 377 Pine St, (802) 540-0107, M, W-Th, 10-5; Fri-Sat, 10-9; Sun, 11-3.
This sprawling South End complex shows ongoing art in the first, second & third floor corridors. January-March 2020: 'A Portrait Exhibition" on the third floor and a "Portfolio Showcase" on the first and second features 2-D work in various mediums that highlight a group of artists' personal styles and unique talents. Curated by SEABA. 128 Lakeside Ave, (802) 859-9222, Open M-F, 9-5.
Aaron Stein's license plate artwork: map sculptures, shadow boxes, photo frames, wine racks, cuffs, house trailers, lamps and ornaments all created out of recycled license plates from all 50 states. 266 Pine St (Soda Plant), (802) 355-4091. Open during First Friday Art and by appt.
A custom picture framing workshop that features monthly exhibitions. "World's Best Art!". For the fourth year in a row, see the World's Best Art in the design, hallway and workshop galleries! This exhibition features many pieces from the Dostie Bros. private collection as well as a variety of works created by South End Arts District artists. Much art will be for sale. 308 Pine St #101, (802) 660-9005. Open Tues-F, 10-6; Sat, 10-3. (image: Vase and Flowers by Dostie (acyrlic on canvas; 2004). Courtesy of the artist)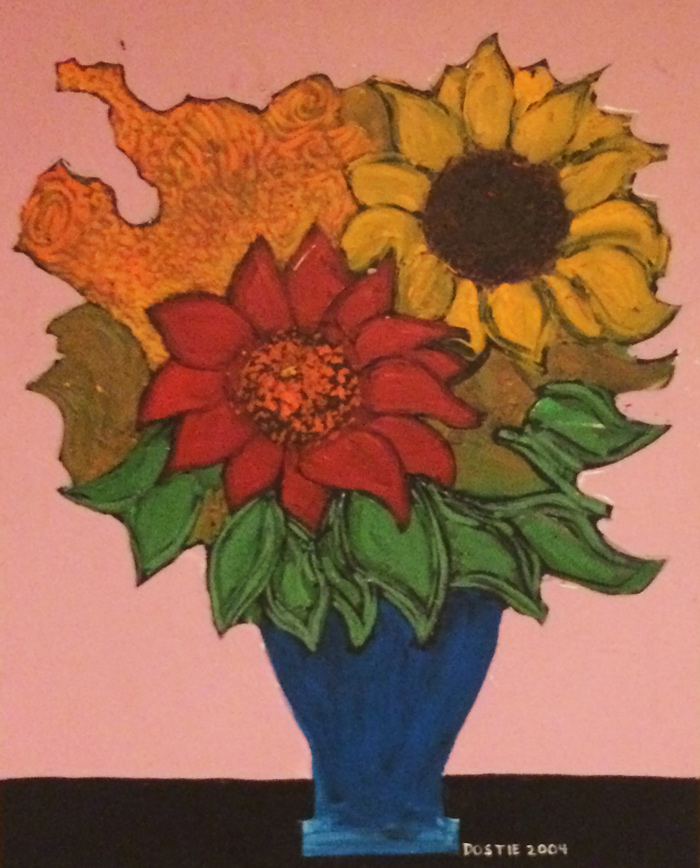 Venerable coffeehouse exhibiting traditional and non-traditional visual work by Vermont artists curated by SEABA. Through 2/29/20: In Brendan Bush's "A Cross Section", the series of intersecting colors, interrupted visual patterns and imperfect lines is a reflection of the artist's attempts at love and acceptance of his flawed self. It's an exploration of forgiveness, multidimensionality, and allowing for the possible at the expense of the definite. 412 Pine St, (802) 658-7016, M-F 6:30-6, Sat-Sun, 8-5.
Abstract contemporary by artists Bruce R. MacDonald, Gordon Auchincloss, Joël Urruty and George Peterson. January 2020: "Gamma" represents the unity of conscious perception and the dramatic retraining of being fully present, with art. HAVOC Gallery is exhibiting the new collection of stainless steel light sculptures by Bruce R. MacDonald alongside the HAVOC Gallery artists. 27 Sears Ln (next to Greer's), (800) 639-1868, Open for First Friday Art; Weds-Fri, 9-5; & by appt, havoc@havocgallery.com. (image: Gamma by Bruce R. MacDonald (42″x66″; stainless steel light sculpture; 2019). Image by Sarah Vogelsang Card.)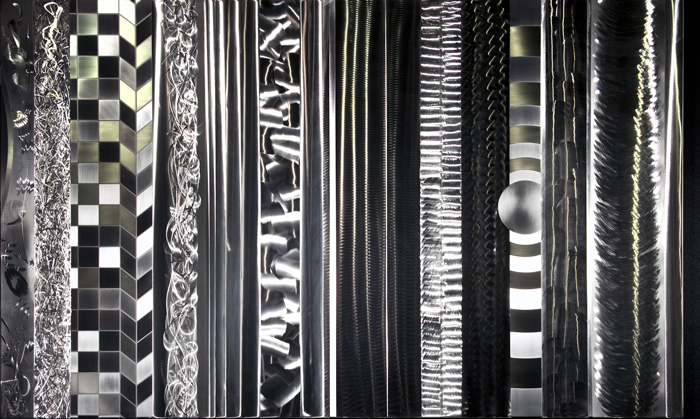 Serving hot bagels and more in a relaxed atmosphere with rotating art shows by Vermont artists, from the Burlington area and farther afield. Artists interested in showing work should visit Feldman's Call to Artists at the Vermont Art Guide Artist Database, www.vermontartguide.com/artistdatabase. 660 Pine St, (802) 540-0474, Open M-Sat, 6-3, Sun, 7:30-3.
Located at 180 Flynn Avenue, the building has two floors of artwork in the hallways as well as upstairs in the Fire Exit Gallery featuring artists Jude Domski, Holly HauxJeffers, Nancy Stalnaker, Justin Hoekstra, & Marilyn Currier Maddison. 180 Flynn Ave (back and to the right), (802) 310-1886. Open M-F, 10-5.
Student curators present artwork and exhibits across all four floors throughout the academic year: featuring a range of student art and varied community exhibits. 1/10-1/31/20: The Portrait Photography Exhibition features portraits by University of Vermont student photographers that express their sincere approaches at conveying an array of emotional, social, and individual qualities. UVM Campus, 590 Main St. Hours vary by semesters.
Through a partnership with Burlington City Arts, the UVM Medical Center features artwork by Vermont artists on the main medical center campus. Through January 2020: See work by Joy Huckins-Noss (oil painting), Lisa Forster Beach, NWS (watercolors), Cecilia Kane (acrylic painting), Erika Lawlor Schmidt (monotypes), Elliot Burg (photographs), and Shanley Triggs (watercolors). 111 Colchester Ave, (802) 865-7296. (image: July-August from "A Year of Forgetting" by Cecelia Kane (31″x39.5″; acrylic on canvas; 2017). Courtesy of the artist and Burlington City Arts)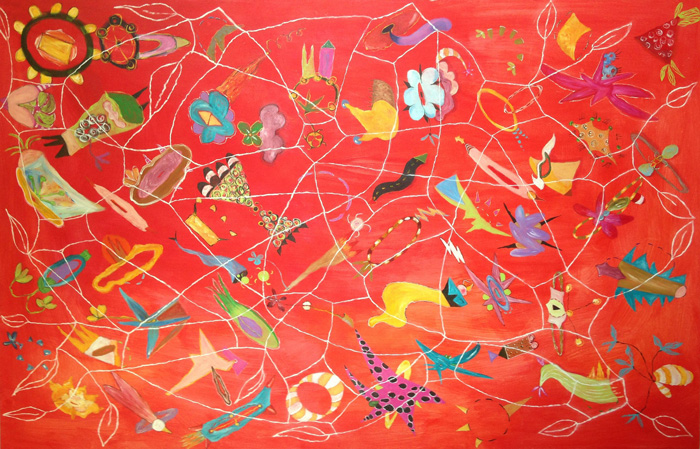 The CCV Hallway galleries are designed to act as an academic forum for the display of new ideas. First Floor: Eric J Newman's "Visionary Atmospheres" features lushly painted works of outer space and sci-fi fantasy imagery invented from his imagination. Second Floor: "Tales from the Crypt" is faculty and student works curated from 2018-19. 1 Abenaki Way, Winooski, (802) 654-0505, M-Th, 7:45AM-9PM; F, 7:45AM-5PM.
A campus full of interesting buildings and beautiful gardens, the museum presents an eclectic collection of art and objects. Through 1/12/20: Monographic exhibition "Joel Barber & the Modern Decoy" focuses on the life and artwork of architect, author, illustrator, and pioneering decoy collector Joel D. Barber (1876-1952), featuring more than 100 decoys, drawings, historical photographs, and watercolors from Shelburne Museum's extensive collection and archives. Through 3/8/20: "Time Lapse: Contemporary Analog Photography" celebrates the work of 13 international and national contemporary artists who use the darkroom as a type of laboratory and find inspiration in the vast array of 19th-century photographic processes, from daguerreotypes to photograms. 6000 Shelburne Rd, Shelburne, (802) 985-3346. Open daily, 10-5.
The Studio Store has handmade work in pottery, wood, jewelry, and stained glass and the school hosts events and classes for the public on an ongoing basis. 64 Harbor Rd, Shelburne, (802) 985-3648, Open M-F, 10-5; Sat, 10-2.
Art and wine among the vines, with quarterly shows of Vermont art in the tasting room. January-March 2020: Abstract painting by Burlington artist Steven Sharon. His paintings involve a deep and heavy process–a method that he discovered through chance and through the drive of using the art of improvisation to create. The artist wants the viewer to come to their own conclusions as to what they see. 6308 Shelburne Rd, Shelburne, (802) 985-8222, Open daily 11-5.
Beloved local beer factory has a curated space showing art on the tour ramp. Vermont artist Nikki Ryan works in a wide variety of media, including ceramics, fibers, and linoleum printing. In 2019, they graduated with a degree in Visual Arts from Eckerd College in St. Petersburg, Florida. In the future, Nikki plans to further explore their disabled, queer, and autistic identities within their art. 5 Bartlett Bay Rd, S Burlington, (802) 658-2739 x2014, Open M-Sat, 11-7, Sun, 12-5.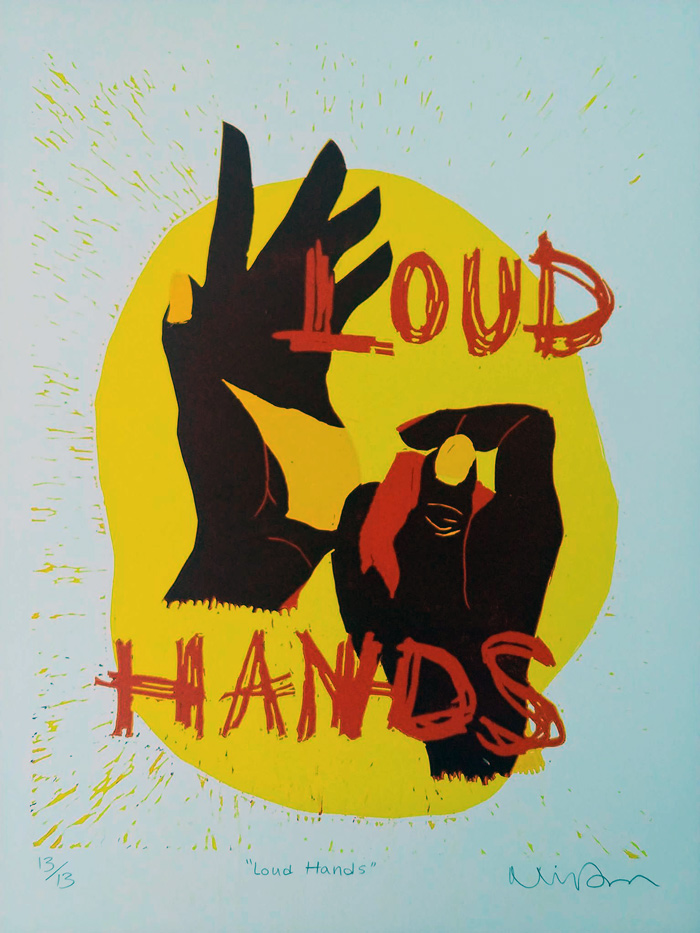 Presenting a stylistically diverse collection of original work by artists of regional and national stature. Through 1/31/20: The annual winter show of 17 gallery artists is aptly titled "Transitions" to suit the upcoming transfer of the gallery and frame shop from Joan Furchgott and Brad Sourdiffe to their longtime employee Lara Maloy and her partner, Nico Sardet. Artists on display are: Leon Applebaum, Matt Brown, Leslie Fry, Jozie Furchgott Sourdiffe, Karen Henderson, David Maille, Janet McKenzie, Garrett Sadler, Joseph Salerno, Gail Salzman, Jessica Scriver, Dianne Shullenberger, David Smith, Adelaide Murphy Tyrol, Barbara Wagner, Shiao-Ping Wang, and Richard Weis. The gallery also has a unique collection of fine crafts and gift items. 86 Falls Rd, Shelburne, (802) 985-3848, Open Tues-Fri, 9:30-5:30, Sat, 10-5. (image: Wrapped Bales, White Snow by David Smith (7″x10″). Courtesy of the artist and Furchgott Sourdiffe Gallery.)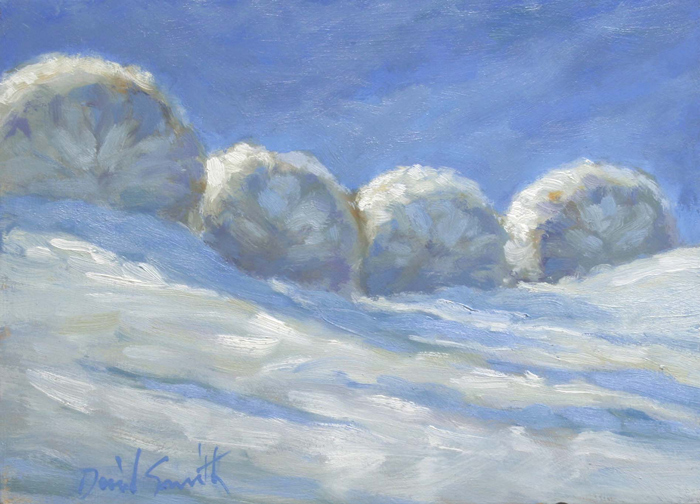 ---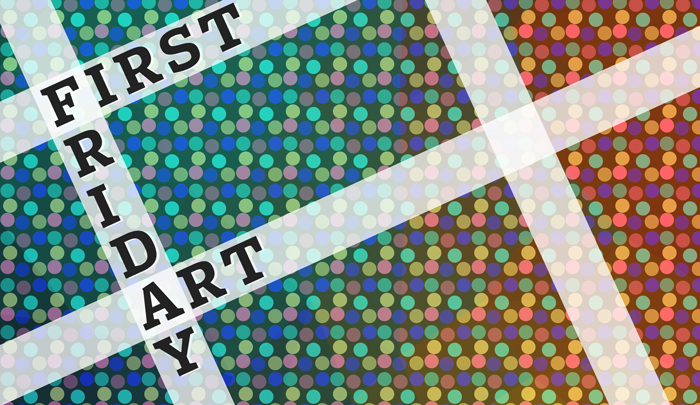 The next First Friday Art is
January 3rd, 5-8PM.
First Friday Art is a monthly, community-wide event where dozens of art venues across the city host openings, exhibitions, and happenings.
The event is free and open to anyone.
Most venues are open from 5PM to 8PM, but some are open earlier or later.
Art Map Burlington is the official guide to First Friday Art. Pick up a copy at any participating venue. Enjoy!