Art Map Burlington promotes contemporary art in the Greater Burlington area by informing the community about exhibitions, events, and the work of area artists. Ask for a copy of the print edition at any of these venues.
---
Where to See Art-August 2019
Click the venue name to read more.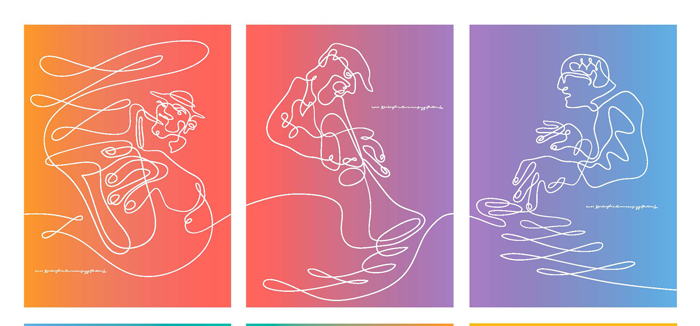 Exhibitions of work by regional artists related to Flynn programming during the same time period.  "A Sample of Jazz Records" from the Discover Jazz archives includes prints commissioned by artist Felix Sockwell in 2008, archival photos from Worthington Images and Luke Awtry, and posters and materials from past festivals, including over ten years of commemorative Festival Program Guides. 153 Main Street, (802) 652-4505. Sat, 11-4 and by appt.
Laptop refurbishing shop shows work by area artists in monthly shows. Through 8/31/19: "Imperfect Artwerks". Vermont artist Shelley Walker aspires to "rid humanity of 'perfectionism' through art". Originally from California, Walker describes herself as a "realist with a dark sense of humor", whose work is mainly colored pencil and marker drawings. Walker is a member of S.P.A.C.E. Gallery in the South End Arts District. 196 College St, (802) 578-9687. Open Tues, W & F, 10-6; Thurs, Noon-6; Sat, 11-5. (image: Sweetheart by Shelley Walker (14″x11″; colored pencil and marker on paper; 2019). Courtesy of the artist.)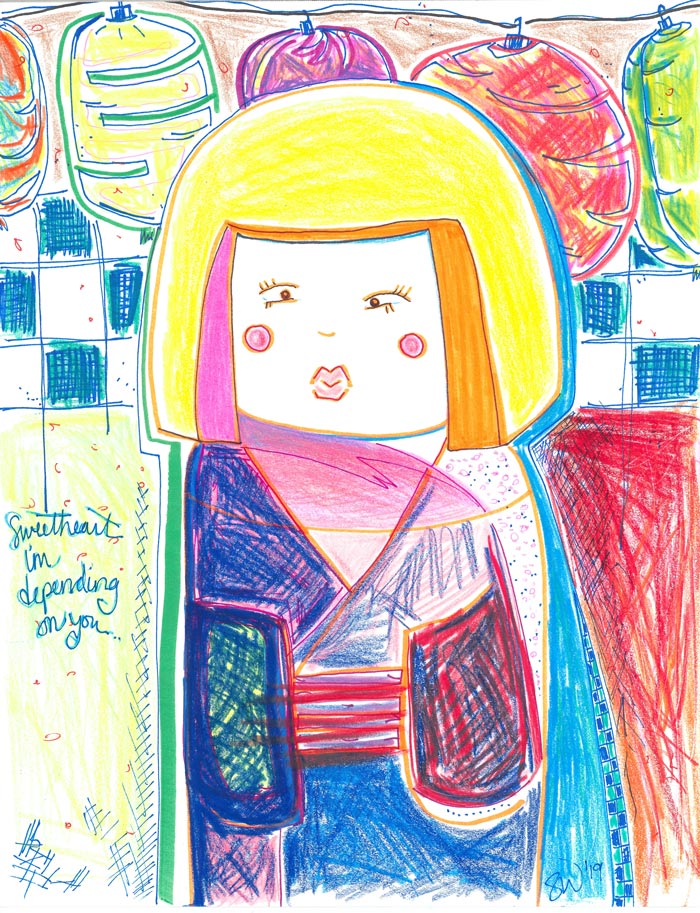 Burlington's only public library since 1875 shows art by area artists and nonprofit groups throughout the year. 235 College St, (802) 865-7211, Open daily at 10, Noon on Sunday.
Onion River Coop. Open daily 7AM-11PM. Member-artists are showcased on the Member Art Wall, located behind register 10. 8/1-9/30/19: Member-artist Kimberly Bombard says, "My preferred medium is oil. I love its slipperiness and tactile texture. I love delicately smoothing oranges, yellows, and light blues around a canvas. From my very first memories, I have always seen myself as an artist. I vividly remember coloring in kindergarten: I experienced a pleasant feeling like a trance, a kind of meditation, pure joy. I still feel that way when I paint." 82 S Winooski Ave, (802) 861-9700. (image: Poppies by Kimberly Bombard. Courtesy of the artist.)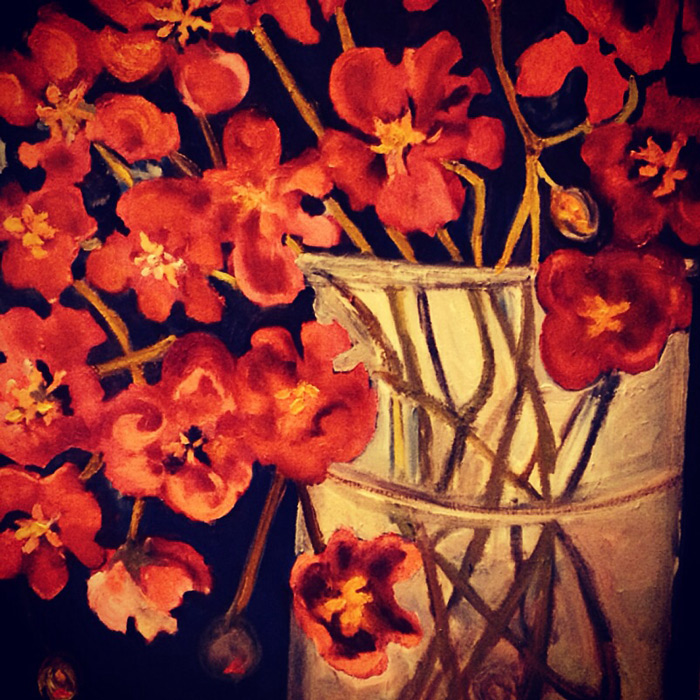 Featuring contemporary art exhibitions that connect art and community, nurture creativity, imagination, and ignite a passion for learning through the arts. Through 10/6/19: In "Unique Multiples", Sarah Amos upends traditional notions of printmaking to create monumentally scaled works that evoke a confluence of cultures; Job Site is a collaborative, multimedia installation by Alisa Dworsky and Bill Ferehawk that explores the drawing and choreography inherent in architecture. 135 Church St, (802) 865-7166, Open Tues-Thurs, Noon-5; Fri-Sat, Noon-8. 135 Church St, (802) 865-7166, Open Tues-Thurs & Sun, Noon-5; Fri-Sat, Noon-8. (image: The Arrival by Sarah Amos (84″x66″; collagraph and thread on felt; 2019). Courtesy of the artist.)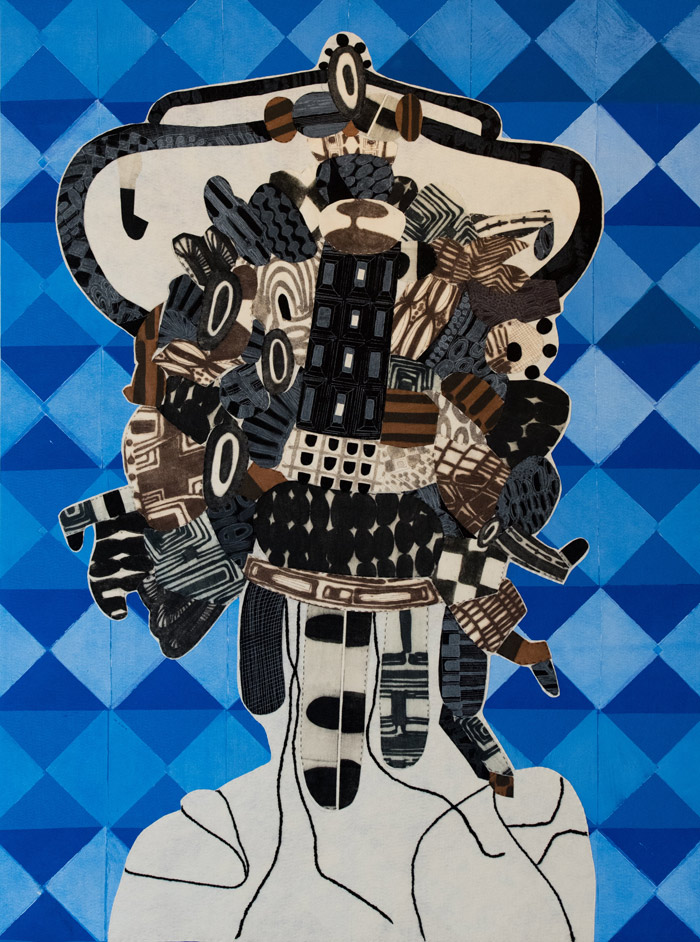 A community spot since 2007, New Moon Café presents work by Burlington-area artists in the dining area. Through September 2019: Self-taught Burlington artist Stephanie Bailey's acrylic paintings represent the beauty of her life experience as it challenges the prescribed stereotypes. She uses colorful layers to balance the mutual power and vulnerability of the contemporary woman. Through the use of bold, vibrant colors and ebony silhouettes, her paintings tell a story celebrating her Afrocentric muse that radiates elements of her family's heritage and personal life adventures as a motif connecting all of her artwork. 150 Cherry St, (802) 383-1505 or (802) 383-1496. M-F, 7:30AM-8:30PM; Sun, 8AM-8:30PM. (image below: Misty Sky by Stephanie Bailey. Courtesy of the artist.)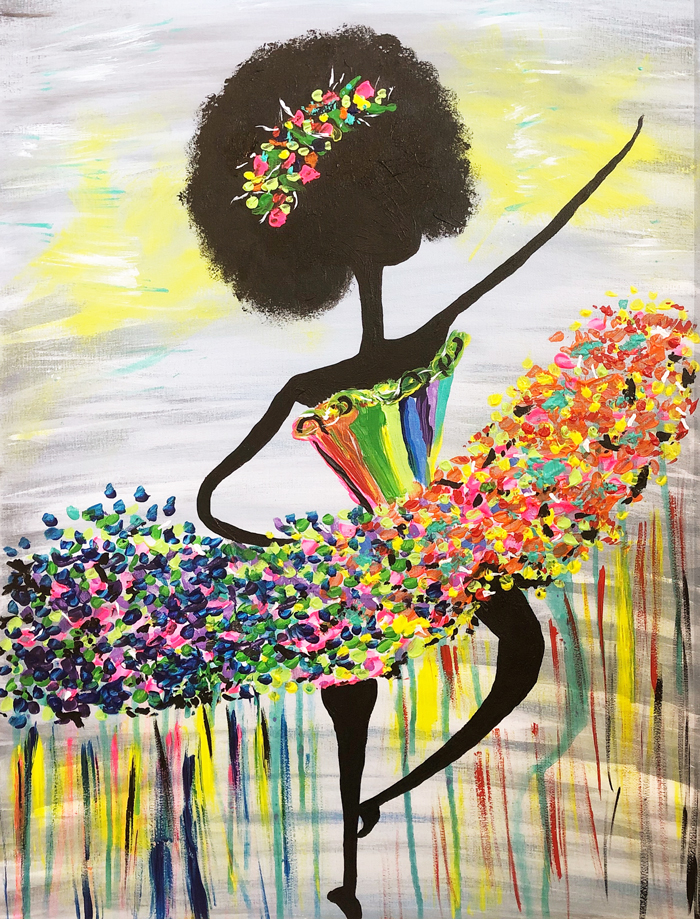 Connecting Burlington's emerging artists with emerging patrons of the arts to create just and sustainable communities. Due to water damage and a continuing leak, the gallery is closed until further notice. However, the residency studios and office are open by appointment. 132 Church St, (802) 355-5440. Open by appointment.
BCA curates the artwork on the main floor. Through 8/9/19: Erika Lawlor Schmidt's "To which every part and particle is equally related" is a recent series of monoprints that "is celebratory, yet elegiac, not exactly different from earlier work, except that I have created this primarily for children." 8/13-10/15/19: In 2010 at the age of 44, Dierdra Michelle found the courage to finally embrace life as an artist. Though holding no academic training in art, she quit all her jobs to enter the studio day after day to become a painter. She has great faith in the life her art is mapping out for her. 149 Church St, (802) 865-7166, M-F, 8:30-4:30 and for First Friday Art. (image: "Endangered Species" monotype series by Erika Lawlor Schmidt. Courtesy of the artist)

Main Street Landing and Little Umbrella : Art Curation are dedicated to increasing awareness and appreciation of Vermont visual artists, showcasing traditional and nontraditional visual art in rotating (monthly or bimonthly) shows and community-based events. August 2019: Charlotte artist James Vogler presents abstract oil paintings. Vogler has always had an interest in investigating relationships between abstracted forms, shapes, color and light. Often there is a cartoon aspect to the forms. Curated by Sarah of Little Umbrella : Art Curation. 1 Main St, (802) 735-7091, M-F, 8-3; Sat-Sun, by appt.(image by James Vogler. Courtesy of the artist.)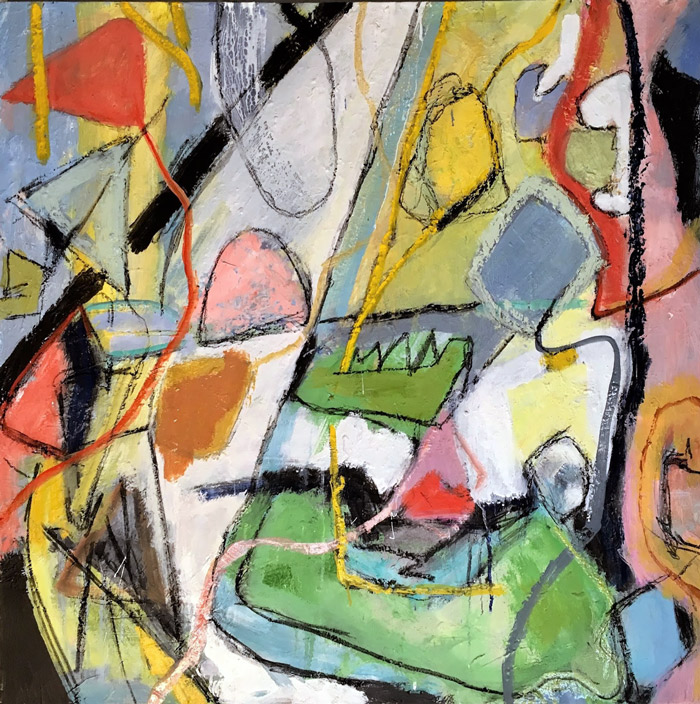 Serving up imaginative beers for enlightened palates and regional art throughout the eclectic lakefront brewery. Through 8/8/19: Burlington photographer Montgomery Sheridan's work is a glimpse into a dream-like colorscape. 8/9-9/30/19: "Ripple" is the title of Pete Boardman's exhibit and the name of the beer he collaborated on with Foam. His art captures "the simple, serene, and playful moments that can be found in the world." He is inspired by nature, water, and the relationship between humans and wilderness. Opening reception and release of Foam's Ripple beer: Friday, August 9 with the artist present starting at 11AM and for most of the afternoon. Interactivities with ECHO which will receive 100% the profits from Ripple can sales. 112 Lake St, (802) 399-2511, M-Thurs, Noon-10; Fri-Sat, 11-Midnight; Sun, 11-7. (a detail of the image below is on the cover of August's Art Map Burlington)

Showcasing contemporary and non-traditional art from Vermont artists and hosting a permanent video exhibition booth presenting video installations by international artists in bi-monthly exhibits. August-September 2019: "Myopia". Kara Torres uses a variety of materials, including cloth, paint and PVC to play with visual perception, hidden imagery, subversive ideologies and both metaphorical and literal myopia, while examining ways the artist's own nearsightedness has contributed to their imagination and development as an artist. In the Media Room, Ben Balcom, a film professor and co-founder and co-programmer of Microlights Cinema, with his film The Sequence of Years. Balcom's films investigate the relationship between cinematic artifice and ordinary experiences of everyday life. Opening reception during First Friday Art. Curated by Sarah of Little Umbrella : Art Curation. CornerStone Building, 3 Main St, (802) 735-7091. Open M-F, 8-8, Sat-Sun, 10-8. (image by Kara Torres. Courtesy of the artist.)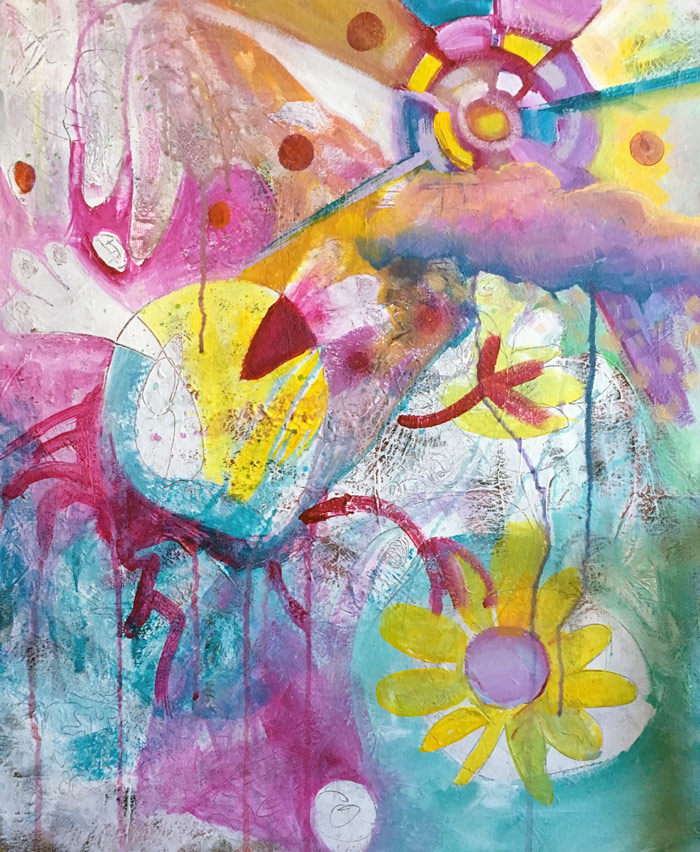 Supporting innovative and experimental contemporary art in all media through exhibitions, events, projects, and residencies, the gallery is a catalyst for interdisciplinary collaboration and learning at the intersection of art and technology. 8/1-9/13/19: Burlington artist Linda E. Jones' "Traces" is a retrospective of selected works from 1992-2018 and new work inspired by the artist's personal archaeological exploration. Jones debuts an installation inspired by Egyptian blue pigment, specifically from her visit to the ruined mud-brick domed "tomb of the venerated saint" at the Fatimid Cemetery in Aswan, Egypt. Opening reception: Thursday, August 1, 5-7PM. 375 Maple Street (CCM Building, 2nd Floor), (802) 860-2700, M-F, 10-4.
Onion River Coop. Open daily 7AM-9PM. Member-artists are showcased on the Member Art Wall in the cafe. Through 8/31/19: Ally Healy is a printmaker and designer interested in the intersection of old school botanical illustrations with contemporary form and analog mark-making. A resounding fascination with the afterlife, spirituality and nature presented in her work provokes a dialog that could otherwise be challenging to discuss. The framed work on display is $100 per piece. There are also limited quantities of unframed prints for $40. Email the artist at allymhealy@gmail.com for more information. 207 Flynn Ave, (802) 540-6400.
Curated by SEABA, showcasing traditional and non-traditional visual and multimedia artwork by Vermont artists. "From Natural to Abstraction" expresses and showcases forms of beauty from the eyes of a variety of artists. 208 Flynn Ave, #2-G, (802) 651-9692, Open M-F, 10-10, Sat, 10-5. (image below by Dana Smith)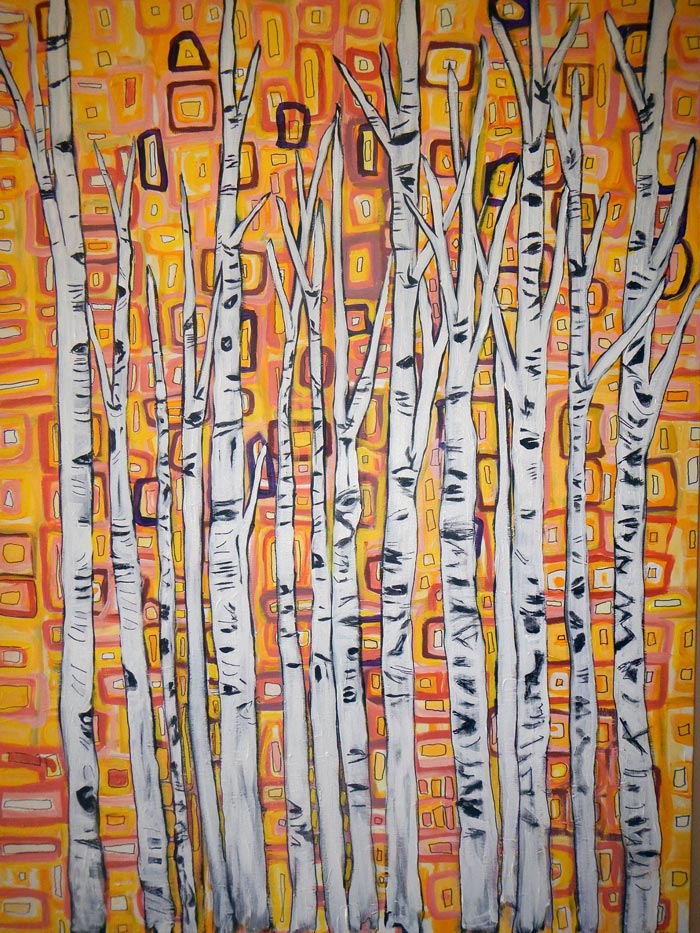 Traditional and non-traditional exhibitions and community-based events. Curated by ArtShape Mammoth. Through 8/1/19: "Inside the Dollhouse: A Tale of Whimsy and Feminine Myth" presents work by Eden Stern (pulp paintings), Rita Bard (multimedia) and Aimee Hertog. 8/5-8/31/19: "Bucolic Concrete" is a recurring series of art and music shows held in Burlington that bring together Burlington's burgeoning art community and place artists and musicians in a much-deserved communal spotlight. It is organized by founder John Macnie and collaborators Thomas Norberto, Robbie Michaelson, and John Clark. Opening reception: Thursday, August 8, 5-9PM. Bucolic Concrete event (ticketed): Friday, August 24. 208 Flynn Ave, (802) 363-4746, M-F, 7-4, Sat, 9-Noon. (image: Still Life: This American Life with Chicken by Rita Bard. Courtesy of the artist.)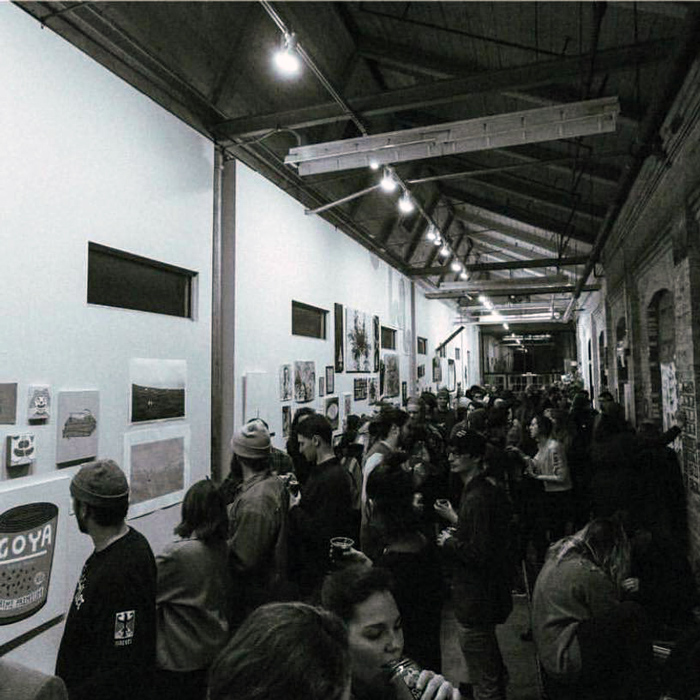 Art Gallery surrounded by 12 working artist studios. Friday, August 23, 6-9PM: "10×10". Celebrating a decade in the Burlington art scene this August, The S.P.A.C.E. Gallery is honored to have showcased over 10,000 unique works of art. Located in a 100-year-old former ginger ale bottling factory, creating a sustainable art gallery unbothered by the whims of the fluctuating art market meant building and renting 12 artist studios to surround the exhibition area, to cover all associated costs. The plan has been successful, bringing creative energy with working artists, and has allowed them to host over 100 themed and solo exhibitions featuring installation, performance, sculptural, and 2-D works of every medium. The first show in 2009 was a fundraiser, and they are continuing the theme, paying homage to 10 years, with "10×10". All pieces on display measure 10″x10″, are priced at $100, and are made by the very artists that have shown with them numerous times over the years. 266 Pine St (Soda Plant), spacegalleryvt.com, Open Thurs-Sat, Noon-5. (image by Christy Mitchell)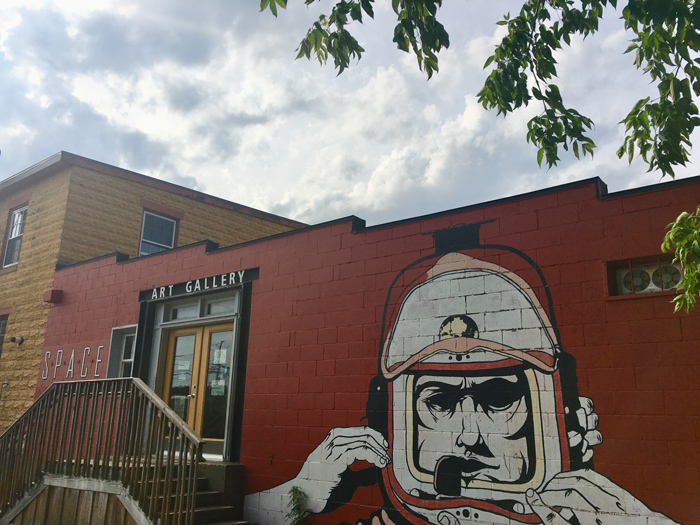 Art shop featuring about 30 artists from Vermont and beyond with a rotating artist on one wall. August 2019: "Unusual Gifts for Thoughtful People/Thoughtful Gifts for Unusual People" by Jack Tremblay, who says, "Each of my images is a collaboration with a viewer. It serves as the basis for a connection between me and the person who spends time with it–a visual ice breaker and conversation starter. What do you see?" 270 Pine St, (802) 338-7441, Open Tues-Sat, 10-6, until 8 during First Friday Art. (image: Poppies for Nancy by Jack Tremblay. Courtesy of the artist.)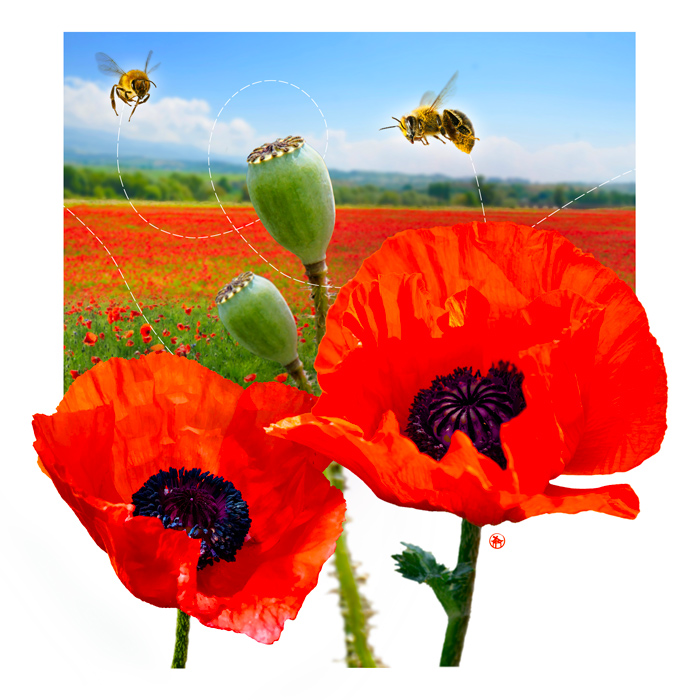 This eclectic second-hand shop is home to a revolving collection of art. 377 Pine St, (802) 540-0107, M, W-Th, 10-5; Fri-Sat, 10-9; Sun, 11-3.
This sprawling South End complex shows art in the first, second & third floor corridors. Ongoing. Artwork by Ashley Kapelewski, Dennis McCarthy, Donna Bister, Evan Greenwald, Forrest Brandt, Frank DeAngelis, Janet Bonneau, Janie McKenzie, Jordan Holstein, Kara Torres, Lynne Reed, Marilyn Barry, Mike Reilly, Robert Gold, Stephen Beattie, Tatiana Zelazo, Terry Mercy, and Travis Alford. Curated by SEABA. 128 Lakeside Ave, (802) 859-9222, Open M-F, 9-5.
Aaron Stein's license plate artwork: map sculptures, shadow boxes, photo frames, wine racks, cuffs, house trailers, lamps and ornaments all created out of recycled license plates from all 50 states. 266 Pine St (Soda Plant), (802) 355-4091. Open during First Friday Art and by appt.
A custom picture framing workshop that features monthly exhibitions. "World's Best Art!". For the third year in a row, see the World's Best Art in the design, hallway and workshop galleries! This exhibition features many pieces from the Dostie Bros. private collection as well as a variety of works created by South End Arts District artists. Much art will be for sale. 308 Pine St #101, (802) 660-9005. Open M-F, 10-6; Sat, 10-3. (image: Vase and Flowers by Dostie (acyrlic on canvas; 2004). Courtesy of the artist)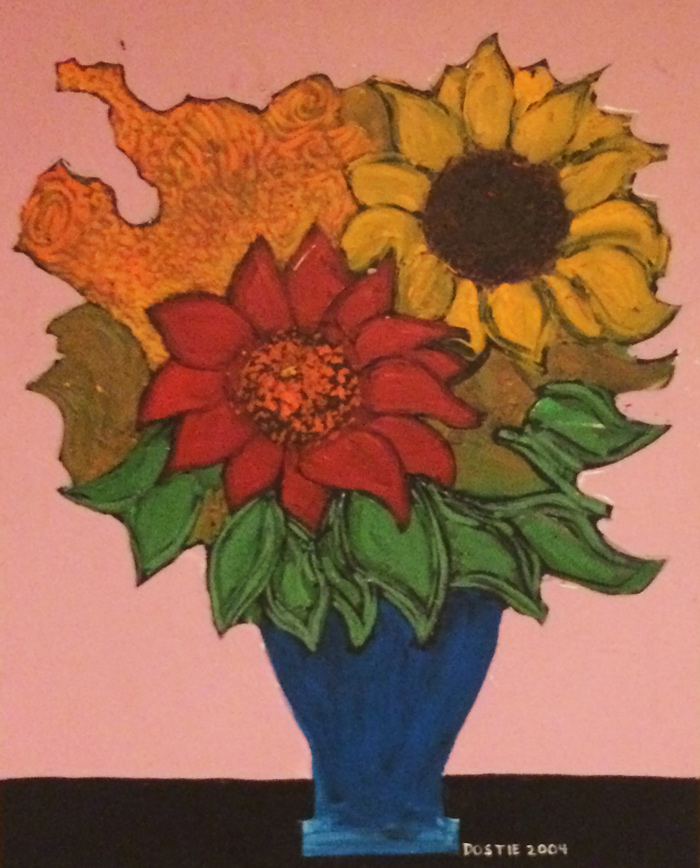 Venerable coffeehouse exhibiting traditional and non-traditional visual work by Vermont artists curated by SEABA. Through 8/24/19: Jordan Douglas: "(Re)memberings". "All of my images are photographs of photographs collected. The subjects and, in most cases, the original photographers are anonymous. I have lived with these curious artifacts, and marvel at the immediacy that their surfaces present—each face forever stilled—and at the enigmas of context that swim underneath. In reprinting these portraits, it is my hope that these people whose lives have passed may be awakened and remembered; that the dance that they accepted with the future may take another turn; that the flickering fragilities of these antique documents may speak to our present day humanity." 412 Pine St, (802) 658-7016, M-F 6:30-6, Sat-Sun, 8-5. (image: 1940s Boy with Car by Jordan Douglas. Courtesy of the artist.)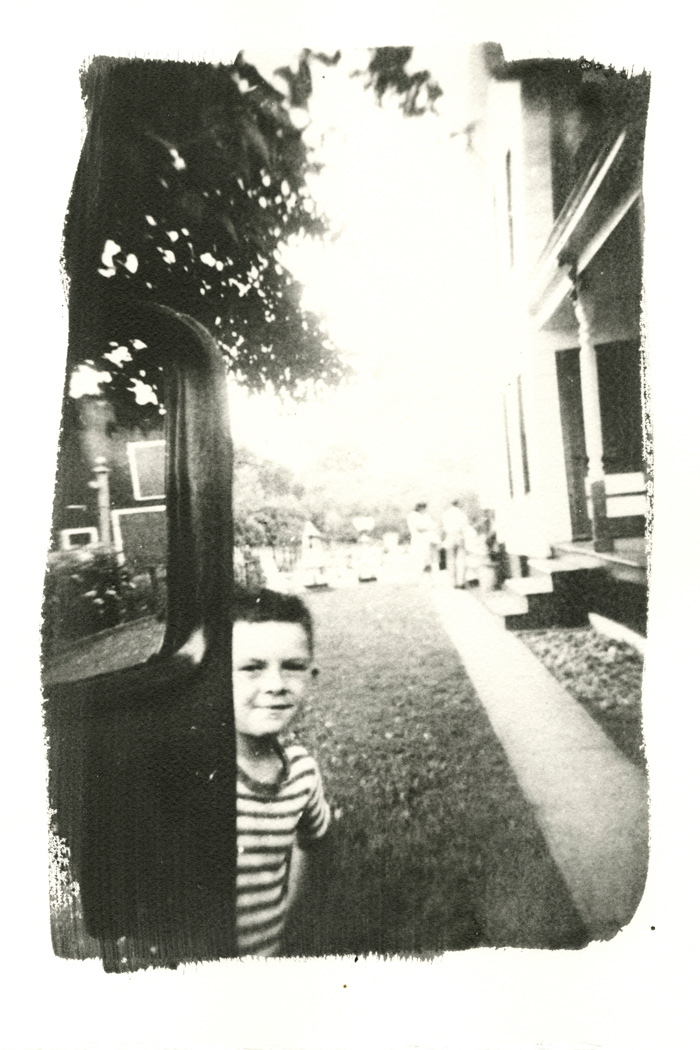 Abstract contemporary by artists Bruce R. MacDonald, Gordon Auchincloss, Joël Urruty and George Peterson. August 2019: "Summer Lights" features the newest collection of stainless light sculpture by artist Bruce R. MacDonald, both large and small, pricey and not-so-much exhibited alongside the HAVOC Gallery artists.. 27 Sears Ln (next to Greer's), (800) 639-1868, Open Weds-Fri, 9-5; & by appt. Closed for First Friday Art while they attend the Seattle Art Fair. (image: The Compass (color light detail) by Bruce R. MacDonald (120″x120″; stainless steel light sculpture; 2019) Image by Sarah Vogelsang Card.)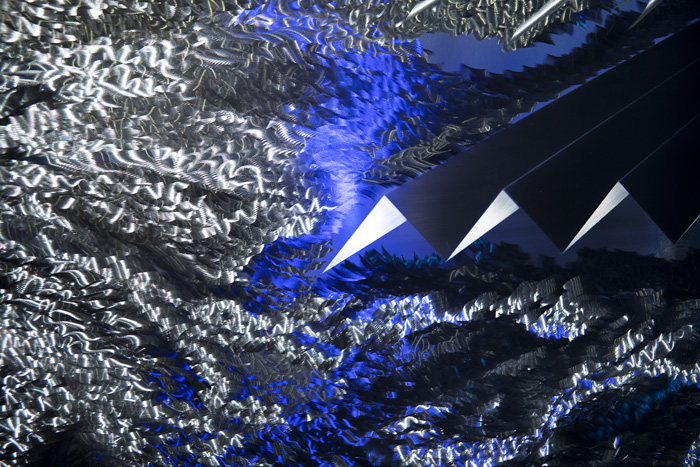 Serving hot bagels and more in a relaxed atmosphere with rotating art shows by Vermont artists, from the Burlington area and farther afield. Artists interested in showing work should visit Feldman's Call to Artists at the Vermont Art Guide Artist Database, www.vermontartguide.com/artistdatabase. 660 Pine St, (802) 540-0474, Open M-Sat, 6-3, Sun, 7:30-3.
Located at 180 Flynn Avenue, the building has two floors of artwork in the hallways as well as upstairs in the Fire Exit Gallery by Green House artists Holly HauxJeffers, Nancy Stalnaker, Jude Domski, Molly Roland, and Justin Hoekstra. 180 Flynn Ave (back and to the right), (802) 310-1886. Open M-F, 10-5.
Student curators present artwork and exhibits across all four floors throughout the academic year: featuring a range of student art and varied community exhibits. UVM Campus, Hours vary by semesters.
Through a partnership with Burlington City Arts, the UVM Medical Center features artwork by Vermont artists on the main medical center campus. Through September 2019: See art by Liz Hawkes de Niord, Susan Abbott, Greg Danford, Ken Russack, John Snell, and Boston Neary. 111 Colchester Ave, (802) 865-7296. (image: Blue Barn, Summer Afternoon by Susan Abbott (24″x36″; oil on canvas). Courtesy of the artist and Burlington City Arts)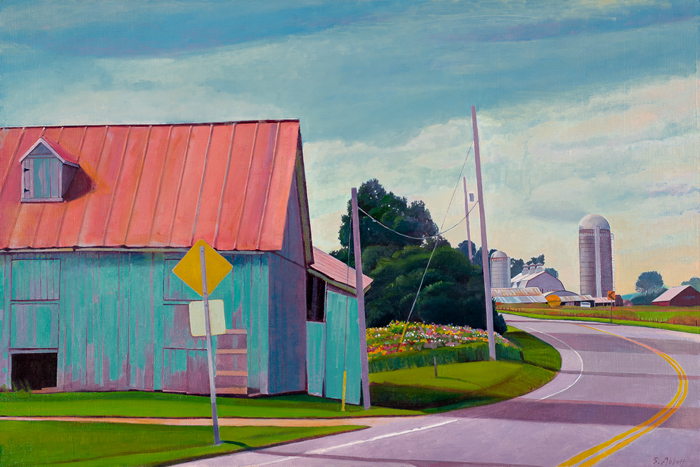 The hallway galleries are designed to act as an academic forum for the display of new ideas. First & Second Floor: "Curated & Created" is 6 exhibits by CCV Portfolio students exploring historical, cultural and political themes with both collected and original work. 1 Abenaki Way, Winooski, (802) 654-0505, M-Th, 7:45AM-9PM; F, 7:45AM-5PM.
A campus full of interesting buildings and beautiful gardens, the museum presents an eclectic collection of art and objects. Through 10/20/19: "William Wegman: Outside In" explores over four decades of the renowned artist's ongoing fascination with the natural world. Through 8/25/19: "Harold Weston: Freedom in the Wilds" presents the American 20th-century painter's early Adirondack views and selections from the "Stone Series", alongside diaries, letters, photographs, and related ephemera that make a case for the connections between spirit, nature, and Weston's art. Through 10/31/19: "In Their Element": outdoor sculpture installation featuring work by Jonathan D. Ebinger, Rodrigo Nava, and Dan Snow across the museum's campus; "Ink + Icons: Album Quilts from the Permanent Collection" investigates the ways quiltmakers and communities created lasting material memories by reproducing meaningful symbols and taking advantage of technological developments like reliable indelible inks to tell their stories. 6000 Shelburne Rd, Shelburne, (802) 985-3346. Open daily, 10-5. (image: Afternoon Shower by Harold Weston (15.25″x17.25″; oil on cardboard; 1920) Private Collection. © Harold Weston Foundation. Photography by Andy Duback.)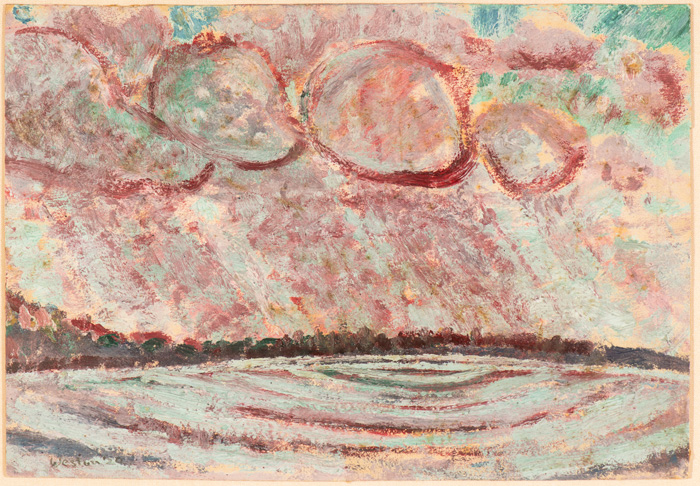 The Studio Store has handmade work in pottery, wood, jewelry, and stained glass and the school hosts events and classes for the public on an ongoing basis. 64 Harbor Rd, Shelburne, (802) 985-3648, Open M-F, 10-5; Sat, 10-2.
Art and wine among the vines, with quarterly shows of Vermont art in the tasting room. 7/1-10/1/19: "In Search of Burlington, Vermont" is a series in alcohol ink by Burlington artist Julie Gundersen. 6308 Shelburne Rd, Shelburne, (802) 985-8222, Open daily 11-6.
Beloved local beer factory has a curated space showing art on the tour ramp. Through 9/13/19: Vermont artist Nikki Ryan works in a wide variety of media, including ceramics, fibers, and linoleum printing. In 2019, they graduated with a degree in Visual Arts from Eckerd College in St. Petersburg, Florida. In the future, Nikki plans to further explore their disabled, queer, and autistic identities within their art. 5 Bartlett Bay Rd, S Burlington, (802) 658-2739 x2014, Open M-Sat, 11-7, Sun, 12-5. (image by Nikki Ryan. Courtesy of the artist.)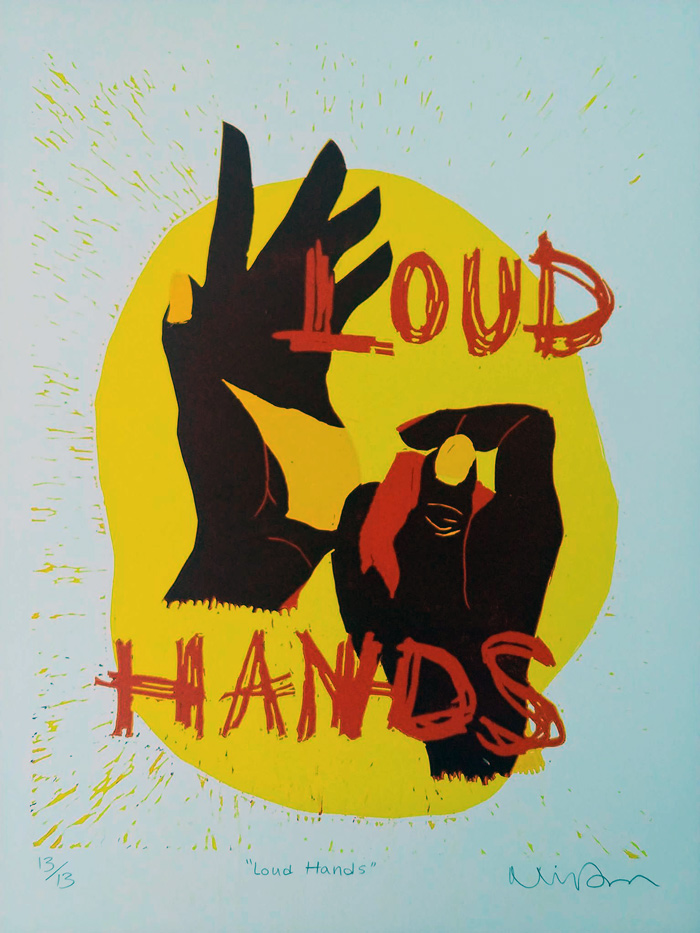 Presenting a stylistically diverse collection of original work by artists of regional and national stature. 7/26-9/23/19: "Hues of Summer: New Oil Paintings by Bonnie Acker". The gallery writes, "Melding abstraction with a close observation of the land, Acker has fashioned her own distinctive oil painting style, both evocative and exuberant." The gallery also has a unique collection of fine crafts and gift items. 86 Falls Rd, Shelburne, (802) 985-3848, Open Tues-Fri, 9:30-5:30, Sat, 10-5.
---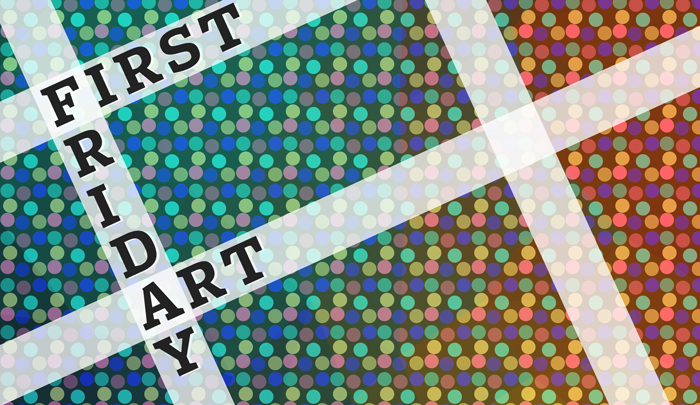 The next First Friday Art is
September 6th, 5-8PM.
First Friday Art is a monthly, community-wide event where dozens of art venues across the city host openings, exhibitions, and happenings.
The event is free and open to anyone.
Most venues are open from 5PM to 8PM, but some are open earlier or later.
Art Map Burlington is the official guide to First Friday Art. Pick up a copy at any participating venue. Enjoy!