Art Map Burlington promotes contemporary art in the Greater Burlington area by informing the community about exhibitions, events, and the work of area artists. Ask for a copy of the print edition at any of these venues.
---
Where to See Art-July 2016
Click the venue name to read more.
Live music venue, restaurant, and bar with monthly exhibits by emerging Burlington artists. Through 8/31/2016: Self-taught Middlesex artist DJ Barry (image below) uses stencils and spray paint, with an infusion of pop culture, to create his work. 188 Main St, (802) 658-4771, Open nightly.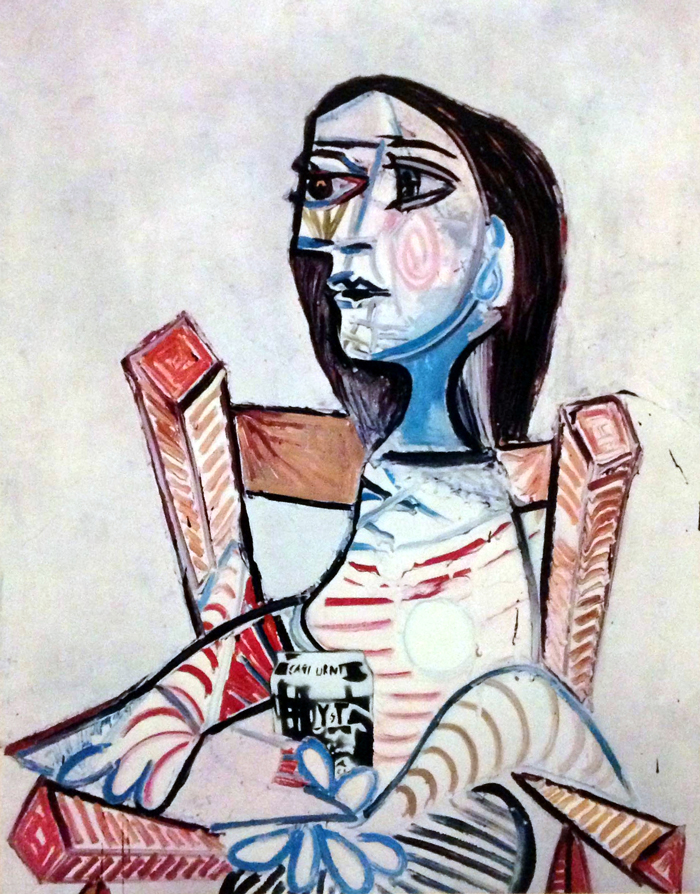 Exhibitions of work by regional artists related to Flynn programming during the same time period. Through 9/3/2016: "Amazing GRACE" celebrates the over 40 years that Grass Roots Art & Community Effort in Hardwick has developed and promoted self-taught artists, including elders and other underserved populations. 153 Main Street, (802) 652-4505, Sat, 11-4 and by appt. (image below: untitled work by an unnamed GRACE artist)
Laptop refurbishing shop shows by area artists in monthly shows. "nigh(t_ale)*" is experiments with a personal language for sigil making by Nyx Black of Anonymous Muse. 196 College St, (802) 578-9687. Open M-Sat, 9:30-8; Sun, 10:30-6.
Burlington's only public library since 1875. Through 8/31/2016 in the Pickering Room: VSA Vermont and Champlain Community Services' "The Way We See Things: An Awesome Photography Show" is a collection of digital photographs taken over several weeks in the Spring of 2016. Participants experimented with a variety of photographic styles and subjects, providing glimpses into life as they know it. 235 College St, (802) 865-7211, Open daily at 10, Noon on Sunday.
Open daily 7AM-11PM. Member-artists are showcased in the café seating area. July 2016: Joe Kos, also known as Jaguartiste, presents work with abstract artistic movement. 82 S Winooski Ave, (802) 861-9700.
Salon featuring a dedicated gallery space with rotating exhibits focused on eclectic and bold work. Through 7/31/2016: "Color at Play" is Joan H B Murray's series of abstract acrylic paintings on canvas. 106 Main St, (802) 864-2088. Open Tues-Thurs, 10-7; Fri-Sat, 10-5. (image below: work by Joan H B Murray)
A 5-floor visual arts center promoting excellence, experimentation, and education in all forms of contemporary art. 7/1/2016 to 10/1/2016: Taking advantage of the diverse range of artistic practices that visits Vermont each summer through BCA's Seven Below artist residency program, "Fixed/Fluxed" transforms the BCA Center into a space of constant flux. Three former artists-in-residence were invited back to install, reinstall, add to, reduce or remove their work from the space through the course of the exhibition. Opening during First Friday Art. Meet the artists: Friday, July 22, 5-8. 135 Church St, (802) 865-7166, Open Tues-Thurs & Sun, 11-5; Fri-Sat, 11-8. (image below: Order Entropy by Haisi Hu)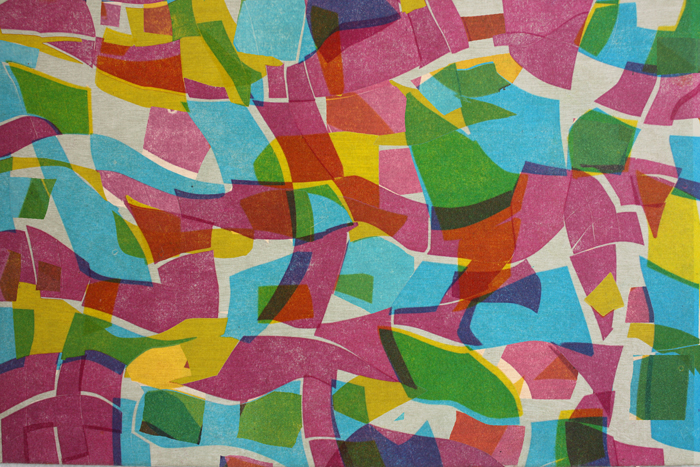 Generator is a combination of artist studio, classroom, and business incubator at the intersection of art, science, and technology. Through 7/31/2016: "Strange Music from Another Room" is Athena Kafantaris' (image below) installation of massive, performer-operated dolls and puppets made from recycled materials and found & personal objects. 250 Main Street, (802) 540-0761. Mon-Fri, 11-9; Sat-Sun, 11-7.
A community spot since 2007, New Moon Café presents work by Burlington area artists in the dining area. 150 Cherry St, (802) 383-1505 or (802) 383-1496. M-F, 7:30AM-8:30PM; Sun 8AM-8:30PM.
Showing the works of over 200 juried, Vermont artisans in month-long exhibits. July 2016: To raise funds in support of the newly launched Artisan Grant program, Frog Hollow partnered with WaterWheel, a non-profit, which has donated artwork by James Belizia (image below) to be sold during the exhibit with 100% of proceeds going to this new grant program. Opening reception during First Friday Art. 85 Church St, (802) 863-5458. Hours vary by season.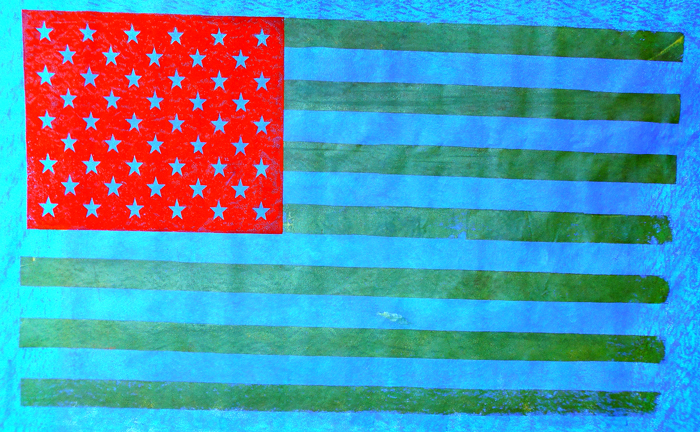 The walls of this Church Street café are lined with art by Vermont artists whose work deals with Vermont themes. Through 7/31/2016: The staff of Uncommon Grounds present prints, paintings, photography, embroidery and more. Opening reception with staff music show during First Friday Art, starting at 5:30. 42 Church St, (802) 865-6227, Open M-Thurs, 7-9; F, 7-10; Sat, 8-10; Sun, 9-9.
Connecting Burlington's emerging artists with emerging patrons of the arts to create just and sustainable communities. Through 7/26/2016: "Exaltations: Grassroots & Vernacular Art" brings together work by self-taught artists from the collections of Jennifer Koch, Gregg Blasdel, William L. Ellis & Julie Coffey. 132 Church St, (802) 355-5440, Open Tues-Fri, 11-5.
Community organizations share their mission through artwork on the main floor. June-July 2016: "Faces From Around the World"–Vermont Commons School students used mediums including storytelling and photography to explore the lives of refugees from Nepal, South Sudan, and Bhutan. Curated by BCA. 149 Church St, (802) 865-7166, M-F, 8:30-4:30.
Art's Alive is dedicated to increasing awareness and appreciation of Vermont visual artists. 7/1/2016 to 8/31/2016: The group show, "Slice of Life: Everyday Experiences & Snippets of an Artist's Life", invites viewers to enjoy a glimpse into an artist's life, from the most intimate to the most public moments. Curated by SEABA. 1 Main St, (802) 859-9222, M-F, 8-3; Sat-Sun, by appt.
Part of Maglianero Café, space has high ceilings and large windows and hosts a Youth Poetry Slam during each First Friday Art. Through 7/27/2016: Eric K. Eickmann's portraits invoke the archetype of Woman, addressing the female form with respectful insight to the architecture of sexuality, vulnerability, and the rawness of power. 47 Maple St, (802) 861-3155. M-F, 7-7; Sat-Sun, 8-6.
Showcasing traditional and non-traditional visual art in bimonthly shows in a space overlooking Lake Champlain. Through 8/31/2016: Burlington artist Robert Gold uses "extreme printing" (and is the first to use color with it) to create his embellished digital photographs. Curated by SEABA. 60 Lake St, Suite 2-E, (802) 859-9222. Open M-F, 8-3, Sat-Sun by appt.
ONE Arts Center is a community art center in the Old North End, featuring exhibitions, classes, and children's programs. July 2016: In conjunction with The Ramble, the Children's Art Show focuses on Old North End children's sense of place and how the ONE is different from other parts of Burlington. Deadline to drop off work: July 24. Reception: Saturday, July 30, Noon-2. 72 N Champlain St. Open Sat-Sun, noon-5.
Presenting art by students, artists-in-residence, faculty and invitees in a variety of exhibitions and settings during the school year. Through 9/3/2016: Todd R. Lockwood's "Portraiture Reimagined" introduces Cinema Portraits, a convergence of portrait photography, cinema, and writing.375 Maple Street (Hauke Family Center, 2nd Floor), (802) 860-2700, Thurs, 10-5; Fri, 4-8; Sat, 11-4:30.
Home to 14 artist studios with a shared exhibition space. July 2016: What happens below the surface in the realm of the unconscious? Jennie Kristel's work involves "finding the essence" of an inner story unfolding. Monoprint encourages spontaneity. Opening during First Friday Art. Artist Demonstration: Saturday, July 9, Noon-3. 266 S Champlain St (enter from parking lot at 277 Pine St), (802) 373-7544. Open for First Friday Art and by appt. (image below by Jennie Kristel)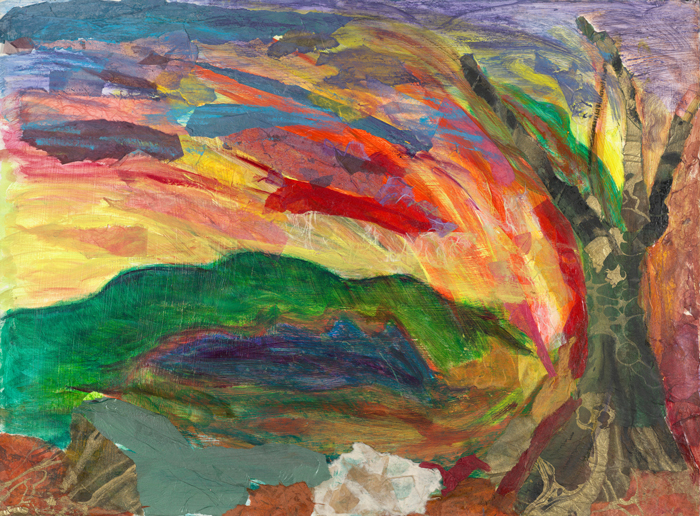 Curated by SEABA, showing large-scale 2-D work and installation sculpture with multi-media work presented at their quarterly openings. Through August 2016: "CONFLUENCY: 60 Paintings" by Art Team BillyBob (William Coil and Robert Green). BillyBob has made buildings, gardens, stonework, produced music, designed CD and book covers, mosaic murals, and, in 2014, began a project of producing art as a team. 208 Flynn Ave, #2-G, (802) 651-9692, Open M-F, 10-10, Sat, 10-5. (image below: Winter Solstice, 1915, Bristol, Vermont by BillyBob)
Traditional and non-traditional exhibitions and community-based events. The artists maintain a gallery presence and handle sales. THrough 7/29/2016: Eben Markowski's work in steel (image below) and Inty Muenala's work on canvas. Opening reception for both exhibits during First Friday Art, 5:30-8:30. 208 Flynn Ave, (802) 363-4746, M-F, 7-4, Sat, 9-12.
Home to 15 working artist studios and two main galleries. July 2016: Main Gallery: Paintings by Michele Johnsen and Barbara Nedd speak on their worlds in Vermont and New Hampshire Backspace: Creative Competition is back for the summer! Vote for your favorite. The winning artist gets a cash prize. Opening during First Friday Art, 5-9 (Creative Comp voting, 5-8). 266 Pine St (Soda Plant), (802) 578-2512, Open Weds-Sat, Noon-5.
Sample Switchback brews or grab a pint while enjoying local art in the viewing hallway that also overlooks the bottling line. 7/1/2016 to 7/29/2016: Pam Steeg's photographs were taken at the 2010 and 2014 Burning Man Festivals, held in Nevada's Black Rock Desert every year around Labor Day. Meet the artist and hear live music by Drunk & In the Woods during First Friday Art.160 Flynn Avenue, (802) 651-4114. Sun-Thurs, 11-7; Fri-Sat, 11-8.
This sprawling South End complex shows art in the first and second floor corridors. Ongoing: Amanda Amend, Catherine Hall, Kasey Prendergast, Kelley Taft and Kristin M. Watson; Second Floor: Carol Brown, Jason Boyd, Julie Winn, Meryl Lebowitz, and Stephen Zeigfinger; Third Floor: Gaal Shepard, Janet Bonneau, Linda Finkelstein, Meryl Lebowitz and Terry L. Mercy. Curated by SEABA. 128 Lakeside Ave, (802) 859-9222, Open M-F, 6-6.
Aaron Stein's license plate artwork: map sculptures, shadow boxes, photo frames, wine racks, cuffs, house trailers, lamps and ornaments all created out of recycled license plates from all 50 states. 266 Pine St (Soda Plant), (802) 355-4091. Open during First Friday Art and by appointment.
The E-1 Collective is a living, working, vibrant art studio & workshop whose artists work in painting, sketching, jewelry making, and stained glass. Visitors are welcome to our eclectic diversified workshop. 416 Pine St (behind Speeder & Earl's).
This eclectic second-hand shop is home to a revolving collection of art. 377 Pine St, (802) 540-0107, M, W-Th, 10-5; Fri-Sat, 10-9; Sun, 11-3.
Showing art by SEABA members in the gallery and hallways. July-August 2016: Carl Rubino's "From The Bark Of A Single Tree" features abstract macro photography images, resembling colored pencil drawings, of compositions found on the bark of a tree on a tiny island in the Adirondacks. Opening reception during First Friday Art. 404 Pine St, (802) 859-9222, Open M-F, 9-5.
A custom picture framing workshop that features monthly exhibitions. 7/5/2016 to 8/25/2016: Stephen Zeigfinger exhibits liquid acrylic abstract paintings from his time living in Spain. 308 Pine St #101, (802) 660-9005. Mon-Sat, 10-5.
Venerable coffeehouse shows South End Arts District artists curated by SEABA. Through 8/31/2016: "Coffee, Tea, and You", works rendered in coffee and tea by the late Michael Buckley, is presented in conjunction with the launch of UVM Medical Center's online art collection, curated by BCA. 412 Pine St, (802) 658-7016, M-F 6:30-6, Sat-Sun, 8-5.
Abstract contemporary by artists Bruce R. MacDonald, Gordon Auchincloss, Joël Urruty and George Peterson. Large, precise and multi-dimensional. July 2016: Come see Bruce R. MacDonald's new Fire and Copper collection in "Summer's Fire". The oxidized reds, yellows, oranges and hints of green celebrate summer's return. 27 Sears Lane (next to Greer's), (800) 639-1868, Open for First Friday, 5-8, Thurs-Fri, 9-5 & by appt.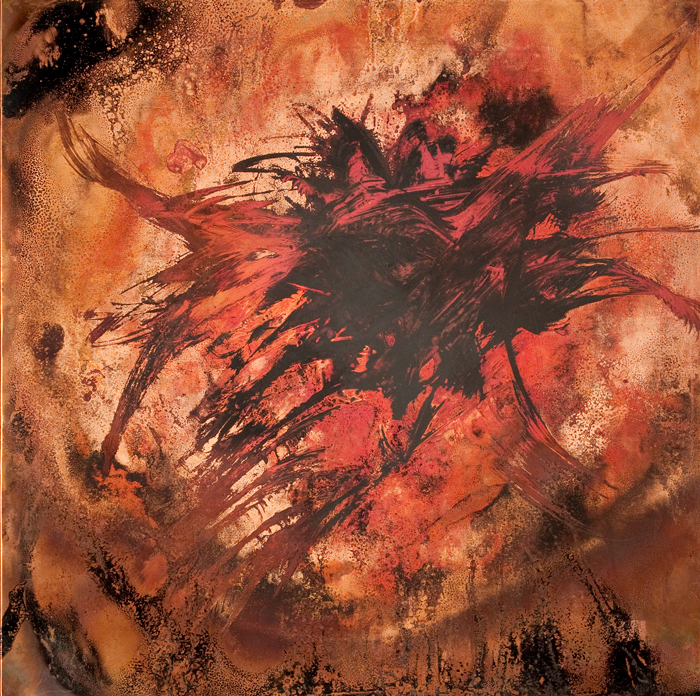 Serving hot bagels and more in a relaxed atmosphere with rotating art shows. 660 Pine St, (802) 540-0474, Open M-Sat, 7-4, Sun, 8-3.
This manufacturer of custom vinyl records shows art in its hallway. June-July 2016: The Howard Center Arts Collective and the Bellcate School present their summer show with guest artists Jim Babb Jr., Justin Rounds, and Nate Longchamp. Opening reception during First Friday Art. 660 Pine St #5 (behind Feldman's Bagels), (802) 540-8188. M-F, 9-6.
Through a partnership with Burlington City Arts, the UVM Medical Center has been showing work by Vermont artists on the main medical center campus for several years. Through 8/15/2016: Art by Jennifer Hubbard, Mareva Millarc, Douglas Biklen, Lorraine Manley, Robert Gold, and Patricia LeBon-Herb (image below: Calla Lilies) may be seen in the Rotunda & Connector Hallways on McClure 3. 111 Colchester Ave, (802) 865-7296.
The hallway galleries are designed to act as an academic forum for the display of new ideas. Through 7/31/2016: paintings by Misoo Filan. 1 Abenaki Way, Winooski, (802) 654-0505, M-F, 8-8; weekends, call for hours.
Open year round. There are 150,000 works in 39 exhibition buildings, 25 of which are historic and were relocated to the Museum grounds. The Pizzagalli Center hosts exhibitions throughout the year. Through 10/30/2016: "Grandma Moses: American Modern" takes a new look at this iconic artist through a modernist lens. Through 10/31/2016: "Painting a Nation" is a major reinstallation of the museum's American paintings collection. "Wind, Waves, and Light" features kinetic sculptures by award-winning artist George Sherwood. Quebec artist Dominique Ehrmann's "Once Upon a Quilt" has over 16 pieces ranging from 3D to kinetic quilted sculptures. 6000 Shelburne Rd, Shelburne, (802) 985-3346. Open daily, 10-5.
The Studio Store has handmade work in pottery, wood, jewelry, and stained glass and the school hosts events and classes for the public on an ongoing basis. 64 Harbor Rd, Shelburne, (802) 985-3648, Open M-F, 10-5.
Art and wine among the vines, with quarterly shows of Vermont art in the tasting room. Through 8/31/2016: "On the Road from the Mountains to the Lake" shows New Haven painter Anne Cady's ability to journey back to that slower country rhythm of the past, away from this hurry up world and into those open spaces that are so quickly disappearing. 6308 Shelburne Rd, Shelburne, (802) 985-8222, Open daily 11-5.
Beloved local beer factory has a curated space showing art on the tour ramp. Through 8/1/2016: Zelde Grimm is a self-taught artist whose pen & ink illustrations depict whimsical scenes and fairytale-esque creatures. Opening reception during First Friday Art, 5-7. 5 Bartlett Bay Rd, S Burlington, (802) 658-2739 x2014, Open M-Thurs, 10-6, Fri-Sat, 10-7, Sun, 12-5.
Presenting a stylistically diverse collection of original work by artists of regional and national stature. Through 7/5/2016: "Looking Back" celebrates the gallery's 25 years and features work by Julie Y Baker Albright, Joan Curtis, Dan Fisher (image below: Lovejoy Brook Farm), Jim Giddings, Alison Goodwin, Henry Isaacs, Hal Mayforth, Petria Mitchell, Alice Murdoch, Carolyn Shattuck, Phoebe Stone, Aron Tager, Polly Thompson, David Utiger, Laura Von Rosk, Mark Walp, and Richard Weinstein. The gallery also has a unique collection of fine crafts and gift items. 86 Falls Rd, Shelburne, (802) 985-3848, Open Tues-Fri, 9:30-5:30, Sat, 10-5.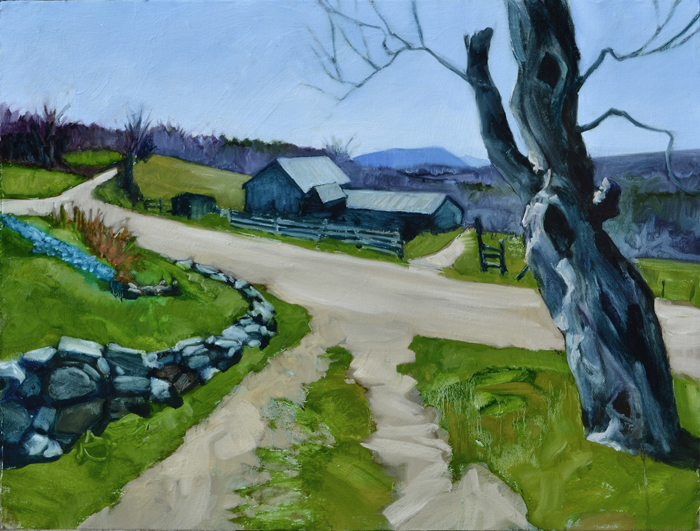 ---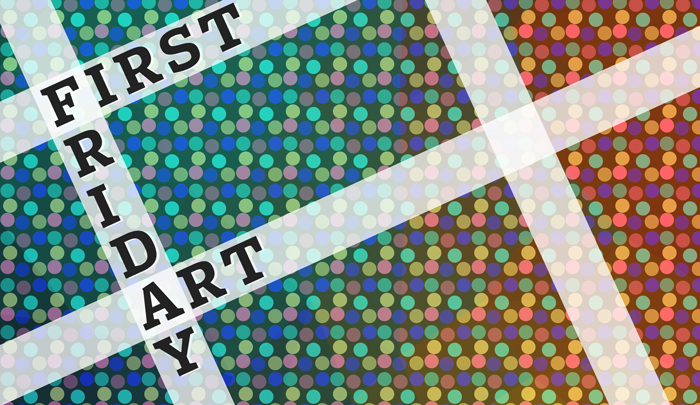 The next First Friday Art is
August 5th, 5-8PM.
First Friday Art is a monthly, community-wide event where dozens of art venues across the city host openings, exhibitions, and happenings.
The event is free and open to anyone.
Most venues are open from 5PM to 8PM, but some are open earlier or later.
Art Map Burlington is the official guide to First Friday Art. Pick up a copy at any participating venue. Enjoy!