June 3rd
5-8PM
First Friday Art is a monthly, community-wide event where dozens of art venues across the city host openings, exhibitions, and happenings.
The event is free and open to anyone.
Most venues are open from 5PM to 8PM, but some are open earlier or later.
Art Map Burlington is the official guide to First Friday Art. Pick up a copy at any participating venue. Enjoy!
---
OPEN FOR FIRST FRIDAY ART:
June 2016
1 Nectar's
Live music venue, restaurant, and bar with monthly exhibits by emerging Burlington artists. Through 6/15/2016: Scott King's works on birch plywood with paint markers, spray paint and acrylic. King keeps his decisions bold while working layer upon layer. 188 Main St, (802) 658-4771, Open nightly.
3 Computers for Change
Laptop refurbishing shop shows work curated by Boutilier's Art Center. 196 College St, (802) 578-9687. Open M-Sat, 9:30-8; Sun, 10:30-6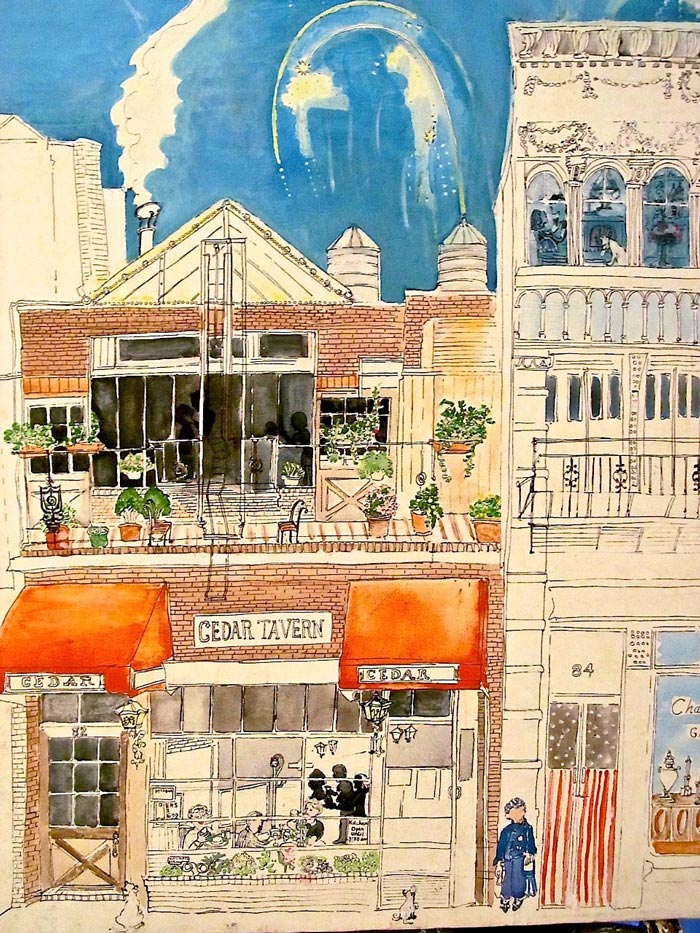 7 City Market, Onion River Co-op
Open daily 7AM-11PM. Member-artists are showcased in the café seating area. June 2016: Regina Baez' art has been infused and tempered by many places and events and specially cherished people and pets. 82 S Winooski Ave, (802) 861-9700. (image: Cedar Tavern by Regina Baez)
9 Artspace 106 at the Men's Room
Salon featuring a dedicated gallery space with rotating exhibits focused on eclectic and bold work. Through 7/31/2016: "Color at Play" is Joan H B Murray's series of abstract acrylic paintings on canvas. 106 Main St, (802) 864-2088. Open Tues-Thurs, 10-7; Fri-Sat, 10-5.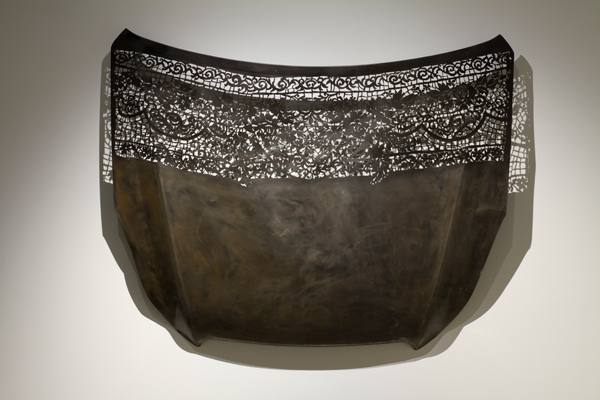 10 BCA Center
A 5-floor visual arts center. Through 6/25/2016: 1st Floor: sculpture by Cal Lane; 2nd Floor: 2015 Barbara Smail Award Winner Clark Derbes; VT Metro Gallery: Nissa Kauppila & Erika Lawlor Schmidt: "Under The Influence". 135 Church St, (802) 865-7166. Open Tues-Thurs and Sun 11-5; Fri-Sat, 11-8. (image: Veiled Hood and Stains by Cal Lane. Courtesy of the artist and Art Mûr, Montreal)
11 Generator
A combination of artist studio, classroom, and business incubator at the intersection of art, science, and technology. Through 6/30/2016: "Strange Music from Another Room" is Athena Kafantaris' installation of massive, performer-operated dolls and puppets made from recycled materials and found & personal objects. 250 Main Street, (802) 540-0761. Mon-Fri, 11-9; Sat-Sun, 11-7.
12 New Moon Café
A community spot since 2007, New Moon Café presents work by Burlington College students. Through 6/30/2016: Photographer Amanda Lass presents "Altitude", a series of mountain ranges from Ecuador to Mt. Hood to Mt. Mansfield. 150 Cherry St. (802) 383-1505 or (802) 383-1496. M-F, 7:30AM-8:30PM; Sun, 8AM-8:30PM. (image: photograph by Amanda Lass, 28″x19″)
13 Frog Hollow
Showing the works of over 200 juried, Vermont artisans. June 2016: "Material Matters" presents current work by 15 members of the Vermont chapter of the International Surface Design Association. Opening reception during First Friday Art. 85 Church St, (802) 863-5458. Hours vary by season.
14 Abstractions Gallery
Showing the work of internationally-known Burlington artist Stephen Zeigfinger. Artists and art lovers are invited to meet and socialize in his studio-gallery on the upper level of the Burlington Town Center, next to American Eagle Outfitters. 49 Church St, (802) 363-0623. Open M-Sat 10-8; Sun 11-5.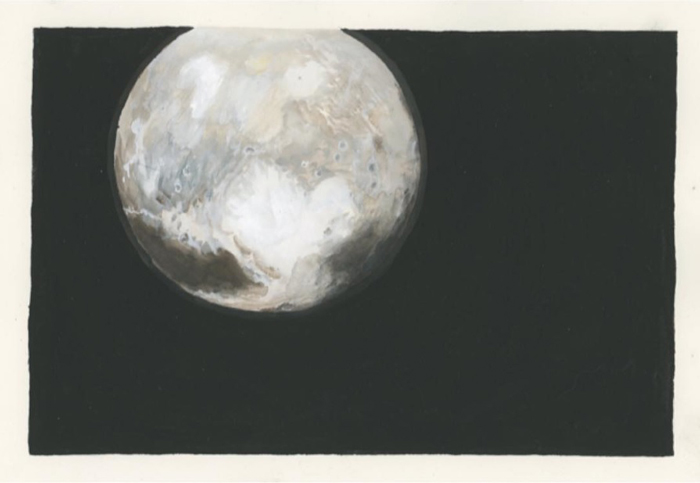 15 Uncommon Grounds Coffee & Tea
The walls of this Church Street café are lined with art by Vermont artists whose work deals with Vermont themes. Through 7/31/2016: The staff of Uncommon Grounds present prints, paintings, photography, embroidery and more.(image: Pluto 9 by Meg Juenker (gouache)) Opening reception with staff music show during First Friday Art, starting at 5:30. 42 Church St, (802) 865-6227, Open M-Thurs, 7-9; F, 7-10; Sat, 8-10; Sun, 9-9.
19 New City Galerie
Connecting Burlington's emerging artists with emerging patrons of the arts. Through 7/26/2016: "Exaltations: Grassroots & Vernacular Art" brings together work by self-taught artists from the collections of Jennifer Koch, Gregg Blasdel, William L. Ellis & Julie Coffey. 132 Church St, (802) 355-5440, Open Tues-Fri 11-5.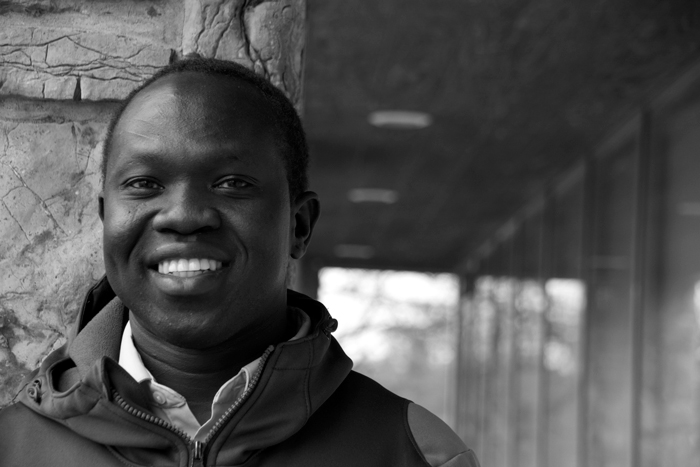 20 City Hall Gallery
Community organizations share their mission through artwork on the main floor. June 2016: "Faces From Around the World"–Vermont Commons School students used mediums including storytelling and photography to explore the lives of refugees from Nepal, South Sudan, and Bhutan. (image by Peter Keny). Curated by BCA. 49 Church St, (802) 865-7166, M-F, 8:30-4:30.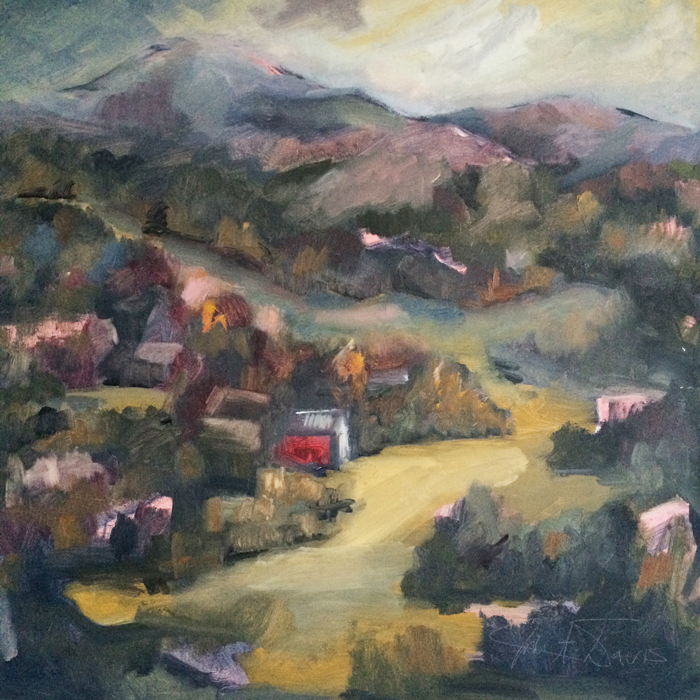 23 Art's Alive Gallery at Main Street Landing
Dedicated to increasing awareness and appreciation of Vermont visual artists. 6/2/2016 to 6/27/2016: The annual Art's Alive Festival of Fine Art Juried Exhibition. FOFA '16 Gala and Awards Ceremony: Friday, June 17, 5-8. Curated by SEABA. 1 Main St, (802) 859-9222, M-F, 8-3; Sat-Sun, by appointment.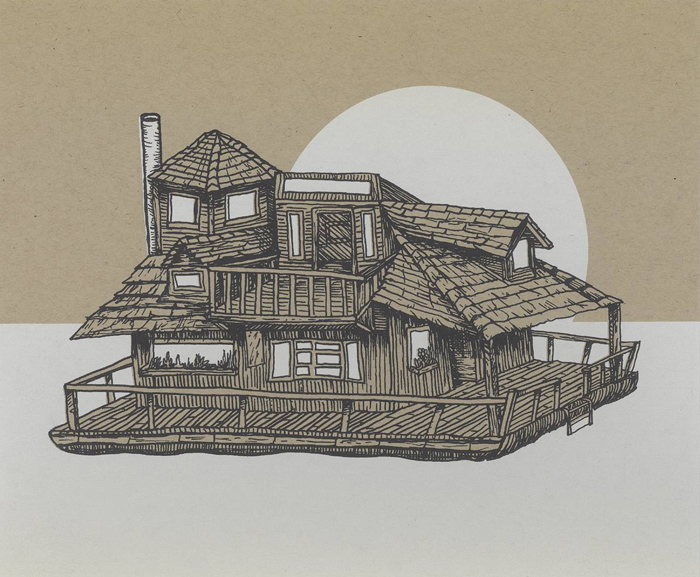 24 Karma Bird House Gallery
Part of Maglianero Café, hosting a Youth Poetry Slam during each First Friday Art. Through 6/22/2016: Iskra Print Collective's "PUSH/PULL" presents work by members Lizzie Brightly, Ed Doyle, Dylan Fant (image above), Amanda Gustafson, Greg Leguire, Jen O'neill, Katie Palatucci, and Henry Severance. 47 Maple St, (802) 861-3155. M-F, 7-7; Sat-Sun, 8-5.
29 ONE Arts Center
ONE Arts Center is a community art center in the Old North End. June 2016: "Seasons of Lethe" paintings by Quinn Dray presents memories revisited by a soul journeying through the underworld on its way to Lethe. Opening reception First Friday Art, 5-10. 72 N Champlain St. Open Sat-Sun, noon-5.
30 Champlain College Gallery
Presenting art by students, artists-in-residence, faculty and invitees in a variety of exhibitions and settings during the school year. 6/23/2016 to 9/3/2016: Todd R. Lockwood's "Portraiture Reimagined" introduces Cinema Portraits, a convergence of portrait photography, cinema, and writing. Opening reception: Thursday, June 23, 5:30-8:30 (RSVP by 6/20). 375 Maple Street (Hauke Family Center, 2nd Floor), (802) 860-2700, M-F, 10-5.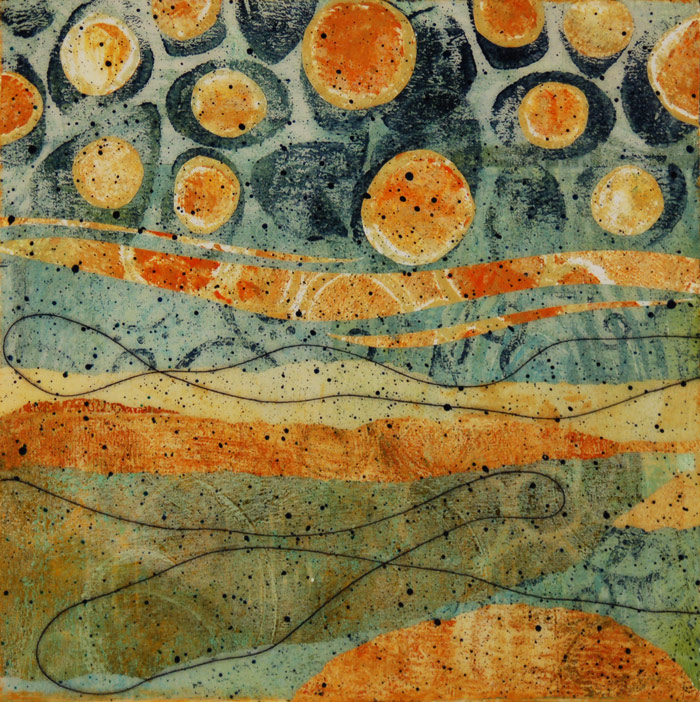 31 Brickwork Art Studios
Home to 14 artist studios with a shared exhibition space. 6/3/2016 to 6/27/2016: "I Am Gemini" is about the coming together of two different bodies of work by Johanne Durocher Yordan, who says, "As a Gemini I am changeable and can be two different types of people. This can be seen in my art." Artist reception: Saturday, June 4, 6-8. 266 S Champlain St, (802) 373-7544. Open for First Friday Art and by appointment. (image: Remnants #46 (8″x8″; collage/mixed media; 2016))
32 VCAM/RETN Art Space
Curated by SEABA, showing large-scale 2-D work and installation art. June-August 2016: "60 Paintings by the Art Team BillyBob" by William Coil and Robert Green. BillyBob has made buildings, gardens, stonework, produced music, designed CD and book covers, mosaic murals, and, in 2014, began a project of producing art as a team. 208 Flynn Ave, #2-G, (802) 651-9692, Open M-F, 10-10, Sat, 10-5.
34 S.P.A.C.E.
Home to 15 working artist studios and two main galleries. 6/3/2016 to 6/25/2016: Main Gallery: "Creative Competition" is back for the summer! Artists should submit work between noon on 6/1 and noon on 6/3. Backspace: Jeff Bruno's "News from NowHere" is disposable, temporary, unarchivable mixed media work. Opening during First Friday Art, 5-9 (Creative Comp voting, 5-8). 266 Pine St (Soda Plant), (802) 578-2512, Open Thurs-Sat, Noon-5.
35 The Tap Room at Switchback Brewing
Sample Switchback brews or grab a pint while enjoying art in the hallway that overlooks the bottling line. Through 6/30/2016: Essex Junction artist Lorraine Zaloom's drawings and paintings, "Woof". Artist reception during First Friday Art with live music by Dave Richardson, 6-8. 160 Flynn Avenue, (802) 651-4114. Sun-Thurs, 11-7; Fri-Sat, 11-8. (image: Roo 2)
38 Revival Studio
Aaron Stein's license plate artwork: map sculptures, shadow boxes, photo frames, wine racks, cuffs, house trailers, lamps and ornaments all created out of recycled license plates from all 50 states. 266 Pine St (Soda Plant), (802) 355-4091. Open during First Friday Art and by appointment.
39 Speaking Volumes
This eclectic second-hand shop is home to a revolving collection of art. 377 Pine St, (802) 540-0107, M, W-Th, 10-5; Fri-Sat, 10-9; Sun, 11-3.
41 Dostie Bros. Frame Shop
A custom picture framing workshop that features monthly exhibitions. Through 6/30/2016: Photographer Jeffrey Trubisz' "On the Trail Photography" records the artist's 35 years immersed in the natural world. Artist Reception during First Friday Art. 308 Pine St #101, (802) 660-9005. Mon-Sat, 10-5. (image: Long Trail)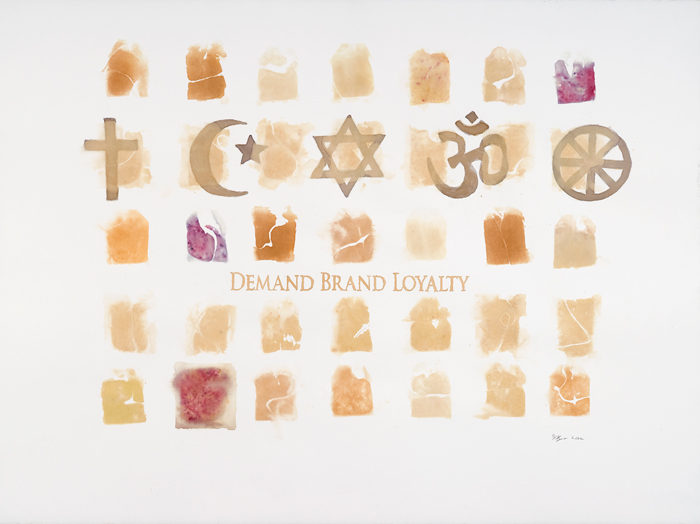 42 Speeder & Earl's
Venerable coffeehouse shows South End Arts District artists curated by SEABA. Through 8/31/2016: "Coffee, Tea, and You", works rendered in coffee and tea by the late Michael Buckley, is presented in conjunction with the launch of UVM Medical Center's online art collection, curated by BCA. 412 Pine St, (802) 658-7016, M-F 6:30-6, Sat-Sun, 8-5.
43 HAVOC Gallery
Abstract contemporary by Bruce R. MacDonald, Gordon Auchincloss, Joël Urruty and George Peterson. June 2016: The new light harnessing brushwork of artist Bruce R. MacDonald. Celebrate the warm transition of spring to summer days with "Spring Radiance". 27 Sears Lane (next to Greer's), (800) 639-1868, Open for First Friday, 5-8, Thurs-Fri, 9-5 & by appointment.
44 Alchemy Jewelry Arts Gallery
Co-operative of designer goldsmiths fuse artistic expression, elegant design, and exquisite artisanship, featuring sculpture by Timothy Grannis. 2 Howard St #1A, First Friday Art 'til 7, F-Sat 10-5 and by appt.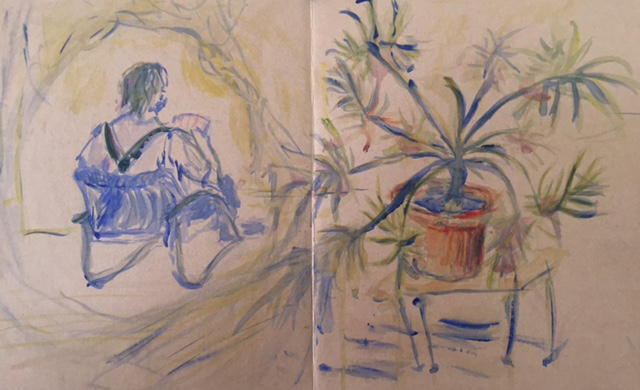 48 Burlington Record Plant
This manufacturer of custom vinyl records shows art in its hallway. June-July 2016: The Howard Center Arts Collective and the Bellcate School present their summer show with guest artists Jim Baab Jr., Justin Rounds, and Nate Longchamp. Opening reception during First Friday Art. 660 Pine St #5 (behind Feldman's Bagels), (802) 540-8188. M-F, 9-6. (image: untitled (9″x24″; watercolor on paper; 2015)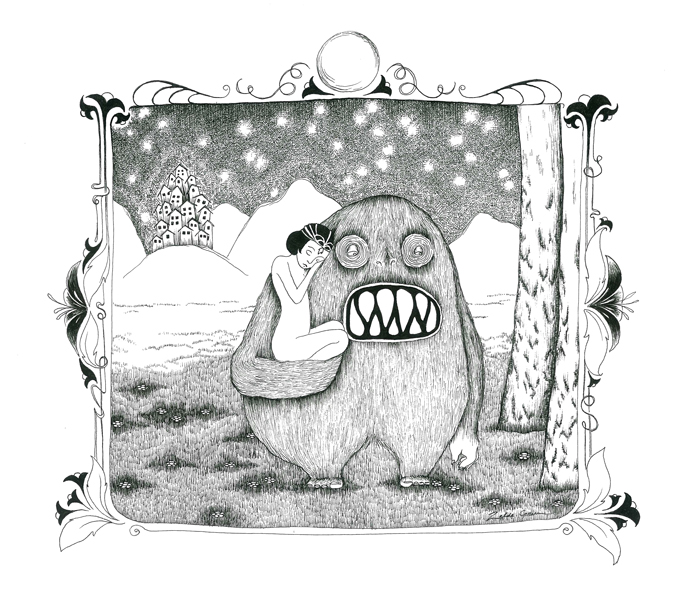 65 Magic Hat Artifactory
Beloved local beer factory has a curated space showing art on the tour ramp. 6/3/2016 to 8/1/2016: Zelde Grimm is a self-taught artist whose pen & ink illustrations depict whimsical scenes and fairytale-esque creatures. Opening reception during First Friday Art, 5-7. 5 Bartlett Bay Rd, S Burlington, (802) 658-2739 x2014, Open M-Thurs, 10-6, Fri-Sat, 10-7, Sun, 12-5.