Art Map Burlington promotes contemporary art in the Greater Burlington area by informing the community about exhibitions, events, and the work of area artists. Ask for a copy of the print edition at any of these venues.
---
Where to See Art-September 2018
Click the venue name to read more.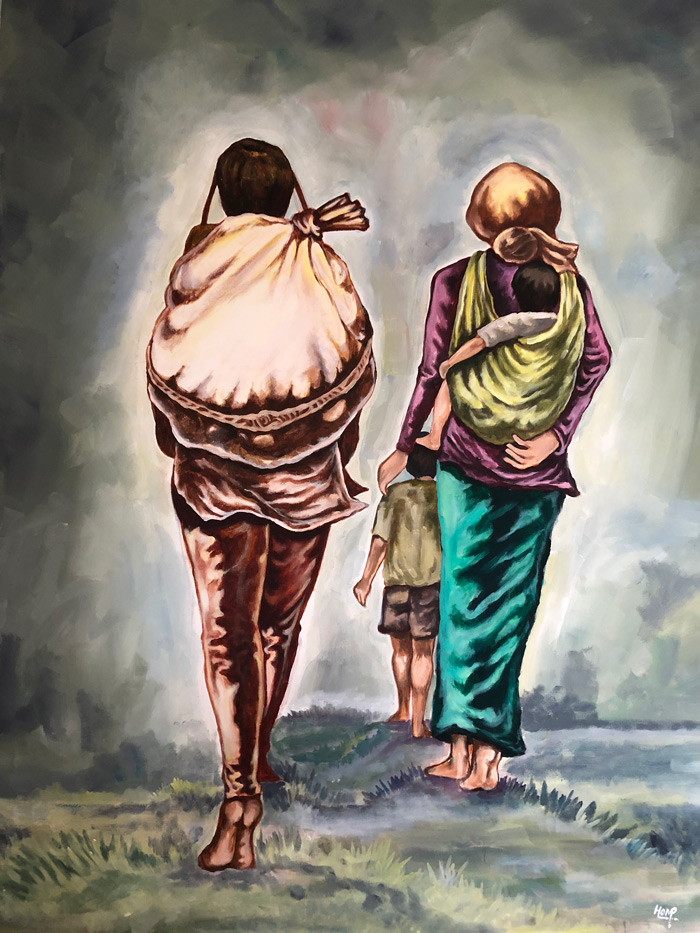 Exhibitions of work by regional artists related to Flynn programming during the same time period. Through 9/1/18: "Horizons" is one of John Killacky's last curated exhibitions in the gallery and features work on the theme of "horizons" in painting, drawing, print, stained glass, and photography by 17 Vermont artists. 9/15-12/1/18: "Visions of the World" is a group exhibition of work by Vermont artists in painting, fashion, and photography curated by Laurie Stavrand of the Vermont Refugee Resettlement Program. Opening: Saturday, September 15, 2-4PM. 153 Main Street, (802) 652-4505, Sat, 11-4 and by appt. (image: The Sorrow of Leaving Home by Hom Pradhan)
Laptop refurbishing shop shows work by area artists in monthly shows. 196 College St, (802) 578-9687. Open Tues, W & F, 10-6; Thurs, Noon-6; Sat, 11-5.
Burlington's only public library since 1875 shows art by area artists and nonprofit groups throughout the year. 235 College St, (802) 865-7211, Open daily at 10, Noon on Sunday.
Open daily 7AM-11PM. Member-artists are showcased on the Member Art Wall, located behind register 10. Through 9/30/18: Bryan Briscoe's art focuses on color, form and expression. His subjects reflect a strong spiritual connection to people, nature, flora and fauna. Briscoe paints from his studio in the Adirondack Park. 82 S Winooski Ave, (802) 861-9700. (image: Stephanie's Dolls by Bryan Briscoe)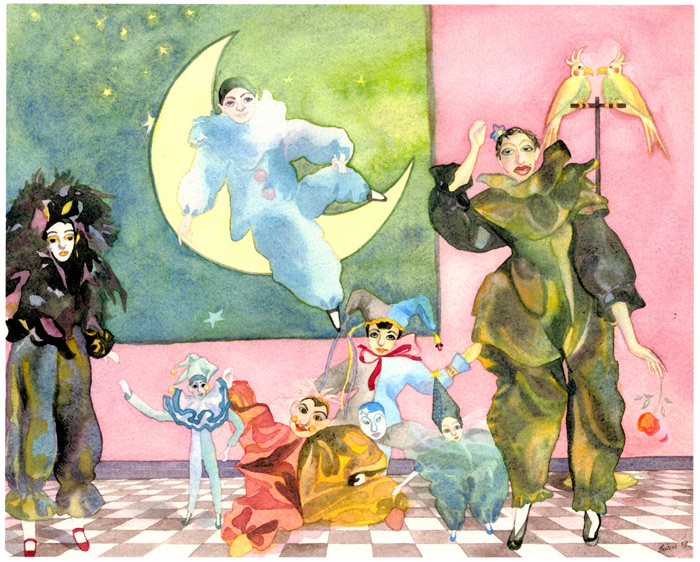 Salon featuring a dedicated gallery space with rotating exhibits focused on eclectic and bold work. September-October 2018: Work by two Burlington photographers: Matthew Binginot's "Visions of Vermont" and Arielle Thomas' "Everybody Leaves Me". Opening during First Friday Art. 106 Main St, (802) 864-2088. Open Tues-Thurs, 10-7; Fri-Sat, 10-5.
Featuring contemporary art exhibitions that connect art and community, nurture creativity, imagination, and ignite a passion for learning through the arts. Through 10/7/18: Crystal Wagner's "Traverse" transforms organic and biomorphic designs into colorful prints, sculptures, and sprawling installations comprised of bursting colors and organic forms (image below). "Artist's Artists: The Way You Look", curated by Vermont-based artist and guest curator Pete Moran, brings the acute, time-based work of filmmaker Ashish Avikunthak into contact with Tim Simonds' intimate and careful sculpture. "Visual Analogies: The Photography of Vanessa Kotovich & Penn Chan" explores themes of growth and decay; myth and reality; and the beautiful and the grotesque. 135 Church St, (802) 865-7166, Open Tues-Thurs, Noon-5; Fri-Sat, Noon-8.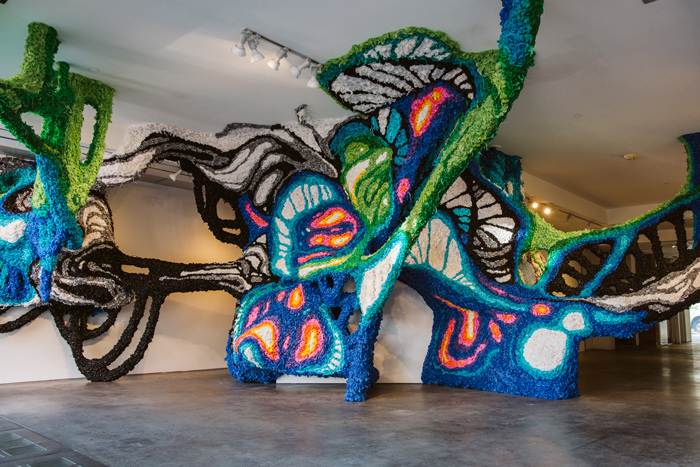 A community spot since 2007, New Moon Café presents work by Burlington-area artists in the dining area. 9/1-11/30/18: Professional Pet Photographer Josh Dustin's exhibition is dedicated to dogs who have travelled from all over the globe and finally arrive where they belong: home. All proceeds from sales and donations will go to local rescues.150 Cherry St, (802) 383-1505 or (802) 383-1496. M-F, 7:30AM-8:30PM; Sun 8AM-8:30PM.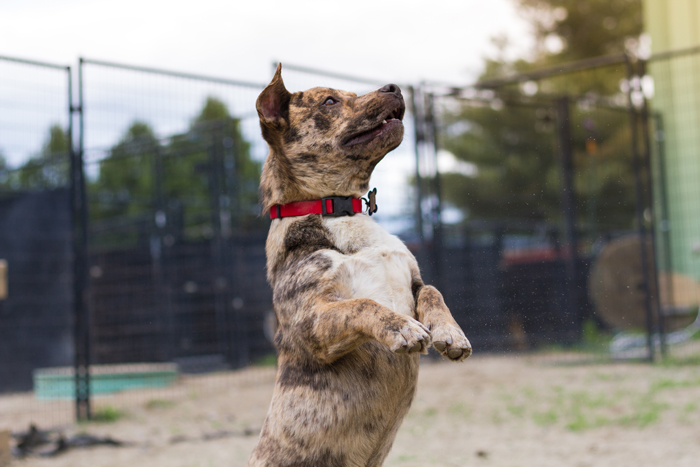 Showing the works of over 200 juried, Vermont artisans in month-long exhibits.Through 9/30/18: "Vermont Valleys, Lakes and Landscapes" is watercolors by Bristol artist Deborah Holmes. Opening during First Friday Art. 85 Church St, (802) 863-6458. Hours vary by season.  (image by Deborah Holmes)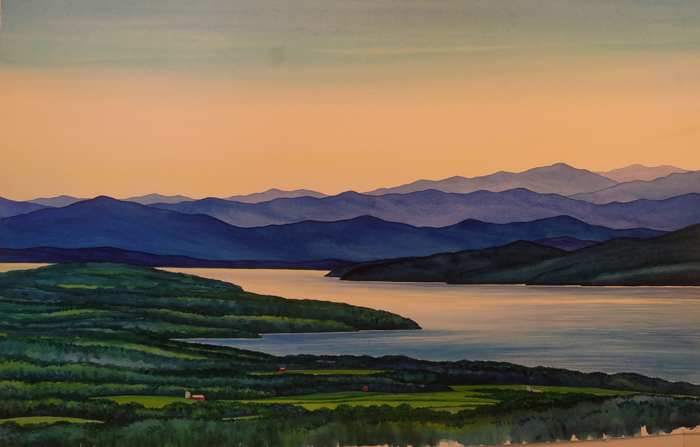 Connecting Burlington's emerging artists with emerging patrons of the arts to create just and sustainable communities. Through 10/18/18: "Alison Weld: Inner Essentials" presents new abstract work by the Westport, New York-based artist. During First Friday Art, visit the open studios of New City's 3 artists-in-residence, 5-8. 132 Church St, (802) 355-5440, Open Tues-Fri, 11-5. (image: Silent Strata 3 by Alison Weld (50″x36″; oil on linen; 2017)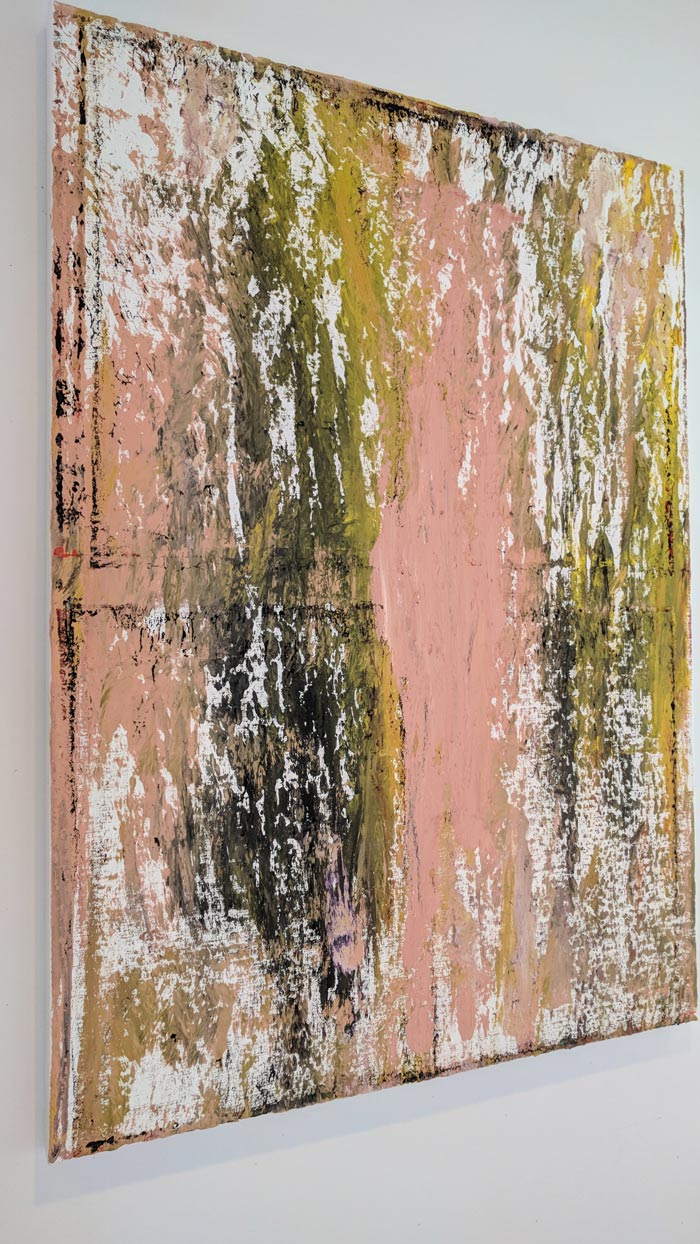 BCA curates the artwork on the main floor. Through September 2018: Judy Hawkins paintings. Water, with all its varied dimensions, fascinates Hawkins. She is drawn to and inspired by its simplicity and changing nature–from the pond pebbles on the bottom through layers of water, to surface tension, reflection, water splashes and ripples. 149 Church St, (802) 865-7166, M-F, 8:30-4:30 and for First Friday Art. (image: Maddie's Meadow by Judy Hawkins (24″x30″; oil on canvas))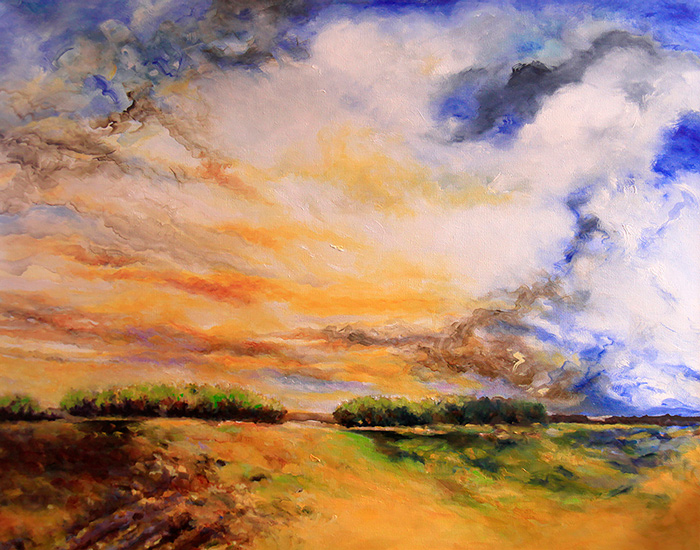 Art's Alive and Main Street Landing are dedicated to increasing awareness and appreciation of Vermont visual artists. 9/7/18 only: A collaborative South End Art Hop Group Show of work in acrylic, oil, photography and mixed media by Bob Arns (Mutin) (image), Ceili Seipke, Holly Hauser, Lindsay Bluto, Lorraine Manley and MEM. 1 Main St, (802) 859-9222, M-F, 8-3; Sat-Sun, by appt.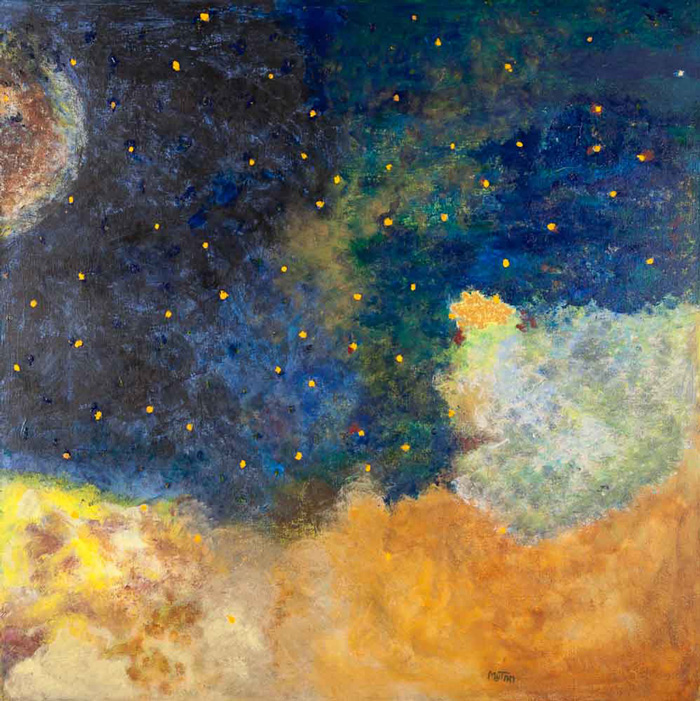 Serving up imaginative beers for enlightened palates and regional art throughout the eclectic lakefront brewery. 9/7-10/1/18: "Caribou" is work by Burlington painter, community organizer, radio-maker and cross country cyclist, Corrine Yonce, who specializes in placed-based, story-centered paintings and installations. Opening during First Friday Art, 6-8PM. 112 Lake St, (802) 399-2511, M-Thurs, Noon-10; Fri-Sat, 11-Midnight; Sun, 11-7.
Showcasing traditional and non-traditional visual art in bimonthly shows in a space overlooking Lake Champlain. 9/7-10/31/18: A collaborative South End Art Hop Group Show by Ashley Stagner, Beth Starger (image), Emily Mitchell, James Stewart and Mark Gonyea, featuring oil and acrylic paintings, prints, a video installation, and digital art. Powered by SEABA. Opening during First Friday Art. CornerStone Building, 3 Main St, (802) 859-9222. Open M-F, 8-3, Sat-Sun by appt.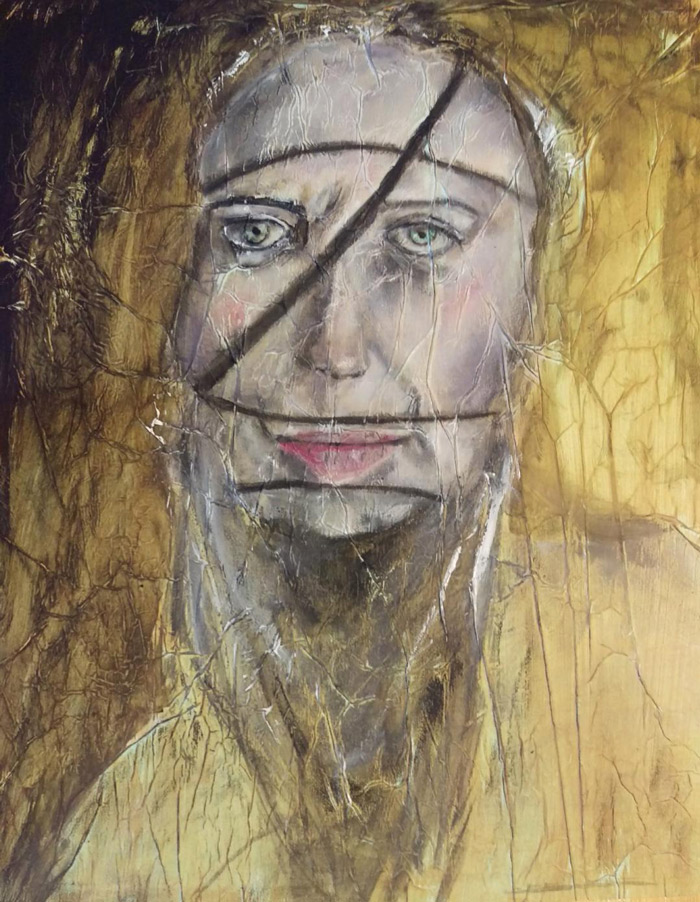 Supporting innovative and experimental contemporary art in all media through exhibitions, events, projects, and residencies, the gallery is a catalyst for interdisciplinary collaboration and learning at the intersection of art and technology. 9/3-10/8/18: Jonathan Mikulak & Terrance Sehr's Folly is an audiovisual installation that explores how the perceptual process influences our understanding of ourselves. 375 Maple Street (Hauke Family Center, 2nd Floor), (802) 860-2700, Thurs, 10-5; Fri, 4-8; Sat, 11-4:30.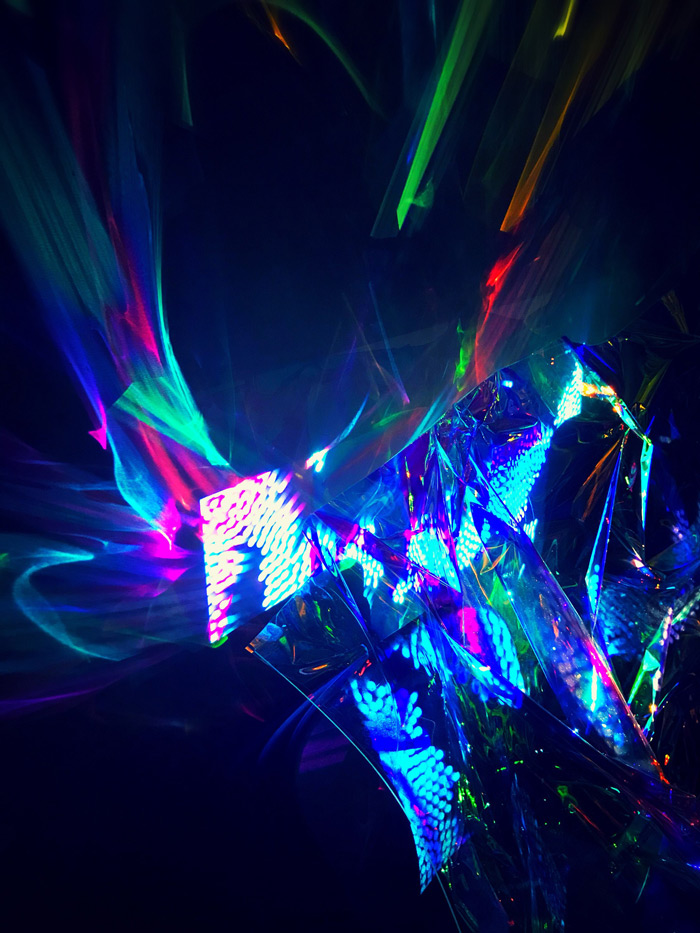 Open daily 7AM-9PM. Member-artists are showcased on the Member Art Wall in the cafe. 9/3-10/31/18: Annie Caswell's photographs on canvas and paintings come from several years of traveling and working around the world. Inspiration to document the destruction of the hurricanes that hit the U.S. Virgin Islands with her art sparked her latest works by painting on debris. 207 Flynn Ave, (802) 540-6400.
Curated by SEABA, showing large-scale 2-D work and installation sculpture with multi-media work presented at their quarterly openings. 9/7-11/30/18: The annual, collaborative South End Art Hop Group Show features over 20 artists this year. Opening during First Friday Art. 208 Flynn Ave, #2-G, (802) 651-9692, Open M-F, 10-10, Sat, 10-5.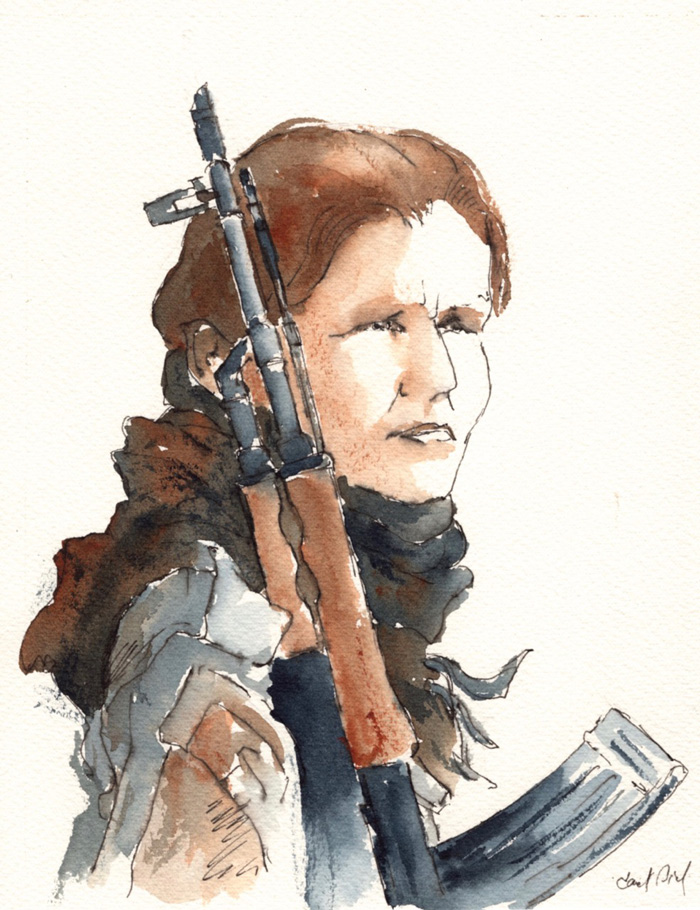 Traditional and non-traditional exhibitions and community-based events. Curated by ArtShape Mammoth. 9/7-10/23/18: The ArtShape Mammoth Group Show includes photography, embroidery, sculpture, oil paintings, and various works on paper by ten ArtShape Mammoth artists. Opening: Friday, September 14, 6-8PM. 208 Flynn Ave, (802) 363-4746, M-F, 7-4, Sat, 9-Noon. (image: The Sugar House by Pievy Polyte (20″x28″; acrylic))
Home to 12 working artist studios and a gallery. 9/7-9/29/18: "Represent" is the annual group exhibition of studio artists, gallery members, and the local creative community with artwork of every medium from fiber arts, ink on paper, collage, book arts, metal sculpture, photography, to classic works on canvas. Opening during First Friday Art, 5-Midnight. Art Hop Hours: Saturday, 9/8, 10-10; Sunday, 9/9, 10-4.266 Pine St (Soda Plant), (802) 578-2512, Open Thurs-Sat, Noon-5. (image: Cake Mix by Mary Jo Krolewski)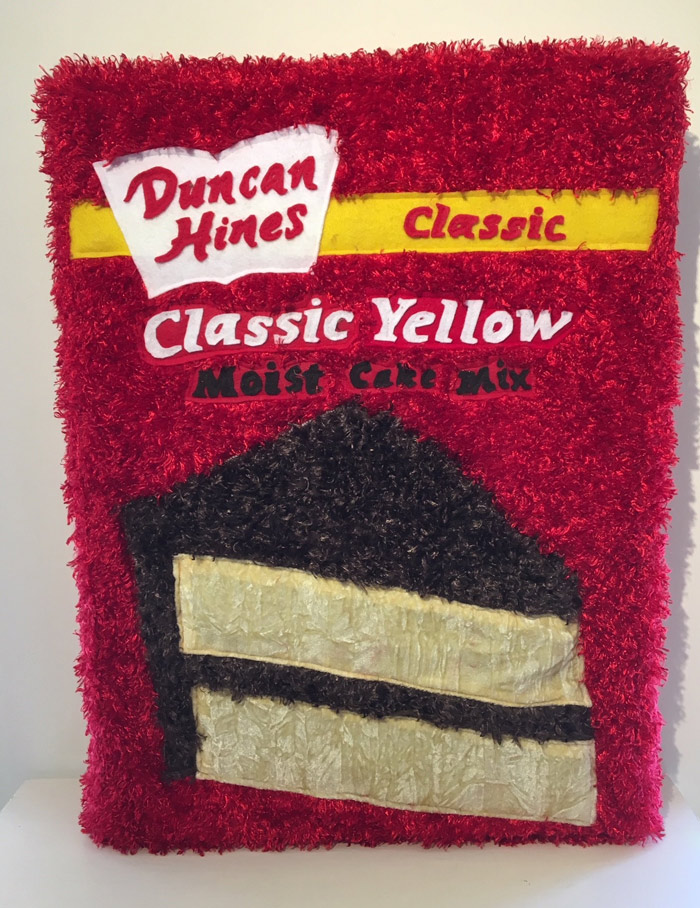 Art shop featuring about 30 artists from Vermont and beyond with a rotating artist on one wall. September 2018: Westford artist Amey Radcliffe's art is an exploration: "turning this into that". Don't be surprised if you see her poking around a free pile or a dumpster. She's jazzed when she finds the next great piece of "junk" and transforms it into something useful, fun, funky or beautiful. 270 Pine St, (802) 338-7441, Open Tues-Sat, 10-6, until 8 during First Friday Art.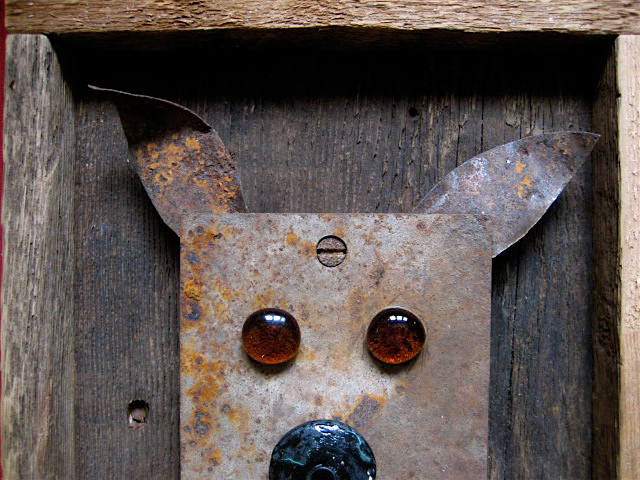 This eclectic second-hand shop is home to a revolving collection of art. 377 Pine St, (802) 540-0107, M, W-Th, 10-5; Fri-Sat, 10-9; Sun, 11-3.
This sprawling South End complex shows art in the first, second & third floor corridors. Ongoing. Artwork by Dennis McCarthy, Evan Greenwald, Frank DeAngelis, Janet Bonneau, Janie McKenzie, Jordan Holstein, Kara Torres, Lynne Reed, Marilyn Barry, Mike Reilly, Melissa Peabody, Rae Harrell, Robert Gold, Stephen Beattie, Tatiana Zelazo, Terry Mercy, Travis Alford. This exhibit is part of the 26th South End Art Hop. Curated by SEABA. 128 Lakeside Ave, (802) 859-9222, Open M-F, 6-6.
Aaron Stein's license plate artwork: map sculptures, shadow boxes, photo frames, wine racks, cuffs, house trailers, lamps and ornaments all created out of recycled license plates from all 50 states. 266 Pine St (Soda Plant), (802) 355-4091. Open during First Friday Art and by appt.
Two working studios featuring abstract, eclectic, and sometimes chaotic original paint work by Franky D, who started painting for the first time in 2016 with no formal art training. His work is passionate, gritty, and imperfect much like life itself. 266 Pine St (Soda Plant), (802) 355-3502. Open Thurs-Sat, Noon-5 and by appointment.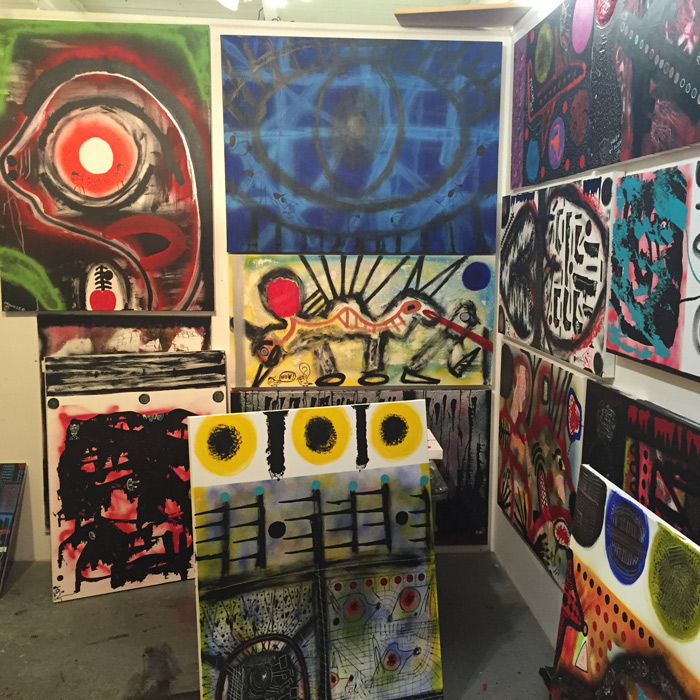 Showing art by SEABA members in the gallery and hallways. 9/7-9/30/2018: 26th Annual South End Art Hop Original Juried Show featuring 40 pieces of work selected by the 2018 juror, Kathleen Vance, director of the Front Room in New York City. Opening reception during First Friday Art and remains open for Art Hop Weekend. 404 Pine St, (802) 859-9222, Open M-F, 9-5. (image by Amanda Amend)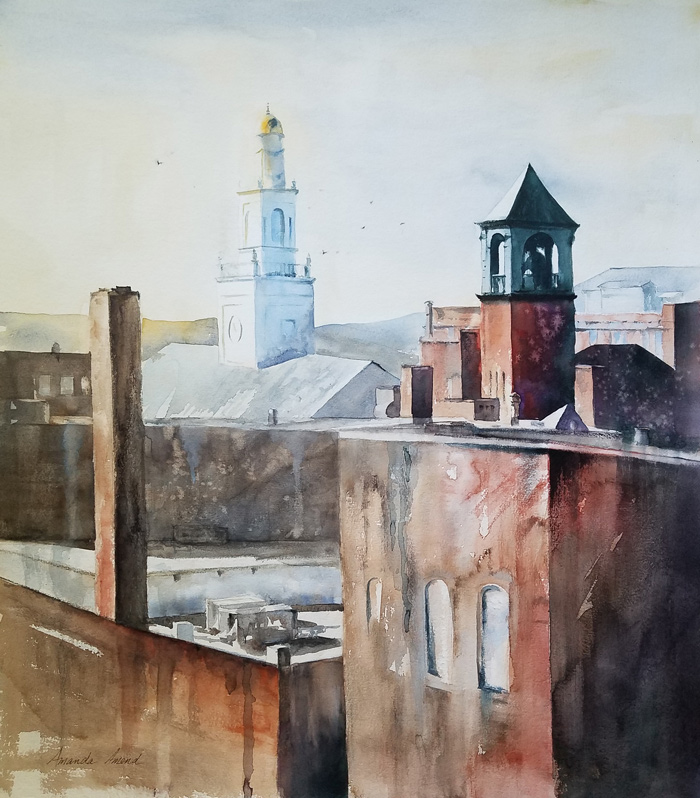 A custom picture framing workshop that features monthly exhibitions. September 2018: "World's Best Art!". For the third year in a row, see the World's Best Art in the design, hallway and workshop galleries! This exhibition features many pieces from the Dostie Bros. private collection as well as a variety of works created by South End Arts District artists. Much art will be for sale. 308 Pine St #101, (802) 660-9005. Open M-F, 10-6; Sat, 10-3. (image: untitled landscape by Golden True (oil on panel))
Venerable coffeehouse shows South End Arts District artists curated by SEABA. September-November 2018: Illustrator Jess Polanshek was named 2017 Magic Hat Labels for Libations Winner, this show includes a collection of prints from her "The Quilted Forest", "Home" and "Collector" series that were originally completed in pen and watercolor on paper. 412 Pine St, (802) 658-7016, M-F 6:30-6, Sat-Sun, 8-5.(image: Moths from the "Collector" series by Jess Polanshek)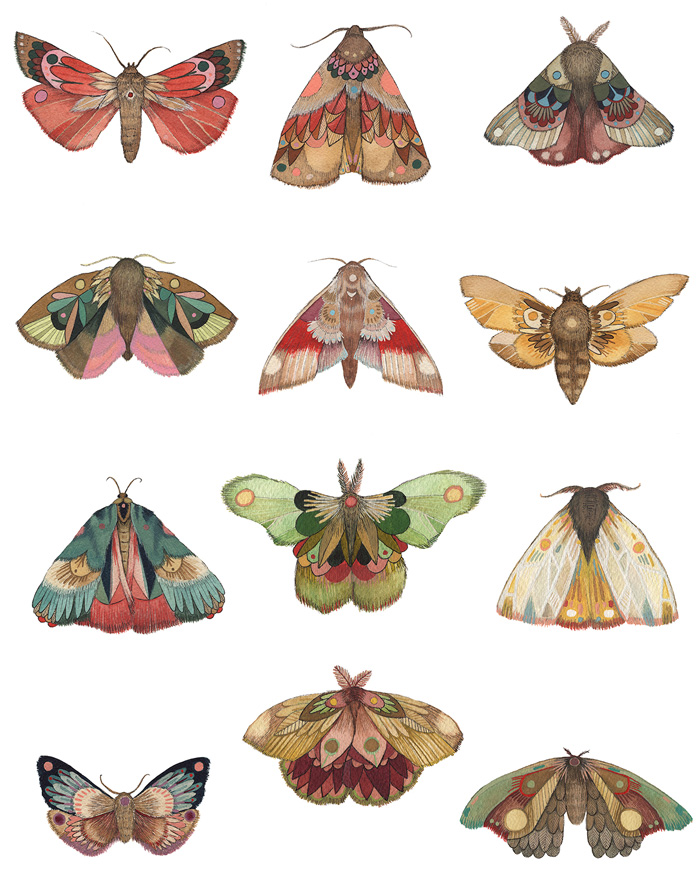 Abstract contemporary by artists Bruce R. MacDonald, Gordon Auchincloss, Joël Urruty and George Peterson. September 2018: "Summer's End" features the vibrant paintings of artist Stoney, the bold wood forms by Clark Derbes alongside new dimensional light sculpture by Bruce R. MacDonald. 27 Sears Ln (next to Greer's), (800) 639-1868, Open Weds-Fri, 9-5, First Friday until 10, Art Hop Saturday, 10-4 & by appt. (image: Hemidemisemi by Bruce R. MacDonald (40″x70″; stainless steel light sculpture; 2018))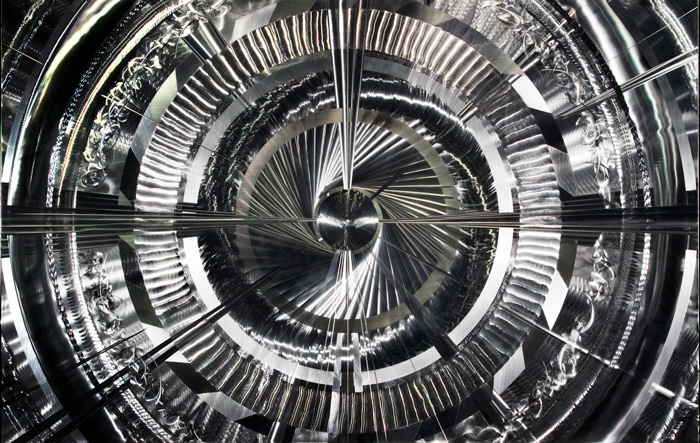 Meet Emily Anderson and learn how she uses the drawing of fairies to inspire imagination and encourage positivity so life's challenges can be met with light-hearted energy. During First Friday Art, Anderson will be doing Fairy Card Readings and giving demonstrations of her new "Fairy of the Day" app. Photographs by photographer Melanie Webb celebrating the Bridging Program students and a wedding portrait of Emily and Brian by Tara Goreau will also be on view. 4a Howard St (3rd Fl, next to Sharon Webster), (802) 238-4540, Open for First Friday Art & by appointment.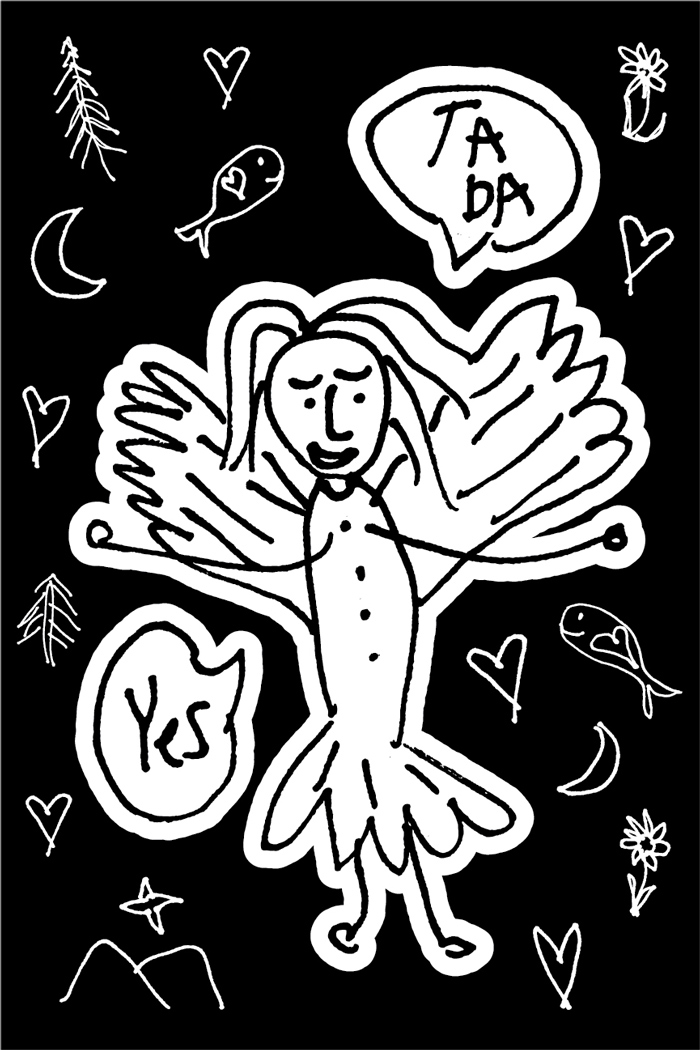 Serving hot bagels and more in a relaxed atmosphere with rotating art shows. August-September 2018: Elizabeth Ricketson is an abstract and portrait artist. Marrying her abstract style with representational themes while describing the usual with unusual color choices has become the definition of her work. 660 Pine St, (802) 540-0474, Open M-Sat, 7-4, Sun, 8-3.
The BOX Art Studio, formerly a maple syrup boiling room, is a unique industrial space housing the studios of Alex Dostie, Isaac Wasuck, Rough Francis, Brooke Monte, Sam Handler, and Lynne Reed. 7 Marble Ave (next to Arts Riot Truck Stop), (802) 578-0022, Open by appointment.(image below by Lynne Reid)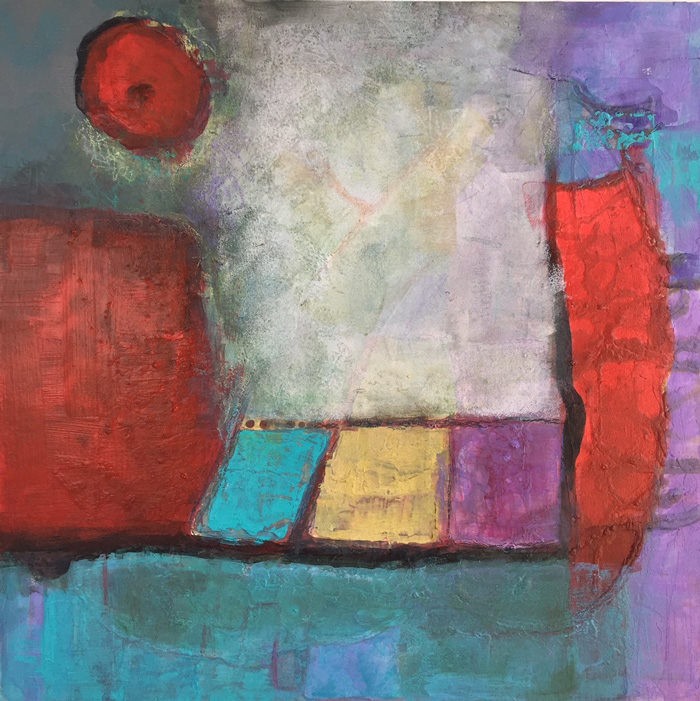 A working studio of creative artists from painters to potters who produce, display, and sell their artwork in the studio. During First Friday Art, visit and hang out in the funky, cozy studio for friendly conversation, artwork, and light snacks. 4a Howard St, A-8, (802) 355-3502. Open for First Friday and by appt.
Artwork is displayed on all four floors during the academic year: from student art to a variety of community exhibits. Through 9/17/18: "Displaced: A Look at Class Consciousness in New Orleans" is photographs by Max McCurdy (image below) documenting the signs and symptoms of gentrification and displacement taken during a recent 3-day visit. Through 12/1/18: Kristin Richland, owner of Artists' Mediums Art Shop in Cambridge, presents new work. 9/10-9/27/18: The 8th Annual UVM Staff Exhibit is presented in honor of Staff Appreciation Week by the UVM Staff Council and the Davis Center art program. UVM Campus, Hours vary by semesters.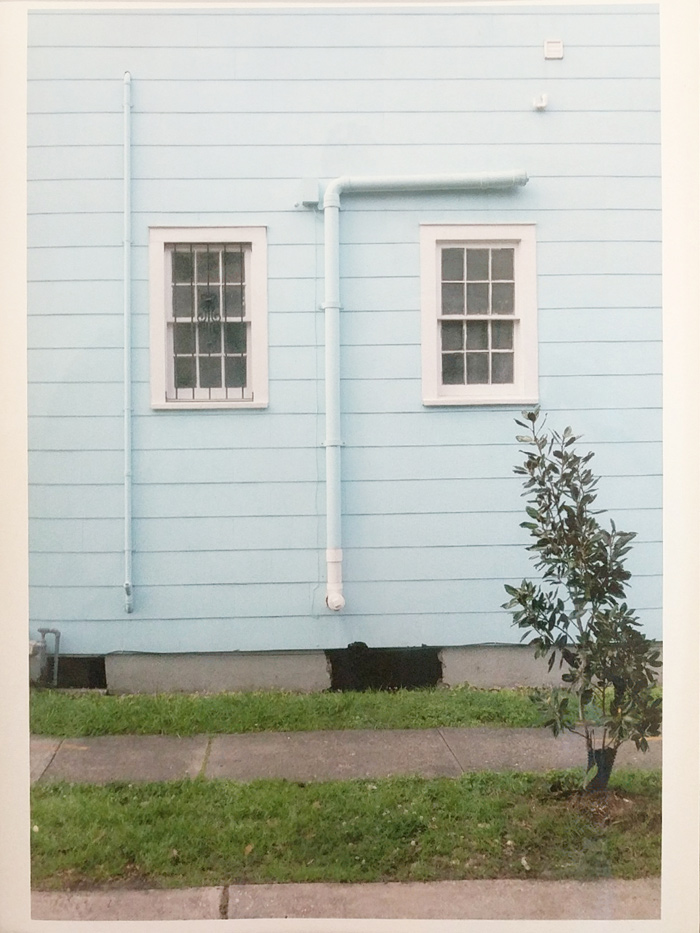 Through a partnership with Burlington City Arts, the UVM Medical Center has been showing work by Vermont artists on the main medical center campus for several years. Through September 2018: See art by Mike Sipe, Jo Thomas, Lorraine Manley, Kari Meyer, Annie Tiberio Cameron, and Mark Collier. 111 Colchester Ave, (802) 865-7296. (image below: A Walk Through Birches by Jo Thomas (30″x40; ripped paper collage))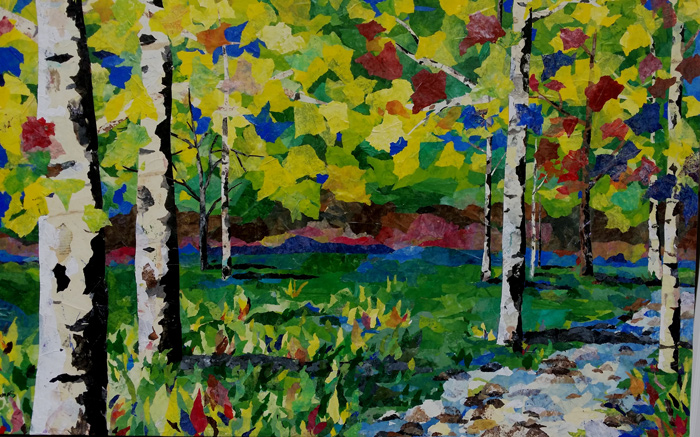 Located on the UVM campus, the Fleming Museum of Art houses the state's most comprehensive collection of art and anthropology. 9/21-12/14/2018: "The Impossible Ideal: Victorian Fashion and Femininity" explores, through the Museum's permanent collection, how fashion embodied the many contradictions of Victorian women's lives, and, eventually, the growing call for more diverse definitions of women's roles and identities. Also on view: "House to Home" (image below) showcases cultural, ethnographic, and decorative art objects from around the globe to examine the meaning and context of what defines a space as a home. Opening: Friday, September 21, 5:30-7. 61 Colchester Ave, (802) 656-2090. Open during the school year, Tues-Sun.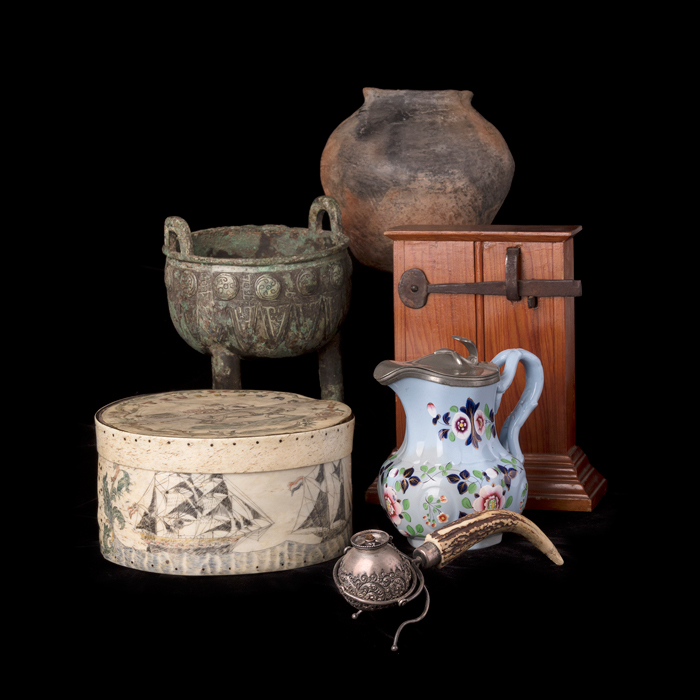 The hallway galleries are designed to act as an academic forum for the display of new ideas. First and Second Floors, "mistakes, rejects, and the forlorn". This light-hearted exhibition brings together amazing, anonymous CCV student drawings, paintings, prints and photos from the past five years. 1 Abenaki Way, Winooski, (802) 654-0505, M-Th, 7:45AM-9PM; F, 7:45AM-5PM; Sat, 8:30AM-4:30PM
A campus full of interesting buildings and beautiful gardens, the museum presents an eclectic collection of art and objects. "American folk art. French Impressionist paintings. Historic New England architecture. Duck decoys, circus animals, and dolls. These were just some of the some of the interests of Shelburne Museum founder Electra Havemeyer Webb." Expertly curated, temporary exhibitions at the The Pizzagalli Center for Art and Education make the museum a year-round destination. 9/15/18-1/13/19: "New England Now" challenges the notion of the Northeast's long-accepted stereotype as stagnant and quaint, and instead plumbs its evolving identities and complex beauty. Through 10/21/18: "Playing Cowboy" investigates the formative ways in which turn-of-the-century performing and visual arts mythologized cowboys and villainized Indians. Through 10/31/18: Crystal Cawley merges materials and ideas ranging from collections of old greeting cards and puzzle pieces to discarded library books and worn household textiles, drawing our attention to objects that might otherwise be overlooked; "Bench Space" is a site-specific exhibition celebrating contemporary furniture designers' and artists' inspirations and interpretations of the world around them. 6000 Shelburne Rd, Shelburne, (802) 985-3346. Open daily, 10-5.(image: Two Cowboys in the Saddle by Carl Rungius (24″x31.9375″; oil on canvas; 1895-1950. Bequest of William N. Beach. 1960-376.43. Photography by Andy Duback)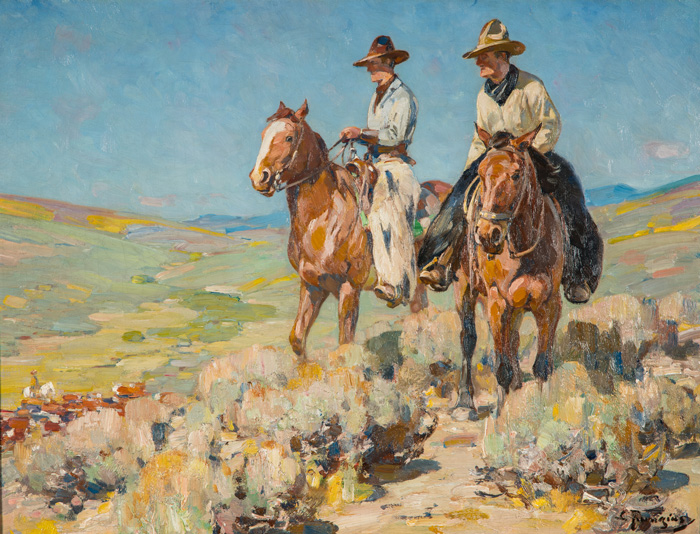 The Studio Store has handmade work in pottery, wood, jewelry, and stained glass and the school hosts events and classes for the public on an ongoing basis. 64 Harbor Rd, Shelburne, (802) 985-3648, Open M-F, 10-5.
Art and wine among the vines, with quarterly shows of Vermont art in the tasting room. Through 10/1/18: New work by Charlotte artist James Vogler, whose paintings reflect a mixture of moments gleaned from past or present experiences, expressed in a blending of abstraction and figuration. In combination, these elements infuse his work with a curious ambiguity. 6308 Shelburne Rd, Shelburne, (802) 985-8222, Open daily 11-6.
Beloved local beer factory has a curated space showing art on the tour ramp. 8/1-9/30/18: Vermont illustrator Jess Polanshek focuses on high detail and loose realism, with a strong focus on the beauty and intricacies of the natural world. She works in pen and watercolor on paper and has an unwavering obsession with northern forests and the creatures that inhabit them. 5 Bartlett Bay Rd, South Burlington, (802) 658-2739 x2014, Open M-Sat, 11-7; Sun, 12-5.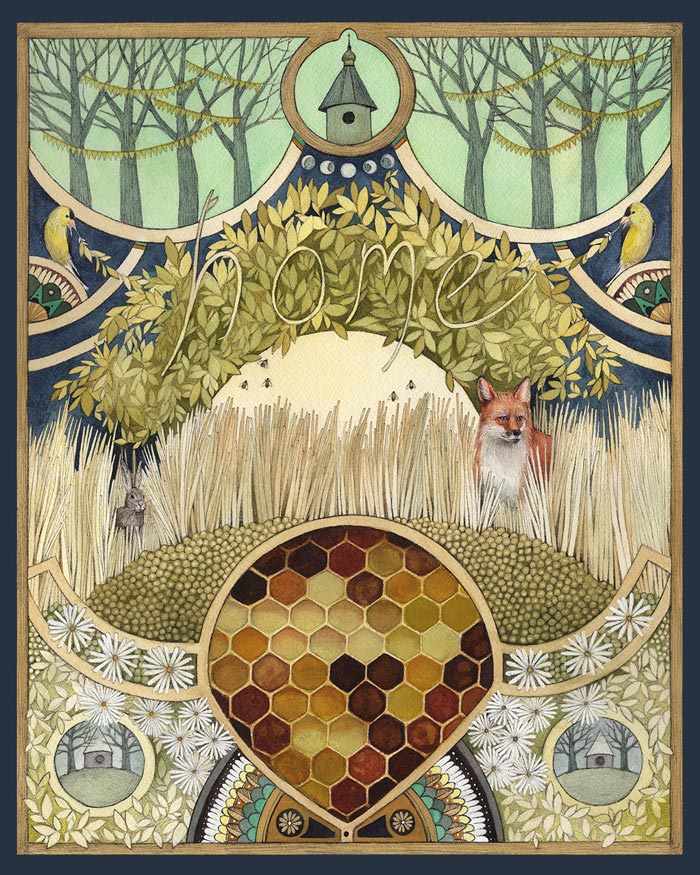 Presenting a stylistically diverse collection of original work by artists of regional and national stature. Through 10/2/18: "New Paintings: Unknown Time & Place" by Gail Salzman features her abstract oil paintings, known for translucent color and layered surface. The gallery also has a unique collection of fine crafts and gift items. 86 Falls Rd, Shelburne, (802) 985-3848, Open Tues-Fri, 9:30-5:30, Sat, 10-5. (image: Unknown 4 by Gail Salzman (8″x8″; oil on panel))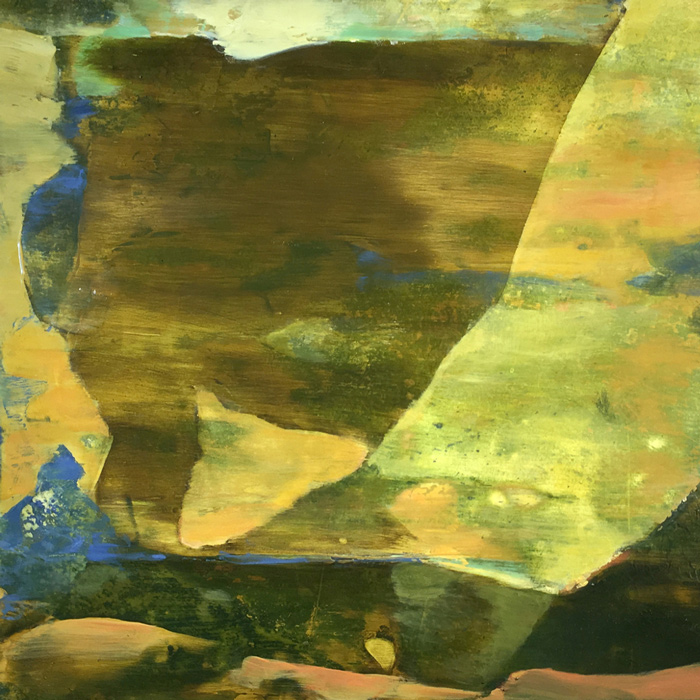 ---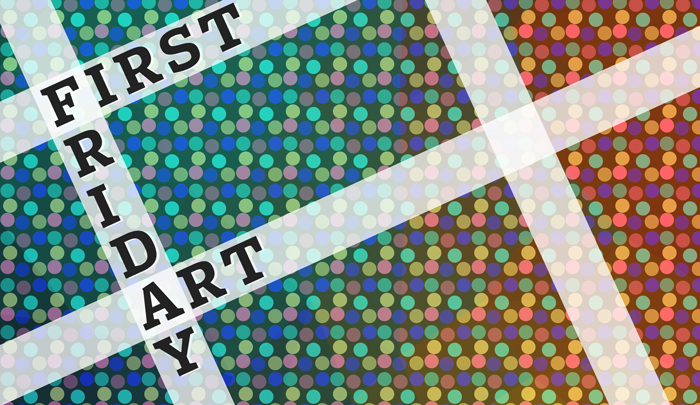 The next First Friday Art is
October 5th, 5-8PM.
First Friday Art is a monthly, community-wide event where dozens of art venues across the city host openings, exhibitions, and happenings.
The event is free and open to anyone.
Most venues are open from 5PM to 8PM, but some are open earlier or later.
Art Map Burlington is the official guide to First Friday Art. Pick up a copy at any participating venue. Enjoy!