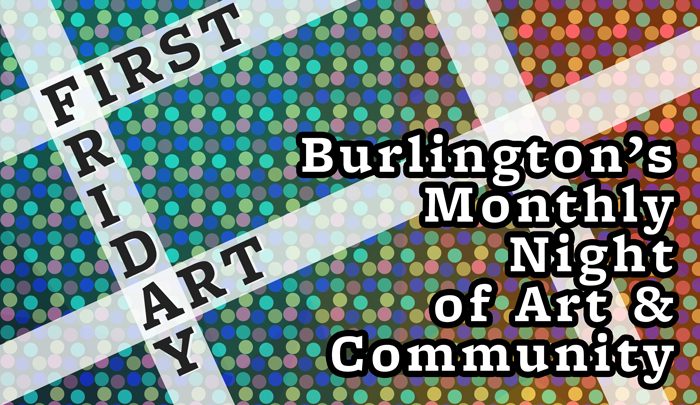 The next First Friday Art is
August 5th, 5-8PM.
First Friday Art is a monthly, community-wide event where dozens of art venues across the city host openings, exhibitions, and happenings.
The event is free and open to anyone.
Most venues are open from 5PM to 8PM, but some are open earlier or later.
Art Map Burlington is the official guide to First Friday Art. Pick up a copy at any participating venue. Enjoy!
---
Live music venue, restaurant, and bar with monthly exhibits by emerging Burlington artists. Through 8/31/2016: Self-taught Middlesex artist DJ Barry uses stencils and spray paint, with an infusion of pop culture, to create his work. 188 Main St, (802) 658-4771, Open nightly.
Laptop refurbishing shop shows work by area artists in monthly shows. Through 8/31/2016: "nigh(t_ale)*" is experiments with a personal language for sigil making by Nyx Black of Anonymous Muse. 196 College St, (802) 578-9687. Open M-Sat, 9:30-8; Sun, 10:30-6. (image: Sigil Two by Nyx Black)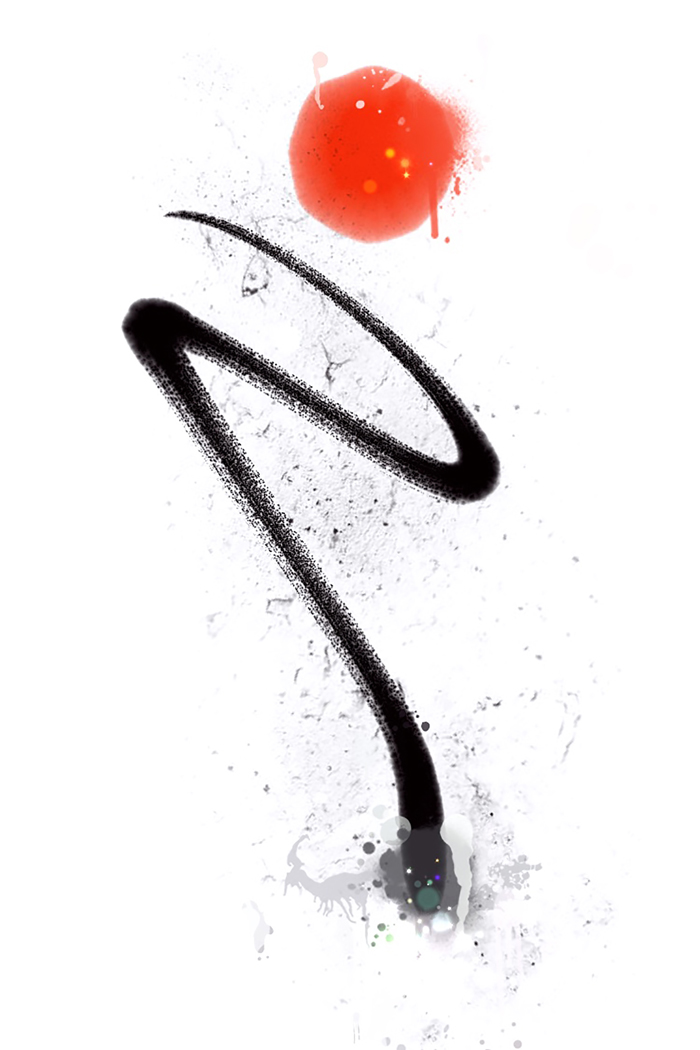 Open daily 7AM-11PM. Member-artists are showcased in the café seating area. August 2016: Emily Treasure Greene has been painting for almost a decade and is constantly working to expand her horizons. She loves to paint landscapes, abstracts, and experiments with color. 82 S Winooski Ave, (802) 861-9700.
Salon featuring a dedicated gallery space with rotating exhibits focused on eclectic and bold work. 8/5/2016 to 9/30/2016: "Women at the Men's Room" features 5 women artists working in painting and sculpture, celebrating the beauty of diversity. Opening during First Friday Art, 6-8. 106 Main St, (802) 864-2088. Open Tues-Thurs, 10-7; Fri-Sat, 10-5.
A 5-floor visual arts center promoting excellence, experimentation, and education in all forms of contemporary art. Through 10/1/2016: Taking advantage of the diverse range of artistic practices that visits Vermont each summer through BCA's Seven Below artist residency program, "Fixed/Fluxed" transforms the BCA Center into a space of constant flux. Three former artists-in-residence were invited back to install, reinstall, add to, reduce or remove their work from the space through the course of the exhibition. First Friday Event at 339 Pine Street Studios, 8-10PM: "Water Bar" (single source Vermont water tasting) by artists Sean Clute & Al Larsen with music performance by Otto Muller. 135 Church St, (802) 865-7166, Open Tues-Thurs & Sun, 11-5; Fri-Sat, 11-8.
A community spot since 2007, New Moon Café presents work by Burlington area artists in the dining area. Through 9/30/2016: Carly Kemp's paintings, "Peace of My Heart", reflect her overflowing love and gratitude for Burlington. Freedom In Creation's photography show, "The Story of Freedom", celebrates children subjected to the horrors of war in the Gulu District of Northern Uganda and their ability to participate in the process of restoring their communities. 150 Cherry St, (802) 383-1505 or (802) 383-1496. M-F, 7:30AM-8:30PM; Sun 8AM-8:30PM. (image: Burlington print by Carly Kemp)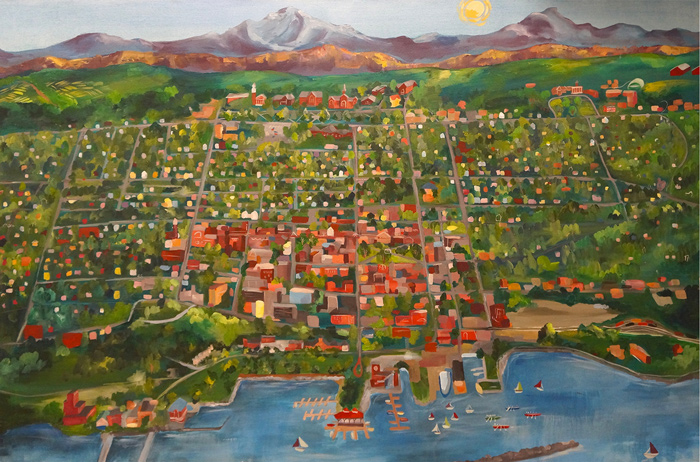 Showing the works of over 200 juried, Vermont artisans in month-long exhibits. August 2016: Working with Generator, Frog Hollow's "Mark of the Machine" is work by established Generator "makers" that highlight the diversity of work created there. Opening reception during First Friday Art. 85 Church St, (802) 863-5458. Hours vary by season.
Presenting monthly shows in the Church Street window by artist Nyx Black, who creates as Anonymous Muse. 104 Church St, (802) 860-6630. Open M-Sat, 8-5; Sun, 9-4.
The walls of this Church Street café are lined with art by Vermont artists whose work deals with Vermont themes. August-September 2016: Illustrations by Austin Scrivens, artist, illustrator, cartoon connoisseur, video game nerd and tumblogger. Opening reception during First Friday Art, 6:30. 42 Church St, (802) 865-6227, Open M-Thurs, 7-9; F, 7-10; Sat, 8-10; Sun, 9-9.
Connecting Burlington's emerging artists with emerging patrons of the arts to create just and sustainable communities. 8/5/2016 to 10/25/2016: Interdisciplinary Burlington artist Stella Mars presents a new multi-media inventory on fashion, flowers, capital flows and feminist iconography called "In Her Shoes". She creates alternative female narratives & images that circulate the public sphere. Opening reception during First Friday Art. 132 Church St, (802) 355-5440, Open Tues-Fri, 11-5. (image: Jane Heel by Stella Mars)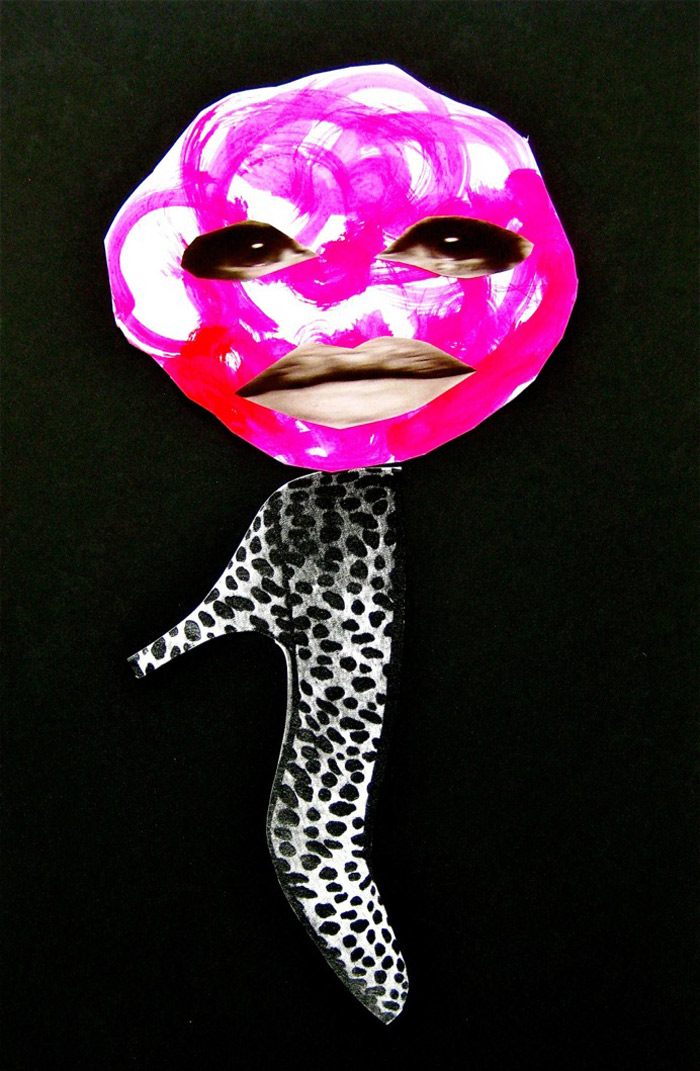 Community organizations share their mission through artwork on the main floor. August 2016: A professional artist for over 20 years, Carol Boucher creates monotypes and paintings (oil pastel, oil, and acrylic). Love of color and landscape fuel her creative process. Curated by BCA. 149 Church St, (802) 865-7166, M-F, 8:30-4:30.
Part of Maglianero Café, space has high ceilings and large windows and hosts a Youth Poetry Slam during each First Friday Art. 7/29/2016 to 9/1/2016: Australian-American painter Charlie Hudson uses layers of abstract shapes and colors to create the scenes and imagery from his head, inspired by his surroundings while not really referring to any place or person in particular. Opening reception: Friday, July 29, 6-9. 47 Maple St, (802) 861-3155. M-F, 7-7; Sat-Sun, 8-6.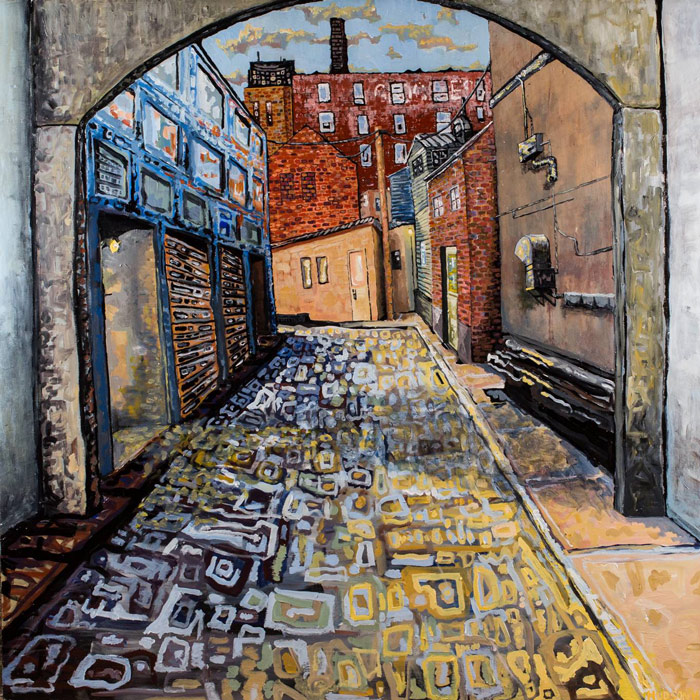 Showcasing traditional and non-traditional visual art in bimonthly shows in a space overlooking Lake Champlain. Through 8/31/2016: Burlington artist Robert Gold uses "extreme printing" (and is the first to use color with it) to create his embellished digital photographs. Curated by SEABA. 60 Lake St, Suite 2-E, (802) 859-9222. Open M-F, 8-3, Sat-Sun by appt.
Rose Street's mission is to provide perpetually affordable living and studio space for local artists. August 2016: "The Artist's Family", a group exhibit in various media, explores the wild and varied subject of family. Artist reception during First Friday Art with the premiere of "The Storyteller" by curator Joy Madden. 78 Rose St, (802) 540-0376. Open for First Friday Art and by appt.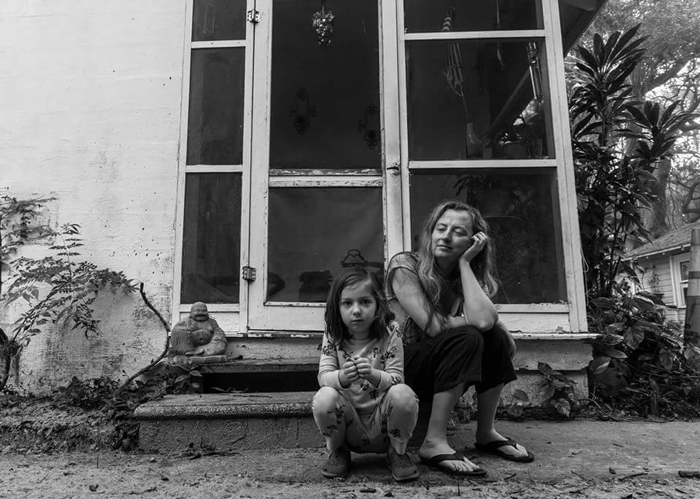 Home to 14 artist studios with a shared exhibition space. August 2016: What happens below the surface in the realm of the unconscious? Jennie Kristel's work involves "finding the essence" of an inner story unfolding. Monoprint encourages spontaneity. 266 S Champlain St (enter from parking lot at 277 Pine St). Open for First Friday Art and by appt.
Curated by SEABA, showing large-scale 2-D work and installation sculpture with multi-media work presented at their quarterly openings. Through August 2016: "CONFLUENCY: 60 Paintings" by Art Team BillyBob (William Coil and Robert Green). BillyBob has made buildings, gardens, stonework, produced music, designed CD and book covers, mosaic murals, and, in 2014, began a project of producing art as a team. Artist reception during First Friday Art. 208 Flynn Ave, #2-G, (802) 651-9692, Open M-F, 10-10, Sat, 10-5.
Home to 15 working artist studios and two main galleries. 8/5/2016 to 8/27/2016: Members of the Northern Vermont Artist Association, founded in Burlington in 1931, present their work at S.P.A.C.E. Meet the artists during First Friday Art, 5-9. 266 Pine St (Soda Plant), (802) 578-2512, Open Weds-Sat, Noon-5. (image: Hot Day by Robert Waldo Brunelle, Jr., NVAA Vice President)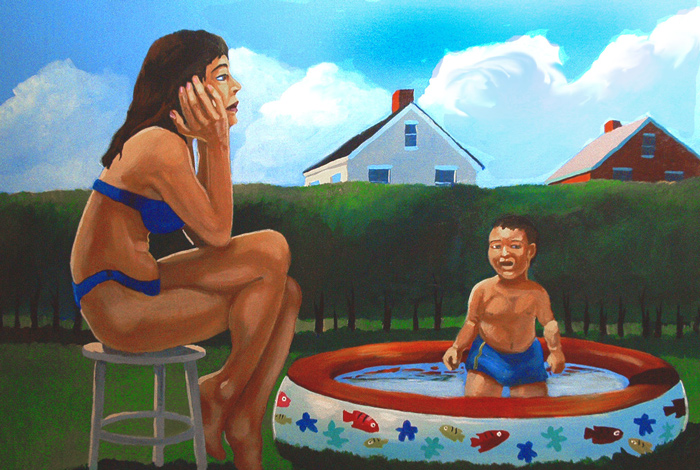 Sample Switchback brews or grab a pint while enjoying local art in the viewing hallway that also overlooks the bottling line.Through 8/31/2016: Pam Steeg's photographs were taken at the 2010 and 2014 Burning Man Festivals, held in Nevada's Black Rock Desert every year around Labor Day. 160 Flynn Avenue, (802) 651-4114. Sun-Thurs, 11-7; Fri-Sat, 11-8.
This eclectic second-hand shop is home to a revolving collection of art. 377 Pine St, (802) 540-0107, M, W-Th, 10-5; Fri-Sat, 10-9; Sun, 11-3.
Aaron Stein's license plate artwork: map sculptures, shadow boxes, photo frames, wine racks, cuffs, house trailers, lamps and ornaments all created out of recycled license plates from all 50 states. 266 Pine St (Soda Plant), (802) 355-4091. Open during First Friday Art and by appointment.
The E-1 Collective is a living, working, vibrant art studio & workshop whose artists work in painting, sketching, jewelry making, and stained glass. Visitors are welcome to our eclectic diversified workshop. 416 Pine St (behind Speeder & Earl's).
A custom picture framing workshop that features monthly exhibitions. Through 8/25/2016: Stephen Zeigfinger exhibits liquid acrylic abstract paintings from his time living in Spain. Artist reception during First Friday Art. 308 Pine St #101, (802) 660-9005. Open for First Friday Art and Mon-Sat, 10-5.
Abstract contemporary by artists Bruce R. MacDonald, Gordon Auchincloss, Joël Urruty and George Peterson. Large, precise and multi-dimensional. August 2016: Scintilla: a spark, flash, particle, a whisper. See the small, but mighty, new light sculptures by Bruce R. MacDonald. At HAVOC the smallest sing the loudest in August. 27 Sears Lane (next to Greer's), (800) 639-1868, Open for First Friday, 5-8, Thurs-Fri, 9-5 & by appt. (image: strange up down charm by Bruce R. MacDonald)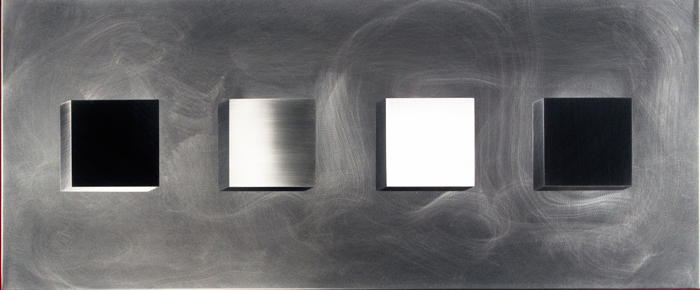 Beloved local beer factory has a curated space showing art on the tour ramp. 8/3/2016 to 9/30/2016:Mimi Magyar, aka "The Doodle Chick", has expanded her pen-and-ink work to include 3 dimensional objects. These doodles are Mimi's attempt to create order in the world, whether they are art is up to you. Opening reception during First Friday Art. 5 Bartlett Bay Rd, S Burlington, (802) 658-2739 x2014, Open M-Thurs, 10-6, Fri-Sat, 10-7, Sun, 12-5.
Listing an Exhibition
Are you a gallery, art studio, individual artist, or a business that hosts exhibitions of artwork? Then membership to Art Map Burlington is for you. You can sign-up for a single issue or a full year. For more information, call (802) 264-4839 or EMAIL.
---