Art Map Burlington promotes contemporary art in the Greater Burlington area by informing the community about exhibitions, events, and the work of area artists. Ask for a copy of the print edition at any of these venues.
---
Where to See Art-June 2019
Click the venue name to read more.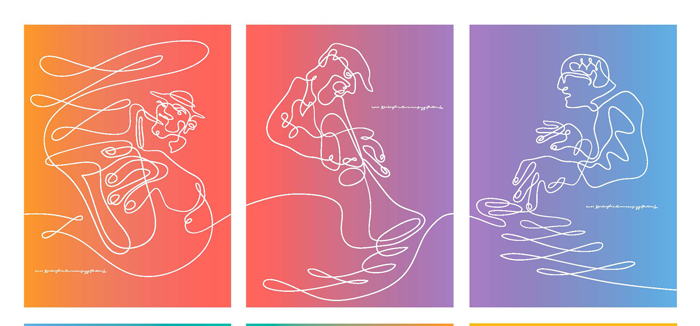 Exhibitions of work by regional artists related to Flynn programming during the same time period.  "A Sample of Jazz Records" from the Discover Jazz archives includes prints commissioned by artist Felix Sockwell in 2008, archival photos from Worthington Images and Luke Awtry, and posters and materials from past festivals, including over ten years of commemorative Festival Program Guides. 153 Main Street, (802) 652-4505. Sat, 11-4 and by appt.
Laptop refurbishing shop shows work by area artists in monthly shows. Through 6/30/19: "A Retrospective: Miranda's Realm". Self-taught Miranda has been painting and showing since 1992. Her mission is to "create a boundless heart" through her art and promote an overall sense of joy. Meet the artist during First Friday Art. 196 College St, (802) 578-9687. Open Tues, W & F, 10-6; Thurs, Noon-6; Sat, 11-5. (image: untitled by Miranda Syp (24″x24″; acrylic on canvas; 2012). Courtesy of the artist. This work appears on the cover of May's Art Map Burlington.)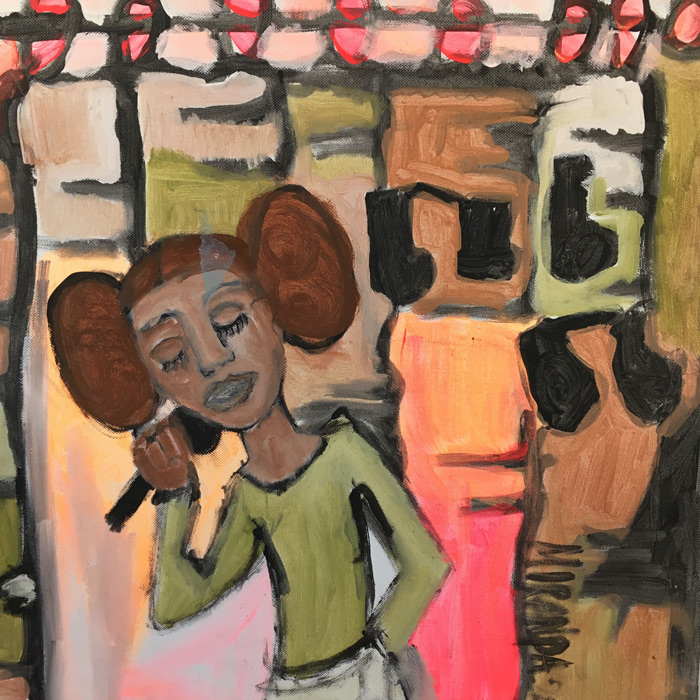 Burlington's only public library since 1875 shows art by area artists and nonprofit groups throughout the year. Through 6/28/19 in the Pickering Room: "The Sun Returns to the Northern Sky", by Burlington photographer James Benoit, is new color photographs, many showing for the first time, featuring the light of early spring and midsummer. Through 6/30/19 in the Fletcher Room: Vermont Comic Creators Show.  235 College St, (802) 865-7211, Open daily at 10, Noon on Sunday.
Onion River Coop. Open daily 7AM-11PM. Member-artists are showcased on the Member Art Wall, located behind register 10. 82 S Winooski Ave, (802) 861-9700.
Featuring contemporary art exhibitions that connect art and community, nurture creativity, imagination, and ignite a passion for learning through the arts. Through 6/9/19: Rebecca Wiseman's Skin Ego features a sculptural re-creation of a beached whale; Barbara Zucker's Adorned: Hairstyles of an Ancient Dynasty features paintings and an installation of acrylic abstractions inspired by the stylized hairstyles of Tang dynasty tomb figures ; "Imperfect Societies" probes themes of history, trauma, and nationhood set within the tropes of science fiction; "Robopoems" is an interdisciplinary project created by Alm@ Pérez (Tina Escaja) that combines poetry, photography, sound, and technology that explores the intersection of robotics and humanity. 6/21-10/6/19: In "Unique Multiples", Sarah Amos upends traditional notions of printmaking to create monumentally scaled works that evoke a confluence of cultures; Job Site is a collaborative, multimedia installation by Alisa Dworsky and Bill Ferehawk that explores the drawing and choreography inherent in architecture. Opening receptions for both shows: Friday, 6/21/19, 5-7PM. 135 Church St, (802) 865-7166, Open Tues-Thurs & Sun, Noon-5; Fri-Sat, Noon-8.
A community spot since 2007, New Moon Café presents work by Burlington-area artists in the dining area. Through June 2019: A group exhibit by the Burlington Hub of the Vermont Watercolor Society. The artists present work in different styles, all with unique approaches to a challenging medium. All work is for sale. 150 Cherry St, (802) 383-1505 or (802) 383-1496. M-F, 7:30AM-8:30PM; Sun, 8AM-8:30PM. (image below: Number 2 Church Street by Julie Urquhart)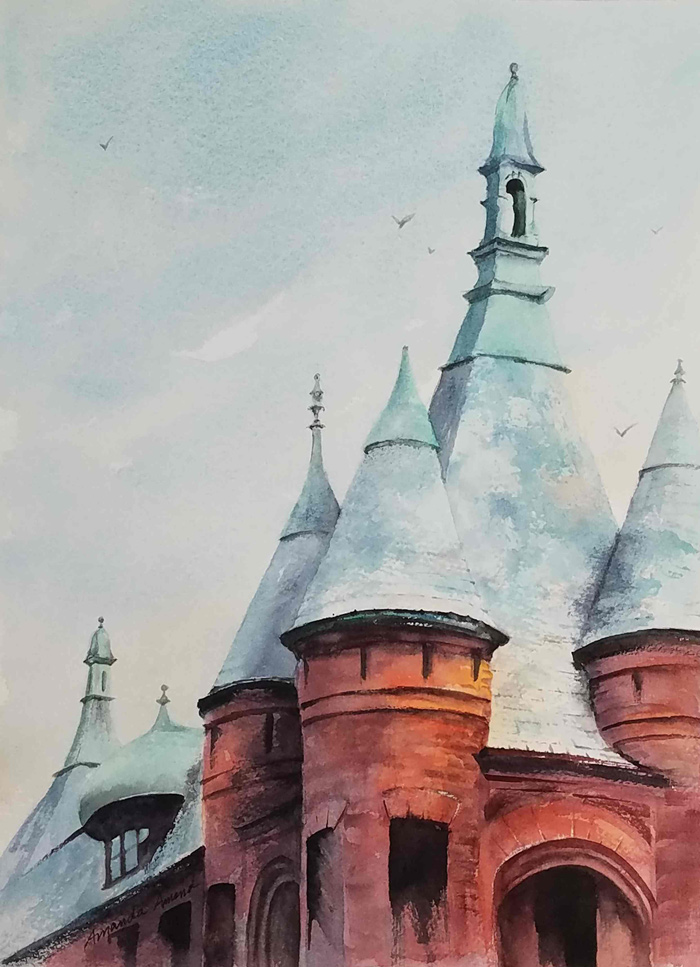 Connecting Burlington's emerging artists with emerging patrons of the arts to create just and sustainable communities. Due to water damage and a continuing leak, the gallery is closed through July. Katya Grokhovsky's solo show, scheduled for May-July, is being presented at Karma Bird House, 47 Maple Street. However, the residency studios and office are open by appointment. 132 Church St, (802) 355-5440. Open by appointment.
BCA curates the artwork on the main floor. June-August 2019: Erika Lawlor Schmidt's "To which every part and particle is equally related" is a recent series of monoprints that "is celebratory, yet elegiac, not exactly different from earlier work, except that I have created this primarily for children. Playful, imaginary in color and scale, the images are meant to prompt inquiry and invite children to identify the mammals, birds, reptiles and insects and to then perhaps to write about them, a poem or story that comes from what they know, what they are curious about or what they imagine." 149 Church St, (802) 865-7166, M-F, 8:30-4:30 and for First Friday Art. (image: "Endangered Species" monotyp series by Erika Lawlor Schmidt. Courtesy of the artist)

Main Street Landing and Little Umbrella : Art Curation are dedicated to increasing awareness and appreciation of Vermont visual artists, showcasing traditional and nontraditional visual art in rotating (monthly or bimonthly) shows and community-based events. June 2019: "Recent Paintings by Robert Waldo Brunelle, Jr." is a hodgepodge collection of the artist's works. Mr. Brunelle is a 7th generation Vermonter, born in Rutland. His oeuvre includes painting, sculpture and illustration, as well as art education to students of all ages.Curated by Sarah of Little Umbrella : Art Curation. 1 Main St, (802) 859-9222, M-F, 8-3; Sat-Sun, by appt. (image: The Rock the Farmer Couldn't Lift by Robert Waldo Brunelle, Jr. (acrylic on canvas; 2018). Courtesy of the artist.)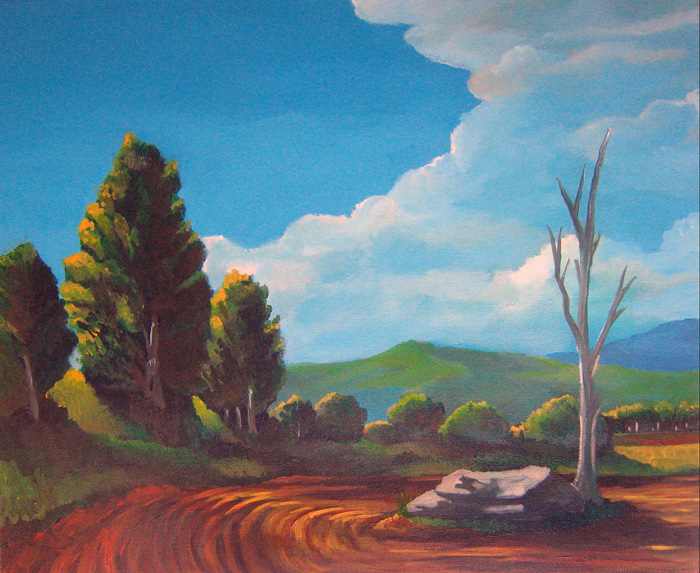 Serving up imaginative beers for enlightened palates and regional art throughout the eclectic lakefront brewery. Through 6/30/19: The work presented by Foam artist-in-residence Belgian-Canadian Emmanuelle Charneau is some of her first explorations of combining traditional painting techniques and serigraphy. 112 Lake St, (802) 399-2511, M-Thurs, Noon-10; Fri-Sat, 11-Midnight; Sun, 11-7.
Showcasing contemporary and non-traditional art from Vermont artists and hosting a permanent video exhibition booth presenting video installations by international artists in bi-monthly exhibits. June-July 2019: The theory behind Jerry Ralya's solo exhibition, "1", is that we are all one of the same. We may celebrate differences, but our core humanity is the same. The exhibit includes pastel works from Ralya's "Social Justice" and "Vessels" series. Curated by Sarah of Little Umbrella : Art Curation. CornerStone Building, 3 Main St, (802) 859-9222. Open M-F, 8-8, Sat-Sun, 10-8. Open M-F, 8-8, Sat-Sun, 10-8.
Supporting innovative and experimental contemporary art in all media through exhibitions, events, projects, and residencies, the gallery is a catalyst for interdisciplinary collaboration and learning at the intersection of art and technology. 375 Maple Street (CCM Building, 2nd Floor), (802) 860-2700, M-F, 10-4.
Open daily 7AM-9PM. Member-artists are showcased on the Member Art Wall in the cafe. Through 6/30/19: Al Larsen's "Two Food Banners" are cyanotypes that combine words and images. In the context of increased awareness of the effects of global warming and its impact on our survival, placing the terms "Food for Freedom" and "Food Not Bombs" together asks us to move beyond our identities as consumers and consider our roles as citizens and as members of communities in relation to the production and distribution of food. 207 Flynn Ave, (802) 540-6400. (image: Paper Plate by Al Larsen (2017) Courtesy of the artist)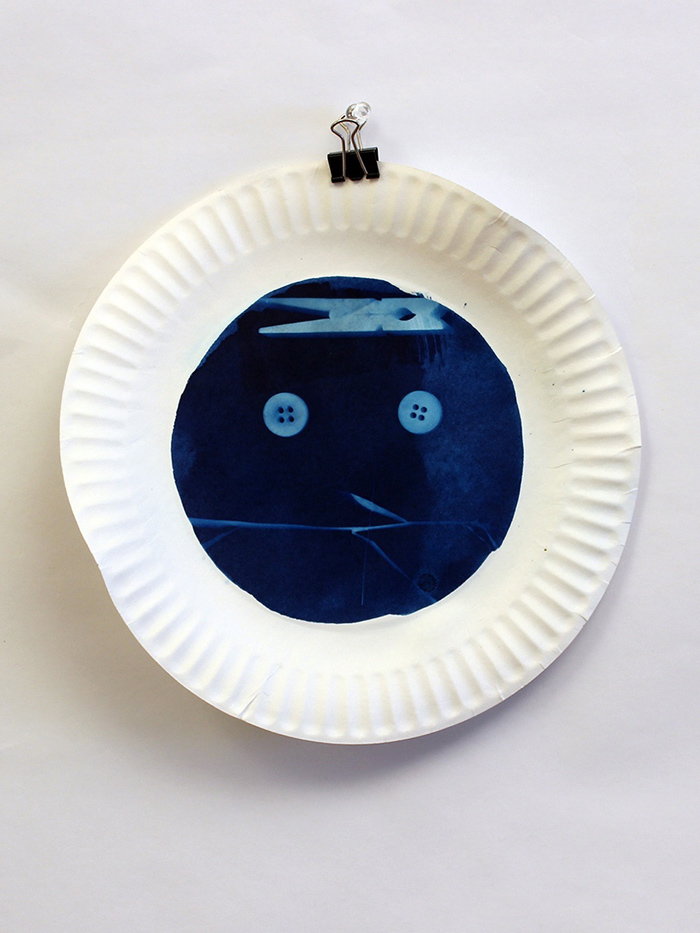 Curated by SEABA, showcasing traditional and non-traditional visual and multimedia artwork by Vermont artists. Through 6/29/19: "From Natural to Abstraction" expresses and showcases forms of beauty from the eyes of a variety of artists. 208 Flynn Ave, #2-G, (802) 651-9692, Open M-F, 10-10, Sat, 10-5. (image below by Dana Smith)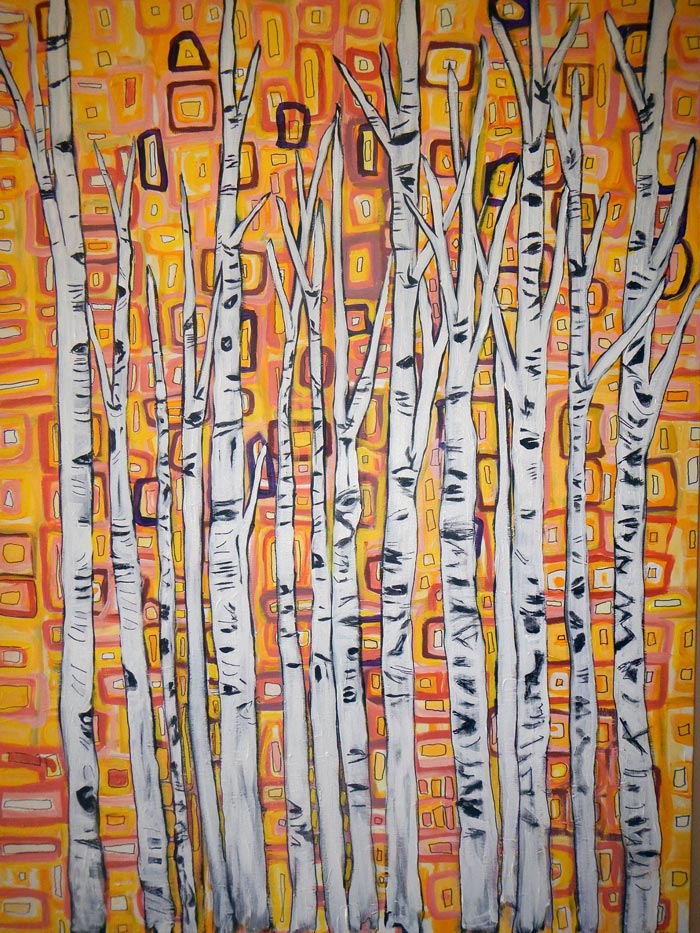 Traditional and non-traditional exhibitions and community-based events. Curated by ArtShape Mammoth. Through 6/26/19 in the FLYNNDOG Gallery: Al Salzman, who says, "My work has always been figurative and mostly political. I walk the thin line between the message and the aesthetic, as Picasso did in his Guernica…" Through 6/14/19 in the FLYNNDOG Project Space: Cambridge artist Jocelyn Woods' "Vulva Epiphanies" features recent large scale work from "The Garden Elixirs" alongside fine art vulva portraits. Woods is passionate about revealing the most shamed body part in human history—the vulva—as a living art masterpiece with metaphysical symbology. Artist reception: Thursday, May 30, 5-8PM. 208 Flynn Ave, (802) 363-4746, M-F, 7-4, Sat, 9-Noon.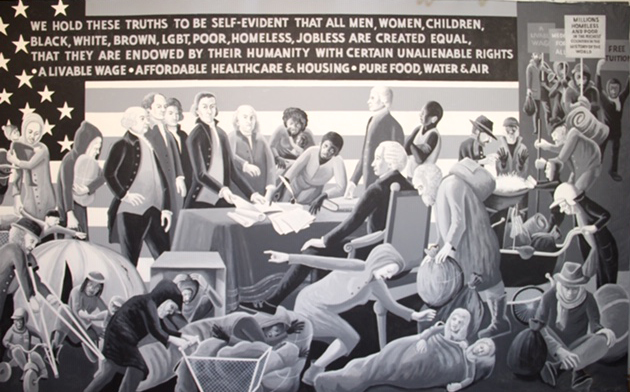 Art Gallery surrounded by 12 working artist studios. 6/7-6/29/19: "Bound to Happen" features artwork from members of the Book Arts Guild of Vermont. Using the book as a format or as material, artists use the interaction of concept, structure, materials, and content to create a kind of happening or experience for the reader. The exhibit, the first at the gallery since April 2012, includes a wide range of techniques and subject matter ranging from repurposed books turned into sculptural shapes to miniature woven paper structures. Opening reception during First Friday Art, 5-9PM. 266 Pine St (Soda Plant), spacegalleryvt.com, Open Thurs-Sat, Noon-5. (image: untitled work by Book Arts Guild member Elissa Campbell)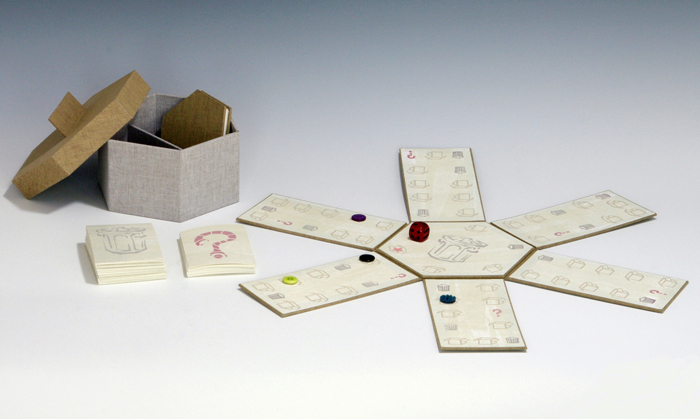 Art shop featuring about 30 artists from Vermont and beyond with a rotating artist on one wall. June 2019: Frances Cannon is a writer and artist who holds an MFA in creative writing and book arts from the Iowa Writers' Workshop, and a BFA in poetry and printmaking from the University of Vermont. The paintings, drawings, and books in this show are examples of Cannon's interdisciplinary approach to the arts: She is inclined towards a combination of visual art and creative writing. The paintings are watercolor, and the drawings are mainly in ink. 270 Pine St, (802) 338-7441, Open Tues-Sat, 10-6, until 8 during First Friday Art. (image: Garden Flora by Frances Cannon. Courtesy of the artist. This image appeared on the cover of the June issue of Art Map Burlington.)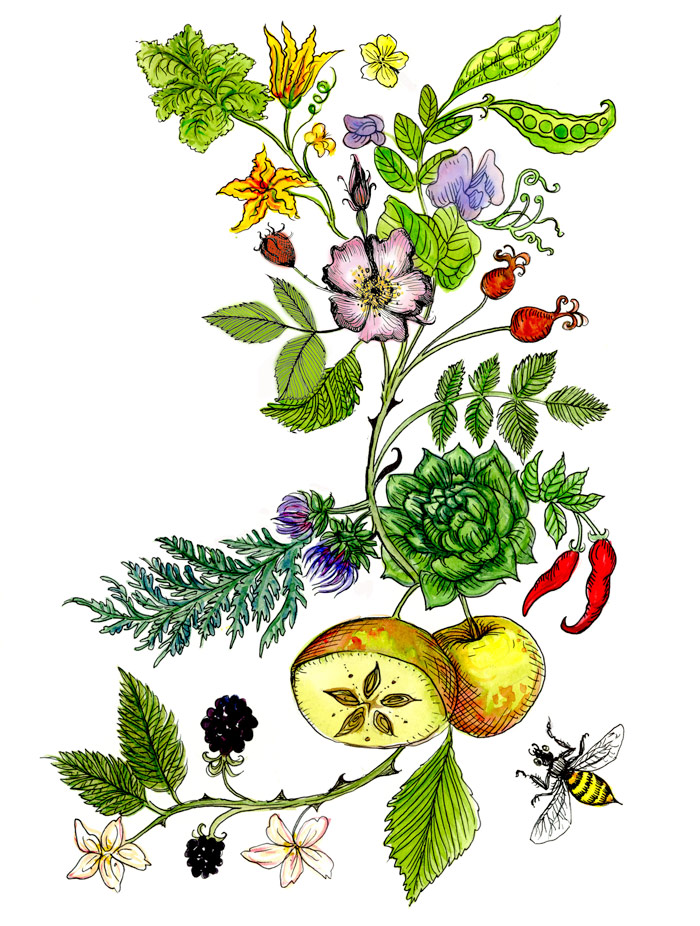 This eclectic second-hand shop is home to a revolving collection of art. 377 Pine St, (802) 540-0107, M, W-Th, 10-5; Fri-Sat, 10-9; Sun, 11-3.
This sprawling South End complex shows art in the first, second & third floor corridors. Ongoing. Artwork by Ashley Kapelewski, Dennis McCarthy, Donna Bister, Evan Greenwald, Forrest Brandt, Frank DeAngelis, Janet Bonneau, Janie McKenzie, Jordan Holstein, Kara Torres, Lynne Reed, Marilyn Barry, Mike Reilly, Robert Gold, Stephen Beattie, Tatiana Zelazo, Terry Mercy, and Travis Alford. Curated by SEABA. 128 Lakeside Ave, (802) 859-9222, Open M-F, 9-5.
Aaron Stein's license plate artwork: map sculptures, shadow boxes, photo frames, wine racks, cuffs, house trailers, lamps and ornaments all created out of recycled license plates from all 50 states. 266 Pine St (Soda Plant), (802) 355-4091. Open during First Friday Art and by appt.
A custom picture framing workshop that features monthly exhibitions. "World's Best Art!". For the third year in a row, see the World's Best Art in the design, hallway and workshop galleries! This exhibition features many pieces from the Dostie Bros. private collection as well as a variety of works created by South End Arts District artists. Much art will be for sale. 308 Pine St #101, (802) 660-9005. Open M-F, 10-6; Sat, 10-3. (image: Vase and Flowers by Dostie (acyrlic on canvas; 2004). Courtesy of the artist)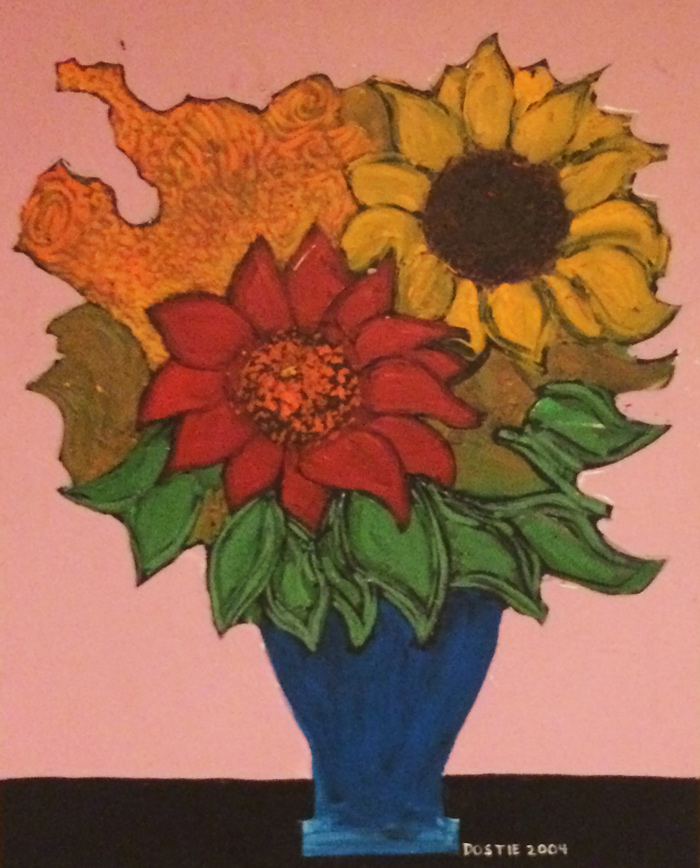 Venerable coffeehouse exhibiting traditional and non-traditional visual work by Vermont artists curated by SEABA. Through 6/30/19: Misha Korch is an illustrator and graphic artist, originally from Belarus and now living in Burlington. Korch presents botanical illustrations made in ink and watercolor, a technique that does not forgive mistakes, but also encourages mindfulness, focus, and patience. 412 Pine St, (802) 658-7016, M-F 6:30-6, Sat-Sun, 8-5. (image by Misha Korch)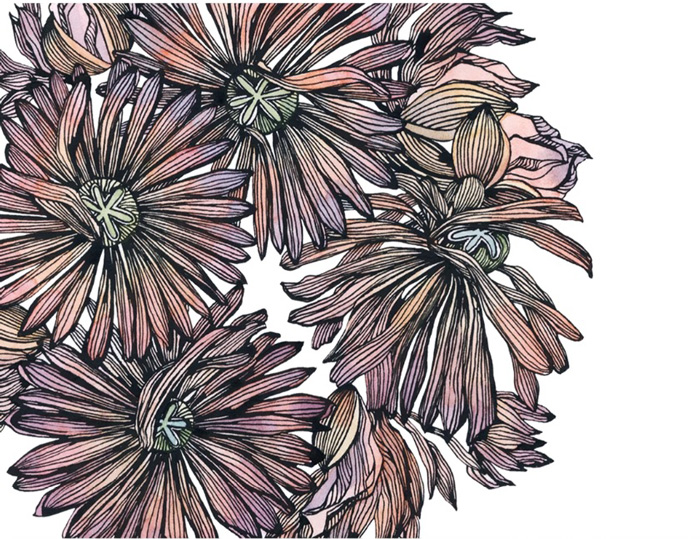 Abstract contemporary by artists Bruce R. MacDonald, Gordon Auchincloss, Joël Urruty and George Peterson. May 2019: "On the Brink". When you are on the edge of change, transformation and hope propels you to leap, featuring the latest dimensional light sculptures by Bruce R. MacDonald next to the bold wood forms by Clark Derbes and the kinetic sculptures by Gordon Auchincloss. 27 Sears Ln (next to Greer's), (800) 639-1868, Open Weds-Fri, 9-5 & by appt. (image: The Compass by Bruce R. MacDonald (120″x120″; stainless steel light sculpture; 2019) Image by Sarah Vogelsang Card.)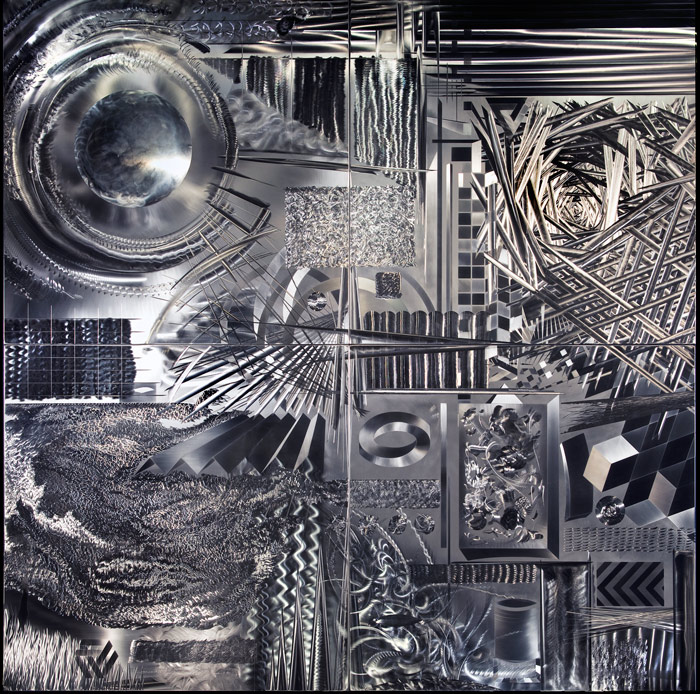 Serving hot bagels and more in a relaxed atmosphere with rotating art shows by Vermont artists, from the Burlington area and farther afield. Artists interested in showing work should visit Feldman's Call to Artists at the Vermont Art Guide Artist Database, www.vermontartguide.com/artistdatabase. 660 Pine St, (802) 540-0474, Open M-Sat, 6-3, Sun, 7:30-3.
The BOX Art Studio, formerly a maple syrup boiling room, is a unique industrial space housing the studios of Alex Dostie, Isaac Wasuck, Rough Francis, Brooke Monte, Sam Handler, and Lynne Reed. 7 Marble Ave (next to Arts Riot Truck Stop), (802) 578-0022, Open by appointment.(image below by Lynne Reid)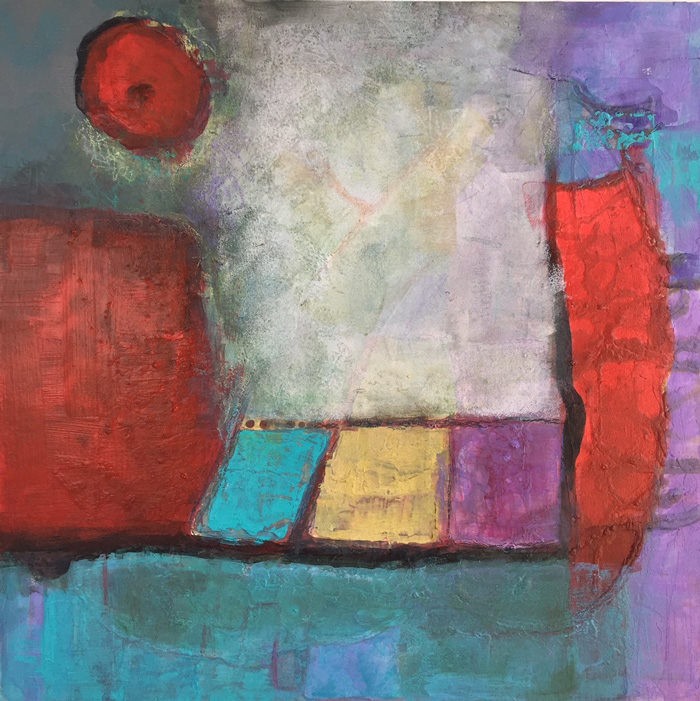 Located at 180 Flynn Avenue, the building has two floors of artwork in the hallways as well as upstairs in the Fire Exit Gallery by Green House artists Holly HauxJeffers, Nancy Stalnaker, Jude Domski, Molly Roland, and Justin Hoekstra. 180 Flynn Ave (back and to the right), (802) 310-1886. Open M-F, 10-5.
Student curators present artwork and exhibits across all four floors throughout the academic year: featuring a range of student art and varied community exhibits. UVM Campus, Hours vary by semesters.
Through a partnership with Burlington City Arts, the UVM Medical Center features artwork by Vermont artists on the main medical center campus. Through mid-May 2019: See art by Kelly O'Neal, Tatiana Yakusheva, Timur Dzhambinov, Kathleen Grant, Casey Blanchard, and Judy Hawkins. 111 Colchester Ave, (802) 865-7296. (image: Blue Barn, Summer Afternoon by Susan Abbott (24″x36″; oil on canvas). Courtesy of the artist and Burlington City Arts)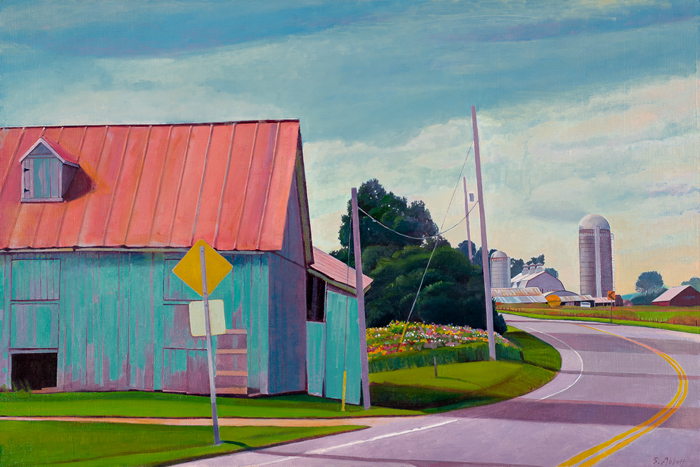 Located on the UVM campus, the Fleming Museum of Art houses the state's most comprehensive collection of art and anthropology. 61 Colchester Ave, (802) 656-2090. Closed through September 9, 2019.
The hallway galleries are designed to act as an academic forum for the display of new ideas. First & Second Floor: "Curated & Created" is 6 exhibits by CCV Portfolio students exploring historical, cultural and political themes with both collected and original work. 1 Abenaki Way, Winooski, (802) 654-0505, M-Th, 7:45AM-9PM; F, 7:45AM-5PM.
A campus full of interesting buildings and beautiful gardens, the museum presents an eclectic collection of art and objects.Through 6/2/19: "Johnny Swing: Design Sense" is the first in a new series exploring the creative processes of artists and designers working in New England today. Brookline-based Swing is best known for his coin furniture and large-scale architectural lighting. 6/22-10/20/19: "William Wegman: Outside In" explores over four decades of the renowned artist's ongoing fascination with the natural world. Through 8/25/19: "Harold Weston: Freedom in the Wilds" presents the American 20th-century painter's early Adirondack views and selections from the "Stone Series", alongside diaries, letters, photographs, and related ephemera that make a case for the connections between spirit, nature, and Weston's art. Through 10/31/19: "In Their Element": outdoor sculpture installation featuring work by Jonathan D. Ebinger, Rodrigo Nava, and Dan Snow across the museum's campus; "Ink + Icons: Album Quilts from the Permanent Collection" investigates the ways quiltmakers and communities created lasting material memories by reproducing meaningful symbols and taking advantage of technological developments like reliable indelible inks to tell their stories.Open daily, 10-5. (image: detail of work by Johnny Swing, photographed by Paul Specht in Swing's Brookline studio. Courtesy of the Shelburne Museum)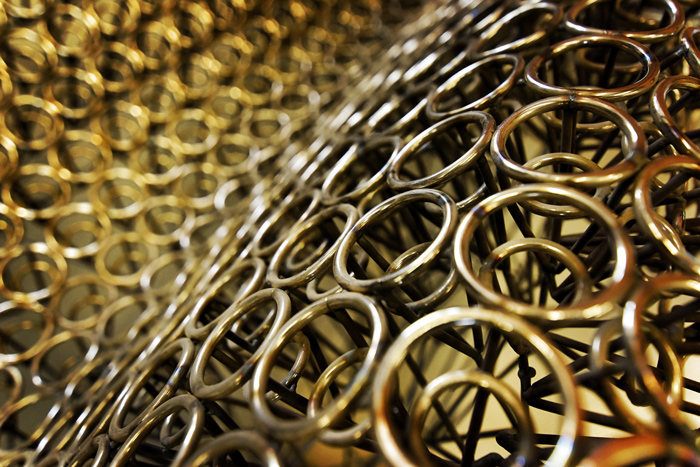 The Studio Store has handmade work in pottery, wood, jewelry, and stained glass and the school hosts events and classes for the public on an ongoing basis. 64 Harbor Rd, Shelburne, (802) 985-3648, Open M-F, 10-5; Sat, 10-2.
Art and wine among the vines, with quarterly shows of Vermont art in the tasting room. Through 7/1/19: New work by Shelburne-based digital photographer Mike Reilly. He says, "I am drawn to water and light–the way each both defines and defies borders–and to rough edges that lend unique beauty to otherwise ordinary thing." 6308 Shelburne Rd, Shelburne, (802) 985-8222, Open daily 11-6.
Beloved local beer factory has a curated space showing art on the tour ramp. Through 7/3/19: The Anthill Collective has been working together, painting murals throughout Vermont and beyond, and initiating a dialog with viewers and an experience with the place. The show at the ArtSpace features the work of Brian Clark, Mike Helz, SPEAK, FORTUNE, and Scottie Raymond. 5 Bartlett Bay Rd, S Burlington, (802) 658-2739 x2014, Open M-Sat, 11-7, Sun, 12-5.
Presenting a stylistically diverse collection of original work by artists of regional and national stature. Through 6/11/19: "Outside Influences Through the Seasons" is by award-winning Vermont landscape painter Elizabeth Allen. 6/14-7/23/19: "Suspended in Focus" is a group show. Opening reception: Friday, June 14, 5:30-7:30PM. The gallery also has a unique collection of fine crafts and gift items. 86 Falls Rd, Shelburne, (802) 985-3848, Open Tues-Fri, 9:30-5:30, Sat, 10-5. (image below: Autumn at Trapp's by Elizabeth Allen (16″x10″; oil on panel). Courtesy of Furchgott Sourdiffe Gallery)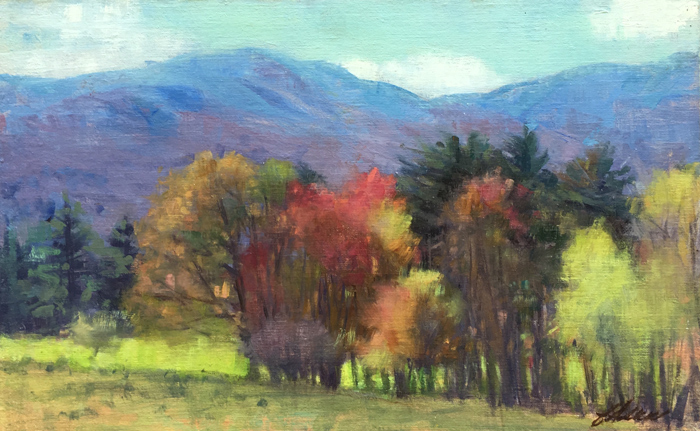 ---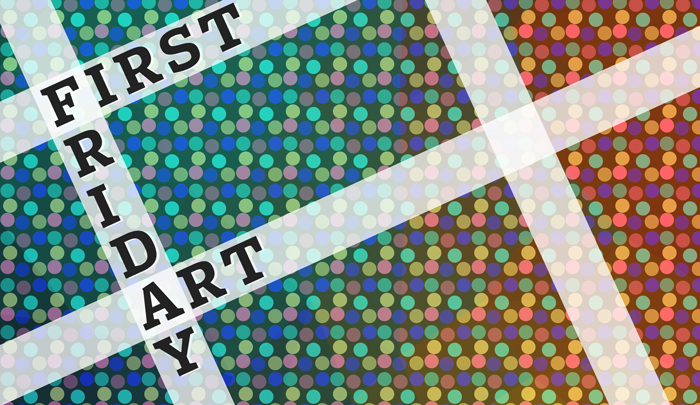 The next First Friday Art is
July 5th, 5-8PM.
First Friday Art is a monthly, community-wide event where dozens of art venues across the city host openings, exhibitions, and happenings.
The event is free and open to anyone.
Most venues are open from 5PM to 8PM, but some are open earlier or later.
Art Map Burlington is the official guide to First Friday Art. Pick up a copy at any participating venue. Enjoy!