Art Map Burlington promotes contemporary art in the Greater Burlington area by informing the community about exhibitions, events, and the work of area artists. Ask for a copy of the print edition at any of these venues.
---
Where to See Art-April 2019
Click the venue name to read more.
Exhibitions of work by regional artists related to Flynn programming during the same time period.  "A Sample of Jazz Records" from the Discover Jazz archives includes prints commissioned by artist Felix Sockwell in 2008, archival photos from Worthington Images and Luke Awtry, and posters and materials from past festivals, including over ten years of commemorative Festival Program Guides. 153 Main Street, (802) 652-4505. Sat, 11-4 and by appt.
Laptop refurbishing shop shows work by area artists in monthly shows. 3/1-4/30/19: Kara Torres (aka Fine Forager Arts) presents "Puppeteer Rainbow" and says about the show, "I wish to examine the ways color is connected to wealth and privilege, as well as how color is a controlling factor in my own life. Opening reception during First Friday Art. 196 College St, (802) 578-9687. Open Tues, W & F, 10-6; Thurs, Noon-6; Sat, 11-5. (image: Entangled by Kara Torres (24″x12″; acrylic on canvas; 2018). Courtesy of the artist.)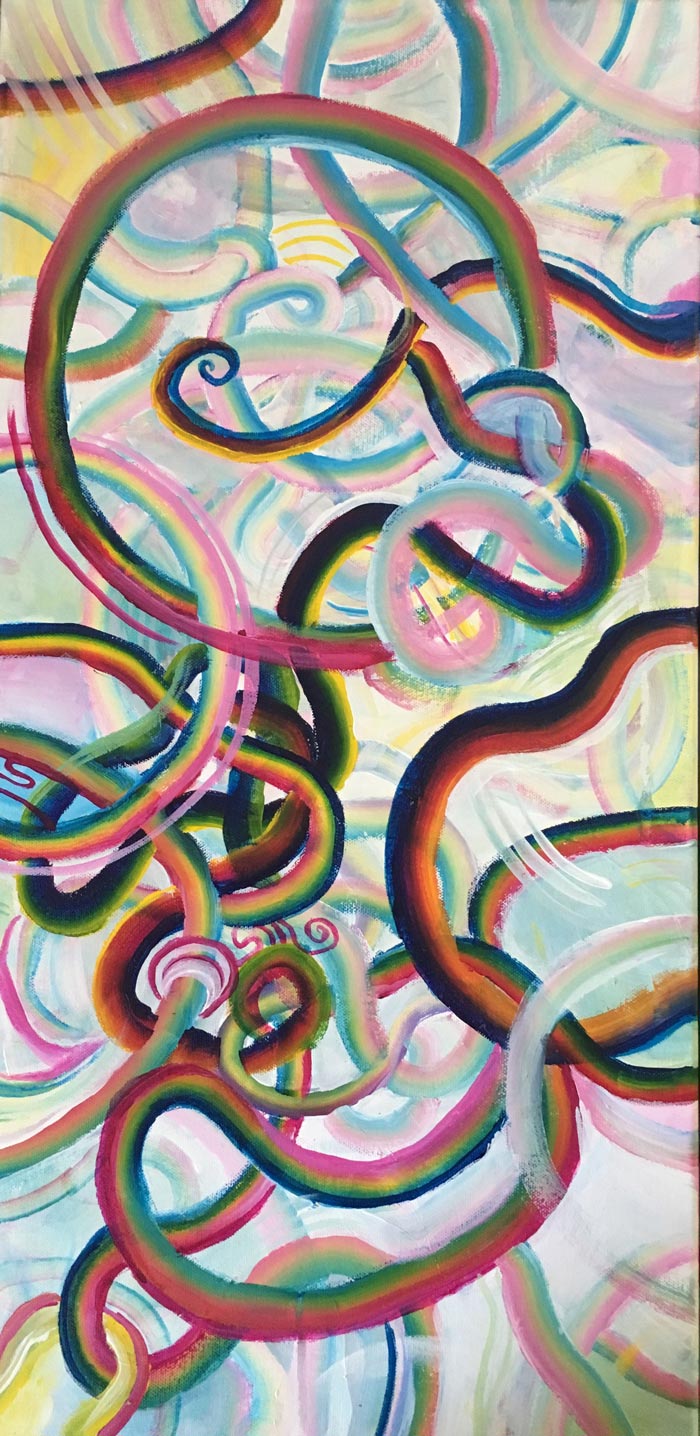 Burlington's only public library since 1875 shows art by area artists and nonprofit groups throughout the year. April 2019 in the Pickering Room: "HeART & Home: Changing the Community Narrative". To participate in this interactive exhibition, drop by any time during library open hours (after April 5) to add your words and images to express what home and community means. Created by Jen Berger of At the Root. Community Art Event: Friday, April 5, 2-5:30PM. Part of April Fair Housing Month, coordinated by the Fair Housing Project of CVOEO and ONE Arts.  235 College St, (802) 865-7211, Open daily at 10, Noon on Sunday.
Onion River Coop. Open daily 7AM-11PM. Member-artists are showcased on the Member Art Wall, located behind register 10. 4/1-5/30/19: Burlington artist Hailey Schofield's black-and-white illustrations are inspired by by the mountains of the West and the beauty of wild places. With this sense of place, she renders the natural world into forms of repetition created while exploring the wilderness. Her art features a blend of realism accented with abstraction. 82 S Winooski Ave, (802) 861-9700. (image below by Hailey Schofield)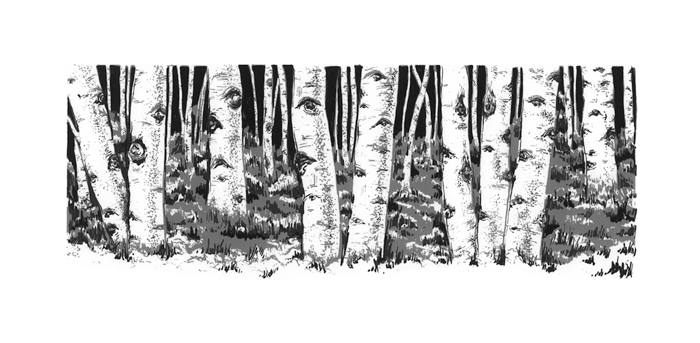 Featuring contemporary art exhibitions that connect art and community, nurture creativity, imagination, and ignite a passion for learning through the arts. Through 6/9/19: Rebecca Wiseman's Skin Ego features a sculptural re-creation of a beached whale; Barbara Zucker's Adorned: Hairstyles of an Ancient Dynasty features paintings and an installation of acrylic abstractions inspired by the stylized hairstyles of Tang dynasty tomb figures ; "Imperfect Societies" probes themes of history, trauma, and nationhood set within the tropes of science fiction; "Robopoems" is an interdisciplinary project created by Alm@ Pérez (Tina Escaja) that combines poetry, photography, sound, and technology that explores the intersection of robotics and humanity. 135 Church St, (802) 865-7166, Open Tues-Thurs, Noon-5; Fri-Sat, Noon-8.
A community spot since 2007, New Moon Café presents work by Burlington-area artists in the dining area.April-June 2019: A group exhibit by the Burlington Hub of the Vermont Watercolor Society. The artists present work in different styles, all with unique approaches to a challenging medium. All work is for sale. 150 Cherry St, (802) 383-1505 or (802) 383-1496. M-F, 7:30AM-8:30PM; Sun, 8AM-8:30PM. (image below: Number 2 Church Street by Julie Urquhart)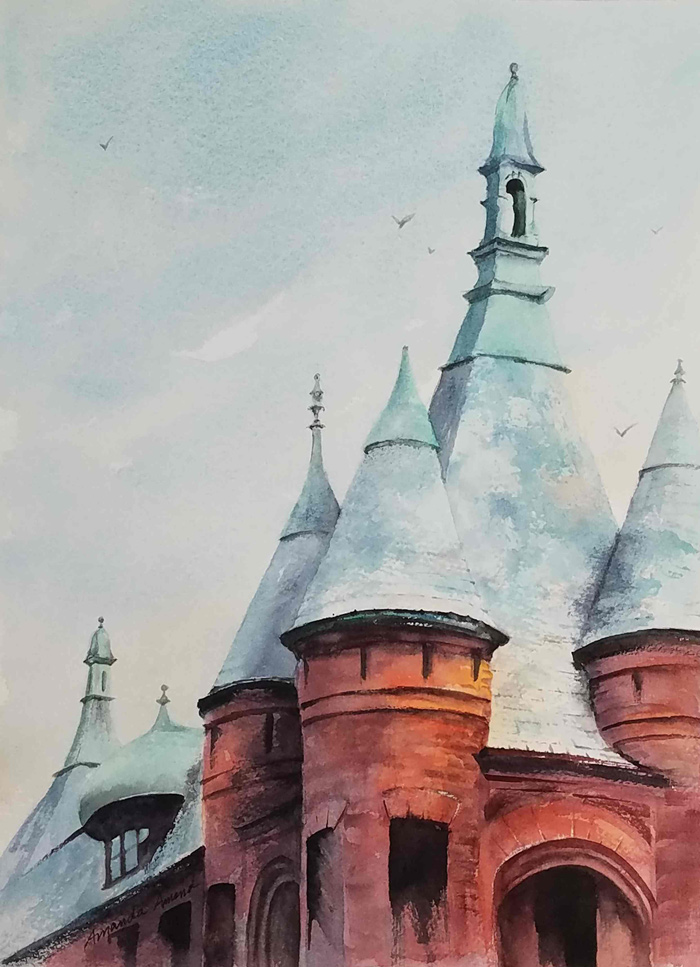 Showing the works of over 200 juried, Vermont artisans in month-long exhibits. 85 Church St, (802) 863-6458. M-Sat, 10-6; Sun, Noon-5.
Connecting Burlington's emerging artists with emerging patrons of the arts to create just and sustainable communities. Through 4/17/19: "PANGS" features new work by Ali Palin, Misoo Filan, and Susan Smereka. During First Friday Art, visit the open studios of New City's 3 artists-in-residence, 5-8. 132 Church St, (802) 355-5440, Open Tues-Fri, 11-5. (image: 0<∅ by Susan Smereka (19″x8.5″; sewn collage with monoprint; 2018)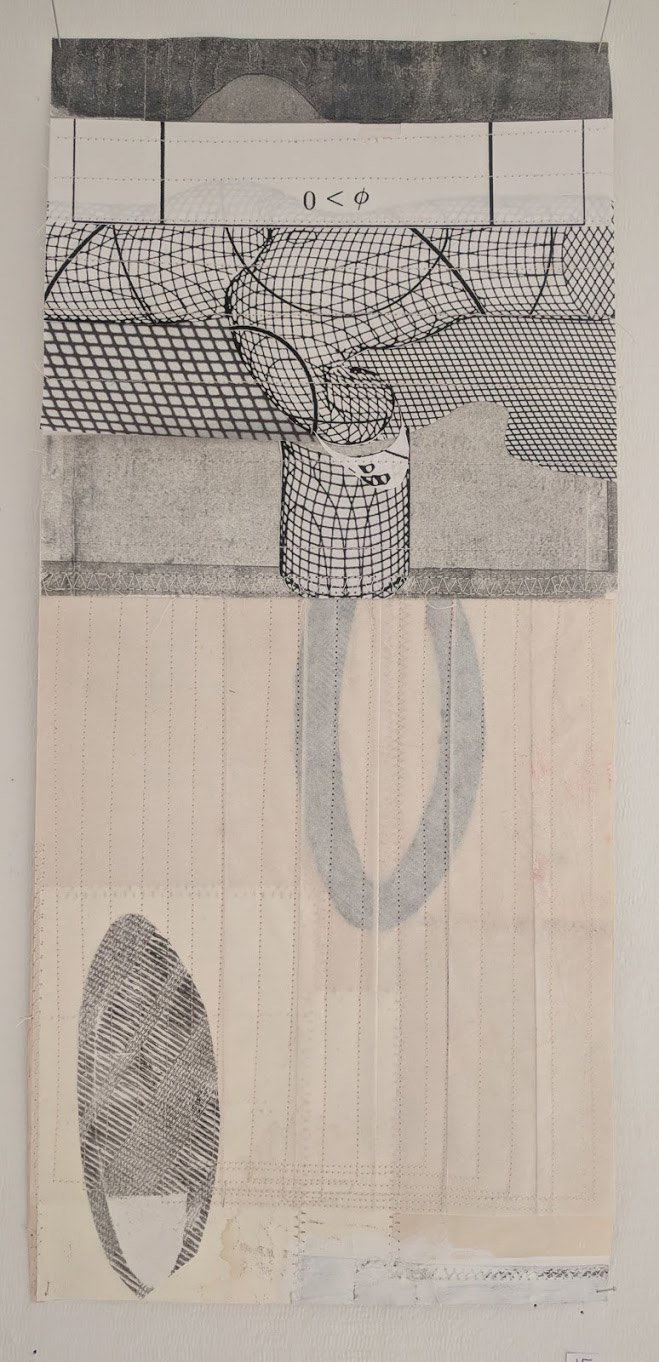 BCA curates the artwork on the main floor. April-May 2019: Burlington photographer Josh Dustin presents an exhibition of pet photographs as a fundraiser for Mama Nealy and her son, who were brought to Burlington by Rescue Me Vermont as refugee animals from the Virgin Islands after Hurricanes Irma and Maria. All proceeds from sales will go to rehoming and vet fees for these dogs and some toys and food once they've been adopted. 149 Church St, (802) 865-7166, M-F, 8:30-4:30 and for First Friday Art. (image: Blue by Josh Dustin (20″x16 (framed); print on satin; 2018. Courtesy of the artist)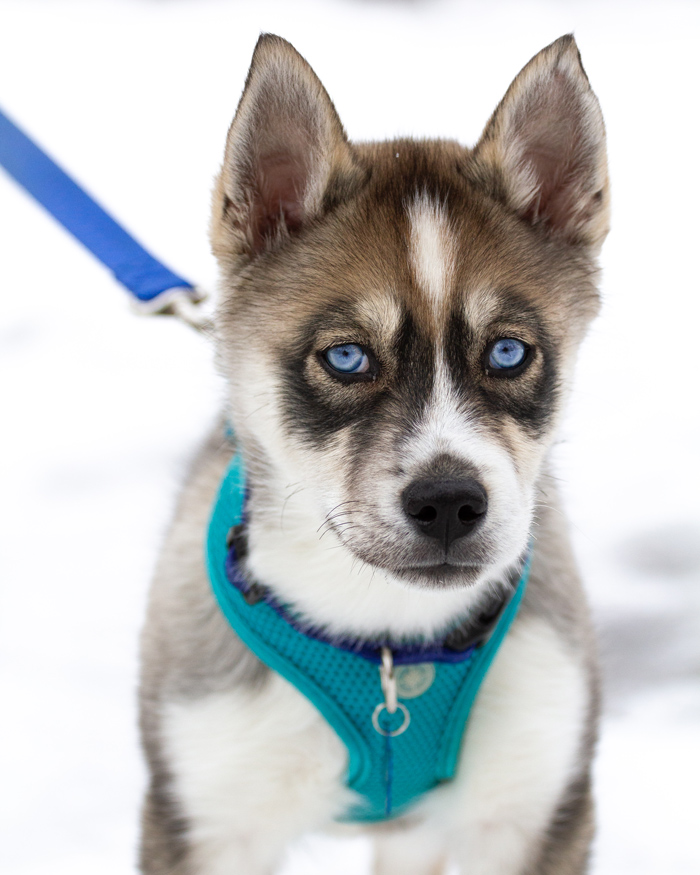 Art's Alive is dedicated to increasing awareness and appreciation of Vermont visual artists. Through 4/30/19: Kristen M. Watson's art works speak to personal (and often universal) experience, including the exploration of social psychology, boundaries, behavior, acceptance, and inequality. Through installation and intuitive mixed media painting, she interprets her life experience in terms of body transformation, self image, relationships, and observed human behavior. Curated by SEABA. 1 Main St, (802) 859-9222, M-F, 8-3; Sat-Sun, by appt. (image: Emerging by Kristen M. Watson. Courtesy of the artist.)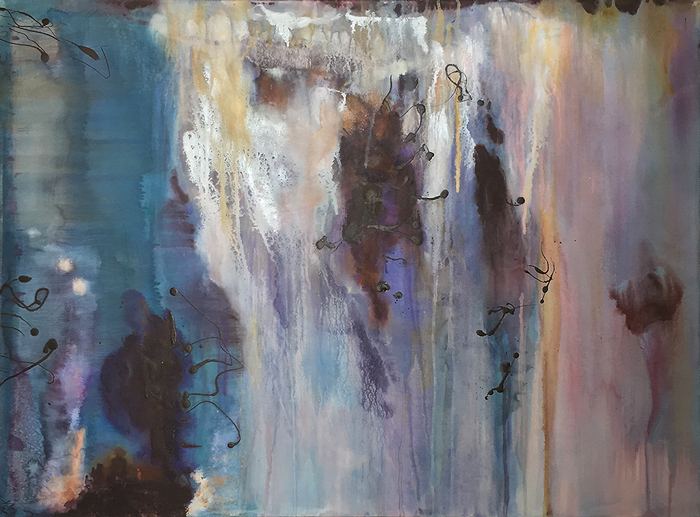 Serving up imaginative beers for enlightened palates and regional art throughout the eclectic lakefront brewery. 4/5-4/30/19: Burlington-based artist Mackenzie Murray presents new work in "By Any Means Necessary", focused within graphic design, illustration, and silkscreen and conveying a sense of tenderness, honesty, and curiosity. Meet the artist and purchase prints during First Friday Art. Live music starts at 8PM. 112 Lake St, (802) 399-2511, M-Thurs, Noon-10; Fri-Sat, 11-Midnight; Sun, 11-7. (image below: By Any Means Necessary by Mackenzie Murray)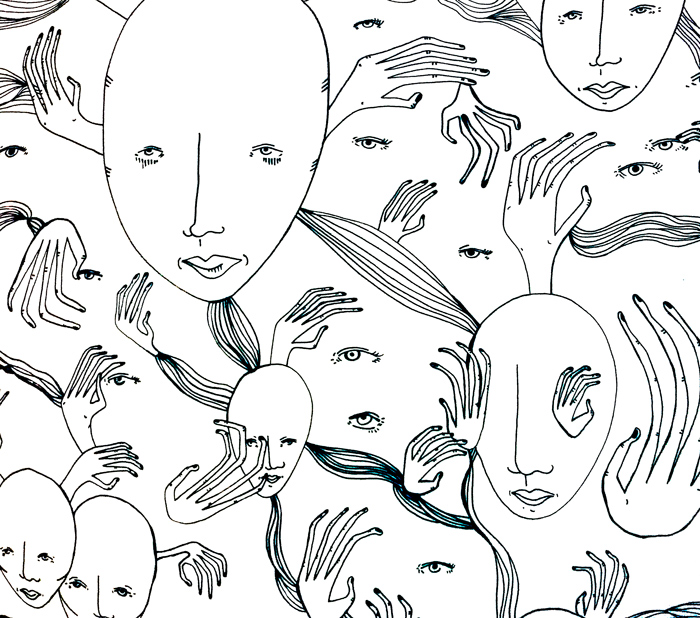 Showcasing nontraditional art by Vermont artists, as well as multimedia work by regional and non-locational artists, in bimonthly shows and community-based events, overlooking Lake Champlain. 4/5-4/30/19: Richmond artist Emily Mitchell's acrylic paintings in "What Brings Me Joy" have a renewed sense of calm, peace and celebration of the things which lift us all up and provide a visual break from contemporary, complex issues. In the Video Installation Gallery: Last Words [sic] (2007) by Swedish queer moving image artist Hugo Martin Alexander Ljungbaeck. Artist reception during First Friday Art. Powered by SEABA. CornerStone Building, 3 Main St, (802) 859-9222. Open M-F, 8-8, Sat-Sun, 10-8. Open M-F, 8-8, Sat-Sun, 10-8.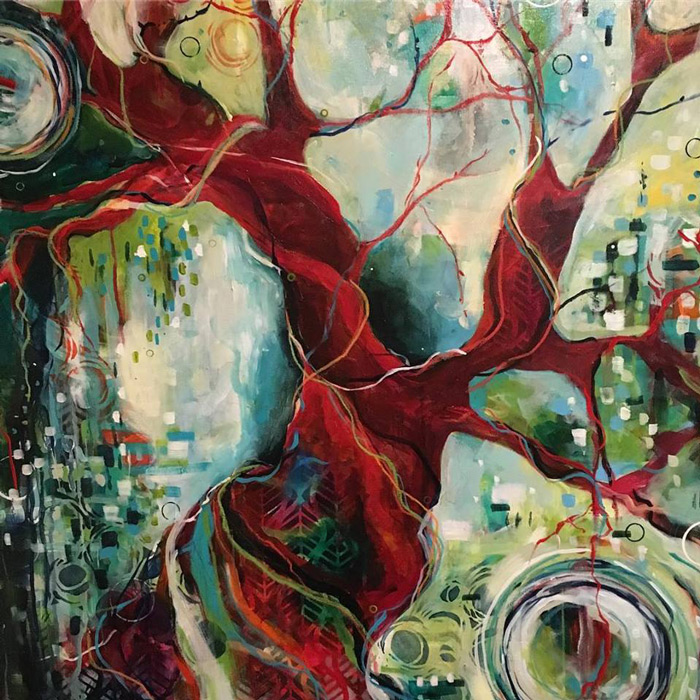 April 2019: The "Creative Community Art Show" highlights work on the topic of home, community, diversity, and inclusion from a range of local artists in a nourishing setting. Opening Reception: Monday, April 1, 4-6PM. Open Studio: Community Coloring & Collage: Friday, April 19, Noon-4PM. Part of April Fair Housing Month, coordinated by the Fair Housing Project of CVOEO and ONE Arts. 228 N Winooski Ave, M-F, 9-4. (image below: collage by Cristina Clarimon Alinder)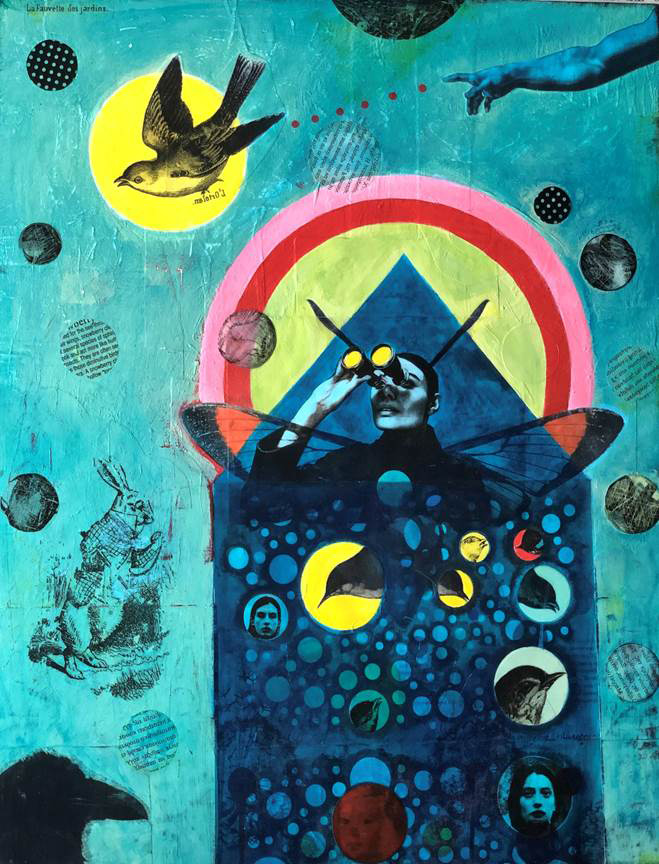 April 2019: "April Fair Housing Month HeART & Home Art Exhibit" features creative and inspirational work by Misoo Filan, Eden Stern, Cristina Clarimon, Sabah Abbas, Corrine Yonce, and others as they explore the meanings of home, community, inclusivity, and diversity. Opening Reception & Fair Housing Month Kick-Off: Tuesday, April 2, 5-7PM. Part of April Fair Housing Month, coordinated by the Fair Housing Project of CVOEO and ONE Arts. 72 N Champlain St. Open by appointment (send an email). (image: Giant Asian Girl 9 by Misoo Filan (painting/collage; 2018). Courtesy of the artist.)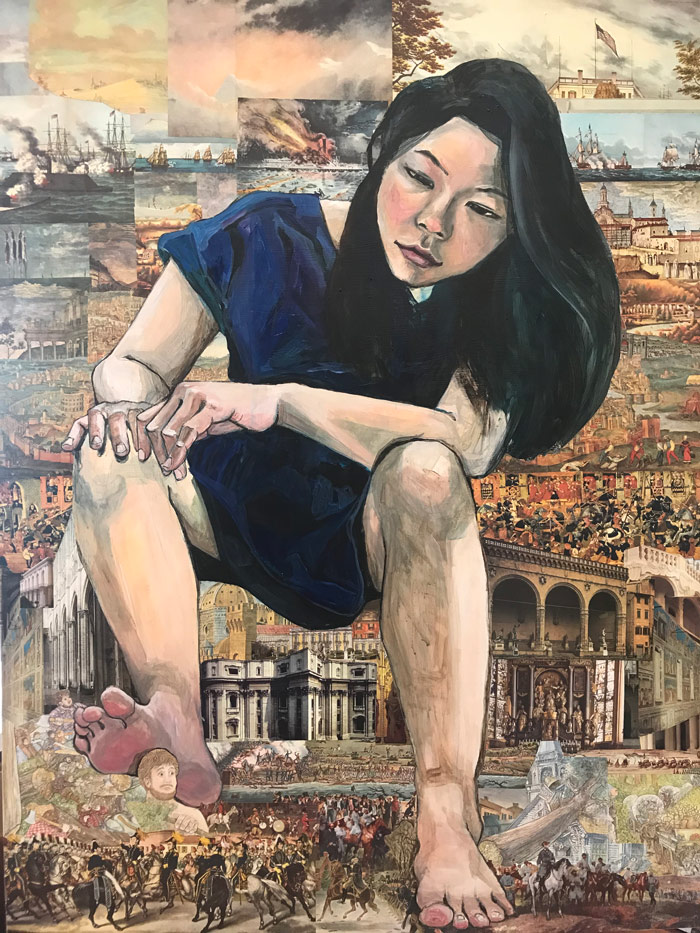 Supporting innovative and experimental contemporary art in all media through exhibitions, events, projects, and residencies, the gallery is a catalyst for interdisciplinary collaboration and learning at the intersection of art and technology. 3/28-4/9/19: The Juried Student Art Show presents work in photography, graphic design, video, audio, 3D model, sculpture, manual/digital painting and illustration selected after a campus-wide call to artists. Artist Reception: Thursday, March 28, 4-7 with awards presented at 5. 375 Maple Street (CCM Building, 2nd Floor), (802) 860-2700, M-F, 10-4. (image below: Marcy by Simeon Pol, winner of the 2018 Juried Student Art Show)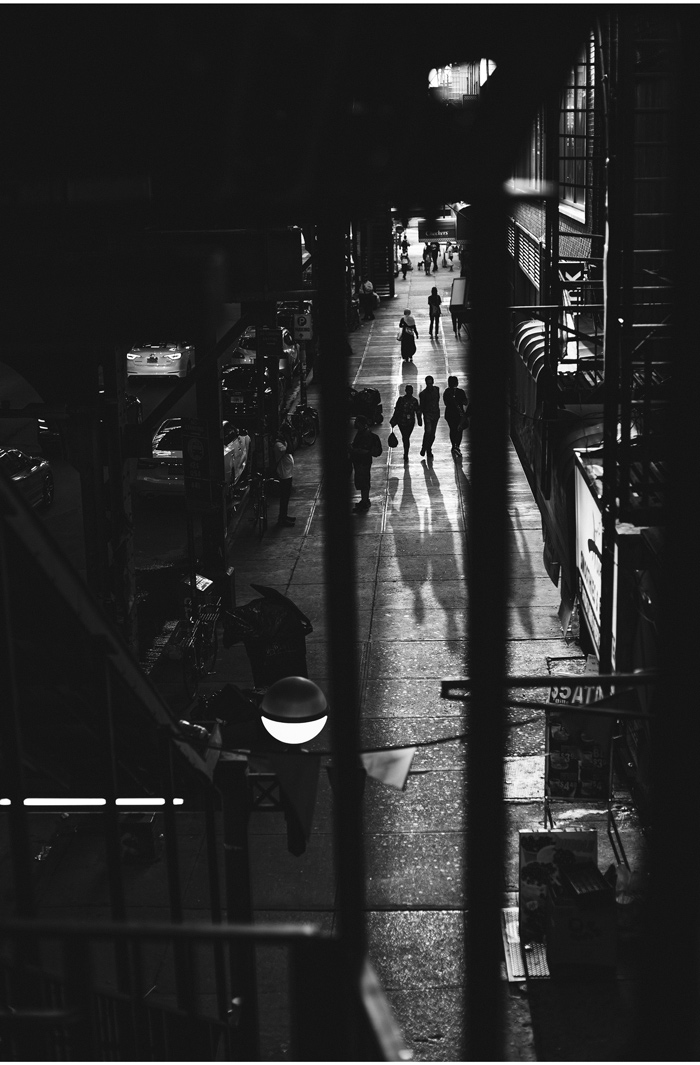 Open daily 7AM-9PM. Member-artists are showcased on the Member Art Wall in the cafe. Through 4/30/19: Burlington artist Brendan Bush says about his work, "My paintings explore color and movement as a form of deeply emotional expressionism. I eschew the concept of a consistent aesthetic, instead choosing to let experimentation with process, application and immersion in mood drive an ever-evolving style." 207 Flynn Ave, (802) 540-6400. (image below by Brendan Bush)

Curated by SEABA, showcasing traditional and non-traditional visual and multimedia artwork by Vermont artists. 3/1-5/31/19: "From Natural to Abstraction" expresses and shows all forms of Beauty from the eyes of a variety of artists. From its roots, abstraction should mean basically "something pulled or drawn away". So abstract art is art that has moved away from painting objects of the ordinary physical world in order to show something beyond it. 208 Flynn Ave, #2-G, (802) 651-9692, Open M-F, 10-10, Sat, 10-5. (image below by Dana Smith)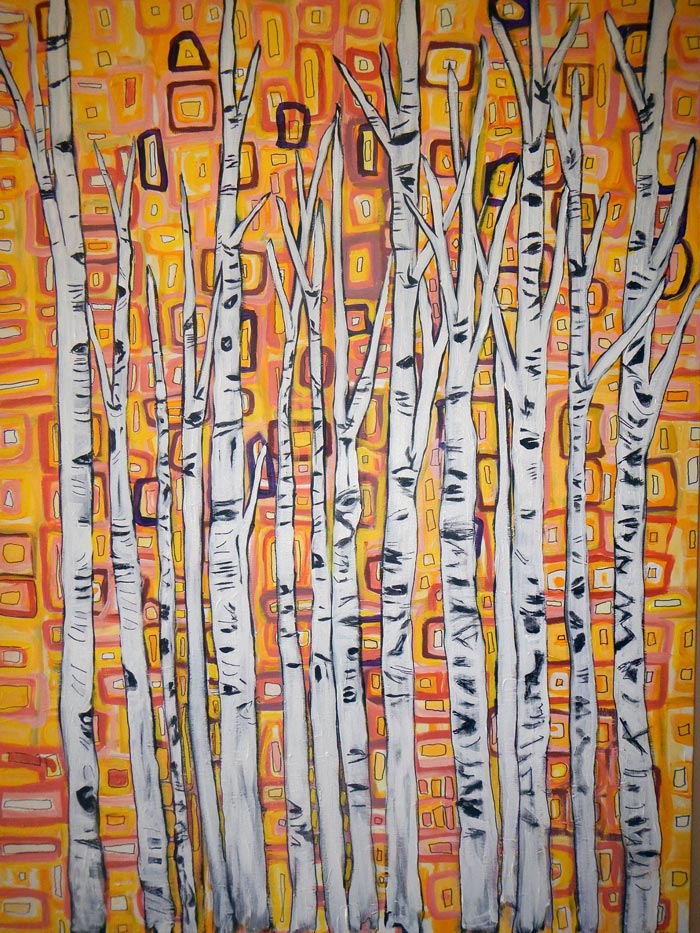 Traditional and non-traditional exhibitions and community-based events. Curated by ArtShape Mammoth. 3/4-4/30/19: "Intervals" by Peter Curtis (image below: Intervals #25) is a collection of 70 dance and street photographs made in Cuba during the first two weeks of January in 2013 and 2014. "Shadows of the Moon" is paintings by self-taught artist Roger Coleman, whose recent influences include Ralph Blakelock for butter gold light through dark trees and George Innes for a soft whispering brush. Artist reception: Thursday, April 11, 5-8. 208 Flynn Ave, (802) 363-4746, M-F, 7-4, Sat, 9-Noon.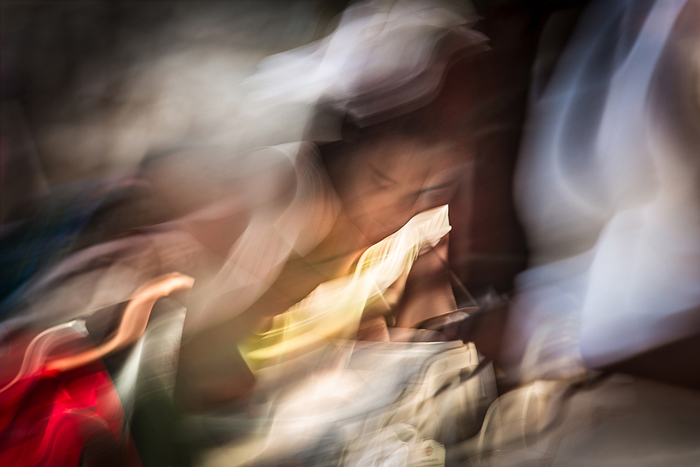 Art Gallery surrounded by 12 working artist studios. 4/5-4/27/19: "Form/Function" features contemporary, handcrafted furniture from members of The Collective at the Vermont Woodworking School. The exhibit showcases modern takes on traditional wooden furniture forms, blurring the line between art and function. Works by emerging local design/build companies Eleven Wood Design, Jamie Herman Studio Furniture, Towards Nightfall, and Valor Woodworks. Opening reception during First Friday Art, 5-9PM. 266 Pine St (Soda Plant), spacegalleryvt.com, Open Thurs-Sat, Noon-5. (image: Tilt by Jamie Herman, whose work is also featured on the cover of April's Art Map Burlington.)

Art shop featuring about 30 artists from Vermont and beyond with a rotating artist on one wall. April 2019: Kristin Richland's paintings and drawings of animals are both whimsical and dark. Blending natural observations and imaginary attributes, expressive marks and tight details, her artwork evokes half-remembered dreams and untold stories. In the work on view, she plays with the elusive nature of rabbits in nature and mythology. 270 Pine St, (802) 338-7441, Open Tues-Sat, 10-6, until 8 during First Friday Art. (image below: From the Fire by Kristin Richland. Courtesy of the artist)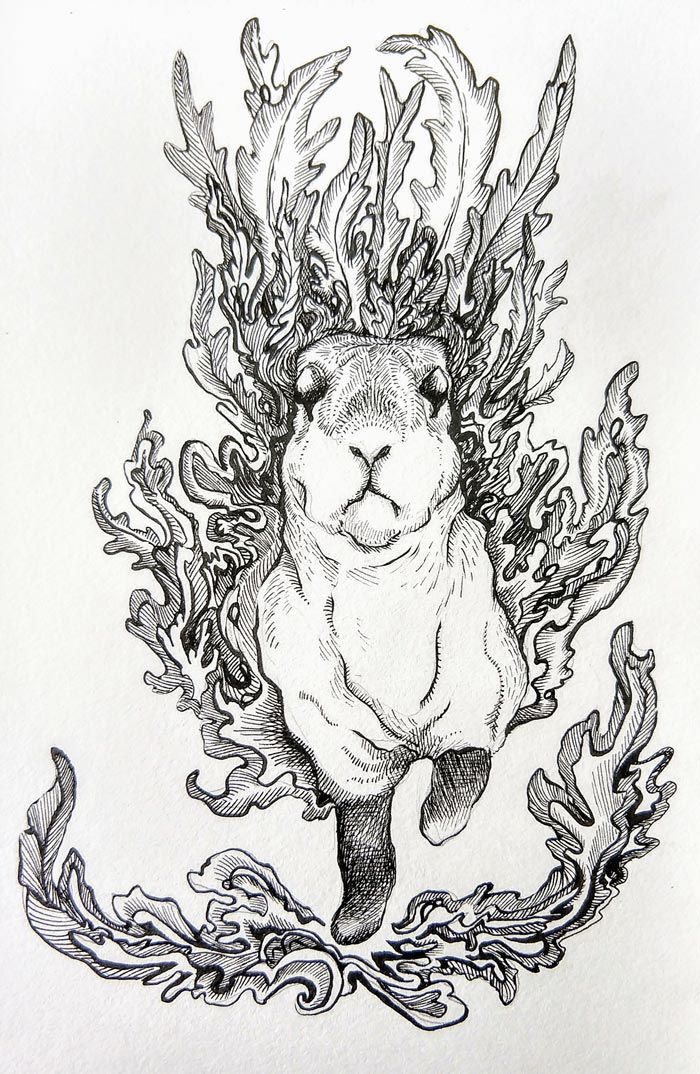 This eclectic second-hand shop is home to a revolving collection of art. 377 Pine St, (802) 540-0107, M, W-Th, 10-5; Fri-Sat, 10-9; Sun, 11-3.
This sprawling South End complex shows art in the first, second & third floor corridors. Ongoing. Artwork by Dennis McCarthy, Evan Greenwald, Frank DeAngelis, Janet Bonneau, Janie McKenzie, Jordan Holstein, Kara Torres, Lynne Reed, Marilyn Barry, Mike Reilly, Rae Harrell, Robert Gold, Stephen Beattie, Tatiana Zelazo, Terry Mercy, and Travis Alford. Curated by SEABA. 128 Lakeside Ave, (802) 859-9222, Open M-F, 6-6.
Aaron Stein's license plate artwork: map sculptures, shadow boxes, photo frames, wine racks, cuffs, house trailers, lamps and ornaments all created out of recycled license plates from all 50 states. 266 Pine St (Soda Plant), (802) 355-4091. Open during First Friday Art and by appt.
A custom picture framing workshop that features monthly exhibitions. February 2019: "World's Best Art!". For the third year in a row, see the World's Best Art in the design, hallway and workshop galleries! This exhibition features many pieces from the Dostie Bros. private collection as well as a variety of works created by South End Arts District artists. Much art will be for sale. 308 Pine St #101, (802) 660-9005. Open M-F, 10-6; Sat, 10-3. (image: Vase and Flowers by Dostie (acyrlic on canvas; 2004). Courtesy of the artist)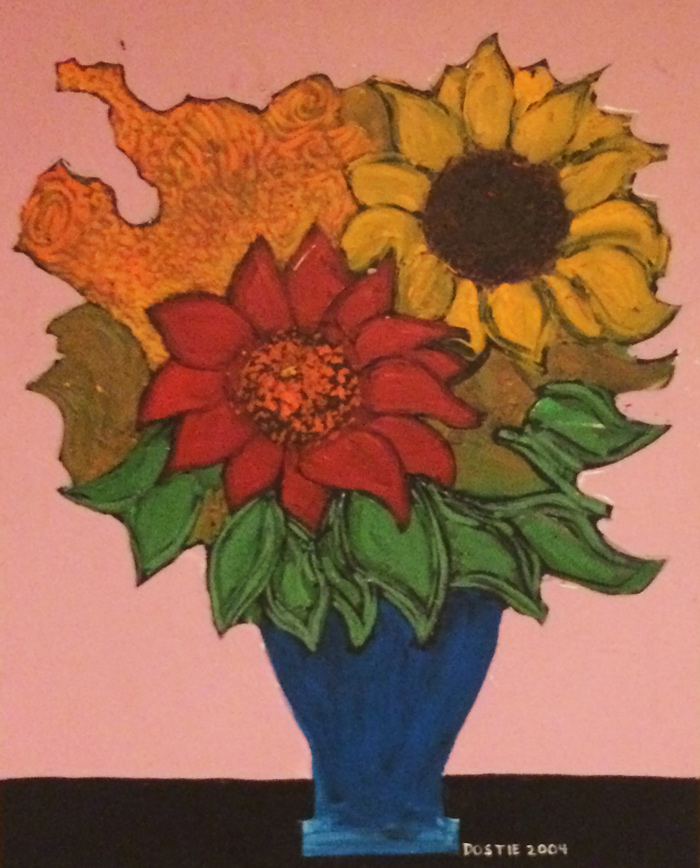 Venerable coffeehouse exhibiting traditional and non-traditional visual work by Vermont artists curated by SEABA. Through 5/31/19: Misha Korch is an illustrator and graphic artist, originally from Belarus and now living in Burlington. Korch presents botanical illustrations made in ink and watercolor, a technique that does not forgive mistakes, but also encourages mindfulness, focus, and patience. 412 Pine St, (802) 658-7016, M-F 6:30-6, Sat-Sun, 8-5. (image by Misha Korch)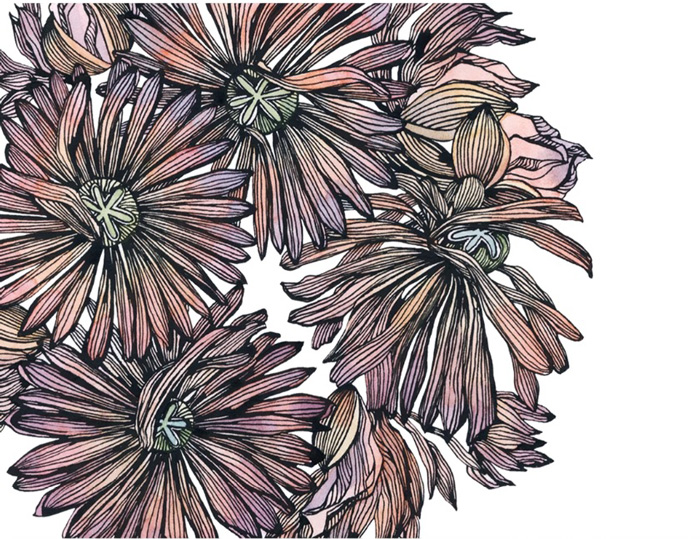 Abstract contemporary by artists Bruce R. MacDonald, Gordon Auchincloss, Joël Urruty and George Peterson. April 2019: "The System". The system of season changing to new light, new flowers and new art, featuring the latest dimensional light sculptures by Bruce R. MacDonald next to the bold wood forms by Clark Derbes and vibrant colors of painting newcomer, Stoney. 27 Sears Ln (next to Greer's), (800) 639-1868, Open Weds-Fri, 9-5 & by appt. (image: The System by Bruce R. MacDonald (44″x90″; stainless steel light sculpture; 2018))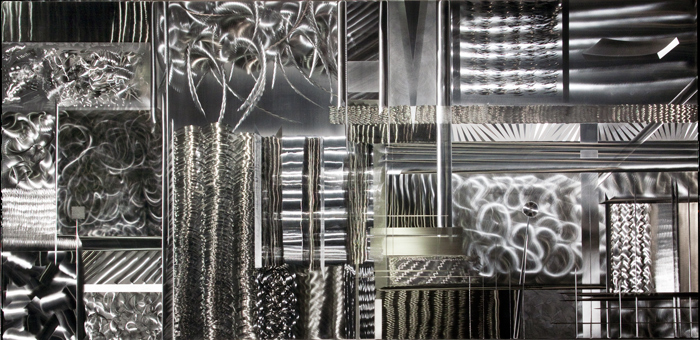 Serving hot bagels and more in a relaxed atmosphere with rotating art shows by Vermont artists, from the Burlington area and farther afield. Artists interested in showing work should visit Feldman's Call to Artists at the Vermont Art Guide Artist Database, www.vermontartguide.com/artistdatabase. 660 Pine St, (802) 540-0474, Open M-Sat, 6-3, Sun, 7:30-3.
The BOX Art Studio, formerly a maple syrup boiling room, is a unique industrial space housing the studios of Alex Dostie, Isaac Wasuck, Rough Francis, Brooke Monte, Sam Handler, and Lynne Reed. 7 Marble Ave (next to Arts Riot Truck Stop), (802) 578-0022, Open by appointment.(image below by Lynne Reid)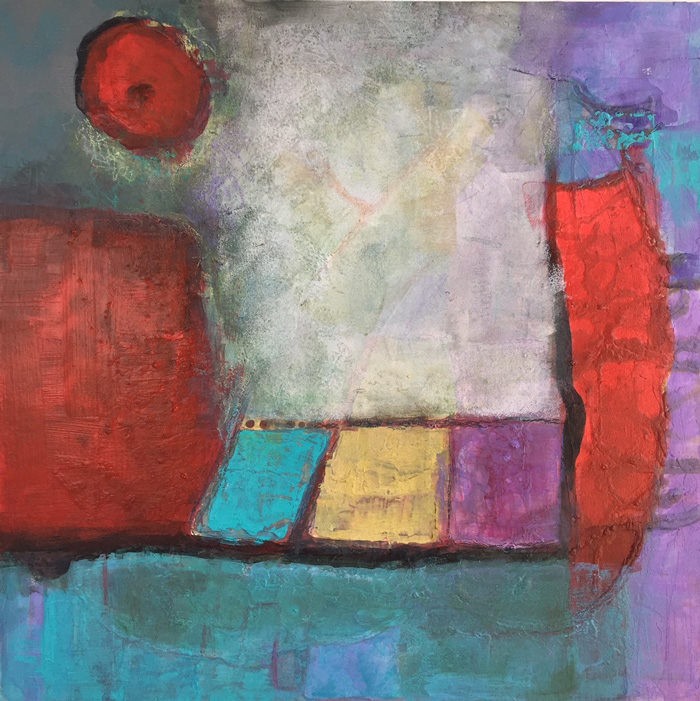 Located at 180 Flynn Avenue, the building has two floors of artwork in the hallways as well as upstairs in the Fire Exit Gallery by Green House artists Holly HauxJeffers, Nancy Stalnaker, Jude Domski, Molly Roland, and Justin Hoekstra. 4/1-4/30/19: "6 New Paintings" by Justin Hoekstra (image below), created in his new studio at The Green House. Opening reception during First Friday Art with the artist. Cheese balls will be served. 180 Flynn Ave (back and to the right), (802) 310-1886. Open M-F, 10-5.

Student curators present artwork and exhibits across all four floors throughout the academic year: featuring a range of student art and varied community exhibits. 4/22-4/29/19: "Upcycled" is an exhibition of work made with upcycled materials presented in collaboration with the Davis Center's Eco Reps, part of UVM's celebration of Earth Week. Upcycling is the process of reusing discarded materials to create a product of higher quality or value than the original. UVM Campus, Hours vary by semesters.
Through a partnership with Burlington City Arts, the UVM Medical Center features artwork by Vermont artists on the main medical center campus. Through April 2019: See art by Kelly O'Neal, Tatiana Yakusheva, Timur Dzhambinov, Kathleen Grant, Casey Blanchard, and Judy Hawkins. 111 Colchester Ave, (802) 865-7296. (image: Deciphering the Lyrics of Lichen II by Cami Davis)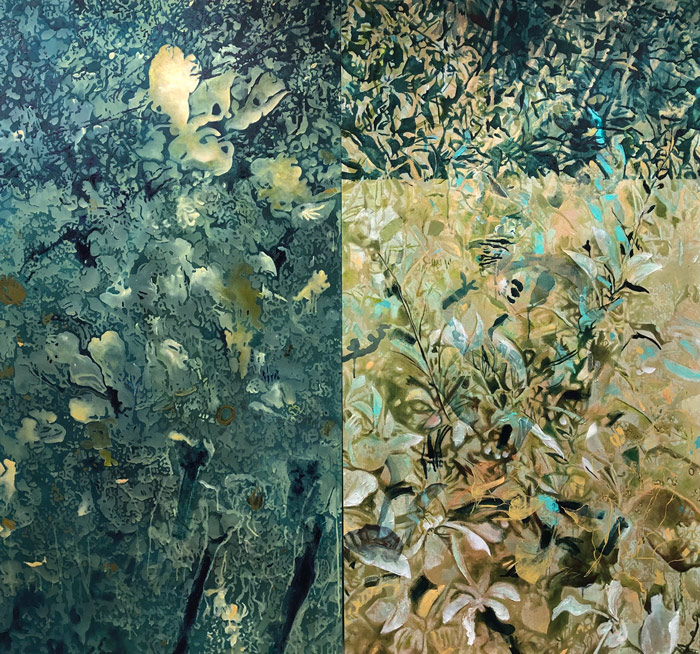 Located on the UVM campus, the Fleming Museum of Art houses the state's most comprehensive collection of art and anthropology. Through 5/10/19: "Small Worlds: MIniatures in Contemporary Art" explores the ways contemporary artists use miniatures, such as dioramas, hobby train figures, and architectural models, to inspire awe, whimsy, and even dread; "Global Miniatures" presents miniatures, small versions of real-world objects, from the museum's collections and explores miniatures' seemingly universal appeal and the functions they serve. 61 Colchester Ave, (802) 656-2090. Open through 5/10/19, Tues, Thurs, Friday, 10-4, Weds, 10-7, Sat-Sun, Noon-4. (image below: Library (detail) by Lori Nix/Kathleen Gerber (30″x40″; archival pigment print; 2007). Courtesy of ClampArt, New York City. © Lori Nix/Kathleen Gerber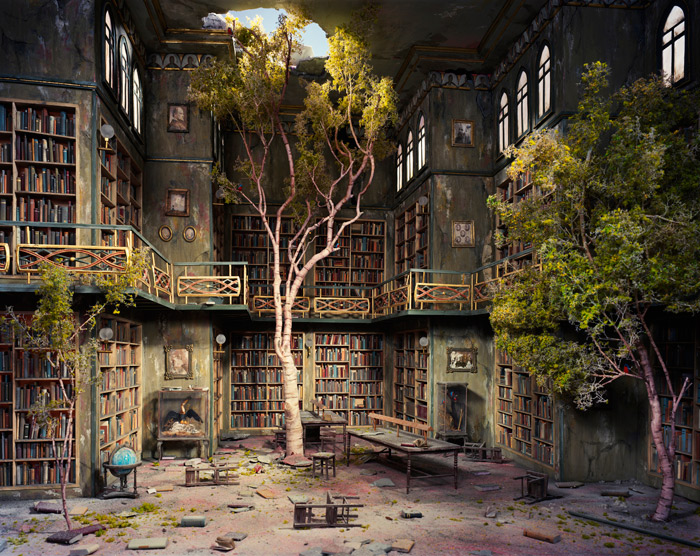 The hallway galleries are designed to act as an academic forum for the display of new ideas. Through 4/30/19, First & Second Floor: "Curated & Created" is 6 exhibits by CCV Portfolio students exploring historical, cultural and political themes with both collected and original work. 1 Abenaki Way, Winooski, (802) 654-0505, M-Th, 7:45AM-9PM; F, 7:45AM-5PM.
A campus full of interesting buildings and beautiful gardens, the museum presents an eclectic collection of art and objects. "American folk art. French Impressionist paintings. Historic New England architecture. Duck decoys, circus animals, and dolls. These were just some of the some of the interests of Shelburne Museum founder Electra Havemeyer Webb." Expertly curated, temporary exhibitions at the The Pizzagalli Center for Art and Education make the museum a year-round destination. Through 6/2/19: "Johnny Swing: Design Sense" is the first in a new series exploring the creative processes of innovative artists and designers working throughout New England today. Swing, who is best known for his luxurious coin furniture and large-scale architectural lighting, is based in Brookline, VT. Through 8/25/19: "Harold Weston: Freedom in the Wilds" presents American 20th-century painter Harold Weston's early Adirondack views and selections from the "Stone Series", alongside diaries, letters, photographs, and related ephemera that make a case for the connections between spirit, nature, and Weston's art. 6000 Shelburne Rd, Shelburne, (802) 985-3346. Open daily, 10-5. (image: detail of work by Johnny Swing, photographed by Paul Specht in Swing's Brookline studio. Courtesy of the Shelburne Museum)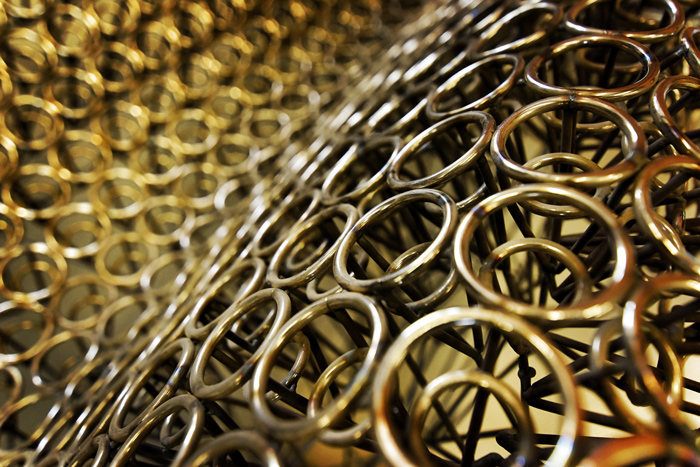 The Studio Store has handmade work in pottery, wood, jewelry, and stained glass and the school hosts events and classes for the public on an ongoing basis. 64 Harbor Rd, Shelburne, (802) 985-3648, Open M-F, 10-5; Sat, 10-2.
Art and wine among the vines, with quarterly shows of Vermont art in the tasting room. 4/1-7/1/19: New work by Shelburne-based digital photographer Mike Reilly. He says, "I am drawn to water and light–the way each both defines and defies borders–and to rough edges that lend unique beauty to otherwise ordinary thing." 6308 Shelburne Rd, Shelburne, (802) 985-8222, Open daily 11-6.
Beloved local beer factory has a curated space showing art on the tour ramp. Through 4/30/19: The Poppyclock Collective was founded on a key idea: collaboration. There can never be too many artists on a canvas. Our community is a place where artists can gather, muse, and create with one another. 5 Bartlett Bay Rd, S Burlington, (802) 658-2739 x2014, Open M-Sat, 11-7, Sun, 12-5.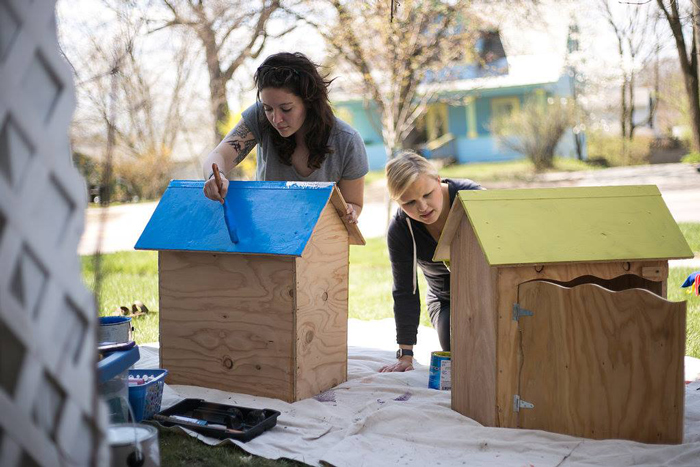 Presenting a stylistically diverse collection of original work by artists of regional and national stature. The gallery also has a unique collection of fine crafts and gift items. 86 Falls Rd, Shelburne, (802) 985-3848, Open Tues-Fri, 9:30-5:30, Sat, 10-5.
---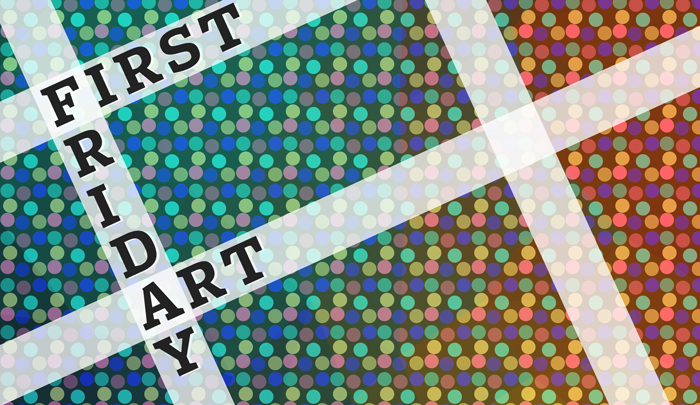 The next First Friday Art is
May 3rd, 5-8PM.
First Friday Art is a monthly, community-wide event where dozens of art venues across the city host openings, exhibitions, and happenings.
The event is free and open to anyone.
Most venues are open from 5PM to 8PM, but some are open earlier or later.
Art Map Burlington is the official guide to First Friday Art. Pick up a copy at any participating venue. Enjoy!