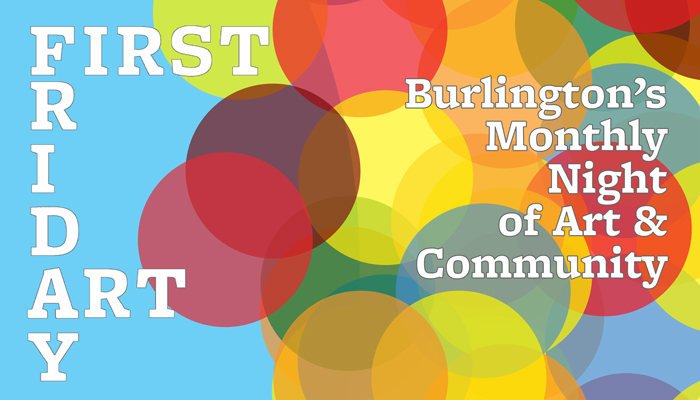 The next First Friday Art is
October 5th, 5-8PM.
First Friday Art is a monthly, community-wide event where dozens of art venues across the city host openings, exhibitions, and happenings.
The event is free and open to anyone.
Most venues are open from 5PM to 8PM, but some are open earlier or later.
Art Map Burlington is the official guide to First Friday Art. Pick up a copy at any participating venue. Enjoy!
---
Open daily 7AM-11PM. Member-artists are showcased on the Member Art Wall, located behind register 10. 10/1-11//30/18: Burlington artist Patrick "Bruno" Tracy is an illustrator whose work focuses on navigating the chaos and eclectic nature of the creative process. His series "Bottle Caps: Portland, OR" is the product of an exercise designed to facilitate instinctive and immediate reaction to inspiration. Each drawing is inspired by a notable person, place, conversation or experience. 82 S Winooski Ave, (802) 861-9700.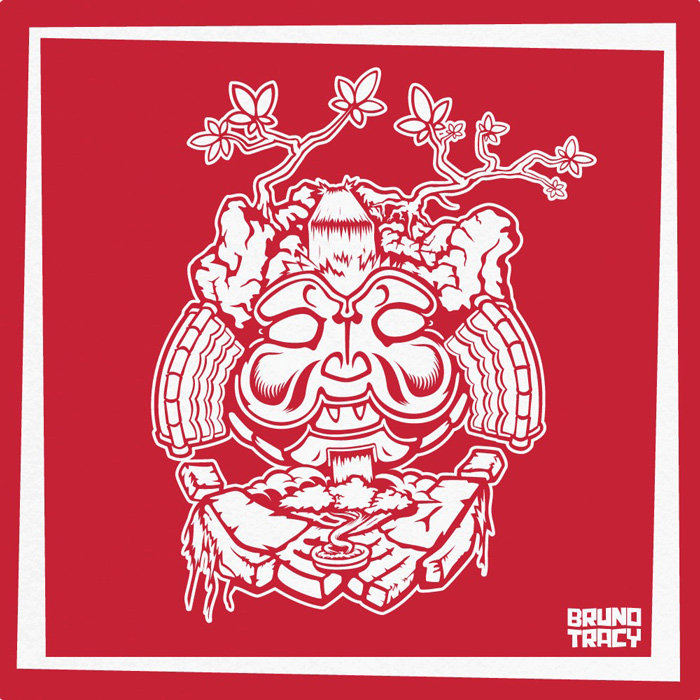 Salon featuring a dedicated gallery space with rotating exhibits focused on eclectic and bold work. Through October 2018: Work by two Burlington photographers: Matthew Binginot's "Visions of Vermont" and Arielle Thomas' "Everybody Leaves Me". Opening during First Friday Art. 106 Main St, (802) 864-2088. Open Tues-Thurs, 10-7; Fri-Sat, 10-5.
Featuring contemporary art exhibitions that connect art and community, nurture creativity, imagination, and ignite a passion for learning through the arts. Through 10/7/18: Crystal Wagner's "Traverse" transforms organic and biomorphic designs into colorful prints, sculptures, and sprawling installations comprised of bursting colors and organic forms. "Artist's Artists: The Way You Look", curated by Vermont-based artist and guest curator Pete Moran, brings the acute, time-based work of filmmaker Ashish Avikunthak into contact with Tim Simonds' intimate and careful sculpture. "Visual Analogies: The Photography of Vanessa Kotovich & Penn Chan" explores themes of growth and decay; myth and reality; and the beautiful and the grotesque. 10/19/18-2/9/19: Tectonic Industries: Dreams Can Come True (If It's Not Working For You, You're Not Doing It Right) creates an installation of instructional videos, surveys, and interactive activities that explore the impossibility of our collective, endless endeavor for self-improvement. In BCA's second installment of Project Vermont, Pauline Jennings debuts Becoming Human, a three-channel video and sound installation seeking to identify and dissolve barriers between human and wild in the age of the Anthropocene. Artist receptions: Friday, October 19, 6-8. 135 Church St, (802) 865-7166, Open Tues-Thurs, Noon-5; Fri-Sat, Noon-8; Sun, Noon-5.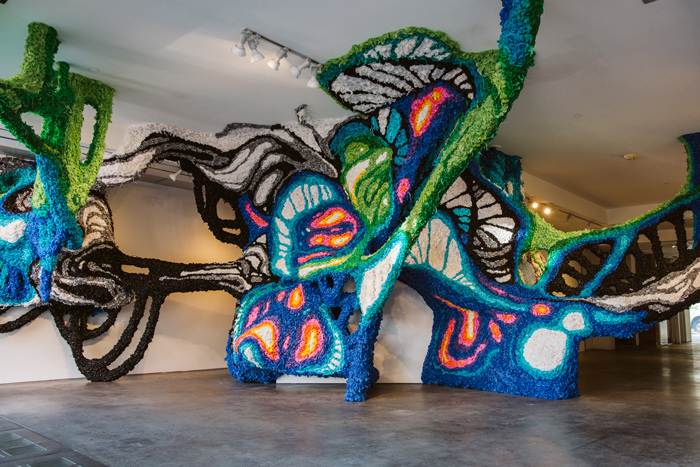 A community spot since 2007, New Moon Café presents work by Burlington-area artists in the dining area. Through 11/30/18: Professional Pet Photographer Josh Dustin's exhibition is dedicated to dogs who have travelled from all over the globe and finally arrive where they belong: home. All proceeds from sales and donations will go to local rescues.150 Cherry St, (802) 383-1505 or (802) 383-1496. M-F, 7:30AM-8:30PM; Sun 8AM-8:30PM.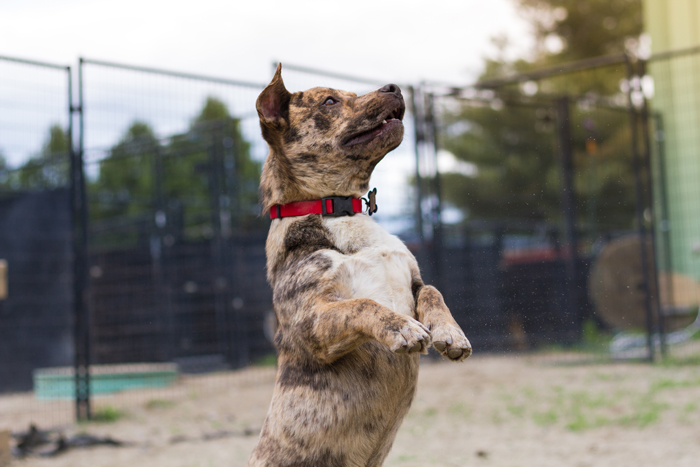 Showing the works of over 200 juried, Vermont artisans in month-long exhibits. 10/2-11/4/18: Matt Brown makes color woodblock prints using the Japanese hanga method with imagery exploring the development of pictorial space. Using the inherently flat medium of the carved and printed woodblock, he "achieves happy resolutions of the tension between flat printed shapes and an illusion of a depicted place." Opening during First Friday Art. 85 Church St, (802) 863-6458. Hours vary by season. (image: Mansfield from Lake Champlain by Matt Brown (2017; edition 50 of 300))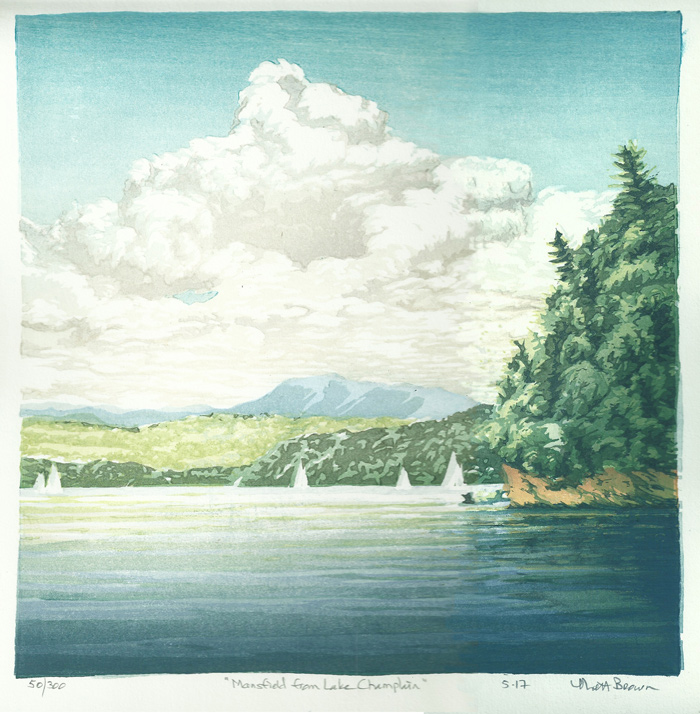 Connecting Burlington's emerging artists with emerging patrons of the arts to create just and sustainable communities. Through 10/18/18: "Alison Weld: Inner Essentials" presents new abstract work by the Westport, New York-based artist. During First Friday Art, visit the open studios of New City's 3 artists-in-residence, 5-8. 132 Church St, (802) 355-5440, Open Tues-Fri, 11-5. (image: Silent Strata 3 by Alison Weld (50″x36″; oil on linen; 2017)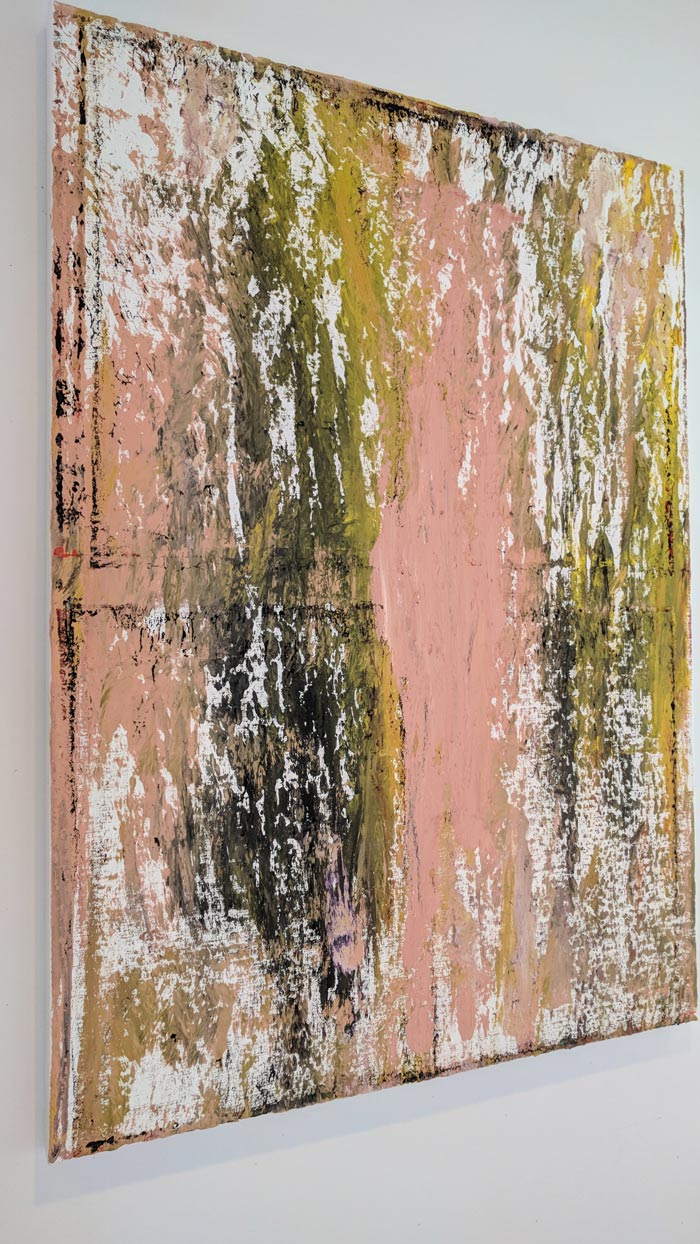 BCA curates the artwork on the main floor. October-November 2018: Photographer Mike Sipe says, "The Lake Champlain region is my unparalleled muse; the beauty of the lake, skies, mountains, valley and the people enjoying its splendor. My ability to find the area's essence is evolving and it is exhilarating to me." Sipe has been a serious amateur photographer for over 30 years. 149 Church St, (802) 865-7166, M-F, 8:30-4:30 and for First Friday Art. (image: Richmond Summer Sunrise by Mike Sipe (23″x38″))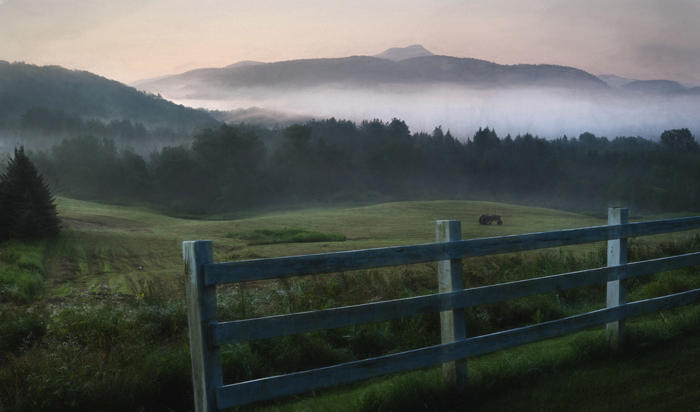 Serving up imaginative beers for enlightened palates and regional art throughout the eclectic lakefront brewery. October 2018: "Ways of Life" is by Fairfield, CT artist, art educator, and illustrator Andrew John Mullen, focusing on rural and urban ways of living with emphasis on memories and visual snapshots of these themes represented in everything from his primary medium of scratchboard to oil paints and wood carvings. Opening during First Friday Art, 6-8PM with live music. 112 Lake St, (802) 399-2511, M-Thurs, Noon-10; Fri-Sat, 11-Midnight; Sun, 11-7. [NOTE: Mullen's work is featured on the cover of the October 2018 edition of Art Map Burlington.]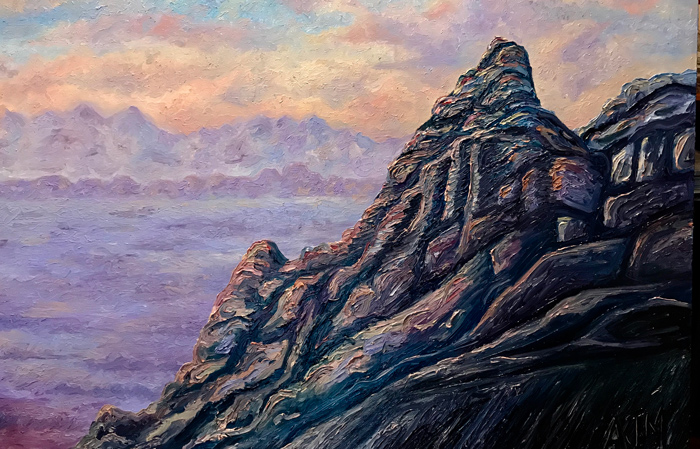 Showcasing traditional and non-traditional visual art in bimonthly shows in a space overlooking Lake Champlain. Through 10/31/18: A collaborative South End Art Hop Group Show by Ashley Stagner, Beth Starger (image), Emily Mitchell, James Stewart and Mark Gonyea, featuring oil and acrylic paintings, prints, a video installation, and digital art. Powered by SEABA. Opening during First Friday Art. CornerStone Building, 3 Main St, (802) 859-9222. Open M-F, 8-3, Sat-Sun by appt.
Open daily 7AM-9PM. Member-artists are showcased on the Member Art Wall in the cafe. Through 10/31/18: Annie Caswell's photographs on canvas and paintings come from several years of traveling and working around the world. Inspiration to document the destruction of the hurricanes that hit the U.S. Virgin Islands with her art sparked her latest works by painting on debris. 207 Flynn Ave, (802) 540-6400.
Curated by SEABA, showing large-scale 2-D work and installation sculpture with multi-media work presented at their quarterly openings. Through 11/30/18: The annual, collaborative South End Art Hop Group Show features over 20 artists this year. 208 Flynn Ave, #2-G, (802) 651-9692, Open M-F, 10-10, Sat, 10-5.
Home to 12 working artist studios and a gallery. 10/5-10/27/18: "Dark Matter" is the 10th annual "dark arts", juried and curated by gallery director, Christy Mitchell. Artists express how they interpret personal views of the known and unknown world through artworks that are not always cheery and light with a hard look at our current political climate, race relations, toxic masculinity, domestic terrorism, and/or the United States' place in the world. Mitchell also looked for beauty in the darkness; to cause the viewer to think, to appreciate, to take a step back, in horror…or in awe. Opening during First Friday Art, 5-9. 266 Pine St (Soda Plant), (802) 578-2512, Open Thurs-Sat, Noon-5. (image: War by Paul McMillan)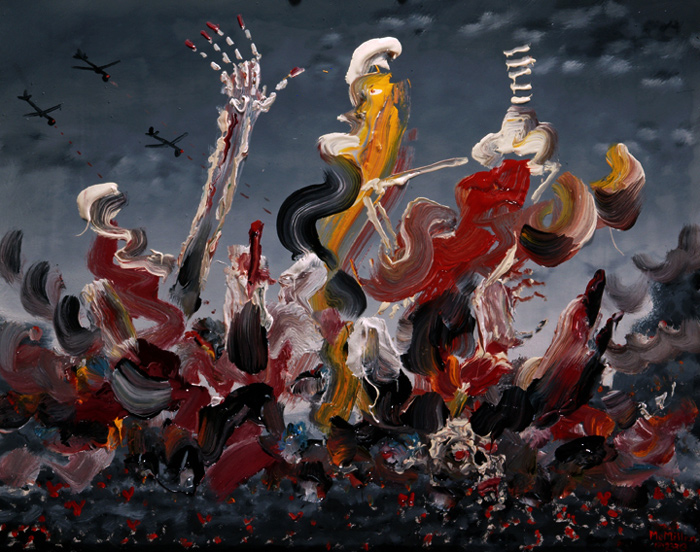 Art shop featuring about 30 artists from Vermont and beyond with a rotating artist on one wall. October 2018: Jane Ann Kantor is a self-taught artist and practicing registered nurse from Charlotte. In her series, "Unearthed", she presents work in paper and acrylic on wood panel that continues her exploration of the constant tension between life and death. 270 Pine St, (802) 338-7441, Open Tues-Sat, 10-6, until 8 during First Friday Art.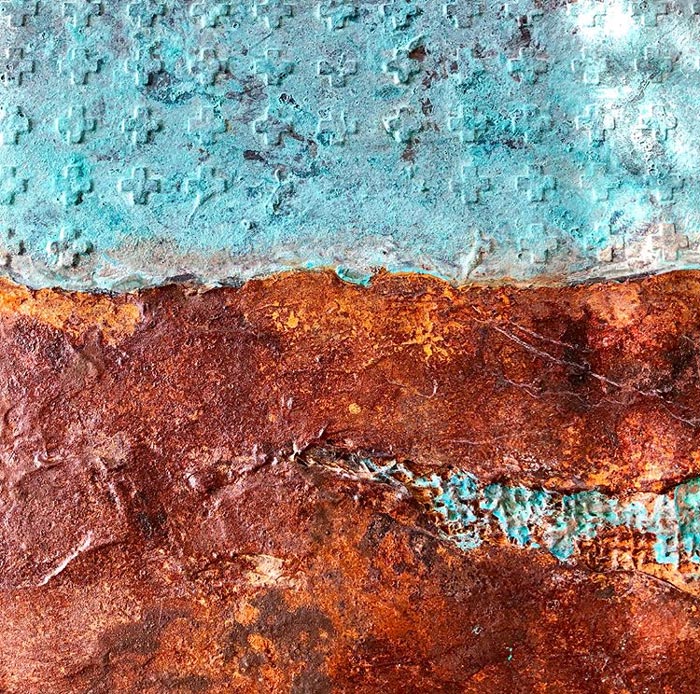 This eclectic second-hand shop is home to a revolving collection of art. 377 Pine St, (802) 540-0107, M, W-Th, 10-5; Fri-Sat, 10-9; Sun, 11-3.
Aaron Stein's license plate artwork: map sculptures, shadow boxes, photo frames, wine racks, cuffs, house trailers, lamps and ornaments all created out of recycled license plates from all 50 states. 266 Pine St (Soda Plant), (802) 355-4091. Open during First Friday Art and by appt.
Two working studios featuring abstract, eclectic, and sometimes chaotic original paint work by Franky D, who started painting for the first time in 2016 with no formal art training. His work is passionate, gritty, and imperfect much like life itself. 266 Pine St (Soda Plant), (802) 355-3502. Open Thurs-Sat, Noon-5 and by appointment.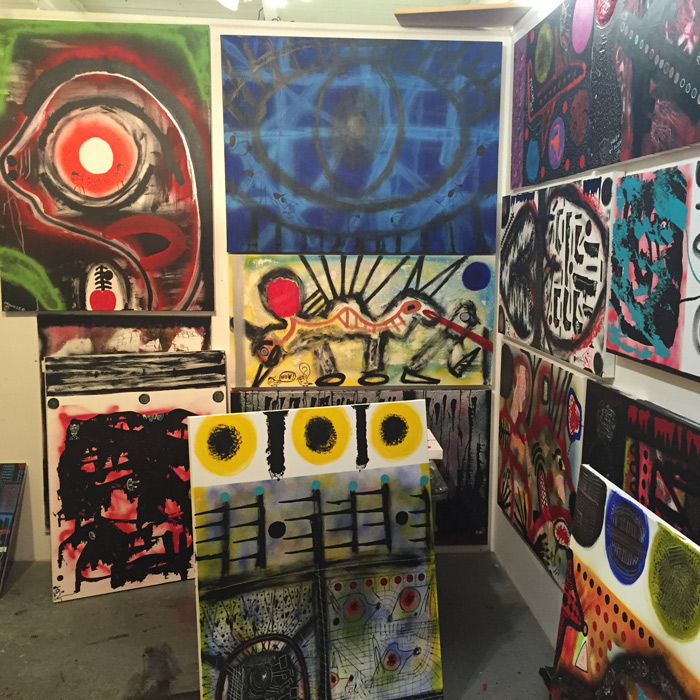 Exhibiting unique traditional and non-traditional multimedia artwork by Vermont artists in their Gallery/Community Space located in the heart of the South End Arts District. October 2018: 26th Annual South End Art Hop Original Juried Show Winners Circle, selected by 2018 juror Kathleen Vance. 1st Place: Emily Piccirillo (image: Fugue); 2nd Place, John Douglas; 3rd Place, Linda Dulleba; and People's Choice, selected by Art Hop attendees: Kyle Sikora. Artist reception and "Box Up & Move Bash" (#peaceout404) during First Friday Art. SEABA is moving, so this will be their last artist reception in the space. 404 Pine St, (802) 859-9222, Open M-F, 9-5.
A custom picture framing workshop that features monthly exhibitions. October 2018: "World's Best Art!". For the third year in a row, see the World's Best Art in the design, hallway and workshop galleries! This exhibition features many pieces from the Dostie Bros. private collection as well as a variety of works created by South End Arts District artists. Much art will be for sale. 308 Pine St #101, (802) 660-9005. Open M-F, 10-6; Sat, 10-3.
Abstract contemporary by artists Bruce R. MacDonald, Gordon Auchincloss, Joël Urruty and George Peterson. September 2018: "Summer's End" features the vibrant paintings of artist Stoney, the bold wood forms by Clark Derbes alongside new dimensional light sculpture by Bruce R. MacDonald. 27 Sears Ln (next to Greer's), (800) 639-1868, Open Weds-Fri, 9-5, First Friday & by appt. (image: Hemidemisemi by Bruce R. MacDonald (40″x70″; stainless steel light sculpture; 2018))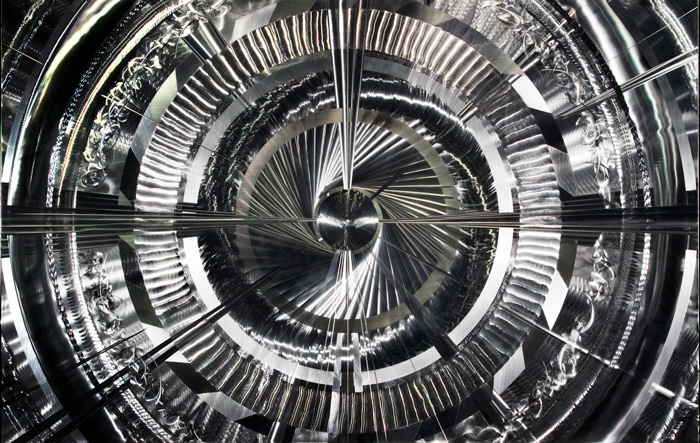 Meet Emily Anderson and learn how she uses the drawing of fairies to inspire imagination and encourage positivity so life's challenges can be met with light-hearted energy. During First Friday Art, Anderson will present multiple performances of a Crankic Show called "Accomplishing Big Things" that features the "Fairy of the Day" app. 4a Howard St (3rd Fl, next to Sharon Webster), (802) 238-4540, Open for First Friday Art and by appointment.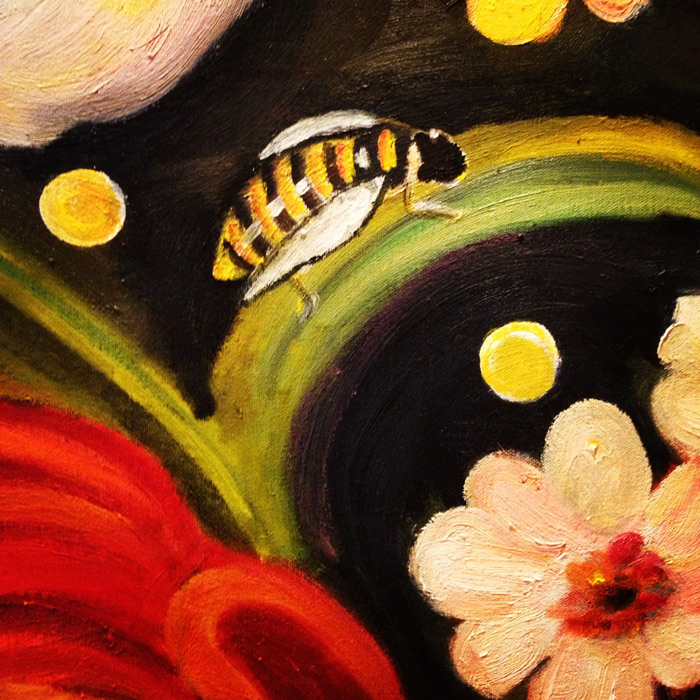 A working studio of creative artists from painters to potters who produce, display, and sell their artwork in the studio. During First Friday Art, visit and hang out in the funky, cozy studio for friendly conversation, artwork, and light snacks. 4a Howard St, A-8, (802) 355-3502. Open for First Friday and by appt.
---
 Listing an Exhibition
Are you a gallery, art studio, individual artist, or a business that hosts exhibitions of artwork? Then membership to Art Map Burlington is for you. You can sign-up for a single issue or a full year. For more information, call (802) 264-4839 or EMAIL.