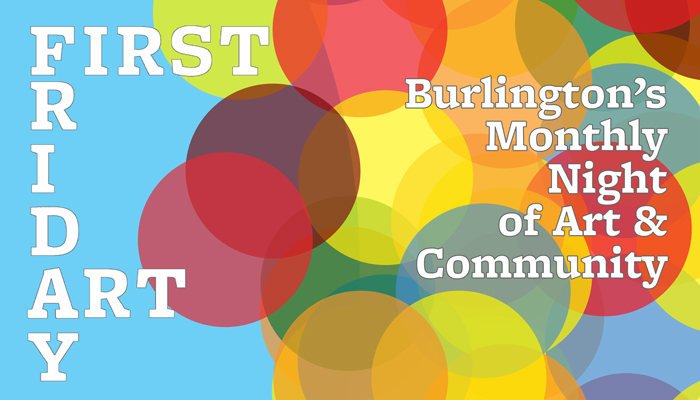 The next First Friday Art is
March 6th, 5-8PM.
First Friday Art is a monthly, community-wide event where dozens of art venues across the city host openings, exhibitions, and happenings.
The event is free and open to anyone.
Most venues are open from 5PM to 8PM, but some are open earlier or later.
Art Map Burlington is the official guide to First Friday Art. Pick up a copy at any participating venue. Enjoy!
---
Open daily 7AM-11PM. Member-artists are showcased on the Member Art Wall, located behind register 10. Through 3/31/20: Burlington member-artist Tony Shull is an artist, painter, muralist. He says, I "mostly work in acrylics, and will paint on everything from stretched canvas to wooden boards to slate shingles. My style ranges from abstract psychedelic pieces to paintings that are reminiscent of Hieronymus Bosch." You may have seen some of his "outsider" work around town. 82 S Winooski Ave, (802) 861-9700. (image by Tony Shull. Couirtesy of the artist.)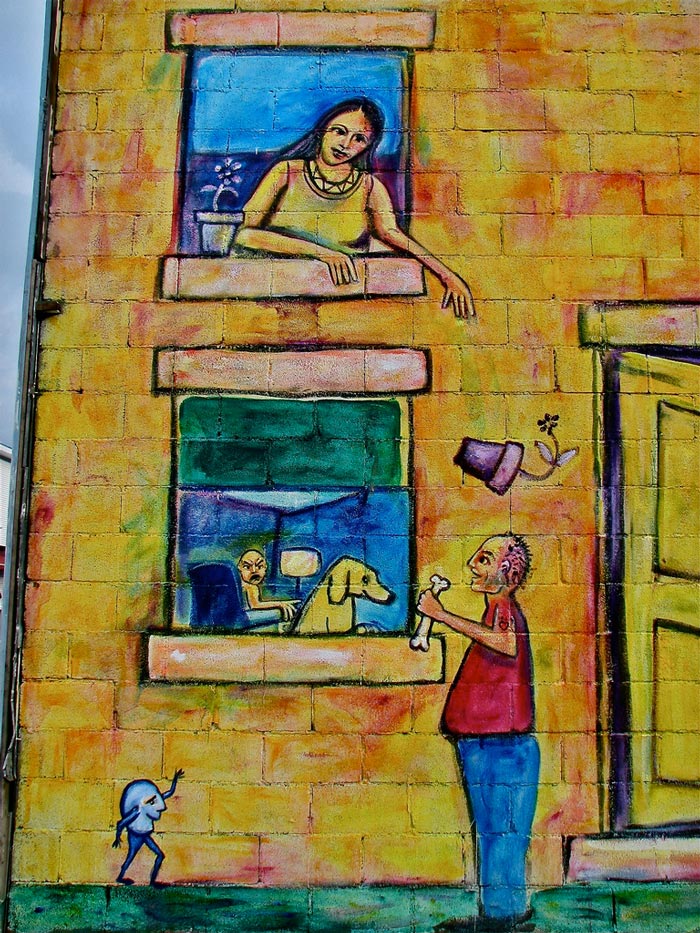 Featuring contemporary art exhibitions that connect art and community, nurture creativity, imagination, and ignite a passion for learning through the arts.Through 6/7/20: "Apocalypse Diet: What Will We Eat?", guest curated by Stella Marrs, investigates food systems–the processes and infrastructure required to feed a population–in light of imminent ecological crisis. Featured artists include Suzanne Anker, Ellie Irons and Anne Percoco, Andrea Haenggi, and Candace Thompson. In "Exploring the Invisible", Brigitta Varadi explores the invisible, everyday rituals of working life. Varadi's research-based practice is an integral aspect of her creative process, with each project incorporating experimentation and new techniques. For Estefania Puerta's "Sore Mouth Swore", the artist creates an installation that draws upon themes of transformation, immigration, and personal identity. Puerta identifies as an immigrant Latina woman and is deeply connected to displacement and a "sense of body" that doesn't quite fit anywhere. 135 Church St, (802) 865-7166, Open Tues-Thurs, Noon-5; Fri-Sat, Noon-8. (image: Astroculture by Suzanne Anker (2019), part of "Apocalypse Diet". Courtesy of the artist and Burlington City Arts)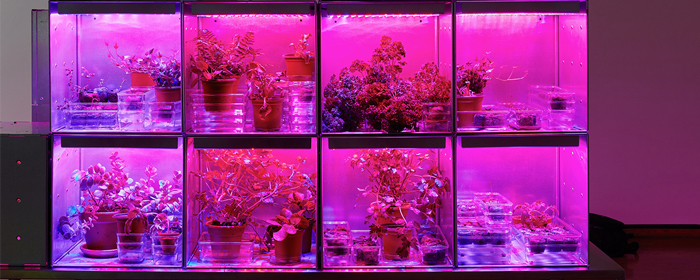 BCA curates the artwork on the main floor. 3/5-3/27/20: "33rd Annual Children's Art Exhibit" features over 150 original works by young artists from the Burlington Elementary Schools. Awards Ceremony with the Mayor in Contois Auditorium: Thurs, March 19, starting at 5:30PM. Presented by BCA and Burlington Elementary Schools. 149 Church St, (802) 865-7166, M-F, 8:30-4:30 and for First Friday Art.149 Church St, (802) 865-7166, M-F, 8:30-4:30 and for First Friday Art. (image courtesy of Burlington City Arts)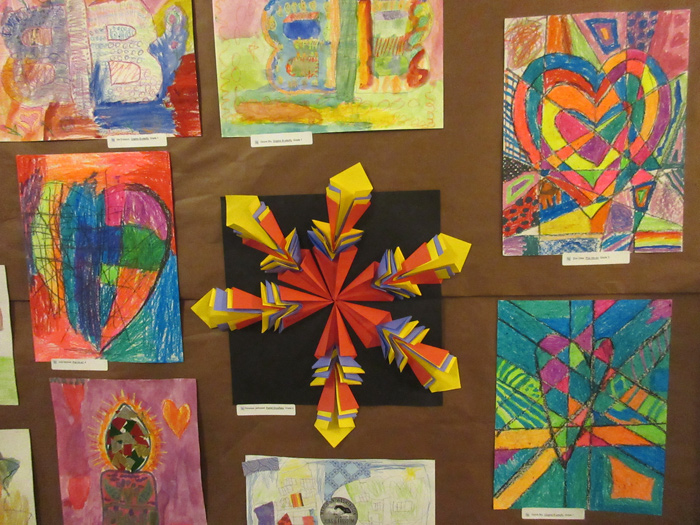 Main Street Landing and Little Umbrella : Art Curation are dedicated to increasing awareness and appreciation of Vermont visual artists, showcasing traditional and nontraditional visual art in rotating (monthly or bimonthly) shows and community-based events. March 2020: Jacques Burke presents "March Madness Show". Burke loves getting lost in his creations, he usually starts with painting, then drawing with markers on top of dry paint or photos. Winter has made him a little loopier than summer months. Now he's going to share what madness has made for March. Curated by Sarah of Little Umbrella : Art Curation. 1 Main St, (802) 735-7091, M-F, 8-3; Sat-Sun, by appt. Open for First Friday Art. (image by Jacques Burke. Courtesy of the artist and Little Umbrella : Art Curation)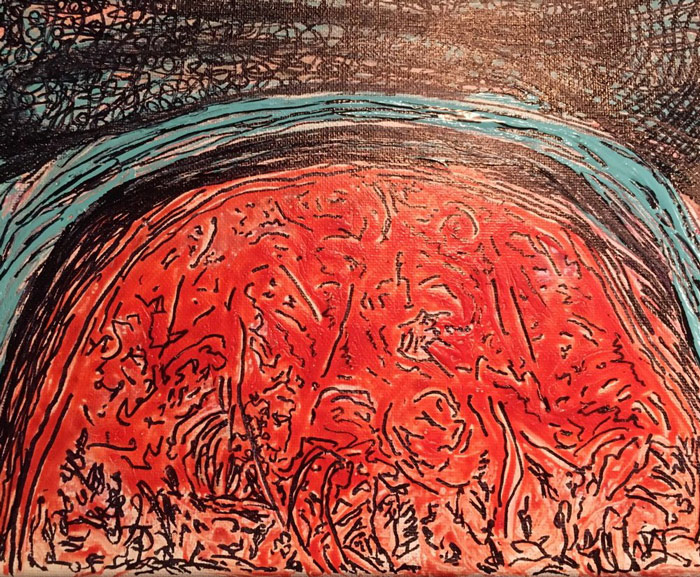 Serving up imaginative beers for enlightened palates and regional art throughout the eclectic lakefront brewery. Through 3/31/20: "cutting your brake lines is a good exercise in crisis aversion" by Burlington artist Will Gebhard, who paints on canvas, objects, and walls, as well as black-and-white and color illustration, and digital collage. He is also available for commissions. 112 Lake St, (802) 399-2511, M-Thurs, Noon-10; Fri-Sat, 11-Midnight; Sun, 11-7. (image by Will Gebhard. Courtesy of the artist.)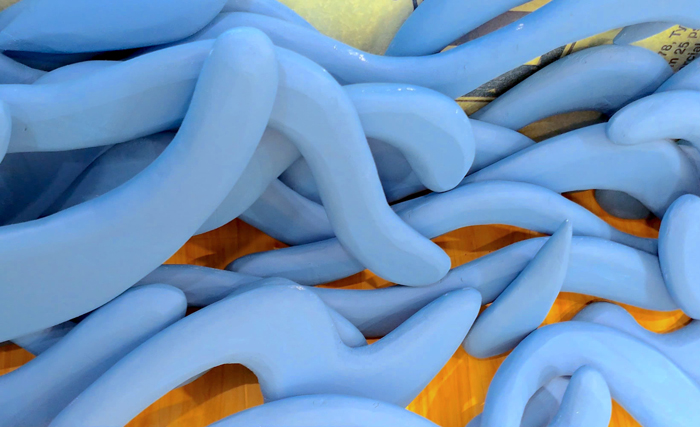 Showcasing contemporary and non-traditional art from Vermont artists and hosting a permanent video exhibition booth presenting video installations by international artists in bi-monthly exhibits. March-April 2020: Tatiana E. Zelazo's "Nation et al." explores gender and the relationship between the queer community and their allies. It illuminates the issues, topics, and struggles of this community without talking over or for them. It also challenges the notion that to be a patriot you can never criticize your country. Eden Mitsenmacher's video These Boots Are Made for Walking examines the song in relation to its sexual politics and use as a protest song (These Boots Are Made for Marching). It undermines the idea of the archetypal "feisty woman scorned" protagonist with wit and pulsating udder-like toes. Opening reception during March's First Friday Art. Curated by Sarah of Little Umbrella : Art Curation. CornerStone Building, 3 Main St, (802) 735-7091. Open M-F, 8-8, Sat-Sun, 10-8. (image by Tatiana Zelazo. Courtesy of the artist and Little Umbrella : Art Curation)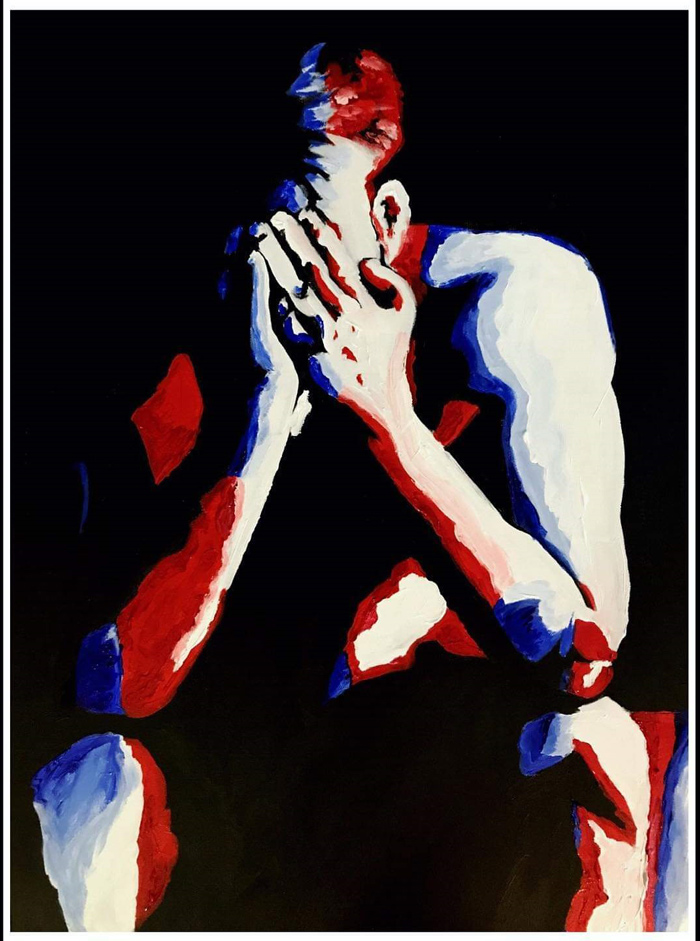 Onion River Coop. Open daily 7AM-9PM. Member-artists are showcased on the Member Art Wall in the cafe. 3/2-4/30/20: Burlington member-artist Claire Graham-Smith has a varied artistic and creative background which led her to become a Modern Art Quilter. She stitches her quilts on a domestic machine and by hand, using fabric gathered from far and wide, including garments, mostly cotton, but also silks and linen. She improvises much of her work directly on the design wall and uses embellishments, beads, and freehand-guided hand embroidery and quilting. 207 Flynn Ave, (802) 540-6400. (image by Claire Graham-Smith. Courtesy of the artist and City Market, Onion River Coop)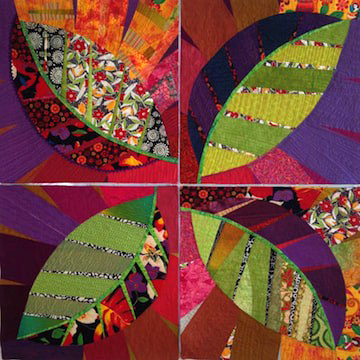 Curated by SEABA, showcasing traditional and non-traditional visual and multimedia artwork by Vermont artists. Through 3/31/20: "Warmth" is an exhibition featuring work that is warmer in tones, utilizes textiles, and contains content that exemplifies the theme. 208 Flynn Ave, #2-G, (802) 651-9692, Open M-F, 10-10, Sat, 10-5.
Art Gallery surrounded by 12 working artist studios. Through 3/7/19: "All the Feels" features artwork that exudes emotion, feeling, and causes reactions! Whether in the creation process from the artist, in the content of the piece, or in the response from the viewer while taking in the work, we all want to feel something. 266 Pine St (Soda Plant), spacegalleryvt.com, Open Thurs-Sat, Noon-5. (image:Mask 1 by Colleen Mooney (clay). Courtesy of the artist and S.P.A.C.E.)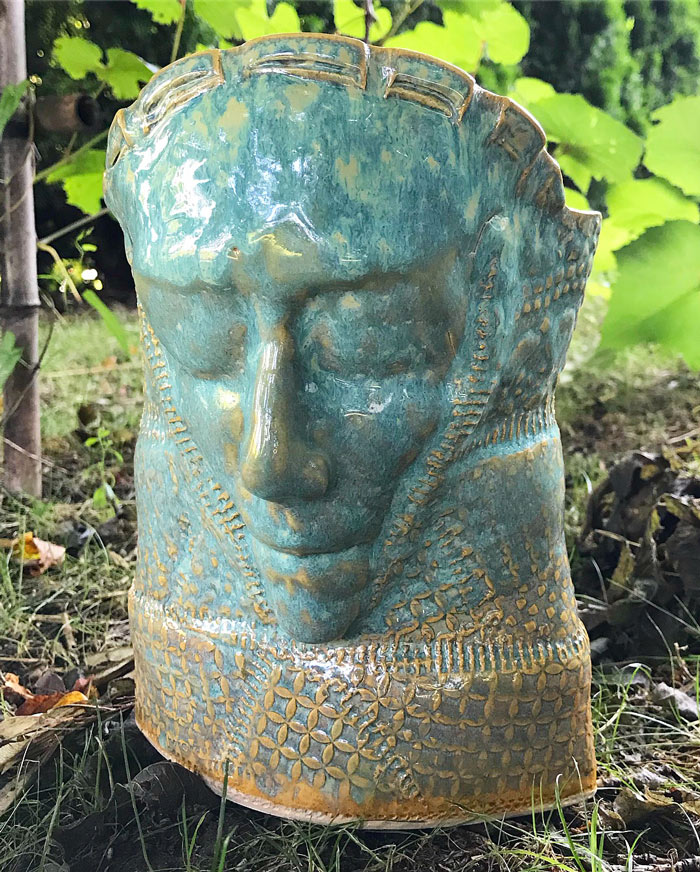 Art shop featuring about 30 artists from Vermont and beyond with a rotating artist on one wall. March 2020: Montpelier artist Barbara Leber presents "Early Spring to Spring". She writes,"It's never too early to dream about the coming of spring. These paintings were inspired by this thought." 270 Pine St, (802) 338-7441, Open Tues-Sat, 10-6, until 8 during First Friday Art. (image by Barbara Leber. Courtesy of the artist and Thirty-odd)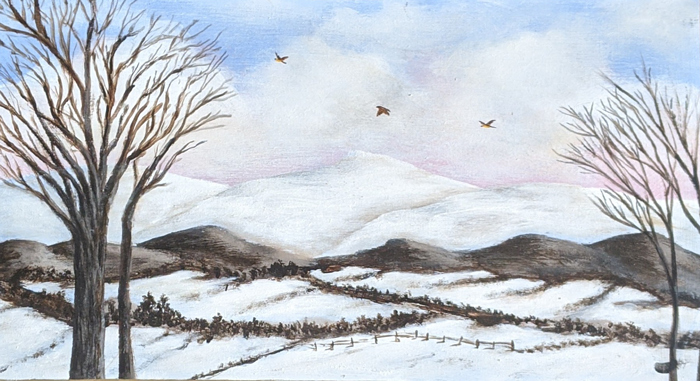 This eclectic second-hand shop is home to a revolving collection of art. 377 Pine St, (802) 540-0107, M, W-Th, 10-5; Fri-Sat, 10-9; Sun, 11-3.
Aaron Stein's license plate artwork: map sculptures, shadow boxes, photo frames, wine racks, cuffs, house trailers, lamps and ornaments all created out of recycled license plates from all 50 states. 266 Pine St (Soda Plant), (802) 355-4091. Open during First Friday Art and by appt.
Abstract contemporary by artists Bruce R. MacDonald, Gordon Auchincloss, Joël Urruty and George Peterson. March 2020: "Small and Mighty" is the new collection of scaled-down, yet dramatic, stainless steel light sculptures by artist Bruce R. MacDonald alongside the HAVOC Gallery artists. 27 Sears Ln (next to Greer's), (800) 639-1868, Open for First Friday Art; Weds-Fri, 9-5; & by appt, havoc@havocgallery.com. (image: Alpha by Bruce R. MacDonald (27″x16″; stainless steel light sculpture; 2020). Image by Sarah Vogelsang Card.)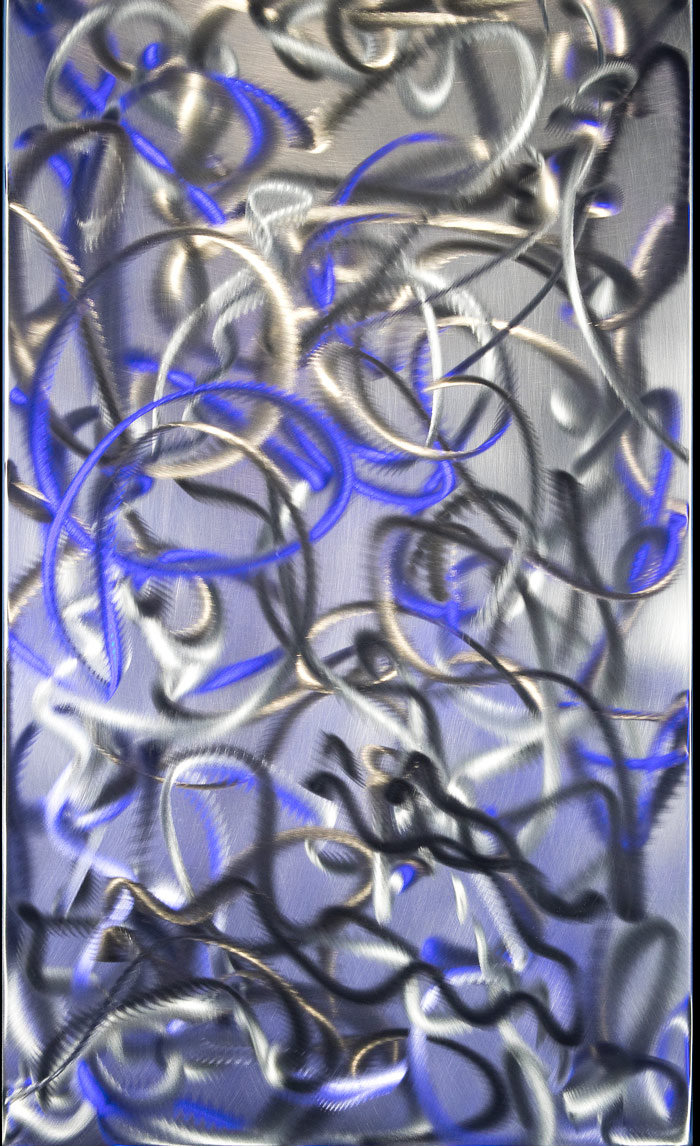 Listing an Exhibition
Are you a gallery, art studio, individual artist, or a business that hosts exhibitions of artwork? Then membership to Art Map Burlington is for you. You can sign-up for a single issue or a full year. For more information, call (802) 264-4839 or EMAIL.