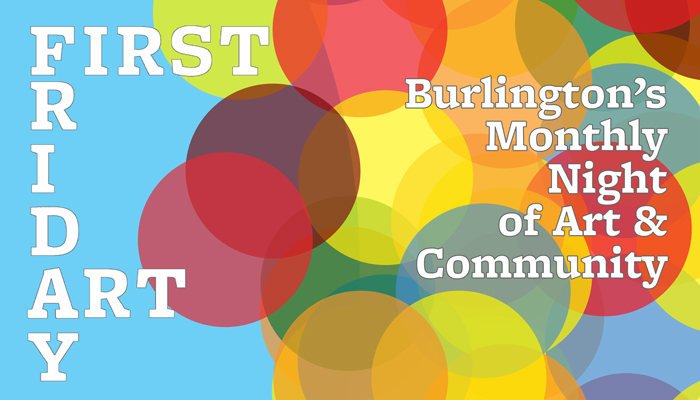 The next First Friday Art is
August 3rd, 5-8PM.
First Friday Art is a monthly, community-wide event where dozens of art venues across the city host openings, exhibitions, and happenings.
The event is free and open to anyone.
Most venues are open from 5PM to 8PM, but some are open earlier or later.
Art Map Burlington is the official guide to First Friday Art. Pick up a copy at any participating venue. Enjoy!
---
Open daily 7AM-11PM. Member-artists are showcased on the Member Art Wall, located behind register 10. 8/1-9/30/18: Bryan Briscoe's art focuses on color, form and expression. His subjects reflect a strong spiritual connection to people, nature, flora and fauna. Briscoe paints from his studio in the Adirondack Park. 82 S Winooski Ave, (802) 861-9700. (image: Stephanie's Dolls by Bryan Briscoe)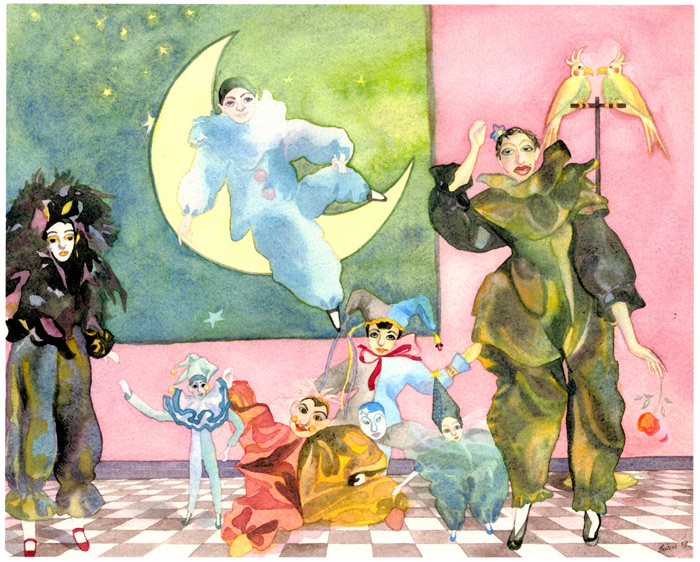 Salon featuring a dedicated gallery space with rotating exhibits focused on eclectic and bold work. Shelburne monoprinter and painter Casey Blanchard presents "Regeneration". She considers no "found" object too grand or too insignificant to express spirit and soul in the printing medium. Opening during First Friday Art, 6-8.106 Main St, (802) 864-2088. Open Tues-Thurs, 10-7; Fri-Sat, 10-5.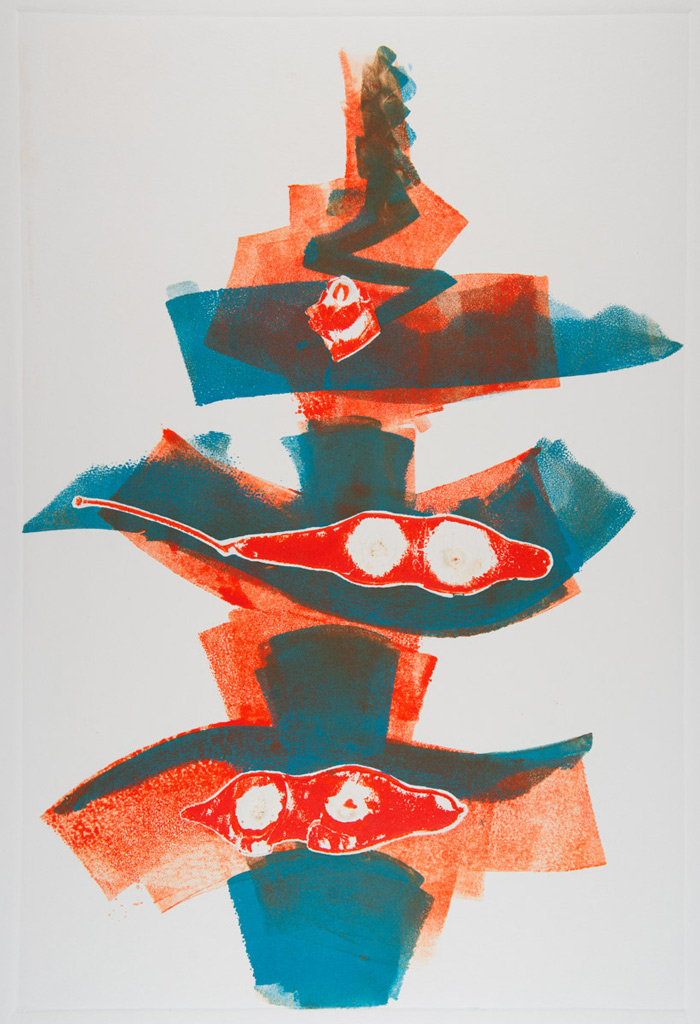 Featuring contemporary art exhibitions that connect art and community, nurture creativity, imagination, and ignite a passion for learning through the arts. Through 8/8/18: Nicole Czapinski's "Forever, Little Ghost" explores illusions within perception, the complexity of consciousness, and is inspired by the invisible and unknown. Through 10/7/18: Crystal Wagner's "Traverse" transforms organic and biomorphic designs into colorful prints, sculptures, and sprawling installations comprised of bursting colors and organic forms. 8/10-10/7/18: "Artist's Artists: The Way You Look", curated by Vermont-based artist and guest curator Pete Moran, brings the acute, time-based work of filmmaker Ashish Avikunthak into contact with Tim Simonds' intimate and careful sculpture. "Visual Analogies: The Photography of Vanessa Kotovich & Penn Chan" explores themes of growth and decay; myth and reality; and the beautiful and the grotesque. Opening reception for both shows: Friday, 8/10, 6-7:30PM. 135 Church St, (802) 865-7166, Open Tues-Thurs, Noon-5; Fri-Sat, Noon-8.
A community spot since 2007, New Moon Café presents work by Burlington-area artists in the dining area. Through 8/31/18: Andria Lovejoy's "Questo & Quello". The artist is an eclectic painter with unique landscape painting style: both painterly and free, with interesting brushwork and softness. Her recent foray into abstract painting was inspired by images of rusted objects, but have taken on a fun and colorful form of their own.150 Cherry St, (802) 383-1505 or (802) 383-1496. M-F, 7:30AM-8:30PM; Sun 8AM-8:30PM.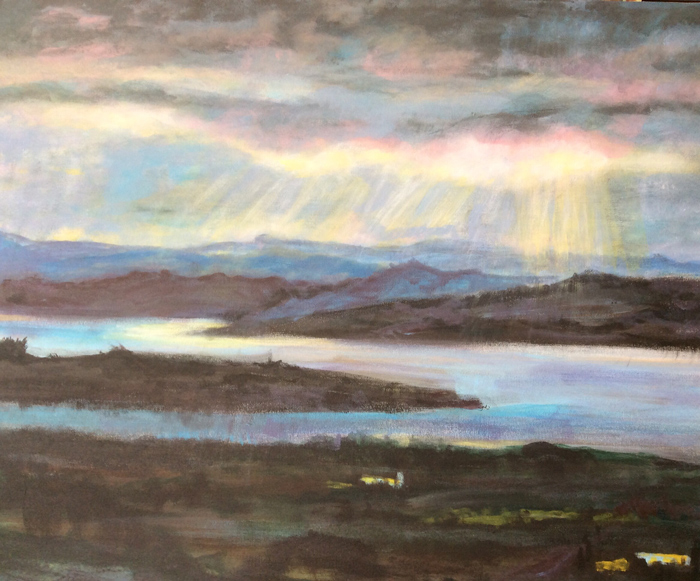 Showing the works of over 200 juried, Vermont artisans in month-long exhibits. August 2018: Encaustic photographs by Victoria Blewer, who adds wax to her photographs in order to create a dreamy or elegiac effect and to make the photos look more painterly and soft. 85 Church St, (802) 863-6458. Hours vary by season.  (image by Victoria Blewer)

Connecting Burlington's emerging artists with emerging patrons of the arts to create just and sustainable communities. 8/3-10/18/18: "Alison Weld: Inner Essentials" presents new abstract work by the Essex, New York-based artist. Opening reception during First Friday Art, when you can also visit the open studios of New City's 3 artists-in-residence, 5-8.132 Church St, (802) 355-5440, Open Tues-Fri, 11-5. (image: Silent Strata 3 by Alison Weld (50″x36″; oil on linen; 2017)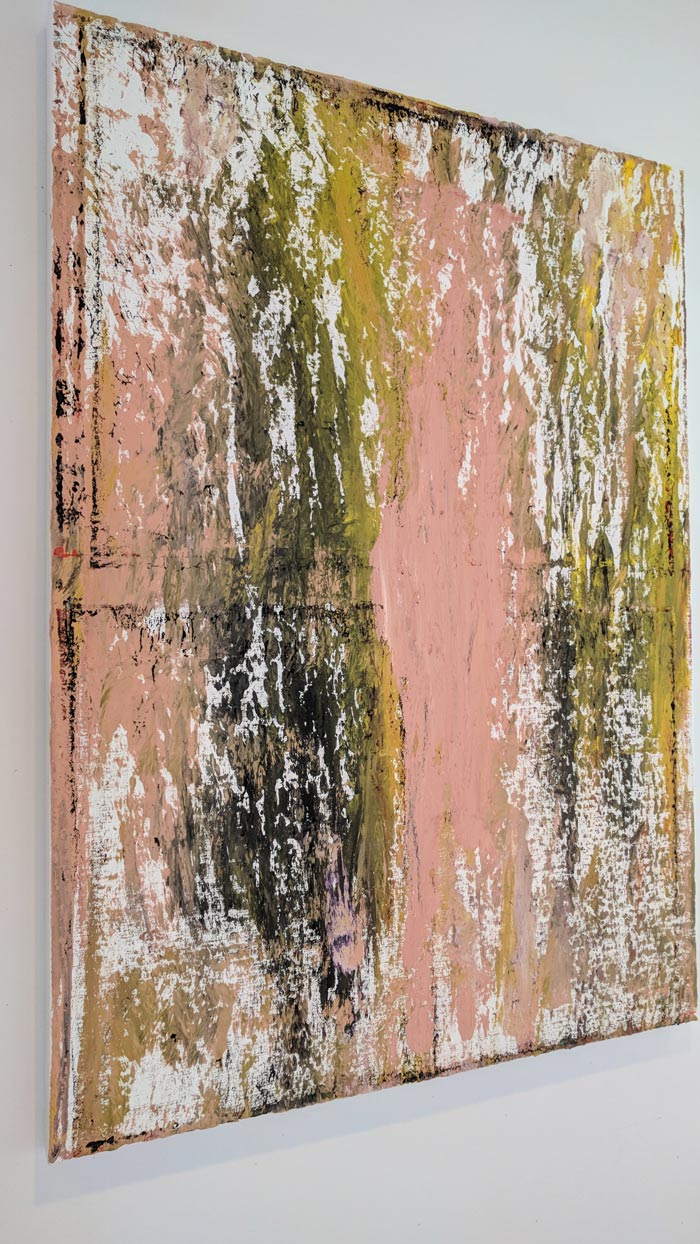 BCA curates the artwork on the main floor. Through August 2018: Judy Hawkins paintings. Water, with all its varied dimensions, fascinates Hawkins. She is drawn to and inspired by its simplicity and changing nature–from the pond pebbles on the bottom through layers of water, to surface tension, reflection, water splashes and ripples. 149 Church St, (802) 865-7166, M-F, 8:30-4:30 and for First Friday Art. (image: Maddie's Meadow by Judy Hawkins (24″x30″; oil on canvas))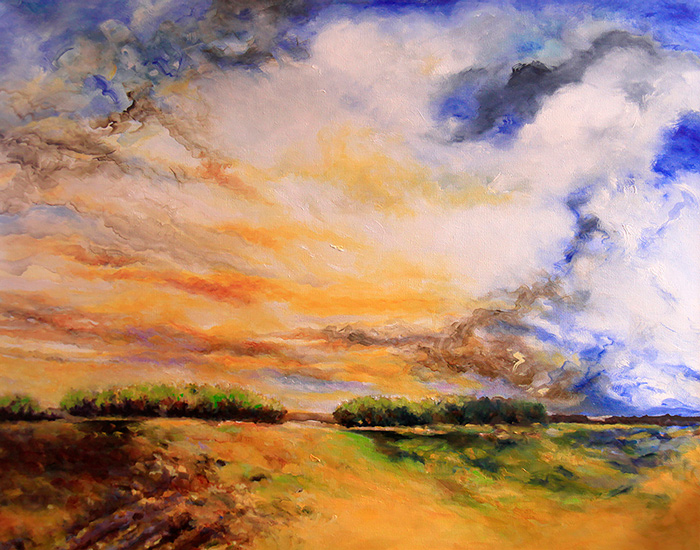 Serving up imaginative beers for enlightened palates and regional art throughout the eclectic lakefront brewery. Through 8/31/18: "Cut-Outs" is work by Clark Derbes. 112 Lake St, (802) 399-2511, M-Thurs, Noon-10; Fri-Sat, 11-Midnight; Sun, 11-7.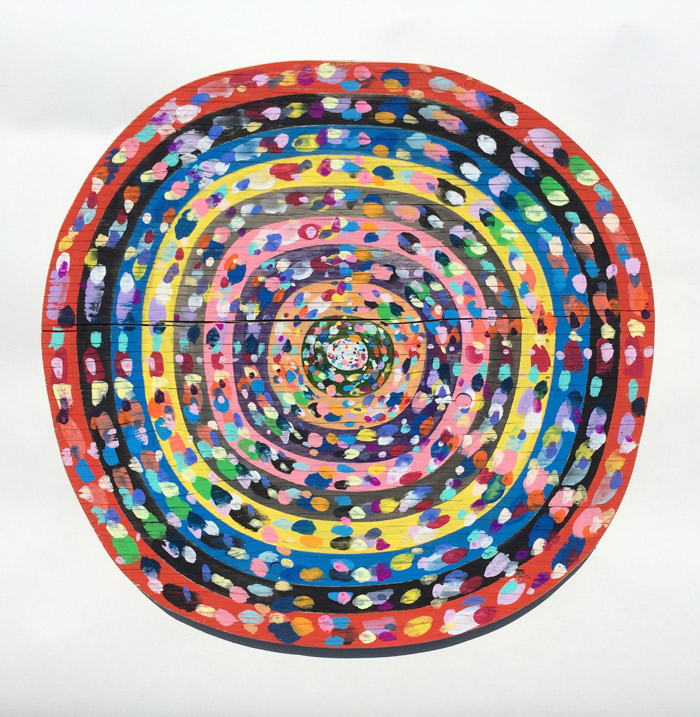 Showcasing traditional and non-traditional visual art in bimonthly shows in a space overlooking Lake Champlain. Through 8/31/18: "Happy Home" is paintings in acrylic and watercolor by Olga Verasen, whose acrylic work is made using a sophisticated layer-by-layer technique to create a special lighting effect. She also uses watercolor, in combination with pastel and other special techniques, to create illustrations for her children's books. Also on view, James Stewart's interactive video installation, Solipsism. Powered by SEABA. CornerStone Building, 3 Main St, (802) 859-9222. Open M-F, 8-3, Sat-Sun by appt. (image by Olga Verasen)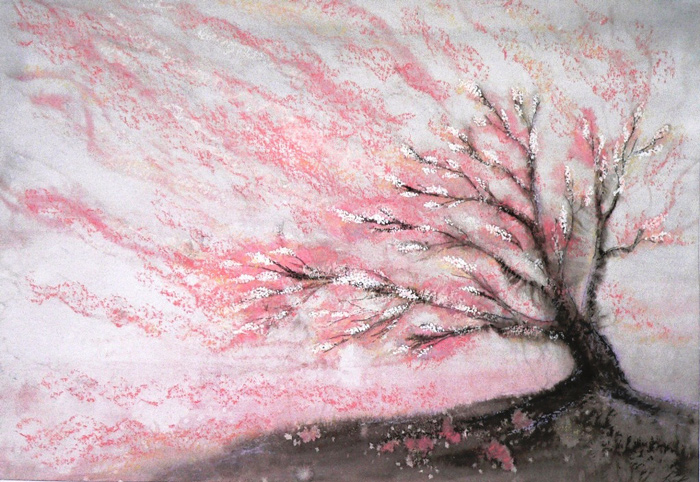 Open daily 7AM-9PM. Member-artists are showcased on the Member Art Wall in the cafe. Through 8/31/18: Photographer Susan Essex Luce presents work from two series: "Art, Hops, and Kale, MMXVII" and a series of taken mostly in 2014 of landmarks in the South End, including the buildings on the site of the new South End City Market. 207 Flynn Ave, (802) 540-6400.
Curated by SEABA, showing large-scale 2-D work and installation sculpture with multi-media work presented at their quarterly openings. Through August 2018: The Annual SEABA Members Only Art Exhibit honors businesses and artists alike with a group exhibit by member artists at one of SEABA's member locations. 208 Flynn Ave, #2-G, (802) 651-9692, Open M-F, 10-10, Sat, 10-5. (image below: Dragonfly Moon by Ceili Seipke (12″x12″). This image was featured on the cover of the June 2018 Art Map Burlington)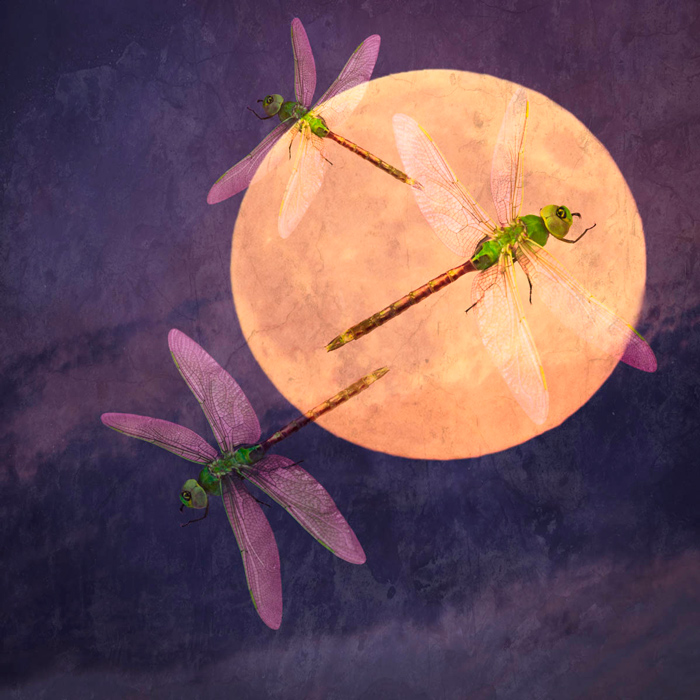 Home to 12 working artist studios and a gallery. During August's First Friday Art, meet Alex Costantino for the closing of "Avalon" (featured on the cover of July's Art Map Burlington). "Avalon" is a portrait of a particular rural future, one in which the questions of life in the outer edges of a wealthy, deeply unequal society have been answered in unexpected ways. 266 Pine St (Soda Plant), (802) 578-2512, Open Thurs-Sat, Noon-5. (image: Avalon Islands by Alex Costantino)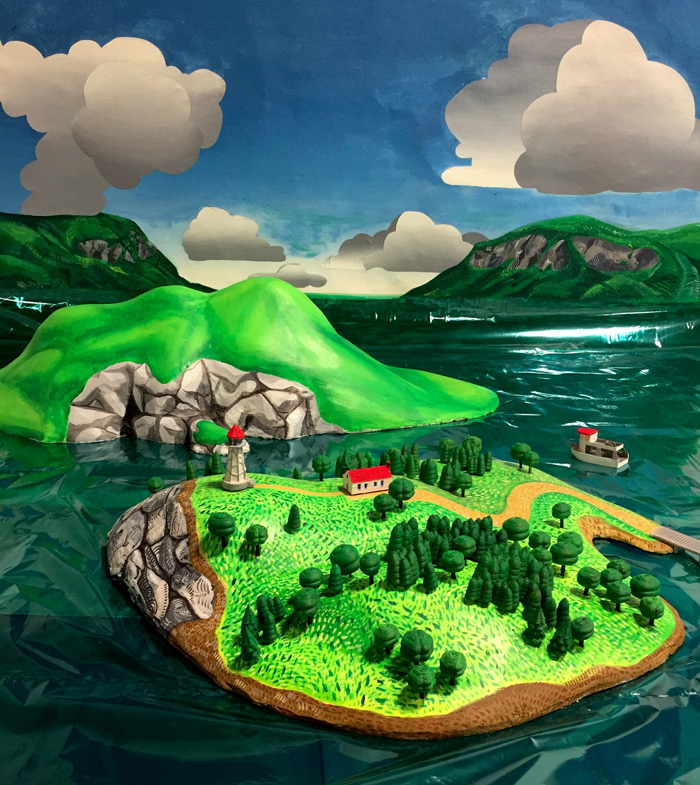 Art shop featuring about 30 artists from Vermont and beyond with a rotating artist on one wall. August 2018: Kara Torres' small, intuitive acrylic paintings explore depth, texture, and asemic writing practices by amalgamating cartoon elements with subtle color shifts to create wacky scenes that allow the viewer to delve into their imagination. 270 Pine St, (802) 338-7441, Open Tues-Sat, 10-6, until 8 during First Friday Art. (image by Kara Torres)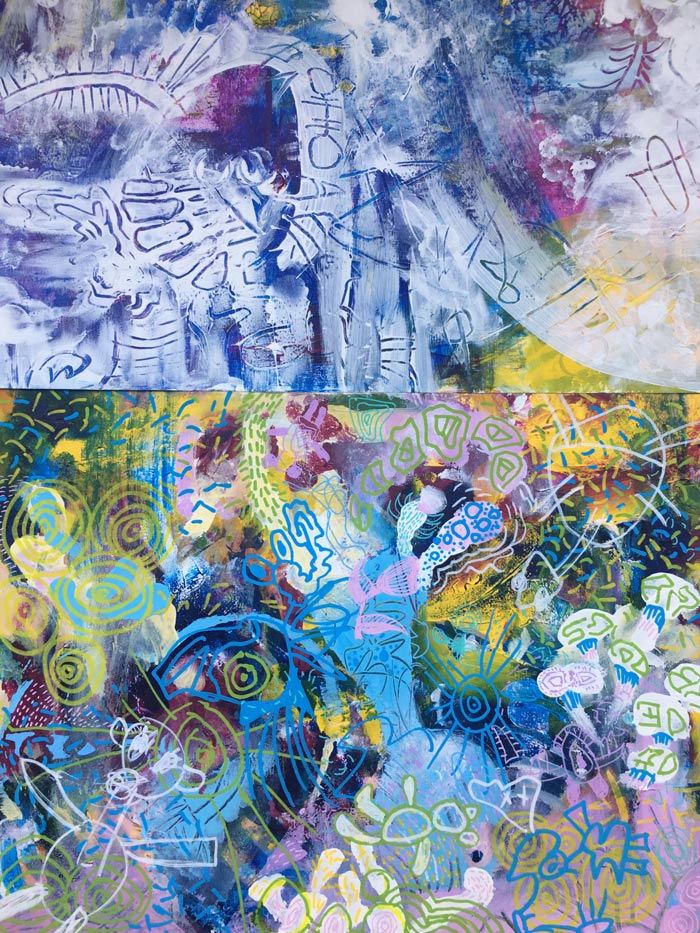 This eclectic second-hand shop is home to a revolving collection of art. 377 Pine St, (802) 540-0107, M, W-Th, 10-5; Fri-Sat, 10-9; Sun, 11-3.
Aaron Stein's license plate artwork: map sculptures, shadow boxes, photo frames, wine racks, cuffs, house trailers, lamps and ornaments all created out of recycled license plates from all 50 states. 266 Pine St (Soda Plant), (802) 355-4091. Open during First Friday Art and by appt.
Two working studios featuring abstract, eclectic, and sometimes chaotic original paint work by Franky D, who started painting for the first time in 2016 with no formal art training. His work is passionate, gritty, and imperfect much like life itself. 266 Pine St (Soda Plant), (802) 355-3502. Open Thurs-Sat, Noon-5 and by appointment.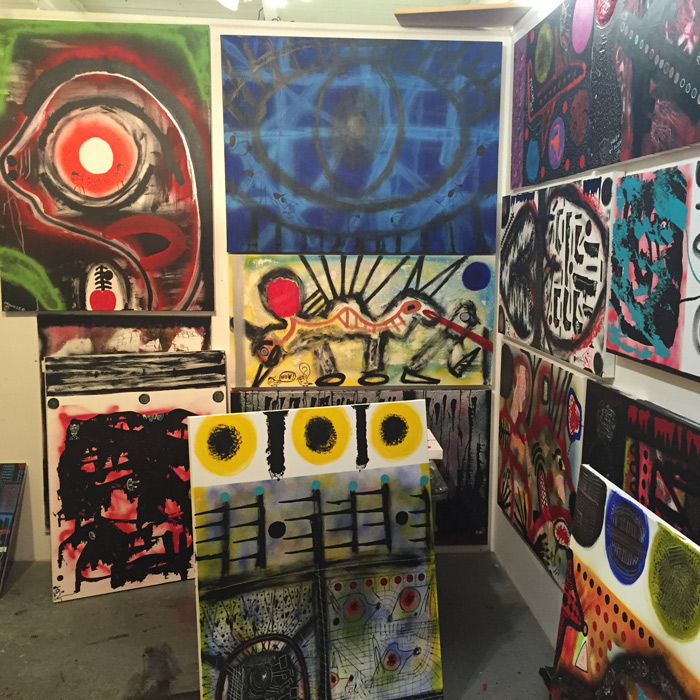 A custom picture framing workshop that features monthly exhibitions. Through 8/20/18: "Trade Winds Over Paradise" is paintings by Golden True, who says, "The drama of forms in space, a perfect moment in a perfect place, colors make light, reshaping the experience, magical worlds await…" 308 Pine St #101, (802) 660-9005. Open M-F, 10-6; Sat, 10-3. (image: untitled landscape by Golden True (oil on panel))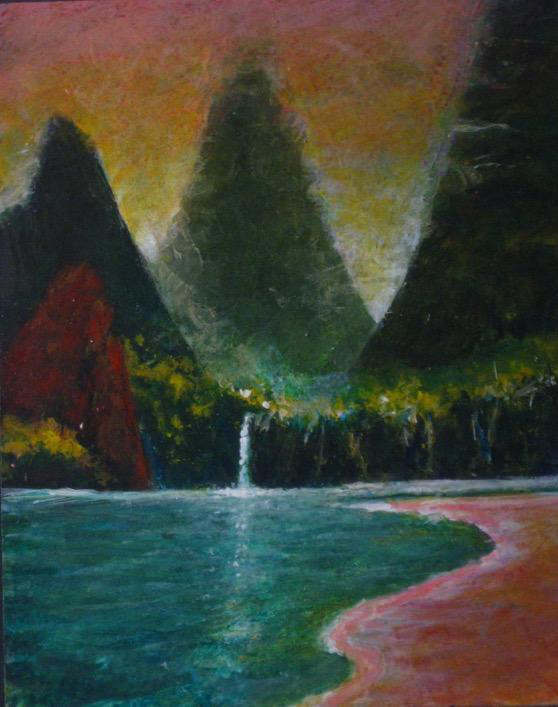 Meet Emily Anderson and learn how she uses the drawing of fairies to inspire imagination and encourage positivity so life's challenges can be met with light-hearted energy. During First Friday Art, Anderson will present multiple performances of a Crankic Show called "Accomplishing Big Things" that features the "Fairy of the Day" app. 4a Howard St (3rd Fl, next to Sharon Webster), (802) 238-4540, Open for First Friday Art & by appointment.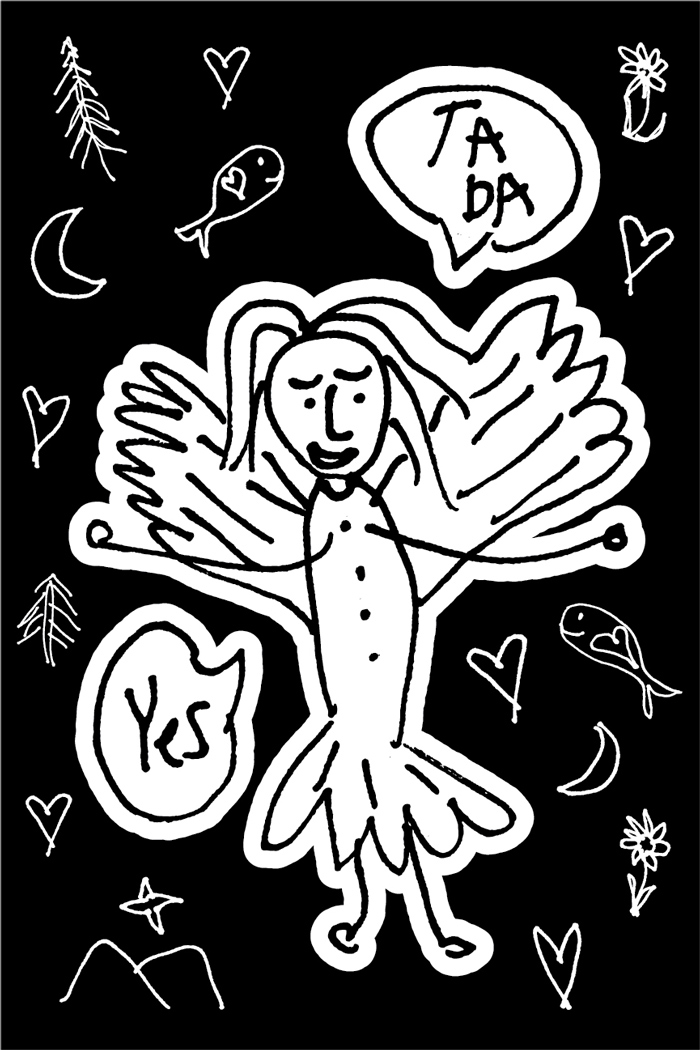 A working studio of creative artists from painters to potters who produce, display, and sell their artwork in the studio. During First Friday Art, visit and hang out in the funky, cozy studio for friendly conversation, artwork, and light snacks. 4a Howard St, A-8, (802) 355-3502. Open for First Friday and by appt.
Beloved local beer factory has a curated space showing art on the tour ramp. 8/1-9/30/18: Vermont illustrator Jess Polanshek focuses on high detail and loose realism, with a strong focus on the beauty and intricacies of the natural world. She works in pen and watercolor on paper and has an unwavering obsession with northern forests and the creatures that inhabit them. Opening reception during First Friday Art, 5-7. 5 Bartlett Bay Rd, South Burlington, (802) 658-2739 x2014, Open M-Sat, 11-7; Sun, 12-5.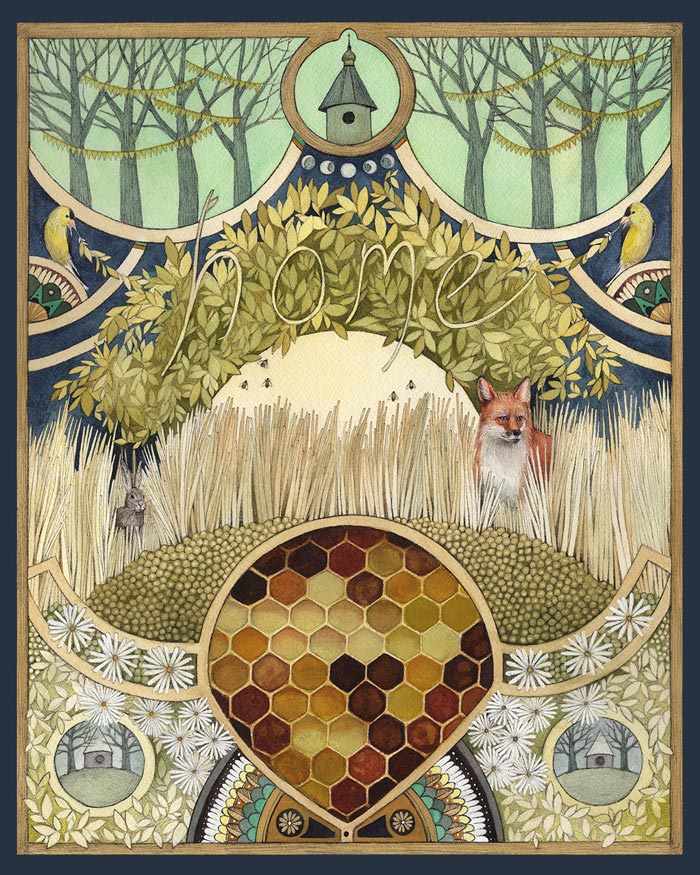 ---
 Listing an Exhibition
Are you a gallery, art studio, individual artist, or a business that hosts exhibitions of artwork? Then membership to Art Map Burlington is for you. You can sign-up for a single issue or a full year. For more information, call (802) 264-4839 or EMAIL.