Showcasing contemporary and non-traditional art from Vermont artists and hosting a permanent video exhibition booth presenting video installations by international artists in bi-monthly exhibits. Curated by Little Umbrella : Art Curation.
Open Monday-Friday, 8AM-3PM and Saturday-Sunday, by appointment
60 Lake Street, Suite 2-E
(802) 859-9222
Art Map Burlington #26
---
Frank DeAngelis
March-April 2018
Artist reception during March's First Friday Art
Burlington artist Frank DeAngelis' "Paint Mayhem Under the Influence of Loud, Fast Music" is paint experiments that were produced using spray paint, acrylics, and oils mixed with various liquids and who knows what else!
---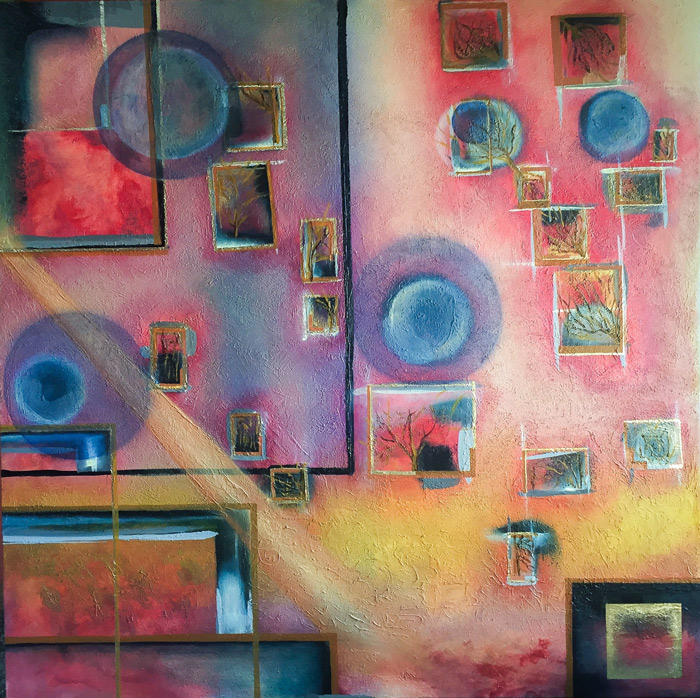 "Exposed": Kyle Michael LaPine
January-February 2018
Closing reception during February's First Friday Art
A Vermont native, Kyle Michael LaPine presents a collection of multimedia paintings and sculptures completed throughout 2017. This series of work explores themes of trauma, transformation, hope and ritual.
Image: Threshold by Kyle Michael LaPine
---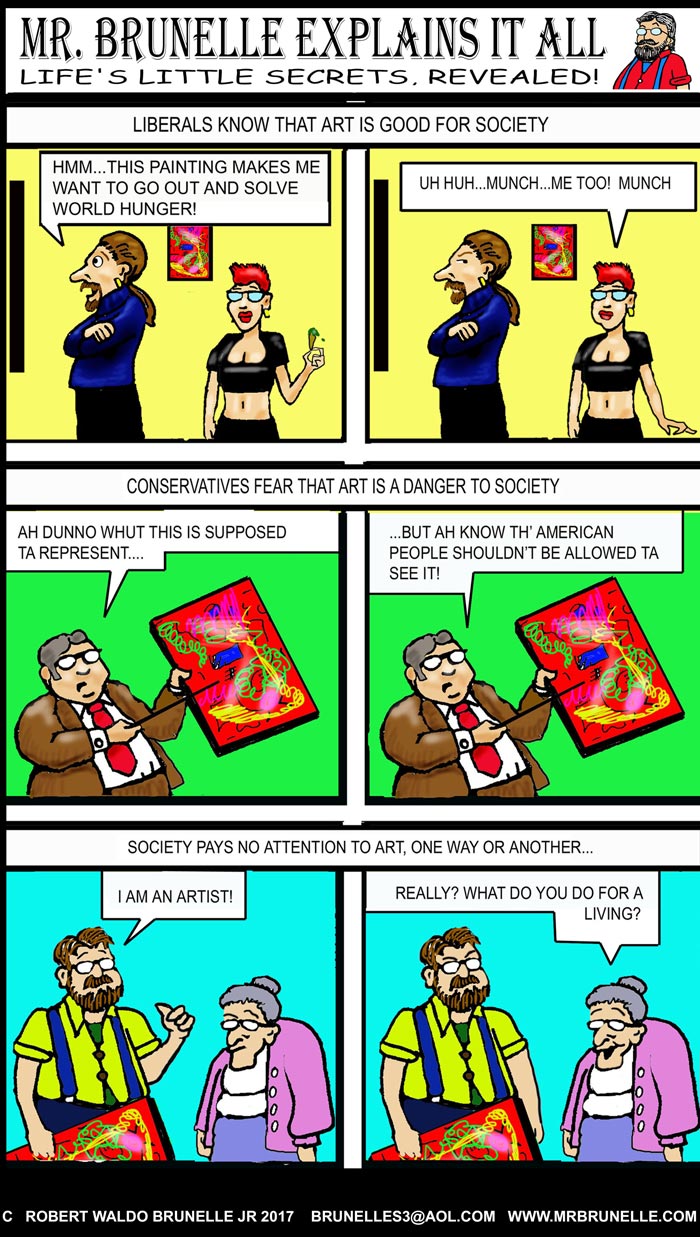 Vermont Comic Creators Group
November-December 2017
Artist reception and workshops during November's First Friday Art
Vermont Comic Creators Group is a coalition of over 100 Vermont comic creators who support each other, the Vermont comics scene, grass-roots education and the comics medium in general. During the November First Friday Art Opening Reception, meet some of the masterminds behind the Vermont Comic Creators world, enjoy workshops/chats with participants, learn how to make your own comic or just be inspired by their creativity!
Image by Robert Waldo Brunelle, Jr.
---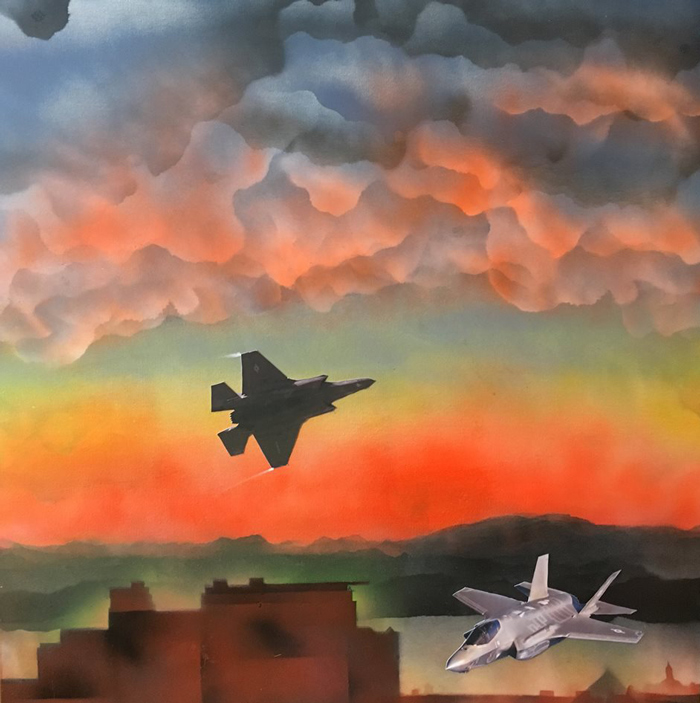 BillyBob
9/8-10/31/17
South End Art Hop hours: Friday, 5-8PM; Saturday, Noon-4PM; Sunday, 10AM-4PM
Burlington-based art team BillyBob is William Coil and Robert Green. BillyBob has made buildings, gardens, stonework, produced music, designed CD and book covers, mosaic murals, and, in 2014, began a project of producing art as a team. The current exhibition represents a collection of new and older works. Influences include Orphic Cubism, Post-war Expressionism, science fiction book covers, street art and 60's psychedelia.
Image: Welcome to New Burlington by BillyBob
---
Rae Harrell: "Still Out of My Mind"
July-August 2017
Artist Reception during August's First Friday Art
Hinesburg artist Rae Harrell's "Still Out of my Mind" is a collection of fabric art, painting and sculpture.
---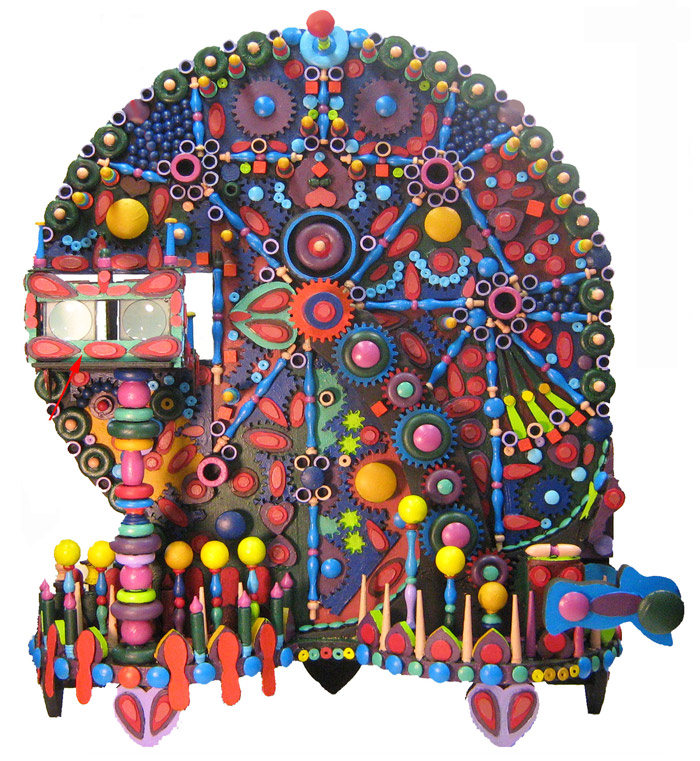 The Old Neighborhood: Paintings and Sculptures by Robert Waldo Brunelle, Jr.
May-June 2017
Artist Reception during May's First Friday Art
Brunelle's new series of paintings, "The Old Neighborhood", is inspired by vintage photographs taken in his old hometown of Rutland, and other locations in Vermont, between 1850 and 1950. He has collected 19th century photography since he was a boy and likes to think of these photos as time machines. He imagines the colors and sounds that were happening the moment the photographer took that picture. In addition to these paintings, this new show features a few of his amusing kinetic sculptures. He began making these when he was the art teacher at the Browns River Middle School. Like most art teachers, he was a pack rat, and his classroom was filled with odds and ends of various materials, which eventually found their way into these sculptures. The sculptures are fun to make, because they allow him to forget about subject matter, and instead, concentrate purely on form and color.
Image: Story Telling Machine: Picture without Words by Robert Waldo Brunelle, Jr.
---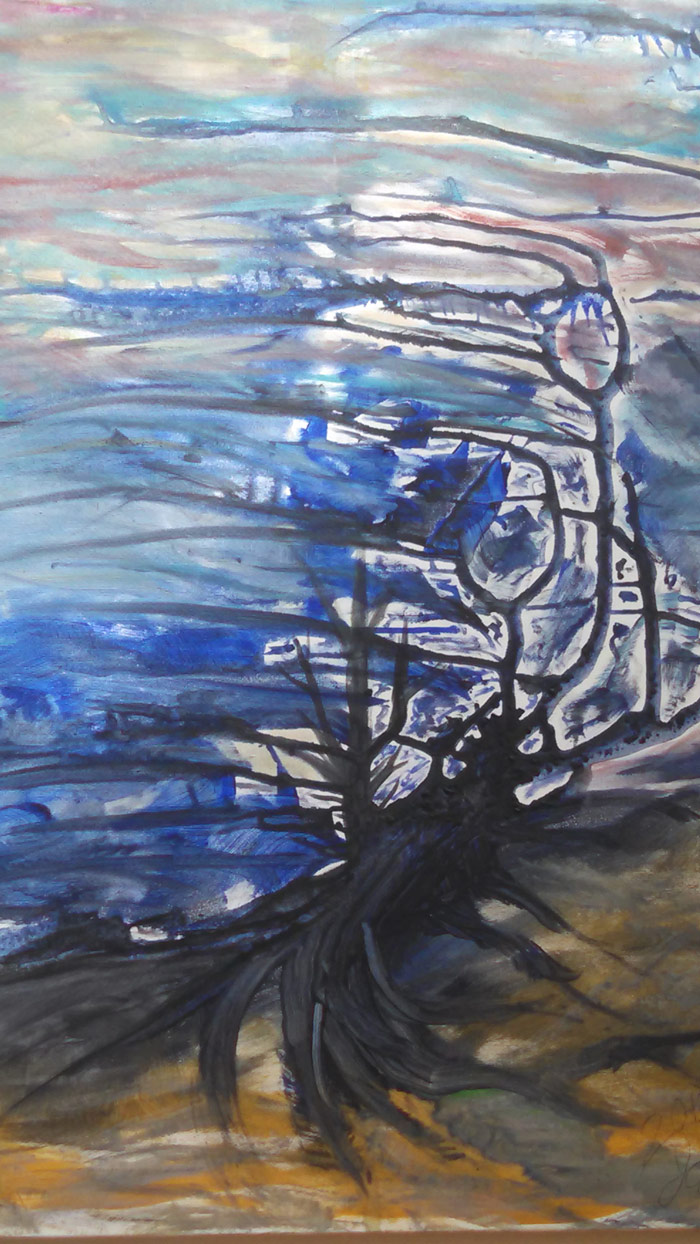 Jacques Burke
March-April 2017
Jacques Burke finds the world outside his door as an abstract pattern yet to be trapped on canvas. Not just the shapes, but colors and tones alike, letting nature take over and create the art itself. His unique techniques includes ink, water colors, acrylic, spray paint, different cut outs, gravity and an occasional metal slurpy straw…all this combined makes a very messy art room and a happy soul!
---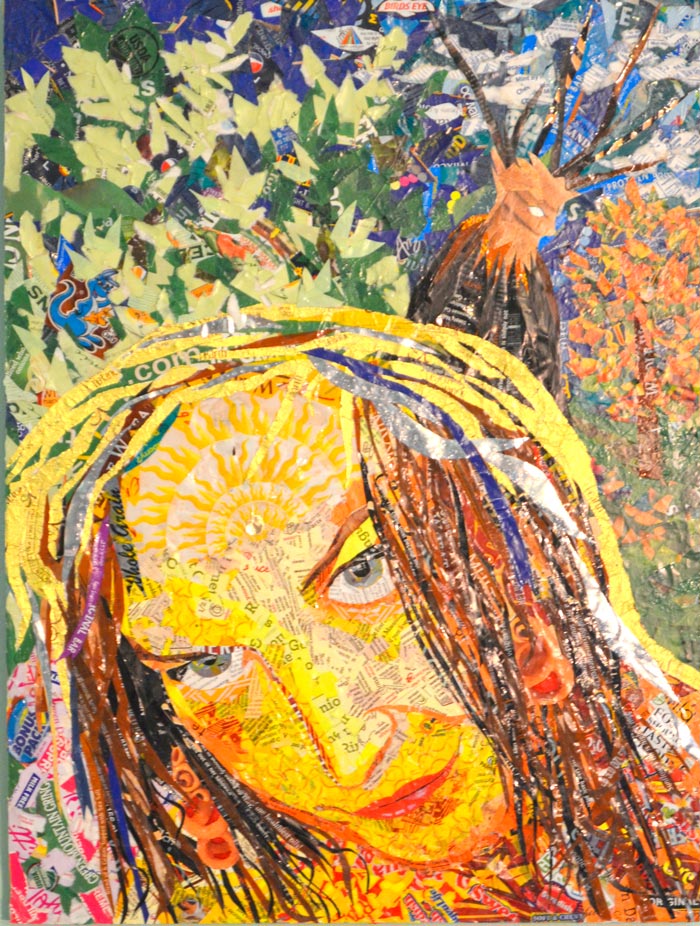 Eco-artist Anne Cummings
January-February 2017
Opening reception during February's First Friday Art, 5-7
Eco-artist Anne Cummings creates from her conviction to reduce, reuse, and recycle. The work in this exhibition exemplifies the idea of renewal in many ways, including through giving new life to the materials used, re-committing to the causes that form her core environmental beliefs, and renewing her spiritual connection to our natural world.
---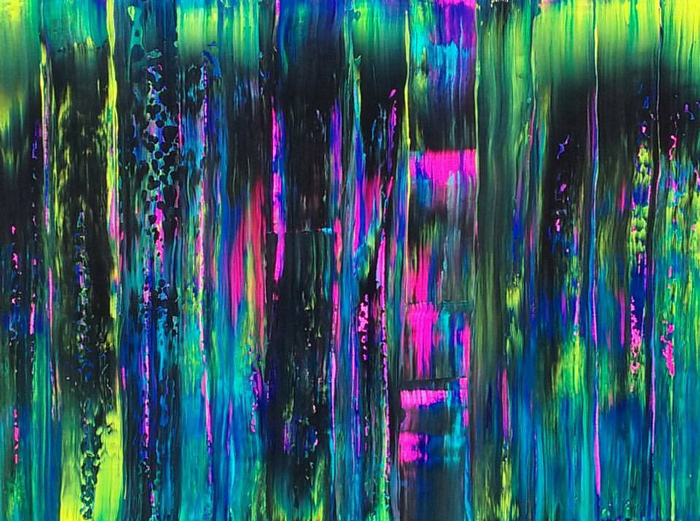 Steve Sharon
November-December 2016
The pieces that Steve Sharon incorporated for this show involve a deep and heavy process of a paint method that he stumbled upon through chance and the artistic mind that comes with not having been schooled by Art teachers. He went to school for music and has been a musician since the age of 14 and started painting about 5 years ago when his focus changed from music. The process he is showing within this show is to get a full on abstract visual of what certain colors look like when they come up from under a surface of complimentary moods and tones. The Abstract Expressionist in him wants the viewer to look upon the painting and come to their own conclusion as to what they see. As in all of us, we carry emotions which nurture a deep sense of reality inside our being, so what one person sees inside an abstract painting, another may see something completely different. It's his goal to have his paintings be looked at for more than one to two minutes, the longer one gets lost inside a painting, the stronger that communication becomes apparent, strengthened and understood between the artist and the viewer.
---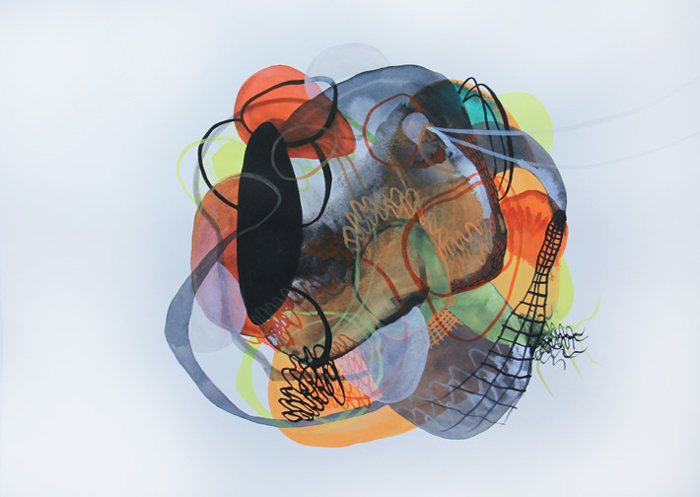 Katie Loesel
9/9 to 10/31/2016
Open for South End Art Hop Weekend, September 9-11.
Katie Loesel's work uses abstraction and color to explore ideas of geological history, microscopic surfaces, and rocky formations. Her interest in human influence on climate change and plastic as a distinct marker of our current era play into the shapes and forms. Plastiglomerate is a new type of rock formation that has been proposed as a geological marker of our current epoch, the Anthropocene, created from a mixture of natural and sedimentary elements fused by plastic from the ocean. The horror and intrigue from this distinctly human interference inspires the shape, form, and color that meld together through layers in the artwork. The appearance of these objects in the work are strangely playful, yet expose our flaws as creators of this plastic virus that is becoming layered into our history. The subjects in the artwork develop and grow in complexity throughout the process of making and layering and range from simple, overlapping shapes, to complicated structures. (image by Katie Loesel)
---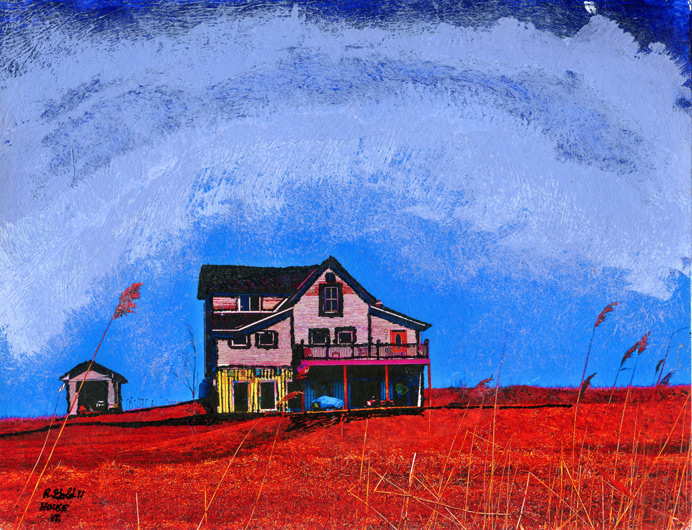 Robert Gold
5/1 to 8/31/2016
Artist Reception during August's First Friday Art with live music by Rick Reddington, 5:30-7:30PM
Robert Gold's work "strives to uncover the extraordinary hidden within the ordinary". His process from start to end is a mixture of techniques and mediums. He takes photos with a digital camera and then works with them through several photo editing programs. He then prints out the image and embellishes the image with acrylic paints and inks. He now is pursuing a technique called "extreme printing" and will be the first artist to use this technique with color. (image: Around Orwell)
---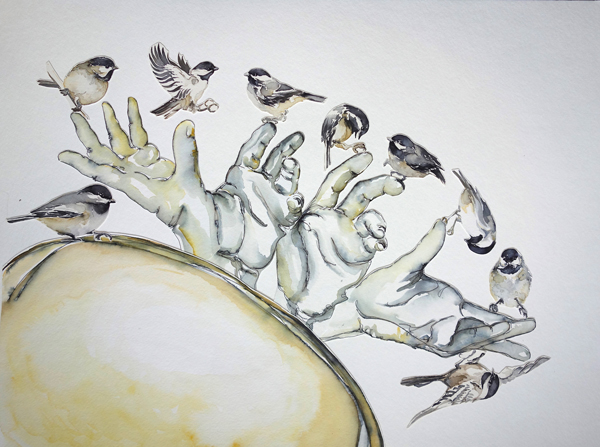 Nancy Tomczak
3/1/2016 to 4/30/2016
Nancy Tomczak's spontaneous flow of color and added anatomical detail are combined with her watercolor paintings. Her collages of her watercolor images push the boundaries of her compositions. A life-long observer of birds has pooled her love of watercolor painting with seemingly endless inspiration. Artist reception during March's First Friday Art. (image: Chickadees in Motion by Nancy Tomczak)