Art Map Burlington promotes contemporary art in the Greater Burlington area by informing the community about exhibitions, events, and the work of area artists. Ask for a copy of the print edition at any of these venues.
---
Where to See Art-March 2020
Click the venue name to read more.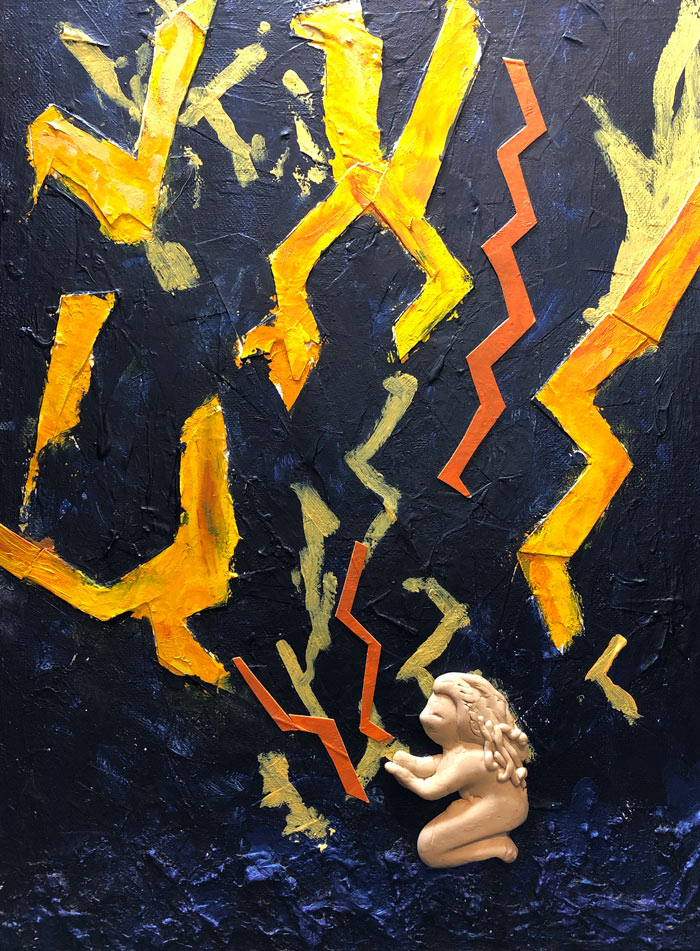 Exhibitions of work by regional artists related to Flynn programming. 1/27-4/24/20: "ANEW" includes work by 29 Vermont artists with disabilities. It is presented by Inclusive Arts Vermont and represents each artist's unique interpretation of the title. 153 Main Street, (802) 652-4500. Open during gallery receptions, by appointment, and to attendees during most Flynn MainStage performances. (image: Summoning by Gwendolyn Evans (16″x12″; polymer clay & acrylic paint on canvas; 2018). Courtesy of the artist)
Laptop refurbishing shop shows work by area artists in monthly shows. 196 College St, (802) 578-9687. Open Mon-Fri, 10-6; Sat, 11-5.
Burlington's only public library since 1875 shows art by area artists and nonprofit groups throughout the year. Through 3/15/20: "The Wonderful World of Birds". Explore your favorite birds and other wildlife through the photography of Milton artist Sharon Radtke. The birds on display range from waterfowl to songbirds to owls. 235 College St, (802) 865-7211, Open daily at 10, Noon on Sunday.
Open daily 7AM-11PM. Member-artists are showcased on the Member Art Wall, located behind register 10. Through 3/31/20: Burlington member-artist Tony Shull is an artist, painter, muralist. He says, I "mostly work in acrylics, and will paint on everything from stretched canvas to wooden boards to slate shingles. My style ranges from abstract psychedelic pieces to paintings that are reminiscent of Hieronymus Bosch." You may have seen some of his "outsider" work around town. 82 S Winooski Ave, (802) 861-9700. (image by Tony Shull. Couirtesy of the artist.)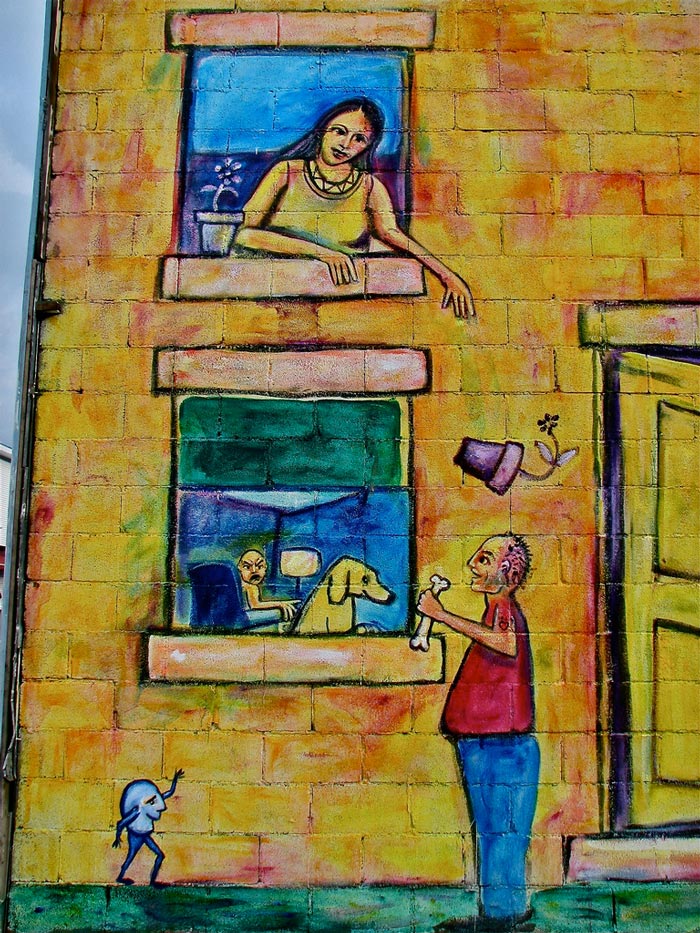 Named after Dean Thomas "Blotto" Gray, the gallery is available for functions, art shows, photography shoots, classes/demos, and more. 180 Main St, (802) 652-2400. Open Mon-Sat, 10-6; Sun, 11-5.
Featuring contemporary art exhibitions that connect art and community, nurture creativity, imagination, and ignite a passion for learning through the arts.Through 6/7/20: "Apocalypse Diet: What Will We Eat?", guest curated by Stella Marrs, investigates food systems–the processes and infrastructure required to feed a population–in light of imminent ecological crisis. Featured artists include Suzanne Anker, Ellie Irons and Anne Percoco, Andrea Haenggi, and Candace Thompson. In "Exploring the Invisible", Brigitta Varadi explores the invisible, everyday rituals of working life. Varadi's research-based practice is an integral aspect of her creative process, with each project incorporating experimentation and new techniques. For Estefania Puerta's "Sore Mouth Swore", the artist creates an installation that draws upon themes of transformation, immigration, and personal identity. Puerta identifies as an immigrant Latina woman and is deeply connected to displacement and a "sense of body" that doesn't quite fit anywhere. 135 Church St, (802) 865-7166, Open Tues-Thurs, Noon-5; Fri-Sat, Noon-8. (image: Astroculture by Suzanne Anker (2019), part of "Apocalypse Diet". Courtesy of the artist and Burlington City Arts)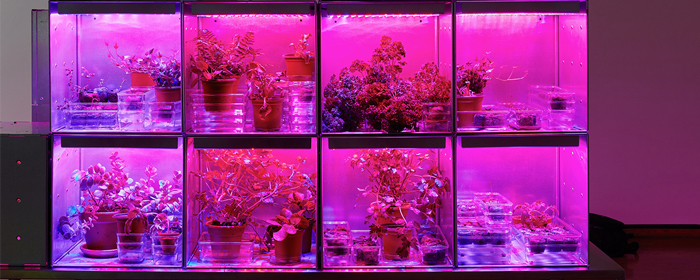 A community spot since 2007, New Moon Café presents work by Burlington-area artists in the dining area. Through March 2020: Hailey Schofield is an illustrator and jewelry maker who recently relocated to Burlington from Missoula, Montana. Her company, Wild Mountain Ink, is inspired by the natural world, mountains she adventures through and her travels. Her work shows the high contrast features of the mountains of her home and her ceramic jewelry compliments her black-and-white prints. Pen and ink drawings will be on display and available for purchase throughout the show. 150 Cherry St, (802) 383-1505 or (802) 383-1496. M-F, 7:30AM-6PM; Sun, 8AM-6PM. (image by Hailey Schofield. Courtesy of the artist.)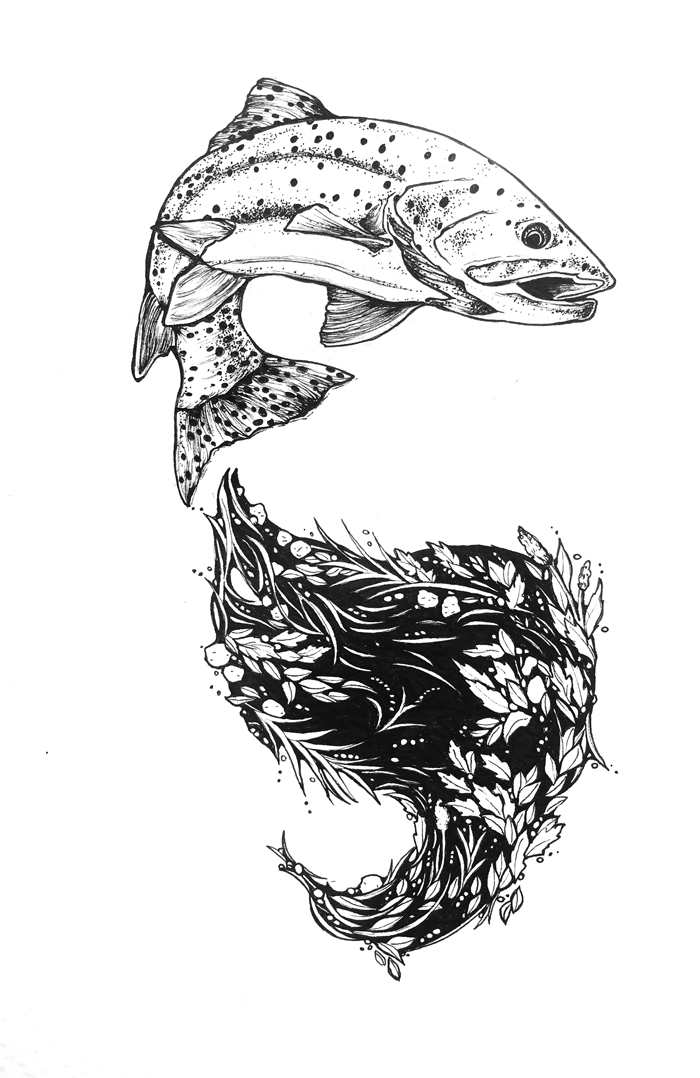 BCA curates the artwork on the main floor. 3/5-3/27/20: "33rd Annual Children's Art Exhibit" features over 150 original works by young artists from the Burlington Elementary Schools. Awards Ceremony with the Mayor in Contois Auditorium: Thurs, March 19, starting at 5:30PM. Presented by BCA and Burlington Elementary Schools. 149 Church St, (802) 865-7166, M-F, 8:30-4:30 and for First Friday Art.149 Church St, (802) 865-7166, M-F, 8:30-4:30 and for First Friday Art. (image courtesy of Burlington City Arts)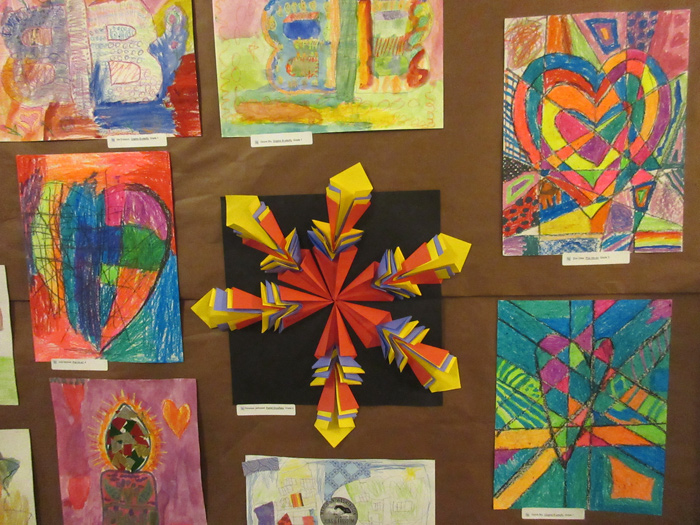 Main Street Landing and Little Umbrella : Art Curation are dedicated to increasing awareness and appreciation of Vermont visual artists, showcasing traditional and nontraditional visual art in rotating (monthly or bimonthly) shows and community-based events. March 2020: Jacques Burke presents "March Madness Show". Burke loves getting lost in his creations, he usually starts with painting, then drawing with markers on top of dry paint or photos. Winter has made him a little loopier than summer months. Now he's going to share what madness has made for March. Curated by Sarah of Little Umbrella : Art Curation. 1 Main St, (802) 735-7091, M-F, 8-3; Sat-Sun, by appt. Open for First Friday Art. (image by Jacques Burke. Courtesy of the artist and Little Umbrella : Art Curation)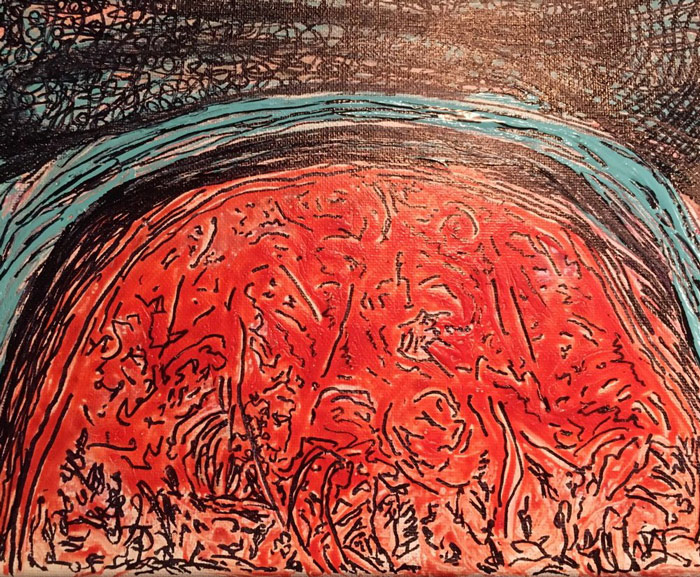 Serving up imaginative beers for enlightened palates and regional art throughout the eclectic lakefront brewery. Through 3/31/20: "cutting your brake lines is a good exercise in crisis aversion" by Burlington artist Will Gebhard, who paints on canvas, objects, and walls, as well as black-and-white and color illustration, and digital collage. He is also available for commissions. 112 Lake St, (802) 399-2511, M-Thurs, Noon-10; Fri-Sat, 11-Midnight; Sun, 11-7. (image by Will Gebhard. Courtesy of the artist.)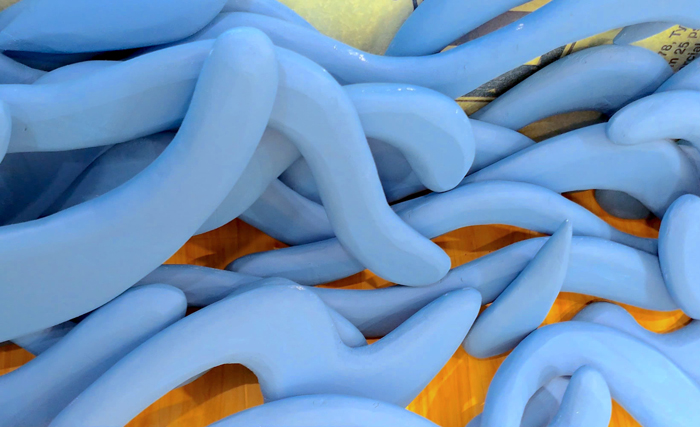 Showcasing contemporary and non-traditional art from Vermont artists and hosting a permanent video exhibition booth presenting video installations by international artists in bi-monthly exhibits. March-April 2020: Tatiana E. Zelazo's "Nation et al." explores gender and the relationship between the queer community and their allies. It illuminates the issues, topics, and struggles of this community without talking over or for them. It also challenges the notion that to be a patriot you can never criticize your country. Eden Mitsenmacher's video These Boots Are Made for Walking examines the song in relation to its sexual politics and use as a protest song (These Boots Are Made for Marching). It undermines the idea of the archetypal "feisty woman scorned" protagonist with wit and pulsating udder-like toes. Opening reception during March's First Friday Art. Curated by Sarah of Little Umbrella : Art Curation. CornerStone Building, 3 Main St, (802) 735-7091. Open M-F, 8-8, Sat-Sun, 10-8. (image by Tatiana Zelazo. Courtesy of the artist and Little Umbrella : Art Curation)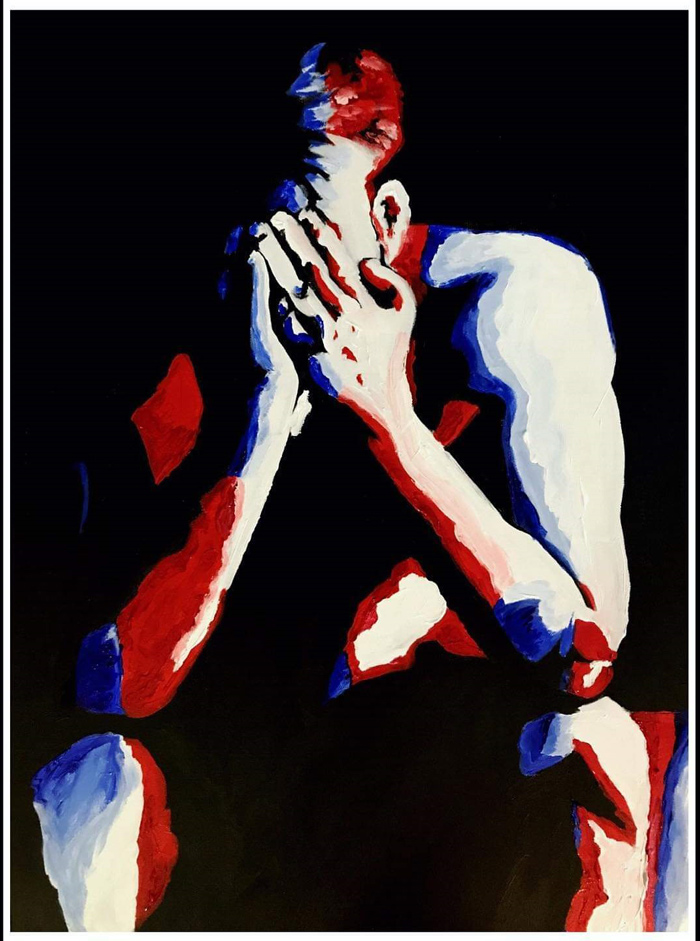 Supporting innovative and experimental contemporary art in all media through exhibitions, events, projects, and residencies, the gallery is a catalyst for interdisciplinary collaboration and learning at the intersection of art and technology. 375 Maple Street (CCM Building, 2nd Floor), (802) 860-2700, M-F, 10-4.
Onion River Coop. Open daily 7AM-9PM. Member-artists are showcased on the Member Art Wall in the cafe. 3/2-4/30/20: Burlington member-artist Claire Graham-Smith has a varied artistic and creative background which led her to become a Modern Art Quilter. She stitches her quilts on a domestic machine and by hand, using fabric gathered from far and wide, including garments, mostly cotton, but also silks and linen. She improvises much of her work directly on the design wall and uses embellishments, beads, and freehand-guided hand embroidery and quilting. 207 Flynn Ave, (802) 540-6400. (image by Claire Graham-Smith. Courtesy of the artist and City Market, Onion River Coop)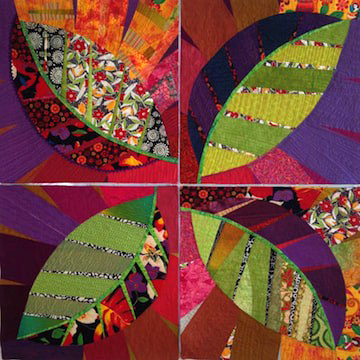 Curated by SEABA, showcasing traditional and non-traditional visual and multimedia artwork by Vermont artists. Through 3/31/20: "Warmth" is an exhibition featuring work that is warmer in tones, utilizes textiles, and contains content that exemplifies the theme. 208 Flynn Ave, #2-G, (802) 651-9692, Open M-F, 10-10, Sat, 10-5.
Traditional and non-traditional exhibitions and community-based events. 3/13-4/30/20: Strength in Numbers is a group of Vermont art educators who meet regularly to support each other in their art making. The group was formed in 2012 out of frustration that they were not finding the time and space to make their own art within the demands of their teaching responsibilities. Coming together as a group gives them the incentive, encouragement, and purpose to create their own art. Members participating in this exhibit include Dorsey Hogg, Jenn Hart, Barb Crandall, Dee Christie, Alice Trageser, Kimberly Desjardins, Sara Wolfson, Krista Verriotto, Dodi Gomez, Jenn Volansky, Tina Logan, Beth Coleman, Judy Klima, Eliza Collins, and Mags Conant. Opening reception: Friday, March 13, 5-8.208 Flynn Ave, (802) 363-4746, M-F, 7-4, Sat, 9-Noon.208 Flynn Ave, (802) 363-4746, M-F, 7-4, Sat, 9-Noon. (image by Dee Christie. Courtesy of the artist and FLYNNDOG)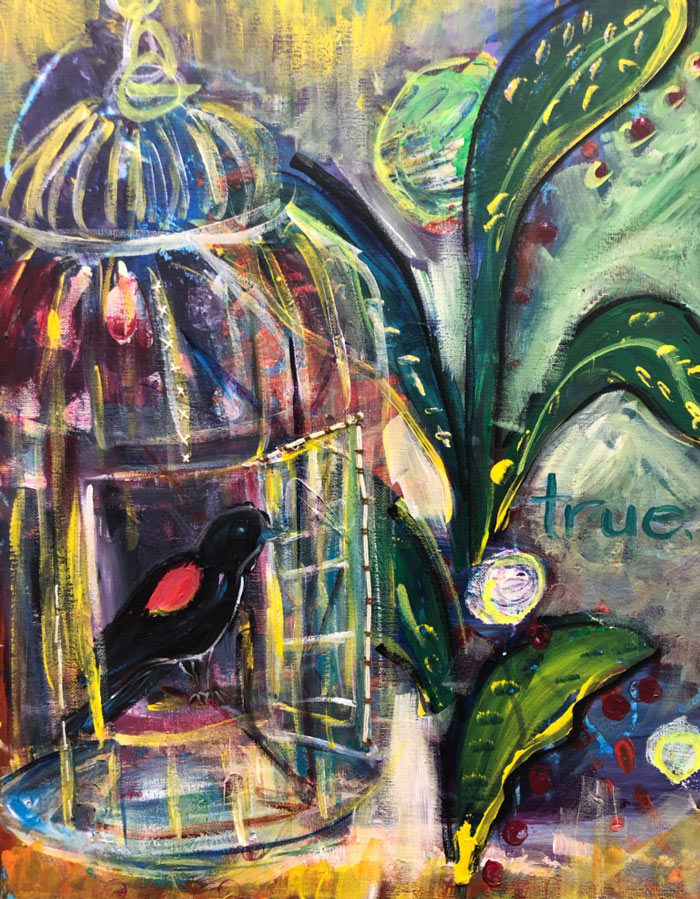 Art Gallery surrounded by 12 working artist studios. 3/12-3/28/20: "Unnatural Light", guest curated by Alexander Costantino, is an expression of art that exists outside of the typical art viewing experience. These artworks live in the dark, producing their own light. They fluoresce, glow, and shine in light outside the visible spectrum. They arise out of the invisible. Reception during First Friday Art, 5-9. Reception during First Friday Art, 5-9.266 Pine St (Soda Plant), spacegalleryvt.com, Open Thurs-Sat, Noon-5. (image: Thousands of Islands by Alexander Costantino (acrylic on canvas). Courtesy of the artist and S.P.A.C.E.)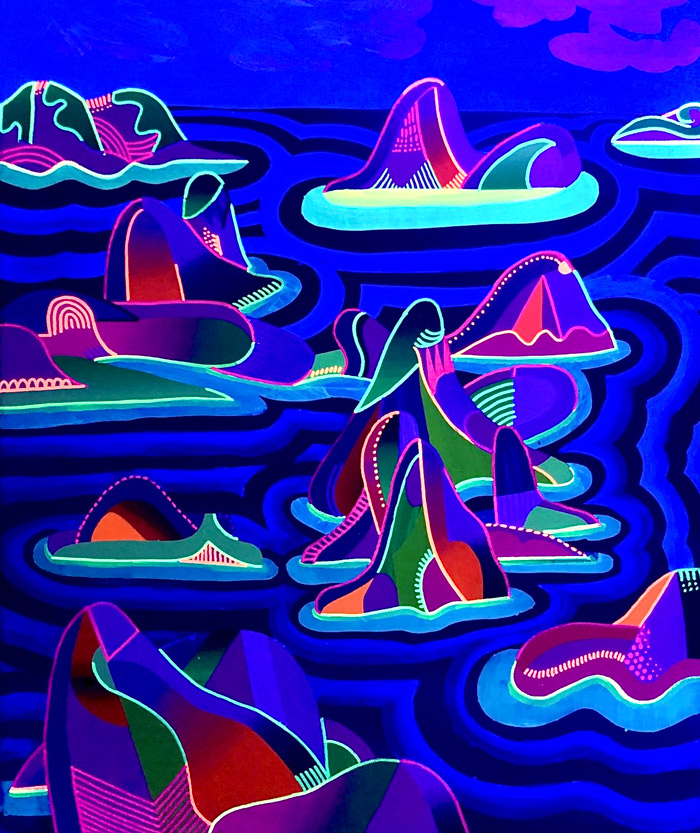 Art shop featuring about 30 artists from Vermont and beyond with a rotating artist on one wall. March 2020: Montpelier artist Barbara Leber presents "Early Spring to Spring". She writes,"It's never too early to dream about the coming of spring. These paintings were inspired by this thought." 270 Pine St, (802) 338-7441, Open Tues-Sat, 10-6, until 8 during First Friday Art. (image by Barbara Leber. Courtesy of the artist and Thirty-odd)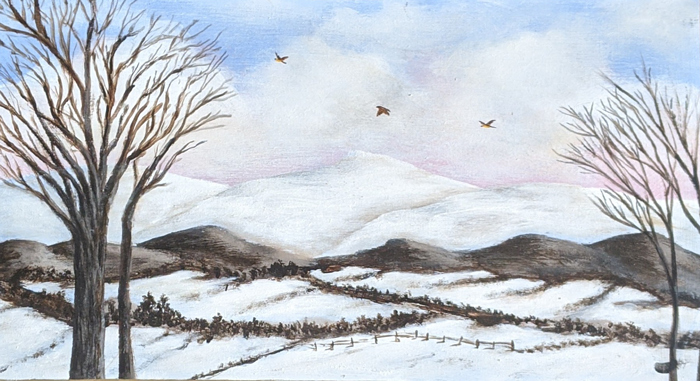 This eclectic second-hand shop is home to a revolving collection of art. 377 Pine St, (802) 540-0107, M, W-Th, 10-5; Fri-Sat, 10-9; Sun, 11-3.
This sprawling South End complex shows ongoing art in the first, second & third floor corridors. Through March 2020: 'A Portrait Exhibition" on the third floor and a "Portfolio Showcase" on the first and second features 2-D work in various mediums that highlight a group of artists' personal styles and unique talents. Curated by SEABA. 128 Lakeside Ave, (802) 859-9222, Open M-F, 9-5.
Aaron Stein's license plate artwork: map sculptures, shadow boxes, photo frames, wine racks, cuffs, house trailers, lamps and ornaments all created out of recycled license plates from all 50 states. 266 Pine St (Soda Plant), (802) 355-4091. Open during First Friday Art and by appt.
A custom picture framing workshop that features monthly exhibitions. "World's Best Art!". For the fourth year in a row, see the World's Best Art in the design, hallway and workshop galleries! This exhibition features many pieces from the Dostie Bros. private collection as well as a variety of works created by South End Arts District artists. Much art will be for sale. 308 Pine St #101, (802) 660-9005. Open Tues-F, 10-6; Sat, 10-3. (image: Vase and Flowers by Dostie (acyrlic on canvas; 2004). Courtesy of the artist)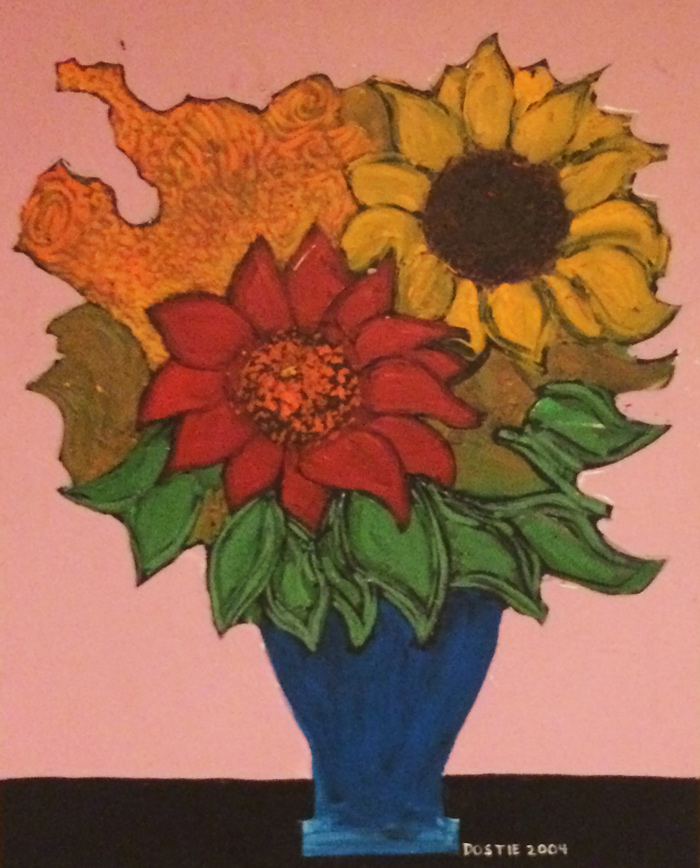 Venerable coffeehouse exhibiting traditional and non-traditional visual work by Vermont artists curated by SEABA. Through 3/31/20: In Brendan Bush's "A Cross Section", the series of intersecting colors, interrupted visual patterns and imperfect lines is a reflection of the artist's attempts at love and acceptance of his flawed self. It's an exploration of forgiveness, multidimensionality, and allowing for the possible at the expense of the definite. 412 Pine St, (802) 658-7016, M-F 6:30-6, Sat-Sun, 8-5.
Abstract contemporary by artists Bruce R. MacDonald, Gordon Auchincloss, Joël Urruty and George Peterson. March 2020: "Small and Mighty" is the new collection of scaled-down, yet dramatic, stainless steel light sculptures by artist Bruce R. MacDonald alongside the HAVOC Gallery artists. 27 Sears Ln (next to Greer's), (800) 639-1868, Open for First Friday Art; Weds-Fri, 9-5; & by appt, havoc@havocgallery.com. (image: Alpha by Bruce R. MacDonald (27″x16″; stainless steel light sculpture; 2020). Image by Sarah Vogelsang Card.)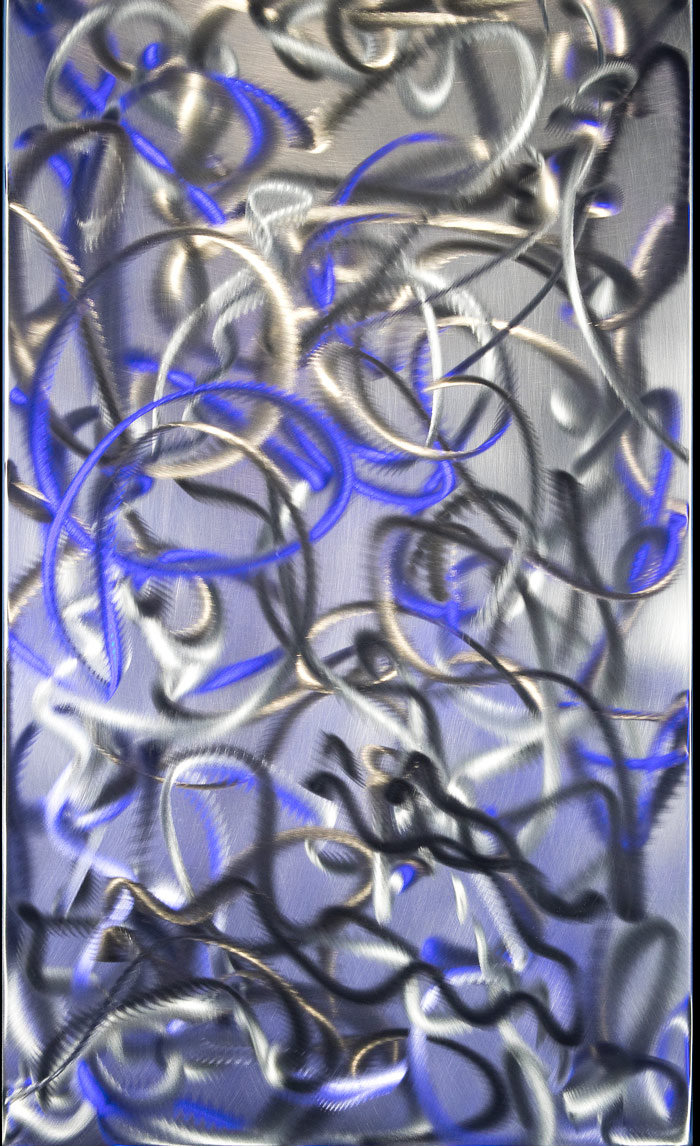 Serving hot bagels and more in a relaxed atmosphere with rotating art shows by Vermont artists, from the Burlington area and farther afield. Artists interested in showing work should visit Feldman's Call to Artists at the Vermont Art Guide Artist Database, www.vermontartguide.com/artistdatabase. 660 Pine St, (802) 540-0474, Open M-Sat, 6-3, Sun, 7:30-3.
Located at 180 Flynn Avenue, the building has two floors of artwork in the hallways as well as upstairs in the Fire Exit Gallery featuring artists Jude Domski, Holly HauxJeffers, Nancy Stalnaker, Justin Hoekstra, & Marilyn Currier Maddison. 180 Flynn Ave (back and to the right), (802) 310-1886. Open M-F, 10-5.
Student curators present artwork and exhibits across all four floors throughout the academic year: featuring a range of student art and varied community exhibits. UVM Campus, 590 Main St. Hours vary by semesters.
Through a partnership with Burlington City Arts, the UVM Medical Center features artwork by Vermont artists on the main medical center campus. February-May 2020, the featured artists are: Sandy Sokoloff (abstract painting), Michael Strauss (landscape painting), Conor Lahiff (photography printed on metal), and Maurie Harrington (figurative painting). 111 Colchester Ave, (802) 865-7296. (image: Burlington Boathouse by Mike Strauss (32″x42″; acrylic and ink on canvas). Courtesy of the artist and Burlington City Arts)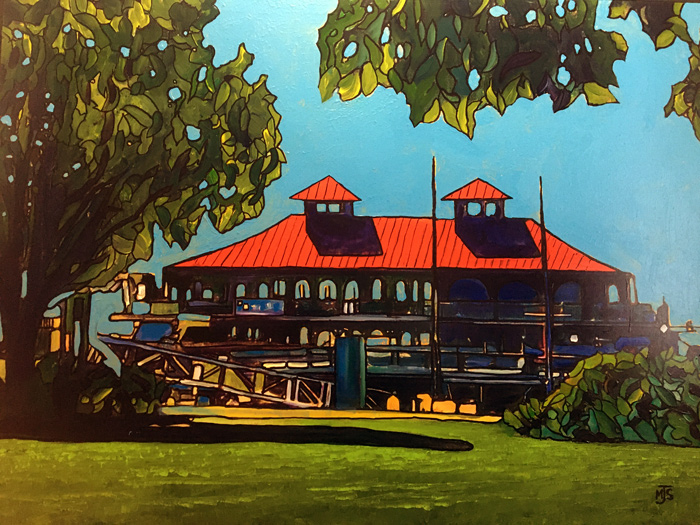 The CCV Hallway galleries are designed to act as an academic forum for the display of new ideas. First Floor: Eric J Newman's "Visionary Atmospheres" features lushly painted works of outer space and sci-fi fantasy imagery invented from his imagination. Second Floor: "Tales from the Crypt" is faculty and student works curated from 2018-19. 1 Abenaki Way, Winooski, (802) 654-0505, M-Th, 7:45AM-9PM; F, 7:45AM-5PM.
A campus full of interesting buildings and beautiful gardens, the museum presents an eclectic collection of art and objects. Through 3/8/20: "Time Lapse: Contemporary Analog Photography" celebrates the work of 13 international and national contemporary artists who use the darkroom as a type of laboratory and find inspiration in the vast array of 19th-century photographic processes, from daguerreotypes to photograms. 3/28-5/31/20: "Short List: Animation Today" celebrates the powerful diversity allotted by this fluid artistic medium, through original animated shorts to commissioned music videos, while together presenting a host of empowering and universal themes such as self-discovery, reflections on place, and human (or non-human) relationships. Through 8/23/20: "Creature Comfort: Animals in the House" draws heavily from Shelburne Museum's permanent collection and is supplemented by strategic loans from contemporary artists and private collectors, and explores the creative ways animal forms have been adapted to create a wide range of beautiful and functional household objects. 6000 Shelburne Rd, Shelburne, (802) 985-3346. Open daily, 10-5. (image: Waiting (Single Perch Lamp) by Sebastian Errazuriz (17″x13″x5″; taxidermy bird, brass, and electrical components; 2018.) Courtesy of the artist and R & Company, New York. This image appeared on the cover of the February 2020 issue of Art Map Burlington.)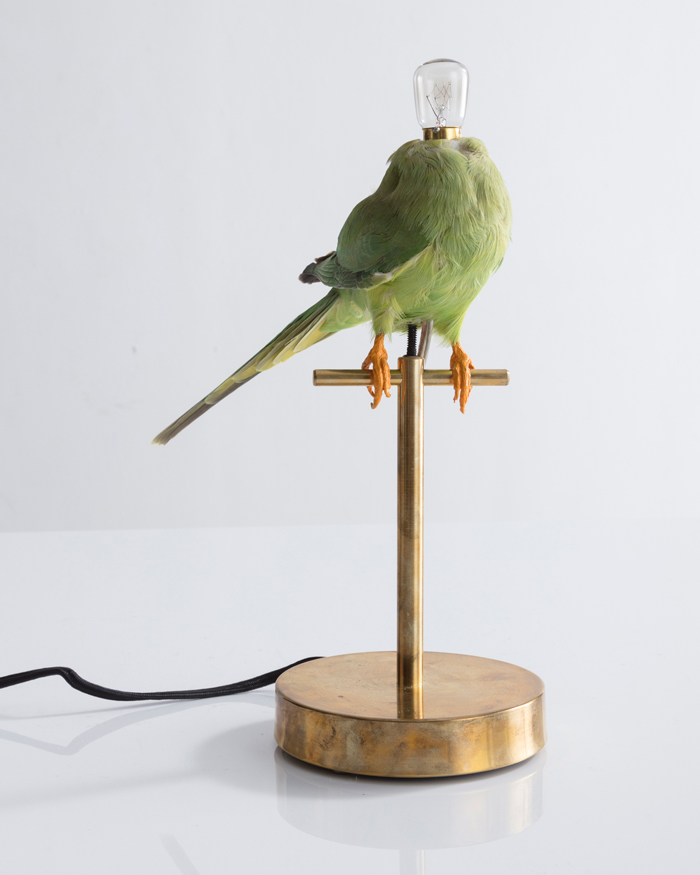 The Studio Store has handmade work in pottery, wood, jewelry, and stained glass and the school hosts events and classes for the public on an ongoing basis. 64 Harbor Rd, Shelburne, (802) 985-3648, Open M-F, 10-5; Sat, 10-2.
Art and wine among the vines, with quarterly shows of Vermont art in the tasting room. Through March 2020: Abstract painting by Burlington artist Steven Sharon. His paintings involve a deep and heavy process–a method that he discovered through chance and through the drive of using the art of improvisation to create. The artist wants the viewer to come to their own conclusions as to what they see. 6308 Shelburne Rd, Shelburne, (802) 985-8222, Open daily 11-5.
Beloved local beer factory has a curated space showing art on the tour ramp. Vermont artist Nikki Ryan works in a wide variety of media, including ceramics, fibers, and linoleum printing. In 2019, they graduated with a degree in Visual Arts from Eckerd College in St. Petersburg, Florida. In the future, Nikki plans to further explore their disabled, queer, and autistic identities within their art. 5 Bartlett Bay Rd, S Burlington, (802) 658-2739 x2014, Open M-Sat, 11-7, Sun, 12-5.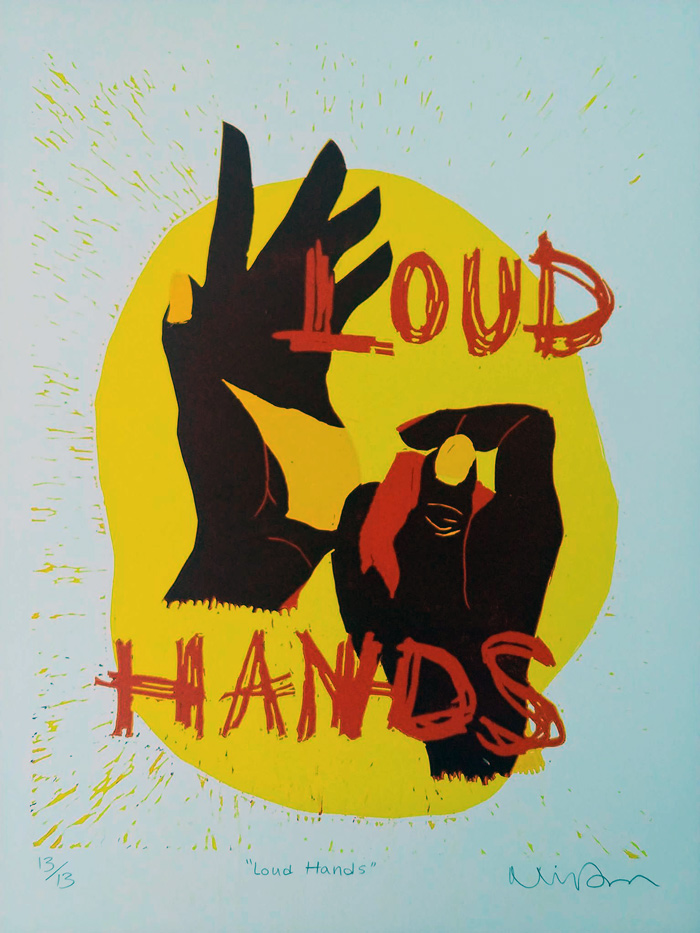 Presenting a stylistically diverse collection of original work by artists of regional and national stature. Through 3/7/20: "Coming to Light" showcases works by 17 artists from a diverse range of artistic disciplines. Carrying over from "Transitions", the exhibit will evolve as we gain light in our days. The gallery also has a unique collection of fine crafts and gift items. 86 Falls Rd, Shelburne, (802) 985-3848, Open Tues-Fri, 9:30-5:30, Sat, 10-5. (image: Suspension by Gail Salzman (gouache on cotton paper). Courtesy of the artist and Furchgott Sourdiffe Gallery.)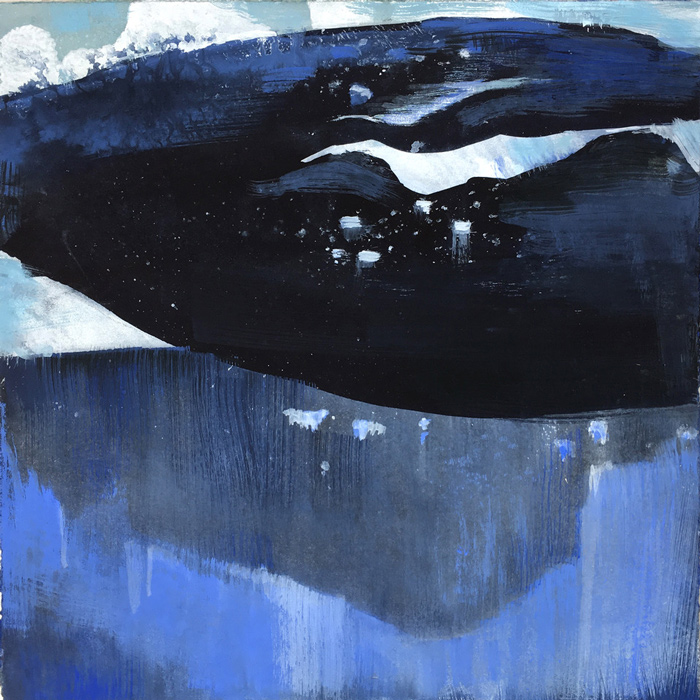 ---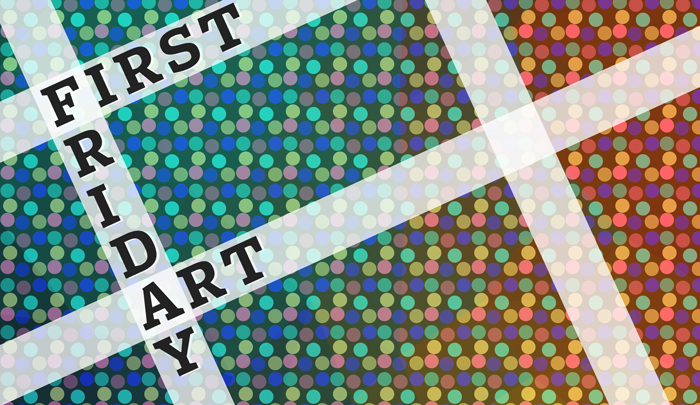 The next First Friday Art is
April 3rd, 5-8PM.
First Friday Art is a monthly, community-wide event where dozens of art venues across the city host openings, exhibitions, and happenings.
The event is free and open to anyone.
Most venues are open from 5PM to 8PM, but some are open earlier or later.
Art Map Burlington is the official guide to First Friday Art. Pick up a copy at any participating venue. Enjoy!