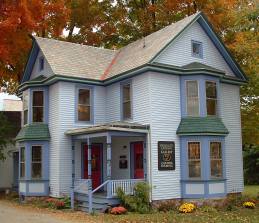 Presenting a stylistically diverse collection of original work by artists of regional and national stature. The gallery also has a unique collection of fine crafts and gift items.
Open Tuesday-Friday, 9:30AM-5:30PM and Saturday, 10AM-5PM.
86 Falls Road
Shelburne 05482
(802) 985-3848
Art Map Burlington #66
---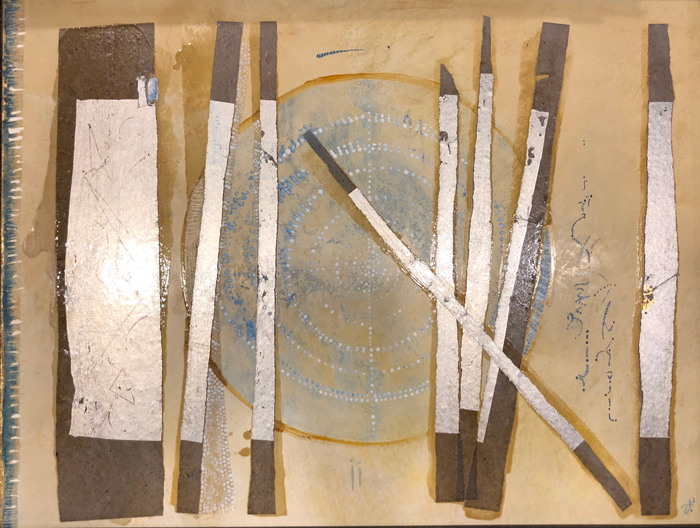 "Illuminate: The Winter Group Show" featuring Sam Colt
11/30/18 to 1/31/19
Opening reception: Friday, November 30, 5-7PM
"Illuminate: The Winter Group Show" features Sam Colt with Bonnie Acker, Julie Y Baker Albright, Elizabeth Allen, Scott André Campbell, Janet Fredericks, Kerry O. Furlani, Philip Hagopian, Karen Henderson, Kate Longmaid, David Maille, Adelaide Murphy Tyrol, Garrett Sadler, Gail Salzman, David Smith, Jozie Furchgott Sourdiffe, and Anne Thiam.
Sam Colt is a Montpelier based artist. She uses the same techniques for her fine art that she has utilized previously as a successful designer of unique decor finishes. "I work primarily in grassello, which is a fine plaster from Italy made from white marble flour, slaked lime and water. I tint, manipulate and layer it with blades and tools, burnishing and roughing it up by degrees. Scratch into it, re-layer and scrape it back off and repeat till an image emerges. Once the image emerge thing happens, I chase it with house-paint, charcoal, watercolor pencils, oil pastels, dammar varnish, shellac and gold & silver leaf–practically anything that sticks–until…well…until it gives me that cinematic post-adventure "cigarette-moment" feeling".
Image: Locutus Sum by Sam Colt (18″x24″; grassello, ancestor paper, shellac, watercolor, house paint). Courtesy of the artist.
---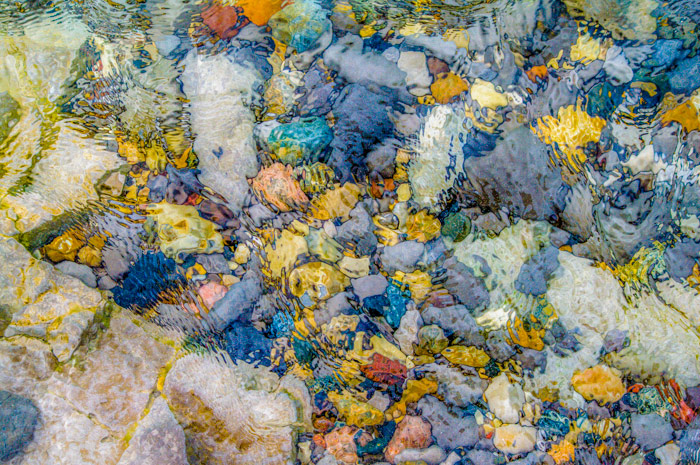 "Listening to Rocks":
work by Dianne Shullenberger and John Snell
10/12 to 11/20/18
Opening reception: Friday, October 19, 5-7PM with artist talk starting at 6PM.
Dianne Shullenberger of Jericho is well known for her fabulously intricate fabric collage pieces that present landscape and nature in a totally unique way. "The fabric collages use small pieces of fabric to form shapes that are then stitched in place on the sewing machine. Thread is used to shade, give texture and do detail drawings. Each piece involves constant layering of fabric and threads, a labor of love." The naturalistic outer edges floating on top of a fabric background give each piece a jewel-like quality which forgoes preciousness while embracing the wildness of nature. This exhibit also includes her detailed color pencil drawings. Shullenberger reflects on the creation of this exhibit: "There is so much life connected with rocks we just have to look closely and to listen. This exhibition is a three year collaboration with John Snell. We have hiked to some locations together but mostly we have been on our own to investigate these amazing forms in all seasons and in various parts of the country. We each have an intense eye for minute details in nature…This body of work emanates from hikes taken in Vermont, New Hampshire, Iceland, Michigan, and Italy. These colored pencil drawings and fabric collages highlight the vegetation surrounding or existing on the rocks, drawing attention to their colors, patterns, textures and understanding the differences in each site."
John Snell is a photographer from Montpelier. The two artists found common ground in their love of both hiking and art, resulting in an exhibition focusing on rocks from very different, but harmonious, viewpoints and mediums. "Growing up in Central Michigan I did not often see rocks of any kind, and my first memory of seeing bedrock was from my teens when I traveled an hour south where I saw a new interstate road cut. In the past forty years living in Vermont, I've grown to love the abundance of rocks, large and small, as well as the magnificent road cuts, immense quarries, and rivers polishing their way over the soul of the earth. Add the beautifully complex growths of lichen and mosses and the fact that many are best seen after a bit of hiking, and it is clear Vermont's rocks are an artist's dream comes true. And as a result, I've enjoyed rocks wherever I have traveled around the world.The rocks I've photographed are portrayed both in situ and as abstracted details in the hope that they will inspire others to get out traveling and hiking to see more of these treasures. As I discovered in creating this exhibit with Dianne, creating art with hiking friend is a bonus. So pick up your paints, sketchpad or camera, meet up with a friend and, no matter the time of year, go out and listen for what the rocks have to say."
Image: untitled by John Snell (photograph)
---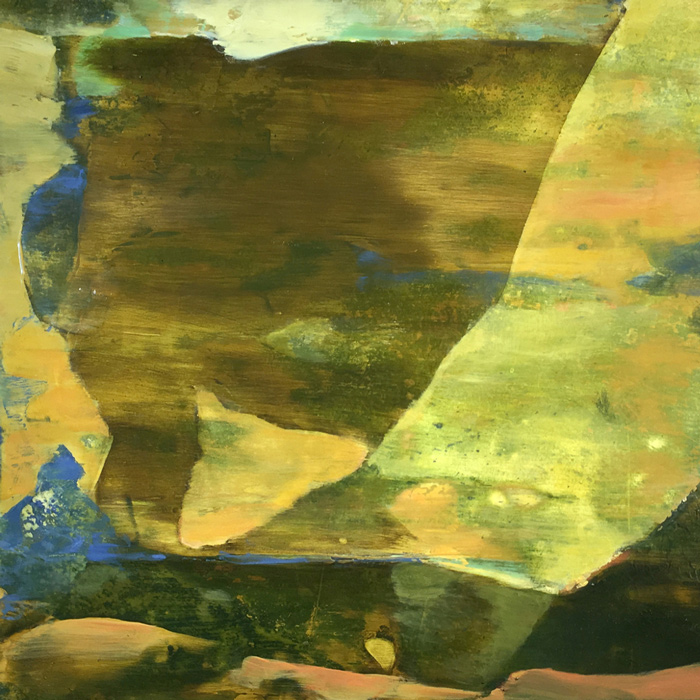 "New Paintings: Unknown Time and Place" by Gail Salzman
8/24 to 10/2/18
Opening reception: Friday, August 31, 6-8PM
Born in Port Chester and raised in Syracuse, New York, Gail Salzman earned a degree in Fine Art at Indiana University. She also studied at Skowhegan School and the New York Studio School.
Gail's abstract oil paintings, known for translucent color and layered surface, have been widely exhibited throughout the East Coast for three decades. Salzman earned early recognition with a National Endowment for the Arts painting award shortly after college. Recent honors include grants from the Vermont Arts Endowment Fund and Vermont Arts Council, as well as residencies at Virginia Center for Creative Arts and Vermont Studio Center. Her work is represented in the permanent collections of UVM Medical Center and Hotel Vermont in Burlington, and in private collections throughout the USA and Canada.
"My work explores the dynamic principle of change. The sensual quality of oil paint speaks to this elemental flux, influencing my choice of materials and methods. Using rolling, scraping, and pressure techniques I exploit the unexpected. Drips, translucent color shifts and accidental textures are integrated with the intuitive process.
Painting becomes a continual search for visual order amid contradictions. The real excitement comes, when I loosen my grip and follow the movement of paint, creating an interplay of the intentional with the unknown."
Gail lives and works in northern Vermont She teaches painting and experimental drawing at Burlington City Arts, as well as other studio-skill workshops.
Image: Unknown 4 by Gail Salzman (8″x8″; oil on panel)
---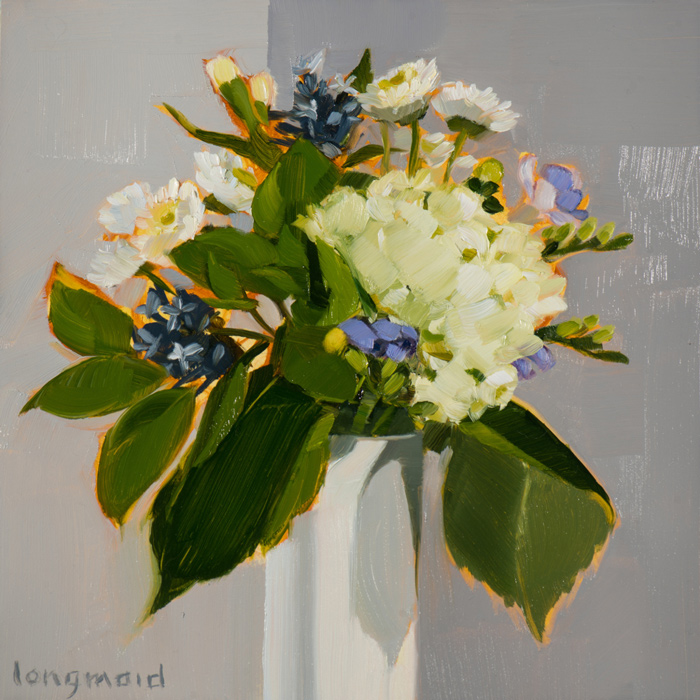 "Bloom: Paintings by Kate Longmaid"
7/20 to 8/21/18
Opening reception: Friday, July 20, 6-8PM
"Bloom" focuses on floral still lifes rendered with Longmaid's fresh and contemporary approach to the subject. "I am drawn to subject matter that is ephemeral. Surrounded by beauty in the garden or walking in the woods, we reconnect with nature and, in the process, come home to ourselves. Flowers remind us of the transient nature and beauty of life. They beckon us to embrace the moment, to celebrate the beauty around us, to come into bloom. My recent paintings have followed the unfolding of spring in a succession of blooms: daffodils, flowering quince, peonies, iris. I have approached these paintings as portraits, attempting to capture the singular beauty of each flower as well as the rich array of color, shape, and texture of flowers assembled together."
Longmaid is also recognized for her portraiture for which she was one of eight women selected for the 2010 Women to Watch exhibition "Body of Work: New Perspectives on Figure Painting" at the National Museum of Women in the Art in Washington, D.C. "Through a contemporary approach to portraiture, I explore the rich terrain of individual identity and what is revealed in the intimate moments of seeing and being seen… From the privileged position of witnessing the other, I seek to convey the unique presence of each subject as well as our shared humanity.
Born outside of Philadelphia, Kate Longmaid has always been drawn to art and understanding what it means to be human. She obtained a Bachelor of Arts in "Psychology and Art: Theory and Practice" at the University of Michigan. Longmaid's paintings have been exhibited in galleries and museums on the East and West Coast and in Canada and are held in private collections throughout the U.S. She resides in Shelburne.
Image: Summer Blooms by Kate Longmaid (12″x12″; oil on panel)
---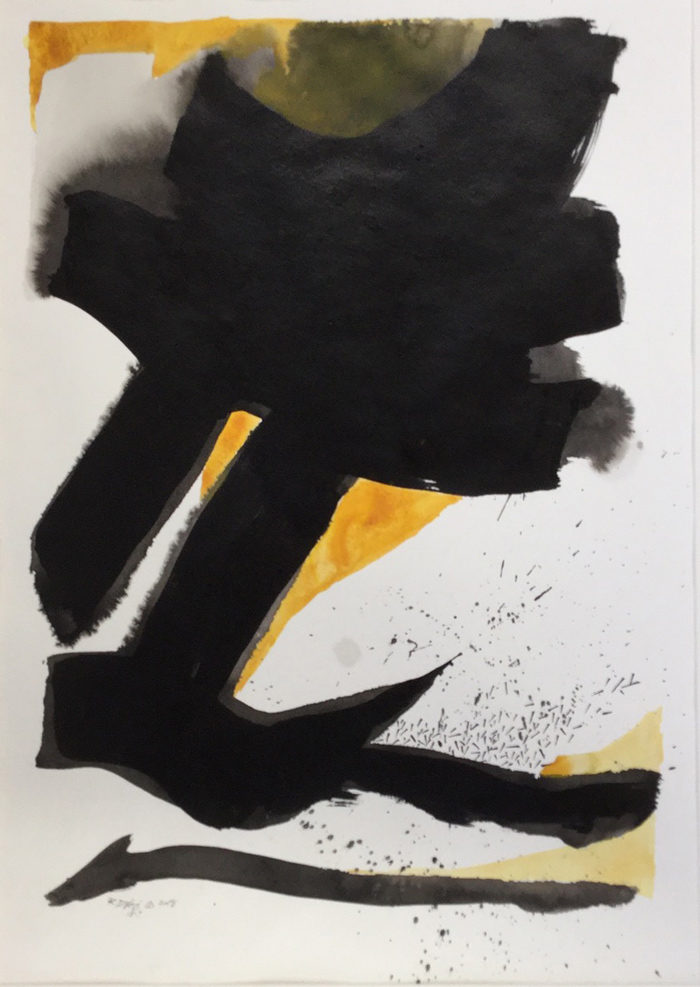 "Into the Light: A Group Show Featuring Dick Weis + 15"
6/1 to 7/17/18
Dick Weis is a Professor Emeritus at Green Mountain College, Fulbright award winner and resident of Castleton. His current work features bold images in ink and watercolor, with the brushwork being evocative of Asian calligraphy.
The other artists in the exhibit are: Bonnie Acker, Miriam Adams, Annelein Beukenkamp, Scott André Campbell, Sam Colt, Diane Fitch, Carolyn Enz Hack, Kate Hartley, Karen Henderson, David Maille, David Smith, Joseph Salerno, Jozie Furchgott Sourdiffe, Barbara Wagner, and Nancy Weis.
Image: The Crossing by Dick Weis (27″x19″; ink and watercolor on paper)
---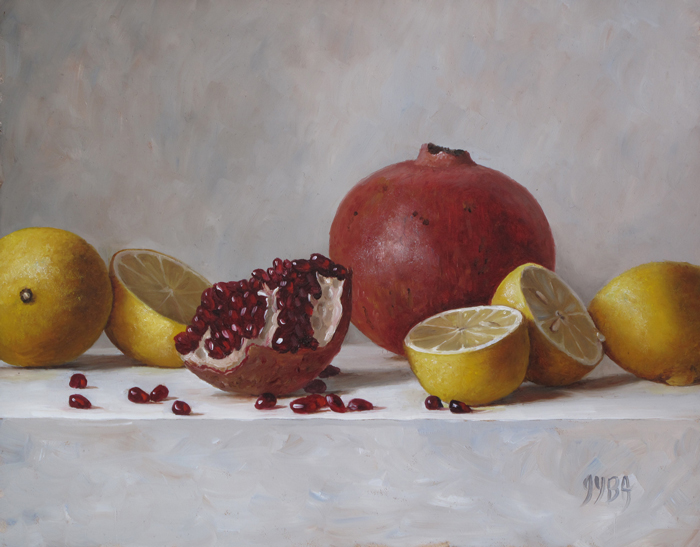 "Mash-up: Realism, Abstraction and Synthesis"
December 2017-January 2018
This seasonal group exhibit features the work of Julie Y Baker Albright along with 15 additional artists: Elizabeth Allen, Matt Brown, Sam Colt, Diane Fitch, Janet Fredericks, Kerry O. Furlani, Philip Hagopian, Stephen Lloyd, Virginia McNeice, Kimo Minton, Garrett Sadler, Alexis Serio, Dianne Shullenberger, Barbara Wagner, and Frank Woods.
Julie Y Baker Albright's pristine oils on panel are reminiscent of the golden age of 17th-century Flemish still life, but render the simple objects found in the casual settings of a 20th-century Vermont country home. Several artists explore local and distant landscapes, but transform their observations with creative deduction that brings the work much closer to abstraction. And others start with the purely abstract and focus on textures and the interplay of color and composition. This exhibit celebrates all these approaches. Some new artists to the gallery featured in the exhibit are Kimo Minton of Albuquerque and London, Alexis Serio from Texas, Sam Colt, Stephen Lloyd, Diane Fitch of Vermont and fused glass artist Garrett Sadler, recently moved to Charlotte from Lenox, Massachusetts.
Image: Pomegranates and Lemons by Julie Y Baker Albright (5″x7″)
---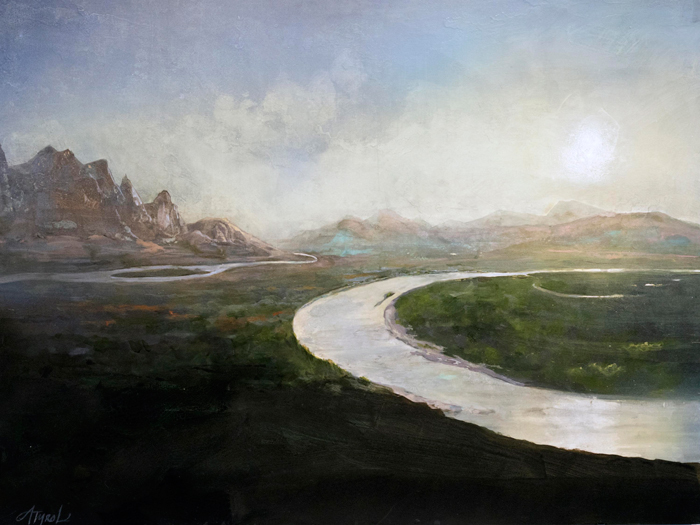 "Origins": Recent Paintings by Adelaide Murphy Tyrol
9/29 to 11/25/2017
Adelaide Murphy Tyrol is an accomplished fine artist whose paintings have been displayed in numerous shows, galleries and museums. She works primarily out of her studios in Plainfield and New York City. This year she was one of two Vermont artists chosen to be part of the annual "Contemporary Voices from Vermont", a 10-month-long exhibit at the Fleming Museum "…providing an opportunity to view the work of current Vermont artists within the historical context of their predecessors."
Tyrol's work is is primarily inspired by landscape and wildlife, but with a strong abstract element. She has traveled world-wide, intimately observing nature, animal and insect life. The work vividly reflects those observations, always resulting in her own distinctive interpretation. Texture also plays a key role in communicating the atmosphere her work so elegantly captures.
"My paintings explore ideas and intuitions I have about the confluence of the natural world and the human enterprise. Allegory, themes of human interaction with nature, the relationship between science and religion, birth and collapse are ideas that interest me as an artist.
"But a painting, first and foremost, is a physical entity; a visual balancing act weighing light with dark, the accidental with the deliberate and specificity with ambiguity. A painting is formed by many things, but in the end, it is paint on panel. I believe that there is something inherent in this balancing act of materials and physical properties that has the potential to address deep and untethered parts of the mind."
Along with her gallery work, Adelaide is co-owner of Oliphant Studios–a scenic painting house in New York City which serves the photography and film industries. She is also a natural history illustrator. Her natural history pieces are often book-size; her scenic work is typically 14' x 40'.
(image: Origins by Adelaide Murphy Tyrol (30″x40″; acrylic on wood panel))
---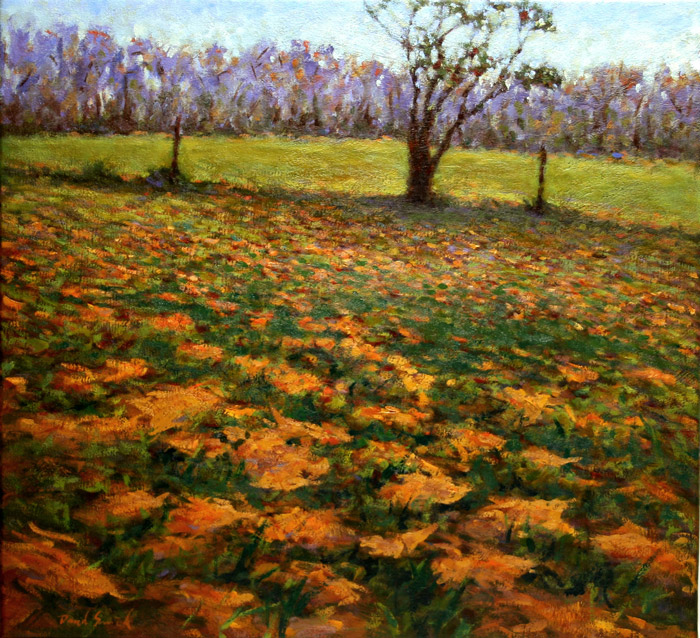 "Points of Departure": New Paintings by David Smith
7/21 to 9/9/2017
David Smith is an award-winning oil painter with a focus on the Vermont landscape. Reviewer Marc Awodey wrote that his work was …"Some of the best contemporary landscapes in the area….What makes Smith's landscapes more interesting than many others is his affinity for the abstract qualities of a scene. …Smith is also a masterful technician, and even though his paintings are generally small, he has a perfect grasp of scale."
There is always an intense observation that comes through in these pieces. In the words of the artist:
"A walk through evergreen woods searching for a lost dog, and I couldn't help being distracted by the quality of light.
Spring evenings spent hovering over constellations of Forget-Me Nots and entering into their scale.
Explosions of apple blossoms, like clouds anchored in the fields.
These are some of the ways paintings take place for me. There's always the visual stimulation, but there is also the mental and emotional leap from there, reveries made visible.
This is not unique, but it's true; the motif serves as a point of departure."
(image: Fallen Leaves by David Smith (22″x24″))
---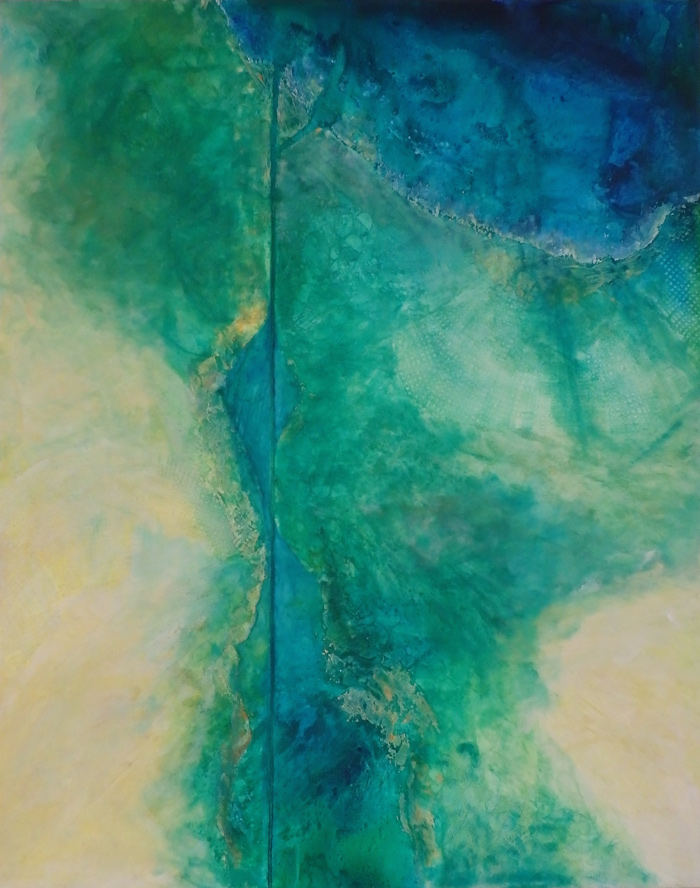 "Perceptions Made Finer": Featuring Carolyn Enz Hack and 17 other gallery artists
5/26 to 7/18/2017
"Miracles…seem to me to rest not so much upon…healing power coming suddenly near us from afar but upon our perceptions being made finer, so that, for a moment, our eyes can see and our ears can hear what is there around us always." –Willa Cather, Death Comes for the Archbishop (1927)
Art does many things besides enhancing our walls including documenting that which our senses perceive, but is often too elusive to retain. Artists approach this in a multitude of ways and when true observation is combined with skill and daring, whether abstract or realistic, art documents "…perceptions being made finer". Furchgott Sourdiffe Gallery celebrates that gift with a group show featuring the work of Carolyn Enz Hack accompanied by Bonnie Acker, Robert Bent, Jeri Lynn Eisenberg, Kevin Fahey, Betsey Garand, Philip Hagopian, Shane Harris, Karen Henderson, Kathleen Kolb, Beth Pearson, HM Saffer, Jessica Scriver, Alexis Serio, Carolyn Shattuck, Jozie Furchgott Sourdiffe, Phoebe Stone, and Shiao-Ping Wang.
Carolyn Enz Hack has created fanciful multimedia paintings of some Vermont towns, several of which will be shown. The artist lives in Thetford Center and is continually experimenting in a variety of mediums. She recently had a solo exhibit at the Brattleboro Museum of Art. The other artists' work varies between painting, manipulated photography, fabric, books, printmaking and objects.
(image: The Canal by Jessica Scriver)
---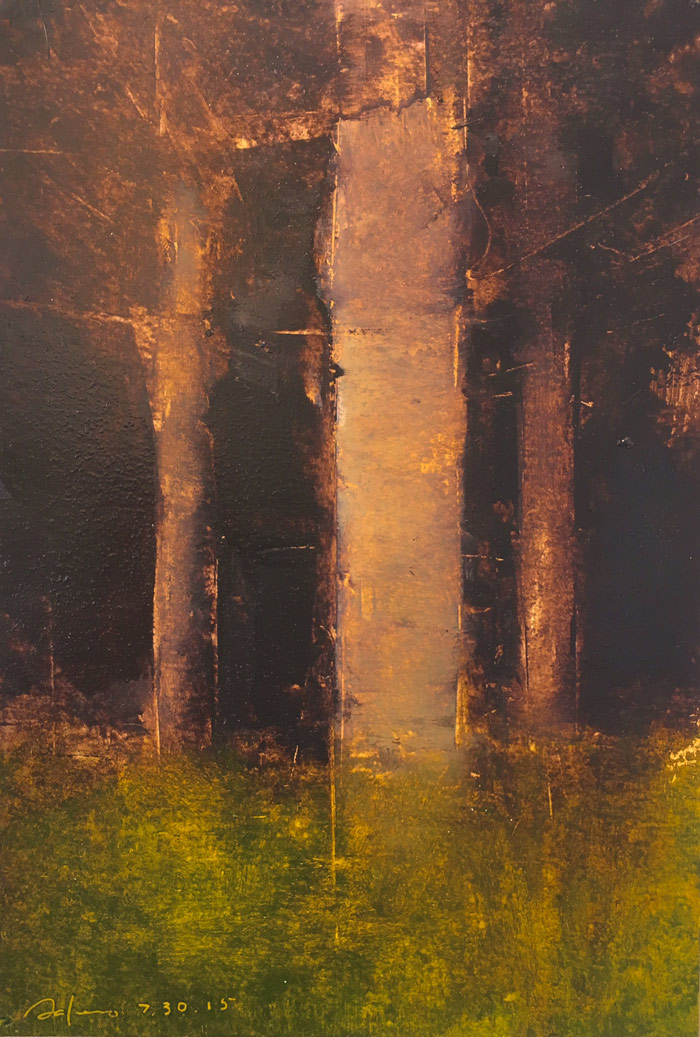 "Woods Edge": Recent paintings by Joseph Salerno
4/14 to 5/23/2017
"Woods Edge" is an exhibition of exquisite small oils on prepared paper where the artist's intention is that "…the immediacy of the paint should reign supreme." While these paintings are extremely evocative of a real space both silent and quite spiritual in nature, they are worked in such a way that often pure abstraction emerges. The continuation of a 2 1/2-year project, Salerno returned repeatedly to a small stretch of woods near his home where his depth of fascination with his subject evolved into a complex series. "Each new piece owes an obvious debt, and in a way contains, all of the previous ones, often reinterpreting past discoveries in a new light, while carrying the conversation forward to the next painting."
Joseph Salerno lives and works in Johnson. He received his BFA from Kent State University and his MFA from Indiana University. He has been on the faculty at Johnson State College since 1991. Salerno has received several faculty grants and attended the Fine Arts Work Center, the Stonington Painters Workshop, and the Vermont Studio Center. He has received a fellowship for "Aspects of Realism" Symposium and Workshop in La Napoule, France, and two study grants to Florence, Italy.
(image: 7-30-15 from "Woods Edge" by Joseph Salerno)
---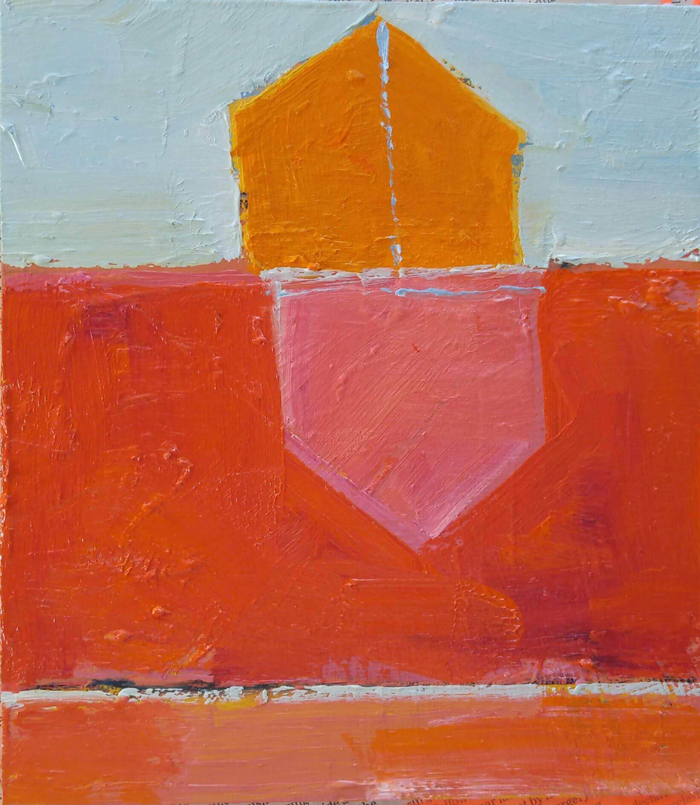 "Treasure the Small"
12/2/2016 to 1/31/2017
Reception during the Shelburne Village Stroll, Friday, December 2, until 7PM
"Treasure the Small" features over 25 fine regional artists and focused on small and affordable original art. Some of the artists represented are Susan Abbott, Bonnie Acker, Miriam Adams, Julie Y Baker Albright, Elizabeth Allen, Janet Fredericks, Betsey Garand, Kate Hartley, Kate Longmaid, Gail Salzman, Dianne Shullenberger, Nancy Weis, Richard Weis, and Frank Woods. (image: Barn Study Red #7 by Frank Woods (oil on panel)).
In addition, the gallery has a broad selection of newly arrived handcrafted gift items in for the holidays. Ten percent of any gift items purchased between December 2 and 10 will be donated to Hunger Free Vermont.
---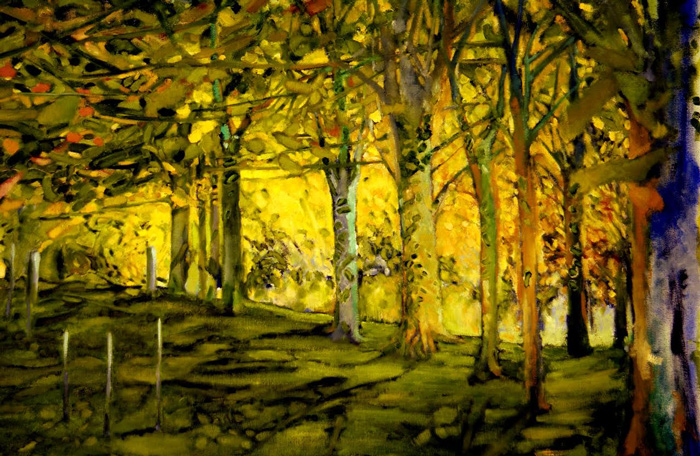 Future Wave
9/16 to 10/29/2016
Opening reception: Friday, September 16, 6-8PM
"Future Wave" features the work of 5 artists from Vermont, Maine, and Massachusetts, most of whom are new to the gallery. They represent a fresh approach to landscape, abstraction, and color, and give a glimpse into future possible directions for the gallery. The artists represented are Robert Bent of Greenfield, Massachusetts; Karen Henderson of Montpelier; Madeleine Hopkins of Moody, Maine; Jane Ann Kantor of Charlotte; and Jon Young of St. Albans.
This is the third exhibit of 2016 celebrating the gallery's 25 years in Shelburne Village as Furchgott Sourdiffe. The previous name for the gallery/frame and restoration business was Shelburne Frame and Art. (image: Near Davenport Farm by Robert Bent).
---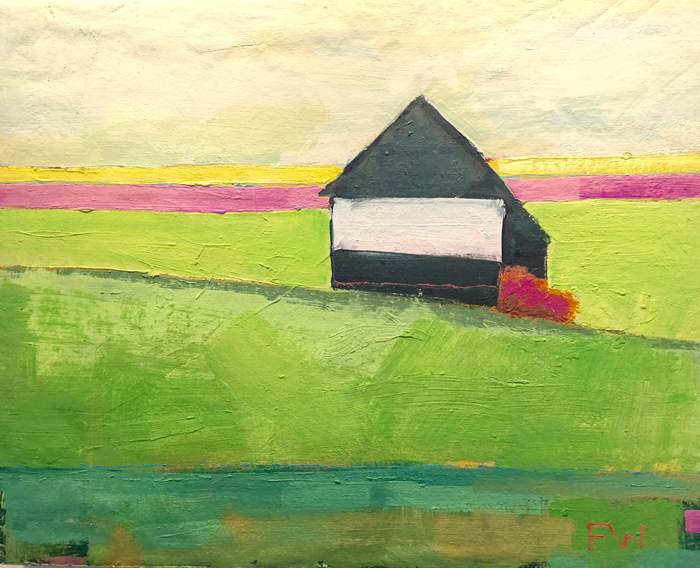 Being Present
7/15 to 9/13/2016
Opening reception: Friday, July 15, 6-8PM
"Being Present" features the work of 25 of the artists currently represented by Furchgott Sourdiffe Gallery and offers both a visual and contextual reflection on where the gallery is today, in their 25th year. The title also references what the creative process is about: what we, as individuals, strive for in artistic endeavors, as well as in the fine art of living, exemplified by being "in the moment" and seeking out the essence of what's within us and around us. Being Present. Surely the source for creating artistic work of substance, no matter how diverse the style or medium.
Artists represented in this exhibit are: Susan Abbott, Bonnie Acker, Miriam Adams, Elizabeth Allen, Annelein Beukenkamp, Matt Brown, Kevin Fahey, Janet Fredericks, Kerry O. Furlani, Betsey Garand, Philip Hagopian, Kate Longmaid, David Maille, Janet McKenzie, Virginia McNeice, John Olson, Dianne Shullenberger, Joseph Salerno, Gail Salzman, David Smith, Adelaide Murphy Tyrol, Barbara Wagner, Nancy Weis, Richard Weis, and Frank Woods (image: Pink Roof Barn #3).
---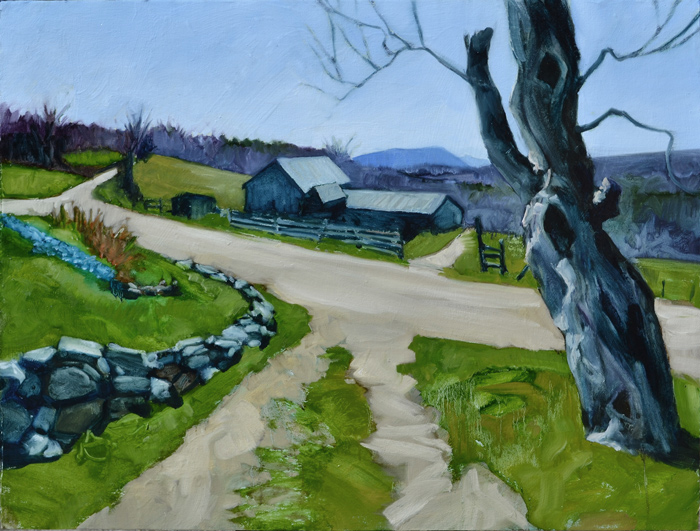 Looking Back
5/20 to 7/5/2016
Opening reception: Friday, May 20, 6-8PM
We're 25! Though we realize WE look older than that, Furchgott Sourdiffe Gallery was born in 1991, when we purchased the long established Shelburne Frame and Art. We transformed the business into a contemporary high caliber fine art gallery and integrated it with our own restoration and custom framing services that we started in 1982. And we still are here today…exactly 25 years later!
We have shown some of the region's finest artists over this period and now it's time to show them off in a big way. We start this celebration of being Chittenden County's oldest gallery with "Looking Back", featuring 17 artists whose immeasurable talents graced our early years. Those artists are: Julie Y Baker Albright, Joan Curtis, Dan Fisher (image above: Lovejoy Brook Farm), Jim Giddings, Alison Goodwin, Henry Isaacs, Hal Mayforth, Petria Mitchell, Alice Murdoch, Carolyn Shattuck, Phoebe Stone, Aron Tager, Polly Thompson, David Utiger, Laura Von Rosk, Mark Walp, and Richard Weinstein.