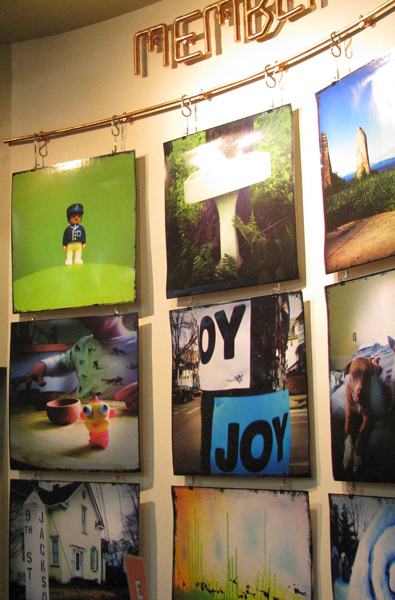 Member-artists are showcased on the Member Art Wall next to Register 10.
Open daily 7AM-11PM
82 South Winooski Avenue
(802) 861-9700
Art Map Burlington #7
---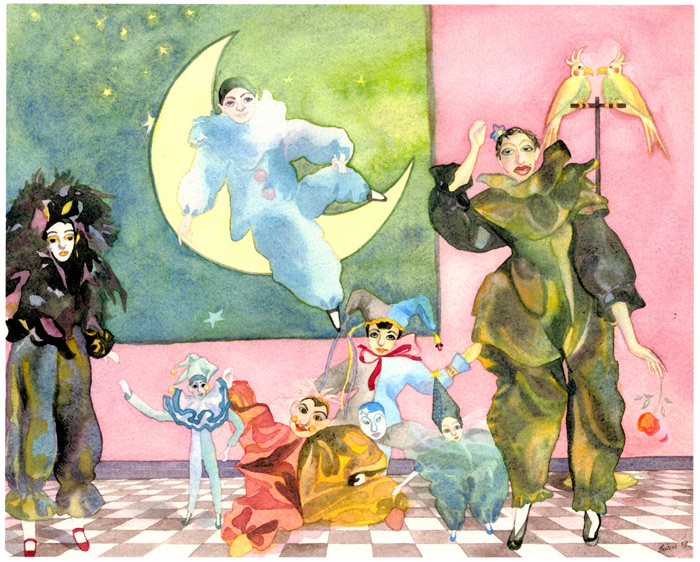 Bryan Briscoe
August-September 2018
Bryan Briscoe's art focuses on color, form and expression. His subjects reflect a strong spiritual connection to people, nature, flora and fauna. Briscoe paints at his studio in the Adirondack Park.
image: Stephanie's Dolls by Bryan Briscoe
---
Susan Essex Luce
July 2018
Photographer Susan Essex Luce presents work from two series: "Art, Hops, and Kale, MMXVII" and a series of taken mostly in 2014 of landmarks in the South End, including the buildings on the site of the new South End City Market.
---
Frank DeAngelis
March 2018
Burlington artist Frank DeAngelis' "Paint Mayhem Under the Influence of Loud, Fast Music" is paint experiments that were produced using spray paint, acrylics, and oils mixed with various liquids and who knows what else!
---
Eric Newman
February 2018
Figurative paintings by Burlington-area artist Eric Newman.
---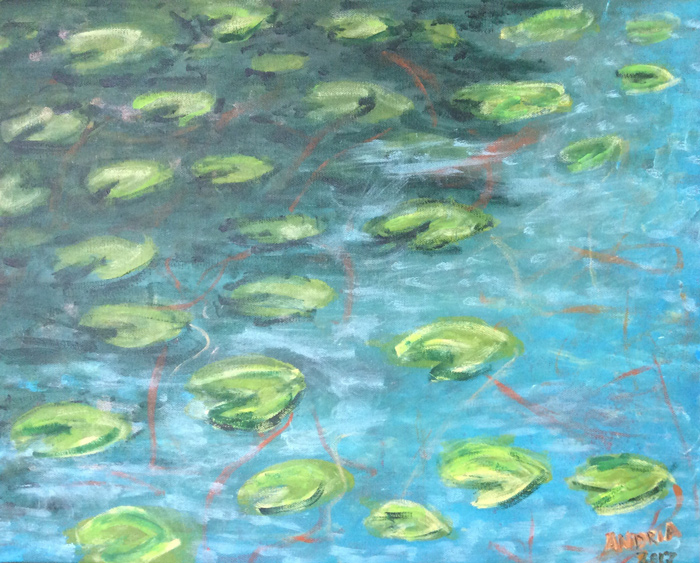 Andria Lovejoy
January 2018
Burlington artist Andria Lovejoy paints in an impressionistically creative and colorful style. She has painted many land and seascapes of her favorite places such as California, Hawaii, Italy, New Mexico, and, of course, Vermont. She originally attended art school at Virginia Commonwealth University, and she earned a Bachelor's in Psychology and Studio Art from the University of Vermont. She enjoys traveling to new places to inspire her painting time in the studio. She has shown her work in a few solo shows and in gallery exhibitions. Visit her website or email for more information.
---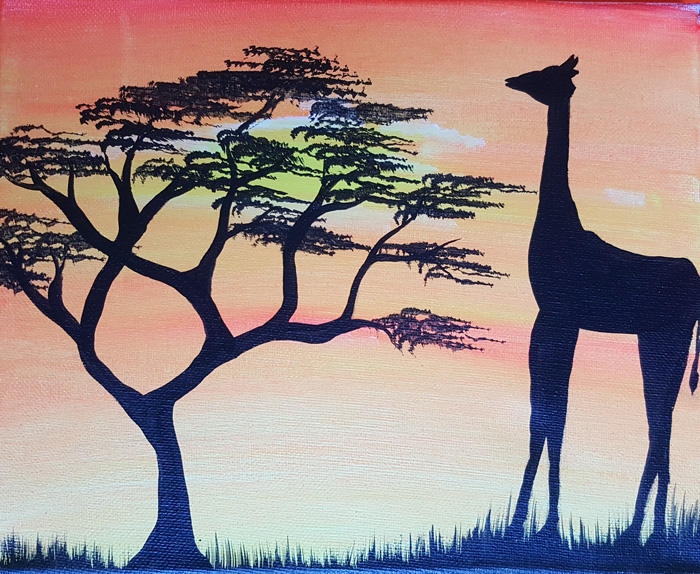 Kadina Malicbegovic
December 2017
Kadina Malicbegovic shows African and tropical landscapes on canvas. The artist is known for her work as The Human Canvas, as well as for face painting, prenatal belly painting, and a paint-n-sip studio.
---
Bryant Chase
November 2017
Bryant Chase says about their work:
I strive for balance in my time here…in my attempts to influence people through dynamic and ideally recognizable flushes of color and lines of embarkment to a fantasy of conception and realization. I agree that lines and color do not make art; the realization of embracing my lines and color evokes emotion and satisfaction, peace, love, and understanding for all.
---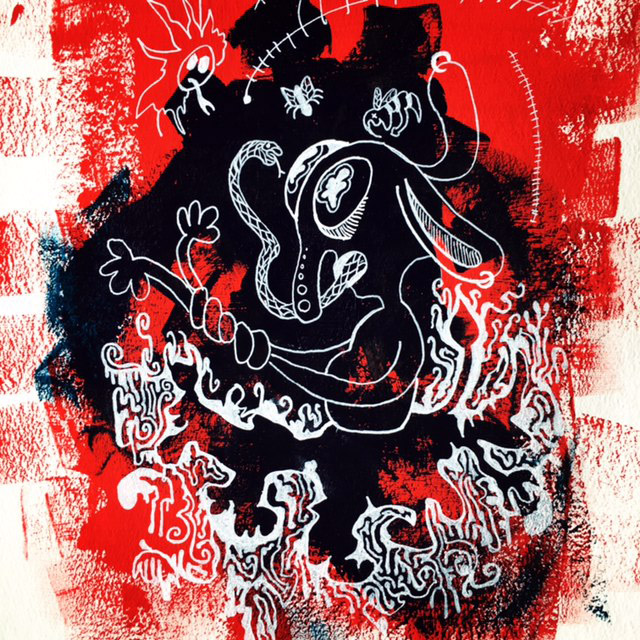 Kara Torres
September 2017
Kara Torres says about her work:
For me, home is not a place, but a feeling of absolute presence too fleeting to be possessed. In this series at City Market, I sought to harness the intangible feeling of home as I experience it. By combining the easy accessibility and familiarity of cartoon imagery with the mysterious subconsciousness of intuitive art–the safety and comfort of the known and the bittersweet longing for the unknown–I hope to free the viewer from their reliance on language as a means of ownership and instead allow them to experience that vague, ephemeral familiarity of feeling profoundly at home.
Kara Torres, who also operates under the name Fine Forager, is a Burlington-based artist best known for her intricate, cartoon-style black & white line drawings and her jewelry made from found objects. She can be found on Saturdays at the BCA Artist Market. Please email Torres about art purchases, payment plans, and commissions.
---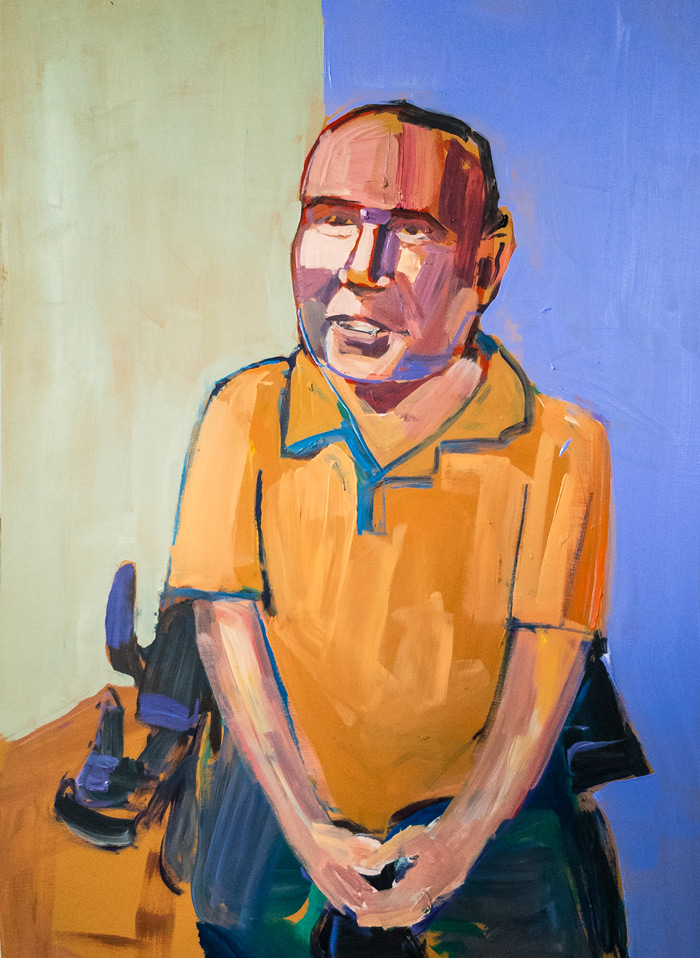 Corrine Yonce: "Voices of Home"
August 2017
"Voices of Home", paintings by Corrine Yonce, is shared as part of the ongoing story sharing project, "Voices of Home". "Voices of Home" combines audio narratives by and painted portraits of affordable housing residents in a work that demonstrates the importance of safe, healthy, affordable homes. These works have been brought to you by Burlington City Arts, CVOEO's Fair Housing Project, the US Department of Housing and Urban Development as part of the good work of the Vermont Affordable Housing project and Vermont Youth Tomorrow.
Artist Corrine Yonce paints because people are so beautifully diverse and nuanced; it is important to take to the time to pause, to put positive energy into this acknowledgement that beauty is inherent, unique, universal, and so we can be grateful for the individuals in our community.
Image: Chuck (2017). This work was featured on the cover of August 2017's Art Map Burlington.
---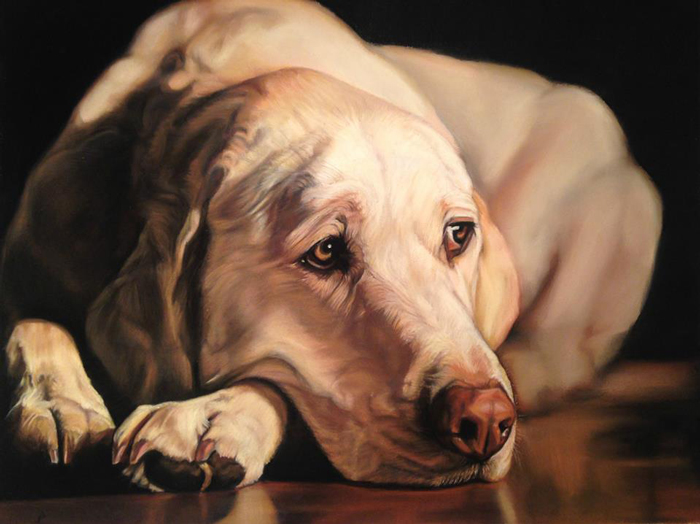 Megan Stearns
July 2017
For Megan Stearns, art is activism. Stearns' primary passion is animal welfare, and she believes that the core misperception underlying maltreatment of animals (especially in factory farming, animal testing, and the use of live animals in medical training) is a lack of awareness of their sentience, individuality, and emotional lives. The artist strives to capture those qualities in her animal portraiture–to convey the intelligence, personality and emotion of each animal. The families that commission these portraits do so to honor the beautiful individuality of the animals they came to loved. These works were originally created in soft pastel on paper. The pieces in this show are digital reproductions made with archival inks on watercolor paper. Megan works out of her home studio in Hinesburg.
Image: Patience
---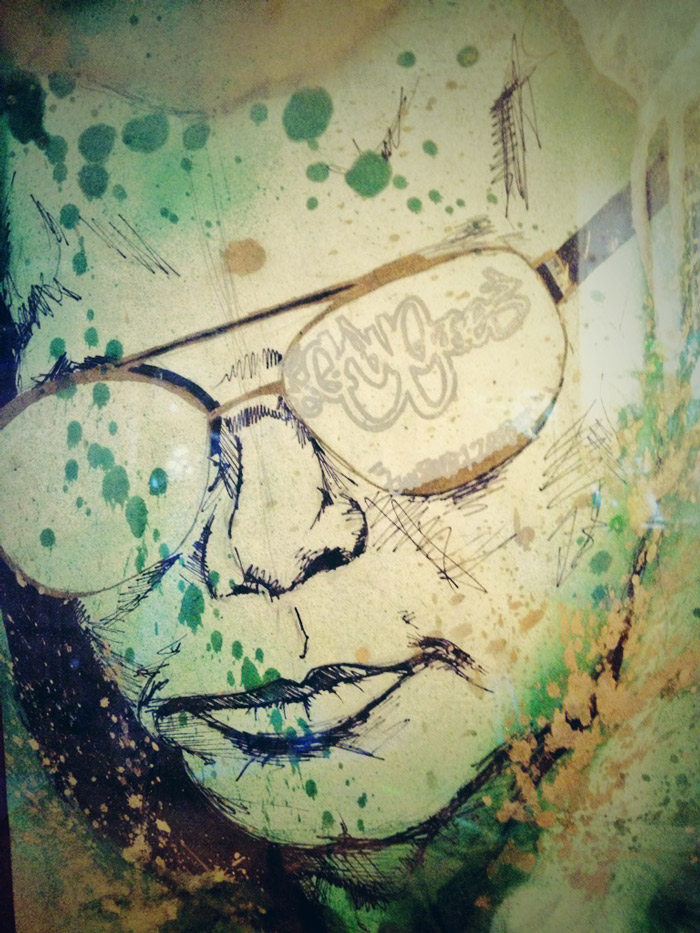 Chime Zer0
June 2017
Hailing from the small town of Derby in the Northeast Kingdomb comes artist Chime ZerØ. Art has always been a passion of Chime ZerØ. Ever since he was old enough to hold a pencil, Chime ZerØ was drawing and painting. He refined his artistic skills throughout his schooling; always doodling in his notebooks. It was in college, where he studied Art History, that Chime ZerØ was influenced and birthed his style. The work of Chime ZerØ is a combination of past artistic movements. He has the fine brush strokes of the Renaissance mixed with the drips and splatters of Abstract Expressionism. Elements of Pop art and Graffiti can be found all throughout his work. Chime ZerØ has a unique flair while staying true to the artistic roots.
---
Bryan Briscoe: "Reminding Spring"
May 2017
Bryan Briscoe's "Reminding Spring" is a mixture of nature-inspired original acrylic and watercolor paintings. He graduated from Massachusetts College of Art in 1988, with a Bachelors of Fine Arts Degree. His work has sold in the form of awards, acrylic and watercolor paintings, art commissions, fine art prints and editorial/promotional illustrations, since his junior year of college. He has taught community art classes in watercolor and acrylic painting and techniques on the East and West Coasts of the United States since 2004. Besides producing original work for art shows, he teaches fine art painting and techniques in Burlington and Northern New York.
---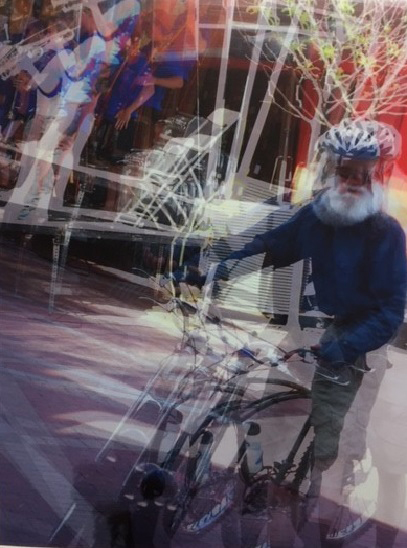 Edward Lincoln
April 2017
Edward Lincoln says about their work: I was a commercial photographer in Boston, Providence, and Woodstock, Vermont from 1963 to 1973. I worked for Cushing Studio, Lenscraft Studio, The Boston Globe, and The Providence Journal. Being from art school, I was hired to make feature photos for the front page of the newspapers, specifically, not to be hard news. The photographs in this show represent painting with a digital camera from the modern era. Since the 1960s, I've been a dairy farmer, house builder, vineyard owner, and refrigeration engineer.
---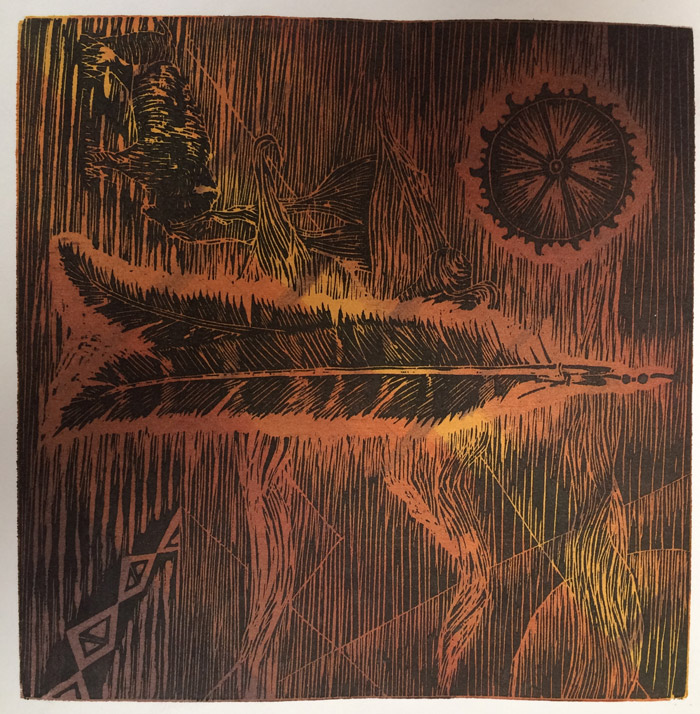 Elliot Diana
March 2017
Elliot Diana says about their work: "My art is derived from pieces of the natural world, and from figments of my own imagination. I allow these to flow into our physical world though pencil, ink, prints, carvings, and things that I find in our Northern Forests. I have been mentored by family members, teachers, friends and the wilderness in the art of creativity and curiosity since I can remember and I thank them all for the ability that they have helped me develop. My inspirations are my grandad, my high school art teachers, James Guarino, and Zoë Myers. I hope you enjoy."
---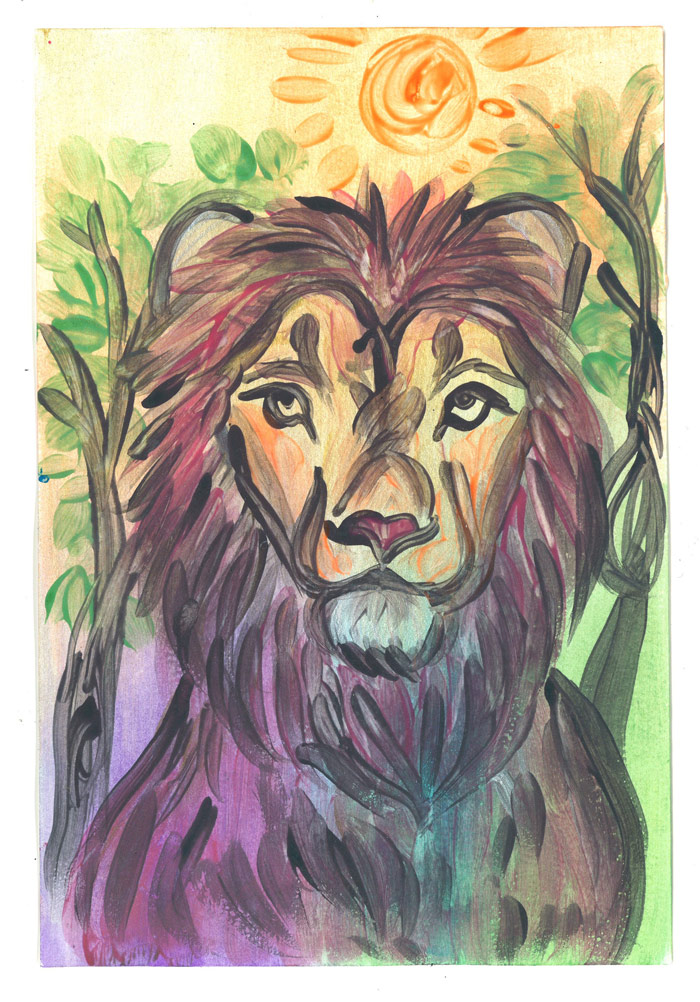 Art from the Heart
February 2017
Artwork made at UVM Medical Center by patients, families, caregivers and volunteers. Art from the Heart is a volunteer program of Burlington City Arts and UVM Medical Center designed to help patients, families, caregivers and staff transform their care and feel better through art. Volunteers visit the hospital every day of the year to nurture exploration, imagination and expression through the arts.
---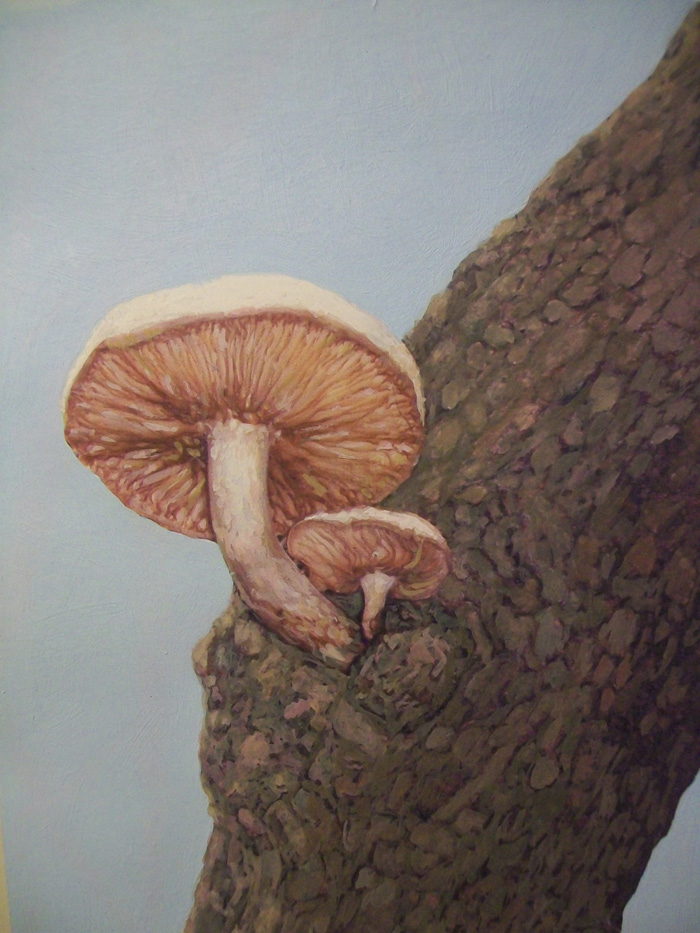 Pamela Turner
January 2017
Pamela Turner is a self-taught artist who started young. She was brought up in Jeffersonville went to 1yr at Johnson State College, then enlisted in the Army. She worked in Recruiting Support where she learned how to silkscreen, mount and retouch photos. They sent her to Kodak to learn to retouch negatives. She earned a BA in Psychology at Johnson when she returned to Vermont. Her artwork has ranged from drawing and painting different subject matter, carving wood then painting it, painting mushrooms, and making three dimensional art. Creating images from leaves/flowers and painting photos are her latest art endeavors.
---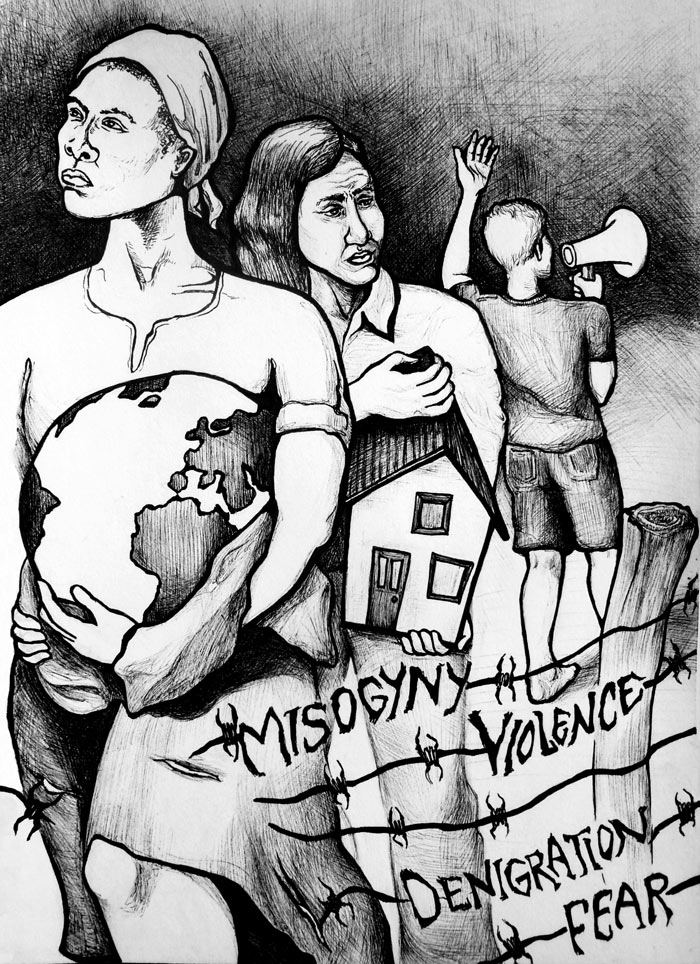 Michelle Sayles
November 2016
Michelle Sayles is a Burlington-based artist, teacher, and community organizer, whose work aims to shine a light on environmental and social injustice. She has created works of graphic journalism, large-scale comic art, community murals, political cartoons, and posters to inspire critical awareness of the world we live in. Sayles was selected as a finalist in the 2015 Segunda Llamada International Poster Competition and continues to work in solidarity with local and global movements for human rights. You can find more of her work on her blog at michellesayles.com.
---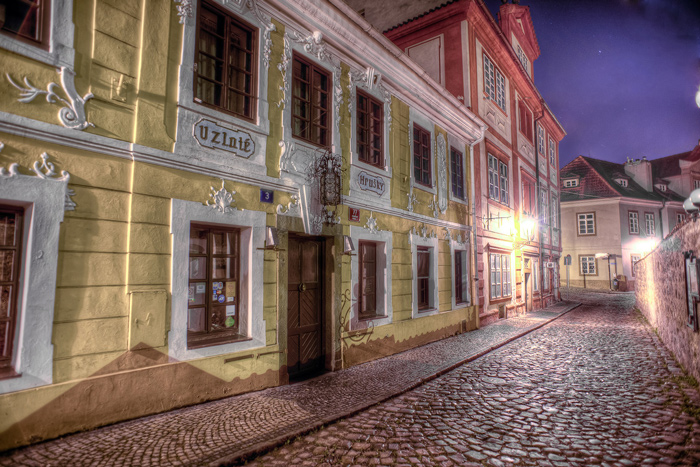 Petr Pavel Kepka
September 2016
Petr Pavel Kepka is an award-winning videographer and music teacher from the Czech Republic. His docudrama Stanislav Stanek: My Blues and Greens (2009) was the winner of the Beijing Film Festival Crying Monkey Award for best art film. One of his passions throughout his life has been his love for the capital city of Czech Republic, Prague. Kepka has been filming the architecture of Prague for 17 years and for the last 10 years he has specialized in night photography using HDR technology. "I consider night photography a very challenging art to master. The final product can be done in many ways. One picture takes about 3 hours if you have a lucky day, or you can struggle with it for a week," Kepka said. "I hope that this exhibition will bring my vision of Prague, my never ending inspiration and love, to Burlington and City Market customers."
---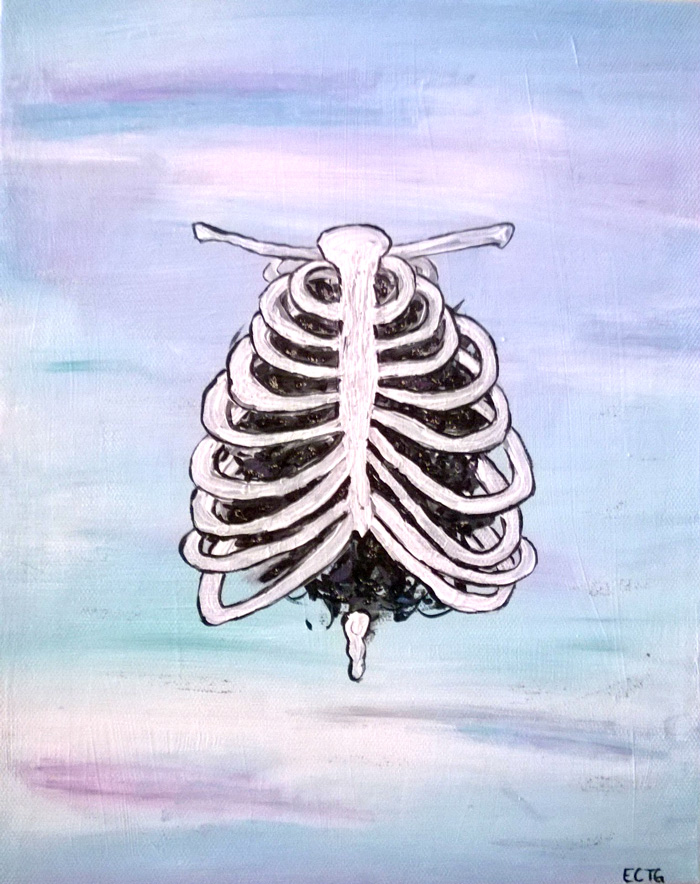 Emily Treasure Greene
August 2016
Emily Treasure Greene has been painting for almost a decade and is constantly working to expand her horizons. Born and raised in Ohio, she studied earth science and the environment in college, spent time at a portrait studio, and currently works in childcare. She loves to paint landscapes, abstracts, and experiments with color. Inspiration can come from anything that catches her attention; lately that has been utilizing the waste that art leaves behind. She hopes to continue to create art that affects people in a positive and lasting way. (image: Ribs by Emily Treasure Greene)
---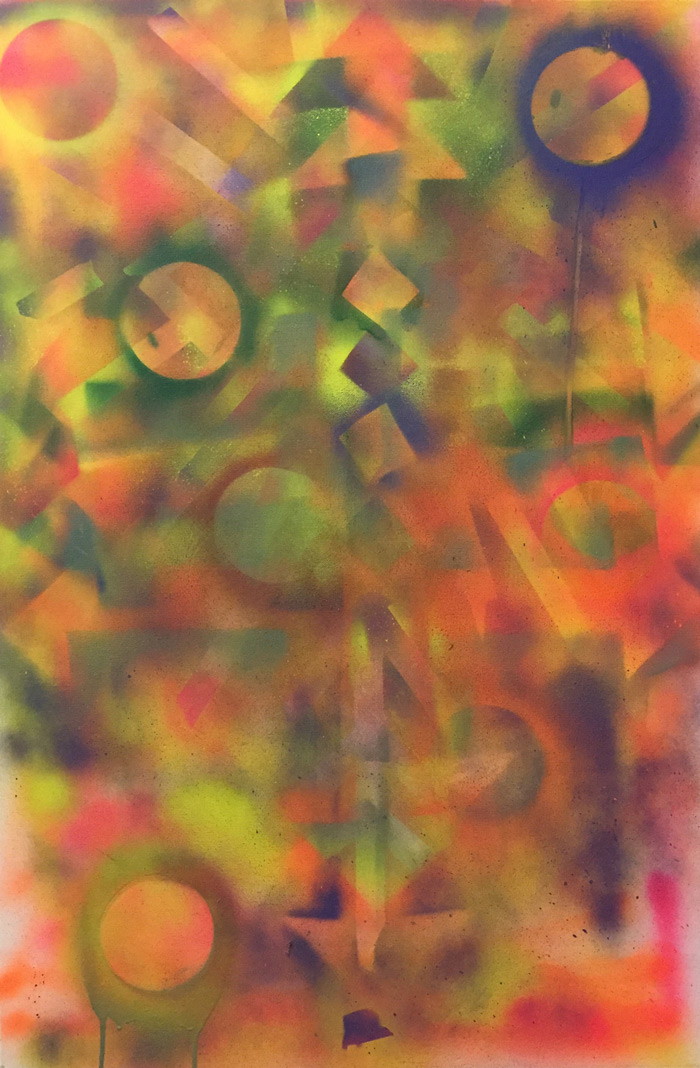 Joe Kos
July 2016
Joe Kos, also known as Jaguartiste, presents work with abstract artistic movement.
---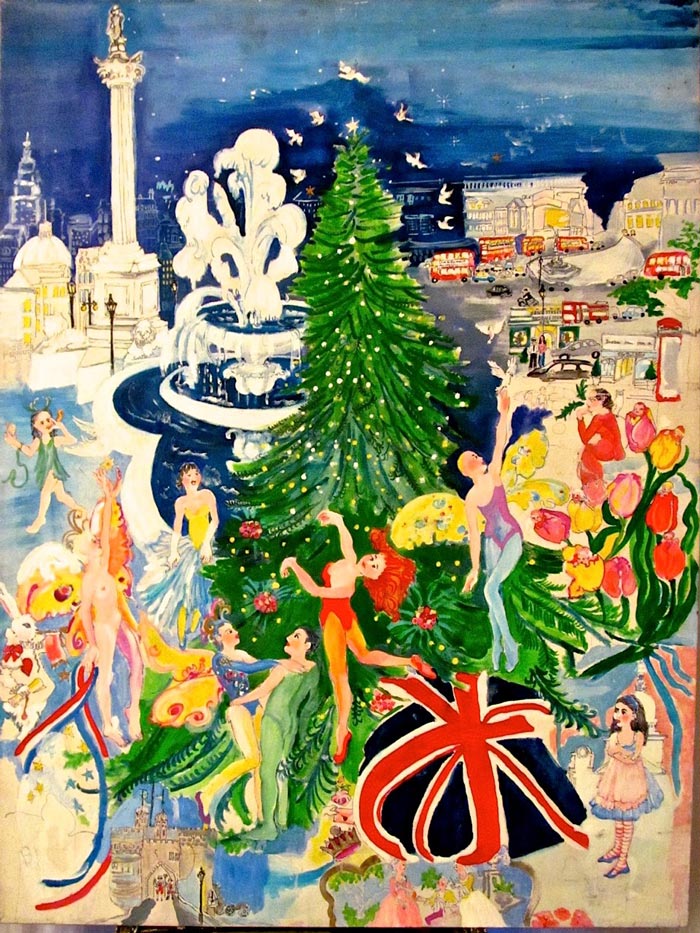 Regina Baez
June 2016
A lifelong passion for reading history and literature, a love and appreciation for 18th-century style, haute couture of the 20th century, of flora and fauna, travel and my birthplace of Manhattan informs my artwork. Art, to me, is like breathing, it is essential to the mind and heart and informs life. My art has been infused and tempered by many places and events and specially cherished people and pets. It has been inspired and nurtured from infancy by exposure to some of the world's preeminent museums. Life inspires art and art infuses us with life.
---
Bryan Briscoe: "Basketry Arts"
5/3 to 5/31/2016
Bryan Briscoe says about his work: Inspired by baskets and how they are made, I created a new body of original art work, "Basketry Arts". "Basketry Arts" provides art collectors a fresh look at new original paintings and drawings that celebrate Basketry. In this show, I used watercolors, acrylics and a mix of mediums to achieve a natural feel for each work. The aesthetic of my work is not so much focused on beautiful art; but the color expression to help communicate the concepts. I enjoy painting from self-expression and using my first impression of the subject as a vehicle to explore the concept, then visually translating that on to the surface type that makes the most sense.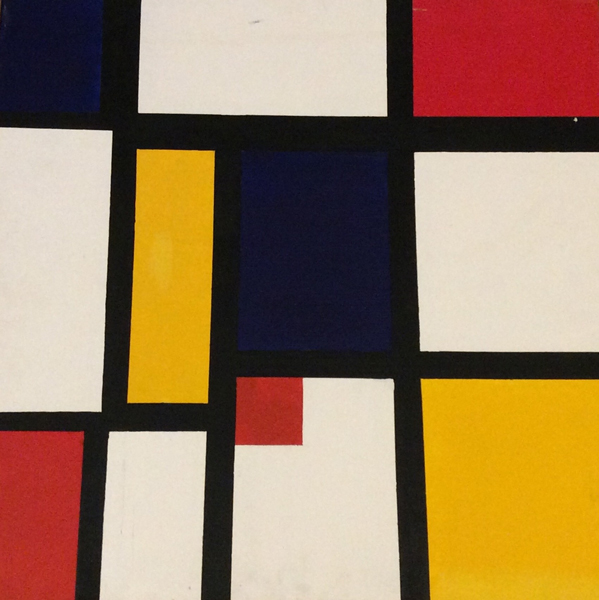 Sarah Fidler
4/1 to 4/29/2016
Sarah Fidler is a pastry chef by training, but enjoys all forms of art as a way to relax and express her creativity. She has been painting for approximately 14 years and enjoys working on large scale, abstract pieces. Her first influences were Pollock and Rothko. Originally from Western New York State, Sarah now calls Burlington home with her husband and their Great Pyrenees puppy.
Rally for Change
March 2016
This March, City Market is using the Member Art Wall to celebrate its Rally for Change program–a simple way for customers to round up their purchases to the next whole dollar to collect donations for local non-profits. Check out the Art Wall to learn some amazing statistics about what your donations have accomplished and find out more about a few of the non-profit organizations that have benefited from these donations.