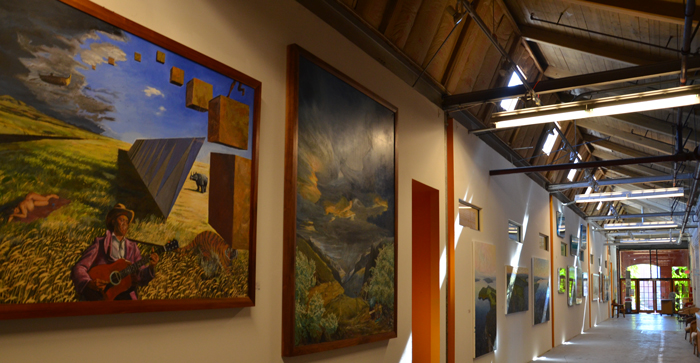 Traditional and non-traditional exhibitions and community-based events. The artists maintain a gallery presence and handle sales.
Open Monday-Friday, 9AM-4PM and Saturday, 9AM-Noon.
208 Flynn Avenue
(802) 363-4746
Art Map Burlington #33
---
The Exquisite Corpse Shall Drink the New Wine
3/4 to 4/30/2018
Artist Reception: Friday, April 27, 6-9PM
In "The Exquisite Corpse Shall Drink the New Wine", Rutland artist Bill Ramage assembled 9 artists to draw directly on FLYNNDOG's walls in the automatic manner of French Surrealist André Breton, who began using the "exquisite corpse" for artmaking around 1925.
---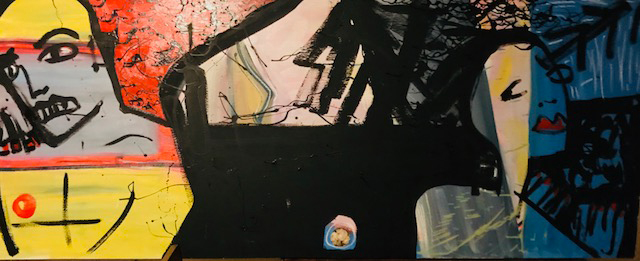 Zoe Bishop & Adam Forguites
January-February 2018
Artist Reception: Saturday, January 20, 6-9PM
Zoe Bishop's never finished, never for sale oil paintings on canvas that are years in the making and Adam Forguites' selections from a 2017 project which pairs preparatory charcoal sketches on newsprint with finished oil painting and a group of three paintings on doors about the fragility of romance (image).
---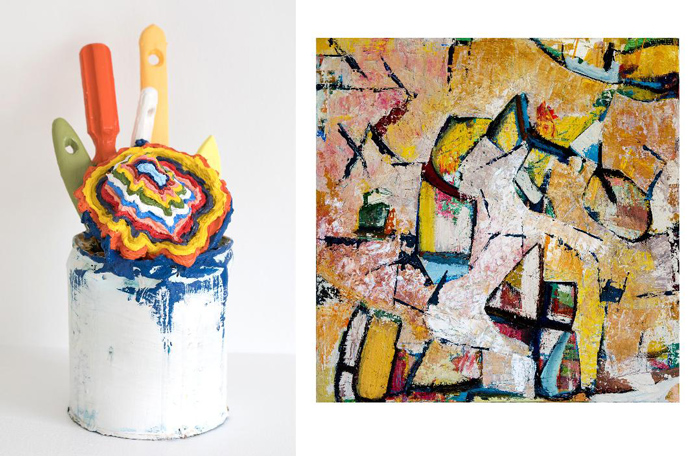 Ruben Vidrio Paintings & Ross Sheehan Sculptures
11/3-12/31/2017
Artist Reception: Saturday, November 4, 6-9PM with special guest Live Jump Duo
Rueben Vidrio's paintings (image right) blend aspects of Cubism and Surrealism. Vibrant blocks of color and primitive movement are evident in Vidrio's work. His colorful abstractions pay tribute to ancient Aztec design and culture. Vidrio became immersed in imagery of Aztec sculptures, paintings, pottery, and mosaic shields and masks, which has had a profound influence on his own paintings. He said, "I have always been fascinated by art of ancient civilizations…For me, this series is a way to connect to my ancestors and transform their art into a modern interpretation".
Ross Sheehan's new sculptures (image left) combine elements of Expressionism and Pop art. This recent group of "painted constructions" is comprised of smashed pottery, salvaged studio materials, furniture, tools, welded steel parts, and other recognizable objects from daily life. Sheehan said, "Each piece of collected material reminds me of my past. Assembled, the pieces start to tell their own story. The sculptures are then drenched with colorful liquid. Whether it be oil pen scribbles, drips of day-glow enamel, or heavy encrusted layers of oil…it's the love of paint that unifies my work."
---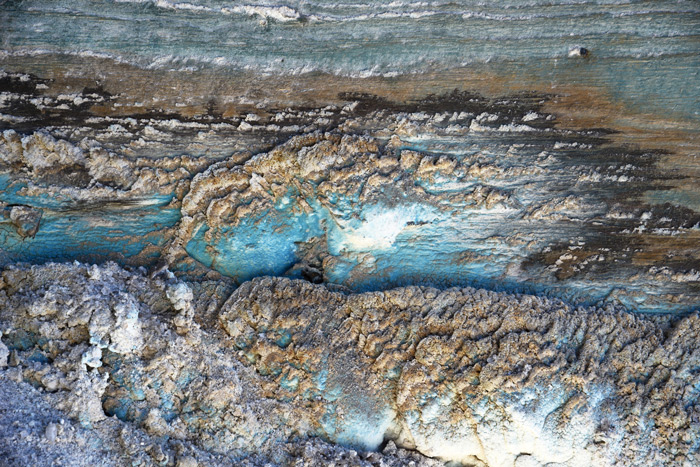 Art Hop at FLYNNDOG
9/1-10/31/2017
Open for September's First Friday Art and the South End Art Hop
Artist Reception: Friday, September 15, 6PM
Art Hop at FLYNNDOG features work by Burlington artists Ted Wimpey, Lyna Lou Nordstrom, Barbee Hauzinger, Wendy Copp, Ann Clayton Barlow, and Winnie Looby.
Image: Blue Wave by Ann Clayton Barlow (33″x49″; photograph: archival giclée print; 2014)
---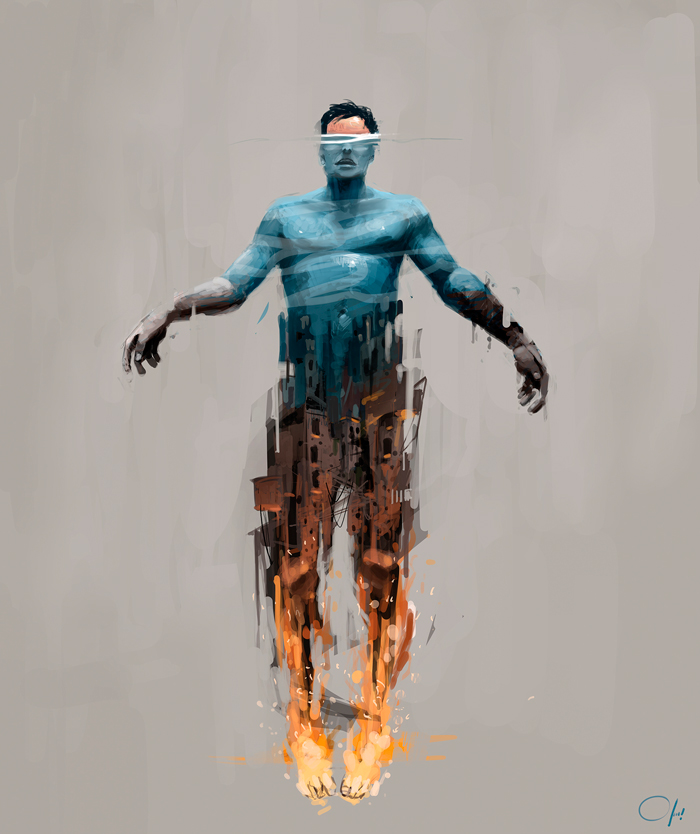 Syrian Experience As Art
7/7-8/31/2017
Opening reception during July's First Friday Art
"The Syrian Experience as Art", curated by William Ramage, Oliver Schemm and Khaled Youssef, represents the work of 10 Syrian artists expressing their individual and varied responses to the devastation of their country. The impetus for the exhibit came when former Rutland mayor Chris Louras approached gallerist and Professor Emeritus of Art at Castleton University Bill Ramage and asked how he might help humanize the many Syrian families who were slated to be resettled in Rutland and make a new home there.
Image: 4 Year Trip: They Didn't Survive, but They Died Trying by Bassam Alemam
---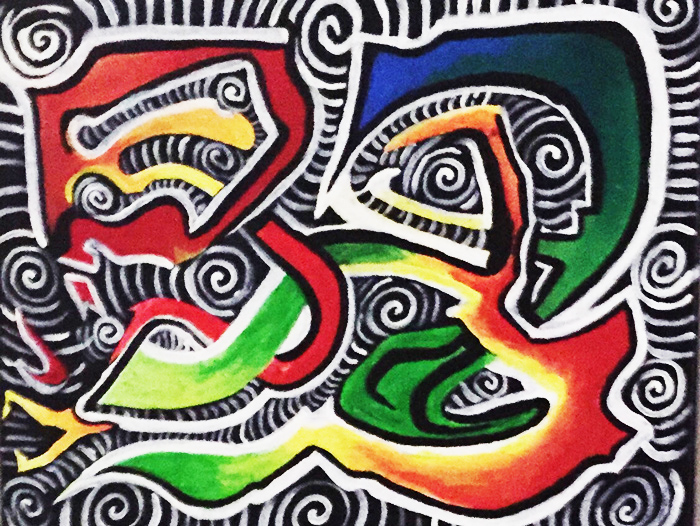 Howard Center Arts Collective
May-June 2017
Artist Reception during May's First Friday Art
Presenting artwork by the Howard Center Arts Collective.
---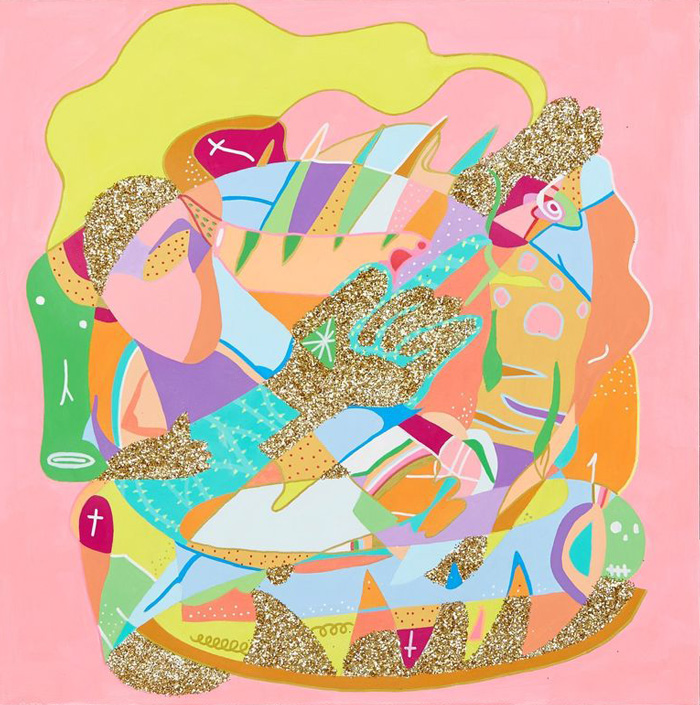 Rose C. Hebert: "Kcufretsulc"
March-April 2017
Artist Reception: Friday, March 10, 5:30-8:30PM
Rose C. Hebert says about their work:
"Kcufretsulc" blends my take on mainstream cliches of masculinity and femininity using abstracted icons in scenes depicting empowerment, sexuality, and vulnerability. The end result is a whirlwind of quietude and violence, which I believe walks upon a tightrope strung between visual chaos and harmony.
Image: Gone Off That Molly (Thinkin' 'bout death or something) by Rose C. Hebert (24″x24″; mixed media; 2016)
---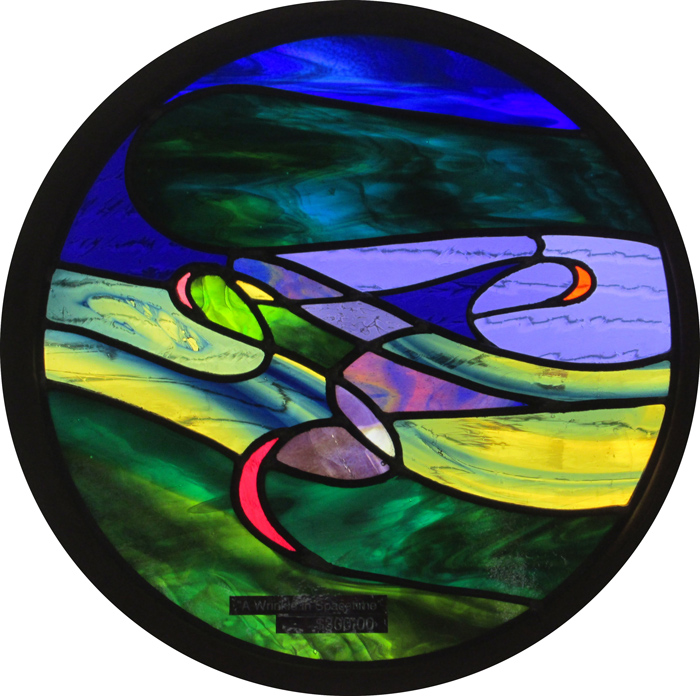 Lawrence Ribbecke and Emily Stoneking: Stained Glass
January 13-February 28, 2017
Opening reception: Friday, January 13, 5:30-7:30
Artist Emily Stoneking is an artist living and working in Burlington, where she helps run a stained glass studio and retail space with Lawrence Ribbecke. She is a recent graduate from the University of Vermont, where she studied medieval history and German, and this interest in medieval life and craft is largely responsible for her interest in stained glass as an artistic medium.
Stoneking's early interest in glass began with mosaics, which she has been making since childhood (back then they were made from a much safer material: colored bits of paper!), This later led to making mosaics from tile and stone, and finally, glass. This led her to meet up with Ribbecke, and she began her apprenticeship with him in 2001, and has been working with him to design, build, restore, and repair stained glass windows ever since. The series of medieval medallions representing the twelve labors of the year began as a personal project: an effort to learn the specialized skill of glass painting. Glass painting has since become something of a passion, and she will probably be incorporating some element of painted glass into many of her future designs, regardless of whether or not they are in the medieval style.
Lawrence Ribbecke lives and works in Burlington, where he and Emily Stoneking design, manufacture and restore stained glass windows in their studio at 377 Pine Street. Born in 1948 in Brooklyn, he attended Brooklyn Prep, a school emphasizing the humanities and classical studies. It was during this time that he learned to appreciate medieval and modern art, making numerous visits to the Cloisters Museum and the Metropolitan Museum of Art in New York City. He attended MIT, graduating in 1969 with a degree in electrical engineering and a lifelong interest in Physics and Mathematics.
Ribbecke taught himself stained glass technique over an extended period from 1971 to the present, during which time he has designed an built windows and done repair and restoration work for many churches, institutions and individuals in New England and elsewhere. He has taught courses in stained glass at Johnson State College, UVM, and at Yestermorrow Design/Build School in Warren.
Ribbecke and Stoneking maintain a studio which is open by appointment to discuss and undertake project such as commissions and repairs, and a retail store which is open to the public on a walk-in basis Tuesdays through Saturdays, in which they sell finished stained glass panels, tools, books and supplies for stained glass art and craft.
---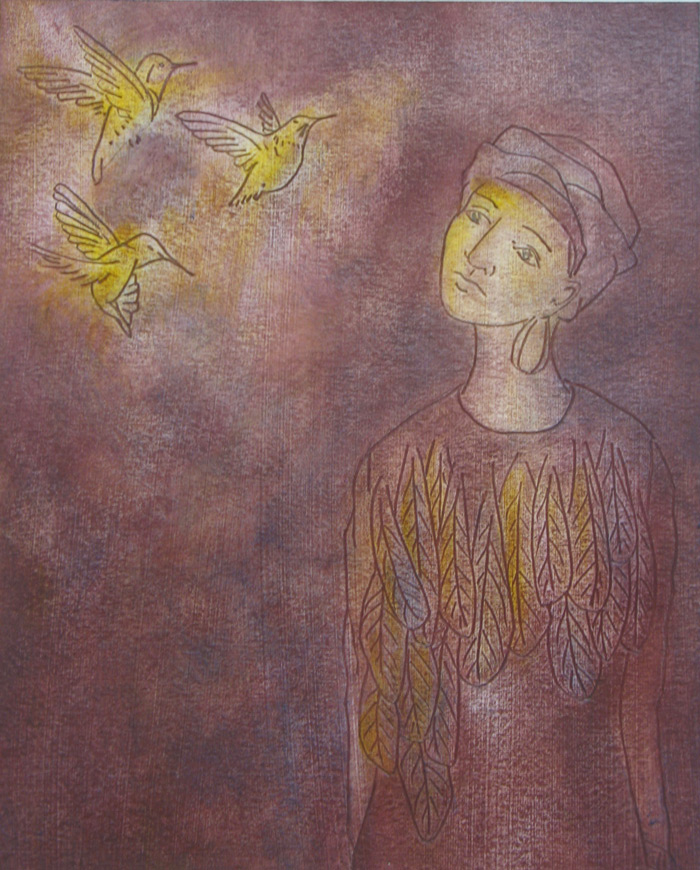 "Out of Darkness: TOWARD LIGHT"
11/1 to 12/30/2016
Opening reception: Saturday, November 5, 4-7PM
Karla Van Vliet says about her work:
As a girl I was introduced to the Quaker concept of the light within. I imagined a lit candle burning within me and was greatly comforted by the thought.
The light within, the lit candle, an illumination of the self from within the self. The quiet presence of divine energy, as the Quakers say it. A place of meditation, waiting and what arises there, out of the darkness, into the flickering light of consciousness.
The new pieces in "Out of Darkness: Toward Light" have the feel of being uncovered by that light. And also, that they are stepping forward into that light, to be seen at last. They have a kind of ancient feel to them, portraits of women, women who have historically not had a voice, a record; I am making their record, each with her own expression, her own selfness.
I use a technique I call scored painting. I score into a gessoed surface and then through a process of applying thin layers of paint and then lifting them from the surface. This fills in the scoring and creates an etching-type look. The thin layering of many colors gives the pieces their atmospheric feel lending to the introspective nature of the pieces. (image: Three Points of Joy by Karla Van Vliet)
Lily Hinrichsen says about her work:
To be physically or emotionally in a place of darkness can be daunting, fear-inducing, and rife with anxiety. At least for me.
The inability to see clearly. The Unknown possibilities lurking beyond my reach.
And yet, these are the very features I relish in my studio practice.
Sitting with these Unknowns ironically move me eventually into clarity, definition, and ultimately result in completed works of art.
These new works are no exception.
The square has become a boundary for me to work in and around. It grounds and stabilizes the myriad of snapshots revealing themselves as clusters of circles, wandering lines, and dots of French Knots.
Light and lightness tread delicately across the white surfaces in the form of fine lines, handsewn paths, shades of yellow, and even the spaciousness of the paper itself.
The color yellow draws me in–much like a Full Moon, a setting sun, a bonfire.
Mystery, Illumination, Warmth are words that come to mind as I move toward light in these mixed media pieces.
---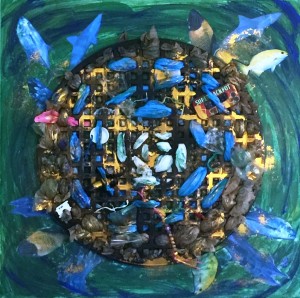 Art Educators Unite.3
9/9 to 10/31/2016
Open for the South End Art Hop: Friday, September 9, 7AM-9PM
A group exhibition of new work by 18 Vermont art educators who support each other in their personal art making. Artist include Dorsey Hogg, Jenn Hart, Jenn Volansky, Carol Crosby, Michelle Badji, Barb Crandall, Dee Christie, Julian Bradshaw, Mags Conant, Ann Joppe-Mercure, Anne Cummings, Deb Mager-Rickner, Lisa Bird, Krista Connolly, Alice Tregasar, Beth Coleman, Dodi Gomez, and Tina Logan. Curated by Dorsey Hogg. (image: Trapped in the Gyre by Anne Cummings)
---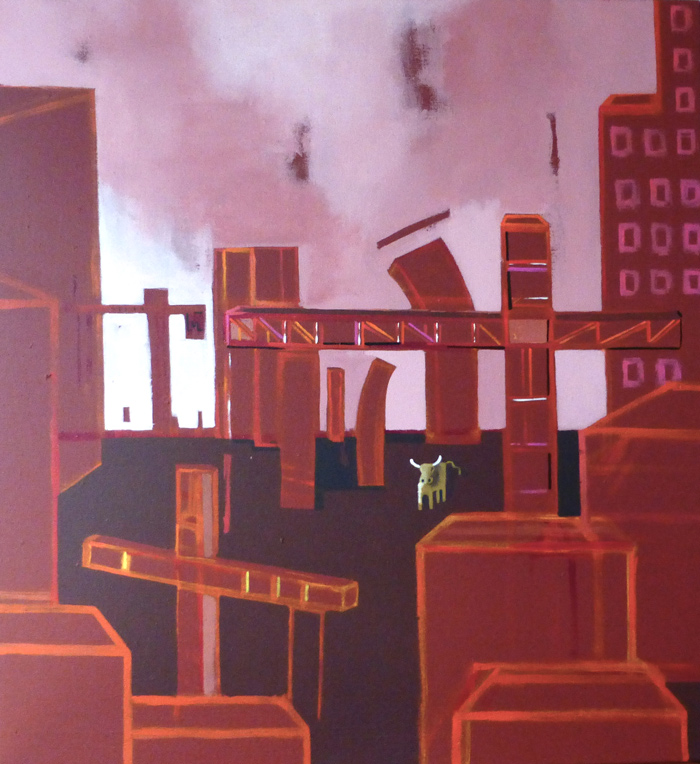 Ethan Azarian: "Finished or Unfinished"
8/3 to 8/31/2016
Closing reception: Saturday, August 27, 2-5PM
"Finished or Unfinished" is a solo collection of paintings by Ethan Azarian. (image: Tucson, Arizona by Ethan Azarian (30″x28″; acrylic on canvas))
---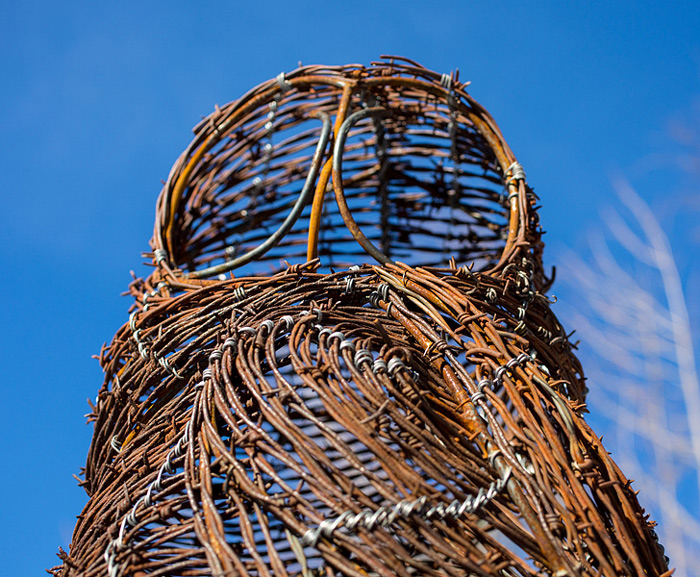 Eben Markowski and Inty Muenala
6/3/2016 to 7/29/2016
Opening reception during June's First Friday Art, 5:30-8:30PM
Eben Markowski's work in steel and Inty Muenala's work on canvas.
(image: work by Eben Markowski. Photo credit: Natalie Stultz)
---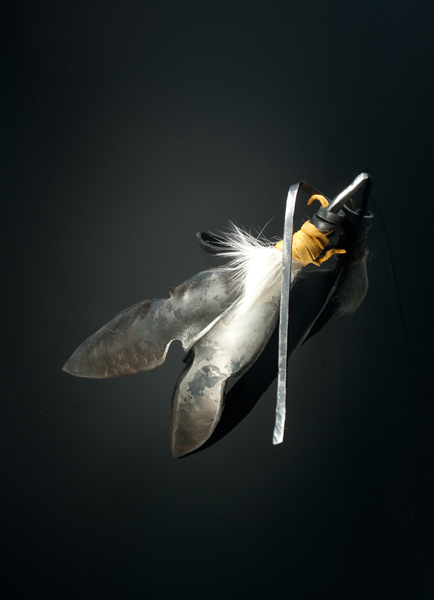 Impermanence: Margaret Jacobs & Jason O'Rourke
3/1/2016 to 5/28/2016
Sculpture and drawings by Margaret Jacobs and Justin O'Rourke. Opening Gala: Friday, March 18, 6-8PM
(image: A Fighting Chance I by Margaret Jacobs)