A community spot since 2007, New Moon Café partners with Burlington College to present student artwork.
Open Monday-Friday, 7:30AM-8:30PM and Sunday 8AM-8:30PM.
150 Cherry Street
(802) 383-1505 or (802) 383-1496
Art Map Burlington #12
---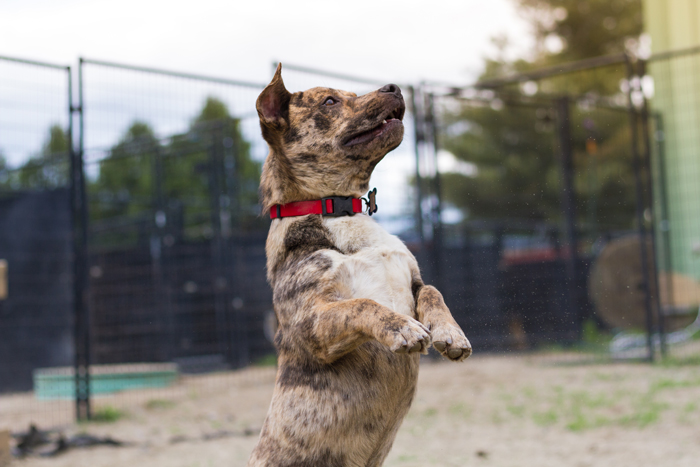 Josh Dustin
September-October 2018
Professional Pet Photographer Josh Dustin says about this show:
When I was residing in the U.S. Virgin Islands, I spent a lot of time alone with my dog. It was quite the culture shock, and we relied on each other. After the Hurricanes this last fall, our co-dependence became even more obvious to me. Animals rely on us for everything, their quality of life is entirely derived from their owners. Now that I've relocated to Burlington, I've dedicated most of my time volunteering my services at rescues in an attempt to help these animals acquire the life they deserve. This exhibit is dedicated to dogs who have travelled from all over the globe and finally arriving where they belong – home. These are their stories, the journeys they embarked on to get where they are today. I've experienced first hand what these loving animals have done for us, and I encourage everybody to ask themselves what we can do for them.
All proceeds and donations from this exhibit will be donated to local rescues and organizations dedicated to helping these dogs.
---
Gordon Glover: "Composite/Synthesis"
2/2 to 4/30/18
Artist reception: Friday, February 9, 5-8PM.
Gordon Glover says about the show, "Recovering pack rat curates ephemeral collected objects into integrated synthesized composites."
---
From Our Minds and Hearts (FOMAH)
November 2017-January 2018
Opening reception during November's First Friday Art
FOMAH is a group of Burlington-area artists and writers who meet biweekly to critique one another's works, paint together occasionally, and visit art shows and museums. This group show features paintings, bead and fiber jewelry, and photography.
Participating artists: Julia Boynton, Susan DeClue, Nancy Ellis, Karl Sklar, Claudia Stoeffler, Lea Terhune, Pam Valance, Marguerite Zabriskie, and Sandy Zabriskie
---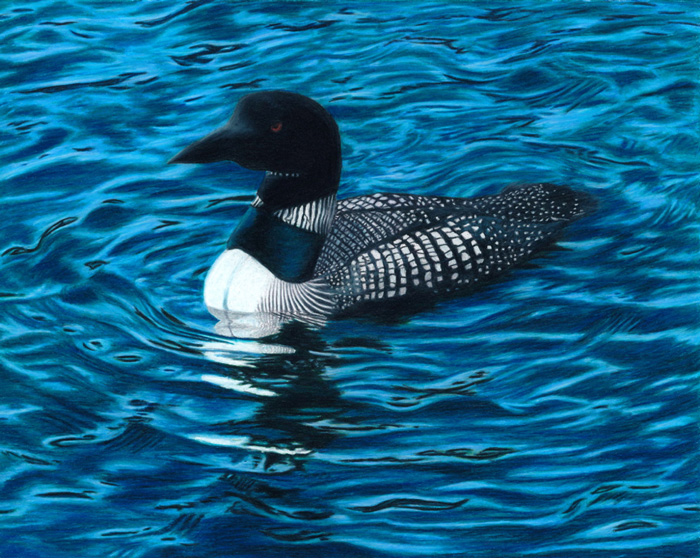 Corrina Thurston: "Animals–In Colored Pencil"
September-October 2017
Opening reception Friday, September 22, 5-7PM
"Animals–In Colored Pencil" shows Corrina Thurston's detailed, vibrant colored pencil drawings of animals. Thurston's style shows colored pencil in a way viewers may never have seen before, looking more like paint or a photograph than a drawing. She expertly captures the life and personality of each animal she draws. Ten percent of the proceeds from this exhibit will be donated to the Wildlife Conservation Society.
Corrina Thurston is a professional wildlife artist, writer, and speaker. She began drawing in 2010 after two years struggling with an unknown illness that left her mostly bedridden for 6.5 years. What started out as a therapeutic outlet has now blossomed into a career.
image: Common Loon by Corinna Thurston
---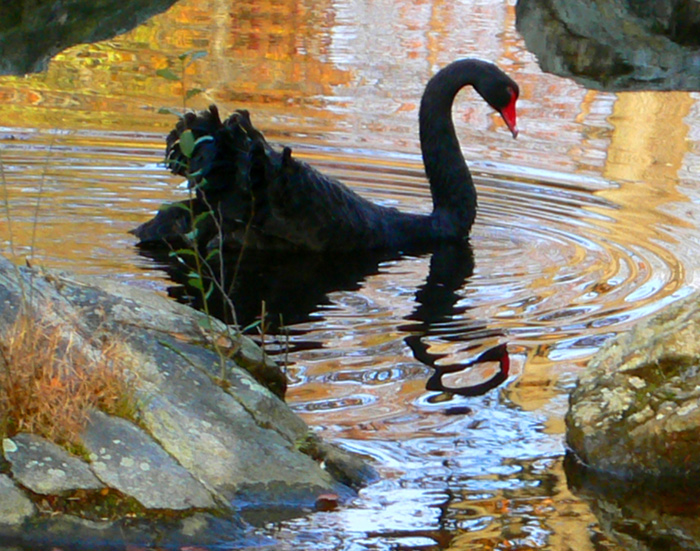 The Gift of Beauty
July-August 2017
Opening reception during July's First Friday Art
"The Gift of Beauty" is based on impressions of Earth and creation that the artist Mem has observed during his travels throughout Vermont, the West, Scandinavia, Asia, and New Zealand. He has chosen to sign his work by the name of "mem" which is the Hebrew letter m and is also the first part of Memphremagog. He chooses to remain anonymous as he chooses to have the art speak for itself.
"The Gift of Beauty" is being presented to help raise funds from the sale of each image for a program called 'Church in the Prisons' in Vermont, in which volunteers and pastors meet weekly with inmates with a chance to pray, sing and be encouraged in a very difficult environment. The program is also committed to helping felons reintegrate into society with a place to stay, work, and provide ongoing support with a sense of dignity and respect and to go beyond the traditional stigma and rejection.
The images are in honor of those who give so much of their time to help those who are often abandoned, the beauty represents the beauty of this world which is the "gift". The images are mounted without frames so that the framing and matting is determined by the space in which the images will be shown. Images by this artist have sold in the open art market for between $900 and $1200 each, but for this exhibit are being sold for $100 through New Moon Café.
---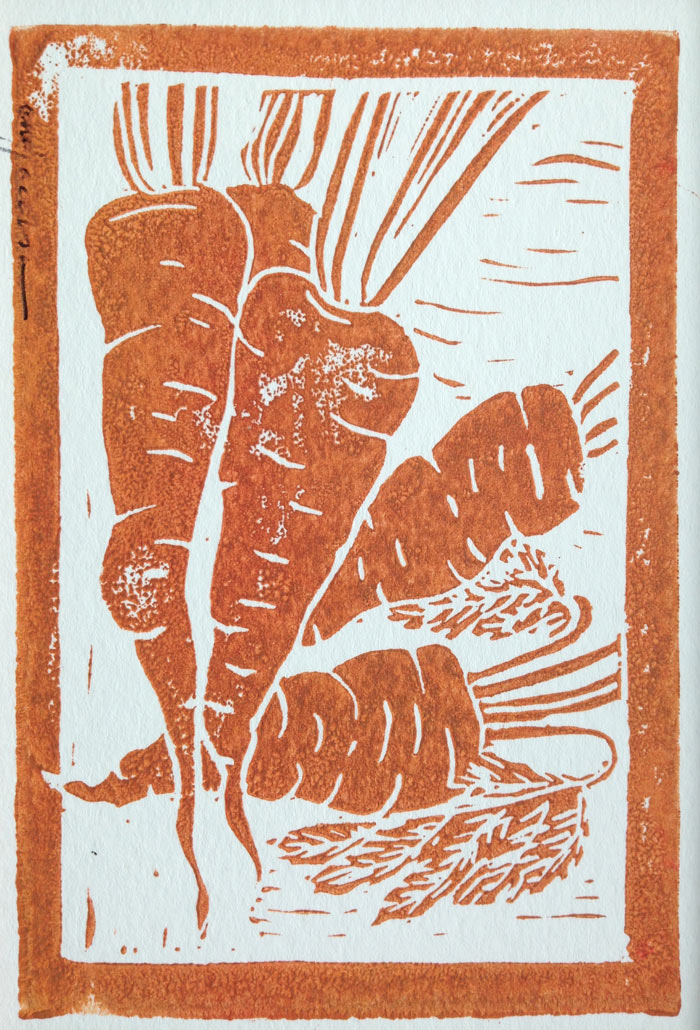 Growing Food, Growing Community
June 2017
This exhibit celebrates Vermont's diverse community of gardeners and their nourishing harvests. It features photos from community and school gardens around the state alongside block print art by Chris Jacobson of Hartland. Jacobson's collection of vegetable block prints were born out of Winter's longing for the garden and anticipation of the harvest. All proceeds from art sales benefit the Vermont Community Garden Network's Teaching Garden scholarship fund.More info at www.vcgn.org/photoexhibit2017
Block print by Chris Jacobson
---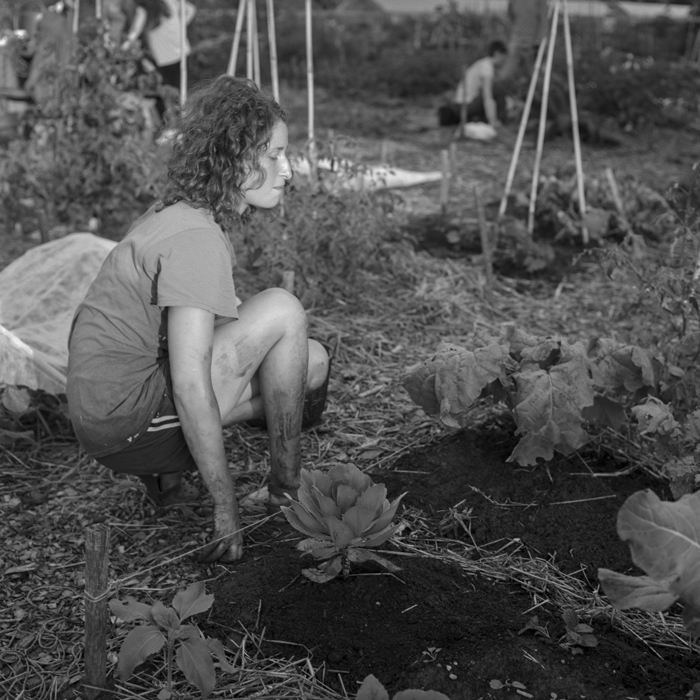 Growing Food, Growing Community
May 2017
This split exhibit features large-format images celebrating community volunteerism from Burlington's recent "Day in the Dirt" and photos of gardeners and fresh vegetables by Dan Daniel and Cristina Clarimon-Alinder. All proceeds from art sales benefit the Vermont Community Garden Network's Teaching Garden scholarship fund. More info at www.vcgn.org/photoexhibit2017
Image by Dan Daniel
---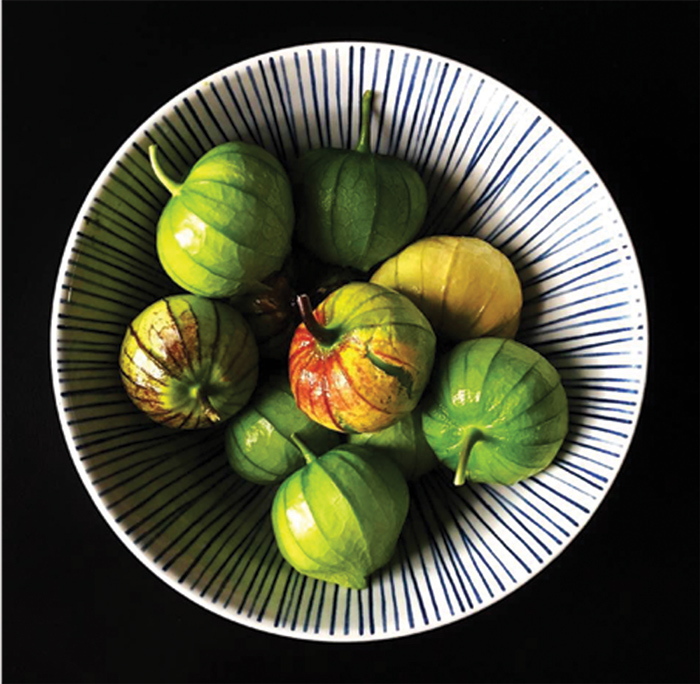 Growing Food, Growing Community
April 2017
Artist Reception during First Friday Art, 5-7PM
"Growing Food, Growing Community" features stunning photos of gardeners and fresh vegetables from the Vermont Community Garden Network's Teaching Garden by Dan Daniel and Cristina Clarimon-Alinder. All proceeds from art sales benefit the Teaching Garden scholarship fund.
Image by Cristina Clarimon-Alinder
---
Trine Wilson and Heidi Chamberlain
January 6-March 31, 2017
Heidi Chamberlain says about her work:
"I have always been in awe of the thought of mermaids (being myself a horrible swimmer). Women of all sizes and life stories give me strength and that is why I give their own honor in my creative world."
Trine Wilson says about her work:
With pride and respect for this beautiful state, I am a native Vermonter with a great love of traveling. I am blessed to be able to visit many beautiful areas, and share with you what catches my eye along the way. Much of what I photograph and share is right from my garden here in Westford. Whether from my garden, the trails of the Green Mountains, shores of Lake Champlain, or from my journeys and adventures, I hope an image catches your eye as it has mine.
Photography, for me, is about connection with nature, animals and most importantly, with you. I so appreciate your stories of why an image has captured your attention. Please share your thoughts with me. Knowing why an image hangs in your home, why you sent a specific card, why you gave a photo adds depth to my work.
---
Tatiana Yakusheva
12/5/2016 to 1/4/2017
"For me Art is Life and Life is Art. Both processes are pretty complicated, but adventurous, creative, challenging, infinite. As we look for our paths in life, so I do look for approaches and techniques in art process. Every time I draw or paint, I try to improvise with new mediums, styles. Art for me turns into meditation process, it is something sacred, magical, ephemeral. The state of creation, or the process of creation is like a life in different dimension." (image: painting by Tatiana Yakusheva)
---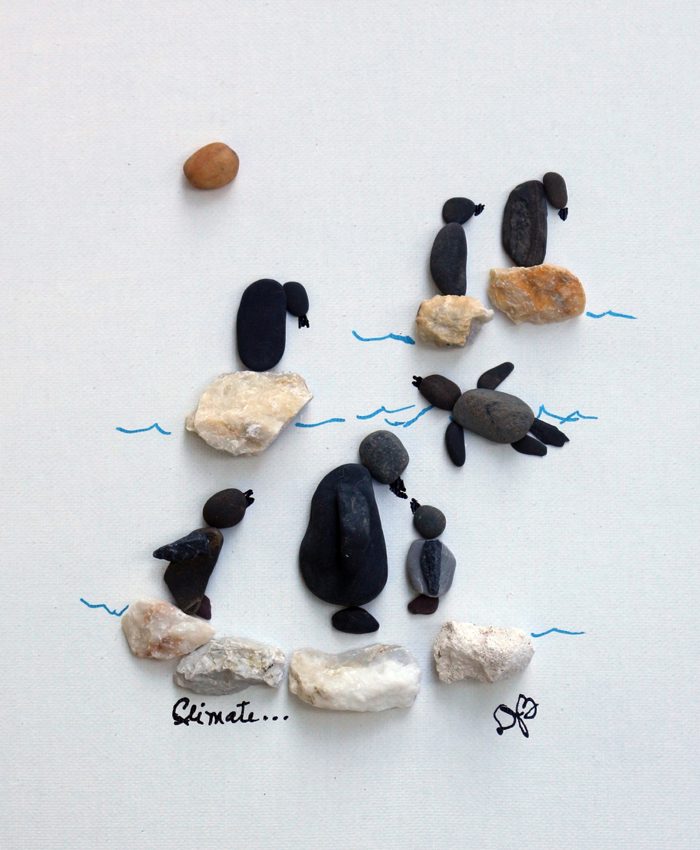 Milton Artists' Guild: "Changes On the Horizon"
10/1/2016 to 12/2/2016
"Change is continual and often unpredictable while the Horizon stands fixed and reliable with each rising and setting sun. However, with each rise and set over that horizon change is inevitable. Each artist has interpreted and expressed change through their eyes." (image: Climate by Donna Blatchly)
---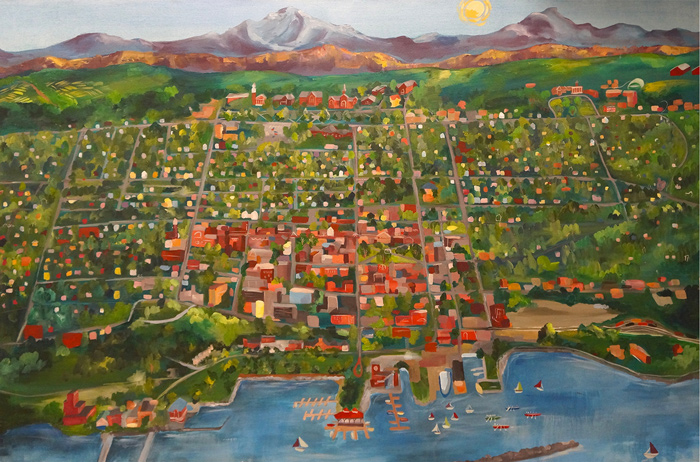 Carly Kemp: "Peace of My Heart: An Overflow of Gratitude and Love for Burlington"
Through 9/30/2016
"Peace of My Heart" is a show of acrylic paintings by recent UVM graduate Carly Kemp.
Carly's artwork is colorful, meaningful, and connected to her love of people and place. Her primary mediums are pottery, painting, silkscreen, drawing, and photography. Carly said, "When I make art, I am expressing an overflow of love I have received. I called the show 'Peace of My Heart' because I believe that when you love someone or something, a piece of your heart becomes part of it. I know a piece of my heart is with Burlington. As I reflect on all the experiences I have had here, I see so much beauty. Not just in perfection, but also how the messy things have been redeemed; I feel a great sense of peace in this tension." (image: Burlington print by Carly Kemp)
---
"The Story of Freedom: Child Artists, Child Soldiers No More"
Through 9/30/2016
"The Story of Freedom" celebrates children subjected to the horrors of war in the Gulu District of Northern Uganda and their ability to participate in the process of restoring their communities. Currently Freedom in Creation serves 50 children with weekly art as therapy (music, dance, drama, painting and drawing) and interdisciplinary farm-based entrepreneurship programs. To date, Freedom in Creation has provided the community of Koro with 22 water projects serving an estimated 20,000 people.
---
Amanda Lass: "Altitude"
5/1/2016 to 6/30/2016
Amanda Lass says about her work: The mountains have always been home to me. I grew up on the borders of the Endless Mountains of Pennsylvania. Growing up, I took their beauty for granted, but as an adult, I grew to recognize my love for them and how I felt in their presence. I now live in Vermont. The Green Mountain State has helped me appreciate my childhood environment while informing my current work. From shots of the volcanic region of Ecuador, to Mount Hood in Oregon and the familiar scenery of Mount Mansfield, "Altitude" attempts to capture some of that beauty.
---
3/1/2016 to 4/30/2016
In light of the many ideas, assumptions, misconceptions, and opinions about what homelessness is and who homeless persons are, the motivation behind #IAmMoreThanHomeless is to reveal that Burlington's homeless population is a mixture of real people who are still in process. Their stories are not yet done and each one has the opportunity for their future to be rewritten.
---

Mikayla Johnson
Through 3/31/2016
Mikayla Johnson paints to ask questions of herself in order to spark new curiosities. When she starts a new painting, she thinks of it as starting a new journey. She enjoys exploring new ways of making a mark, including coffee, sticks, cement, her feet, metals, wire, or stained glass.