Beloved local beer factory has a curated space showing art on the tour ramp.
Open Monday-Saturday, 11AM-7PM; and Sunday, Noon-5PM.
5 Bartlett Bay Road
South Burlington 05403
(802) 658-2739 x2014
Art Map Burlington #65
---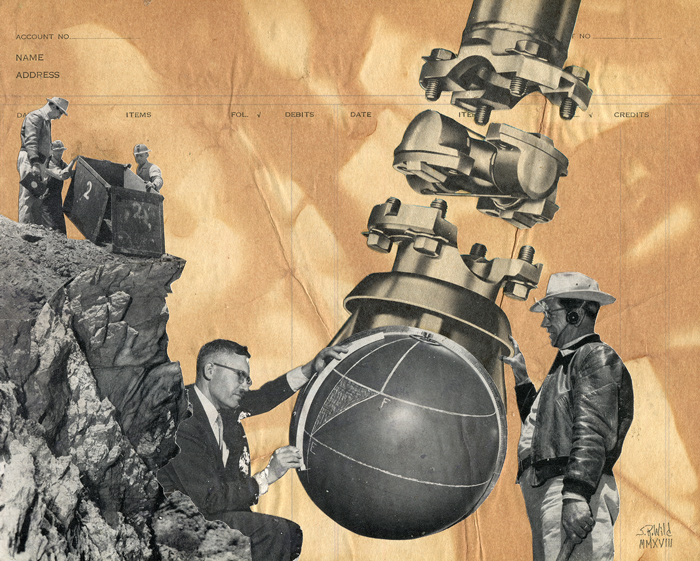 S.R. Wild
3/6 to 5/31/18
Opening reception during March's First Friday Art, 5-7PM
S.R. Wild's collages are playful scenes assembled from the vintage print materials he unearths from junk shops, thrift stores, and the trash. He first started making paper assemblages in the early '90s when he found a stack of old magazines in his parents' basement and borrowed his mom's X-ACTO knife. Twenty-five years later, he still hasn't returned her X-ACTO knife. Although he primarily works in collage, he also does printmaking, lettering, calligraphy, photography, and graphic design.
S.R. Wild lives in Burlington with his comedy writer girlfriend, two of the greatest long-haired cats in the world, and a judgmental tortoise. In his free time, he can be found riding or fixing one of his many motorcycles and mopeds. He currently works at Magic Hat pushing pixels (to hide his secret identity as a mad scientist).
Follow his adventures on Instagram.
---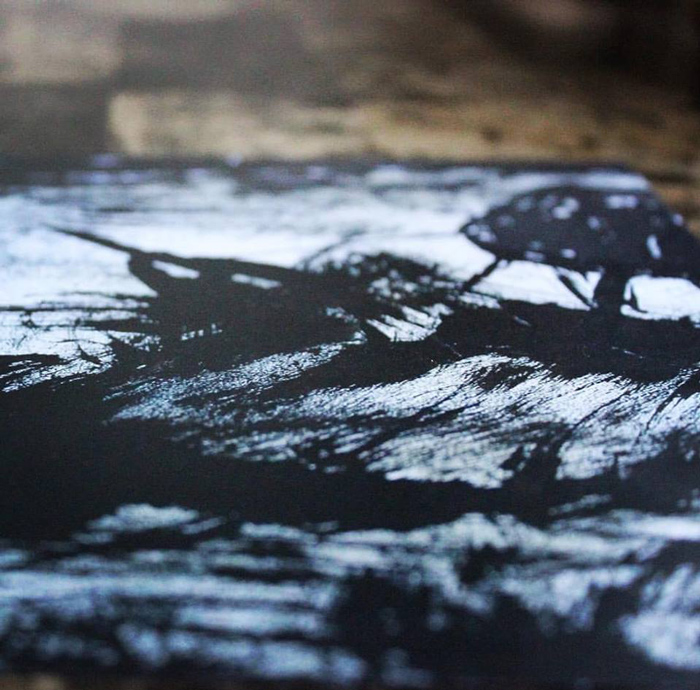 Evan Briggs
1/5 to 2/28/18
Opening reception during January's First Friday Art, 5-7PM
Burlington-based artist Evan Briggs has been sketching creatures, characters, and environments for as long as he can remember. He prefers a rugged aesthetic, with brush strokes and pencil sketches that aren't overly polished or too defined. Although a majority of his work is created with pen and ink, he is no stranger to working with traditional mediums such as oils, acrylics, watercolors and unorthodox mediums like coffee, beer, and soot. Evan currently works as the Senior Web Designer & Web Developer for the Magic Hat Brewing Company. See more of his work on his website: HERE.
---
Will "Kasso" Condry
10/6 to 12/31/17
Opening reception during October's First Friday Art
Will "Kasso" Condry is the Alexander Twilight Artist-in-Residence at Middlebury College. He is a renowned street artist; considered the godfather of the Trenton, New Jersey art scene. He continues to promote and produce graffiti-inspired art throughout the Northeast and the West Coast.
---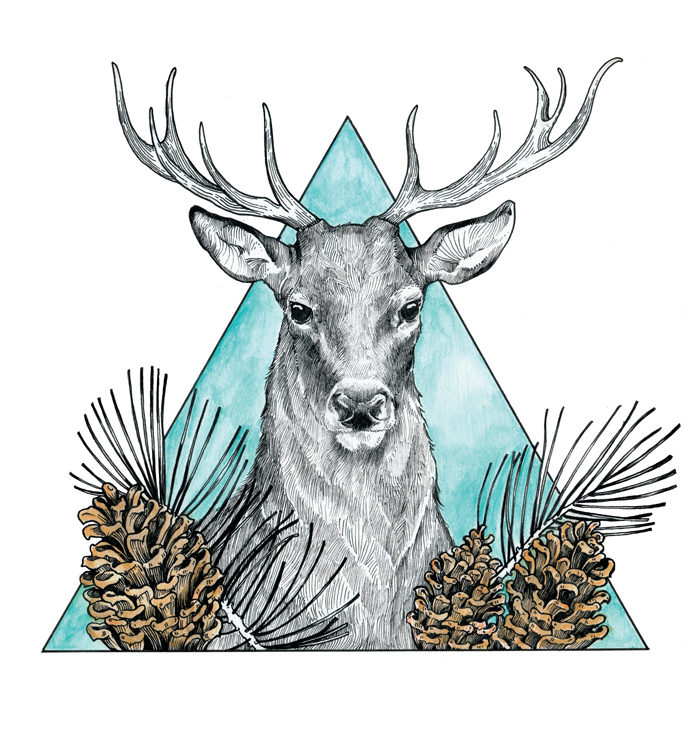 Hilary Ann Love Glass
6/23 to 9/30/17
Hilary Ann Love Glass is the winning artist for Magic Hat's 2017 South End Art Hop Ale. Glass works with pen and ink illustration techniques, all forms of printmaking, and as a tattoo artist. Her imagery explores the form and relationships of creatures real and imagined, all rendered in extreme detail and narrative in their postures and expressions. For her 2D work her studio is based at her home in Northfield and for tattooing she works out of Aartistic Inc in Montpelier.
---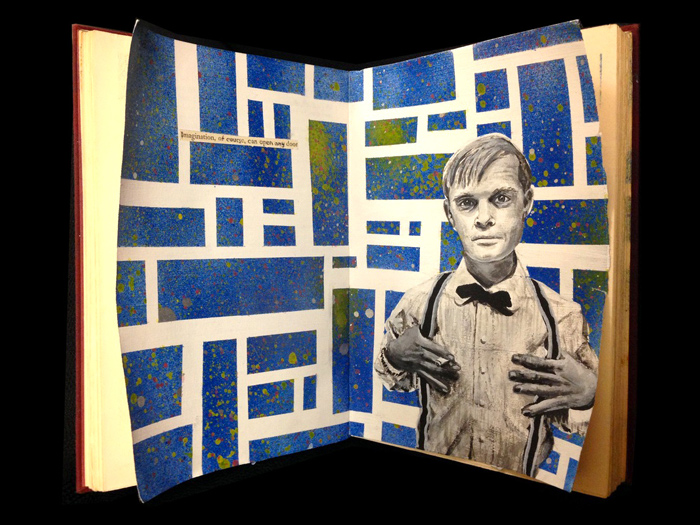 KC Corbett
March-May 2017
Opening reception during March's First Friday Art, 5-7PM
KC Corbett says about his work:
I'm KC Corbett, a Baltimore-born multimedia illustrator and designer. I try to create art which is enjoyable to a wide range of viewers, using humor or pop-imagery to make the work more accessible. Lately, I've found myself focusing on simple natural subject-matter, painting mountain ranges and oceanic landscapes purely from my imagination. More than anything, I am an advocate of learning during the creative process while striving to have fun.
---
John Haverty: Gangrene
January-February 2017
Opening reception during January's First Friday Art
John Haverty says about his work:
In 2013, I began working on an on-going collage project titled Gangrene. The collage consists of watercolor and ballpoint pen drawings cut out and adhered to vinyl. Currently, the collage stretches 42 feet long and 9 feet high and was recently selected as a Juror's pick for Art Prize 7 and the winner painting of the €25,000 Luxembourg Art Prize.
My art, like the infection, is a collage that continues to grow organically. Gangrene presents an ambiguous visual feast that sheds light on problems vexing society such as unchecked population growth, over consumption, pollution and war that we have come to accept as the norm. The work is titled Gangrene, because similar to the condition, if left unchecked these issues will destroy us.
The collage mimics an untreated wound, manifesting and devouring the vacuous space that surrounds it., The work has mainly been created in the deep of south of Savannah, Georgia where gangrene devastated the combatants of the Civil War, and where the wounds of those battles remain lingering in the corners of the city's famed burial grounds.
---
"99 Bottles: A Collaborative Art Show"
October-December 2016
Opening reception during October's First Friday Art
"99 Bottles" is a collaborative exhibit of artwork on wooden bottle canvases! The show includes the artwork of over 30 local artists.
---
Mimi Magyar
8/5 to 9/30/2016
Opening reception during August's First Friday Art
Mimi Magyar was born in the Hudson River Valley and raised in Rhinebeck, New York. Mimi began "doodling" with a pen on graph paper at the age of 7. Over the following 40 years, Mimi's designs became more intricate, growing larger and more complex. However, the simple creation remained the same, pen and graph paper.
Mimi went to college and law school in Washington, D.C. and became a family law attorney. Throughout her career in the legal profession, she used her doodles to soothe the stress from her job and personal life. After 20 years of practice, she realized how emotionally drained she was by the work and chose to retire from the practice of law, with the support of her life partner, Bill Davis, and began working for the National Park Trust in July of 2014.
Unfortunately, in February of 2015, Magyar lost Bill unexpectedly to an extremely rare, but aggressive abdominal tumor. Mimi and Bill had planned on moving to Burlington, where Mimi's sister had lived for almost 15 years. Mimi moved out of the D.C. Metropolitan Area and now splits her time between Jay Peak and Burlington.
The desire to create has returned and Mimi is now focused on sharing her work with others. Mimi has been given the nickname "The Doodle Chick" by her friends and has expanded her work to include 3 dimensional objects. These doodles are Mimi's attempt to create order in the world, whether they are art is up to you.
---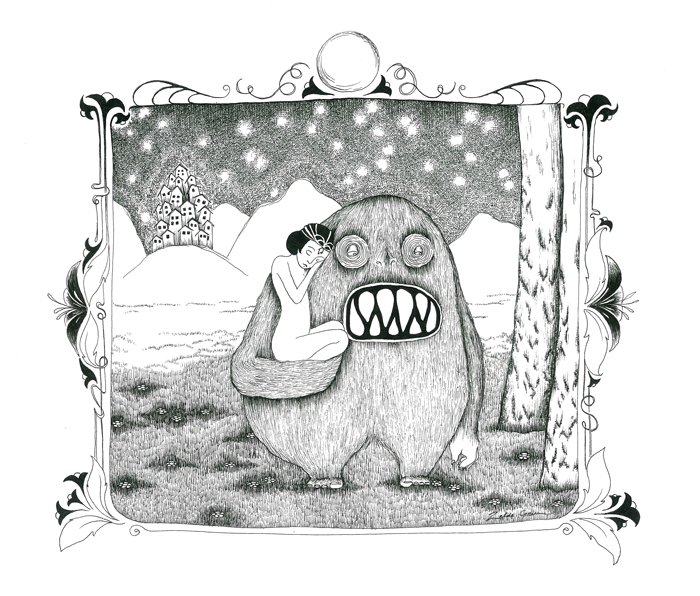 Zelde Grimm
6/3 to 8/1/2016
Opening reception during June's First Friday Art
This exhibit presents Zelde Grimm's work from the last four years, showing the evolution of her work. Her latest work depicts strange and intricate scenes in which the viewer can discern their own idea of the story unfolding. These works were inspired by a desire to create children's books and a game in which she pulls words from a bowl and arranges them into unusual and amusing sentences. As with most of her work, they are intended to pull the viewer into another world, one where owls drink teacups of flowers and monsters rescue princesses.
Self-taught artist Zelde Grimm focuses on pen-and-ink illustrations depicting whimsical scenes and fairytale-esque creatures. Grimm spent ten years hitchhiking all over the United States, during which time she performed with small circuses and played accordion on the streets for tips, but she was always a visual artist at heart. After finding an empty sketchbook on the street one day, she began again to create fantastical illustrations inspired by her own adventures. Always a child at heart, her drawings tend to be sweet and charming, yet often tinged with an element of the macabre.
In addition to illustration, Grimm also enjoys working with fabric and has created numerous dark and lovely dolls. She is an avid bike rider, gardener and spends most of her time with her dog, Simon. She is currently working as a freelance illustrator and graphic designer in Burlington.
---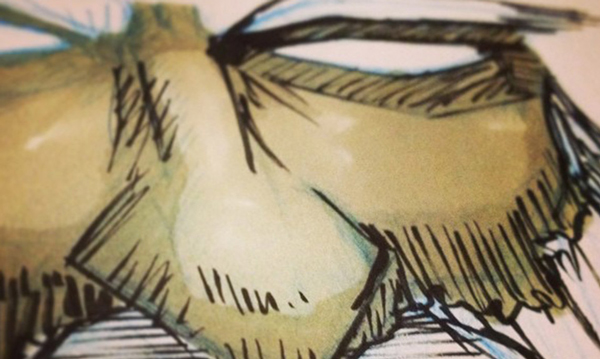 Evan Briggs
Through 3/31/2016
Burlington artist Evan Briggs has been sketching creatures, characters, and environments since he was a child. He prefers a rugged aesthetic, with brush strokes and pencil sketches that aren't overly polished or too defined. His mediums range from paint to coffee, beer, and soot. (image: Zeus (detail) by Evan Briggs (11″x17″; India ink, Sharpie, Chartpak; 2014))