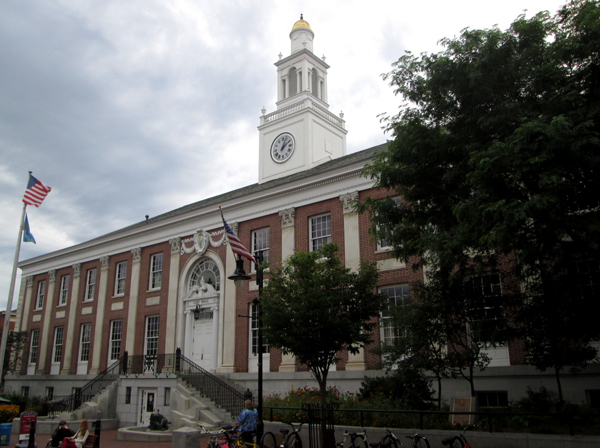 Community organizations share their mission through artwork on the main floor. Curated by Burlington City Arts.
Open Monday-Friday, 8:30AM-4:30PM and for First Friday Art until 8PM.
149 Church Street
(802) 865-7166
Art Map Burlington #20
---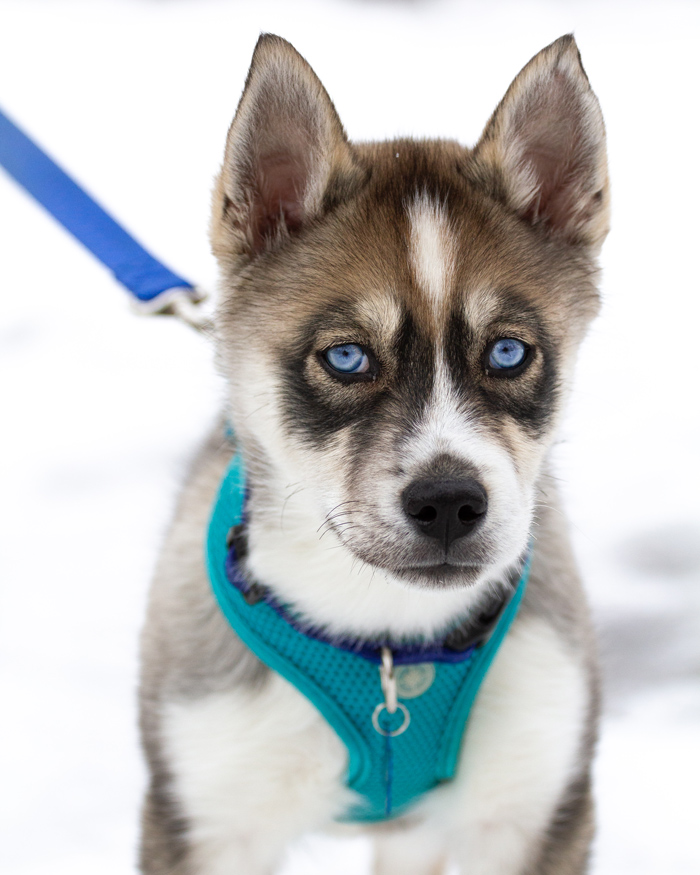 Josh Dustin: Pet Photographs
April-May 2019
Burlington photographer Josh Dustin presents an exhibition of pet photographs as a fundraiser for Mama Nealy and her son, who were brought to Burlington by Rescue Me Vermont as refugee animals from the Virgin Islands after Hurricanes Irma and Maria. All proceeds from sales will go to rehoming and vet fees for these dogs and some toys and food once they've been adopted.
Image: Blue by Josh Dustin (20″x16″ (framed); print on satin; 2018). Courtesy of the artist.
---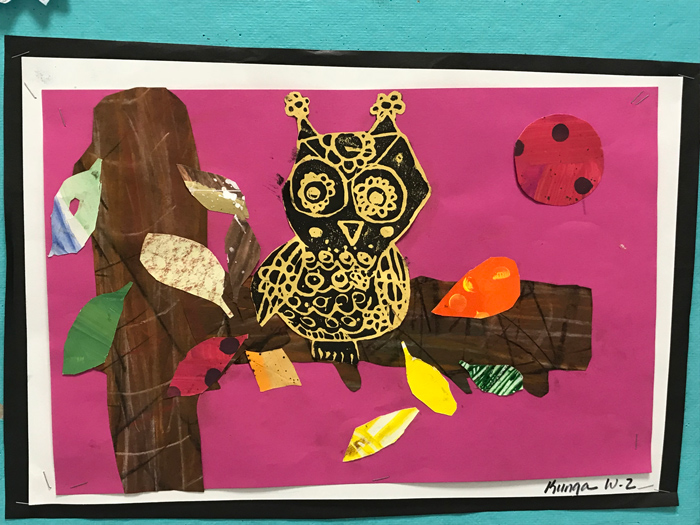 31st Annual Children's Art Exhibit
March 8-28, 2018
Awards Ceremony with the Mayor: Thursday, March 22, 5:45PM
Over 150 original works by young artists from the Burlington Elementary Schools.
Image: work by Kunga Justino, 2nd Grade, Champlain Elementary School
---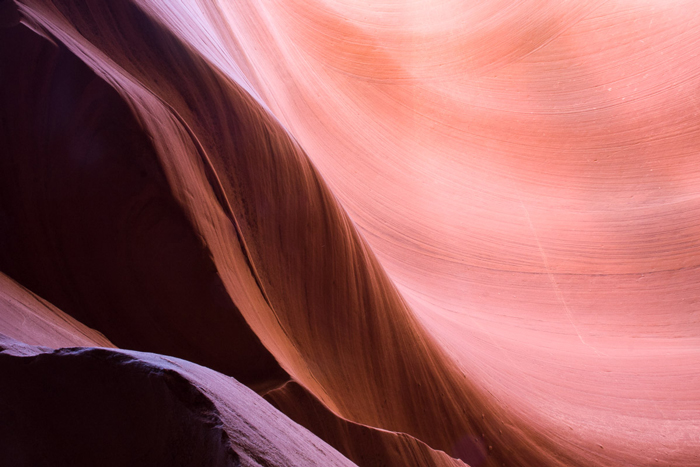 "Simplicity": f/7
January-February 2018
The photographs featured in "Simplicity" were taken by the members of the Central Vermont-based photography group "f/7". Simplicity implies a directness of image, shorn of complexity, ornamentation, and artifice. At the same time, it leaves ample room for beauty, introspection, and ambiguity. We believe that there are many different ways to see the world, and this collection of images presents a diverse yet complementary take on the theme of simplicity.
f/7 members are: Elliot Burg, Annie Cameron, Lisa Dimondstein, Julie Parker, Sandra Shenk, John Snell, Rob Spring.
Image: Sandstone Rhapsody by Sandra Shenk (18″x24″; photography)
---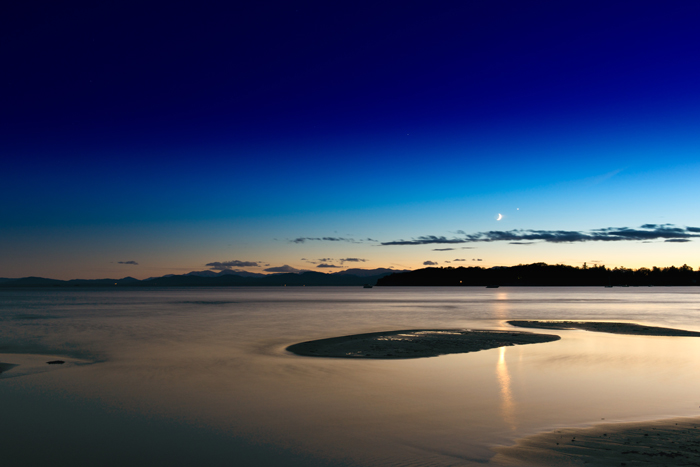 Greg Danford
November-December 2017
Greg Danford says about his work:
While I've been lucky enough to travel to some exotic places around the world, I feel just as lucky that each trip ends in my home state of Vermont. I love this state not just for its scenic beauty but for the seasons that make all my favorite places feel new throughout the year. As a long-time resident of Burlington, I've always been particularly inspired by Lake Champlain and the surrounding Adirondacks, where the sky does something different every night. Hope you enjoy a window into a little of what I see here every day.
Image: Silver Lake, Silver Moon by Greg Danford (16″x24″; digital image)
---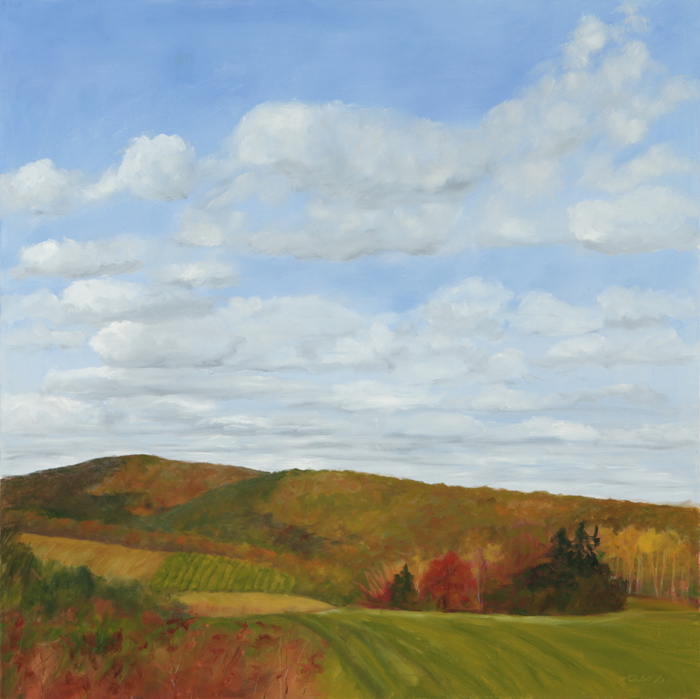 Nancy Calicchio
September-October 2017
Nancy Calicchio says about her work:
In my paintings, I seek to capture the great beauty of Vermont's landscape. My paintings reveal both my fascination with the natural world- sky, mountains, hills, brooks and streams, trees and fields- and my interest in working farms. Painting outside in every season is a way of probing this world, of engaging all my senses in the scene. When I set up my easel I search for the play of light, for it is light and shadow that shape the form and light that reveals the color. I feel that when I am truly engaged in what I am painting, I become part of it. It is my greatest desire that this feeling will resonate through the painting to the viewer and bring to life the beauty and joy of our landscape.
Nancy Calicchio moved to Putney in 1963. With a liberal arts education as a base, she spent many years in independent school education teaching English and history. For 22 years, she served as Head of School for The Grammar School in Putney, and, in 1998 as founding Head of School, for Maple Street School in Manchester Center.
After retiring in 2007, she pursued her love of art, seeking to enlarge her knowledge about paintings and painters, and to learn the techniques that would allow her to use oil paints in a convincing manner. She is primarily a self-taught painter indebted to excellent workshop teachers, great art in museum collections and books.
Calicchio's painting, Hay Bales (24″x24″; oil on canvas), was featured on the September 2017 edition of Art Map Burlington.
Image: Over the Orchard in Fall by Nancy Calicchio (36″x36″; oil on canvas)
---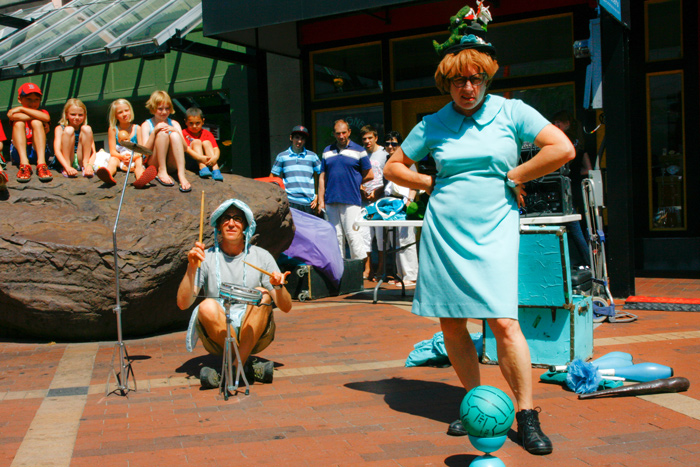 Looking Back on Laughter
August 2017
Revisit ten exciting years of the Festival of Fools through a special photography exhibition. "Looking Back on Laughter" recalls the dynamic spirit, playfulness, unpredictability, and foolery that has been presented over the last decade in downtown Burlington.
Image: Tash Wesp aka Mildred Hodittle, 2011
---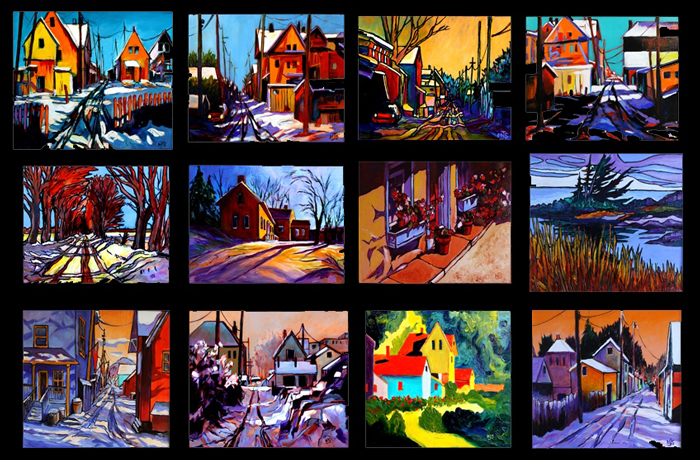 Michael Strauss
June-July 2017
About Michael Strauss and the work:
Michael Strauss has been painting and drawing since his teens. After forty years as a professor of chemistry, he began devoting full time to painting in 2003. His primary interest is in how color and value create the illusion of light and shadow. For example, when he paints landscapes depicting early morning or late afternoon, the light is often filtered by dust or moisture, resulting in a warm red-orange glow. In this circumstance, portions of objects lit by orange light reflect warmth in the viewer's eye, even if the reflection is from snow. The cooler blue, purple and green shadows in these warmly lit scenes build depth. This is reinforced using linear perspective, which is most evident in the lines of lanes, houses, poles, trees and wires in his street scenes.
Strauss' work is strongly influenced by the Canadian and California colorists, both in style and subject matter. He is particularly indebted to Mike Svob, Nicholas Bott and Min Ma for inspiration in the subject matter and style of the paintings in this small collection. Like these artists, he sometimes uses bright, bold, color shapes, often with hard and sometimes black edges, to create interesting patterns and design. Though the colors and lines he uses are sometimes not found in nature, the resulting images retain the logic of light and shadow. He often tries to make the brightest objects seem lit from within as well as from incident light, to create an otherworldly glow, like electrified neon in glass. It is this luminous quality of saturated and impressionistic color that pleases him most.
Learn more at the artist's website HERE
---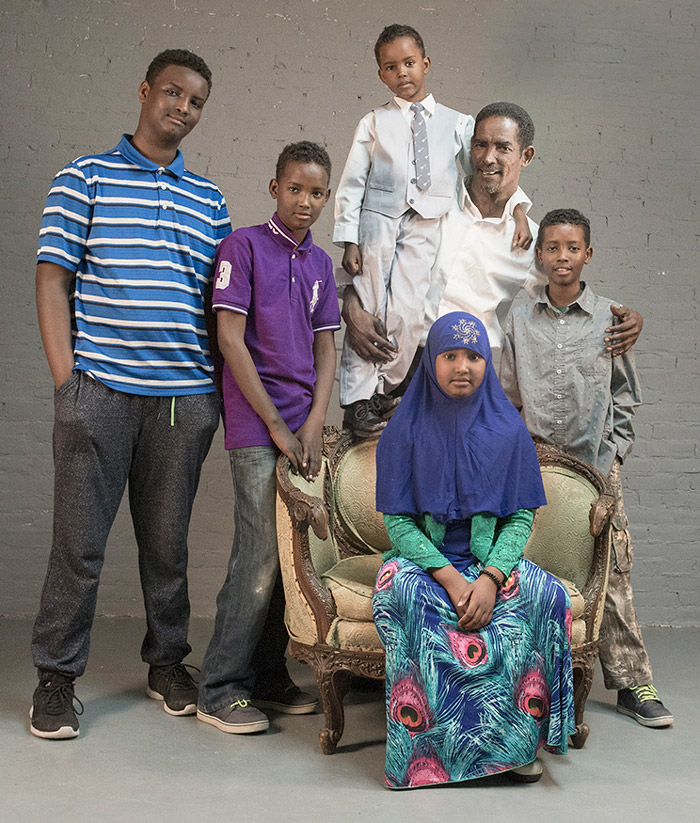 Integrated Arts Academy Family Portrait Project (a selection)
May 5-31, 2017
Reception: Tuesday, May 23, 4-6PM.
Artist Michelle Saffran says about the work:
I began photographing the families and children of Burlington's Integrated Arts Academy (IAA) last October. The idea, which was originated by Principal Bobbie Riley and Arts Integration Coordinator Judy Klima, was seen as a way to honor and celebrate the wealth of the school's diversity; a diversity that includes children from more than twenty different countries who, as a group, speak over twenty four different languages.
As each family sat before the camera lens, I became increasingly aware of the amount of trust they were placing in me. While the project wove its way through the many months I questioned my responsibility to these people and to the photographs being made. My goal was to collaborate with each family to bring out something unique and personal about their interconnectedness and their lives, not to create the polished glossy portrait we are accustomed to seeing from a commercial photography studio. I was in search of creating art that not only celebrated diversity, but encouraged the understanding that the concept of family is broad and defined personally within each household and not by a codified cultural standard. It was also important that I not project my own opinions and experiences into the portraits. I was not there to judge or mirror my own family life.
In the end, our collaboration resulted in nearly 150 portraits which were given to each respective student, who then attached writing about their families to the portrait.
---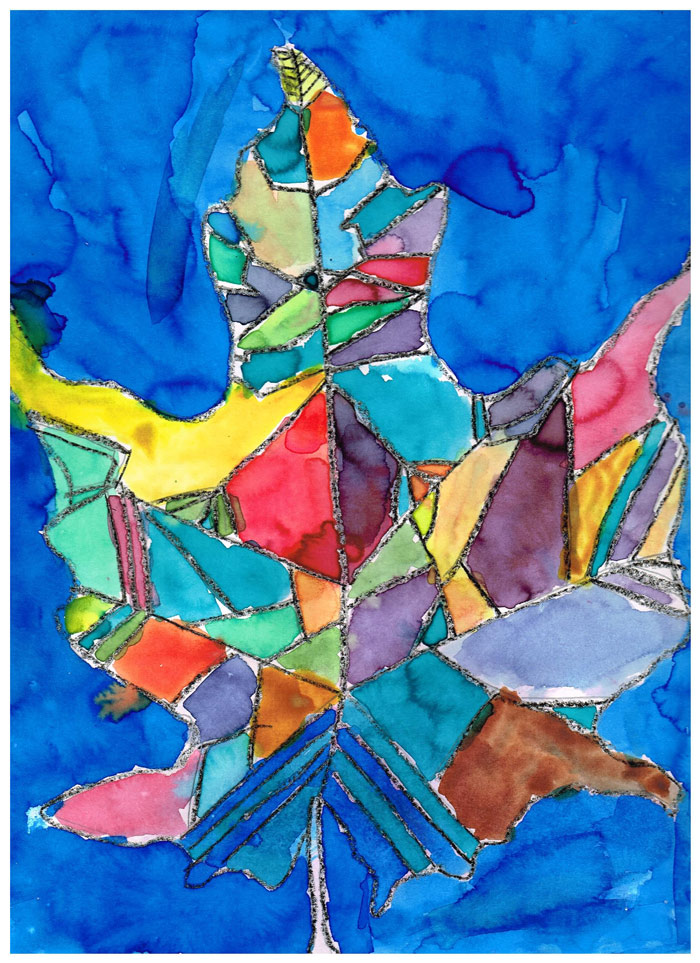 30th Annual Children's Art Exhibit
March 8-30, 2017
Reception: Wednesday, March 15, 5-5:45PM with an awards ceremony with the Mayor, 5:45PM.
Over 150 original works by young artists from the Burlington Elementary Schools.
Image: work from grade 4 students
---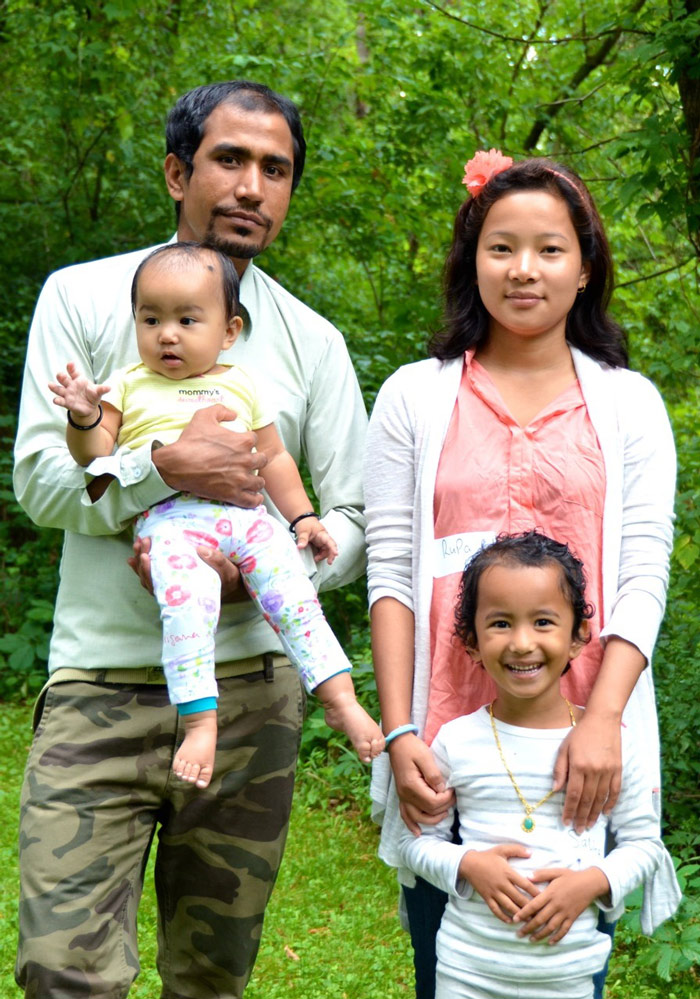 Faces of the Family Room
January-February 2017
Family Room Family is a group of parents and community members organized in response to staff and program cuts at the Janet S. Munt Family Room in 2015. We organized to support the center, advocating for the needs of staff and of the community.
This display, "Faces of the Family Room", celebrates a diverse group of families who all make use of the program at the Janet S. Munt Family Room, a parent-child center that supports families through parenting classes, shared play, nutrition and gardening, support group for dads, early literacy, home visiting, infant massage, post-partum support and a community preschool. In 2017 the center will leave the Visiting Nurse Association, which has run it since its founding. In this time of transition, the families continue to rally around it, celebrating the larger Family they have become.
The portraits were taken by Steve Mann, a Family Room volunteer.
---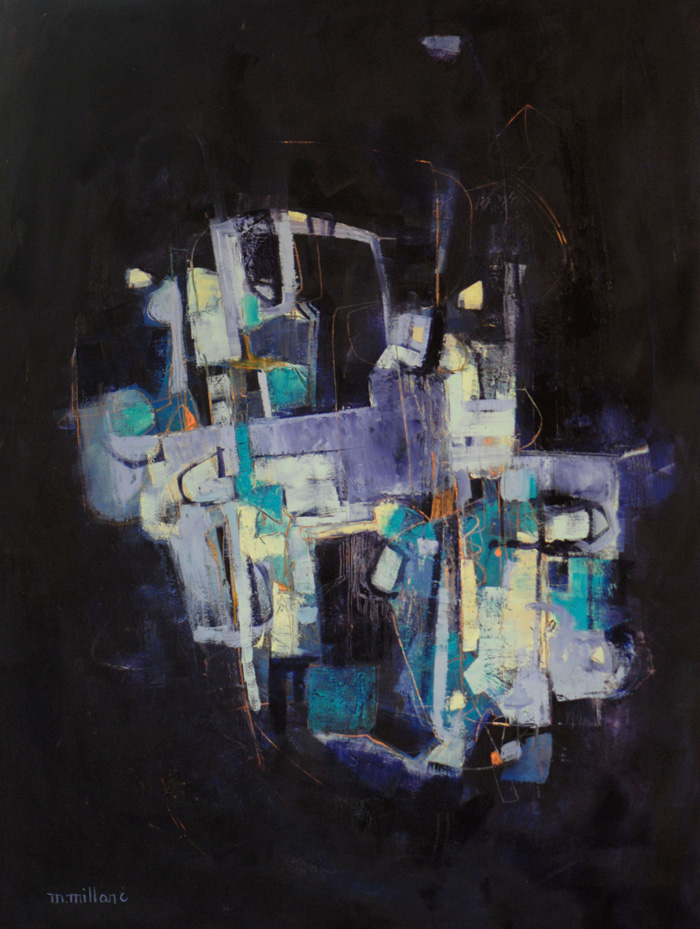 Mareva Millarc
October-December 2016
Mareva Millarc says, "I have a compelling desire to create art along with an intrinsic ability to capture the infinite. Feeling into the world, I can best express what moves me through color, shape, and movement. From the nothingness of abstract to the slight realm of possibility…I feel the interconnected nature the world provides, and seek to tap into those unnamed feelings. That vibrating energy becomes free-flowing lines, organic forms and playful details. I create art that allows for personal interpretation, blurred realities, and creative opportunities. Allow yourself to be moved by that which is undefined." (Image: After Hours (40″x30″; oil on canvas))
---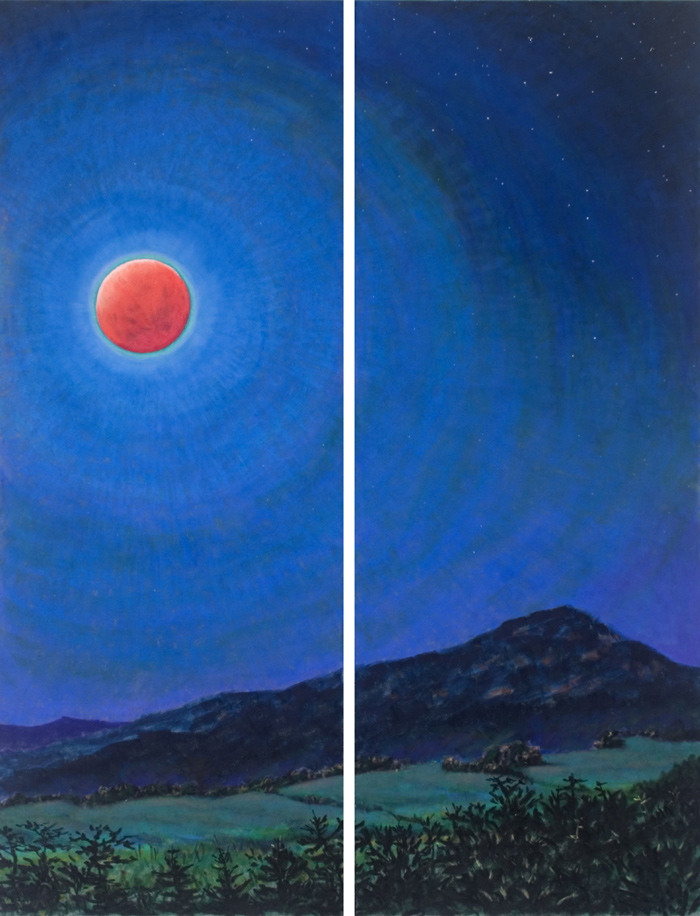 Carol Boucher
August-September 2016
Carol Boucher has been a professional artist for over 20 years. She sells her oil pastel paintings, oils, acrylics and monotypes at juried art shows across the United States. Boucher is represented by Burlington City Arts and Devon House Stonington Gallery in Stonington, Connecticut. Love of color and landscape continue to fuel her creative process. (image: Eclipse Moon by Carol Boucher (diptych: 40″x16″ (each panel))
---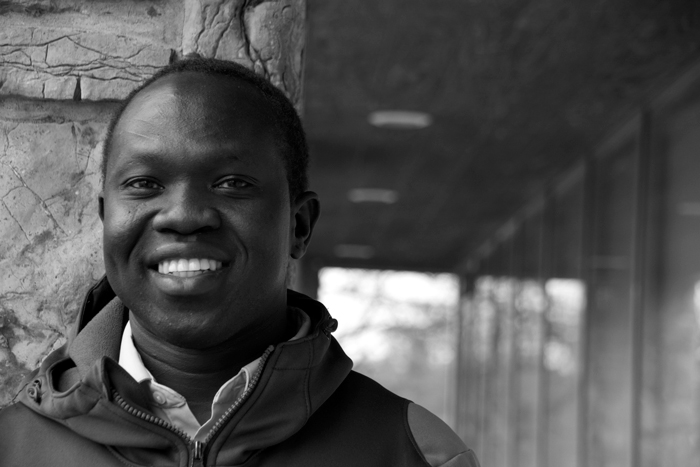 From Around the World: A Vermont Commons School exhibit
June-July 2016
Beginning in January 2016, Vermont Commons School students began exploring the topic of refugee resettlement in Vermont. Students delved into what it means to be a refugee, using a variety of mediums such as photography and storytelling. Students engaged in conversations about the ethics of ethnography, and heard from guest speakers who offered insight into the world of oral history. Throughout the semester, students interviewed people from countries such as Nepal, South Sudan, and Bhutan, to gain a better understanding of the cultures, religions, traditions, and histories of people who have come to settle in this community. Students then transcribed the most powerful parts of each interview.
Every transcription is accompanied by an image of the interviewee. This exhibit is on public display in hopes that it will raise awareness and appreciation of our New American neighbors.
---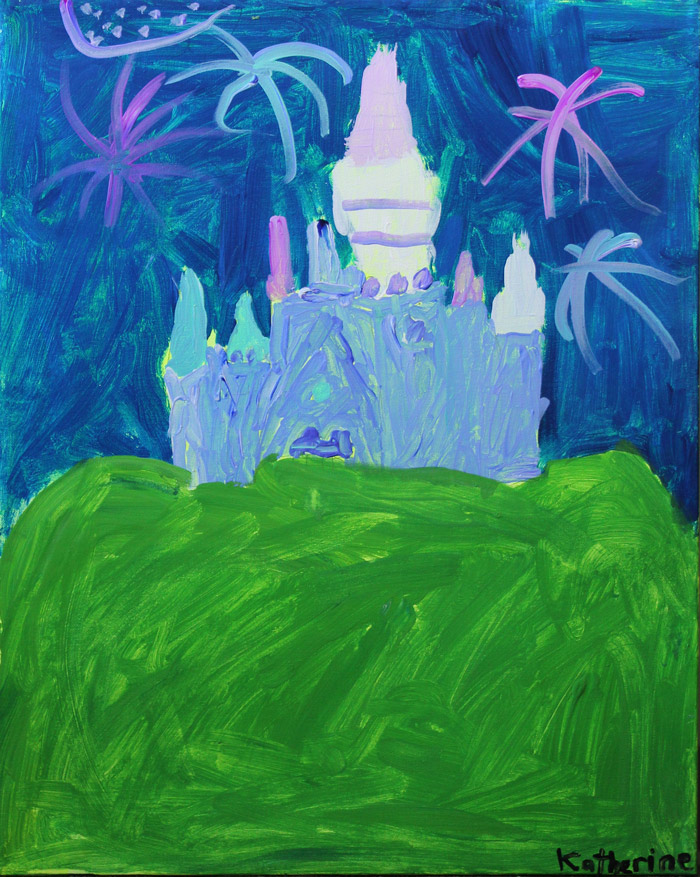 Make a Wish Foundation
May 2016
Opening reception: Wednesday, May 4, 4:30-6:30PM
Burlington City Arts and the Make-A-Wish Foundation are proud to present the Wish Kid Art Project, where children with life-threatening conditions who have received a wish from Make-A-Wish Vermont paint their favorite memory from their wish. The Wish Kid Art Project allows children to share their story in a fun way and learn painting techniques from working artists.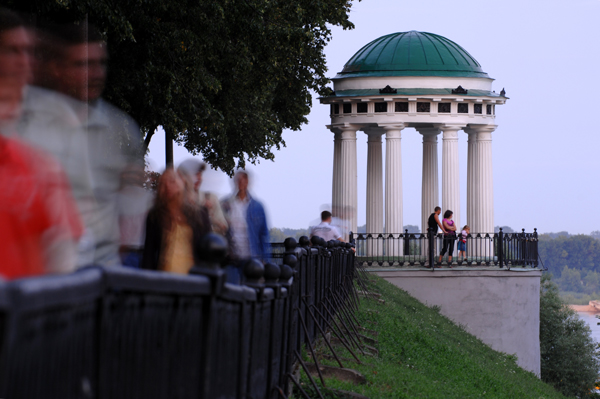 Photos of Burlington's Sister City, Yaroslavl, Russia by professional photographers from Yaroslavl and David Seaver of Burlington
April 2016
The Burlington-Yaroslavl Sister Cities Program is a non-profit group promoting the exchange of people and ideas between Burlington and Yaroslavl, Russia. Burlington established its sister city relationship with Yaroslavl in 1988. Since then, a steady flow of exchanges have brought numerous people to both cities fostering friendships, business and government relationships.
29th Annual Children's Art Exhibition
March 2016
Original artwork by 215 young artists from the Burlington Elementary Schools is on display in City Hall. A reception and awards ceremony with the Mayor will be held in late March (date to be determined). Please contact Melissa Steady, BCA's Education Director for more information at (802) 865-7524 or by email.