Venerable coffeehouse shows South End Arts District artists curated by SEABA.
Open Monday-Friday, 6:30AM-6PM and Saturday-Sunday, 8AM-5PM.
412 Pine Street (next to SEABA)
(802) 658-6016
Art Map Burlington #42
---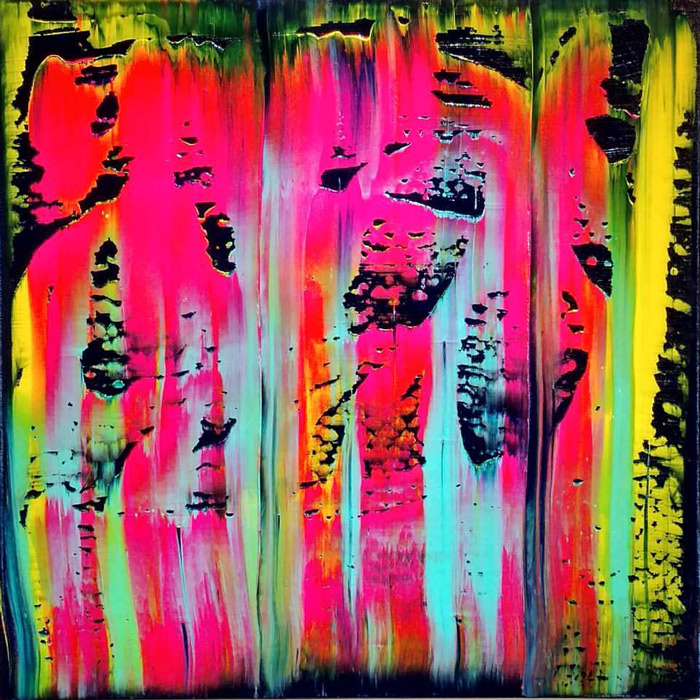 Steve Sharon
9/8 to 11/30/2017
Steve Sharon is an abstract painter, musician and mixed media artist. He went to school for music at Goddard College in Plainfield and has been a musician since the age of 14. He started painting 6 years ago, when he decided to shift some of his focus into making visual art. The paintings that he's incorporating for this show involve a deep and heavy process that he discovered by chance and the drive of using the art of improvisation to create. The artist in him wants the viewer to look upon the paintings and come to their own conclusion as to what they see.
Image by Steve Sharon
---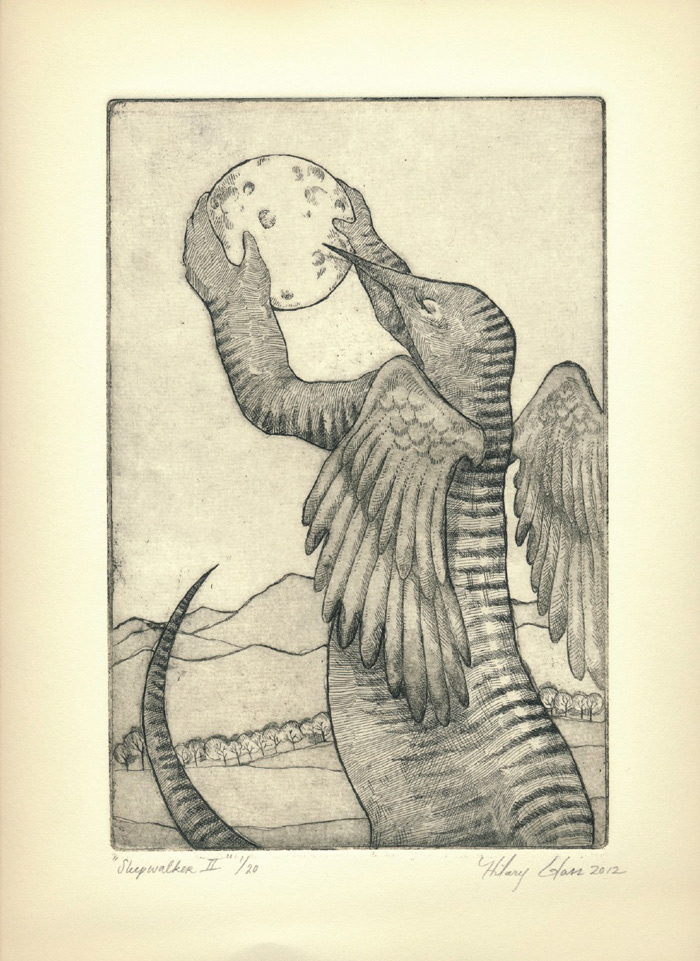 Hilary Ann Love Glass
June-August 2017
Hilary Ann Love Glass works with pen and ink illustration techniques, all forms of printmaking, and as a tattoo artist. Her imagery explores the form and relationships of creatures real and imagined, all rendered in extreme detail and narrative in their postures and expressions. For her 2D work, her studio is based at her home in Northfield and, for tattooing, she works out of Aartistic Inc in Montpelier. You can also see her work on the 2017 Magic Hat Art Hop Ale Bottles!
Image: Sleepwalker II by Hilary Ann Love Glass (edition 1 of 20; 2012)
---
Peter Katz
March-May 2017
Peter Katz is a self-taught artist with roots stemming from Costa Rica. Katz' "style" is constantly changing and adapting to encompass whatever whim his heart leads him towards. Katz has collections in mosaics, large-scale oil and acrylic paintings and, most recently, his own invention, light screens. His light screens combine elements such as his own hand-drawn designs and computer-generated machine tool paths that allow him to cut his designs in wood and then add vibrant handmade rice papers. Peter uses machines such as CNC router tables and laser cutters to produce luminous pieces that play on natural and man-made light. When not creating, Katz can be found on the snowy white slopes or under the emerald canopies of Vermont's green mountains.
---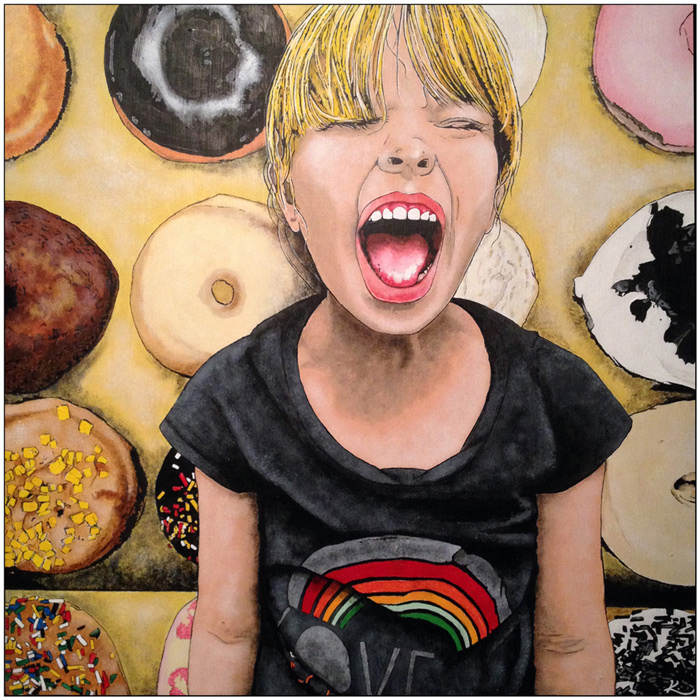 Kevin Montanaro
December 2016-February 2017
Kevin Montanaro's highly-detailed works of art capture life and humanity: people, moments, ideas, conflicts and nightmares. Through his work, he both celebrates the emotions of the human condition, and exorcises its demons. His overriding goal when creating a new work is to convey the subject's emotion. What are they thinking at the moment they are painted? What type of emotions are they experiencing and then trying to convey an emotion or a mindset using a human character to interact with the viewer. His current body of work is mostly inspired by portrait paintings from the Baroque period, using rich, bold, earthy color and strong shadows to express drama, conflict, curiosity, seduction, ecstasy and happiness.
Kevin Montanaro was the cover artist for the December 2016 edition of Art Map Burlington.
---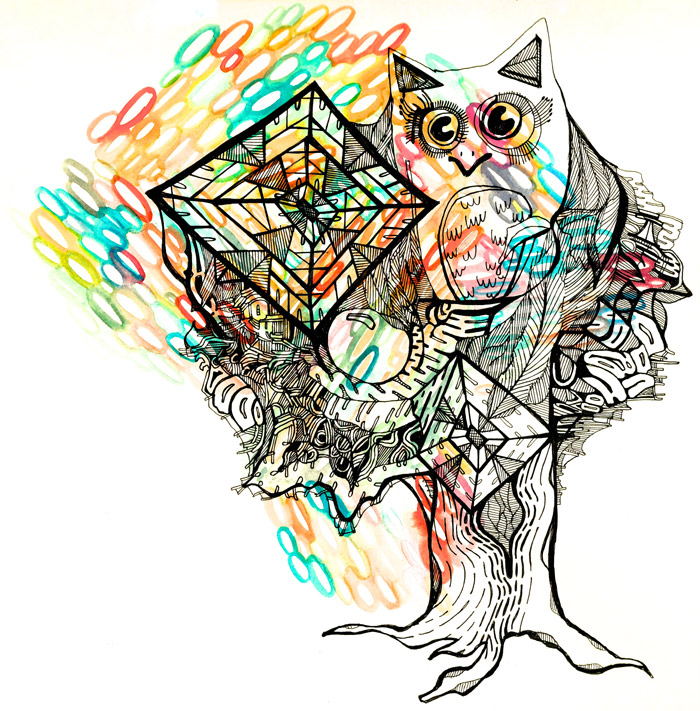 The Poppyclock Collective
9/9 to 11/30/2016
The Poppyclock Collective, Burlington artists Haley Bishop Rockwood and DeAnna Kerley, was founded on the idea of collaboration. They find inspiration in the quirky day-to-day life of Vermont living and replicate it in a variety of mediums: watercolor, Sharpie, bubblegum scraps (you get the idea). Follow them on Instagram. (image: Owl Nest Egg by The Poppyclock Collective)
---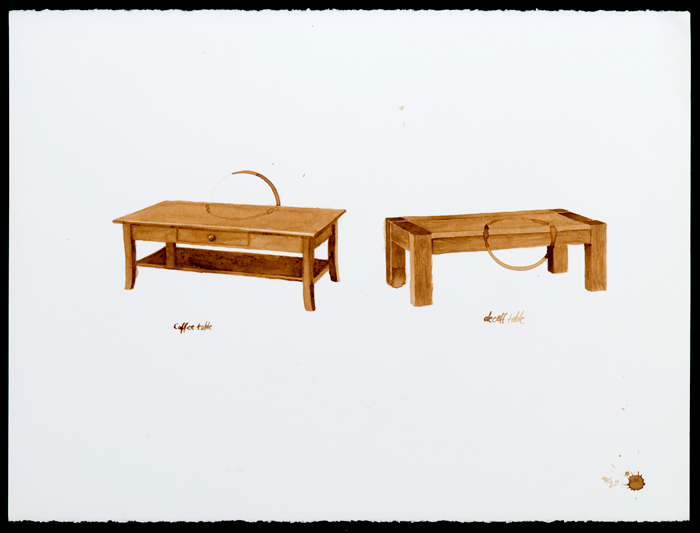 Michael Buckley: "Coffee, Tea and You"
6/1 to 8/31/2016
The collection of works by the late Michael Buckley, rendered in coffee and tea, offer a creative take on an unusual medium. The exhibit is in conjunction with the launch of The University of Vermont Medical Center's online art collection, a website dedicated to the healing power of interaction with art. The online experience, curated by Burlington City Arts is inspired by Buckley, whose time as a cancer patient at the Vermont Cancer Center at The University of Vermont Medical Center gave him insight into the need for introspection and emotional connection during challenging times. Michael and his wife, Laura Lipton, created Drawing Inspiration to fund the development of this site, which will include exhibitions that encourage interaction between the users, the art and each other, creating a virtual community with art at its center. This partnership between Drawing Inspiration and the UVM Medical Center makes it possible for anyone, anywhere, to explore, interact with, and reflect upon the restorative potency of art.
---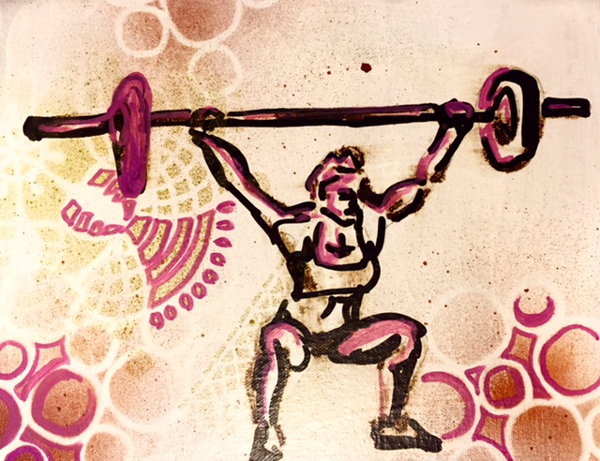 Acclaim of Gesture: Sienna Fontaine
3/1/2016 to 5/31/2016
Sienna Fontaine created a collection of energetic renderings of bodies in action. The mixed-media works are comprised of walnut ink, marker, acrylic paints, spray paint, and stencil work. The collection grew from a triptych displayed at the 2015 Art Hop reveling in the body forms of yoga poses.