Curated by SEABA, showing large-scale 2-D work and installation sculpture with multi-media work presented at their quarterly openings.
Open Monday-Friday, 10AM-10PM and Saturday, 10AM-5PM.
208 Flynn Avenue #2-G
(802) 651-9692
Art Map Burlington #32
---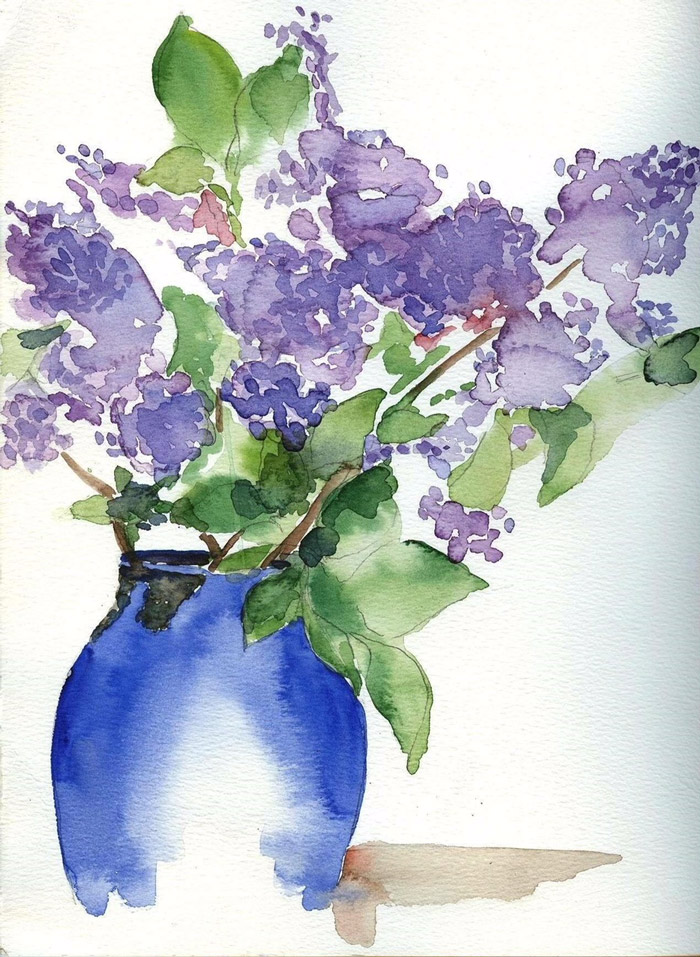 Robert, Steve & Dennis Gold
March-May 2018
Opening reception during March's First Friday Art
Robert, Steve and Dennis Gold are three professional artists, originally doctors, with no formal art training. They have evolved their styles by feeding off one another and influencing each other's work across several mediums, including mixed media, watercolor and charcoal. Their separate experiences have influenced their personal subject matters.
image by Steve Gold
---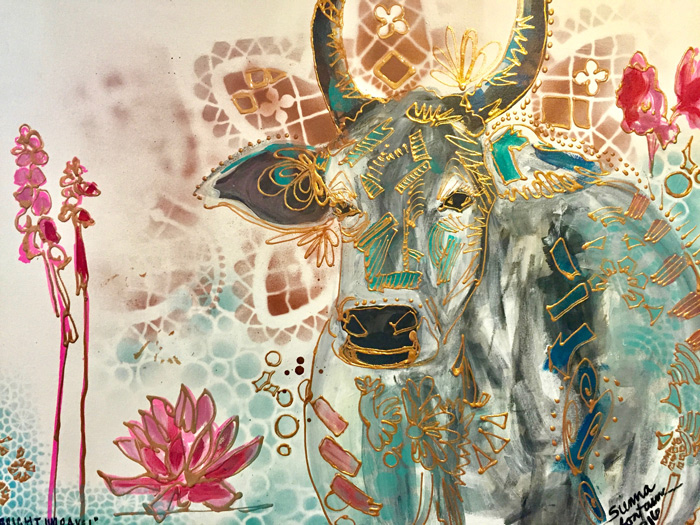 Sienna Fontaine: One-Third Retrospective
December 2017-February 2018
VCAM-RETN Hallways
Honoring three decades of Vermont-based living and creativity, "One-Third Retrospective" offers the witnessing of artistic explorations and evolution. Artist, Social Worker, and farm-daughter, Sienna Fontaine showcases works from recent months, her personal collection from the years, and private collections spanning her experience of relating to and making meaning of the Vermont ethos. With watercolor, acrylic, leaves, spray paint, and thread.
(The image above by Sienna Fontaine was featured on the cover of the December 2017 issue of Art Map Burlington)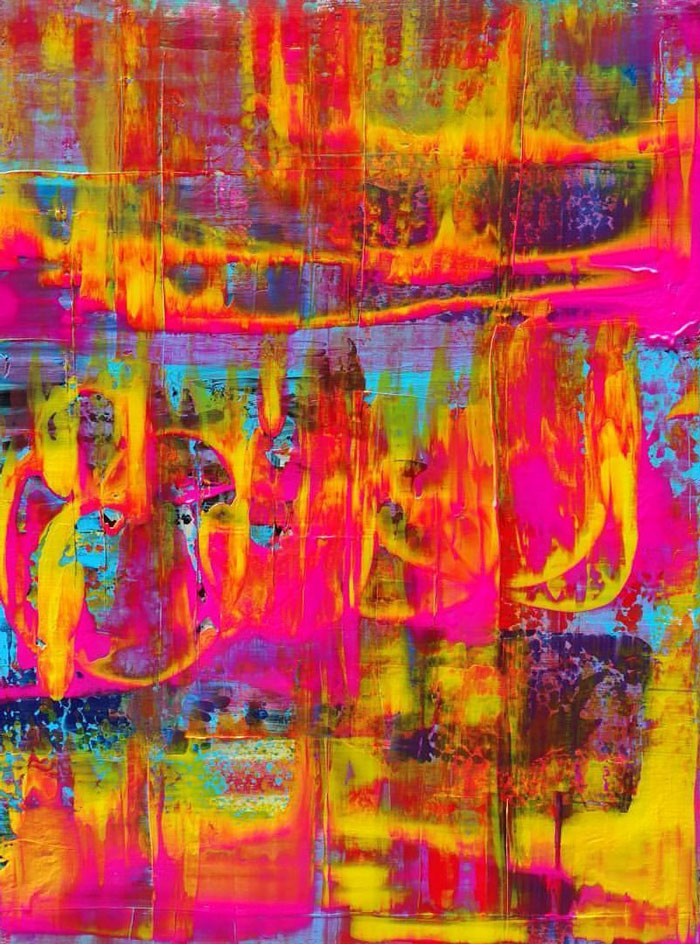 Steve Sharon: Winter Relief
December 2017-February 2018
VCAM-RETN
For "Winter Relief", Steve Sharon has chosen some paintings that, when finished, he thought were just the exact colors that he would like to have around him during the long winter months that we experience in Vermont, since so much of the day is covered by shades of grey, black, white and brown. He often found that he needed bright colors to help him deal with his own psyche of seeing those winter colors on a daily basis. The effects of cabin fever are feelings that we are all aware of. What he hopes to do with this show is give everyone a break from those winter colors and soak in the healing and therapeutic visuals that he has included in these paintings.
---
Art Hop Group Show
9/8 to 11/30/2017
Opening during Art Hop Weekend
A unique collaborative Art Hop Group Show features over 35 artists.
---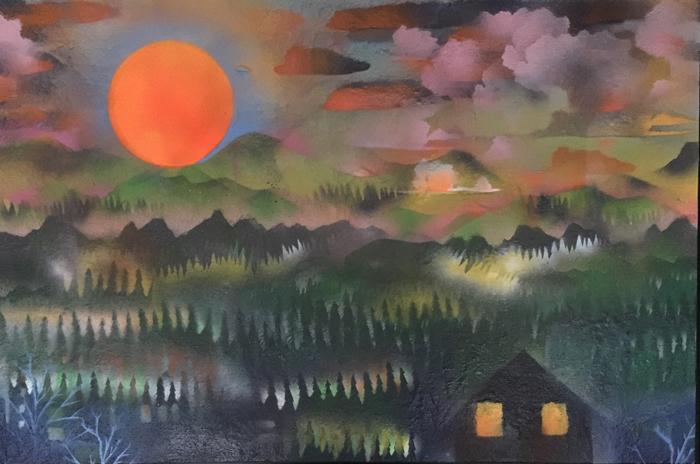 2017 SEABA Member's Only Show
June-August 2017
Artist reception during July's First Friday Art
SEABA proudly welcomes their members' artwork to SEABA Member Business VCAM/RETN to celebrate both their artist and business members.
Image: Led Zeppelin's Vermont Hideaway by Billy Bob.
---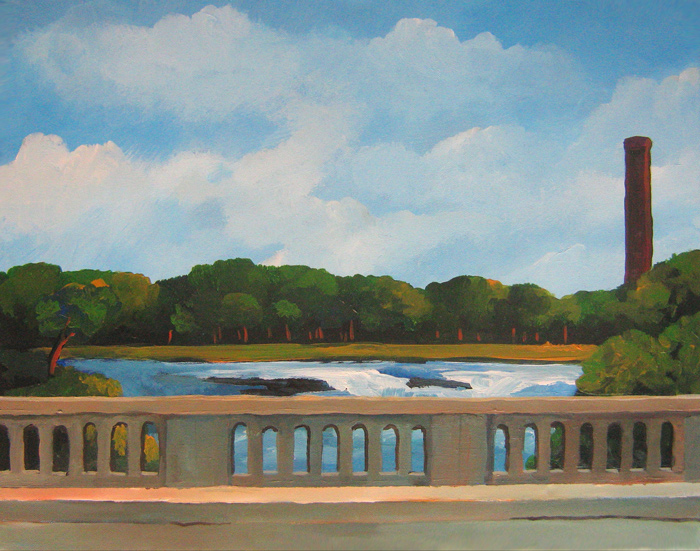 VCAM–Robert Waldo Brunelle, Jr.
April-May 2017
Just as Monet painted the same haystacks over and over again, in different lights and seasons, Robert Waldo Brunelle, Jr. painted the old concrete bridge connecting Burlington and Winooski. Brunelle was interested in how different times of day and weather conditions affected the light and mood of this common scene. Thousands of travelers pass over this aged bridge daily, but few bother to actually see it as he does. Robert Waldo Brunelle, Jr. is a Vermont painter, kinetic sculptor, book illustrator, art educator and political cartoonist. He has been exhibiting artwork in the region since 1980. His cartoon strip Mr. Brunelle Explains It All appears weekly in Seven Days. (image: Winooski Bridge #19 by Robert Waldo Brunelle, Jr. (acrylic on canvas; 2015))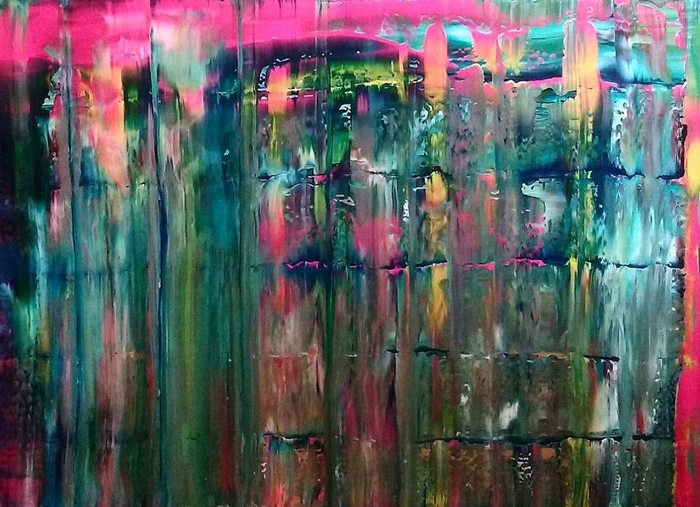 VCAM & RETN Hallways–Steve Sharon
April-May 2017
Steve Sharon uses a deep and heavy process of a paint method that he stumbled upon through chance and the artistic mind that comes with not having been schooled by art teachers. The process he is showcasing is to get a full-on abstract visual of what certain colors look like when they come up from under a surface of complimentary moods and tones. The Abstract Expressionist in him wants the viewer to look upon the painting and come to their own conclusion as to what they see. As in all of us, we carry emotions which nurture a deep sense of reality inside our being, so what one person sees inside an abstract painting; another may see something completely different. It's his goal to have his paintings be looked at for more than one to two minutes, the longer one gets lost inside a painting, the stronger that communication becomes apparent, strengthened and understood between the artist and the viewer. (image by Steve Sharon)
RETN–Stephen Beattie
April-May 2017
Digital photographer Stephen Beattie loves to capture natural beauty wherever he is traveling. Often, he makes his own prints to control the elements of the photo, using Photoshop to enhance images, much like Ansel Adams did in his darkroom.
---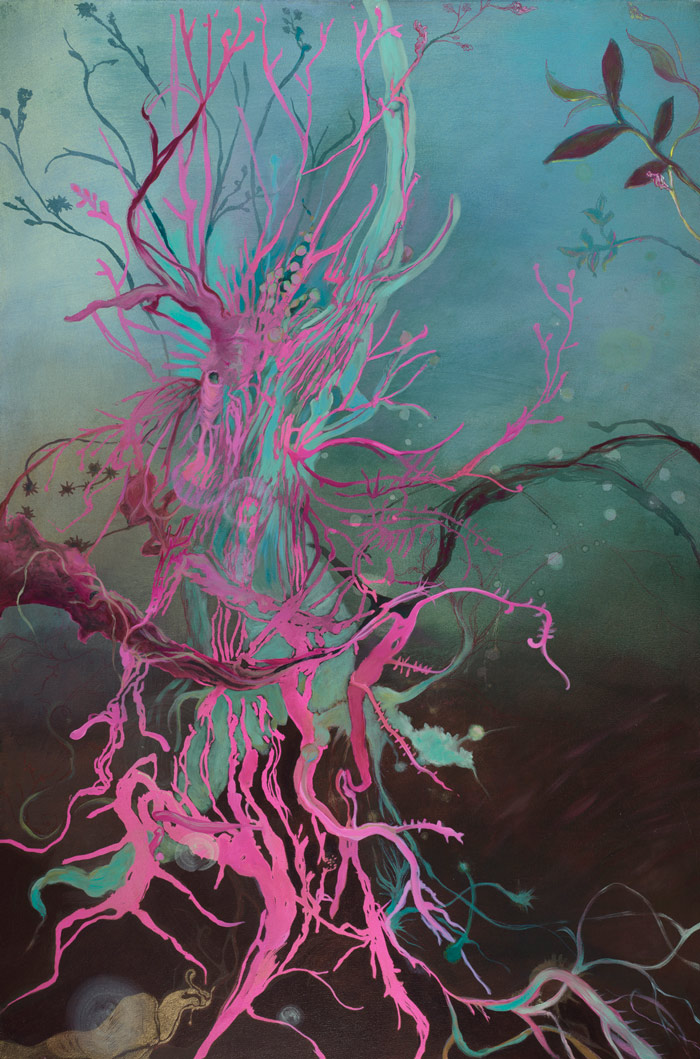 VCAM–"The Elements": Kristin Richland, Elizabeth Cleary & Gwendolyn Evans
December 2016-March 2017
Artist Reception during December's First Friday Art.
Views of earth, soaring and spinning in air, worlds under water, fire in unexpected places, and the important fifth element: humor. Featured works include acrylics, mixed media and sculpture. Kristin, Liz & Gwen are also part of the group Cross Pollinators, who have been meeting for more than 5 years. (image: Tree of Life by Kristin Richland)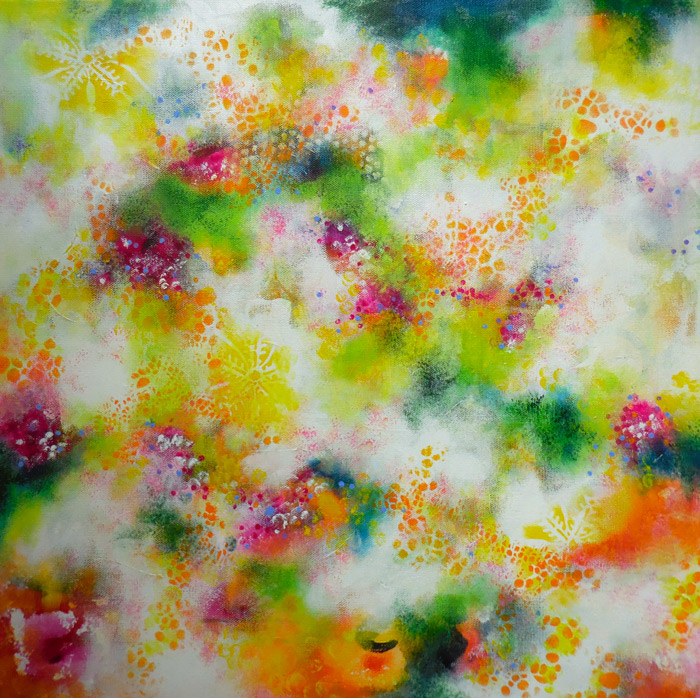 RETN–Lynn Cummings
December 2016-March 2017
Artist Reception during December's First Friday Art.
Lynn Cummings paints in a wide range of styles and subject matter. She works in watercolor, acrylic and mixed media collage, creating everything from impressionistic, colorful landscapes to dramatic and sometimes whimsical abstracts. She shares her passion for making art by teaching intuitive painting, watercolor, collage and acrylics classes in various places in Chittenden County. She is active in many local and state art organizations, and shows in venues throughout Vermont.
---
Art Hop Collaborative Show
9/9 to 11/30/2016
Opening during Art Hop Weekend
A unique collaborative Art Hop Group Show features over 30 artists.
---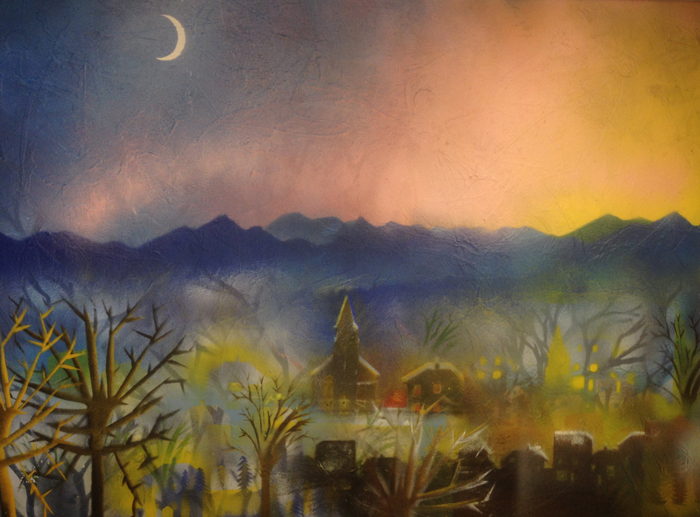 "CONFLUENCY: Sixty Paintings"
6/1 to 8/31/2016
Opening reception during August's First Friday Art
"BillyBob" is the art team of William Coil and Robert Green. BillyBob has made buildings, gardens, stonework, produced music, designed CD and book covers, mosaic murals, and, in 2014, began producing art as a team. Influences include Orphic Cubism, Post-war Expressionism, science fiction book covers, street art and 60's psychedelia. (image: Winter Solstice, 1915, Bristol, Vermont by BillyBob)
---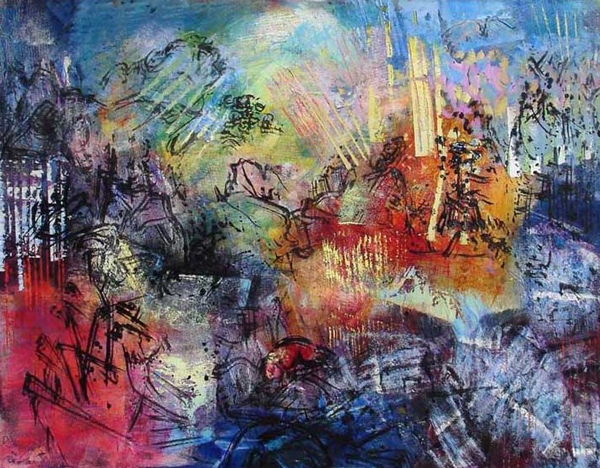 The Effects of Bird Song on Strata: Tom Merwin and the Artists of Forty Seven Main Street
3/1/2016 to 5/31/2016
Mental illness is a world condition. Those diagnosed and on the front line are resources too often overlooked. Castleton artist Tom Merwin and the Artists of Forty Seven Main Street mirror your reflection with theirs on the surface of poetry and painting. Meet Tom and learn about his plans for an expanded studio during March's First Friday Art. (image: Beaver Dam by Tom Merwin)